It's an undeniable fact that graphic design matters. Good graphic designs have the ability to grab prospective customers' attention, bring in sales, and are one of the biggest backbones to a solid marketing strategy. Graphic design is the core of many types and levels of businesses: organizations, startups, Merch sellers, and even agencies have to design graphics for their clients.
To put the importance of graphic design into perspective…
"According to the Design Management Institute (DMI), between 2004 and 2014 design-driven businesses consistently outwitted the S&P by a whopping 219%"
"80% of small businesses acknowledge graphic design as very important. 94% of people will leave a website if its design is bad. Only 6.8 seconds are enough for the consumer to form an impression, a good design can add 50 milliseconds to that, graphic design statistics confirm."
"Companies that encourage creativity to achieve 1.5 times greater market share."
This is why it's crucial to have a reliable design team that can design quality graphics and fast. However, there are so many options to choose from and at times, a limited budget to work with. Which designer is the best fit and can be trusted to deliver results for important projects?
The answer can be found in an upcoming graphic design industry trend: Unlimited Graphic Design Services. For skeptics, this article will convince you why.
Benefits of unlimited graphic design
With the growing popularity of no-commitment subscription and membership-based businesses, an unlimited graphic design service may be the best option for you. This particular type of design service can provide value to those in need of graphic design, but not to the point where an in-house graphic designer is needed. Here are a few benefits of signing up for an unlimited graphic design membership:
A premium service at an affordable rate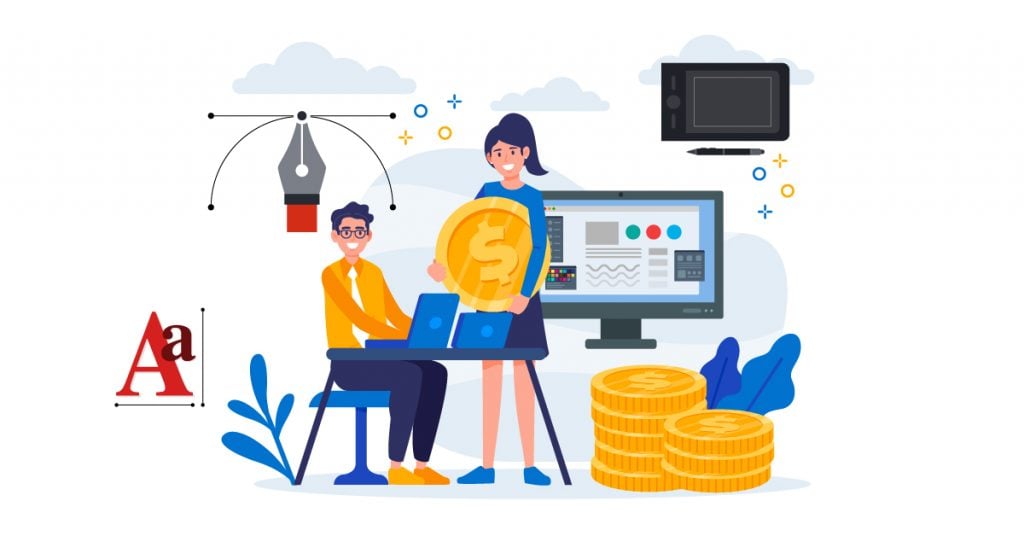 Graphic design has always been considered a premium service. This is especially if you want quality graphic design. Customers pay for a monthly subscription that offers them the opportunity to choose from endless projects and unlimited revisions.
Less time focused on graphic design and more time on your tasks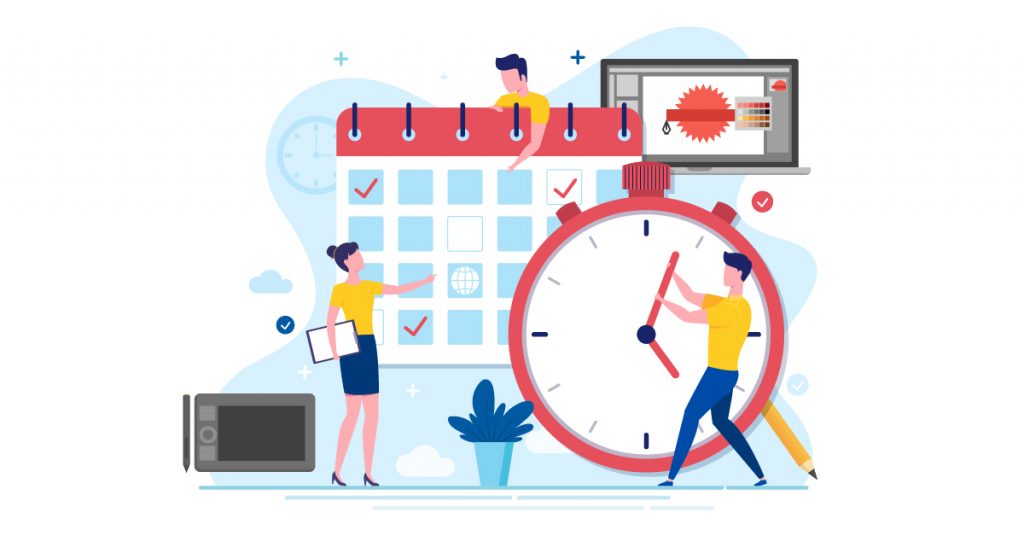 Whether you're a marketer, startup founder, or even an in-house graphic designer, you're more than likely going to be overwhelmed with tasks at some point. Creating things like social media posts and banner ads should not be a worry. With an unlimited graphic design membership, you have the peace of mind that designs are getting done on a regular basis. You can focus on moving your other projects forward.
Consistent delivery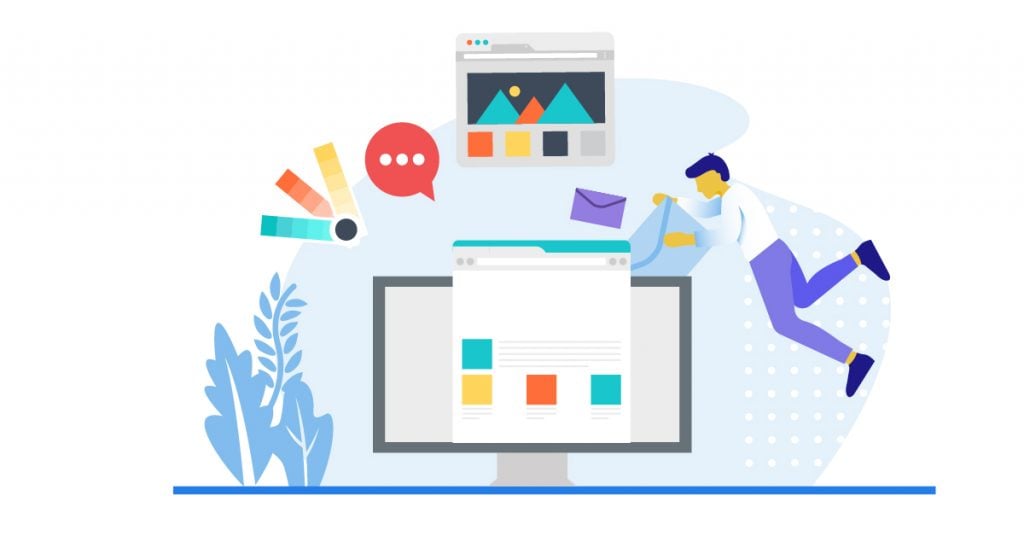 With the promise of a turnaround time of 24-48 hours, you can be certain that you will receive projects fast. There's no guessing of where the project is on the pipeline. Because of this, you'll be able to plan further into the future and get more done. More efficient processes mean stronger growth for your products and services.
As many revisions as you need
It's not uncommon to need revisions when it comes to graphic design projects. Good design is subjective, after all. Thankfully, you won't have to worry about limiting yourself when it comes to requesting revisions.
For big projects like designing logos, you'll want to have as many options as possible. At the end of the day, your brand depends on it.
Customer retention relies on brand trust. Producing quality visuals on a regular basis allows your brand to be seen as consistent and active. This is important for keeping customers, and catching potential customer's interest as well.
What Penji provides as a graphic design service
What does Penji offer that other design options don't? The membership is the ultimate graphic design solution for the modern marketer. Imagine a streaming service in the form of graphic design.
Penji is an on-demand design membership that gives marketing teams, agencies, and startups graphic design in just a few clicks. We offer an abundant amount of subscription options so you can find one that meets your needs. Speak directly to your designer through your own dashboard.
Submit unlimited requests and receive completed designs in under 48 hours at a fixed monthly rate. No complicated hiring. No contracts. Cancel anytime. All design files are yours to keep.
Schedule a 1-on-1 Penji demo here.
No commitment
When signing up for an unlimited graphic design service, you get the value of professional graphic design. This is all without the commitment of a contract or an in-house designer. Penji allows you to save money and time usually put into the effort of vetting and onboarding.
Increased productivity
Your productivity will drastically increase knowing that designs are being completed in a matter of 24-48 hours. You'll have access to a dedicated team of designers. Additionally, you will have prioritized support from Team Leaders and Account Managers.
Know that our design are paying attention to your marketing needs. You can give your company a wider range of access to premium materials. You can do this while creating a more narrow, personalized experience.
Take extra design tasks off your plate
It's the best solution for design overflow and overdue projects. You'll no longer have to worry about not being able to deliver quality design work. Better yet, you'll have more time to work on the other aspects of the business like sales, copywriting, and managing current customers. Scale your design process to supplement other brand strategies.
Quality designs from professional graphic designers
It's difficult to achieve the quality you need by doing your own designs. Professional graphic designers understand the marriage of form and function. So, they will be able to achieve everything you need to establish your brand for your particular project requests.
Change designers
Since graphic design is subjective, you have the option to swap designers based on your taste. If you feel like you built a relationship with a specific designer, you may also request them to work on a particular project. This is costly with other design service options. You won't have to gamble your marketing materials with different freelancers all the time.
Everything is online
By working with an online team of designers, there are no travel costs. The intuitive Penji dashboard gets you in contact with your designer without the confusion of emailing or the complication of visiting an office. Simply enter your design requests, revision notes, and move on with other tasks.
How it works
The unlimited graphic design business model is simple. Graphic design at a flat monthly rate with the option to cancel anytime. Submit as many design projects as you want and professional graphic designers will complete your projects one by one.
Here is the step by step process from signing up to receiving a completed project:
1. Choose the best plan for your graphic design workload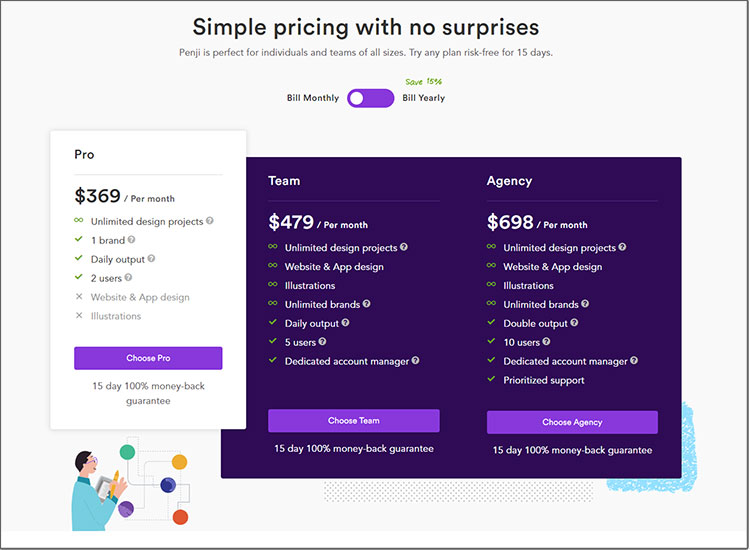 On Penji's pricing page, you'll find 3 package options: Pro, Team, and Agency. If you toggle the button above the packages, you can choose between monthly billing or annual (which saves you 15%). For those who need a few projects completed per month, the Pro package may be the best choice. However, if you have an endless amount of projects, the Agency package will deliver more designs at once.
2. Checkout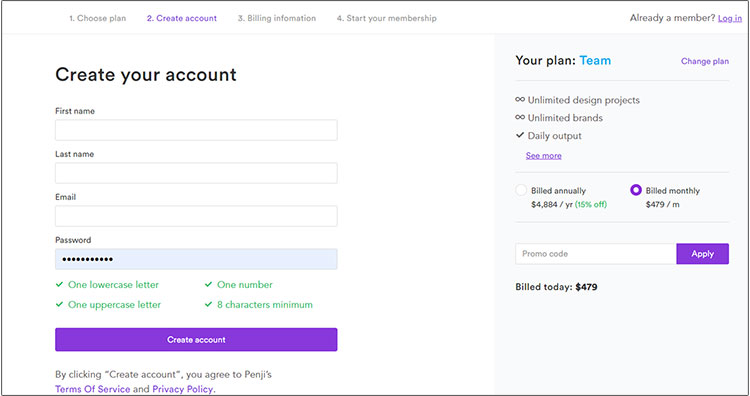 After you fill out the form you're ready to begin designing!
3. Submit your design project request

Once you're in, you'll be redirected to your very own dashboard. This is where you will see all your design requests and projects in the queue. Click on the "Create new project" button.
4. Select a project category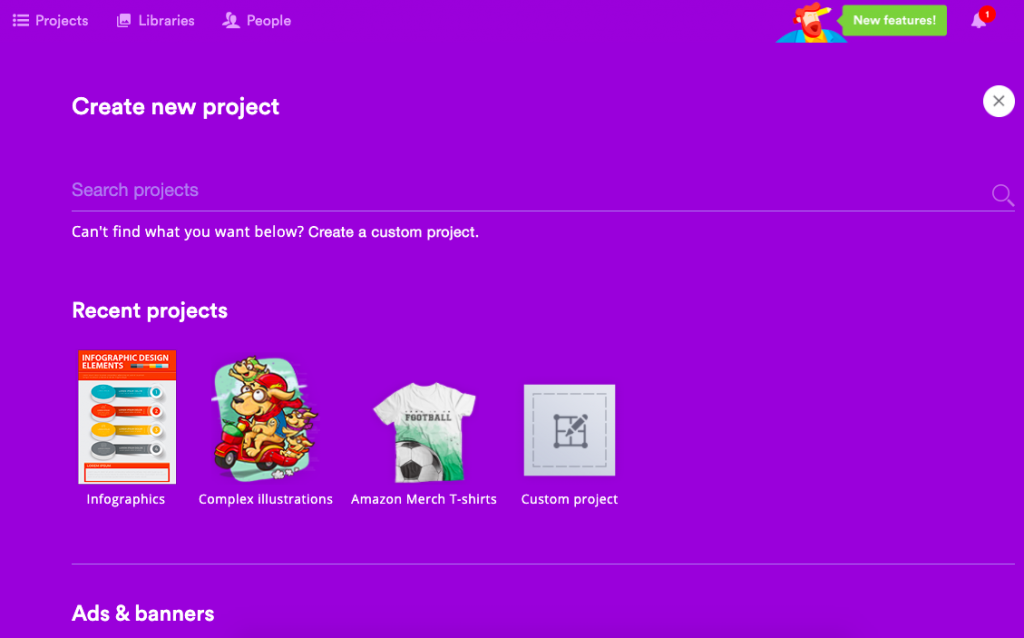 This screen presents you with a plethora of design categories. From logo design to social media posts to request a custom design, the only limit is your imagination. If you have a question about whether or not a design project can be done, ask the Penji support team and an Account Manager will answer any questions you have.
5. Fill out the form with the design details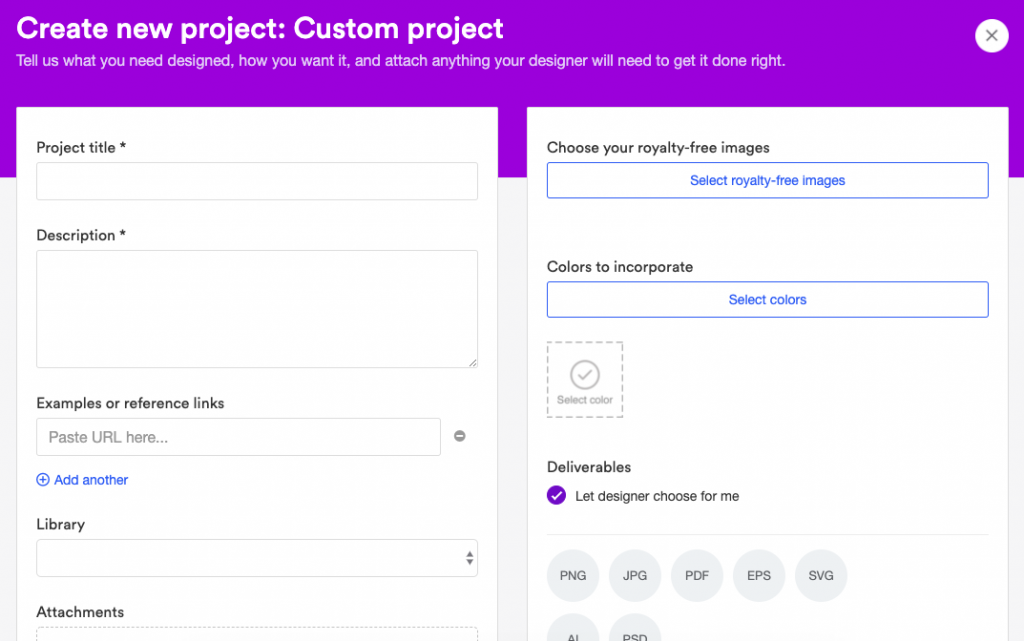 The most crucial part – filling out the form with design details. The more you know about your project, the better your design will be. Though most questions are optional, providing information about your concept will guide the designer in the right direction. Here are a few examples of what to include:
Purpose of design
What the focus is
Colors to include/not include
Typography
All copy for the design
Where you want each element to be
Mood
Dimensions
Possible variations
6. Wait 24-48 hours
Once your project is in the queue, you're automatically assigned your very own personal designer for the specific project. This is based on their skill level for your specific project. For example, if you need a T-shirt design, a designer with ample T-shirt designing experience will be working on your project.
You'll get quality designs FAST. Unlike working with most graphic design services, the turnaround time for an unlimited graphic design service like Penji will give you a guaranteed draft within 24-48 hours. You will see a draft by the next day!
7. Request revisions (optional step)
Revisions are completed in just 24 hours. It's understandable to want to have everything juuuust right down to the last detail. To request a revision, point and click on the area that you want to be changed and leave a note for the designer.
The built-in revision tool on your dashboard makes it easy to communicate. Unlike emails, revisions are easy to sort through and your designer will know exactly what you are looking for.
8. Approve the design
Happy with the design results? You can mark your design as compelte! Your designer will move on to the next request in your queue and you will repeat the design process over again.
Having a creative team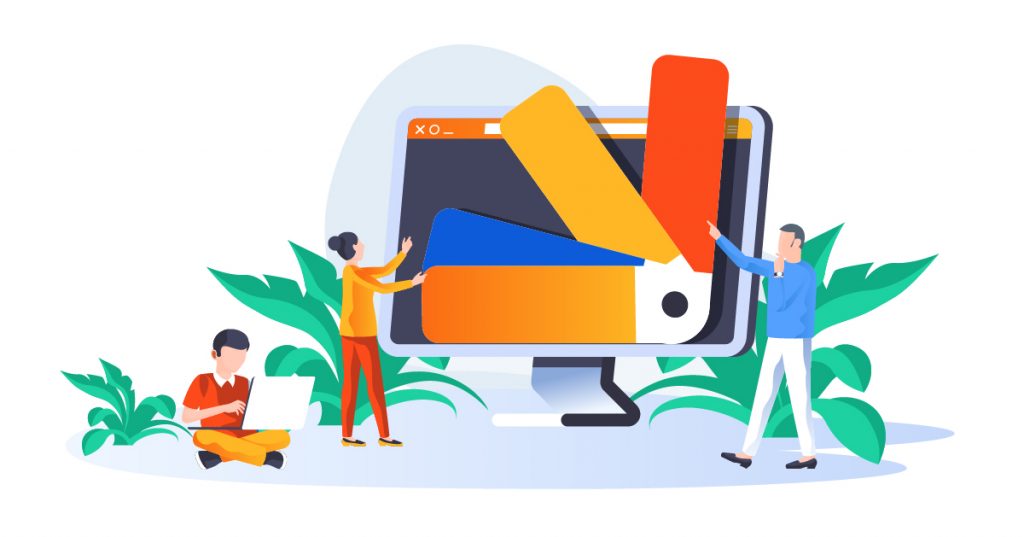 Unlike working with a freelancer, having an unlimited graphic design membership means working with an entire team of designers. There's no need to rehire or vet designers because the unlimited graphic design service does all of that for you.
When you have a team, it also means that you can change designers at any time and for any reason at all. For example, if you prefer one designer's style, you may request them for your particular projects.
Not only will you be able to communicate with your designer directly, but you will also be able to work with designers who specialize in the project you need to be completed. Penji designers are exposed to a variety of different design types and specializations. Because of this, requesting a certain design will never be an issue.
Better Customer Support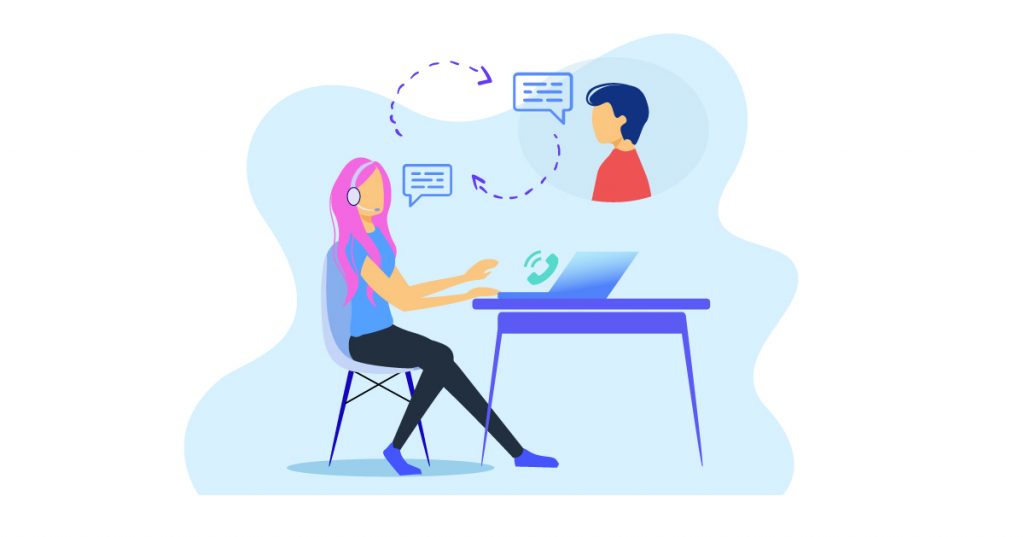 As you know, customers are always the number one priority. Designers at Penji work closely with customers to ensure that projects are completed to the highest possible standards.
Communication with designers is done through your online dashboard. Leave revisions, give feedback, or even leave a compliment for your favorite designer! Sometimes your designer may have questions for you about a particular project. You'll receive an email notification for each message so you'll be able to get to it ASAP.
If you need more support, account Managers are just an email away. You're assigned one as soon as you sign up so shoot them a message if you have any questions.
Popular uses for unlimited graphic design
When it comes to using a service that is unlimited, the possibilities are limited only by your own task list. So, having a long list of requests is ideal when signing up for a membership. Designers complete each of your projects one by one.
However, because of the quick turnaround time of 24-48 hours, having more requests will allow you to maximize the production of projects for your brand. With that being said, here are a few popular requests from clients at Penji:
Social media assets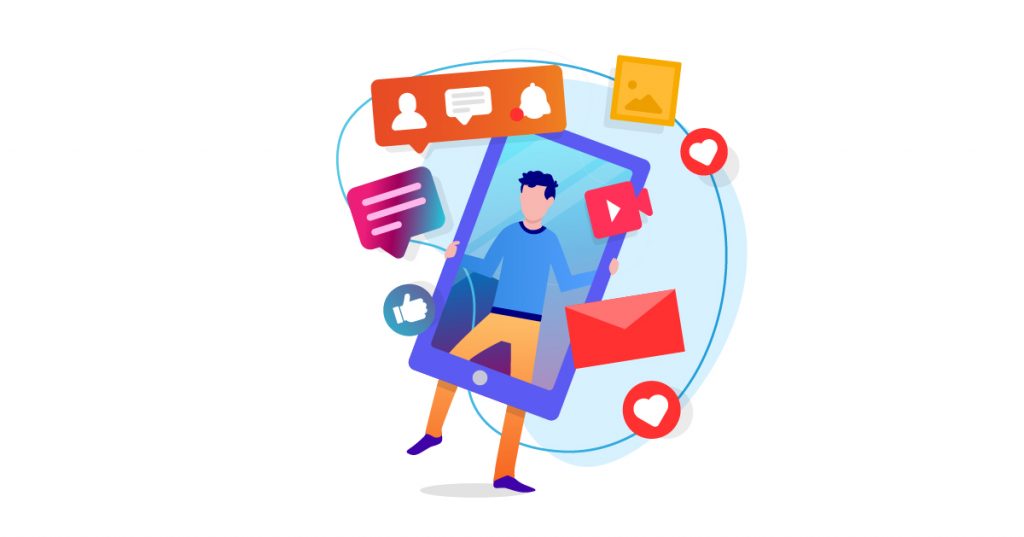 There's no doubt that digital marketing is a top priority nowadays. All social media assets have value because the content you share builds your brand and connects you with your target audience. With all the different social media platforms, the amount of designs needed is endless.
Many clients use their Penji membership to set up their social media calendar by planning out all the designs needed ahead of time. Since the service is unlimited, marketers take advantage of requesting posts and other social media assets weeks or months in advance. Here are a few examples:
Instagram posts
Instagram story
LinkedIn posts
LinkedIn banner
Facebook cover photos
Facebook Ad
Event covers photos
YouTube banner
YouTube thumbnails
Pinterest pins
Twitter cover photos
Twitch banner
Logo design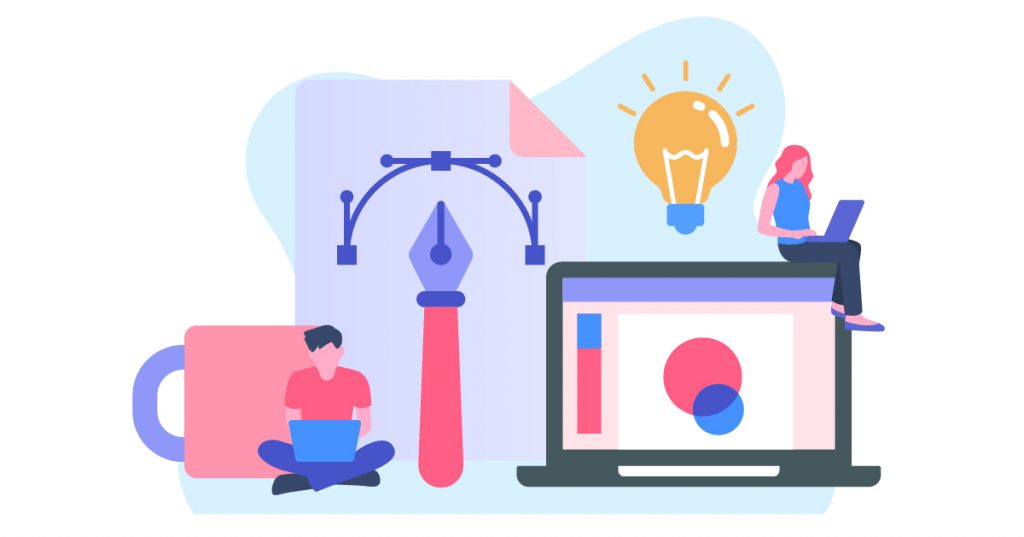 One of the top requests by far is for a logo design. When a startup, entrepreneur, or business owner approaches an unlimited graphic design service, what they usually see is the unlimited revisions aspect of the membership. That is because logos are rarely a home run right from the get-go.
Unlike using other graphic design services, you have the option to request as many edits and variations as you want. And with Penji, the built-in revision tool allows you to be as nitpicky as you like so you can get the perfect logo for your brand.
Flyers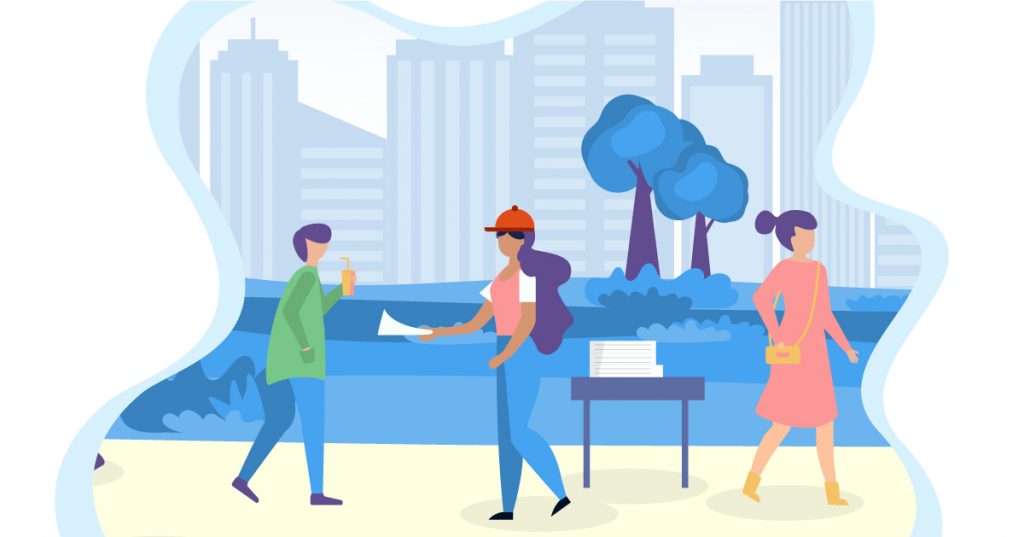 There's nothing like a good flyer design to really capture your audience's attention. One standout flyer amongst a sea of flyers can make all the difference. It's a low-cost marketing tactic that rallies your customers for one common goal.
Print flyers are usually requested by event marketers or businesses that hold events frequently. Digital flyers are requested by email marketers to be circulated through newsletters.
Outdoor marketing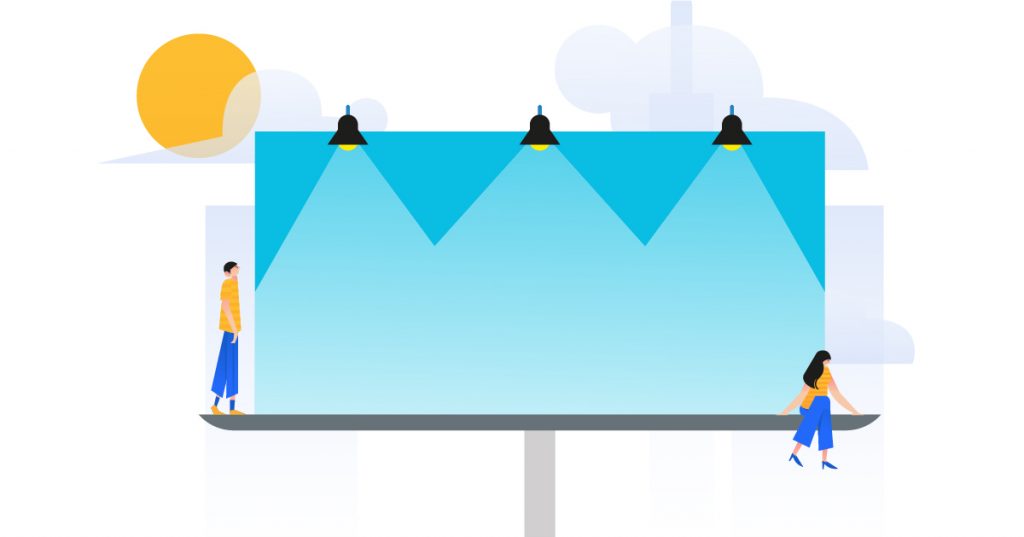 Many marketing campaigns take place outdoors. Whether you're walking to work, on the subway, or driving around town, your eyes will land on advertisements everywhere you turn. It's usually an agency that would request outdoor marketing designs since they have a long list of clients in need of quick impactful advertising. Here are a few examples of what they request:
Billboards
Murals
Point of sale displays
Street furniture ads
Transit advertising (car wraps, bus ads, subway ads, etc.)
Banner ads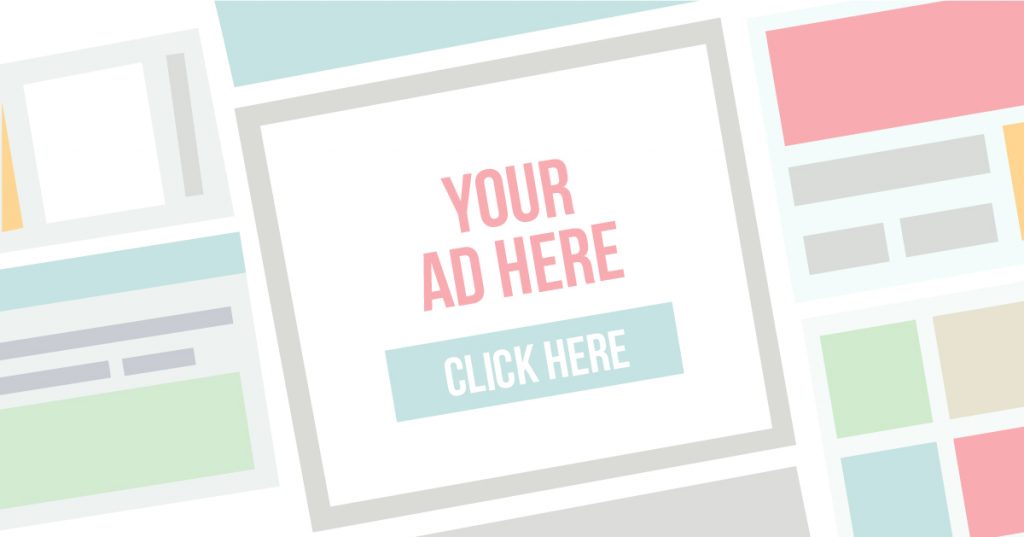 There's a reason why digital banner ads are still around. Though there is more competition now, it's more important than ever to invest in the best design when it comes to creating banner ads. You want your brand to stand out.
There are certain challenges that marketers face such as viewer fatigue and click through rates. However, marketers and agencies come to unlimited graphic design services like Penji fully prepared with copy and design direction for banner ad designs. This is usually planned well ahead of their marketing calendar so they are ready to go live immediately.
Infographics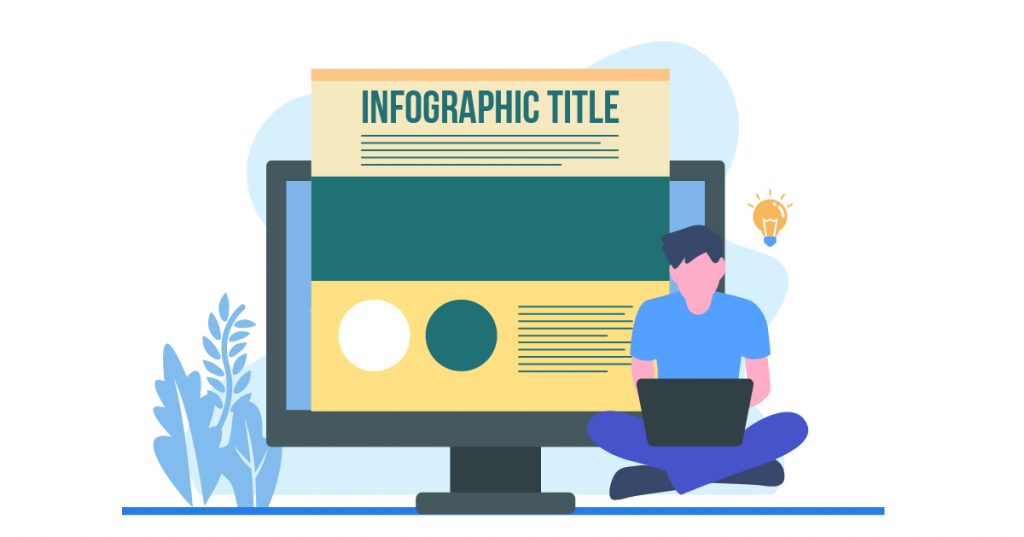 Condensing information into bite-sized quick reads is a powerful marketing tool. Infographics are circulated on social media, emails, and blogs because it catches the attention of who you're trying to reach while providing the value in under a minute. This is a common request from content marketers because it helps their readers soak in information and share it with their network. Using an unlimited graphic design service allows them to create highly sharable content at a quick rate.
Packaging
For startups and businesses with a physical product, investing in good packaging design is one of their main priorities. Packaging design has to be good or even better than the product itself. So, using an unlimited graphic design service gives them access to the top 2% of designers, guaranteeing creativity and quality results.
For Agencies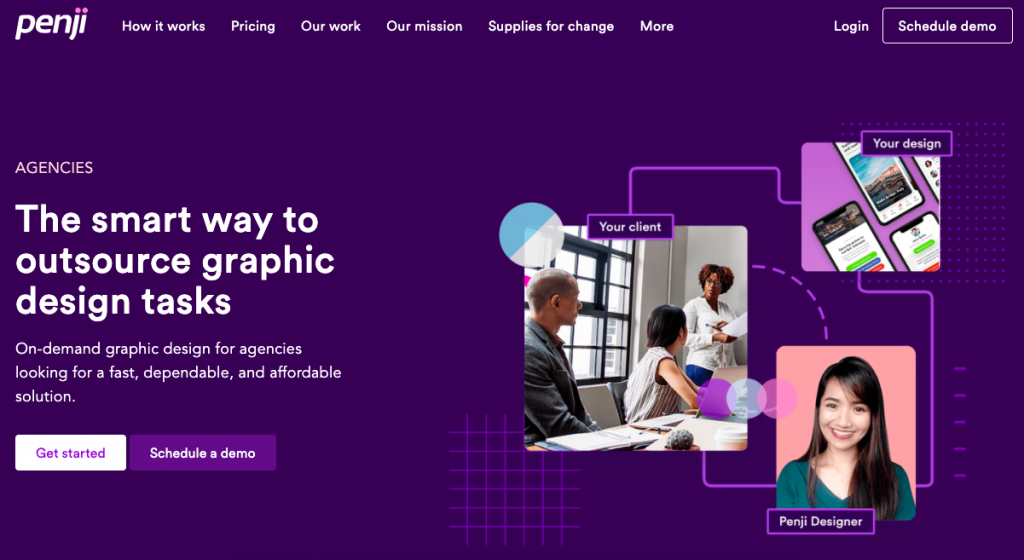 As fellow creatives, an unlimited graphic design membership services agencies and design firms well because there is a mutual understanding of what is expected from professional graphic designers. Speed, quality, and communication are the highest concerns.
Some agencies need to outsource work, usually to freelancers. However, the vetting process can be quite costly because of the time spent and the high chance of mistakes. When using an unlimited graphic design service, there are many designers on the team with various skill sets. This gives the confidence that projects are professionally executed with a low-risk solution.
Agencies with their own in-house design team use Penji to help their designers with their work overflow. Typically, these agencies have too much on their plate and need a hand. A common misconception is that an unlimited graphic design service replaces their designers, however, the truth is that Penji acts as their in-house designers' assistant for smaller projects. This way, they can focus on larger tasks.
For Marketing Teams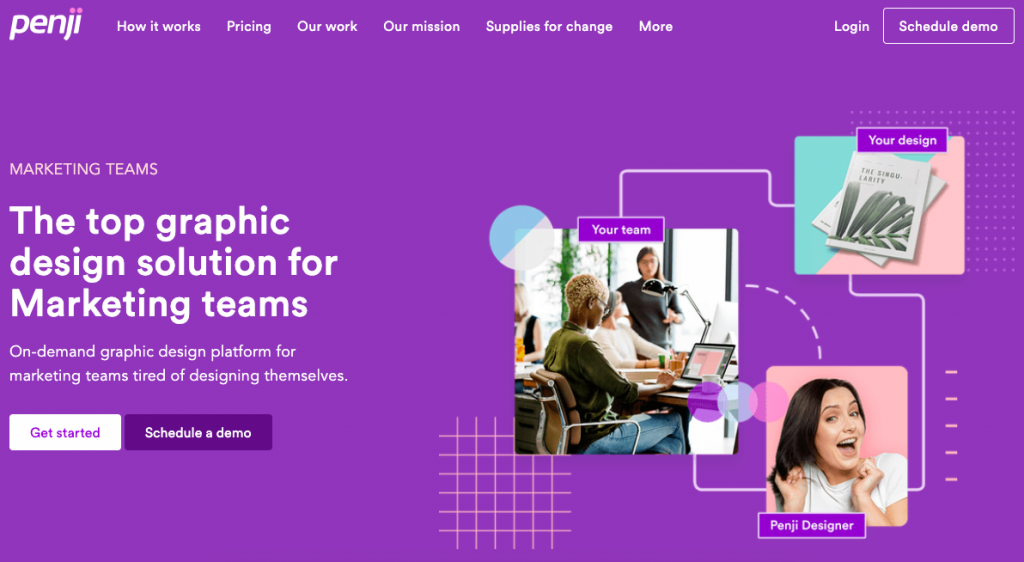 There should only be one thing marketers should be focusing on – marketing. Though marketing and graphic design go hand in hand, a marketer should not be doing the design work themselves.
Marketers that sign up with an unlimited graphic design membership have the brains for sales and marketing. However, what they need is design expertise. Hiring an in-house designer or freelancer is usually out of the question because of budget constraints. So, Penji is the best solution for all of your design needs.
Marketing strategies are planned out way ahead of time. Because of this, time and quality is the highest concern. Overdue tasks are also a big issue.
By taking advantage of the quick turnaround time, marketers are able to use their membership to the fullest. Professional graphic designers work on their projects such as social media posts, email marketing materials, flyers, and more so they can better supplement their campaigns.
For Startups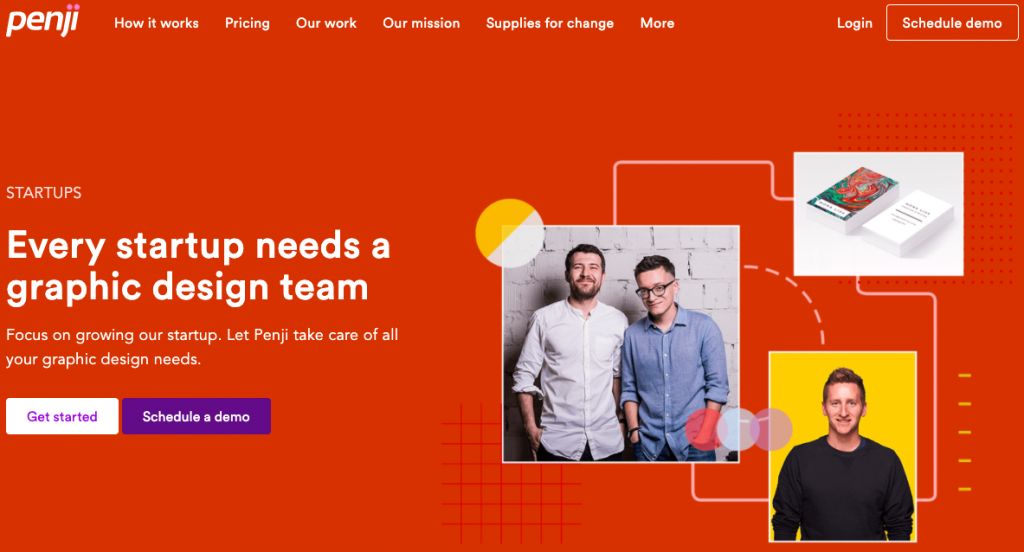 There are many challenges when it comes to founding a startup. Graphic design doesn't have to be a challenge. Many startup clients at Penji are early or mid-stage so hiring an in-house designer or freelancer is out of the question because of funds. So, by using an unlimited graphic design service, startups get the design help they need without having to commit to any contract.
Speed and quality is the highest concern because they are still building their brand. Promotional and marketing material designs are usually requested from this particular client because of their need to scale and grow as a business. Competition is high for startups, and every penny has to count.
For Merch Sellers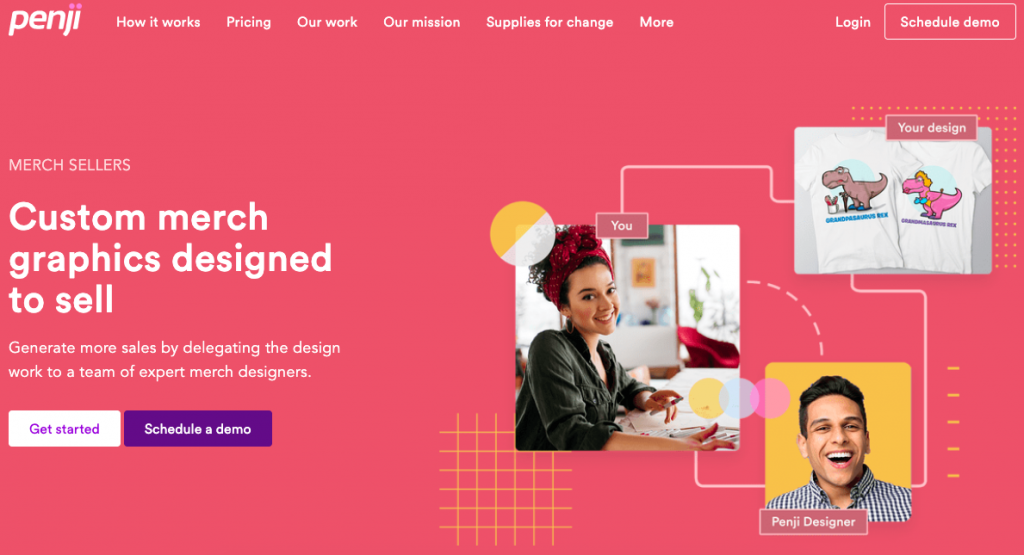 Once Merch by Amazon launched, the community grew fast. With the possibility of making thousands of dollars on sellers' minds, they began looking into graphic design options to help speed up the process.
T-shirt marketplaces like Merch by Amazon, Redbubble, Etsy, and more have a business model where you upload a design and they take care of the printing, inventory, and shipping on your behalf. Then, rank the earnings as you see fit.
Because sellers only need to submit a design, Merch clients look for the most affordable and fastest option for pumping out graphics. Working with an unlimited graphic design service, they have a team of designers instead of working with just one. They are able to receive a high number of designs per month to meet cost/margin goals.
Key Takeaway
Unlimited graphic design services make designing quality graphics such as ads, logos, and social media assets quick and easy. Just like its name, unlimited graphic design services such as Penji, offer unlimited potential and can act as a key to unlock bigger returns. Not only that, but it's also quick, easy, and no hassle to communicate.
If you ask some, they may say it's too good to be true. However, at Penji we make it possible.
Sign up for a LIVE DEMO of Penji and see how the design process work firsthand.