Since design is a major business asset, every company is scrambling to find the best graphic designers online or offline. This hunt for the most skilled talents sometimes leads to online freelance marketplaces. But what they don't realize is that there is a better option than a freelance graphic designer. And it's right under their nose.
Let's explore another freelance graphic designer alternative called on-demand graphic design service. On-demand graphic design services, like Penji, have a unique business model. Clients pay a fixed monthly rate in exchange for unlimited graphic designs. This is a trending business model that is simple, quick, and affordable.
In this article, we'll dig deeper into what you should expect from freelance graphic design vs. on-demand graphic design. And why you should opt for the latter.
Where to Find Freelance Graphic Designers?
First, we need to know where to find freelance graphic designers. The market has grown exponentially through the years that the numbers alone will make you dizzy with options. Here are some of the few, in case you want to see for yourself how arduous finding the right designer is:
Upwork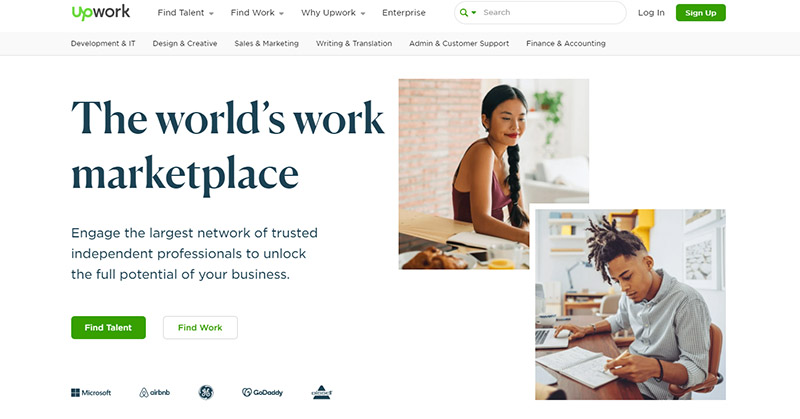 Previously known as oDesk and recently joined by Elance, Upwork tops the list as it's the most popular. The platform verifies all their candidates to make sure that you get the best hires possible. It also has a feedback and rating system that is helpful in finding the right candidate for your task.
Amazing as the platform is, it also has its downsides. First up, it isn't cheap. With all the service it will provide, there's a corresponding fee to it. Also, hiring can take as much as three days before you get the right person for the job.
Fiverr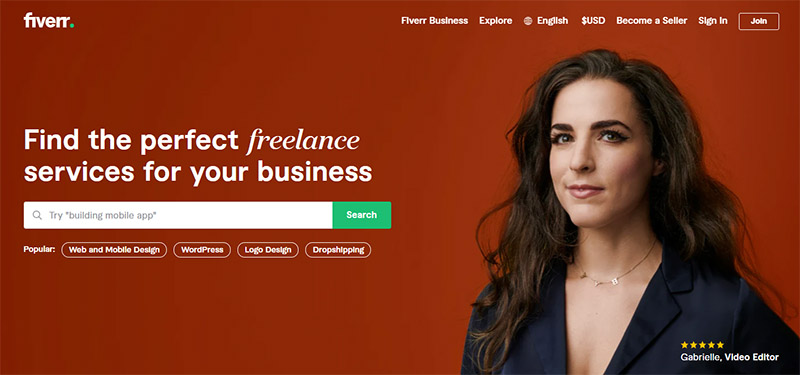 If you have small to medium tasks, Fiverr is the best place to go to. For as low as $5, you can get a simple logo or any graphic design asset. Of course, the more complicated your project becomes, the higher you pay. But generally, this is a straightforward and easy place to find new talents.
Having said that, Fiverr isn't all good all the time. There is no guarantee that you'll get original, copyright-free designs. You may also find freelancers that are in the habit of not submitting work and abandoning you altogether.
We Work Remotely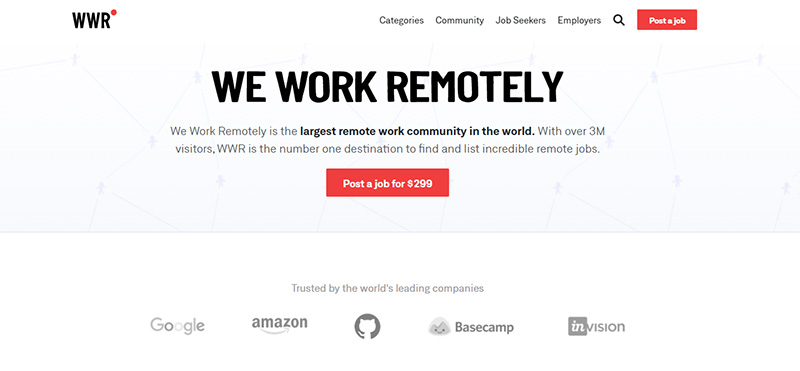 From graphic design to programming, We Work Remotely is a great freelance resource. It offers more features than its competitors, so its high fees are justified. They also have a larger audience allowing you to get in front of more candidates.
Sadly, their user interface isn't as easily navigable as the others. It has no advanced filters which make finding the right person a bit complicated.
Creative Market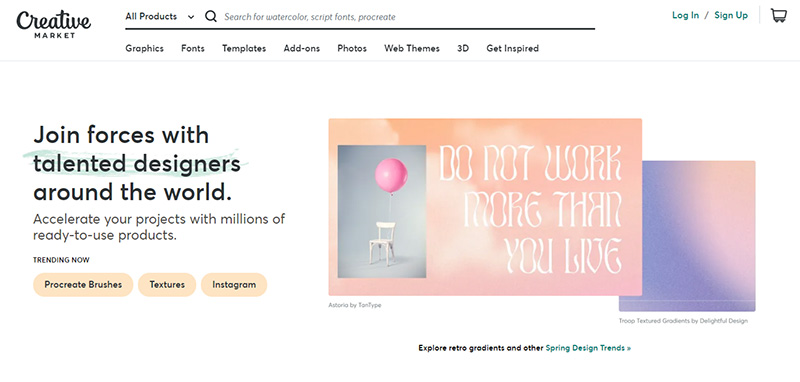 With designers coming from all over the world, Creative Market offers diverse options for your design needs. If you need custom-made fonts, social media templates, web designs, and more, this is the place for you. The rates are reasonable and the site has a community feel to it as it's not as big as the others on this list.
The designs you'll see on the platform are so varied, the only negative thing you'll find is the abundance of choices. You'll be hard-pressed to find one you can happily settle with.
Behance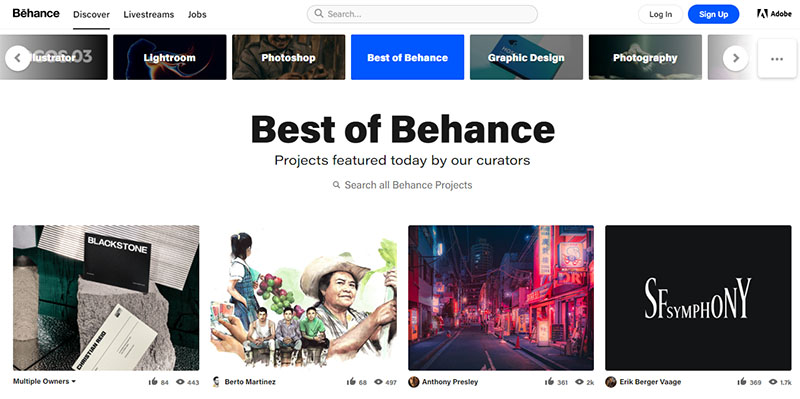 Upon setting sight on the website's gallery, Behance will blow you away. The artworks displayed by the talents are awe-inspiring. You'll find designs of brand prototypes that look better than the original ones. The platform has a wide range of talents that finding the right one for your task should be fairly quick and easy.
One caveat though, posting jobs on the platform can be expensive. Because of this, it may be beneficial to larger-scale businesses but not small to medium sizes. For a single job post that is up for 30 days, it will set you back at around $399.
Freelance Graphic Designers

Almost anyone who's looking for work outside the corporate world would turn to "freelancing." Although the world freelancer has recently become a buzzword, its roots date back to the 1800s.
Medieval mercenary. That's how freelancing came about. Feudal lords would refer to his paid army as "free lances." This is because this medieval mercenary would come to work for any person or army that paid them the most.
Fast-forward to 2020, freelancing still carries its fundamental concept — focused on the highest bidder and has no long-term commitment. And since graphic design is a booming industry, many freelance graphic designers start their careers in freelance marketplaces. This is in the hopes of snatching a high-paying client while building a killer portfolio.
Although clients can find skilled freelance graphic designers, many still want their "freedom," avoiding contracts and long-term commitments. For businesses with one-time design projects, a freelance graphic designer might be their best bet. However, for those with perennial design projects, hiring freelance graphic designers might be a burden in the long run.
On-Demand Graphic Design Services
Our generation is now referred to as the "on-demand economy," according to the Business Insider. The provision of goods and services via a technologically advanced network or software is rising at an accelerating pace. And for a good reason.
On-demand services work like cloud computing, which, like freelancers, have no contracts, but have a different business model. For instance, many businesses now prefer on-demand graphic design services due to its user-friendly business model.
In most cases, this business structure favors clients with its simple, efficient, quality, and affordable service. In exchange for a flat monthly rate, clients get unlimited designs and revisions. And like freelance graphic designers, on-demand graphic design services don't hold you down with contracts. Let's delve into every aspect of both graphic design services. That way, you'll come to realize why subscribing to an on-demand design service such as Penji will make it worth your while.
Speed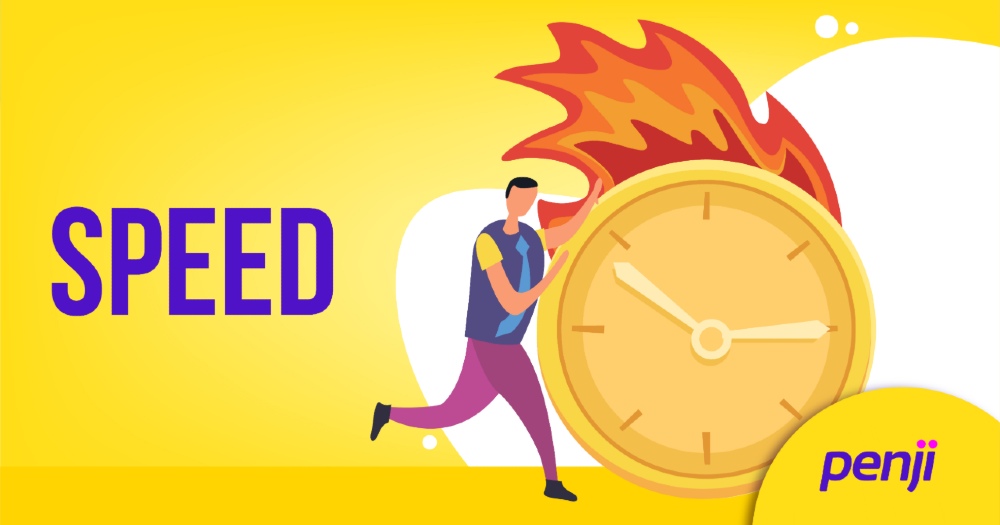 Freelance Graphic Designer
Whether you're running a small- or medium-sized business, speed is crucial for graphic design. In marketing, teams have timelines, so all strategies must run on schedule. Having an efficient team that's very time-conscious prevents delays in design completions.
More often than not, a freelance graphic designer grabs multiple clients to garner a higher income. In most cases, they would prefer the highest bidder, because after all, who doesn't want a high-paying job?
Expect that you'll be sharing your freelancer's time with other clients. Therefore, communication and design completion deadlines can be compromised. Since freelance graphic designers are their bosses, they work whenever they want to.
On-Demand Graphic Design Services
On the other hand, on-demand graphic design services have a quick turnaround. They take pride in their 24-to-48-hour design completion. Plus, a team leader monitors every project, ensuring that everything is on schedule. That said, Penji doesn't let you down when it comes to deadlines. If you want to try our services for free, sign up here.
Quality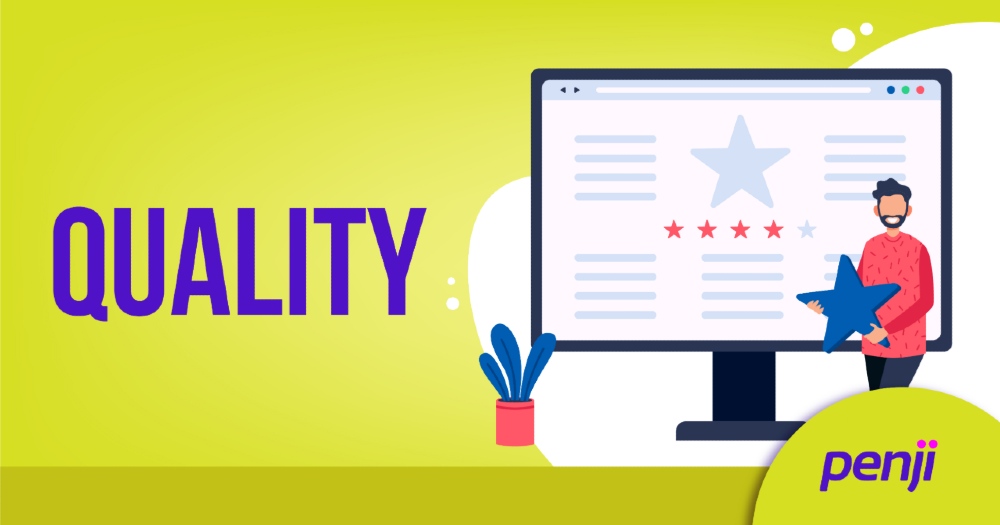 Freelance Graphic Designer
Freelancers compete on job marketplaces like Upwork or Fiverr. Although Upwork has a strict registration process, Fiverr welcomes anyone who wants to offer their graphic design services. This aspect is vital for quality designs all the time.
Logos, business cards, or marketing materials rely on quality designs for brand recognition and conversion. Since some freelancing sites are hectic for newbies, clients fall prey to hiring the neophytes due to their cheap rates.
Also, fake reviews are rampant on Fiverr. Some freelancers buy these reviews in the hopes of getting good-paying clients. Lastly, since a freelance graphic designer doesn't work with a team, creative burnout is inevitable.
Like writer's block, creative burnout is also a common hurdle for graphic designers. That's why some clients prefer to entrust their design projects to an entire team to get new ideas.
On-Demand Graphic Design Services
Just like design and marketing agencies, on-demand graphic design companies also work in teams. Once you submit your design requests, you will be assigned, one designer and one team leader. However, these designs are also consulted with the entire graphic design team.
Moreover, these on-demand graphic design companies have stringent hiring processes. For instance, Penji only hires the top two percent of the best graphic designers with varied specialties. Overall, you'll have more fresh ideas and flourishing creativity when working with on-demand graphic designers.
Working with the Team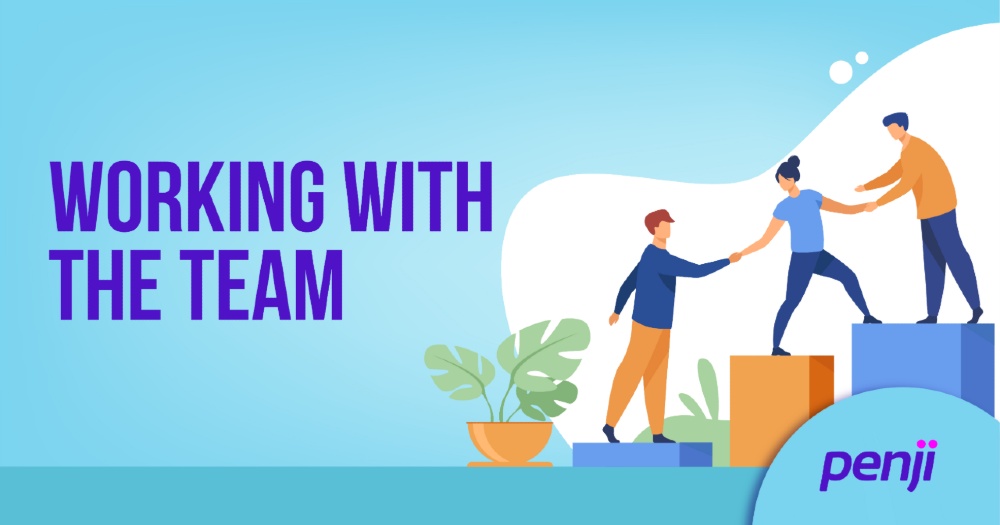 Freelance Graphic Designer
The basic concept of freelancing is to have no work commitments to anyone. This leaves them all the work freedom with no scheduled time-in and time-out. Additionally, freelancers also don't like to answer to anyone, hence, working alone.
While some freelance graphic designers may be able to pull this off with quality outcomes, some can't. While you can directly assess the designs, freelancers don't have a team that oversees the ongoing work. This can lead freelance graphic designers in the wrong direction (e.g. wrong brand colors, inconsistent messaging, etc.).
On-Demand Graphic Design Services
On the contrary, on-demand graphic design services work differently. While you are only assigned one designer and one team leader per project, everyone works in a team. For instance, at Penji, the team encourages graphic designers to improve continually. That said, they have an award system in place for the best designers of the month.
Plus, these companies hold regular meetings with the entire graphic design team to foster their strengths and improve their weaknesses. On-demand graphic designers also receive feedback about their work, allowing them to hone their skills even more.
Overall, subscribing to an on-demand graphic design service is like signing yourself up for an entire graphic design team. In fact, you can schedule a demo and invite 10 of your team members to join as well.
Scalability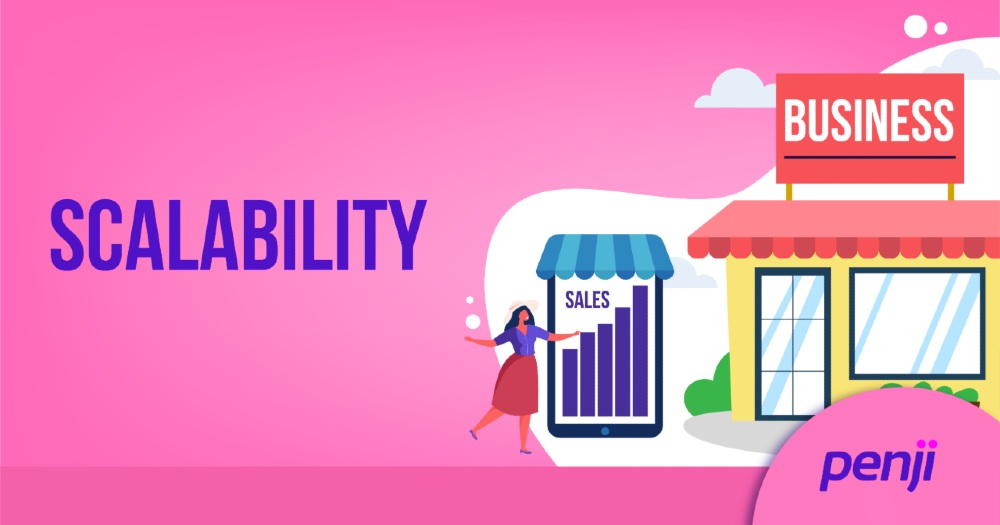 Freelance Graphic Designer
Choosing graphic design services for your company depends on a lot of factors. Many entrepreneurs and marketers factor in the costs, design request frequency, and company journey.
For instance, startups struggle during slow seasons. There might be times wherein design projects are zero or minimal. While a project-based freelancer might be good for startups like this, on-demand graphic design services offer affordability in the long run.
Furthermore, hiring various freelance graphic designers might not be familiar with your branding. According to the Oxford College of Marketing, inconsistent branding breaks the link where customers start to recognize brands. Ultimately, this branding inconsistency is not good for business scalability.
On-Demand Graphic Design Services
On the contrary, ventures that are scaling their business will find on-demand graphic design services helpful during a fickle period. Because there are no contracts, companies can easily cancel their subscription and resubscribe as needed.
For startups, this can be a good scheme when working with uncertainties in the business during the initial phase. On-demand graphic design services also offer varied pricing plans. With Penji, our clients can downgrade or upgrade depending on where their company is at.
Understanding the Brand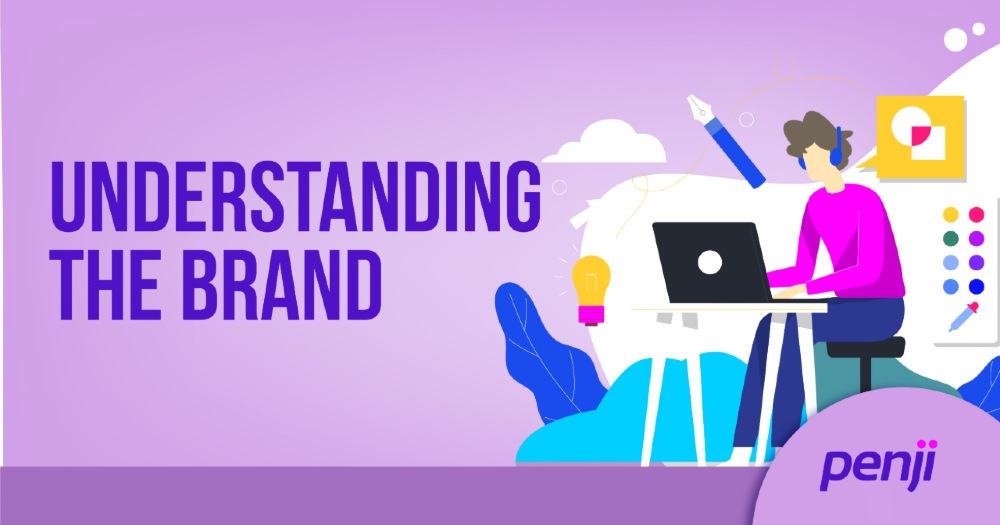 Freelance Graphic Designer
It's challenging to find long-term freelance graphic designers. Clients must undergo the same hiring process over and over again if they have new design projects. In terms of branding, it can be time-consuming to explain what your brand guidelines are.
In some cases, a newbie freelance graphic designer might miss using the branding on the designs. This can result in branding inconsistency and inconvertible marketing materials.
On-Demand Graphic Design Services
On the contrary, working with on-demand graphic designers ensures you're dealing with experts who go through user and market research. They do a step-by-step process in getting to know the brand before design creation. This is to make sure that brand colors, icons, typography, and messaging are incorporated across all channels.
Plus, Penji uses a bespoke platform that stores every client's brand guidelines. This makes it easier for different graphic designers to check the brand's image library for references.
Cost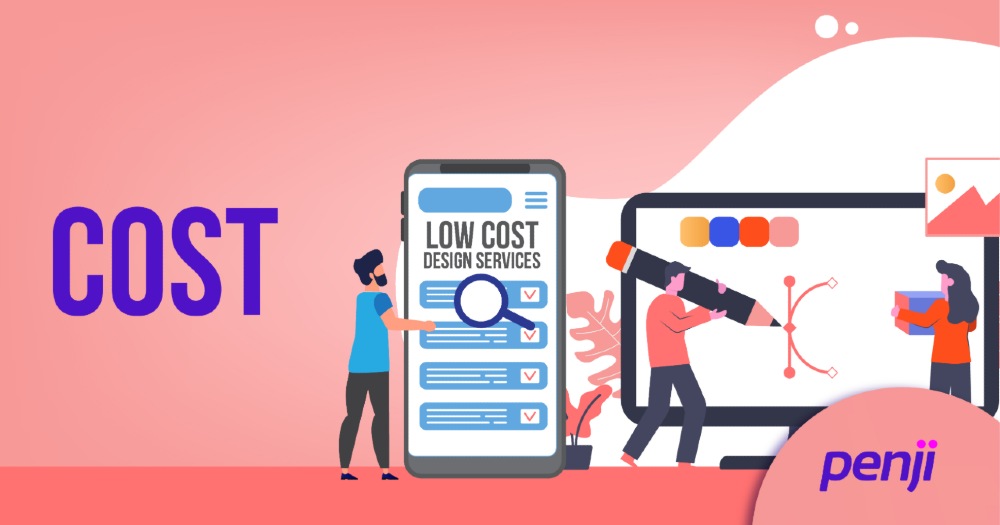 Freelance Graphic Designer
If you're looking for cheap logo designs, Fiverr's $5 logo design offer fits within your limited budget. However, if you aim for scalability, more design requests are inevitable. While some freelancers may offer affordable rates, it's hard to find one who can provide quality and affordable designs.
Imagine having to pay a freelance graphic designer per hour or project. According to the U.S. Bureau of Labor Statistics, a graphic designer's 2019 median pay is $25 per hour. If it takes a freelance graphic designer one to two designs per working day, costs will pile up. Overall, you're not getting more than what you're paying for.
On-Demand Graphic Design Services
On the other hand, an on-demand graphic design's business model includes a fixed monthly rate. Penji's pricing plans are $399/month, $499/month, and $899/month. This is automatically billed every month, regardless of how many design requests you submit. That means you'll get no billing surprises — just simple, quality, and affordable graphic designs.
Hiring Process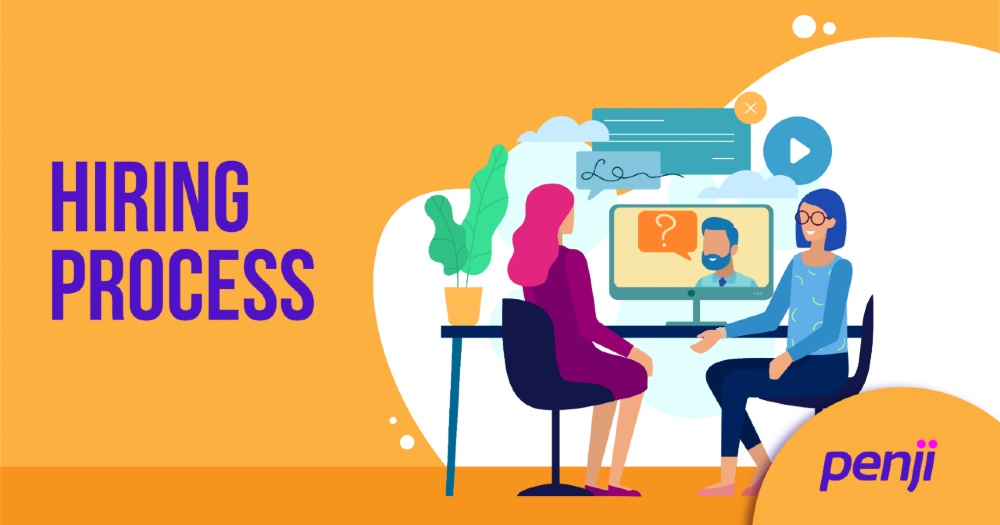 Freelance Graphic Designer
The graphic design industry is one of the most progressive business sectors in the United States. That means, there is no shortage of freelance graphic designers, especially in online marketplaces.
However, finding an excellent freelancer who can work with you all the way is difficult. Freelance graphic designers will always give their time and focus to the highest bidder. So if you're not paying them reasonable rates, expect that they'll jump ship anytime they see a client worth their time and effort.
The search for experienced and affordable freelance graphic designers is also time-consuming. Here's a run-through of how the hiring process goes:
Register for freelance marketplaces
Post a job offer or browse through several freelancer portfolios
Check their work samples, pricing, and other client reviews
Interview the freelance graphic designer of your choice
Do a paid test project to check if both of you are a good fit
Contract signing and start projects
On-Demand Graphic Design Services
Choosing an on-demand graphic design service is less tedious. All you need to do is choose the graphic design provider you prefer. Go to their website and sign up. Opting for Penji is fast and easy. Since we do the recruiting for you, you no longer have to go through the hassle of searching and interviewing graphic designers. Our graphic designers are vetted for their skills since we are strict in choosing who we want onboard our team.
Since we do the recruiting for you, you no longer have to go through the hassle of searching and interviewing graphic designers. Our graphic designers are vetted for their skills since we are strict in choosing who we want onboard our team.
Here's how Penji works, from subscribing to design completion:
Choose a Package and Sign Up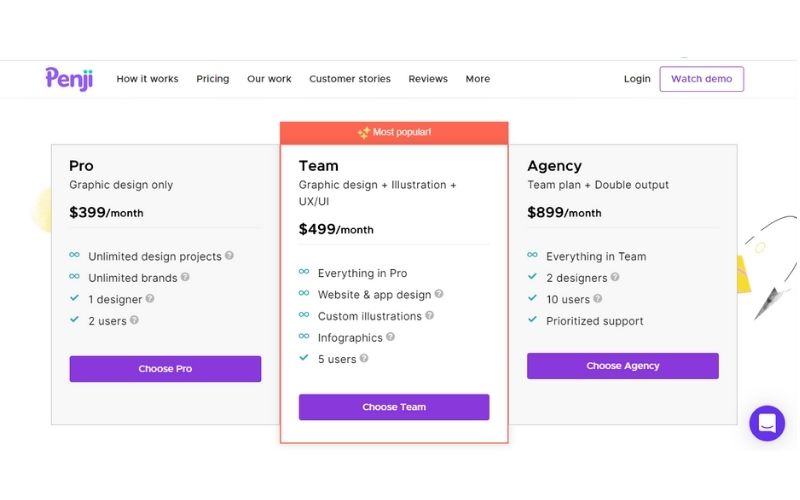 Decide which design plan works for you best. If you are a one-man team, choosing the Pro plan could work for you. But as your team gets bigger, we recommend using the Team and Agency plans.
Creating your account should only take you a few minutes. Once you are done, you will be given access to our app.
Request Designs from Penji App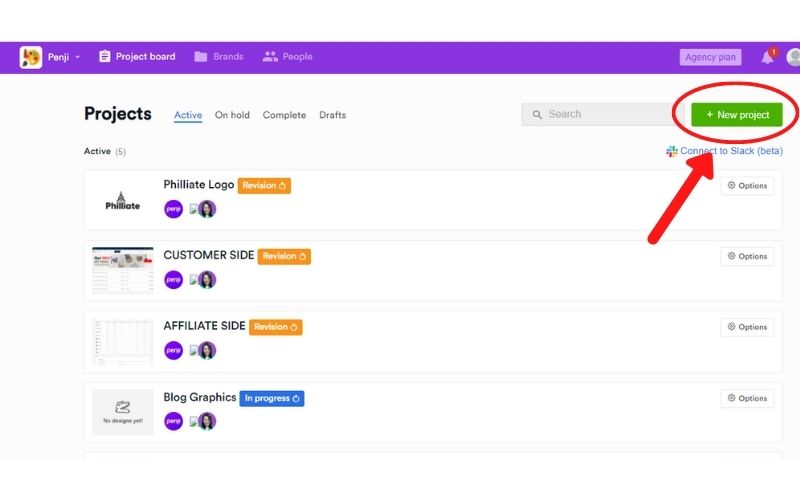 Log in to your account, and you will be taken to our amazing platform. We've created our app with our customers in mind. That means, it's easy to use, and you don't need assistance. However, if you get lost and confused, we can still assist you.
From that dashboard, you can find the status of your current projects. These are organized whether completed, pending, or in the queue. On the right side of the screen, you will see a New Project button. Click that to request a design. It will take you to a different page.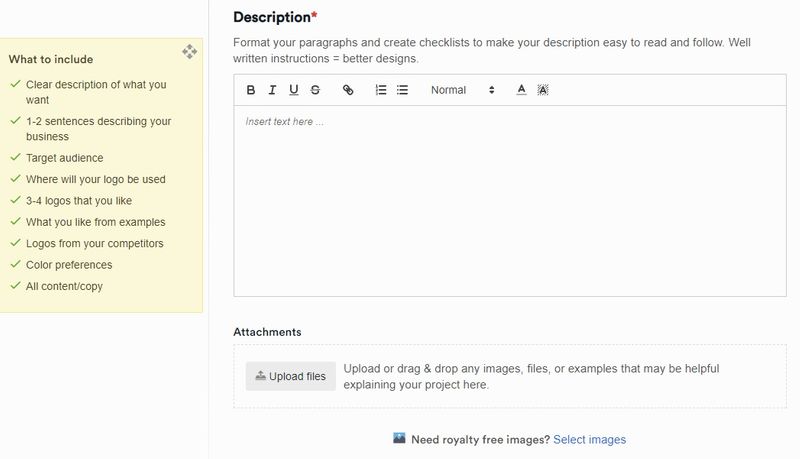 On this page, you will be asked to provide information about your project. Don't worry if you are not used to providing a design brief. We made it easy for you. There are guide questions and even a checklist so that you can give the right information when requesting a project. If there are other details which you think might help our designers, add those as well. You can include links, brand colors, font style, and even other images that can serve as your designer's inspiration.
Once you submit your request, a new project thread will be created, and a new designer will be assigned to you. If they have questions about your request, they will send these right away. Having said that, make it a habit to check your account for new updates and messages. Or, check your email because you will be notified as well.
Review the Draft and Send Back for Revision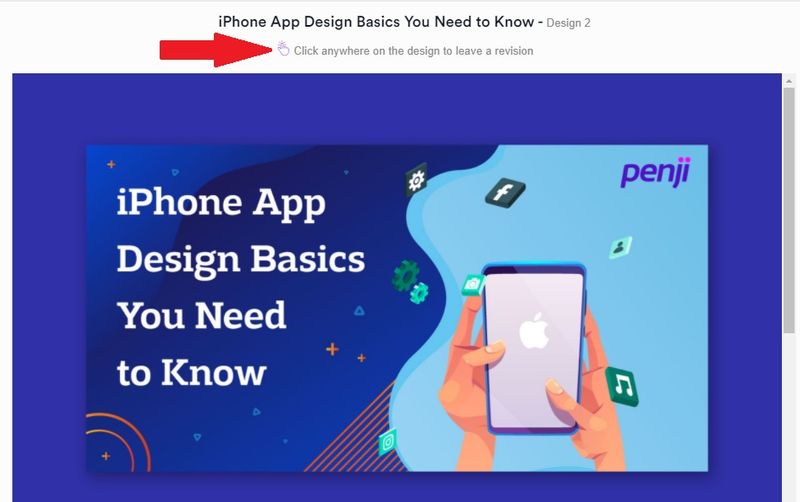 As a standard, our designer will send the initial output within 24 to 48 hours, depending on how simple or complex your request is. From here, you can send your points for improvement. Here's what you need to do.
First, click the image to enlarge. Now, check all areas and see if you want anything to be changed or revised. Click it, and you will see a comment box. Type your feedback directly and send it to your designer.
This cool feature of our app has helped many designers and customers to complete a project faster. Because you are able to pinpoint what and where exactly the revisions have to be made, the designer can work on it right away, eliminating further communication exchanges.
If you are satisfied, you can now proceed to the last step. Or if you think that your designer cannot meet your standards, you can ask for a replacement for free.
Download Your Project and Source Files Immediately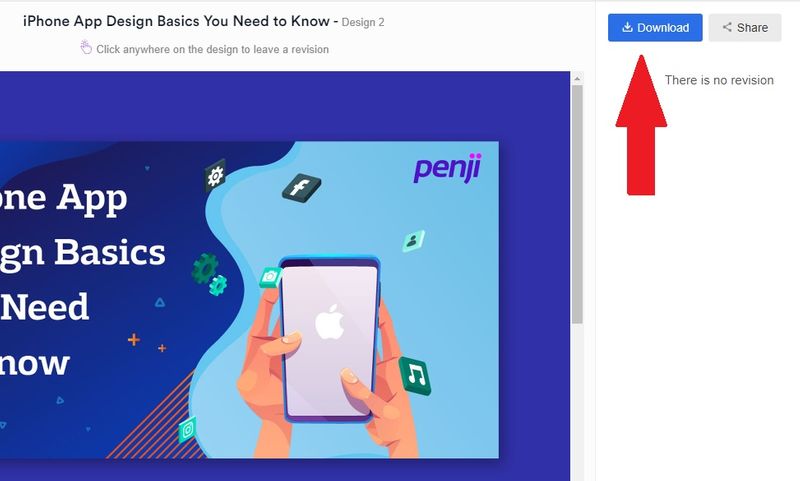 When things are already on point, you can now download your project right away. Use it for your marketing, or for whatever reason you have.
Another great thing about our process is that we require our designers to include the source files every time they submit a new version of the project. This simple mandate allows our customers to download the project without the need to send a separate email to our designers. We can't emphasize enough how we value efficiency.
If you want to enjoy the benefits of using Penji, don't waste your time. Just sign up right now.
Meanwhile, you can take a look at our sample works.
Some of Penji's Work Samples
Illustration Design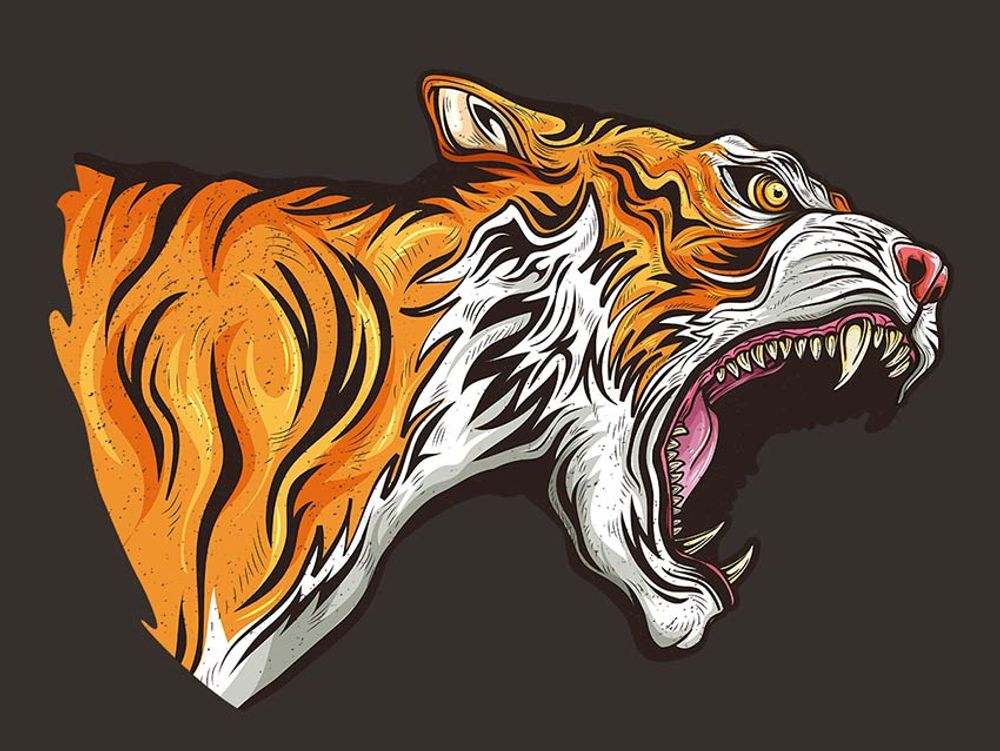 Brand Guideline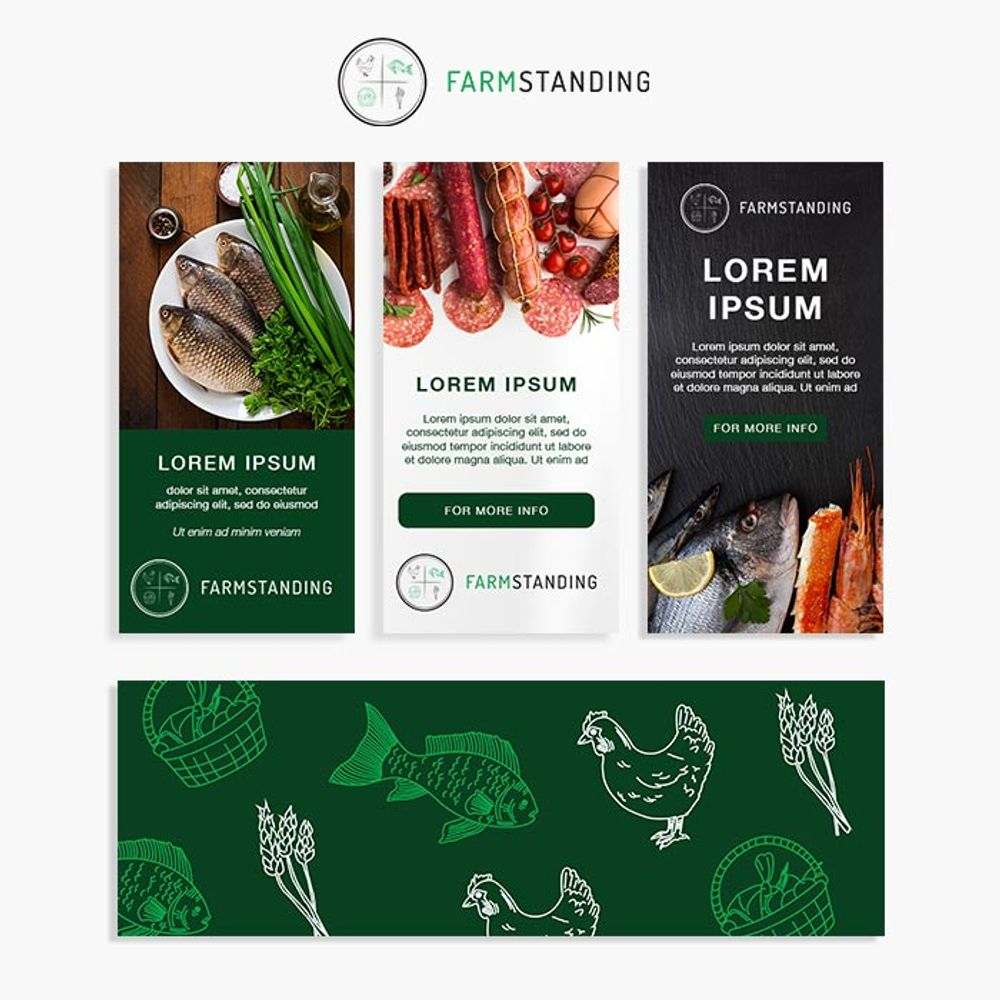 Packaging Design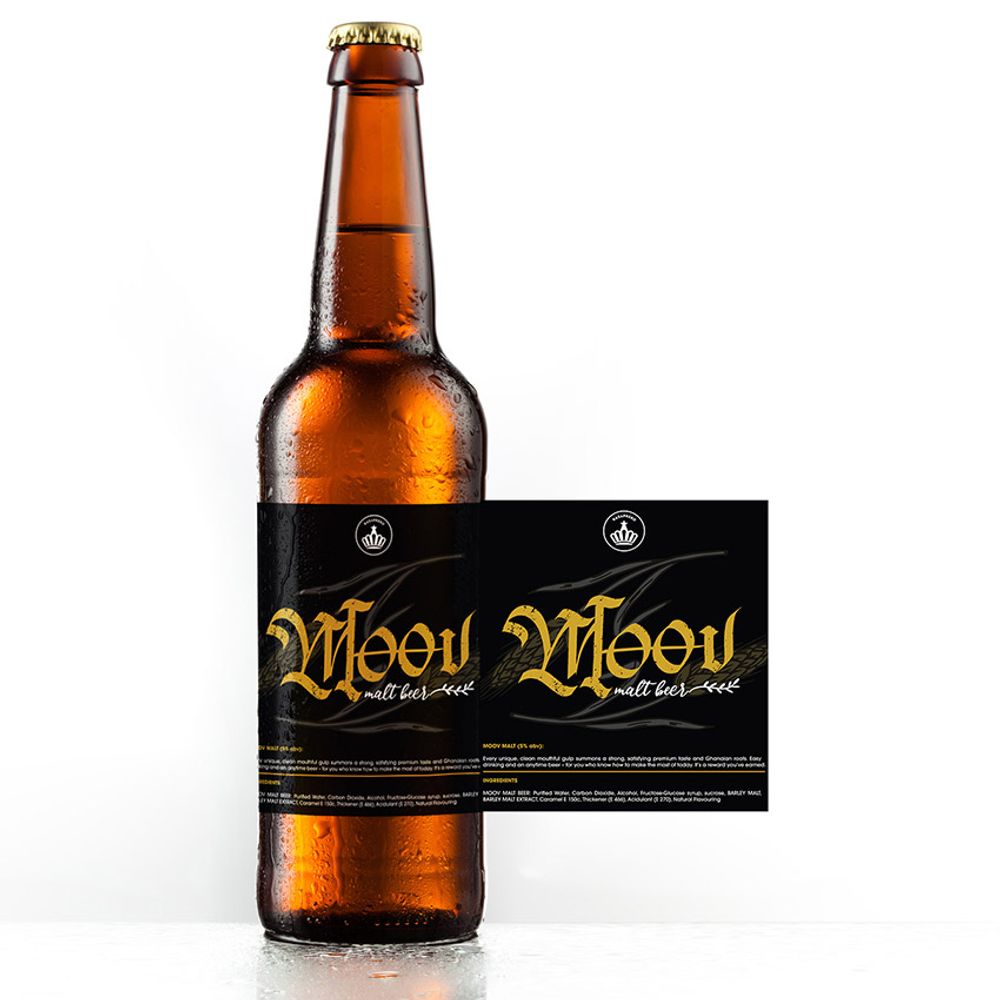 Tradeshow Banner Design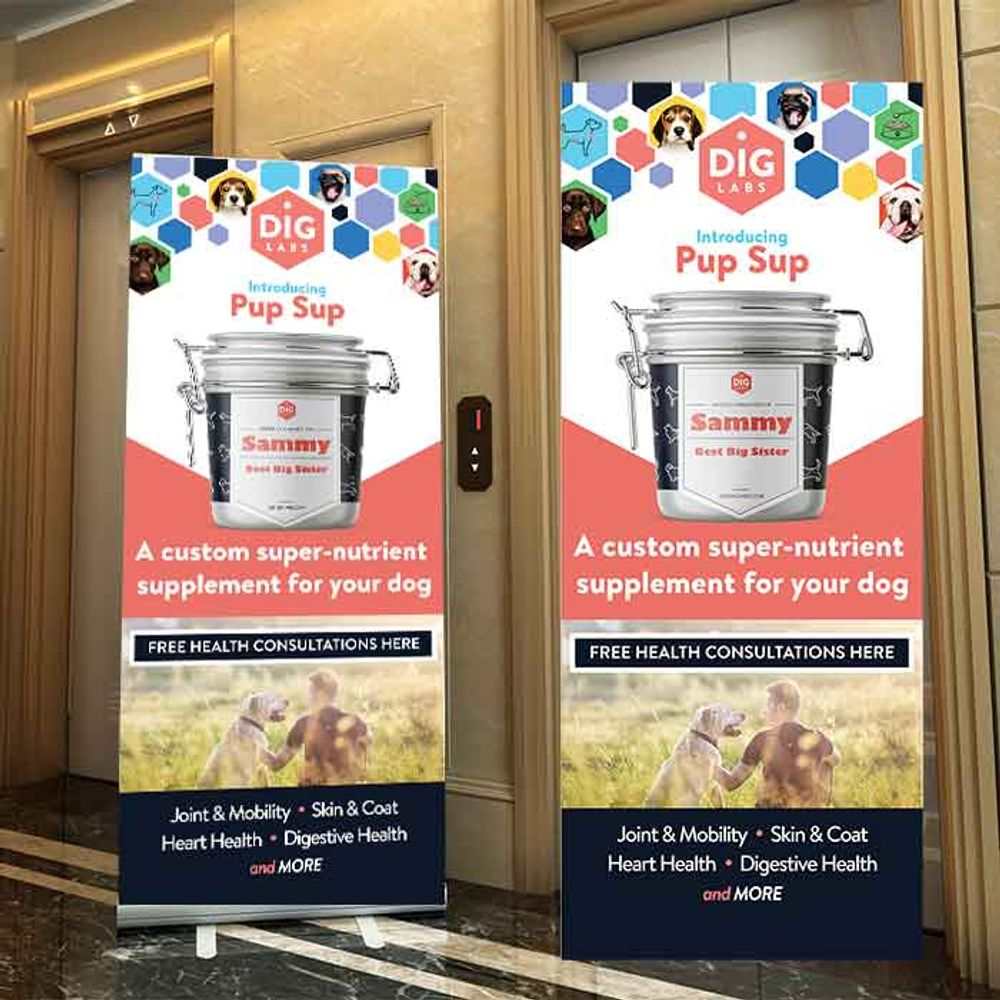 Logo Design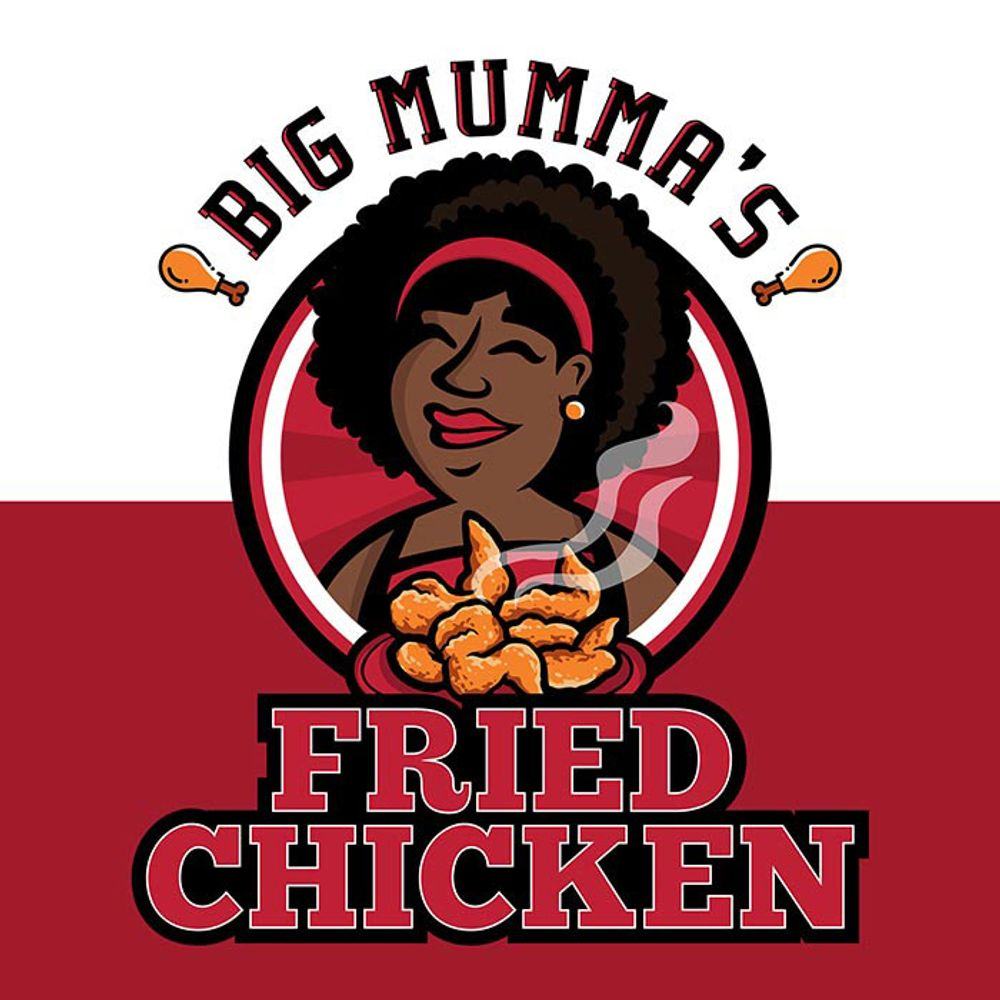 Conclusion
On-demand graphic design is your best bet if you want to have all your designs in one place. It's easy and allows you to have more time on your hands for other essential business tasks. If you want to learn more about on-demand graphic design's business model, Penji would be happy to schedule a demo for you. However, if you're ready to sign up, take advantage of discounted offers now before it expires soon. Sign up here.