Fiverr remains to be one of the biggest freelance job marketplaces. The platform allows you to browse freelancer services and get orders in one click. With the array of freelance talents and affordable rates, it's no surprise why businesses turn to it for design services. As more satisfied clients use Fiverr for their outsourcing needs, some clients have also expressed their disappointments for subpar quality. That's why they tend to search for other Fiverr alternatives when it comes to their graphic design needs.
Read on to find out which Fiverr alternative will suit your business model. Choose from these options if you're looking for convenience, quality, and affordability — all in one package.
Pros and Cons of Fiverr: Is Fiverr Worth It?

Knowing if Fiverr is the right avenue for your graphic design needs depends on the client. While assessing Fiverr's worth is a subjective opinion, let's dissect the platform's pros and cons. This is so you can gauge whether you want to stick with the channel or find other Fiverr alternatives.
Pros:
1. Sign-up is free
You don't have to shell out an entry fee for signing up on Fiverr. Once you're registered, you can easily find gigs in a few clicks.
2. Finding a service is fast
The platform's interface is easy when it comes to finding services. You can either browse the Fiverr catalog or search from Fiverr's engine and filters.
3. Placing orders is easy
Once you find the job you like, all details are there for fast transactions. Click on the job offer, and you'll see the job description, design portfolio, and pricing.
4. Communicate via a secure channel
Fiverr's platform is safe and secure. You can use the channel when communicating with freelance graphic designers.
5. Transactions are encrypted
Fiverr relies on state-of-the-art encryption technology to ensure that all payment transactions are secure.
6. Discreet buyer information
Clients can rest assured their personal and professional information are secure. These details are only shared with their chosen freelancers.
7. Perfect for one-time projects
If you have minor one-time projects in tow, you can call on freelancers on Fiverr for help. Not only are the services affordable, but the costs fit within the limited budget.
Cons:
1. Fiverr gets 20 percent commission
While you want to compensate for the freelancer's hard work, Fiverr still gets a 20 percent commission on every project. This is acceptable for single projects. However, if you have a couple of projects in the queue, the commissions add up.
2. Service fee
Fiverr charges a service fee to help operate its platform 24/7 and get their customer service running. They charge $2 on purchases up to $40, and 5 percent on purchases over $40.
3. High number of newbie graphic designers
Freelance graphic designers can quickly sign up on Fiverr. That means there is a no-holds-barred when it comes to graphic design newbies. Although clients can sift through the newbies, some fall prey to newbie designers due to their cheap rates. While some newbies are innately talented, hiring inexperienced designers might compromise design quality.
4. No standard for quality work
One major disadvantage when getting graphic design services on Fiverr is the uncertainty in quality. Logo designs can cost as little as $5. As you know, you get what you pay for when it comes to graphic design. Plus, there are no quality assurance teams that assess registered freelance members regularly.
5. Fake reviews are rampant
Although there are many genuine reviews on Fiverr, sellers also buy fake reviews to gain exposure for their offerings. There are several dead giveaways you should watch out for:
Having many orders within a short period
Having similar comments from various reviewers
More than a handful of straight positive reviews with 5-star ratings
Including the website of the Fiverr review provider
5 Fiverr Alternatives You Should Look Into
Check out these five affordable and efficient Fiverr alternatives that provide quality designs:
1. Signing up for an on-demand graphic design service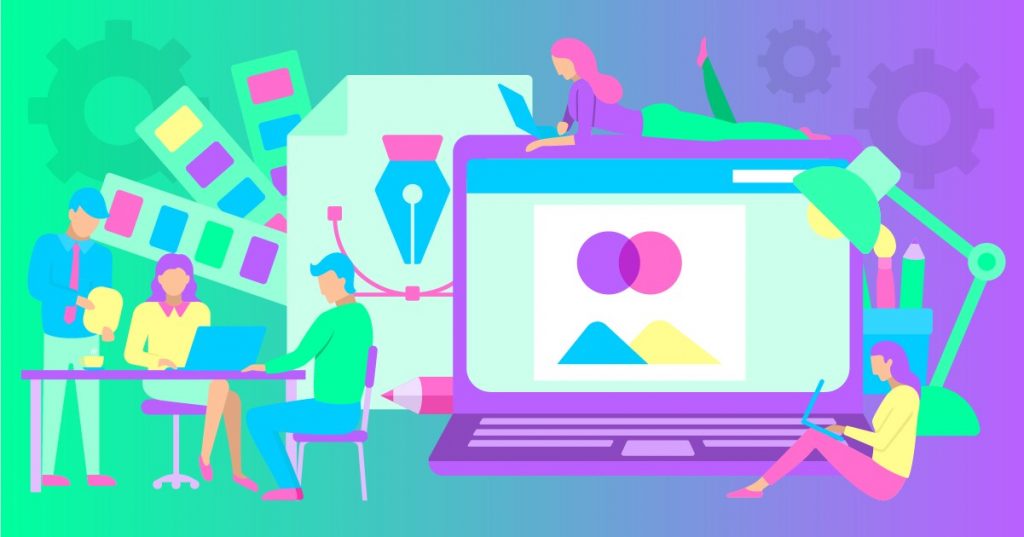 The need for on-demand graphic design services is rising due to its fast, simple, and affordable business model. On-demand graphic design services, like Penji, continue to be the running most competitive platform for design projects. So why do we think this is the best Fiverr alternative? If you're not looking for one-time projects, here are the benefits of using Penji:
Vetted graphic designers. Penji only hires the top 2 percent of the best graphic designers. The stringent hiring process assures that only those with experience and specialized skills can join the design team.
Unlimited designs and revisions. Penji offers unlimited designs and revisions which are suitable for businesses with ongoing design needs. With Fiverr, you have to find freelancers every time you need a new project. Because Penji's designers have varied skills, you can submit a design request, and the best designer will be assigned to the job.
Flat monthly rate. Regardless of how many design requests you have per month, you'll get the same monthly rate. Penji offers three pricing plans: $369/month, $479/month, and $698/month.
Easy sign-up. Signing up for Penji is a breeze. Choose your pricing plan and start submitting your design requests.
Easy cancellation. If you no longer need the service, just cancel your subscription and re-subscribe if you need Penji again.
24 to 48-hour turnaround. First drafts are submitted after 24 hours. On the other hand, more complex designs are submitted after 48 hours.
User-friendly platform. At Penji, we employ a user-friendly platform where you can submit design requests and communicate with graphic designers reliably.
14-day money-back guarantee. We offer a 14-day money-back guarantee so you can try our service with no financial regrets.
2. Hiring an in-house designer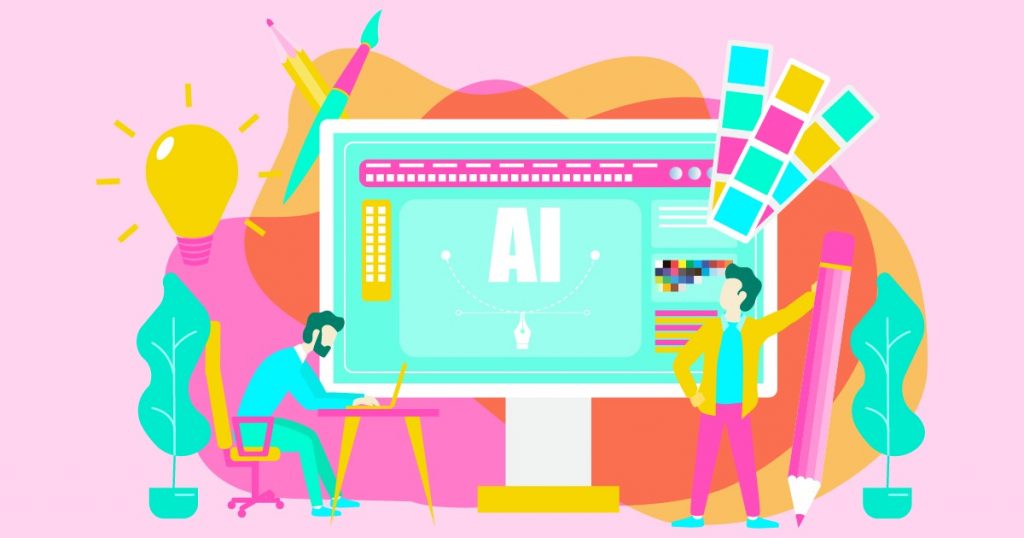 Hiring an in-house graphic designer is one of the best Fiverr alternatives as well. If you're not working on a shoestring budget, go for this option. Here's why:
Skilled graphic designers. Because there is an entire recruitment team to screen designers, in-house designers are vetted for their skills.
Quality designs. In-house graphic designers also work with other company departments. That means the designs undergo scrutiny from the design team, marketing team, and several higher-ups.
Convenient. Finding quality and suitable gigs on Fiverr is challenging. You'll have to check the designers' portfolio and test if you like their work ethic. With in-house designers, you're confident that they can do the job. Plus, you know they come to work day in and day out, making design requests convenient.
Easy communication. Face to face communication is more dependable than digital means. Marketers look for Fiverr alternatives such as in-house designers because of ease-of-communication from having designers onboard.
Knows company branding inside out. Branding consistency in design assets is essential. Your in-house designers will know your company inside out. They get acquainted with the company culture daily, and this exposure will be reflected in the outcome.
Affinity with the company. Since in-house graphic designers work with colleagues, they develop an inclination towards the company and its employees. This affinity builds company loyalty, which can lead to better and more quality designs.
3. Hiring an agency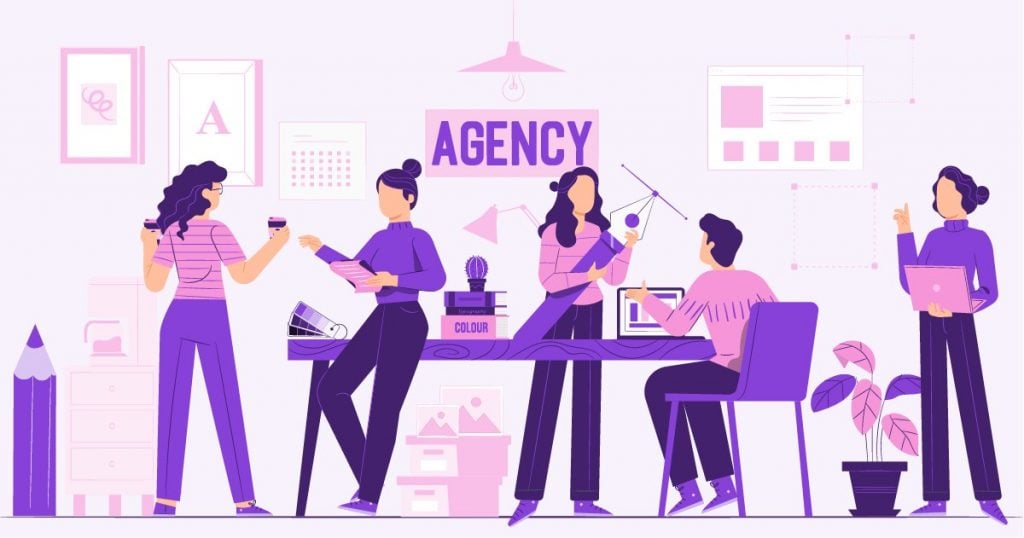 Consider hiring an agency over Fiverr for significant projects or branding creation. Agencies provide you creative freedom. The only downside is agency fees are relatively more expensive compared to all Fiverr alternatives on this list. But if you're not strapped for cash, here are other benefits of hiring an agency:
Expert team. Agencies only invite those members with a creative edge. As per Steve Jobs, B players should never work with A players. That said, you're assigned a complete design and marketing team who knows what they're doing.
Fresh perspectives. Because hiring an agency would require getting opinions, ideas, and perspectives from various people, you're guaranteed fresh designs all the time.
Consistency. When you have a whole design and marketing team behind every project, rest assured nothing will be out of place. In terms of branding, everyone is required to study and get to know the brand. This ensures you have branding consistency on all designs. When hiring freelancers on Fiverr, it can be difficult, and not to mention time-consuming, having to repeat the brand guidelines to each freelancer you hire.
Vast network. Any marketer and entrepreneur know a business network is crucial to survive in a fierce industry. Hiring agencies will open doors to partnerships and collaborations. This is because most agencies have vast networks.
Smart strategy. When ordering jobs on Fiverr, you only get to choose specific job offers. However, hiring an agency means you're getting the design and advertising in one package. If you notice, most of the popular ad designs out there are done by an agency. Therefore, hiring them means you'll have a high chance of getting your marketing materials noticed.
4. Taking a graphic design intern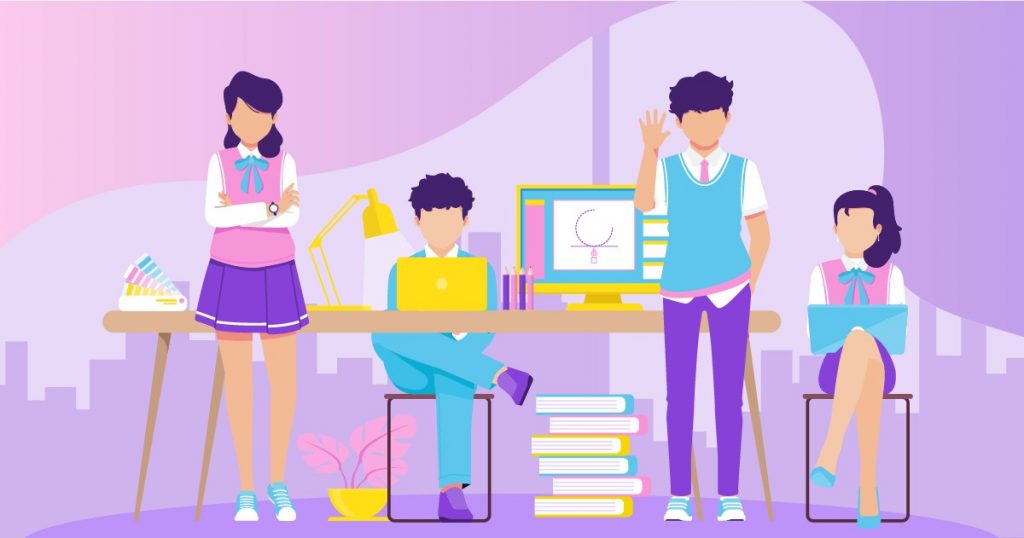 Taking a graphic design intern on board might be the last option you have in mind. However, this Fiverr alternative also offers a few benefits. Here are a few:
Eager to please. Since internships provide a whole new professional experience for new graphic designers, expect that most of them are keen to please. They immensely value internships, so they are more attentive and willing to overperform and give it their 101 percent.
More focus. Hiring freelance graphic designers on Fiverr might mean you'll be sharing your time with a handful of other clients. Some freelancers accept multiple jobs in the hopes of getting more income. While some freelancers may be able to pull this off, some newbies might struggle with time management. On the flip side, having interns means they give you all their focus because they know your recommendation is gold.
Free. One of the most affordable Fiverr alternatives is taking in interns. In fact, it's free in most situations. This is helpful for ventures and startups with a tight budget.
Increased employability. Another reason why you should hire interns instead of Fiverr freelancers is due to increased employability. You will always have the option to absorb the intern if you find they have exceptional graphic design skills.
5. Posting your project in a Facebook group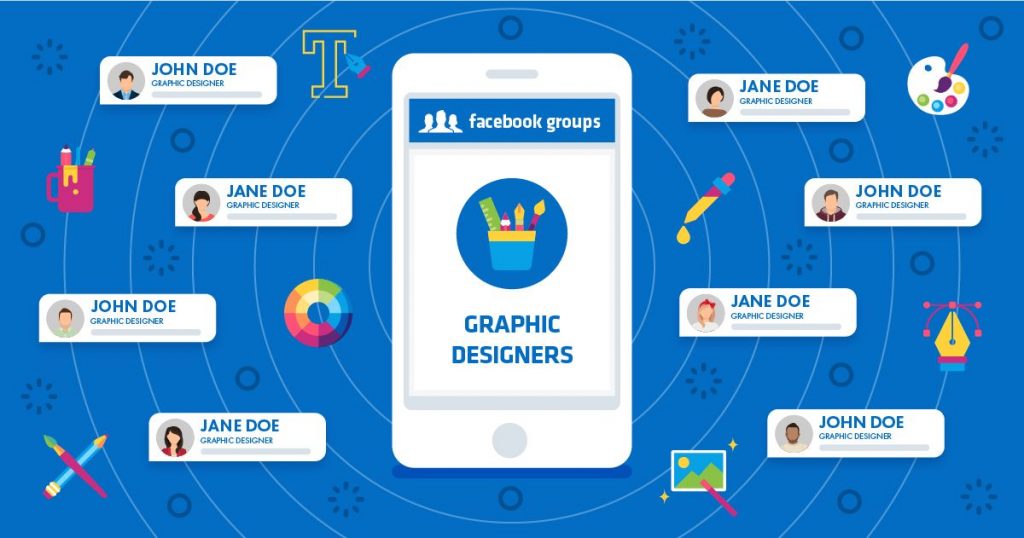 Although finding freelance graphic designers on Facebook groups is also hit-or-miss, it has its pros. There are a few factors that make this a better Fiverr alternative, and here's why:
Exclusive. Some groups have rules and requirements for members to join. Compared to Fiverr wherein anyone can register, Facebook groups are more filtered per se.
Segregated by specialty. Administrators create Facebook groups according to graphic design specialty. For instance, there are Facebook groups solely for illustrators, UI designers, app designers, and logo designers, among many others. This cuts your search time in half as you can easily search for a particular group on Facebook.
No commission. One of the reasons why clients look for Fiverr alternatives is because of the platform's commission cut. With Facebook groups, you're guaranteed you'll only be paying the amount you agreed upon.
Prices are negotiable. Another evident reason why clients look for freelance graphic designers from Facebook groups is price flexibility. Since graphic designers are competing with many others, they try to stay competitive in terms of fees as well.
Extensive reach. You can connect with graphic designers from across the world. Adweek recognizes over 620 million Facebook groups. This high number means there is no shortage of graphic design talent on Facebook.
6. Online Freelance Marketplaces
Also known as on-demand staffing services, an online freelance marketplace is a platform for both the business owner and the worker. This is where organizations can tap into a talent pool to hire people for temporary tasks or permanent job roles. For freelancers, they can create profiles and list skills for employers to see and, ultimately, get hired.
Fiverr is one example of this. Here are a few online freelance marketplaces that you can check out as alternatives.
Toptal
Boasting a community of the top 3% talent in any industry, Toptal is one of the most popular ones. The difference between Toptal and Fiverr is the cost. Fiverr has an extensive database of freelancers that businesses can connect with for a low price.
On the other hand, Toptal, hiring only a fraction of freelancers, has a smaller list of people for a higher price than Fiverr. If you want quality and are willing to pay the price, Toptal is for you.
PeoplePerHour
Having almost the same setup as Fiverr, PeoplePerHour is a solid choice. Anyone can join this platform, unlike Toptal that has high standards for its freelancers. One advantage PeoplePerHour has over Fiverr is that it offers security as it does some vetting for its talents.
If you're used to Fiverr's business model but want to find a less risky platform, PeoplePerHour is it. It is more costly than Fiverr but less expensive than other alternatives.
Upwork
A more expensive version of Fiverr, Upwork is probably the most popular among all online freelance marketplaces. It has safety regulations in place and higher professional standards than Fiverr. The difference between the two is evident in their bidding systems.
On Fiverr, freelancers post their skills and price. Upwork does quite the opposite. Businesses post their jobs, and freelancers make bids. Fiverr's process of getting you the talent you need is quick and easy. Upwork, however, is a laborious one.
Guru
Fiverr allows you to find people for whatever task you may have, even mowing your lawn. Guru, on the other hand, focuses on professional services only. Business essentials such as logo design, digital marketing, or web development are what they specialize in.
While Fiverr has this reputation of being home to con artists and scammers, Guru went the other way. It tightened its regulations to provide more safety and protection to both buyers and sellers. The platform has a secure internal system to communicate with freelancers, send payments, and manage projects.
Truelancer
The platform closest to Fiverr is Truelancer. Both of these platforms offer the lowest freelancer rates. Truelancer gets the majority of their talents from places with lower costs of living. Thus, they can ask for rates lower than those on other platforms. That being said, quality can sometimes take a dip as this isn't a priority for Truelancer.
If you're looking for cheap rates, this is the place to look for freelancers. The risk here would be in finding quality work. There is, but the platform offers no guarantee.
Conclusion
The search for the most suitable graphic design service is easy if you know what you need initially. Also, figure out how much you want to spend on graphic design so you can rule out expensive options if you have a limited budget. If you always have design projects and work within a budget, go for on-demand graphic design services like Penji. However, if you have a huge marketing budget, go for agencies or in-house designers. Whatever you choose, weigh each option's pros and cons, so you don't waste money, time, and effort in the process.
Sign up today for any of Penji's affordable plans and end your search for a Fiverr alternative.