Valentine's Day is the perfect opportunity for businesses to connect with customers on an emotional level and show appreciation. Whether you're planning a simple greeting or a promotional campaign, these 20 Valentine's Day marketing ideas will inspire your next move.
1. Create a Valentine's Day Gift Guide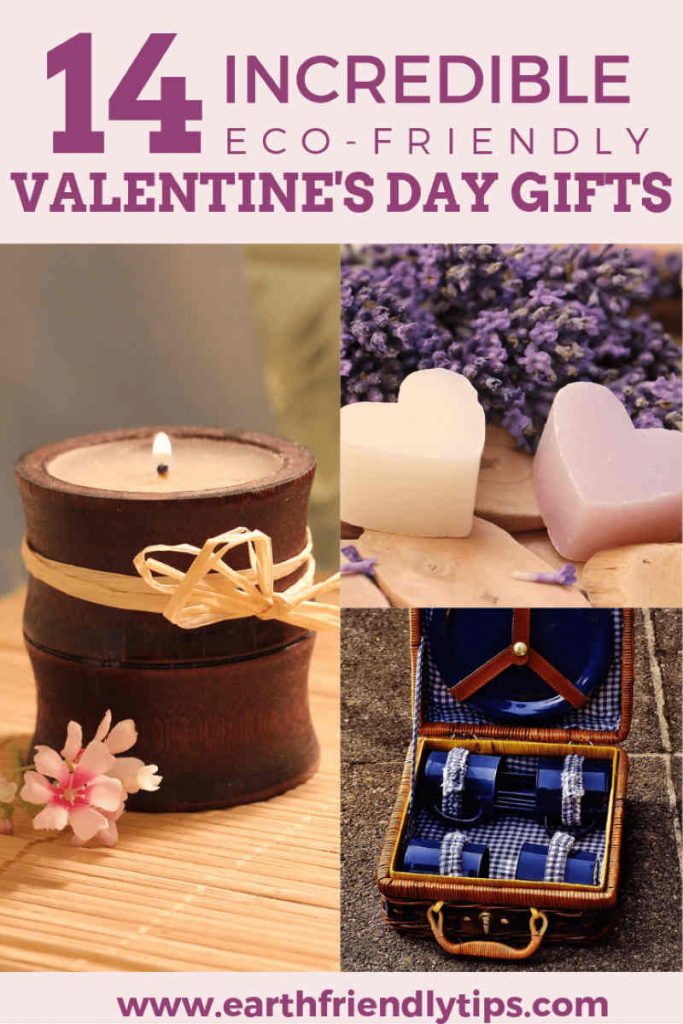 Create a Valentine's gift guide and place them on your website, blog, or social media posts. To make it more enticing, add a theme such as an eco-friendly list like this one from Earth Friendly Tips.
2. Express Your Appreciation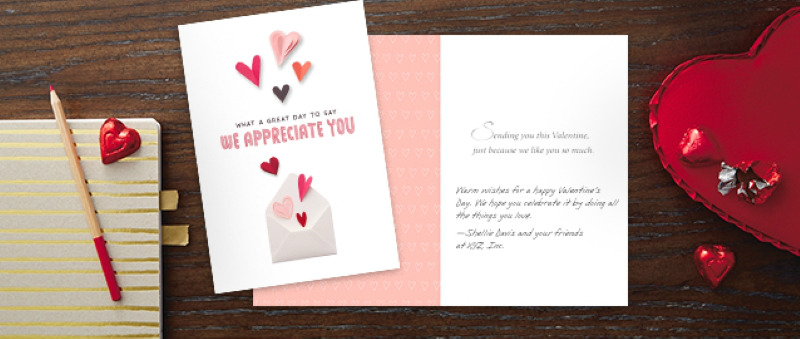 Valentine's Day is the best time to show your customers how you appreciate them. Send them a paper card or an e-card such as this one from Hallmark. This will remind them of your brand as well as make them feel valued.
3. Hold a Valentine's Day-Only Offer
Holding a special offer or promotion on that day only will entice people to shop in your store. Not only will you be catering to last-minute shoppers, but you're also giving them the incentive to spend more.
4. Sponsor a Fun Run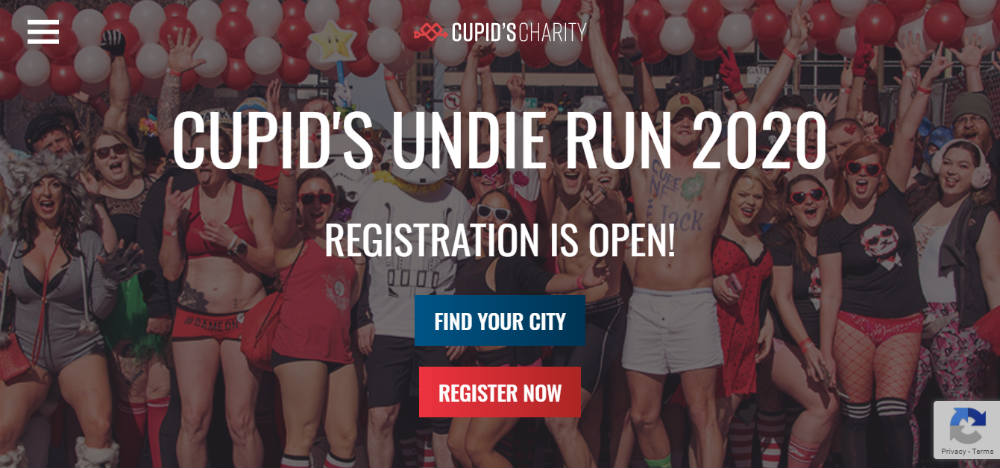 Celebrate a good cause by holding a fun run or any similar fund-raising event. Cupid's Undie Run is a perfect example of having fun while giving to the less fortunate. You'll build brand awareness that can help boost sales.
5. Get in the Holiday Spirit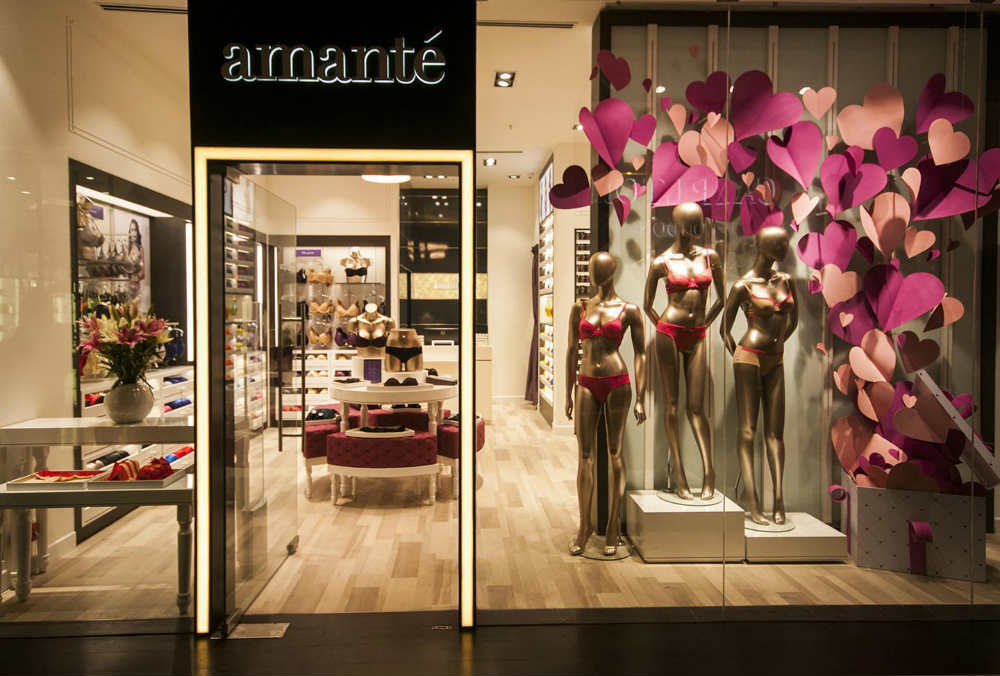 Decorate your brick-and-mortar store with hearts and everything about love. This award-winning window display from Amante in India is truly worthy of emulation. A website design or a banner will do the job if you don't have a physical store.
6. Get Romantic on Social Media
Design stunning graphics and post them on social media. It could be a Valentine's Day greeting or a new product announcement. Whatever it is, make sure that they don't forget you on that particular day. M&M's Facebook post is colorful, quirky, and engaging.
7. Get the Help of an Influencer
Influencers can significantly help in getting you the exposure you need for Valentine's. Get one who can speak to your target audience well. You can offer them your products in exchange for their recommendations.
8. Try Email Marketing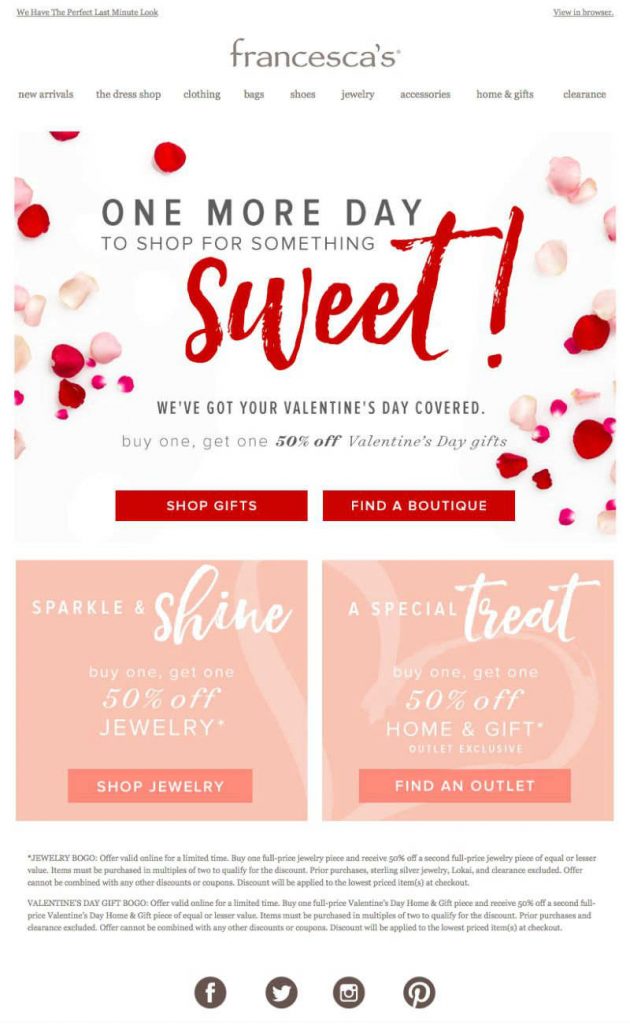 Send your love to your loyal customers through email marketing. Think of a killer subject line and add eye-catching graphics to make them read your emails. Get inspired by this one from francesca's.
9. Engage Your Customers
Engage your customers and prospects with Valentine quizzes, trivia, or polls that you can post on your social media pages or blogs. Think of intriguing questions or ask them to tell their most romantic stories for everyone to read. You can ask them for Valentine's Day promotion ideas beforehand to help you create a campaign that they're sure to enjoy.
10. Blog About Love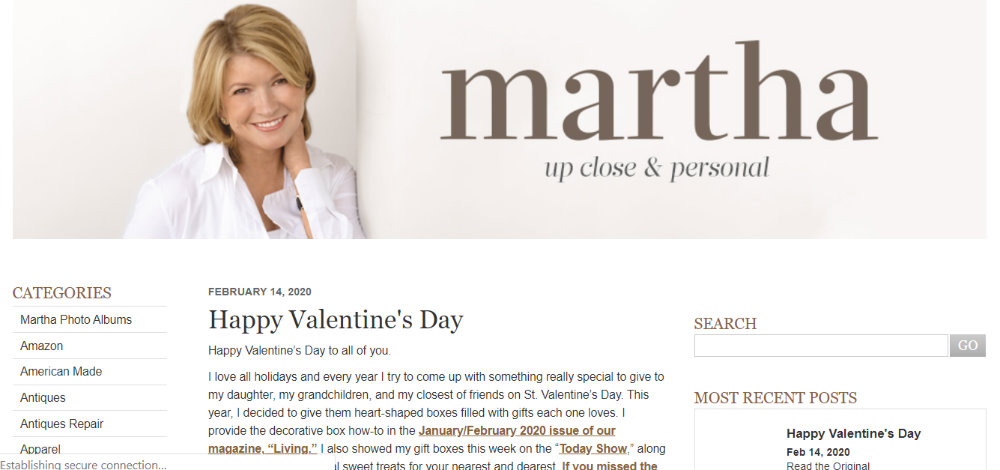 Blogging is one of the best ways to build trust among your customers. So for Valentine's, write articles about love and romance like this one from Martha Stewart. You can add keywords to help with your website's rankings.
11. Don't Forget About the Singles
Inclusivity is the buzzword nowadays. To make sure that nobody gets left out, include single people in your campaigns. You can also create a separate campaign for the broken-hearted or those who want to celebrate with the whole family.
12. Hold a Contest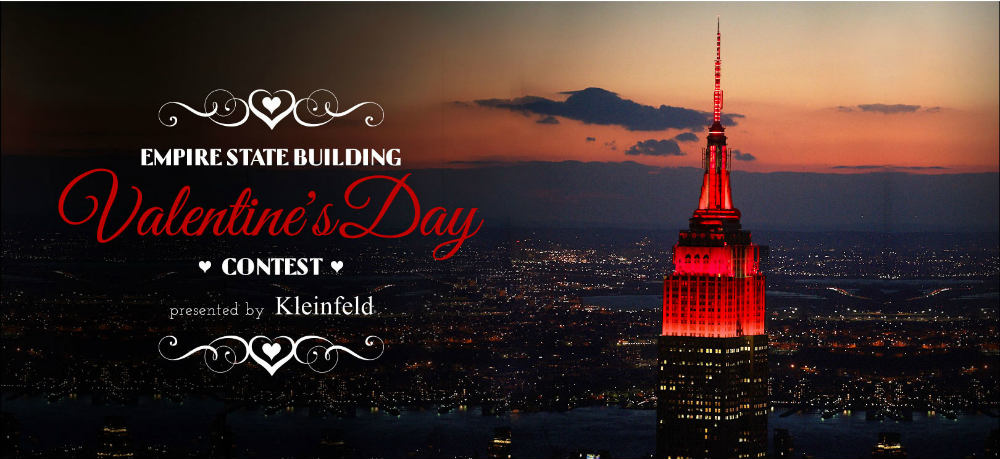 One of the best Valentine's Day promotion ideas is to hold a contest and give away discounts or freebies as prizes. You can create a photo contest, a raffle, or whatever is appropriate for your product or service. This contest by the Empire State Building is a good example.
13. Give Love Advice
For a limited time, ask your social media fans and followers about any love problems they may have and give them advice. Encourage others to do the same by answering in the comments section of your blog or social media platforms. This is great for boosting engagement, especially if you add a bit of humor to your replies.
14. Offer Freebies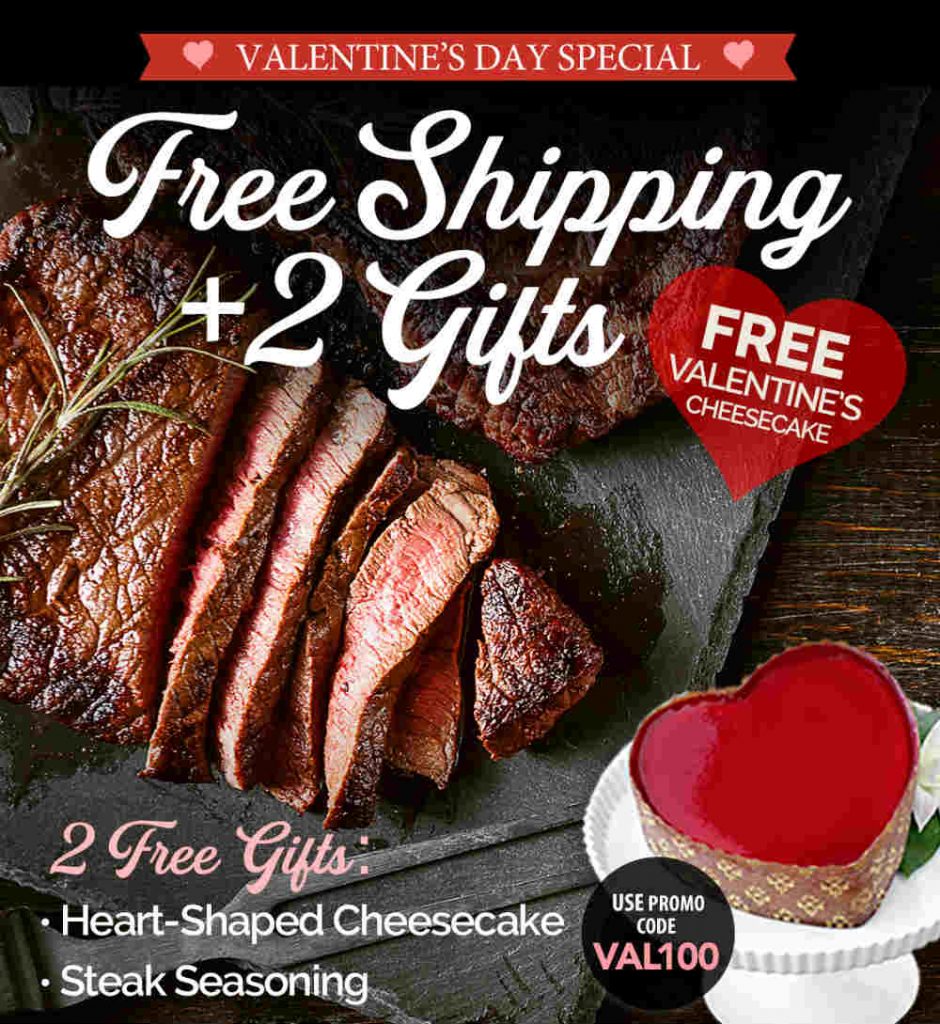 Everybody loves freebies! Share the love when you offer shipping or gift wrapping for free. You're sure to increase sales while generating interest. You can also offer a lower-priced item when they buy a high-ticket product. Take a look at this example from the Chicago Steak Company.
15. Host a Valentine's Day Party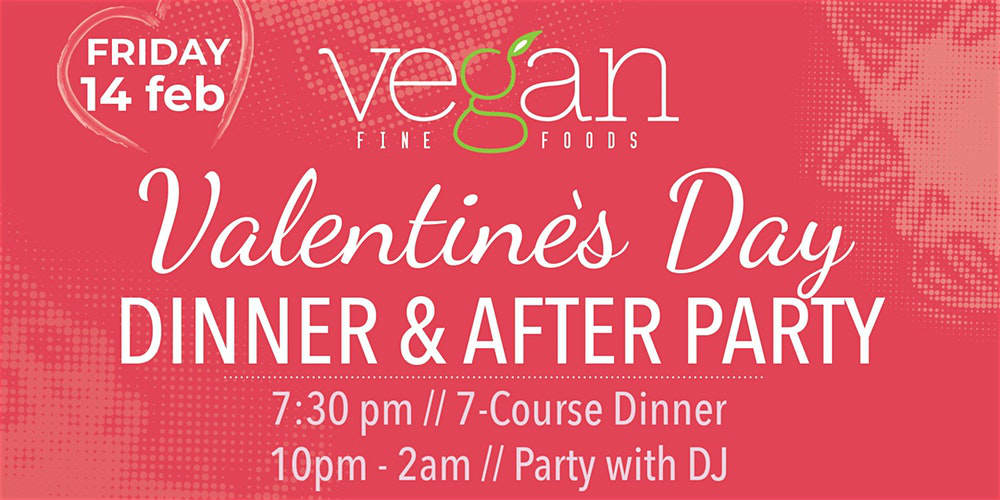 Have a blast while promoting your brand on Valentine's Day with a dance party. You can also host a movie marathon or a spa day, whatever event that will get your customers involved. Create interest with a unique event such as this one from Vegan Fine Foods.
16. Get User-Generated Content
Using your social media channels, ask for your customers' most romantic love stories. Feature them on your blogs in exchange for discounts or free stuff. This way, you'll get original and fascinating articles that are sure to grab your readers' attention.
17. Design a Special Edition Item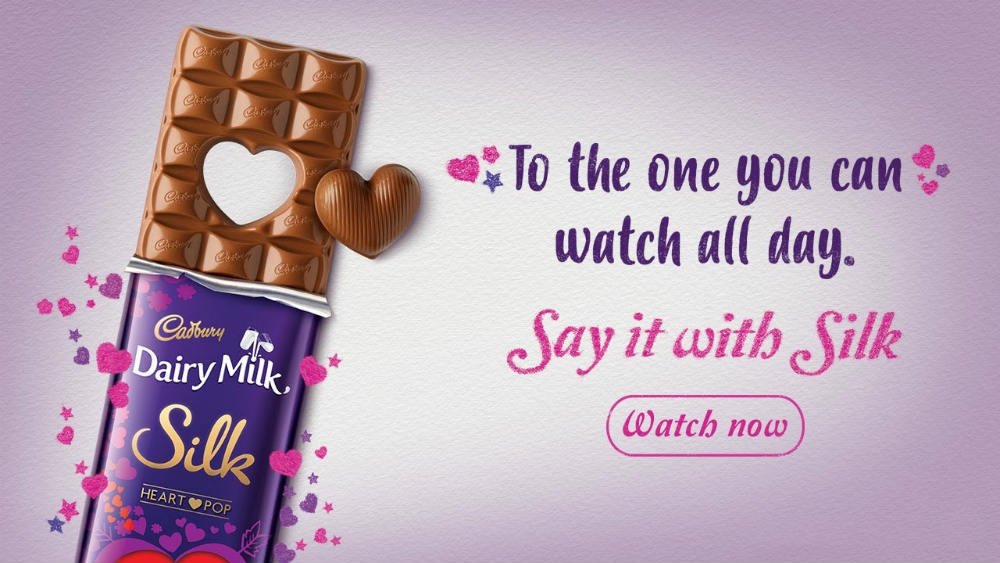 Take a cue from Cadbury when they created a product specifically for Valentine's. This will entice consumers to buy your product on this special day. And since it is a limited-edition item, you'll create a sense of urgency.
18. Add Videos to Your Content Marketing
Videos are great engagement generators, especially when they tell a heartwarming story. Create one that has a Valentine's Day theme. It doesn't have to be fancy as long as you have an exciting storyline.
19. Collaborate with Other Businesses
Look for other businesses that complement your brand and ask them to work with you. You can host an event such as a music concert, a dinner party, or a speed-dating affair. This will help you reach a wider audience plus cut costs.
20. Set Up a Love Notes Board
On your physical store, set up a corkboard where your customers can leave love notes to whoever they want. On your social media pages, you can encourage your followers to leave a comment about their secret crushes. This will lure people to come to your stores or create excitement on Facebook or Instagram.
Final Thoughts
There are a lot of ways to show your customers you love them while generating that much-needed boost in sales and revenue. These Valentine's Day promotion ideas are what you need for this year's February marketing campaign. Not only will these be good for your business, but you'll also have fun creating them as well. And if you need amazing designs for all these ideas, there's Penji to help you. Click on this link today to get our designers working for you.