The phrase "two heads are better than one" is more than just a common expression. In business and marketing, this has success written all over it. It is what's popularly known as co-branding. What is it exactly, and how can your business benefit from it? First, we'll show you what it is by giving you a list of co-branding examples that have worked their way to success. From these, you'll see why graphic design plays a big part in co-branding and why you need Penji's unlimited graphic design service.
What is Co-Branding?
Also known as a brand partnership, co-branding is the marketing strategy that two or more companies undertake together (not to be confused with sub-branding). They share their logos and brand names, among others, on a single project. They combine their brand awareness, market reach, and positive images to get more customers.
Many businesses get into co-branding primarily to increase the following:
Customer base
Market share
Profitability
Perceived value
Customer loyalty
Brand awareness
The Advantages of Co-Branding
A study conducted by marketing company Partnerize found out that 54% of businesses believe that partnerships drive more than 20% of their revenues. That's why 74% give very high priority to partnerships and affiliate marketing campaigns.
The data above should be more than enough reasons to go into this marketing strategy. However, if you're still not convinced, here are the qualitative benefits of co-branding:
Wider Exposure
You'll get twice the audience exposure when you collaborate with another brand. Fans, followers, and loyal customers of your partner brand will get to see yours as well. This is especially beneficial if you want to generate more leads and increase your brand awareness.
Heightened Trust and Loyalty
When prospects see you work together with their fave brand, you'll enjoy an increase in trust. This is particularly true when these potential customers are already loyal fans of your partner brands.
Cost-Efficient Marketing and Advertising
Working with another brand can help you minimize advertising and marketing costs. Whether you decide to split the costs or enter into a separate agreement, your reach will still double. And that's still cost-effective in the long run.
Successful Co-Branding Examples
In the following co branding examples, you'll find four main marketing strategies that are in place. They are:
Market Penetration: Your brand gets to penetrate the audience of your partner brand, where before, it was out of reach.
Global Brand: Creating a standard global advertising strategy that aims to serve all customers.
Brand Reinforcement: This is the bold use of a new brand name to target both old and new audiences.
Brand Extension: This is when the partnership creates a new identity specifically for the new market.
To help you understand all these, here are the best co branding examples that you can learn from:
Apple and Nike
In September of 2016, Apple launched Apple Watch Nike+, which combined the Siri commands with Nike aesthetics. This was only one of the many collaborations and long-standing partnerships between the two giants. They have played around with iPods and various athletic gear and clothing to come out as winners.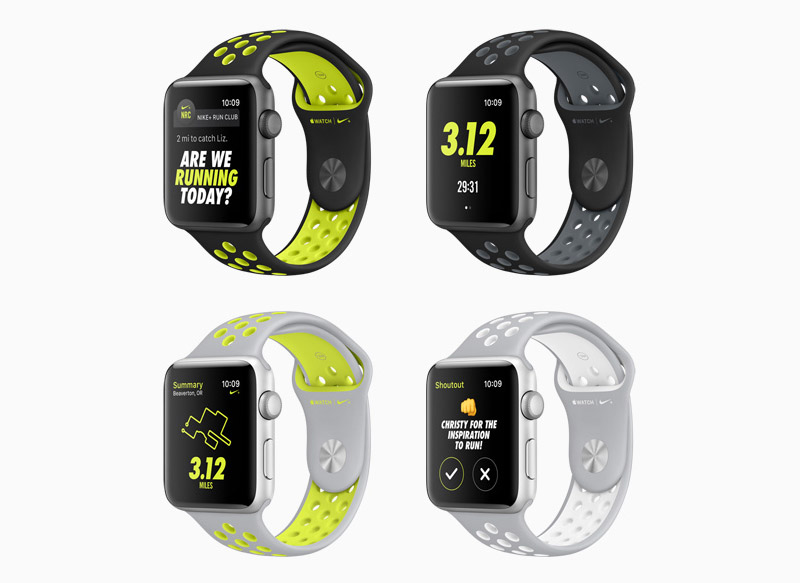 The two big names' products get in sync using Apple's tracking apps, making it easy for runners to track their progress. This is a powerhouse co branding example as Apple's dedicated fanbase merged with the global sports brand, Nike.
Related Post: Clothing Brand Logo Ideas That Will Inspire You
Taco Bell and Doritos
Filling a Doritos shell with Taco Bell's ingredients was a partnership made in heaven. In 2012, these two sold a billion of these tasty treats in its first year alone. Their strategy was to use one's products with their partner's.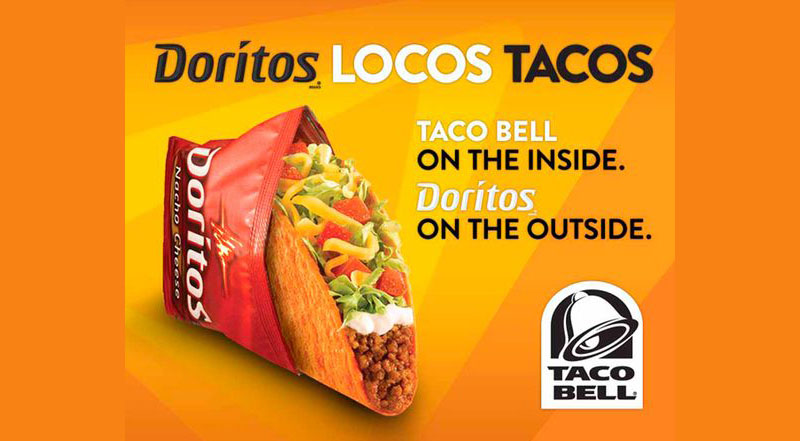 This partnership proved to be strategic as Doritos fans were introduced to Taco Bell and vice versa. Doritos benefitted from Taco Bell's amazing product innovation. In return, Taco Bell fans got acquainted with Doritos' loyal following. Having much the same target audience may have helped, but this is a merger that's pure genius.
Louis Vuitton and BMW
When top-notch designer Louis Vuitton created a series of luggage for BMW, car manufacturer extraordinaire, it resulted in brilliance. What better way for LV to project their image of the "pioneer in the art of travel" than a collab with BMW's latest offering.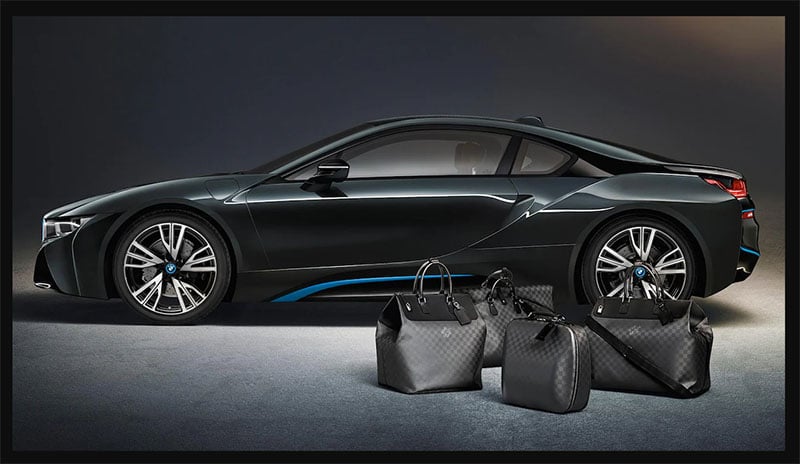 The four-piece suitcase collection perfectly fits BMW's i8 rear parcel shelf. Additionally, if you look at the designs of both products, they're specially made to look good together. Their shared value of elegance, class, creativity, and style is evident in this partnership.
McDonald's and Burger King
LV and BMW's co-branding endeavor may seem far-fetched, but the above explains why it's a perfect pairing. This, however, is what's surprising but so very real. Two burger restaurants collaborating rather than luring customers away from each other.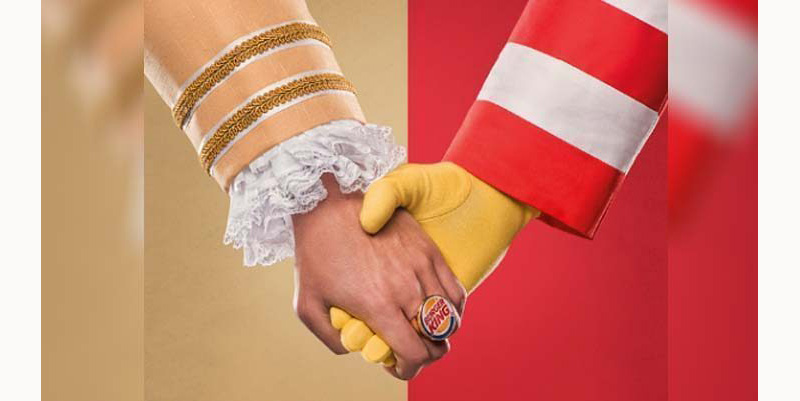 Image Credit: Grit Daily
McDonald's and Burger King held each other's hands in 2019 when they joined forces for a co-marketing campaign. For "A Day Without a Whopper," Burger King took their best seller off the menu in Argentina and some other countries. Instead, they encouraged people to buy a Big Mac. In turn, for every Big Mac order, McDonald's donated $2 to charity, specifically the Children With Cancer program.
Starbucks and Spotify
Fans of Starbucks got to enjoy music from streaming service Spotify in 2015. Music has always been a part of the Starbucks experience, and its partnership with Spotify has been well-received. This was to entice joiners to their loyalty program as this demographic places their smartphones in the center of their content consumption.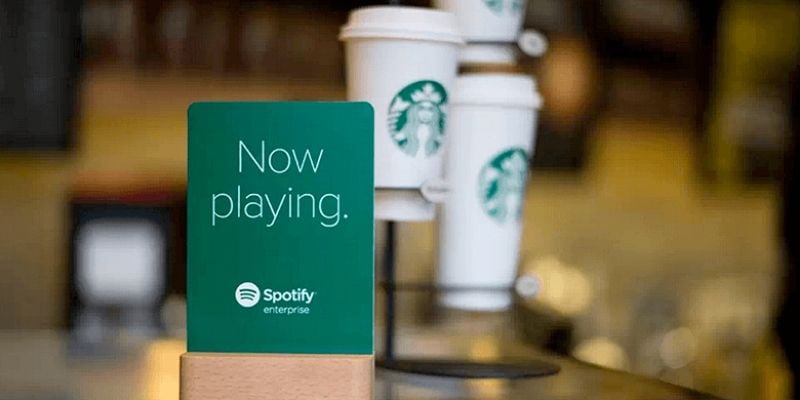 Image Credit: The Branding Journal
Starbucks then integrated Spotify's streaming service in their mobile loyalty program called "My Starbucks Rewards." This rewards program boasts over 10 million users worldwide, while Spotify has a 60 million-strong customer base.
GoPro and Red Bull
When you think of these two brands, action-packed adventures come to mind. Red Bull and GoPro already have a string of co-branding partnerships, but the most notable is the "Stratos" campaign. This is where Austrian skydiver Felix Baumgartner's supersonic freefall from a space pod was recorded using GoPro.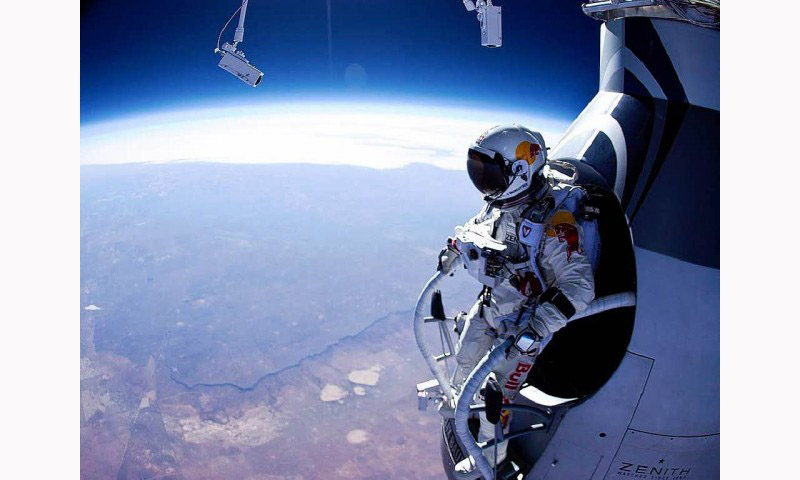 Before jumping in, the skydiver was quoted as saying, "I wish you could see what I can see." And through GoPro, we did see what he saw. RedBull says this partnership allowed them to amplify their content, their ability to fascinate, and their collective international reach.
Hershey's and Betty Crocker
Two iconic brands came together, and the result is baking paradise. Hershey's and Betty Crocker teamed up to create the "A Sweet for Every Style" co branding campaign. The new line consisted of cookie and cupcake mixes and frostings in iconic flavors such as Reese's, Almond Joy, and Hershey's.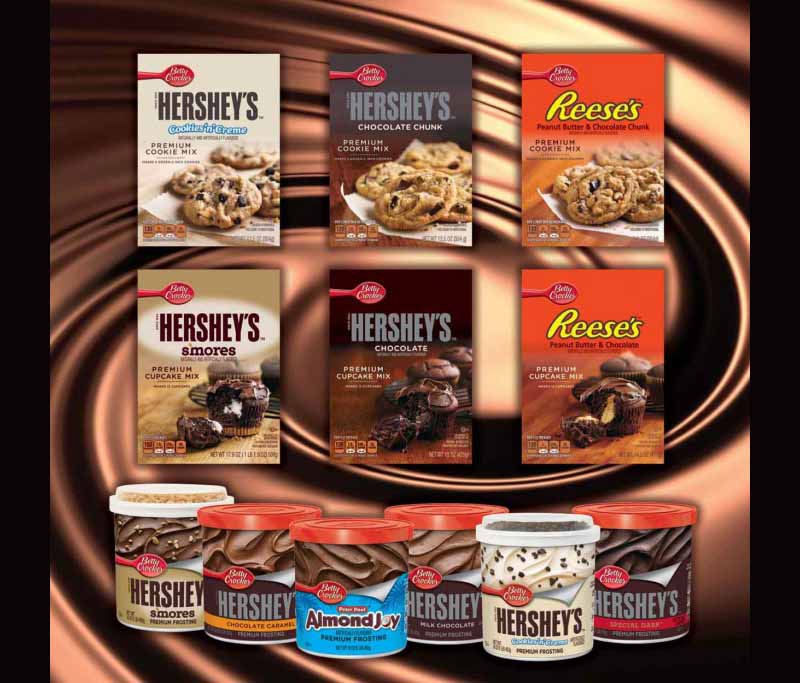 The partnership made perfect sense as it gave Betty Crocker's mixes extra push with Hershey's products. The co-branding started in 2013, and until now, you'll still see them together. This is more than enough proof that marriages can be made in heaven.
NBA and Beats by Dr. Dre
The world's top headphone manufacturer Beats by Dr. Dre created the official NBA Studio 3 Wireless Headphones. In addition, the NBA made Beats by Dr. Dre the official supplier of all audio products for the b-ball league since 2018.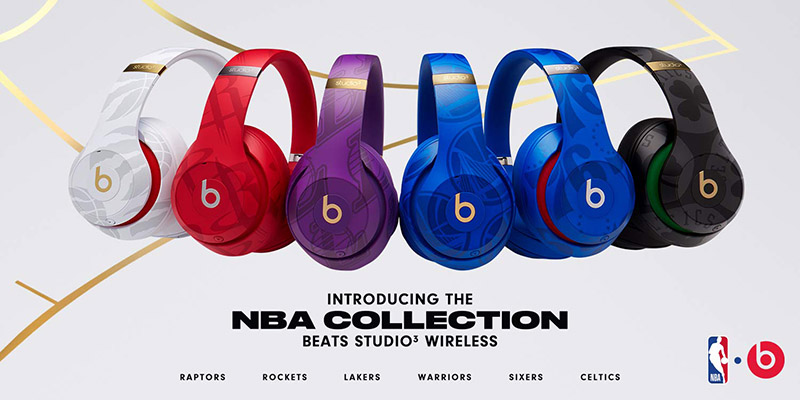 The pairing of the two iconic brands has been a success as it merged sports with pop culture and technology. Athletes have become more than players of sports. They have become icons themselves, and a pair of Beats by Dr. Dre accentuates their stylish ways.
Subaru and L.L. Bean
Although having parted ways in 2008, the Subaru and L.L. Bean collaboration lasted eight fruitful years. The outdoor gear and rugged attire company's partnership with the outdoorsy image of Subaru made perfect sense. The two brands cater to the same target audience and clientele.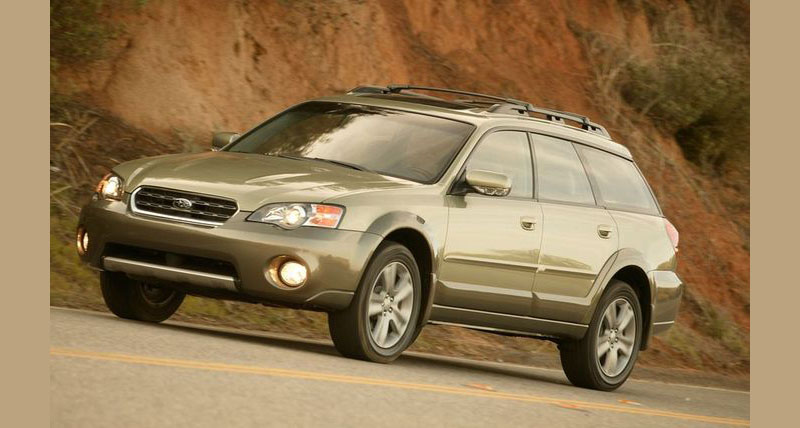 And so came the Subaru Outback and Forester models, L.L. Bean edition. But with Subaru's decision to become a mainstream auto manufacturer, they wanted to tap the city slicker market as well. So their decision to part ways was mutual and not because the partnership had been a failure.
CoverGirl and Lucasfilm
To promote the movie Star Wars: The Force Awakens in 2015, Lucasfilm partnered with CoverGirl. The cosmetics company especially created a 19-piece collection of lipsticks, nail polishes, and mascaras. The limited-edition series was divided into two, asking fans to choose sides. Are they from the Droid and Light side or the Stormtrooper and Dark side?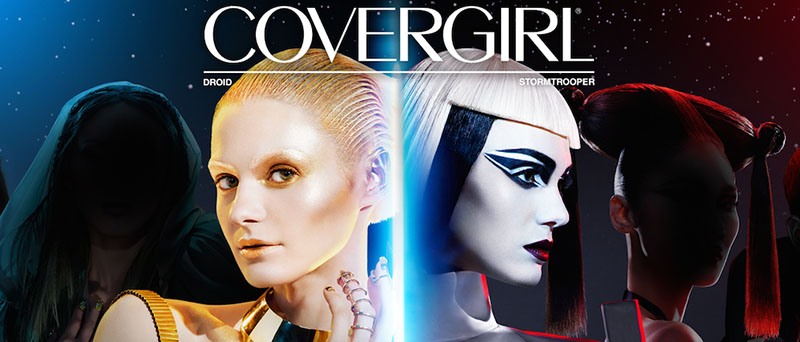 It used to be that sci-fi movies were geared more towards male audiences. But as time progressed, the female persuasion became a massive chunk of the market. This partnership, after all, may make more sense than what was previously thought.
Levi Strauss & Co. and Pinterest
In 2018, Levi's, one of the most recognized jeans brands globally, believed that Pinterest was the perfect platform for them. They then launched the campaign Styled by Levi's®. The goal was to create a personalized styling experience through a Pinterest board.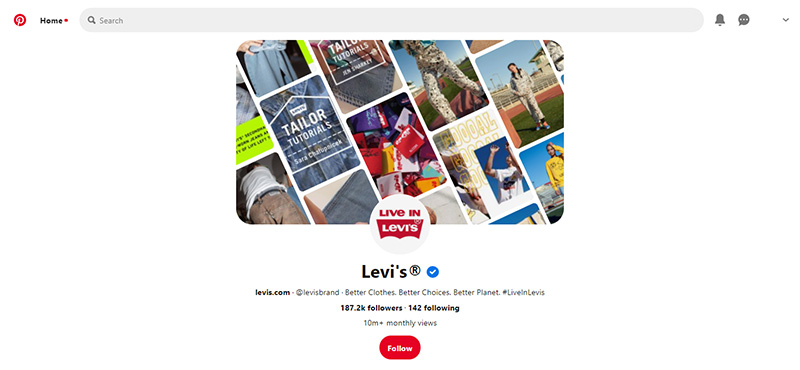 You'll receive fashion suggestions based on your personal preferences. An example would be a pair of jeans with recommendations on what looks good and how to wear them. It's like having a virtual stylist and not having to scrounge around the web for what will look good on you.
Amazon and American Express
Created with small-medium businesses in mind, American Express and Amazon launched an exclusive credit card. It has two versions—Amazon Business American Express Card and Amazon Business Prime American Express Card—both come with a range of features.

The global marketplace phenomena wanted to help small business owners improve their selling experience on the platform. The co-branded credit card helps them manage their finances efficiently. It also aims to make online selling more efficient with different options for payment.
UNICEF and Target
Partnering with a non-profit organization offers more advantages aside from what we listed above. It also shows the world that you're a socially responsible corporation. This is why the co branding efforts of target and UNICEF is one for the books.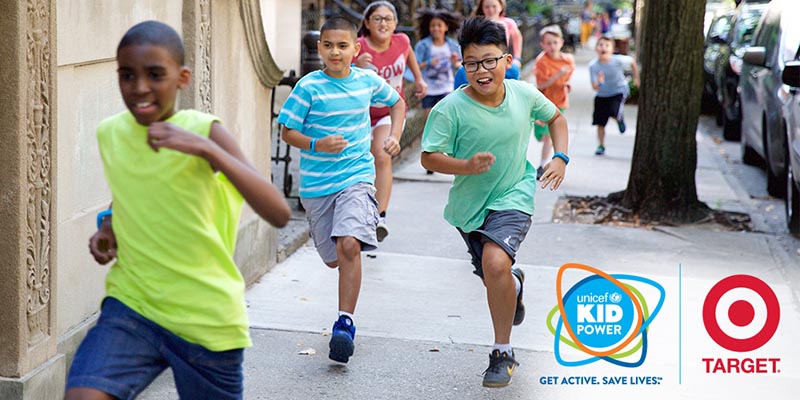 The two entities created the Kid Power campaign, which aims to bring the world's first "wearable-for-good™" Kid Power Band to every kid around the country. The fitness product can help teach kids about embracing a healthy lifestyle and making wellness a way of life.
Related Post: Graphic Design And Marketing: 7 Things You NEED Designed Right
Why are These Co Branding Examples Successful?
Not all co-branding ventures go the successful route. An excellent example of this is when Shell, a petroleum company, partnered with Lego, a toy company. Shell stamped their name on Lego's toys which prompted Greenpeace to take notice.
These two parted ways when the environmental organization pointed out Shell's questionable practices. This resulted in a public outrage as many believe that children's toys shouldn't be associated with a company that has dubious care for the planet.
The co branding examples on this list, on the other hand, have been proven to work effectively. They all offer added value to standard products and services. For example, Betty Crocker uses chocolates in their mixes. But they went one level up by using Hershey's instead of a generic brand.
All these co branding examples share similar values, missions, and audiences with their respective partners. The Shell and Lego example, however, was quite the opposite. They are as different as night and day, and their co-branding attempts have proven them wrong.
Get help branding your business with Penji
Co-branding can be an exciting business venture. It is also productive and beneficial to any company. For a partnership to work, though, great graphic design is a must. Let Penji be your partner when creating designs for your co-branding endeavors.
Our team of professional graphic designers can help you and your partners get suitable designs for all your campaigns. Watch our demo video today to learn more about our design process and how we can get it done for you.