The right font choice can mean the difference between a great design and one that people ignore. Here are fonts for designers that non-designers can use. The best part, they're free to download!
Serif Fonts
There are two basic categories of font styles, the serif, and the sans serif. The serif is those fonts that have extra lines on the edges of their stroke. On the other hand, sans serif means the opposite. To better explain this, see the image below:

Here are the serif fonts designers use that are free to download, we divided them into subcategories for easy reference:
Web/Blog Copy
Butler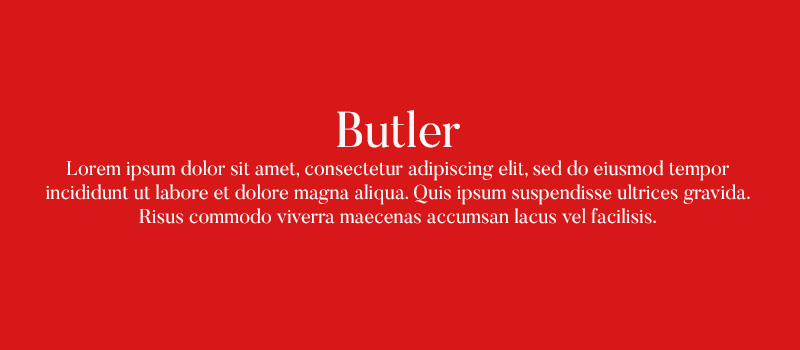 Mixing modernism with the classics, Butler is an excellent font choice for web copy, posters, book covers, headlines, and anything you want to look fancy. It has 334 characters, different weights, and styles and can be used in other languages.
Coelacanth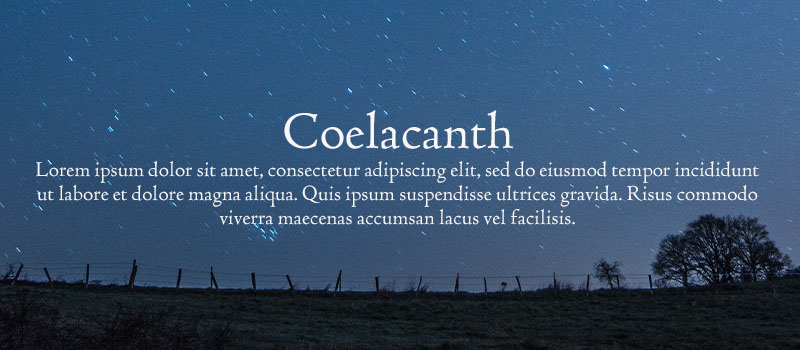 A work in progress by Ben Whitmore, Coelacanth is a beautiful font type perfect for web and blog copy and many other uses. It also goes well with books and other long-form texts as it is readable even in small prints. The set comes with 37 fonts, several styles and weights, and a host of special characters.
Related Post: 64 Cool Fonts Everyone Is Using In 2021
Playfair Display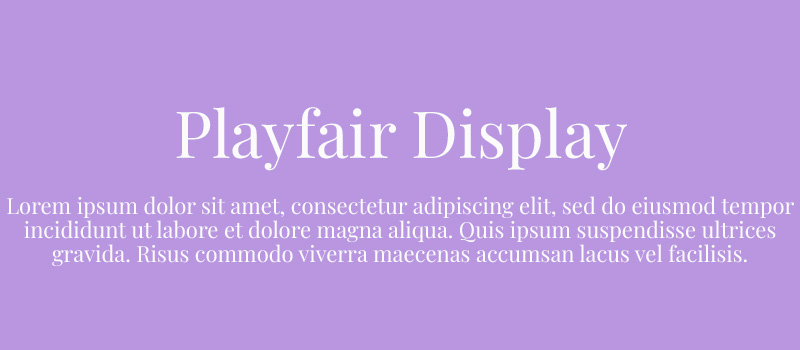 Created by Claus Eggers Sørensen, the font was inspired by the change from nib quills to steel pens in the 18th century. It is suitable for web copy, headlines, titles, and many others. You can pair it with Georgia and Times New Roman.
Alegreya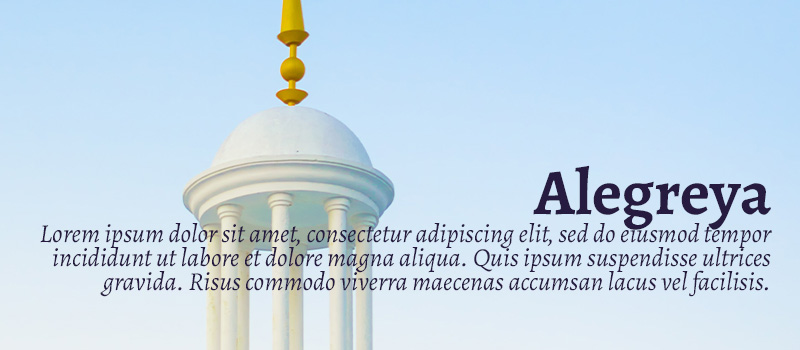 An award-winning font, Alegreya, was initially designed for use in literature. Its beauty and versatility made it ideal for many other uses as well. Designed by Juan Pablo del Peral, it comes with Italics, bold, and several glyphs.
PT Serif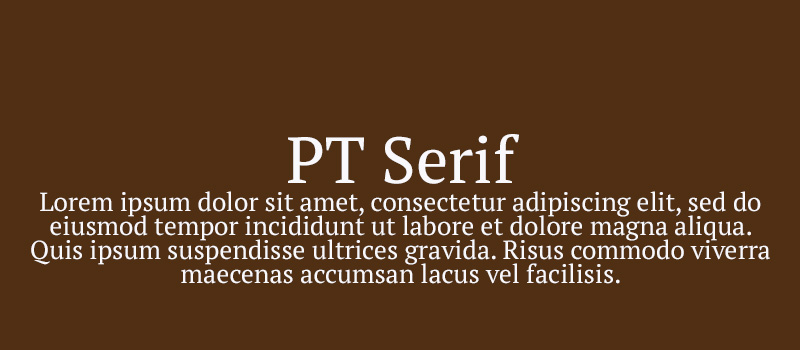 Created specifically for the project "Public Types of the Russian Federation," PT Serif was designed by Alexandra Korolkova, Olga Umpeleva, and Vladimir Yefimov. It has six styles, captions, and glyphs.
Logos
Cabrito Didone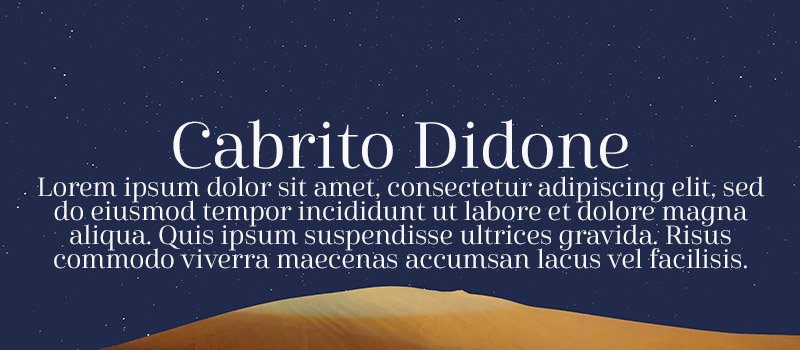 An excellent blend of structure and handwriting style, Cabrito Didone will look great in logos, web graphics, print, and many more. It was designed by Insigne Design. It has 42 styles, but only the regular is free for download.
Afta Serif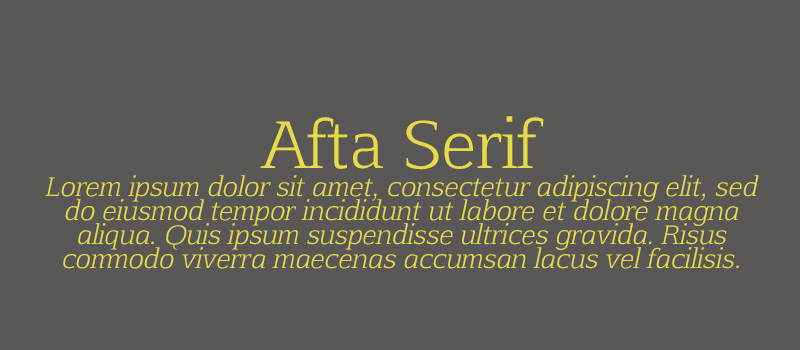 A unique font that you can use for logos and many other creative projects, Afta Serif was designed by Oriol Esparraguera. Two characters (the letter k and the &) and its overall futuristic feel make it a font choice that's out of the ordinary.
Sinistre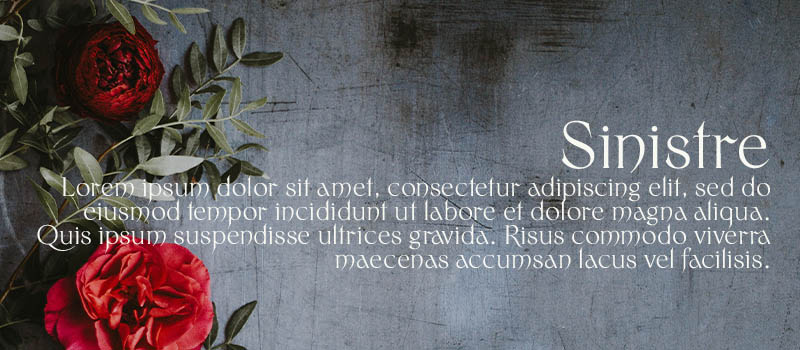 Designing logos require fonts that are unusual and one-of-a-kind. Sinistre is an excellent example of this. It was inspired by medieval decorative aesthetics and has a touch of gothic influence. Designed by Jules Durand, you can also use this font for book covers, magazines, web graphics, and many others.
Halibut Serif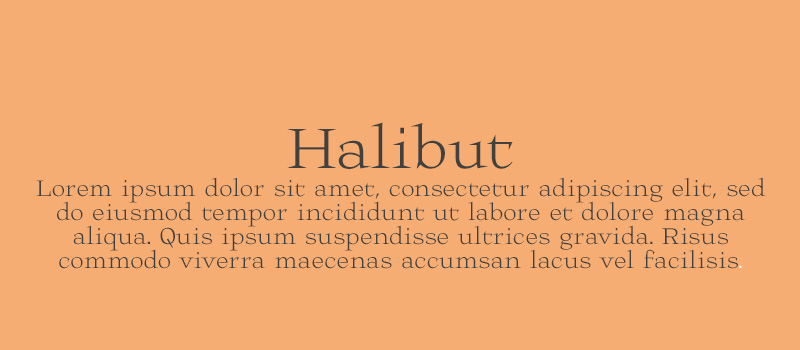 A font with the touch of the classics, Halibut is a Roman typeface that also has contemporary shades. Use this in logos, web graphics, ebook covers, headlines, and many more. Collletttivo designed it for free for commercial and personal uses.
Cinzel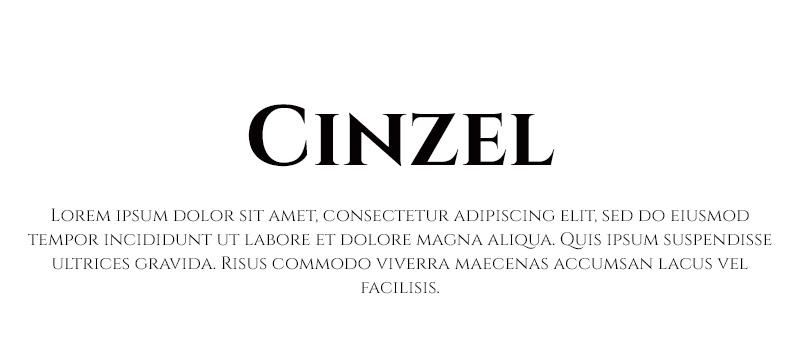 Having the first-century roman inscriptions as its inspiration, Cinzel is elegant, classy, and sophisticated. Not only is it suitable for logos, but you can also use it as headlines, titles, and on web and social media graphics. Designed by Natanael Gama, the font has a contemporary feel amidst its impression of the historic Latin alphabet.
Posters/eBooks/Print Ads
Arctic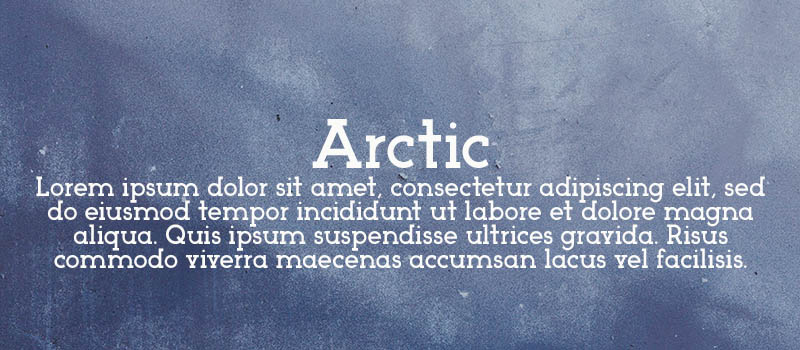 Give your posters a modern and sleek look with the Arctic, a slab serif font that's sure to stand out. Designed by Canadian designer Matt Ellis, the font will also look good on logos, web graphics, and many other projects.
Yeseva One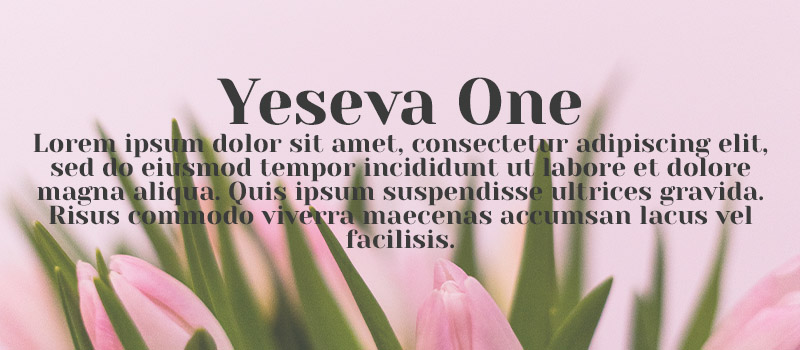 With its name coming from the phrase, "Yes, Eva," this font is the most suitable for designs requiring a feminine touch. Designer Jovanny Lemonad created it with his beloved wife in mind.
Nexa Rust Slab Black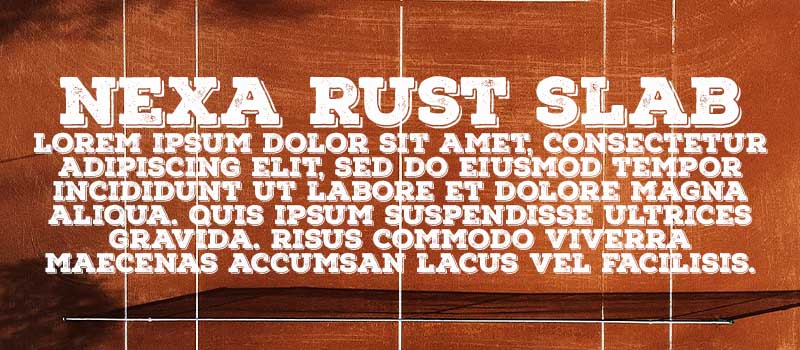 Coming from the Nexa family of fonts, the Nexa Rust Slab Black font is ideal for posters, ebooks, print, and online advertising. It is bold, bright, and striking. If getting noticed is what you want, this is the font you need.
Related Post: Fonts 101: A Helpful Guide for Your Business Branding
Grand Central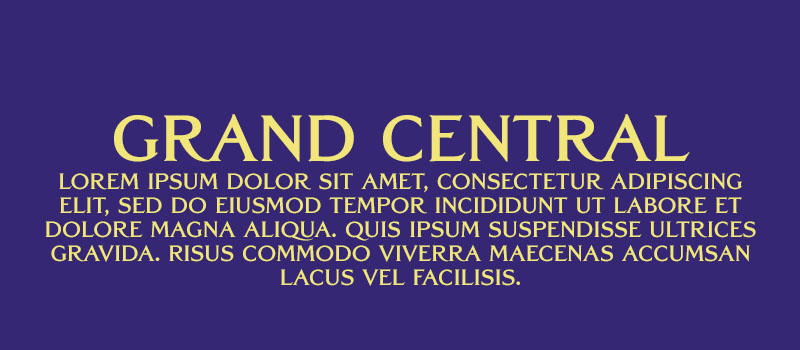 An excellent addition to your font collection, Grand Central is the font for all your poster and similar graphic design needs. Designed by New York font designer Tobias Frere-Jones, Grand Central has no lowercase but has glyphs, special characters, and numerals.
Cormorant Unicase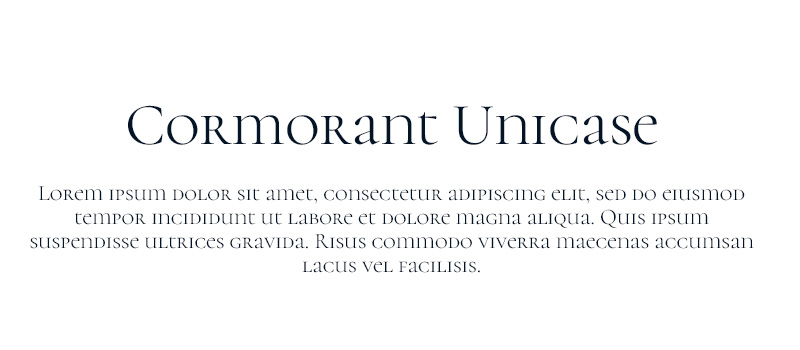 Taking inspiration from the works of Claude Garamont, Cormorant Unicase is the work of Swiss designer Christian Thalmann. It is a beautiful combination of uppercase and lowercase letters, which give it character. You can use this font family for posters, books, print, and online ads that need a bit of vintage feel.
Sans Serif Fonts
We now move on to examples of sans serif fonts that are free to download. You can use these fonts for both personal and commercial use.
Web/Blog Copy
B612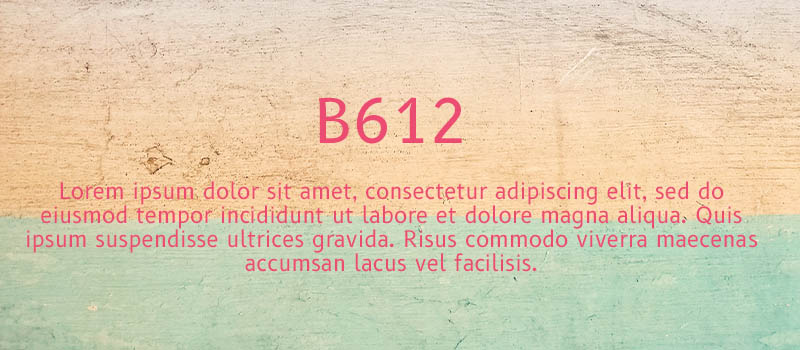 A highly legible font perfect for web and blog content, B612 reduces visual fatigue and cognitive load. It was specifically designed for use on aircraft cockpit screens because of its easy readability. This font family would work very well with small-sized texts and many other design projects.
Open Sans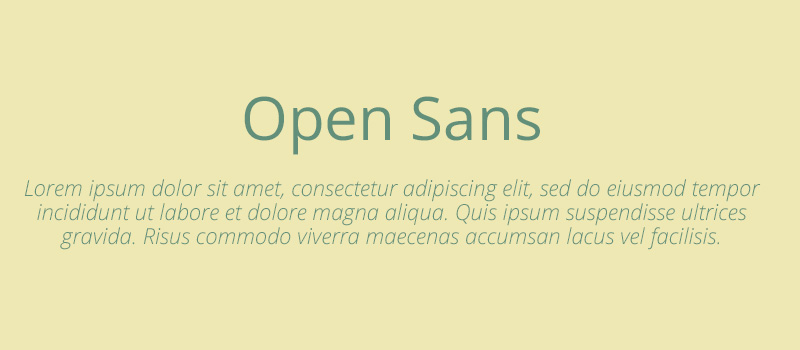 Steve Matteson designed Open Sans as a humanist sans serif typeface. It is one of the most used fonts on the web today, thanks to its clean and friendly appearance. If you feel that the default sans serif fonts on your software are dull, use Open Sans to add a bit of personality to your web copy.
Manrope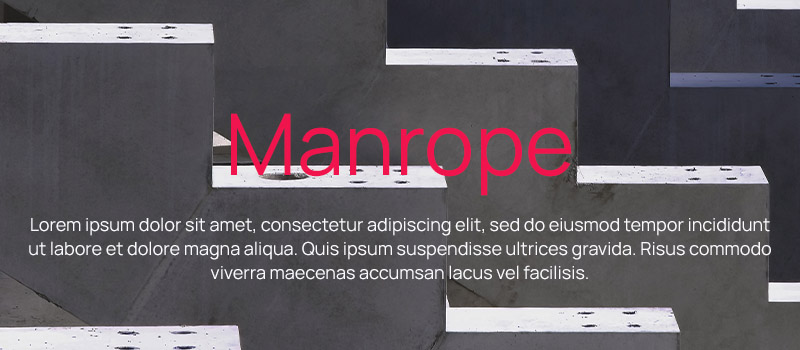 Mikhail Sharanda designed the Manrope font and let us use it for both personal and commercial uses. It is perfect for copy that requires legibility. It is ideal for many other uses, such as watch faces, business card details, and other design projects that use small prints.
Karla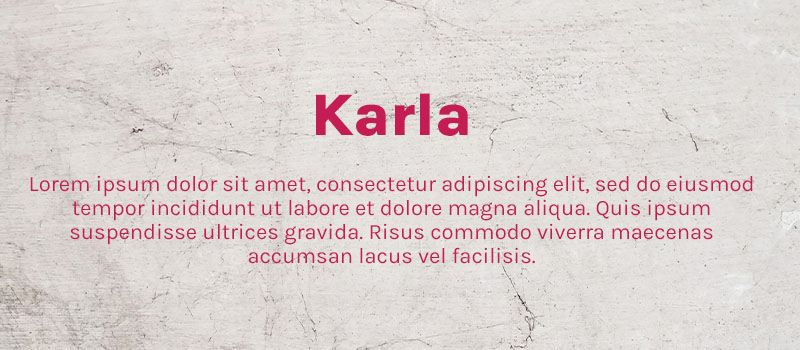 Belonging to the grotesque sans serif family, Karla font is initially designed for Latin and Tamil scripts. However, its innate beauty made it a popular font for designers the world over. It was designed by Jonny Pinhorn, who got his inspiration from Indian languages.
Alternate Gothic No2 D Regular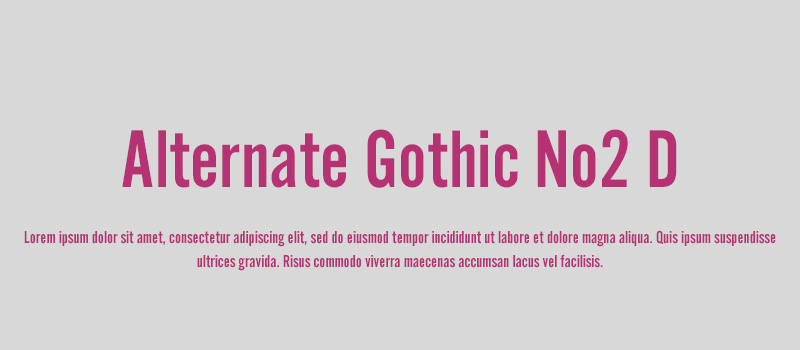 The Alternate Gothic No2 D Regular is a solid choice for headings, titles, and web copy. It was designed by the German company URW Type Foundry GmbH and comes with glyphs, special characters, and numerals.
Logos
Anders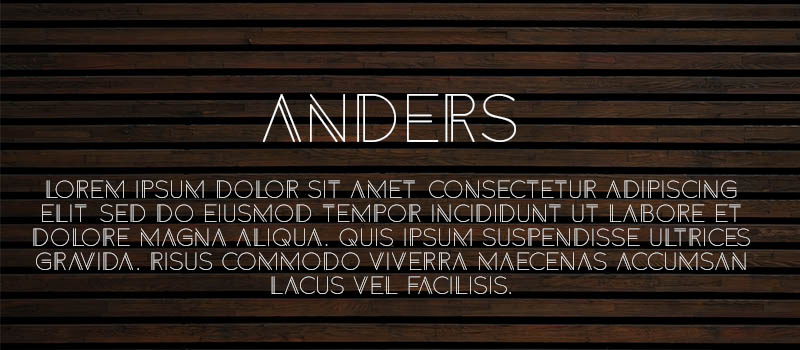 If you need a font for logos with an avant-garde feel to it, the Anders font is your best bet. Created by type designer Tom Anders Watkins, it has geometric lines that will make any logo stand out. Its uniqueness will make you want to use it for other projects such as web graphics, titles, social media posts, and many more.
Archive Grotesk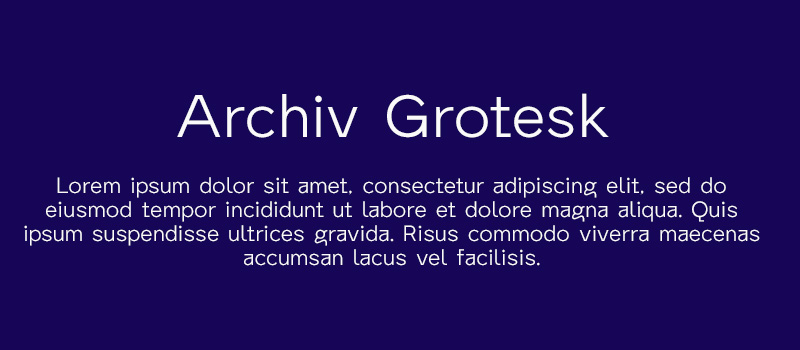 Logos that need a minimalistic approach to their design need the font Archive Grotesk. Creator Tomas Clarkson was inspired by the Stanley Kubrick archives at the London College of Communication.
Salt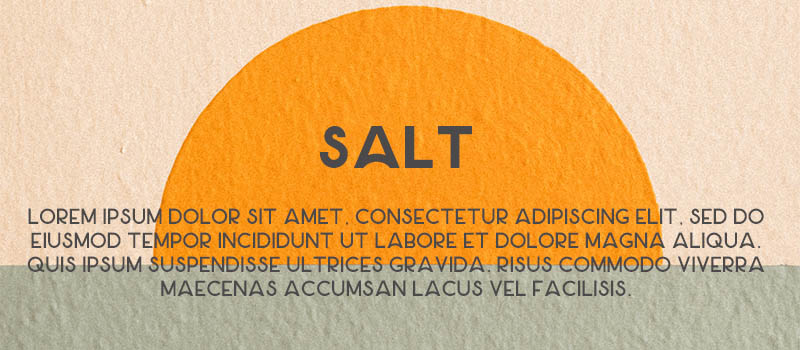 This versatile font does more than logos. Salt font will also look good on business cards, invitations, blog titles, web and game graphics, among many other uses. Designed by Masha Chuprova, it has uppercase, numerals, symbols, and two weights: regular and bold.
Englebert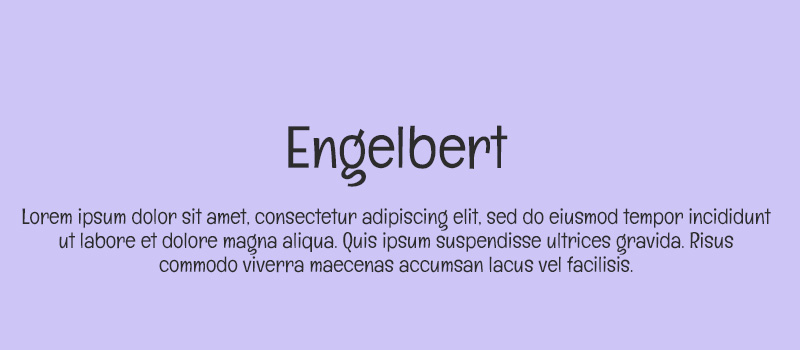 For casual and informal design for your logos, you can use the Engelbert font. It has a friendly and warm appearance courtesy of designer Brian J. Bonislawsky. In addition, it has a distinctive look and feel reminiscent of the 1930s.
Polya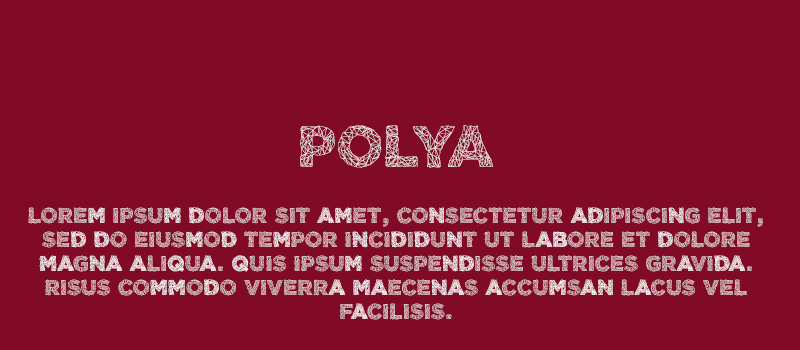 To create a memorable logo, an exciting font type is what you need. Enter Polya, a set of letters that has points connected throughout the strokes. It is ideal for other projects as well. You can use it on cards, blog titles, web headlines, event posters, and many more.
Posters/eBooks/Print Ads
Rezland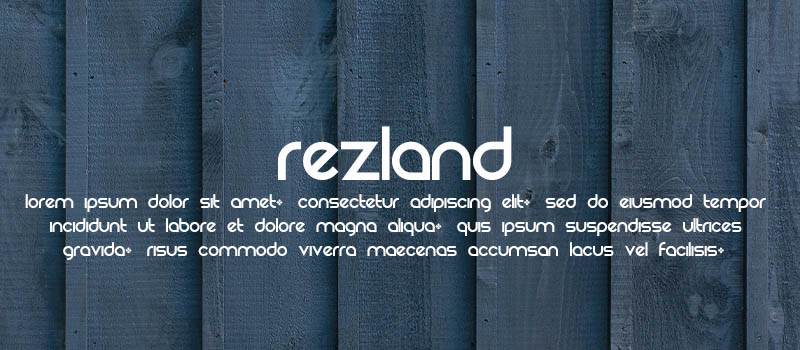 Techno-inspired font Rezland can be used in a variety of projects. You can use it not only on posters, books, and print ads, your web graphics, but also business cards and social media posts. Designer Fraser Davidson made it free to download for personal and commercial uses.
Ubuntu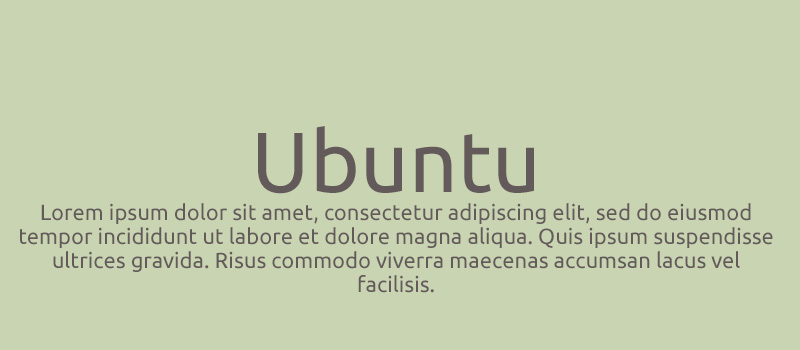 Commonly seen on website menus, buttons, and many others, Ubuntu is suitable for other uses. Print and online ads, package design, and even cards and invitations would look good with this font. Designed by Dalton Maag, it can be used for personal and commercial uses.
Fabada Regular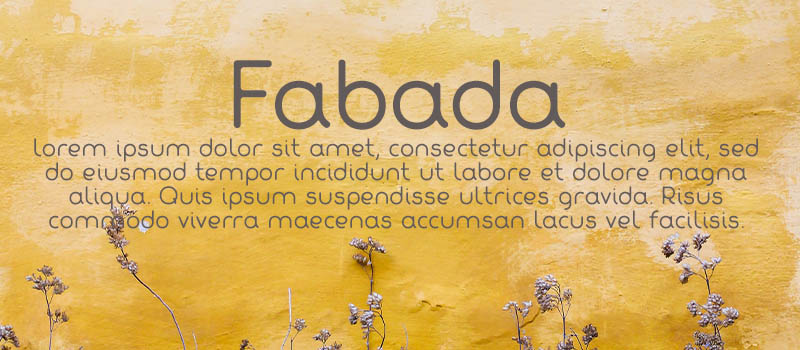 This circular style font is ideal for use in a wide array of projects. Fabada Regular was designed by graphic designer and typographer Fernando Haro from Spain. For all your modern and sophisticated font needs, this is a good font to use.
Wicked Grit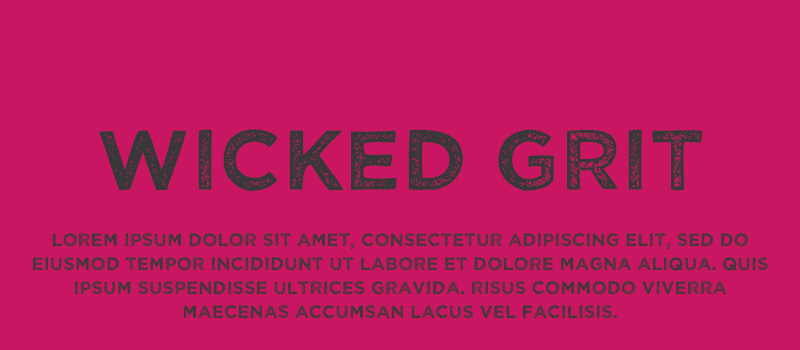 From web headings, book titles to social media graphics, WIcked Grit offers many possibilities. It is a distressed sans serif font that you can use in so many ways. In addition, it has a rugged appeal that's perfect for casual and even somber moods.
Neon Lights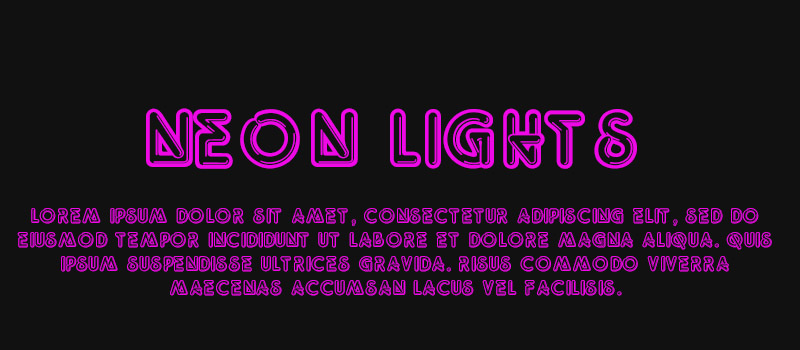 As its name suggests, Neon Lights font gives you bright lights and an energetic appeal. It has a retro vibe perfect for events, promos, and other projects that you want a bit of shock value. Type designer Allen R. Walden designed it.
Related Post: Best Fonts for Logos That Won't Make Your Brand Look Cheap
Bonus Free Fonts for Designers
Debby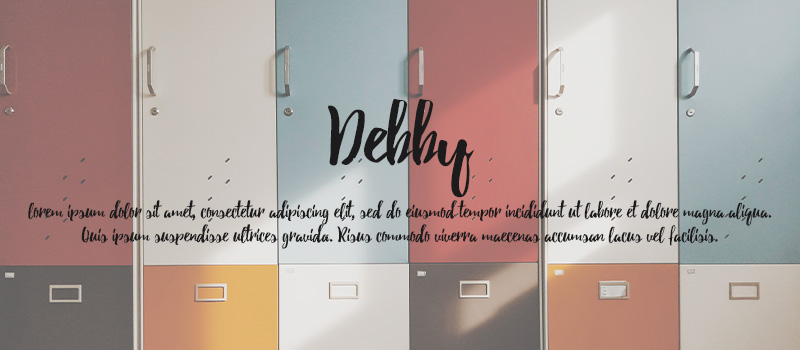 Let's leave serif and sans serif fonts for now and get you a hand-drawn brush font. This will add spice to your print and online ads, invitations, greeting cards, and web titles. The irregular strokes make it a fun, lightweight, and charming font for many other designs.
Peace Sans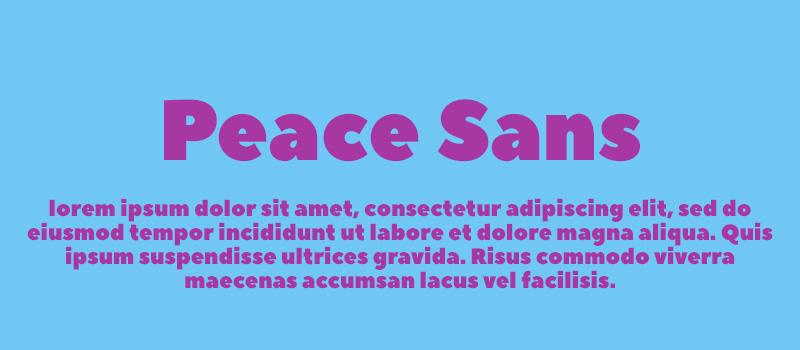 From t-shirts to logos, Peace Sans has a relaxed and calm attitude perfect for chilling. It has a hippie vibe to it and adds to your designs. Designed by Sergey Ryadovoy, the font is free to use for personal and commercial purposes.
Kaushan Script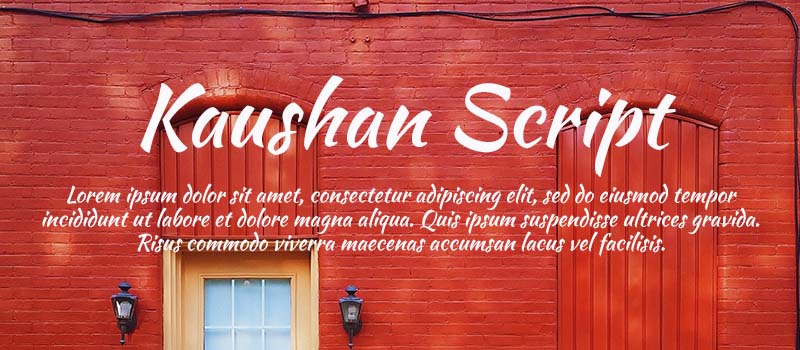 When you need an energetic font, Kaushan Script is an excellent option. The vertical strokes can indicate movement, which is great for many uses, whether online or in print. It was designed by Argentinian type designer Pablo Impallari.
Milkshake
With several alternates and ligatures, Milkshake is an excellent addition to any designer's font collection. It's perfect for logos, t-shirts, web graphics, and so much more. Designed by Laura Worthington, this script font spells fun and excitement.
Syne Mono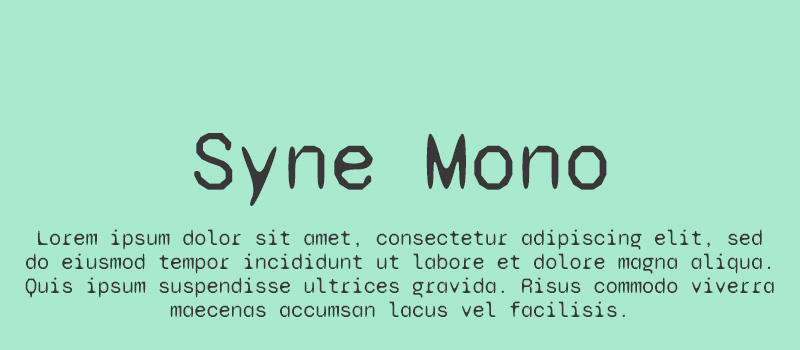 Who said monospace fonts are lacking in appeal? Syne Mono has that X-factor that you can use in so many ways. Design company Bonjour Monde describes it as a font about letting go of control. This font would look great in ads, game graphics, posters, eBook covers, and so much more.
Stint Ultra Condensed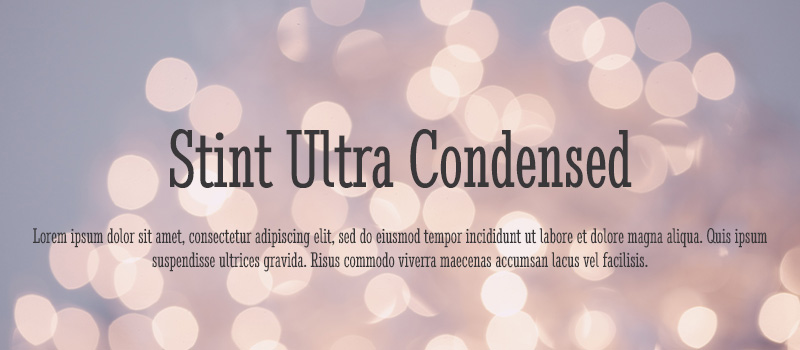 A display style font, Stint Ultra Condensed is highly legible and will work best in web copy, titles, books, and advertisements. This font exudes elegance, style, and sophistication. You can use it for fashion, cosmetics, business cards, and other fields that require authority and trustworthiness.
A quick note on font licenses
This list of fonts for designers is free for commercial and personal use. However, it's best to check each of your downloads in case anything about this changes. Also, it's recommended to check for restrictions or limitations as some fonts may have them even if they are free for commercial use.
Final Thoughts
Fonts for designers abound on the internet. However, a little research can yield positive results if what you need isn't on this list. And for all your graphic design requirements that will go with these fonts, you need Penji.
Penji is a graphic design service that offers unlimited designs at flat monthly rates. Watch our demo video here to know more about what we do.
Once you decide on getting our professional designers to work on your projects, you can sign up here.