If you're scaling your business and need a design solution that can meet demand, you may want to outsource graphic design. It's a cost effective solution for businesses whose demand exceeds the size of their team.
But outsourcing looks quite a bit different in 2023 from how it did in 2018, or 2013, or 2010…
This comprehensive guide will teach you how to outsource graphic design the right way in 2023, and help you pick out the future-proof solution for your business. From freelancers to marketplaces to on-demand services, we've got all the tips you need.
Outsource graphic design for one-off designs
If you're a solo entrepreneur or just need a quick design done, consider these services for one-off graphic design. These options are the cheapest and don't require any commitment from you.
Fiverr: Fiverr has a ton of designers who can create designs for as low as $5. This is a good option if you just need a quick design done and can wait at least a week or two for the final design. Just remember… you get what you pay for.
99designs: 99designs is more upscale in terms of quality (and quite a bit pricier). If you need a more in-depth design such as a logo, website, or app, 99designs is the ideal one-off solution. Expect to pay at least $300 for a logo and $600+ for a web or app design.
Outsource graphic design for long-term work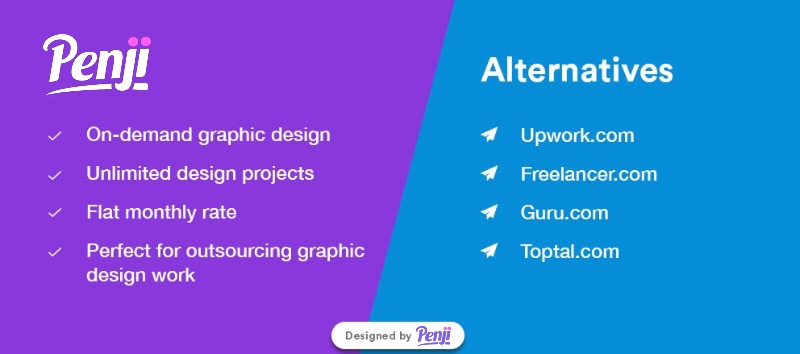 If you're hiring for long-term work, your time and dollar investment is crucial. So, to help with your search, here's our list of the best outsourcing services to request your graphic design projects.
Penji: Yes… we have to shamelessly plug ourselves here. Penji is designed to take the stress out of vetting designers while ensuring high-quality work. Imagine paying one simple price to work with a design team specialized for every design you can come up with. Pretty good deal, right?
Upwork: While Penji has its own team ready to go, the rest of these sites help connect you to freelance designers for long-term work. Upwork tends to specialize in development and IT freelancers, but they have a solid directory of graphic designers for a variety of budgets.
Freelancer.com: This freelance marketplace can connect you to TONS of graphic designers. For long-term outsourcing, however, it can be a bit tricky to find the exact designer for your business needs.
Guru: Like with Upwork, graphic designers aren't Guru's top specialty. They still have a strong pool of global design talent, which you can access by requesting quotes or posting a job listing.
Toptal: This is the perfectionist's choice for outsourcing graphic design. To be fair, with a pool of freelancers mostly based in Europe and North America, it might be cheating to call it "outsourcing." Still, this service can guarantee top-of-the-line designers, making them perfect for in-depth and high-level projects.
Ready to Outsource Graphic Design for Good?
try Penji for 30 days risk-free and get unlimited designs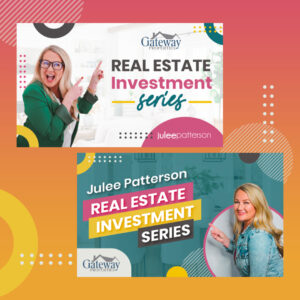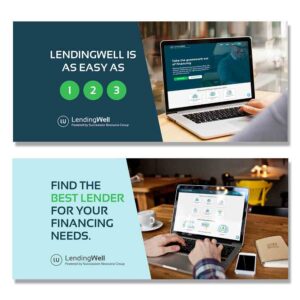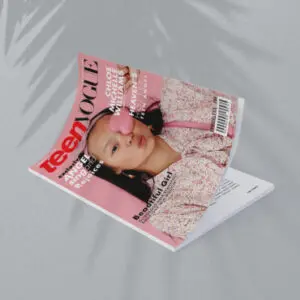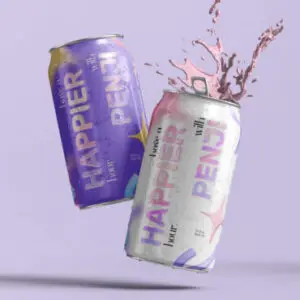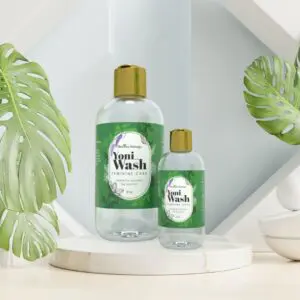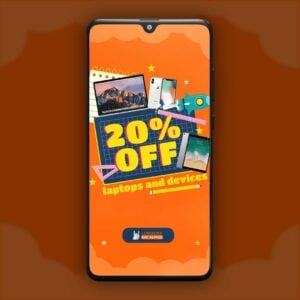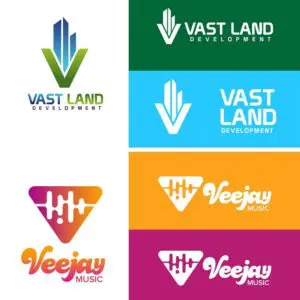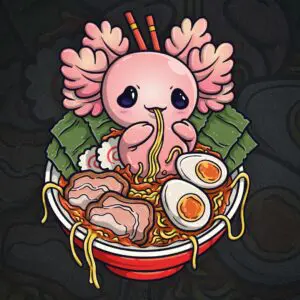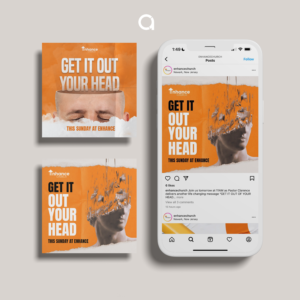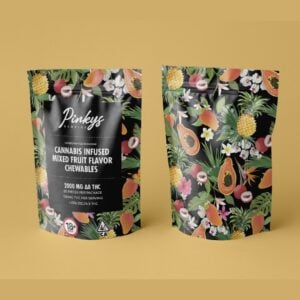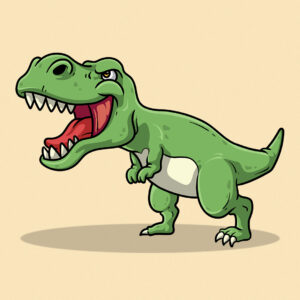 How to request a design project with outsourced designers
Before you start working with a new outsourced designer or service, you should assess exactly what designs you need. With an unlimited service, you don't need to have a list prepared, but it's still helpful to know what you expect from your designer(s).
Think of all the visual elements you need right now and designs you'll likely need in the future. To outsource graphic design work in the long term, a systematic workflow is essential. Get it together now so you won't have to do it later.
For companies on the rise, a logo and branding package can be a great place to start. Once you have your colors, fonts, and brand identities in order, it'll be easier to plan out the rest of your designs.
What to include in your design request:
Dimensions
File type (JPG, PNG, etc.)
Detailed description
Colors (exact hex codes are a plus)
Visual references
Text copy
Fonts
High-resolution elements to include (if needed)
When choosing an on-demand graphic design service, your design brief is crucial to ensure you get the designs you need. Penji offers a user-friendly platform that guides you through the process from submitting designs, to revisions, to downloading source files. A detailed request ensures that you receive your final designs quicker, allowing your graphic designers to move on to the next project.
Who SHOULD NOT outsource graphic design?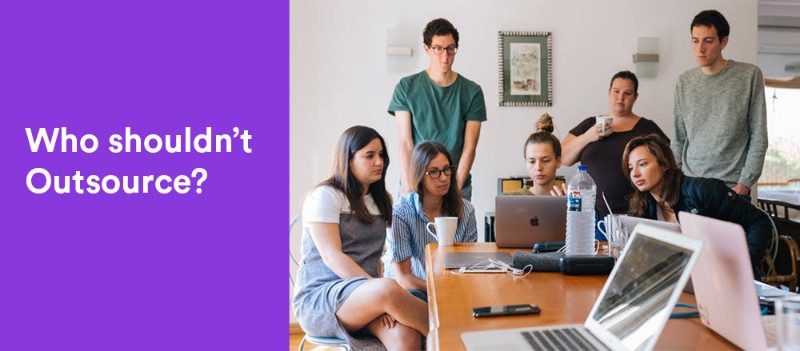 Here is what you need to consider:
Not all businesses need enough designs to make outsourcing worthwhile. Your business would have to constantly need graphic design work done if you want to consider the option to outsource graphic design. If you just need to hire a logo designer, or another one-off project, finding a freelancer may be the better option.
There are additional costs you may not have considered. On the surface, outsourcing seems like a much cheaper option than hiring in-house designers. But using outsourced graphic design can involve administrative overhead and a more complex vetting process.
Not every solution will be right for you. Before signing up for any type of design outsourcing, be sure that what they're offering matches what you need. The wrong team can actually harm your business' growth. For instance, you might need a team that knows email marketing, not just one that can design a graphic for an email.
Who SHOULD outsource graphic design?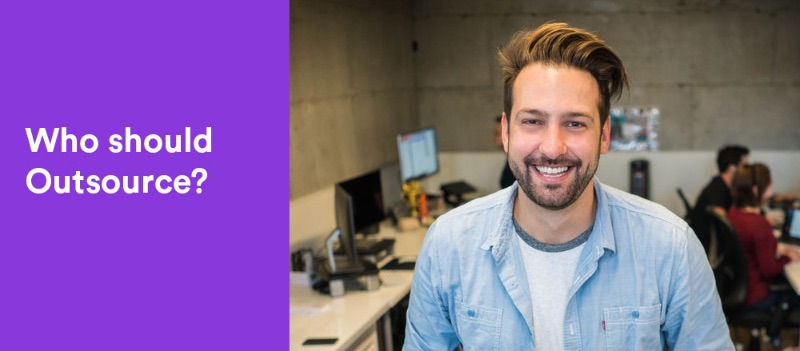 It's a common misconception that the only companies that outsource are the ones that can't afford their own in-house team. In truth, outsourcing is most effective for established brands, many of whom also have an in-house graphic design team.
Outsourcing their design allows their in-house designers to focus on the big picture. If you're paying a team of designers to work in your office, on your brand, every day, you don't want to burden them with every social media and email graphic your company needs.
Some of the most common types of companies that outsource graphic design include:
Ad agencies: Ad agencies constantly need content for Google, Facebook, Linkedin, Twitter, Instagram, digital and print ads. When you factor in A/B testing, it's more than one design team can handle.
Marketing agencies: Like advertisers, marketing agencies often have a surplus of day-to-day design work that they outsource.
Web design agencies: Web design isn't always as simple as creating one design. A website is dozens of designs and illustrations combined into one form, sometimes with outside help.
Marketing teams: Marketing teams within companies can have high expectations and strict deadlines. If you need deliverables, outsourcing can help ensure you get it all done.
Established companies and startups: If your company's scale is growing or grown, it's easy for your design team to get overwhelmed. Outsource graphic design to discover new content opportunities for established brands, or scale your output to meet ever-changing demand.
Pros and cons of traditional outsourcing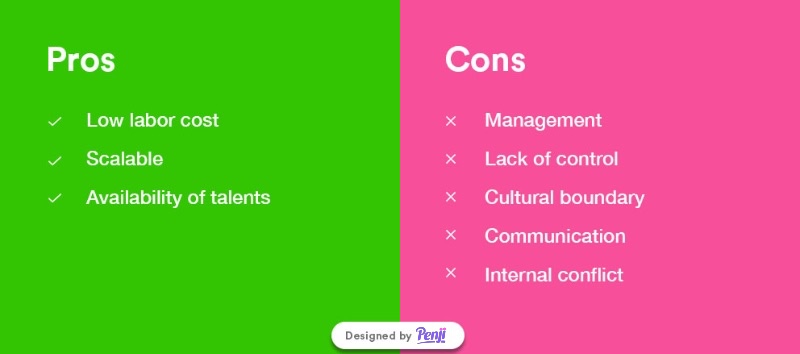 Pros:
Labor cost: This is one of the biggest benefits of outsourcing graphic design—and its biggest controversy.
Scalable: If your business needs are constantly changing, a good outsourcing process can help you meet demand.
Talent pool: You can select designers from all over the world, opening opportunities for talent you may not be able to find locally.
Cons:
Management: Managing your design team is that much harder from across the globe. Between hiring, HR, currency exchange, and potential legal issues, outsourcing can require a great deal of administrative upkeep.
Lack of control: You can do all the vetting you want, but at the end of the day, if a designer isn't delivering on time—or isn't delivering at all—you might not even know it.
Culture shock: If you're creating designs for ad campaigns or social media, you may need to keep up with trends. Some elements of culture can get lost in translation when working with a designer from a different country.
Communication: Communication will be hit or miss. Different schedules and physical distance may prevent you from keeping tabs on your designers, so it can be harder to tell what they're working on or if they're having trouble with anything.
Internal conflict: In 2023, outsourcing is fairly commonplace, but it's still controversial. If you also have an in-house design team, it will take a delicate hand to reassure them that they're not being replaced.
How to set a budget for outsourced graphic design
Budgets for graphic design can require a ton of guess work. The same project might cost $60 in one case and $200 in another. But for outsourcing work, it's important to know your limits and set a consistent monthly, quarterly, or annual budget.
The easiest way to outsource graphic design at a consistent budget is by using an unlimited graphic design service like Penji. By paying a flat monthly rate, you can get all the designs you need and ensure that you never go over-budget.
If you choose to hire designers directly, the process can be a bit more complicated. Still, setting a realistic budget can make the hiring process much smoother. At the lowest scale, a freelancer may charge $15-35/hr, but a highly experienced designer may cost you $45-150/hr.
One thing you never want to do is undershoot your budget. If you always go with the cheapest option, you'll end up with a cheap business. By investing in quality, you can pass that quality onto consumers through visually stunning designs. If you're a rising startup in need of cost-effective, scalable design options, an unlimited design service is the perfect solution.
Write a good job posting for hiring outsourced designers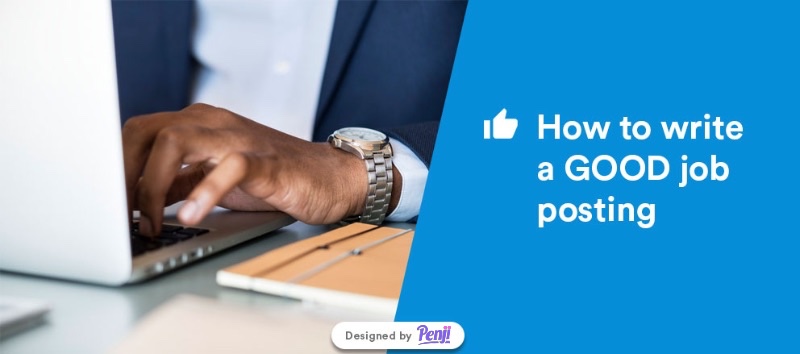 Putting the job posting up is the easy part. You'll soon receive countless applications to weed through. But to find the right designer, you need to start with a quality job posting. If it doesn't accurately describe the job, you'll be swarmed with candidates who aren't a good fit for your company. Here's an example of what NOT to do.
Bad job posting example:
Listing Title: Need a graphic designer
Body: We're looking for a talented graphic designer to join our team and help us design marketing materials, ads, promotional flyers, websites, and occasionally logos. The designer must be talented, flexible, know how to use a wide variety of programs, and be able to work in a team environment. You will need your own computer and be able to work from home. If this job description fits you, feel free to apply by emailing us at [email protected].
Why is this job posting so bad?
Vague headline
Vague description
Missing job requirements
Not enough information for an applicant to determine their own eligibility
Good job posting example:
Listing title: UX/UI designer needed for full-time employment
Body: We're seeking talented graphic designers to work with our existing team to design a better customer experience for our support platform. This is a full-time position where you will be working with a team of designers and a project manager. You will be assigned a UX/UI project and expected to complete deliverables each week and publish results. All work must be completed using Sketch App. This is a salary position, NOT an hourly role. You will receive consistent monthly pay and bonuses based on your performance.
Position: Full Time
Hours: Daytime & Nighttime shifts
Schedule: Monday – Saturday
Pay: 1st and 15th of every month
SKILLS REQUIRED:
• English
– Proficient Speaking
– Proficient Writing
• Graphics & Multimedia
– Adobe InDesign
– Graphics Editing
– Illustrator
– Logo Design
– Photoshop
– Print Design
– Shirt Design
– Web Page Design
HARDWARE REQUIREMENTS:
1. Good computer/laptop with sufficient computing power (cannot crash frequently)
2. Solid internet, minimum of 25Mbps
3. Strong communication skills (English)
SOFTWARE REQUIREMENTS:
– InDesign
– Illustrator
– Photoshop
– Sketch (bonus)
QUALITIES WE LIKE TO SEE:
– Passion for what you do
– A drive to succeed
– Pride in your work
– Willingness to learn new skills
HOW TO APPLY
– Must read the job description thoroughly and make sure you qualify
– Email us at [email protected] with your resume attached. Make the subject "[Your name] – Graphic Designer Application."
– Send this as an introductory message: "Hi my name is _____ applying for the Graphic Designer position. I learned about the job from ____. I have ___ years of design experience. Here's a link to my portfolio: https://_________". Please send this exact message and fill in the blanks. Otherwise, we will not respond to you.
Why is this job posting good?
Clear headline
A clear and informative description
Detailed job requirements
Enough information for an applicant to assess if they're right for the role before they apply
Specific instructions to weed out applicants who didn't thoroughly read the description
How to create a successful work environment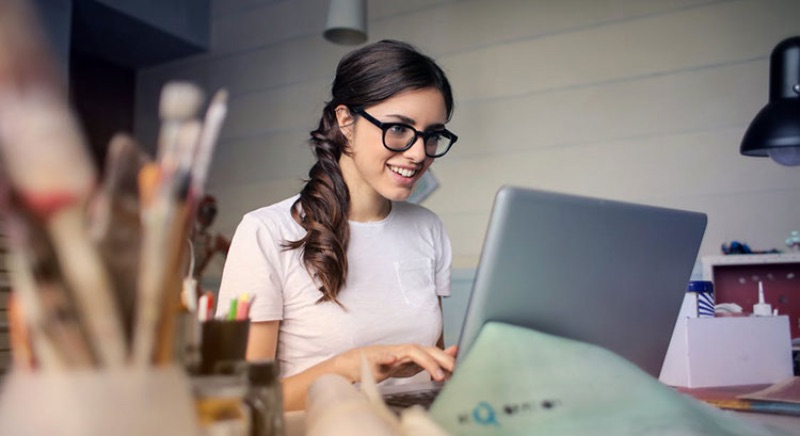 If you plan to outsource graphic design to someone you've never met and may never meet in person, trust is essential. That's why you need to set up the right infrastructure for communication and stability.
Graphic design is an industry full of fleeting, unrewarding freelance gigs. If you want a committed design team, you need to show them that you're committed to them. Set up onboarding, walk them through what your business does, be available when they need you and create a regular schedule for success.
In the recent past (and present), unscrupulous companies used outsourcing as a cheap way to evade labor laws and cut their domestic team. The last thing your business wants is to develop that kind of reputation. Your company values shouldn't be bound by physical borders. Ensure that your outsourced design team is paid fairly, treated respectfully, and feels like they're part of a company—not just a project.
The modern way to outsource: unlimited graphic design
Every year, new solutions are helping companies work more efficiently. Today, rather than hiring their own outsourced graphic designers, many top brands pursue an even simpler solution: unlimited graphic design services.
Trusted by thousands of brands and agencies, Penji is the right way to outsource graphic design in 2023. Compared to direct outsourcing, Penji offers:
Simple pricing: You don't have to worry about time, workload, and other factors affecting the cost for great designs. Pay the same price every month and get all the designs your business needs.
Hiring made easy: Job postings? Interviews? Background checks? Onboarding? We've done all the work for you. Our world-class team of designers is ready to handle any task.
1-2 day turnaround: With dozens of graphic designers on the team, you can rest easy knowing that your project always gets top priority.
Money back guarantee: If you're not satisfied with Penji's service in the first 30 days, you can get your money back and keep all the designs that are already completed.
Unlimited graphic design results
When you become too reliant on B2B services, it can feel like your business is losing its unique character. Penji works hard to ensure that our designs are the right fit for your brand. You can create a brand file with colors, fonts, logos, and style guides so that our designers can learn your branding needs inside and out.
Curious about Penji's designs? Here are a few examples of the different types of graphic design we offer.
Social Media Design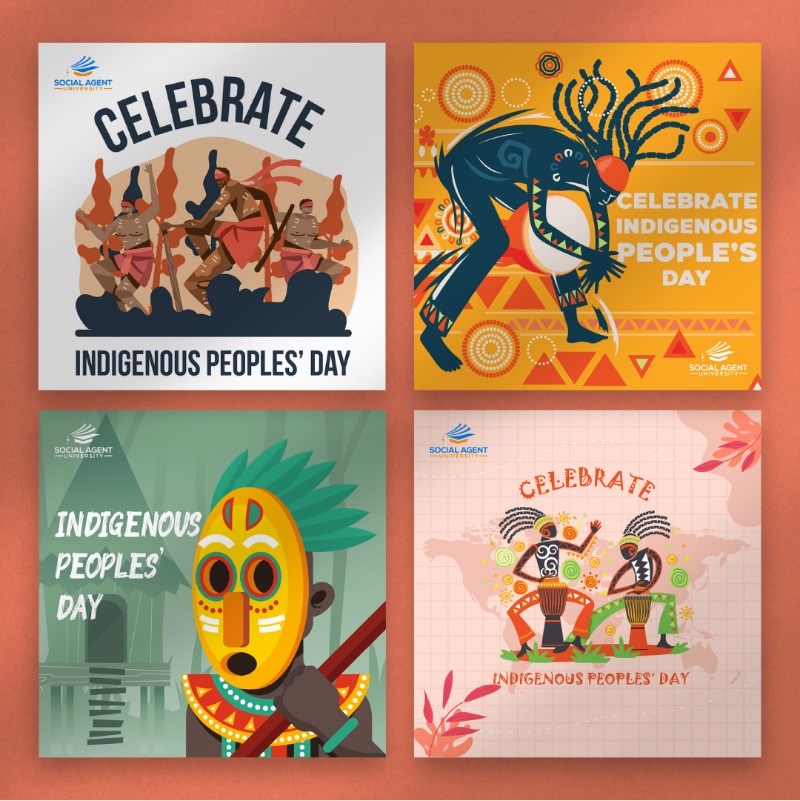 Logo Design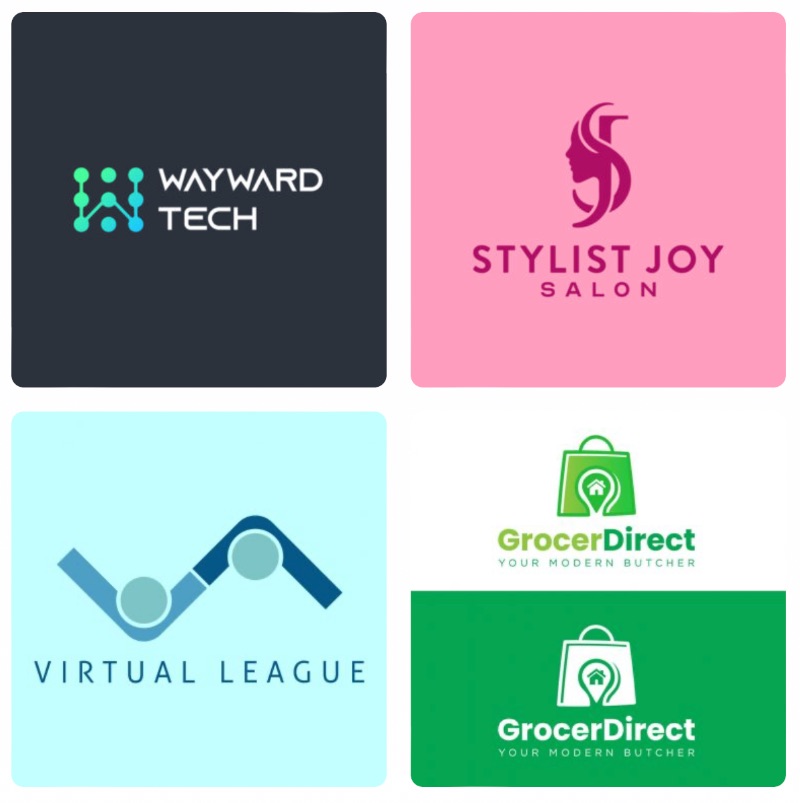 Packaging Design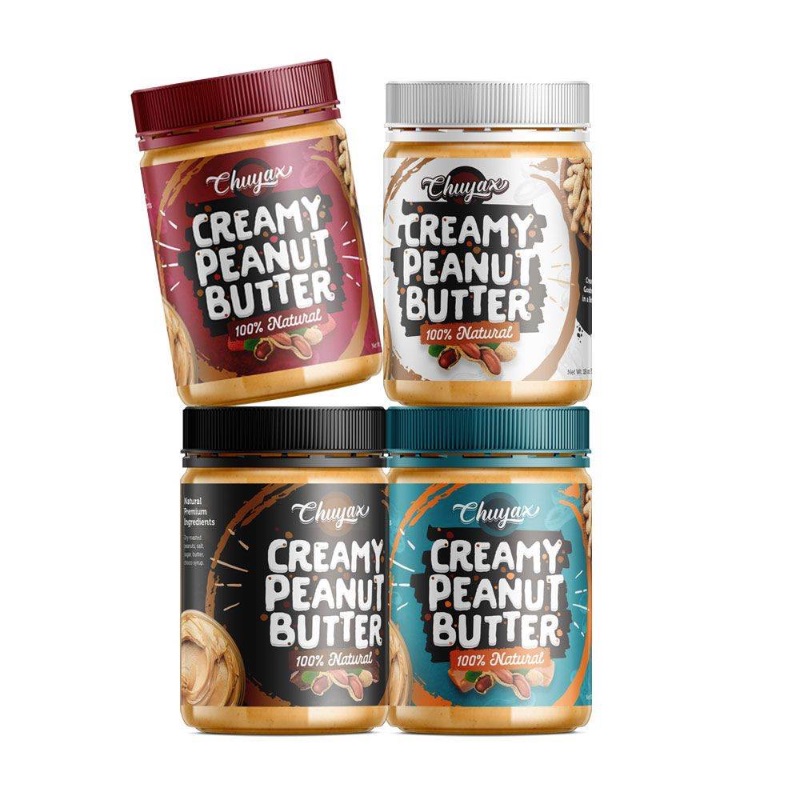 Custom Illustration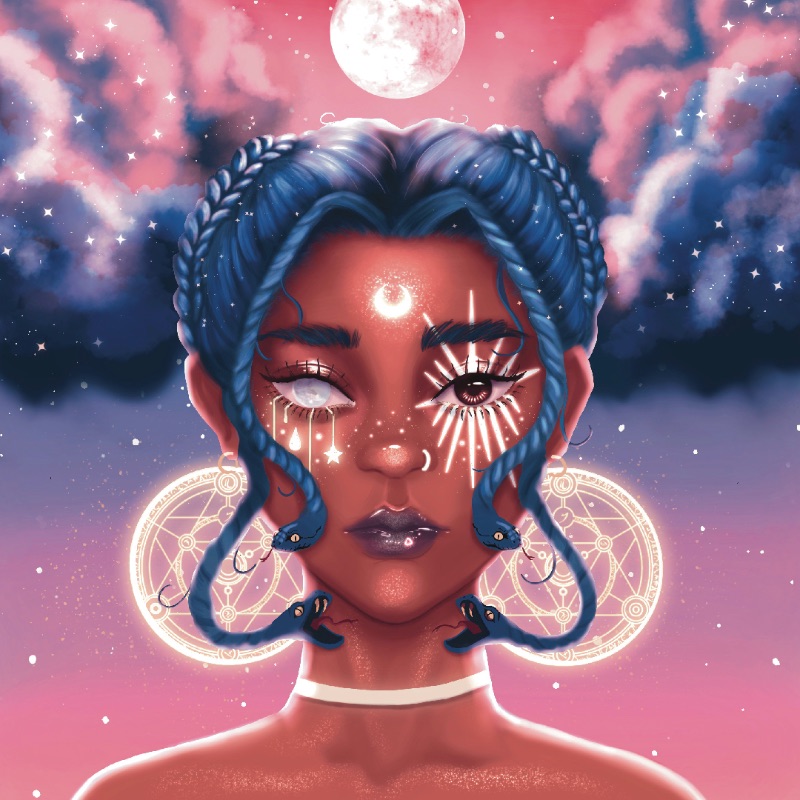 Merch Design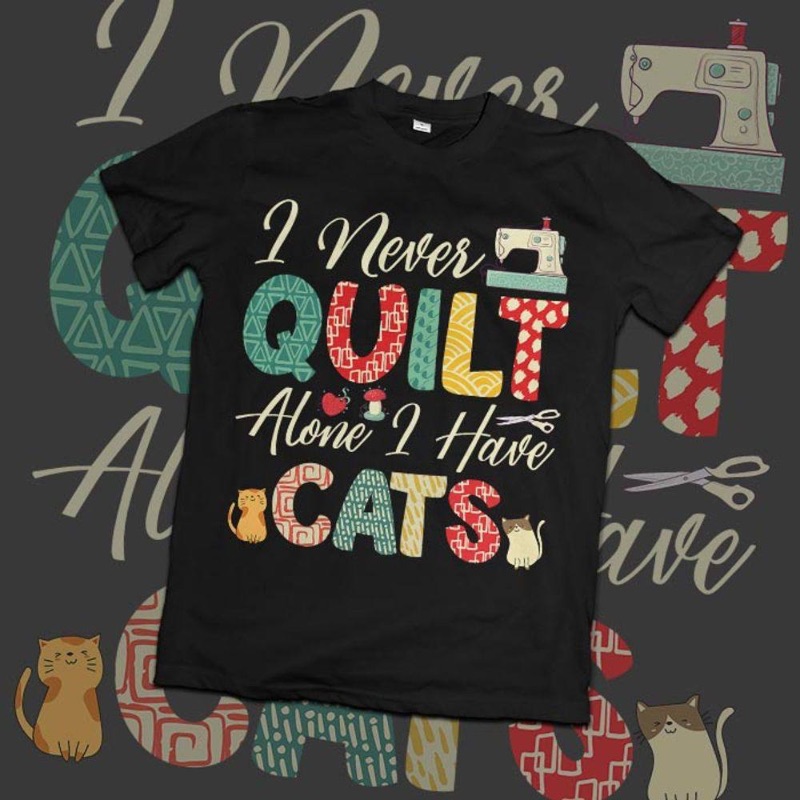 Website design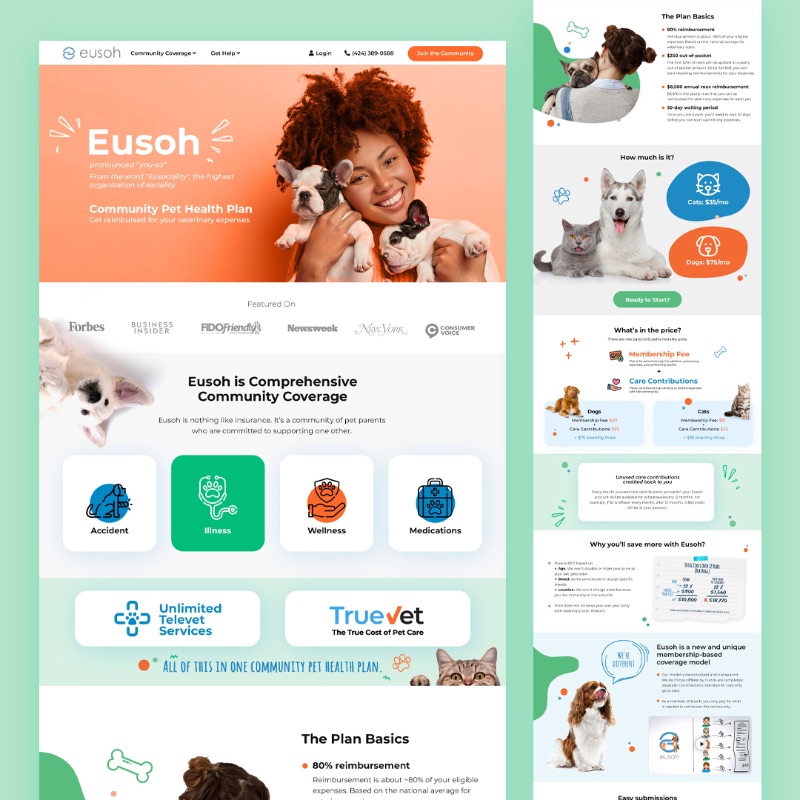 Outsource graphic design the easy way with Penji
If you're looking to outsource graphic design in 2023, Penji is your one-stop shop. Our process makes graphic design as simple and streamlined as possible. All it takes is three easy steps:
Submit a request: As soon as you sign up, you can submit your first request immediately. Try to be as detailed as possible, especially for your first requests. With time, our designers will learn what kinds of designs you need.
Review and revise: Within 1-2 days, you'll receive your first draft. Our revision tool lets you pinpoint exactly what needs fixing. With unlimited revisions, you can keep tweaking your design until it's just right.
Download and share: That's it! You tell us what you need and we'll deliver, with whatever dimensions and filetypes you need. We also include source files with every design, so you can make edits and reuse elements as you please.
Outsource the smart way in 2023. Sign up for Penji today and see designs tomorrow.