Creating the best marketing assets doesn't start and end in great designs and images. You have to consider fonts as well, as they can influence a consumer's perception of a brand. Here are websites where you can download free fonts for commercial use:
Font Space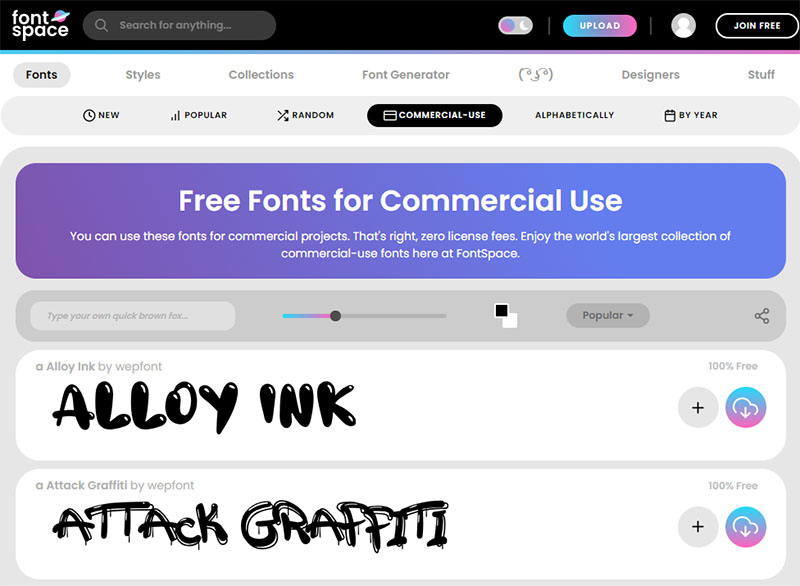 With over 80,000 free fonts and more than 16,000 free fonts for commercial use, Font Space is a good resource. They also have a blog where you can read all sorts of info about fonts. They boast of having over 3,100 designers and that you can get more than just fonts, but logos and more.
1001 Fonts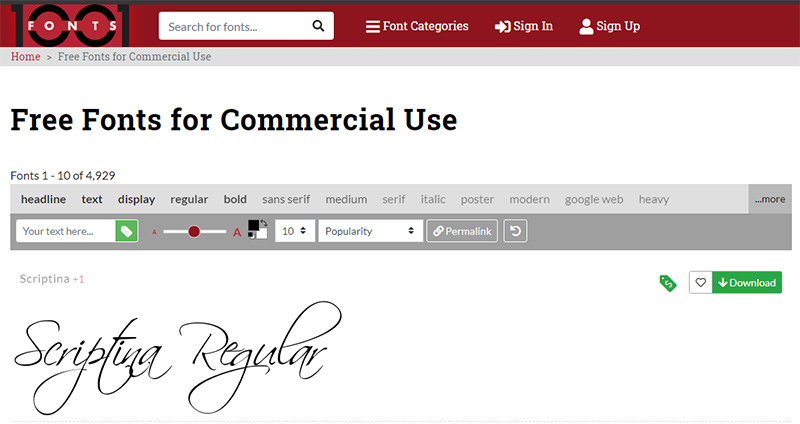 A popular site to get free fonts, 1001 Fonts has thousands of choices for both personal and commercial use. They have a wide variety of font categories that would suit your every font need. They're open for submissions for those who want others to use their font designs.
Fontesk

From sans serif to handwritten fonts, Fontesk has fonts free for download. Their curated library offers high-quality fonts for personal and commercial use. Like 1001 fonts, they also accept submissions for font designs.
Font Squirrel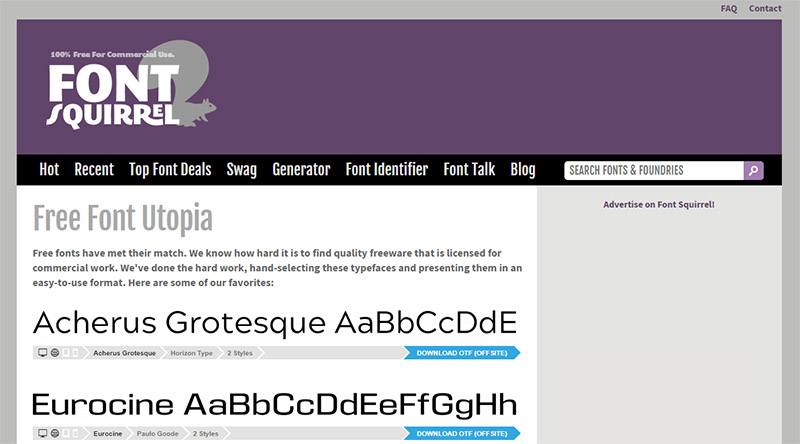 Calling themselves the Free Font Utopia, they claim to understand how hard it is to find fonts that are free for commercial use. And so, on their website, you can find free fonts as well as paid to give you more options. Font Squirrel also has a blog if you want to know more about fonts.
Font Meme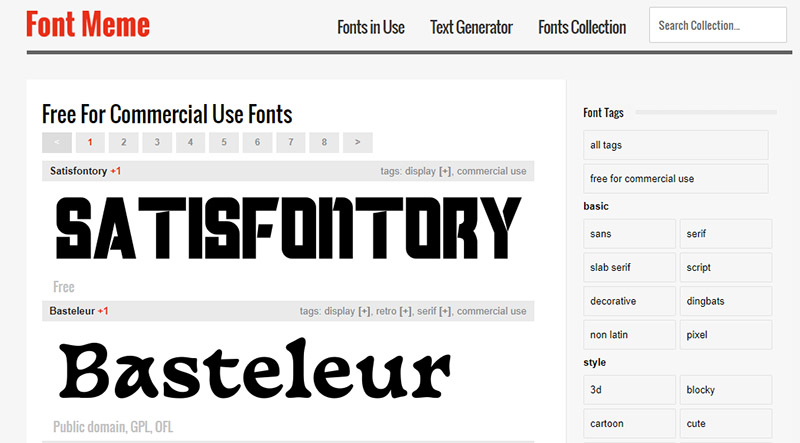 Find free fonts at Font Meme from their massive collection of free and premium fonts. They have a custom preview feature that lets you see how your text will look using a specific font type. Their "Fonts in Use" section enables you to see fonts used in films, books, games, and more.
Creative Fabrica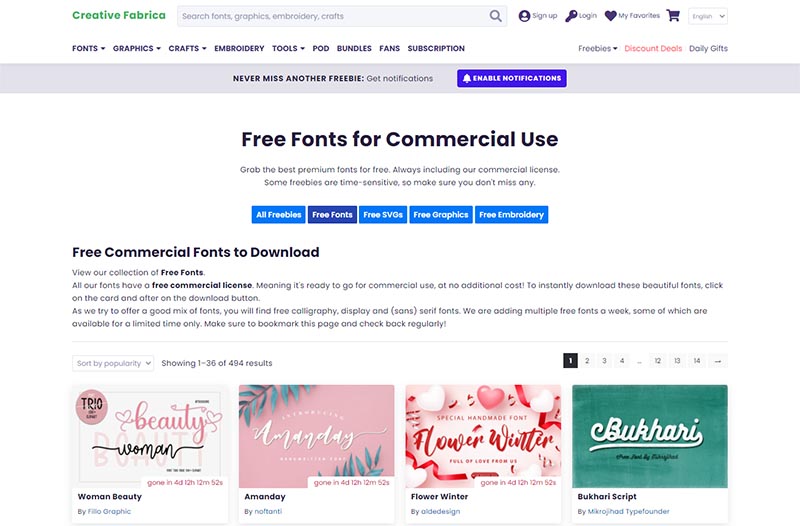 Based in Amsterdam, Creative Fabrica is passionate about handmade crafts and fonts as they believe these are works of art. They have more than 5,000 designers and over 2 million products on their website. They have Print on Demand assets and The Artistry, a blog about fonts and their uses.
Font Bundles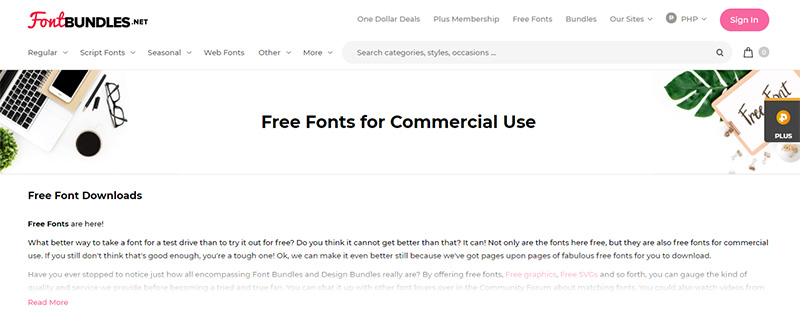 Offering free fonts for commercial use, Font Bundles also provides the best deals if you're looking for premium ones. They have a blog, a community forum, and their One Dollar Deals that offer the best prices for their premium fonts.
Befonts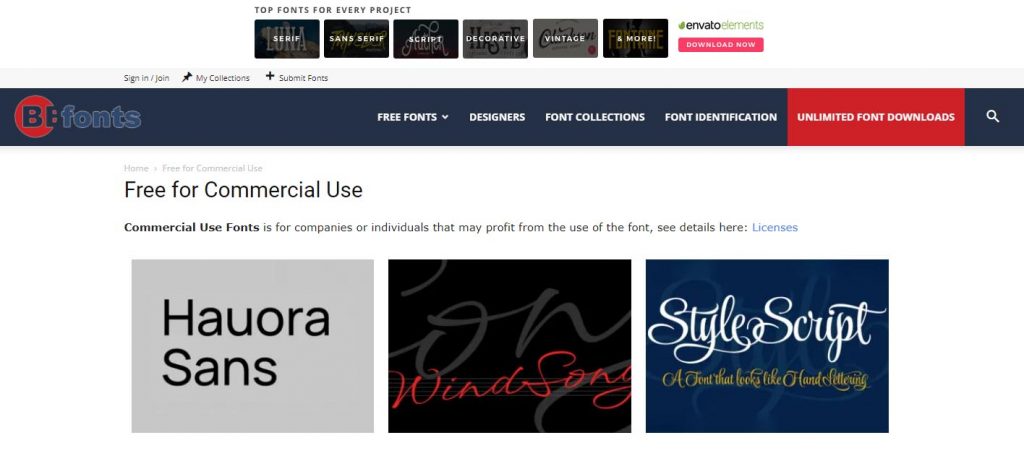 An excellent source of free and paid fonts, Befonts has a forum they call Font Identification. If you want to know the name of a particular typeface, you can look for answers there. Also, their Designers section lets you explore the works and ready-to-use design assets of Befonts' Authors.
Creative Bloq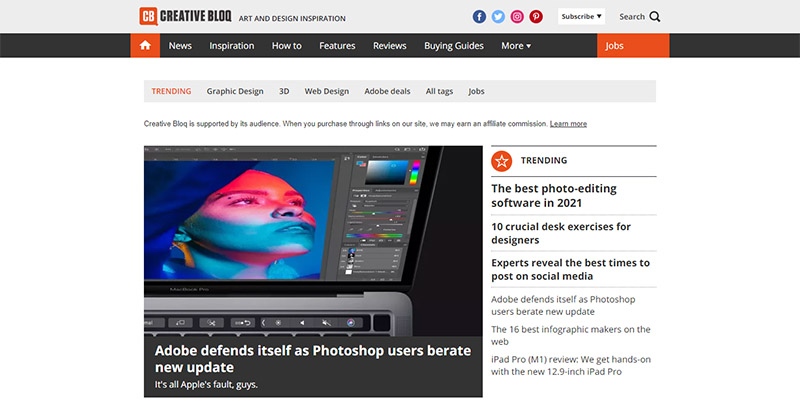 An art and design inspiration website, Creative Bloq has a list of 82 of the best free fonts. They have links to each and short descriptions of how to use them. While on their website, you can read news and articles about topics concerning design and art.
Urban Fonts

Having over 8,000 fonts, Urban Fonts is a designer favorite for cool fonts and dingbats. The site also offers premium fonts that come with free trials if you're unsure if you want to purchase or not.
Dafont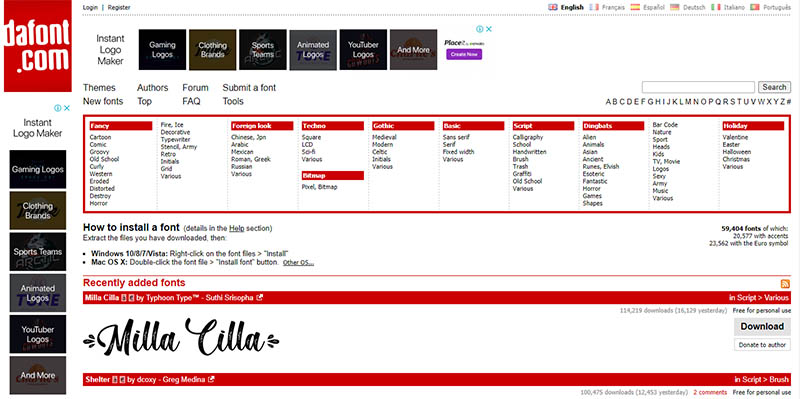 Its vast selection of free fonts for commercial use is what makes Dafont a popular choice. It has a search feature that lets you find fonts by name or by categories. You can find freeware, shareware, demo versions, and even public domain. From fancy, basic, foreign, to bar codes, you can find it all here.
MyFonts by Monotype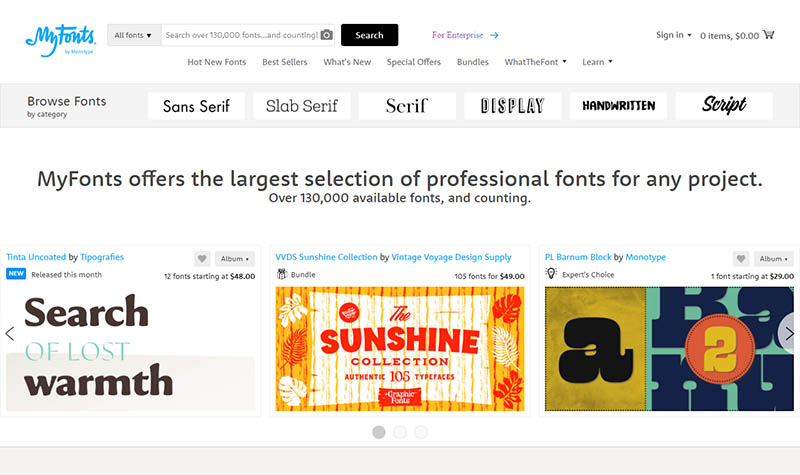 Whatever your project is, MyFonts has free fonts for commercial use in their extensive library. They have a whopping 130,000 fonts to choose from, and the numbers are growing. The website has tools and sections that can help you with all your font needs. New fonts are uploaded regularly, so always check their site to see them first.
Abstract Fonts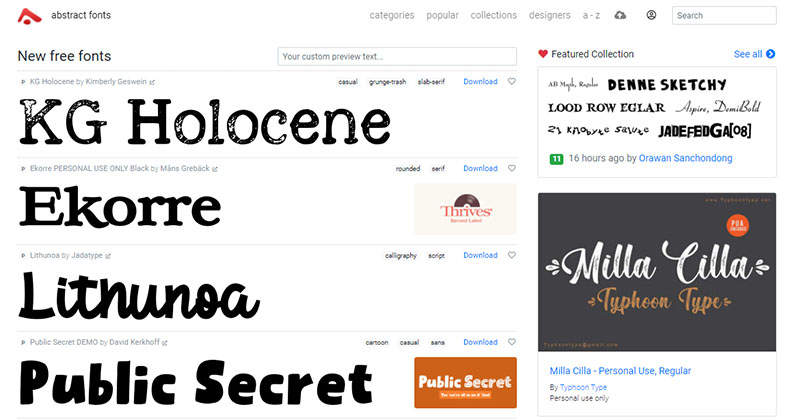 Not only do Abstract Fonts have abstract fonts, but they also have a variety of other typefaces. They have 3D, cartoon, futuristic, initial caps, and so many more categories. The site also has a web font generator which you can use to convert a font file into a web font.
Arturth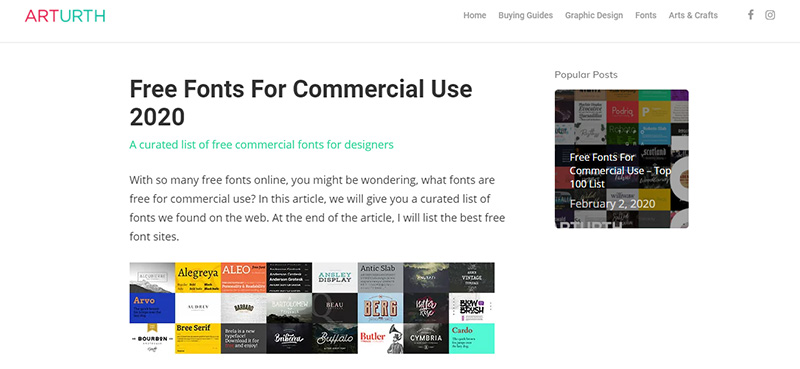 A design resource for artists and other creatives, Arturth has its own list of the best free fonts for commercial use. There are images to show what the fonts look like and links for quick downloads. You'll also find their articles informative and helpful.
Google Fonts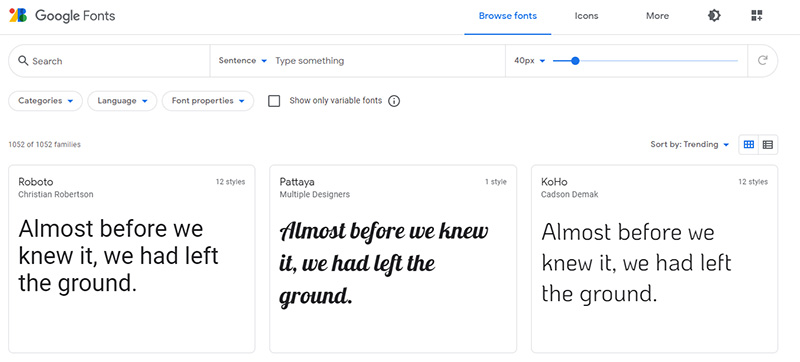 It seems that Google has thought of everything with their Google Fonts website. Here you can find thousands of fonts that are free to download and use commercially. A great feature is its Pairings section, where they recommend the best pair to go with your chosen fonts.
Font Library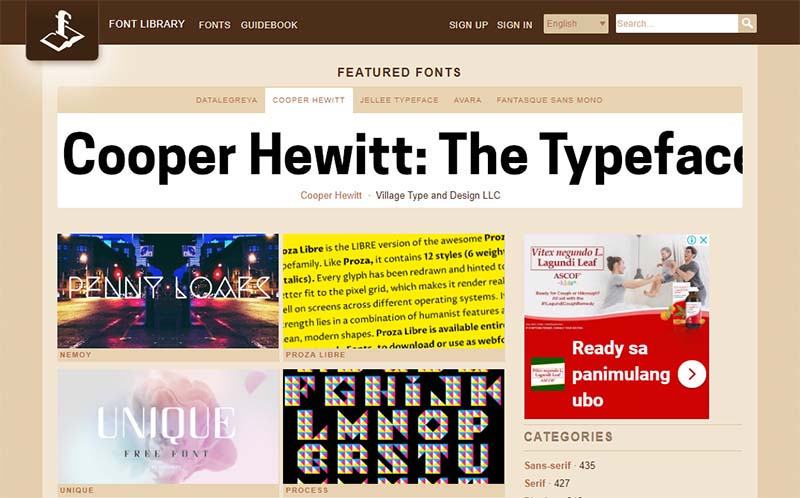 A simple and beautiful website for free commercial fonts, Font Library has thousands of font families to choose from. In addition, you can take advantage of its How-to Guidebook to make site usage easier. New fonts are added every day by contributors from around the world.
Related Post: Fonts 101: A Helpful Guide for Your Business Branding
Free Fonts for Commercial Use
Now that you know where to go for free fonts for commercial use, here are some examples. Take note that while all of these are free to use commercially, there are some with restrictions such as attribution or trial periods. Always check the End User License Agreement of any font you will download to be sure.
Athene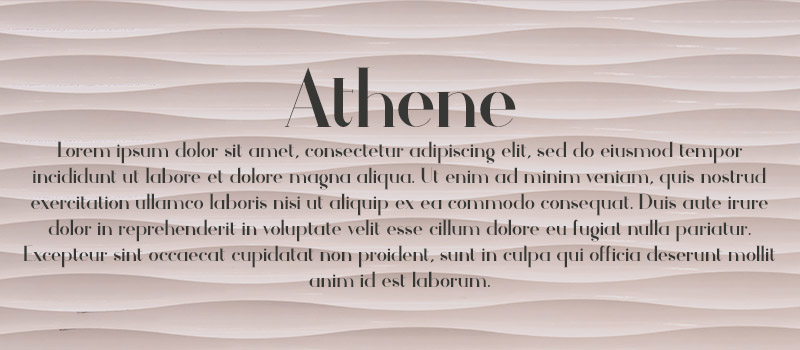 A font type under the serif family, Athene is ideal for logos, fashion, events, magazines, and everything you want to look chic and elegant.
Bona Nova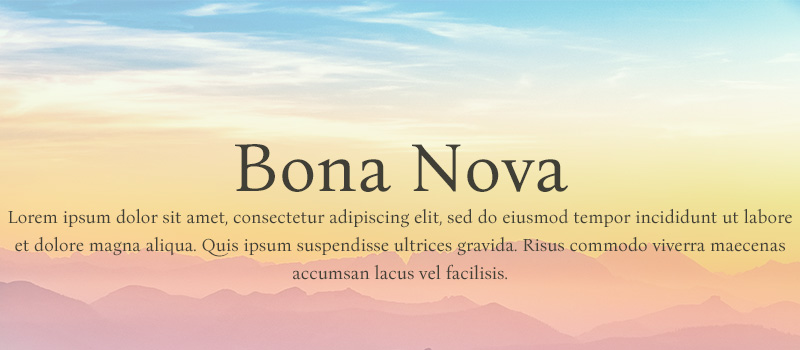 The Bona typeface was originally designed by Polish designer Andrzej Heidrich. The Bona Nova font type is the digitized version. It is suitable for use in restaurants, web content, magazines, and so much more. Its different variants allow for more uses.
Related Post: 64 Cool Fonts Everyone Is Using In 2021
Matilde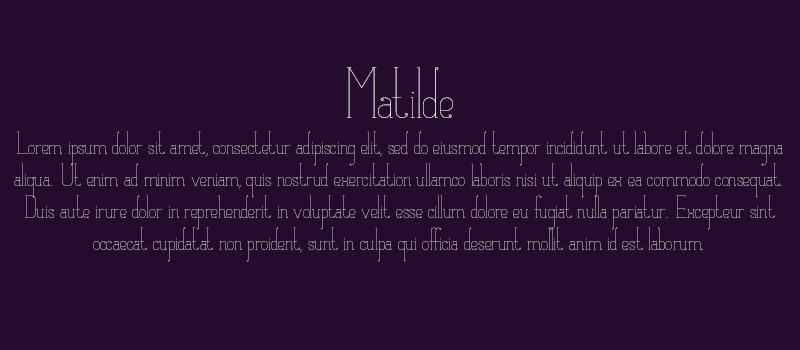 A thin typeface, Matilde has taller capitals and small detail elements. It exudes class yet has a friendly atmosphere to it. You can use it for food packaging, logos, posters, logo designs, and so many others.
Brela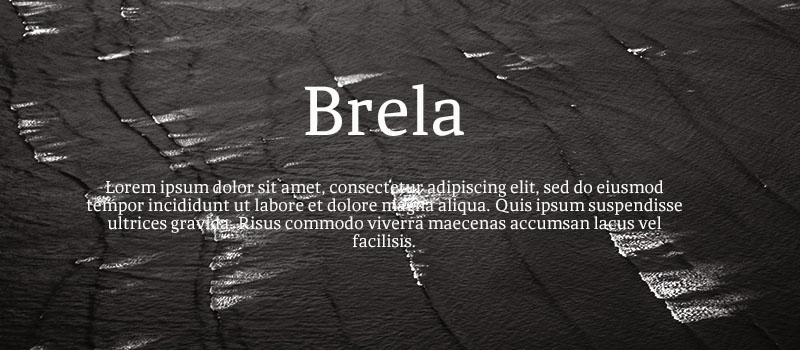 Named after a municipality in Croatia, Brela font falls under the serif family. It was designed specifically for editorial designs. It has various styles such as bold, light, numerals, and more.
Amethysta Regular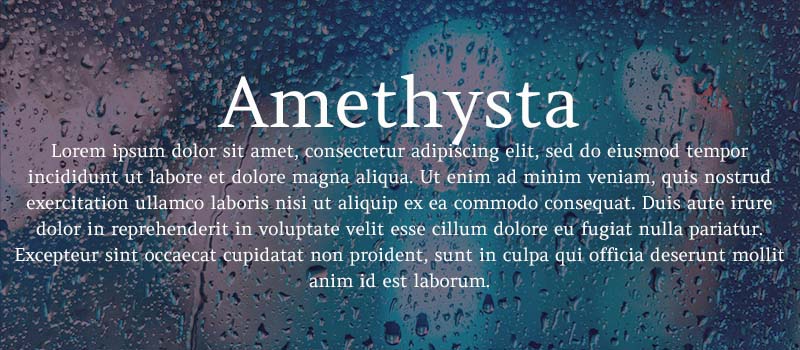 A robust yet straightforward text font, Amethysta was initially designed for printing on low-quality paper. Today it is one of the most downloaded fonts thanks to its minimalistic wedge serifs and terminals. This free font for commercial use can work with posters, web content, and many other designs.
Note This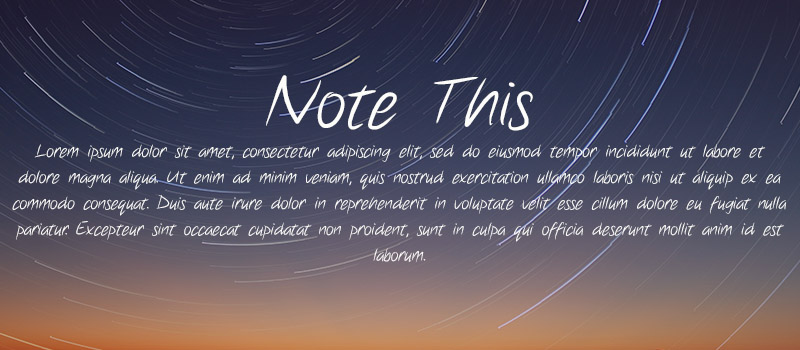 If you're looking for a light, hand-drawn font, Note This is a good choice. You can use it for sports, fashion, posters, or any design that needs an informal font. Its slight slant makes it great for projecting speed and movement.
FatCow Regular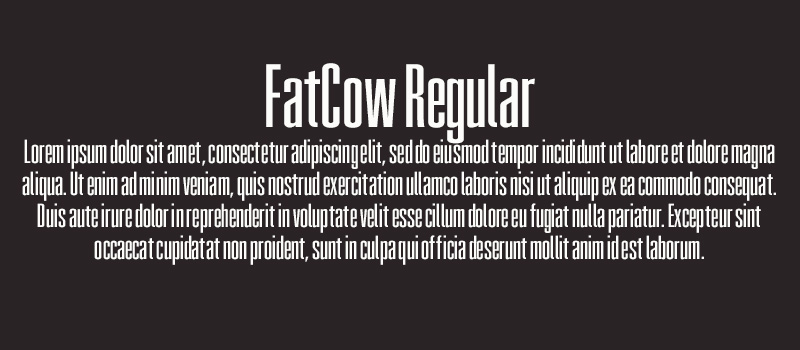 Lean and tall is what FatCow font is. It is sophisticated and bordering on the classic side. It will work well with posters, online advertising, social media graphics, and packaging, among many others.
Aaargh Normal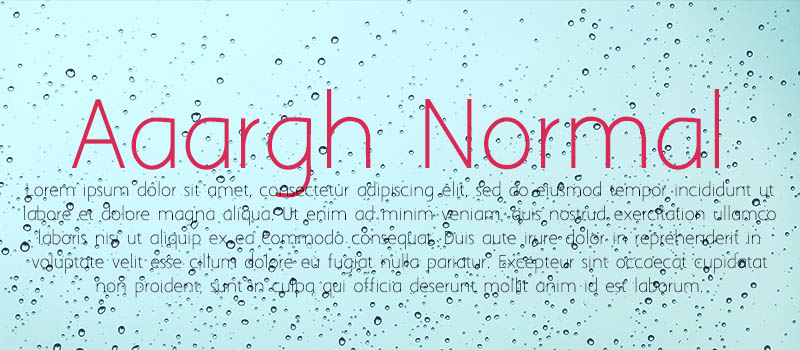 Thin and light, Aaargh Normal has an Avant-Garde touch. It's ideal for use when you're going for a stylish and modern look. It will work well with logos, package design, social media graphics, and so much more.
Stars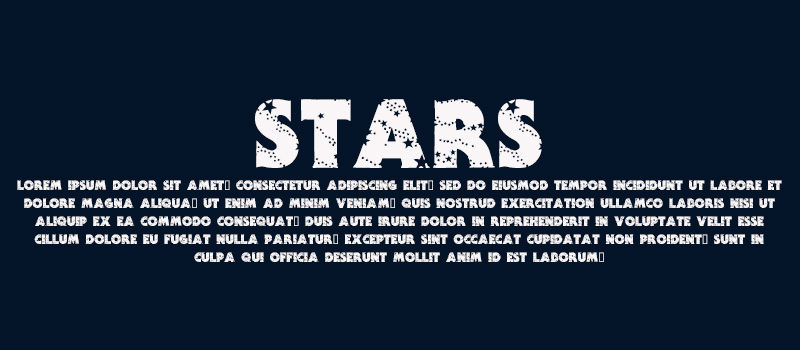 If you want a design that reaches for the stars, the Stars font is it. It is a font under the sans serif family, in bold and block style. Each letter has large and small stars in it, which is ideal for use in logos, online ads, and many more.
Bree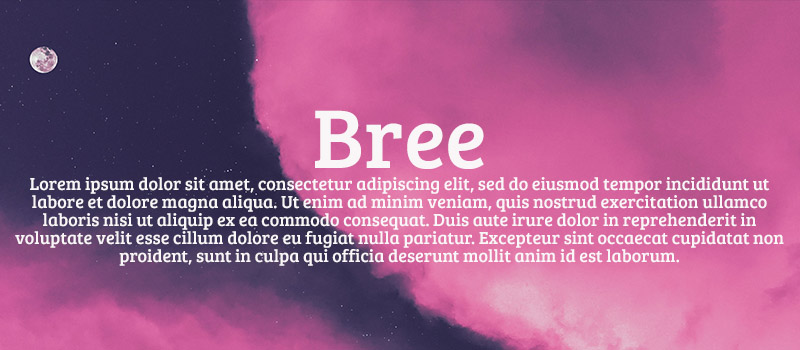 An award-winning font, Bree was released in 2008 and has become a designer favorite. It has a charming and appealing look perfect for designs that need elegance, class, and congeniality.
Engebrechtre Regular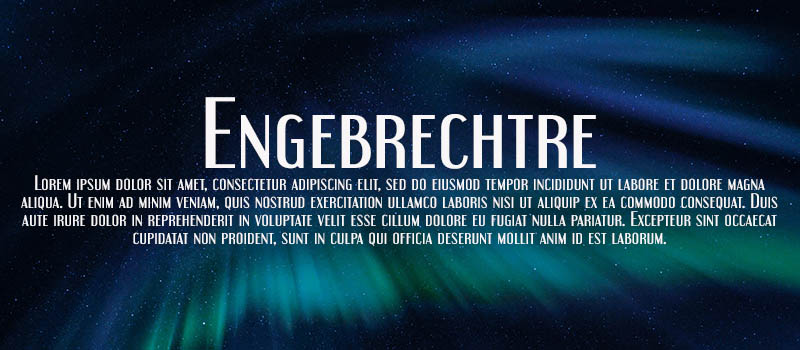 A font that falls under the Art Deco sans-serif display typeface, Engebrechtre has a bold and sleek look. It is flexible for many designs such as t-shirts, web and game graphics, logos, ebooks, and more.
Yanone Kaffeesatz
Ideal for coffee shops and products, Yanone Kaffeesatz, has a vintage appeal that takes you back to the 1920s. You can also use it on signages, ads, posters, and so many more.
Audrey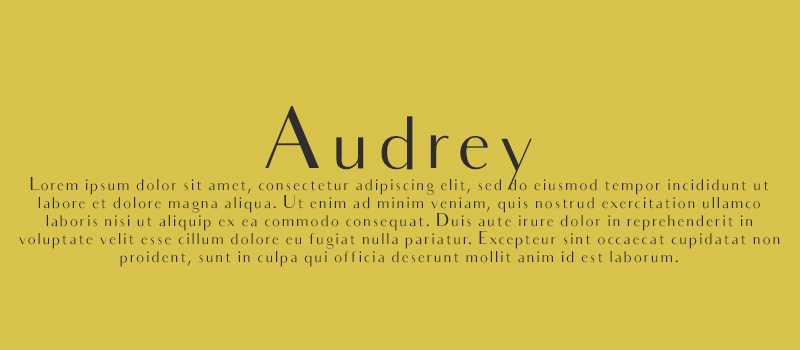 This font was inspired by iconic Hollywood actress Audrey Hepburn. It is an excellent blend of curves and straight geometry. This elegant typeface has three weights and lowercase, making it great for web headlines, content, magazines, blogs, and many others.
Merge Light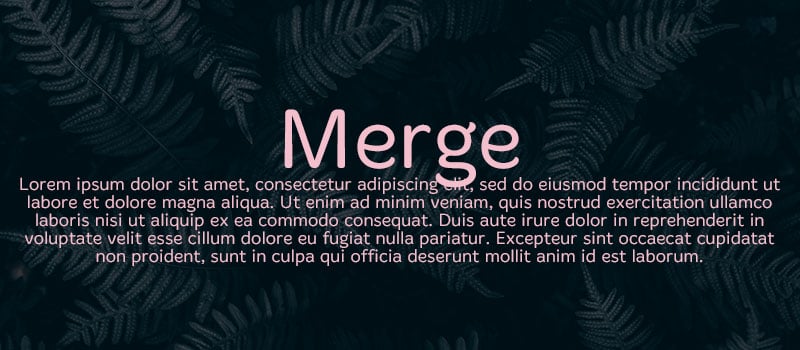 From the san serif font family comes Merge. It has four styles, but only the light is free for commercial use. The font has beautiful curves that are perfect for friendly and casual uses. Its easy readability makes it great for small sizes.
Flanella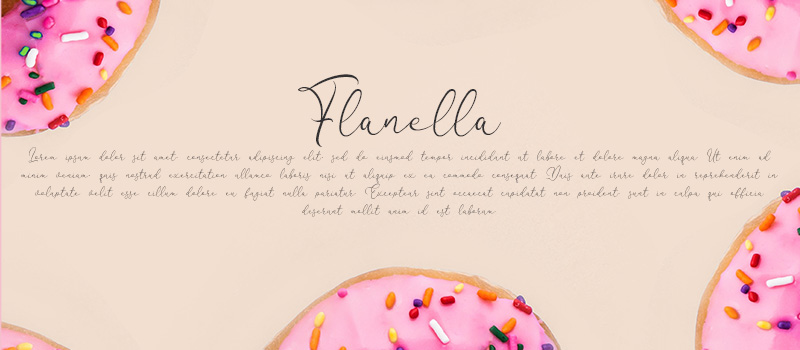 A calligraphy font ideal for fashion, cosmetics, and food, Flanella is light, airy, and chic. It comes in uppercase and lowercase sets and a few special characters as well. You can also use it on social media and web graphics, magazines, and events posters.
Lemon Tuesday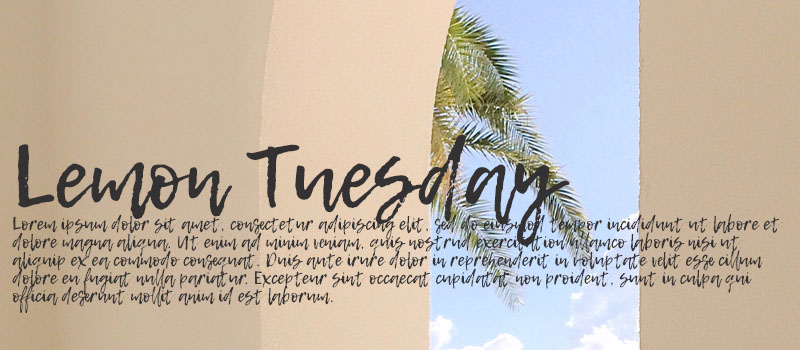 For the carefree and fun image, there's Lemon Tuesday font. A script font that is perfect for the beach, parties, drinks, and all things that need a lighthearted touch. You can use it for logos, posters, social media graphics, and ad headlines, among many others.
Slabo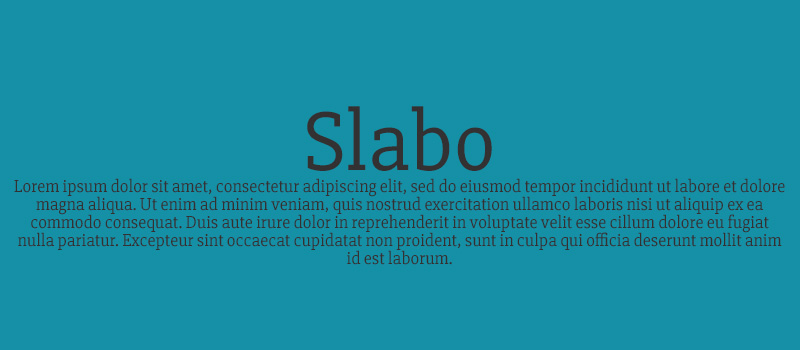 For web content, magazines, novels, ebooks, and other online advertising copy, Slabo is an excellent choice. Its simplicity offers flexibility and easy readability that is ideal for smaller copy and texts.
Sweet Buttermilk Script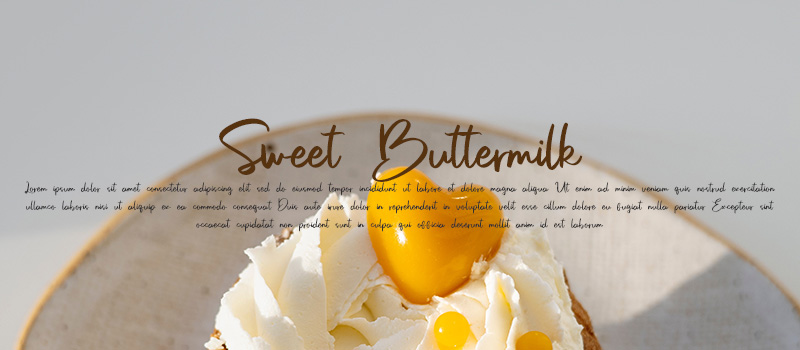 Another handwritten script, Sweet Buttermilk, goes well with food brands, fashion, cosmetics, and many others. It is casual, light, friendly, and heartwarming. You can use it for web headlines, recipes, ebooks, social media graphics, and many more.
Titillium Web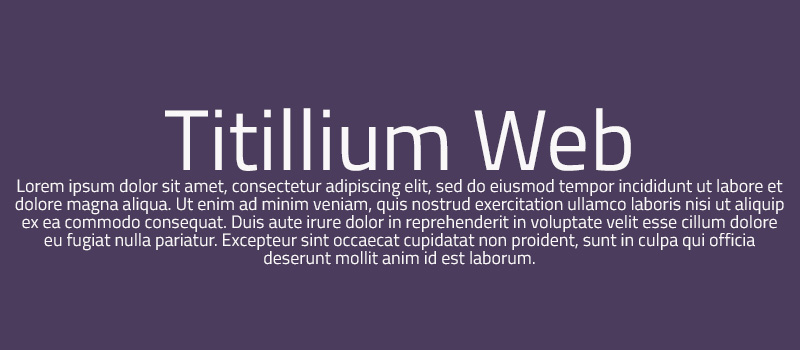 With eleven styles to choose from, Titillium Web is a versatile font that offers many uses. It is most suitable for web content, ebooks, magazines, novels, and any advertising and marketing materials. It has a semi-futuristic and formal appeal that goes well with many other font types.
Hamster Script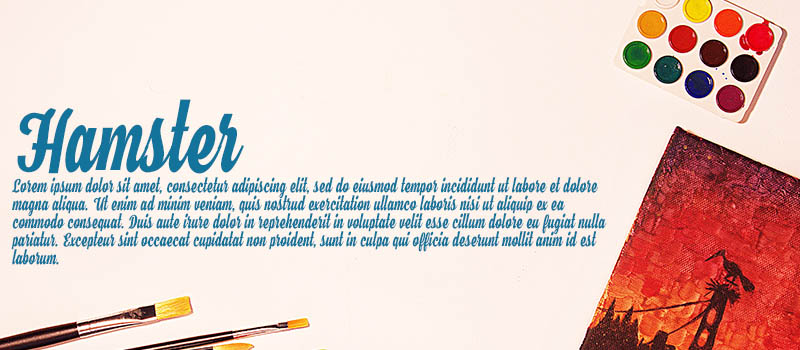 A cursive typeface that adds playfulness to your design, the Hamster script font is perfect for many branding projects. You can use it for signages, t-shirt designs, posters, menus, ebooks, and many more.
Arrow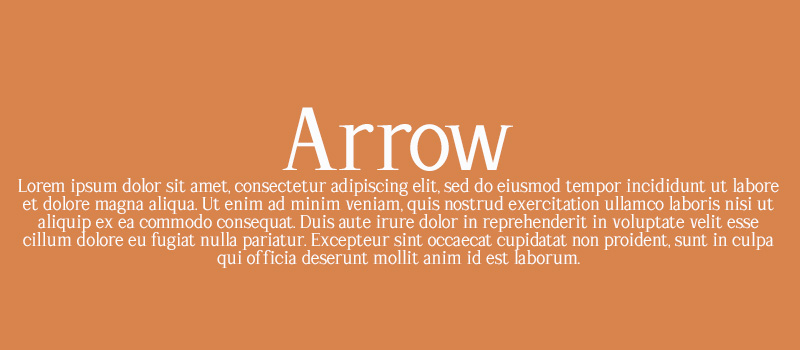 This serif font may have gotten its name from the sharp, arrow-like points on some parts of each letter. It has a clean and light look that isn't common and definitely does not look generic. You can use this font on almost any design project.
Blow Brush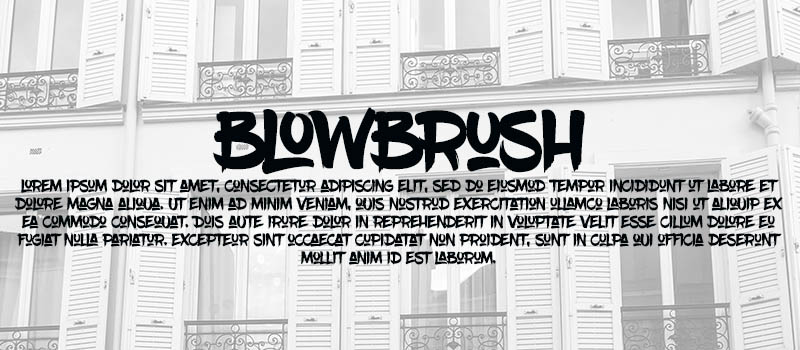 A brush-lettered font, as its name suggests, Blow Brush is fun, cool, and trendy. It has lower and uppercase, symbols, and special characters. It looks excellent in posters, social media graphics, web content, book covers, and t-shirt designs, among many other uses.
Bourbon Grotesque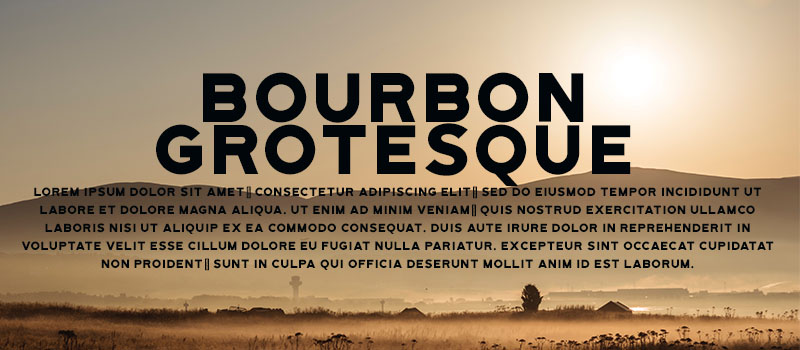 A semi-rounded font type, Bourbon Grotesque falls under the serif-free display family. It has uppercase, special characters, and numerals. You can use this for online ads, posters, book covers, magazines, signages, and many others.
Himalaya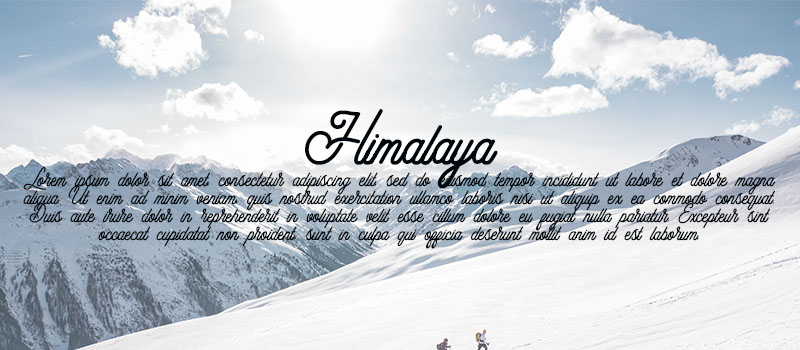 If you need vintage inspiration for your font, Himalaya is a great choice. It comes in script style and comes with lowercase y, g, and tail alternates. This font will look great on signages, logos, t-shirts, web graphics, and so much more.
Related Post: Business Fonts Guide: How to Choose the Best Typeface and Fonts for Your Business
Final Thoughts
Free fonts for commercial use abound on the internet. It's just a matter of finding ones that will fit your needs. Whether it's a brochure or business card, whatever your project is, there is always one that would work well with your brand. All you need is to experiment by mixing and matching or turn to the pros for assistance.
In this case, Penji can help you with your typography use. Our designers understand and are knowledgeable in using the right fonts for your designs. Watch our demo video here to learn about our service.
If you need graphic design service at affordable rates, Penji is here for you. Our unlimited graphics at fixed rates can get you the best designs possible. Sign up here to request your first design today.