Being the world's third most visited website, Facebook is a powerhouse when it comes to boosting your brand's online presence. As Hootsuite tells us, this platform has an advertising audience of 2.14 billion and counting. There's no better time than today and no better way to do it than using Facebook PPC. If you're looking for strategies that work, this will be the guide for you. Follow these and let Penji take care of the graphic design. We'll show you how at the end of the article.
What is Facebook PPC?
Pay-Per-Click, or commonly known as PPC, is an effective way to advertise on the internet. This means that companies pay a platform every time someone clicks on their ad. This type of advertising lets you create highly targeted ads which is one of the reasons for its boom in popularity.
Through PPC advertising, businesses can generate tangible analytics that can help them understand how their content is performing. This can also help them know how their audience is engaging with the content.
There are many platforms that you can use for PPC advertising. Today, we're going to discuss Facebook PPC advertising and the strategies beginners can try.
Related Post: Why Facebook PPC is the Most Effective Form of Advertising (with examples)
How Does Facebook PPC Work?
Facebook PPC advertising works this way:
Select an Objective
Before you can start to create an advertising campaign on Facebook, you need to determine your objective. This will depend on where you are on the three stages of the buyer's journey.
Awareness
Consideration
Decision
Choose Your Audience
To target the right market, you can create custom-made audiences using the following:
Basic targeting: location, age, gender, language
Detailed targeting: demographics, interests, behaviors
Connection targeting: page followers, friends of your page followers, website visitors, friends of website visitors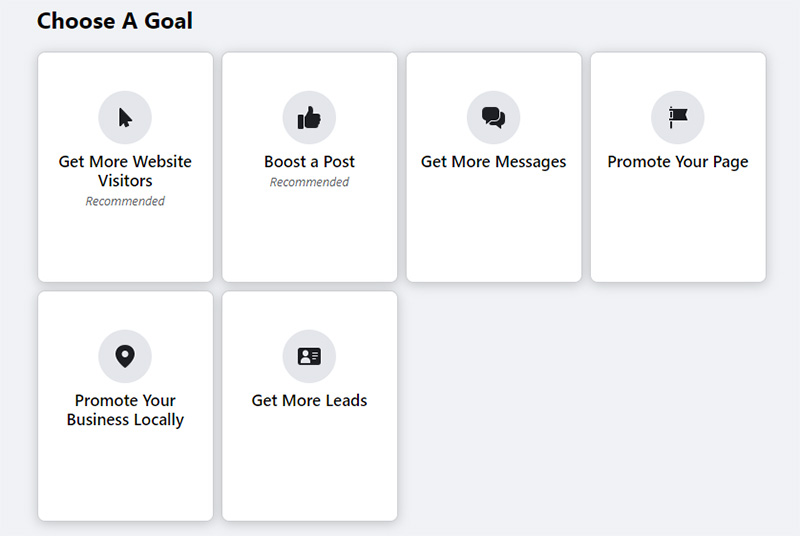 Determine Your Ad Placement
Facebook offers a variety of spaces to place your ads. For beginners, it's recommended to start with "Automatic Placements." This, for now, will help you get a feel of learning what works and what doesn't.
Plan Your Budget and Schedule
With Facebook advertising, you can set a budget for the whole duration of your ad. You can also schedule how long or short your ads will run.
Why Use Facebook PPC?
There are many advantageous reasons to use Facebook PPC. If you're in doubt, here's a list of why this is a good investment:
Wide Reach
According to Statista, Facebook's active daily users' number amounts to almost 1.85 billion. Its monthly active users total 2.8 billion. The chances that your buyer persona hangs out on Facebook are so very likely.
Great Targeting Capabilities
It's a fact that you'll learn a lot about people just by looking at their Facebook profiles. We freely share information about ourselves on the platform. This makes creating a highly targeted audience easy. Facebook lets marketers target people based on age, location, gender, behaviors, and many other factors.
Insightful Analytics
With Facebook, you'll never wonder how or if your ads are actually performing. The platform offers gauges to help you craft the most suitable campaigns using the following metrics:
Reach – how many people saw your ad
Impressions – how many times your ad was seen
Clicks – how many times your ad was clicked
Related Post: Setting Facebook Ad Goals for the Most Effective Campaign
Effective Facebook PPC Strategies
As promised, this article will teach beginners Facebook PPC advertising strategies that are proven effective.
1. Know Thy Audience
Before everything else, get to know who you're creating ads for. Determine their behaviors and pain points to help you create ads and campaigns that they can relate to. Fortunately, Facebook has advanced audience targeting options. These allow you to have full control over who sees your ads. They are as follows:
Core Audiences
Custom Audiences
Lookalike Audiences
Learning about Audiences on Facebook ads can take time but doing it can guarantee you a boost in revenues.

Related Post: How to Find Your Perfect Facebook Target Audience
2. Create a Facebook Traffic Campaign
To boost traffic to your website, create a Facebook traffic campaign. Make sure that when people click on your ad, they will be directed to your website. If you want prospects to visit your home page or any specific landing page, set up a traffic campaign.
After this, you can then set up a remarketing campaign (also known as Facebook retargeting campaign). This will continuously target these prospects and convert them into paying customers. With this strategy, you can create ads that are specifically geared towards these people who have already visited your website.
Pro tip: Don't forget to include compelling CTAs to let viewers know what to do and where to go next.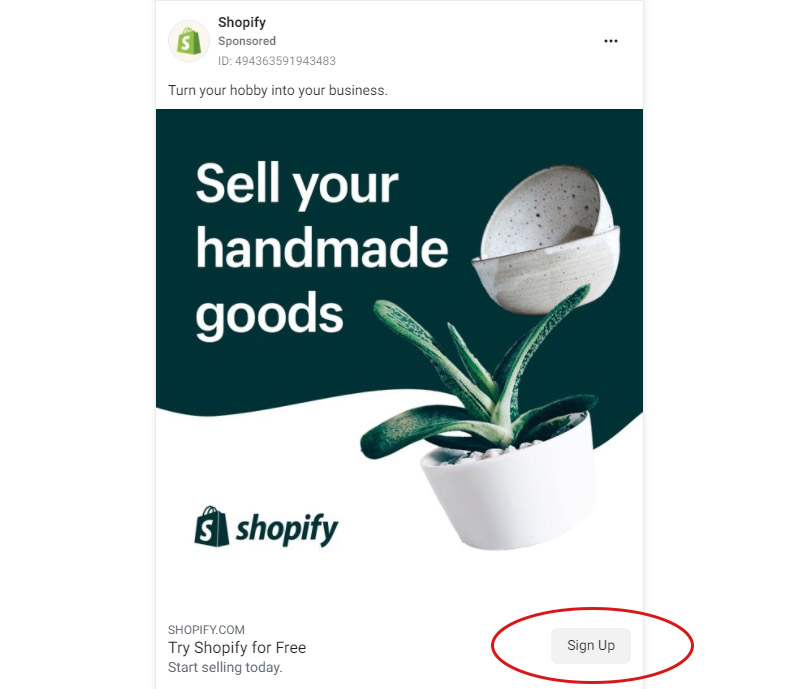 3. Use Automatic Placements
As beginners, where to place your ads will probably baffle you. This list of ad placements make this a valid concern:
Facebook News Feed
Instagram Feed
Facebook Marketplace
Video Feeds
Facebook Right Column
Instagram Explore
Messenger Inbox

And the above list is for Feeds alone. There's still Stories, Search, Messages, In-Article, and Apps. This is the reason we highly recommend using Automatic Placements. The platform will automatically place your ads where they are most likely to succeed.
4. Combine Facebook PPC with Content Marketing
A Content Marketing Institute study has shown that 72% of marketers believe content marketing increases engagement. Well-written content that provides value when coupled with Facebook PPC advertising can go a long way. This effort uses creativity as you need to make people consume your content while promoting your brand.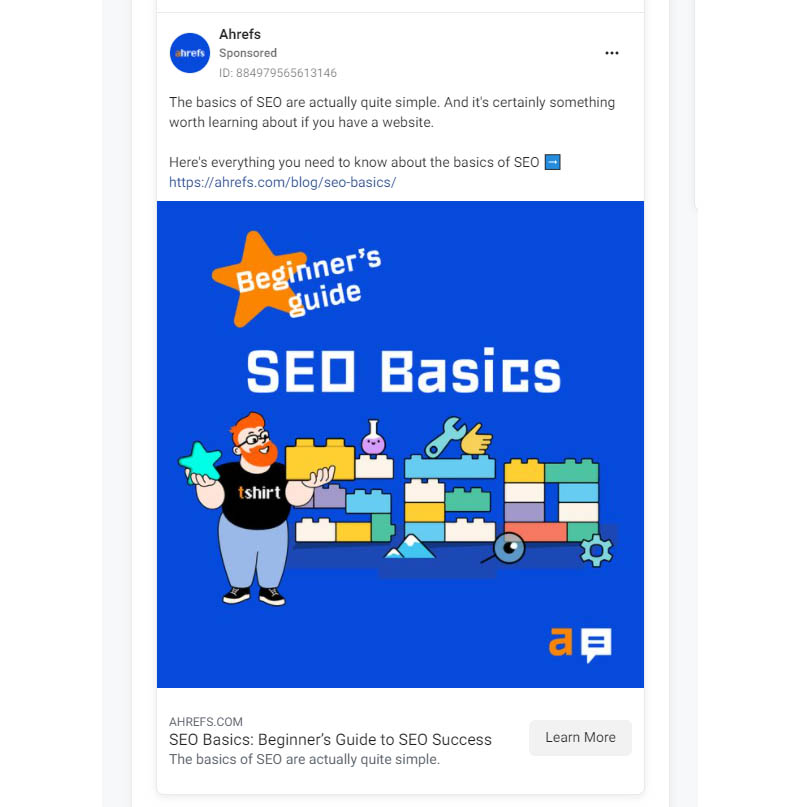 If you don't have a blog on your website yet, this is a good time to have one. Publish articles that your audience will find relevant and useful. Then advertise them on Facebook using PPC.
Pro tip: Wait a few hours for your Facebook post to spread in the newsfeeds organically. Then boost the post to maximize its reach.
5. Get Your Competitors' Fans on Your Side
One of the good things about advertising on Facebook is that it levels the playing field for small businesses. You can compete against the bigger named brands. With its Saved Audience feature, you can snag your competitors' fans and get them on your side.
When you create a Saved Audience, enter the brand names of your competition under the Interests category. For example, if you're in the website building business, enter Squarespace, Wix, and the likes. This way, your ads will be shown to your competitors' followers as well, and maybe, your ads will persuade them to give their business to you.
6. Create Eye-Catching Ad Graphics
Which leads us to why creating compelling graphics is crucial. It's great that your ads can be seen by the right people, but getting them to click on them is another thing. It has to be persuasive, compelling, and attention-grabbing.
Seems like a load of hard work, but really, it's not. Another misconception is that great graphic design is expensive, too. Again, all these will be easy when you work with Penji. Penji is an unlimited graphic design service, where you can get all your Facebook ad designs you need at a fixed monthly rate.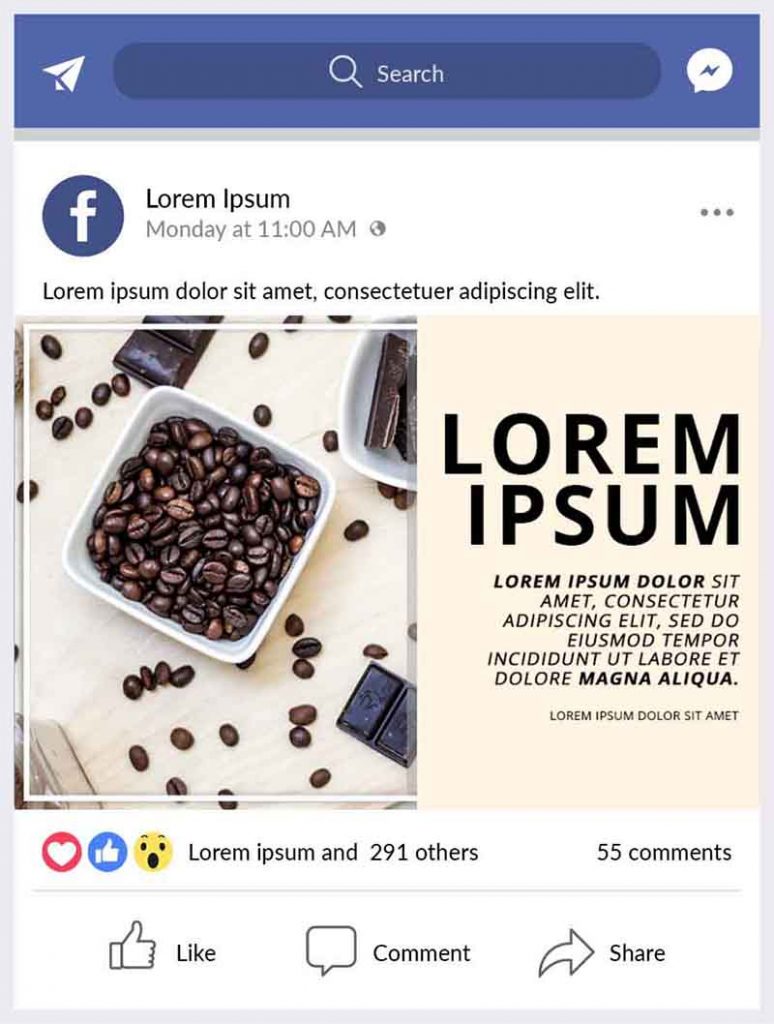 Watch our demo video here to learn how we do it.
7. Use the Right Facebook Ad Type
Facebook offers a variety of ad types. Choosing which one to start with can be overwhelming for newbies. To make it easier for you, here are the most effective you can try using at first:
Image Ads
This is an excellent way to showcase your product or service to prospects. Create a captivating visual, add a catchy message, and publish. Take note of the following character limits:
Headline: 25 characters
Body text: 125 characters
Link description: 30 characters
For image sizes, Facebook updates its guidelines regularly so it's always a good idea to check out their website.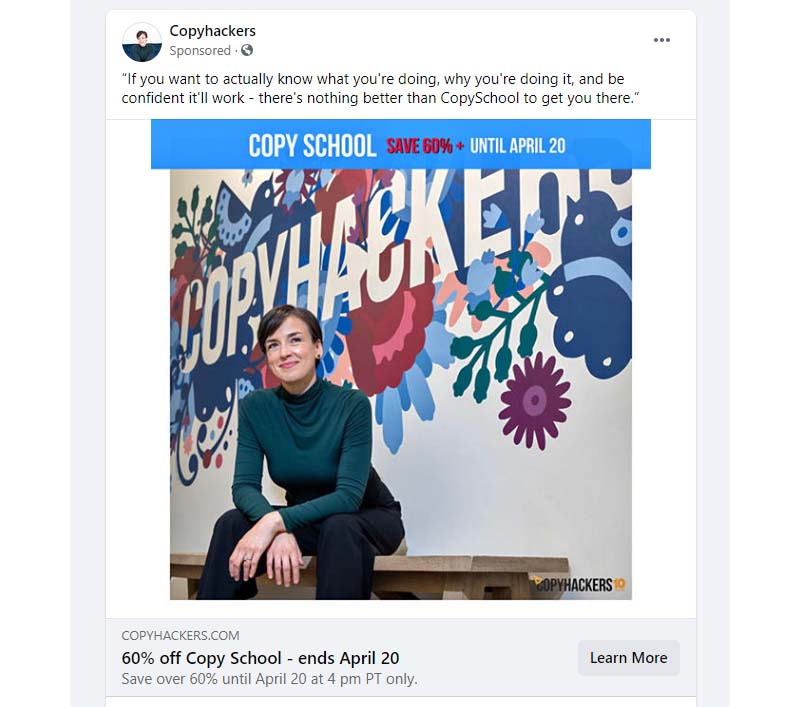 Pro tip: Ensure that the text you place over an image doesn't take up more than 20% of the space. This is Facebook's recommendation as they have proven it to be better performing.
Video Polls
To increase engagement and brand awareness, create Video Polls. This ad type is gaining traction as consumers have this inherent need to voice their opinions. Plus, it's enjoyable for them to see what other people think.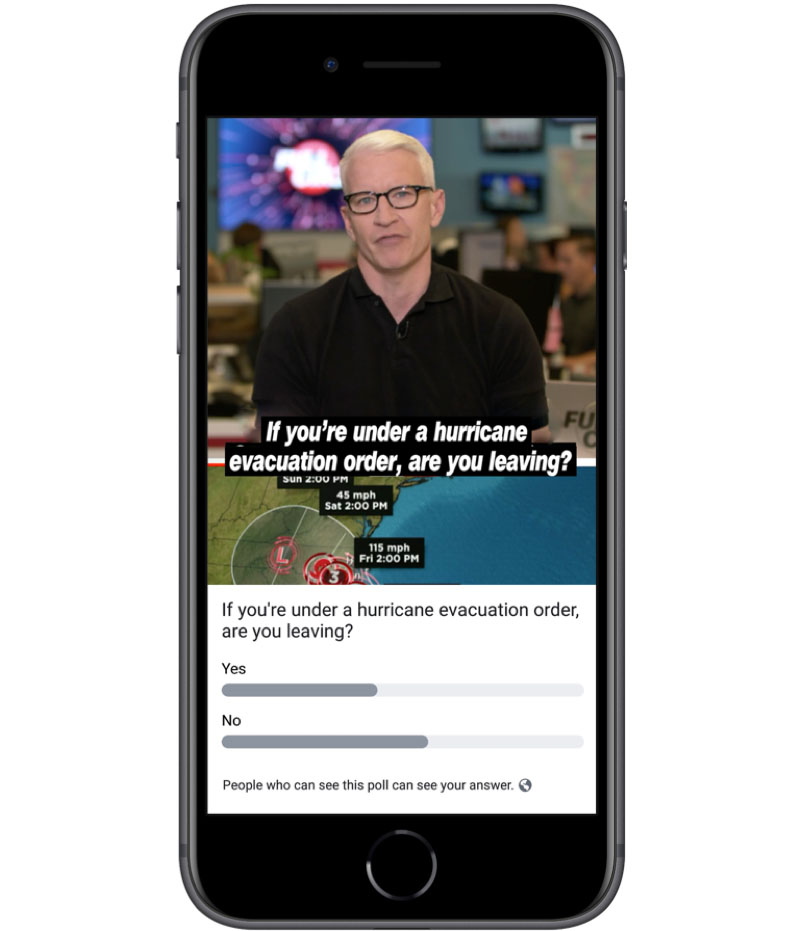 Image Source: Facebook for Media
If you don't have videos to upload, don't worry, you can still create a video poll. Upload images and use Facebook's templates to animate them.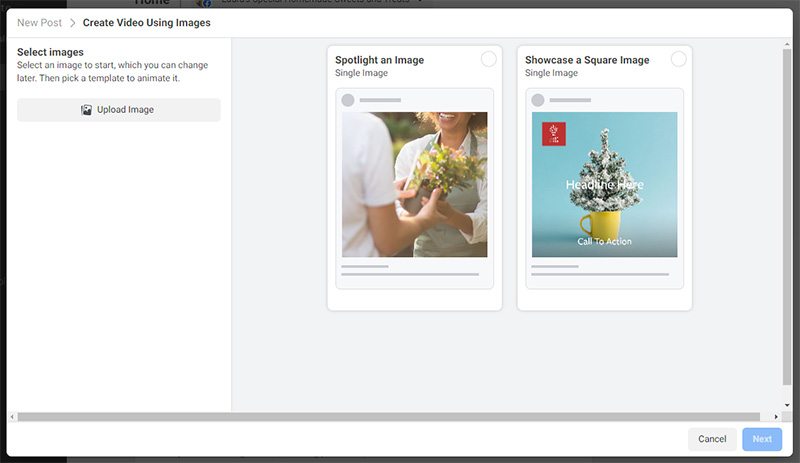 Carousel Ads
If you have multiple products to display, Carousel ads are your best bet. They're also the better performers as viewers can see more from you. In addition, this ad type lets you tell stories which is better for engagement.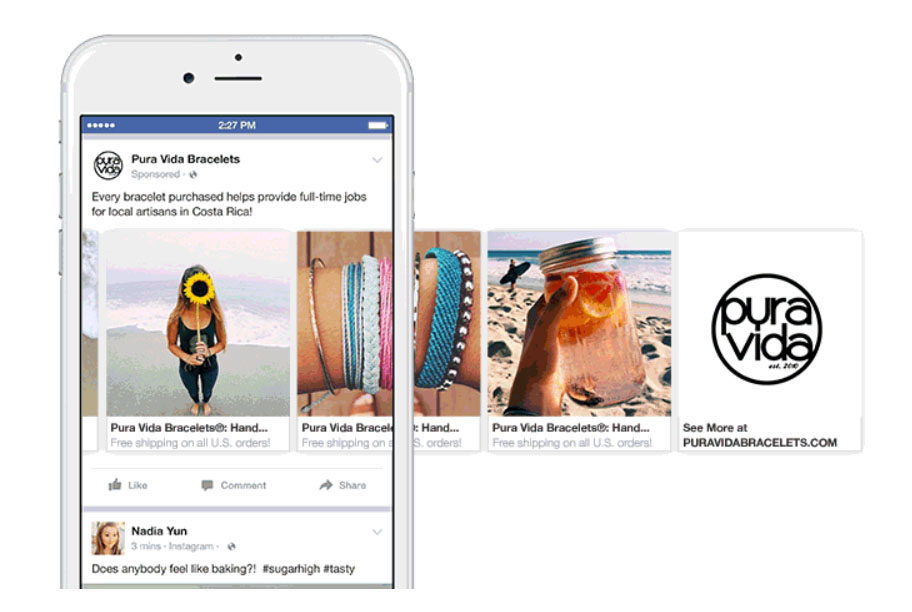 You can upload up to 10 images or videos in one carousel ad. Take note of the specifications for creating these which you can find here.
Dynamic Ads
To let Facebook automatically show your ads to people who have previously shown interest, create dynamic ads. You won't have to create an ad for every product you sell. These help you reach a wider audience and remind people about your brand.
8. Run Facebook A/B Tests
To ensure that all your ads and campaigns are working as they should be, always test. Facebook has an A/B testing feature that allows you to find out which ad is doing well and which are not. This will help you improve your ads and ditch those that produce less favorable results.
But before that, you should test your audience to see if you're really getting your message across to the right people. Once you find the ideal audience, move on to test your ad designs.
Find out which Facebook ad design got the most Likes, Shares, and Comments. You can then create around three to five variations of this ad. This will help prevent ad fatigue and create more interest for your campaigns.

Related Post: The Right (and Wrong) Ways to Do Facebook A/B Testing
9. Aim to Get More Likes
You might think that getting more likes for your Facebook page offers nothing productive. It does in the following ways:
More likes mean more people will get to see your posts
You're targeting your followers' friends with less effort
You can create a Facebook Like campaign through the Engagement objective. You can also ask friends and team members to hit the like button and share the posts once they go live. This is especially helpful as these become the first crucial likes to get others to do the same.
10. Engage in the Comments Section
Don't forget that when you ask for engagement, you have to do it, too. Make it a habit to check the comments section and write your replies. This is the ideal way to get to know your audience and explain your brand further.
Also, the comments section is the best place where you can deal with negative feedback. You can even turn haters and doubters into loyal customers if you resolve their issues.
How Penji Can Help You with Your Facebook PPC Advertising
Great graphics and images are the key to get people's attention. Humans are highly visual creatures. Show them something beautiful, they'll be quick to hit the like button. Sadly, getting reliable and affordable graphic design can be challenging.
This is why Penji is the best partner when you're creating Facebook PPC campaigns. Our fixed monthly rates mean you can have all the ad designs you need without spending a ton of money. Our graphic designers come from the industry's top 2% so you won't have to worry about quality.
Conclusion
Facebook PPC for beginners can be intimidating. It takes a long learning curve but with a little research, it becomes manageable. And when you get help from the pros, it becomes easier.
Sign up today for any of Penji's plans to help you with your Facebook PPC journey and start reaping the benefits.