The options for Facebook Ad targeting are endless. So, how do you know if you're doing it right? To get you started, here's an ultimate guide for Facebook Target Audience that helps increase reach, engagement, followership, and revenue.
In a nutshell, with proper audience targeting, coupled with excellent CTA and superb graphics, your brand can see success when marketing on Facebook. And speaking of superb graphics, that's where the Penji team comes in. We have a pool of the best graphic designers and we can deliver unlimited marketing visuals for a fixed fee every month. Check out our list of plans here.
Know Your Facebook Ad Goals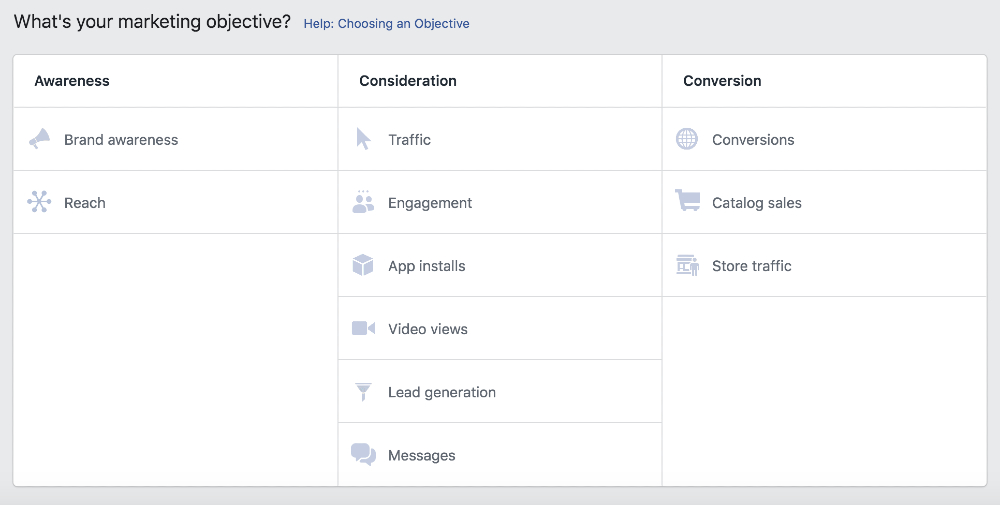 The first step to a successful Facebook marketing campaign is knowing your goals and objectives. By setting your goals, marketers will know what advertising strategies to take. For instance, on the Facebook Ads Manager page, the first step advertisers need to do is choose an Objective.
After you've set your goals and objectives, the next step is to determine your KPIs. Knowing what your KPIs are is vital to assess if the campaigns are effective and if your goals are met. Likewise, it can help you manage your team's expectations. Here are the five most common key metrics when advertising on social media:
Click-Through-Rate (CTR)
Cost Per Click (CPC)
Cost Per Purchase (CPP)
Return on Ad Spend
Relevance Score
Remember that great-performing KPIs are your gauge in weighing which campaigns work or not. Therefore, marketers should be keeping an eye on those KPIs if they want to scale their campaigns. Also, one advantage of regularly monitoring your KPIs is that you are able to fine-tune the campaigns that are not doing well. You can even stop it right away which can essentially save your company time and money.
Targeting on Facebook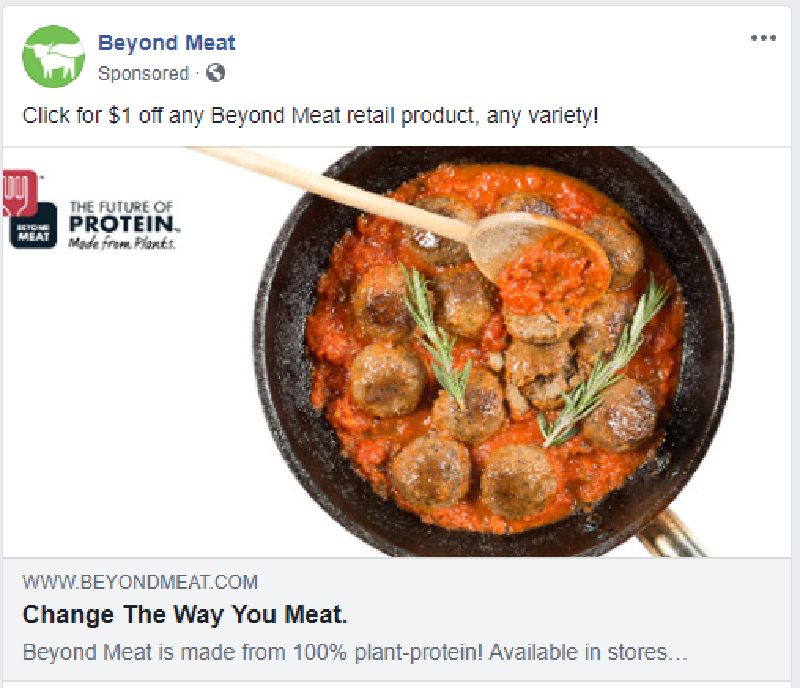 Your campaigns rely on your target audience. If you're not zeroing in on your target market, your marketing campaigns are futile. Even though you have considerable followership, going through each audience group with a fine-tooth comb means there's a higher chance of them engaging with your Facebook advertisements.
And with Facebook Target Audience, the targeting possibilities are endless. You just have to know your audience better, so your ads reach the people who are likely to engage or purchase.
Audience Targeting Options:
Location. You can set your audience's exact location, state, zip code, postal code, DMA, city, or country. There is a "Drop Pin" feature where you can specify on Google Maps where your audiences are. Plus, you can choose options such as targeting people who recently lived in that location, people still living in that location, or even people traveling in that location. Lastly, you can also "Add Locations in Bulk."
Demographics. Set your audience's age, gender, income, marital status, and more. For the age, set an age range. You may also choose Gender options like All, Men, and Women.
Interests. This is where it gets filtered out. Find out what your audience's interests are and input them in the Detailed Targeting feature.
Engagement. Facebook ads audience targeting also shows your campaign to those users who like, comment, or follow your Facebook page.
Connections. You can let Facebook find more of your target market through this feature. Users who have a special kind of connection to your Page, App, or Event will see your ads as well. Click on the drop-down menu and choose. Or you can also opt for the Advanced Combinations feature to refine your search.
Language. Another Facebook Target Audience feature is setting the language which is uncommon to the location you set. By inputting different languages, users outside your location who might be interested in your product will see your ads.
Facebook Pixel
Facebook Pixel is another Facebook Target Audience feature that works by analyzing audience behavior. It's a plugin that should be integrated into your website's backend. The primary goal of Facebook Pixel is to optimize your ads.
An "event" pertains to how a user interacts with your website. Marketers can set up the 17 standard Facebook Pixel events or customize the events themselves.
Some examples of the events are:
Purchase from your website
Sign-up for a free trial
Completion of the registration form
Adding products to shopping carts
Abandoning carts
Adding a product to a wishlist
A search for your business's physical location
Ending up on a landing page and more!
Facebook Audience Insights
Facebook Audience Insights (FAI) lets marketers understand their audience better. This tool shows aggregate and anonymous information with privacy in mind. Some of the aggregated information types are:
Demographics: age, gender, lifestyle, education, marital status, employment, etc.
Page likes
Location and Language
Facebook usage
Purchase activity
FAI shows you all these types of information for three groups of people, namely:
Facebook users
Users connected to your Page or event
Your Custom Audiences
Also, take note that Facebook Audience Insights varies from Page Insights. The former collates data according to your audience's behavior across Facebook, while the latter analyzes data according to how users interact with your page.
How to Use Facebook Audience Insights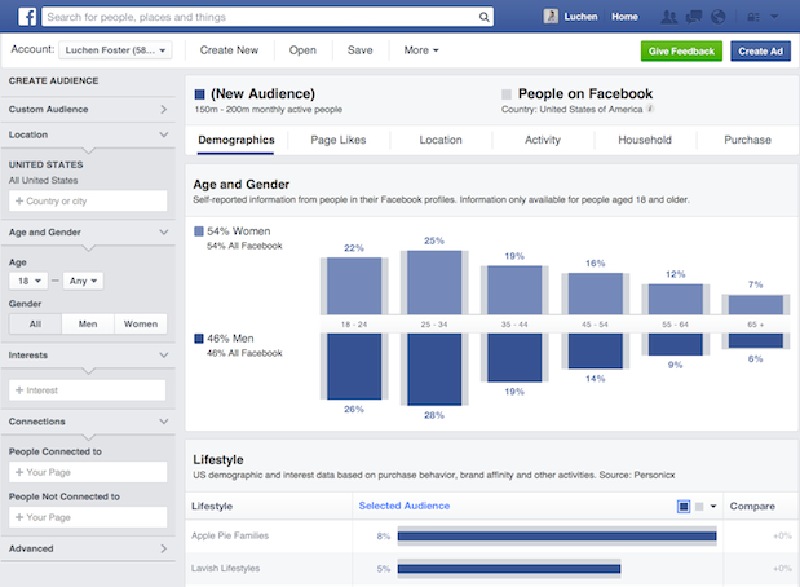 To access FAI, set up your Facebook Business Page. Then on your Facebook Ads Manager page, you can access Facebook Audience Insights.
1: Choose which type of audience you want insights for. Select between People on Facebook, People connected to your Page, or Custom Audience (if you've created one).
2. Set demographics for your target audience. Try to experiment with different targeting settings (listed above) depending on your target audience.
3. Check your audience's interests. You can visit the Page Likes tab and check the top pages and categories your audience liked. Then leverage this data to create your next Facebook ad.
4. See insights for an international market. If you're tapping into a global audience, go to the Locations tab. Check your audience's cities, countries, and languages.
5. Learn audience activities and which devices they use. On the Activity tab, you can check how your audience interacts with Facebook pages. And if you're selling mobile phone accessories, you can use this step to determine what devices your audience is mostly using.
6. Use Custom Audience insights. Once you've set the Custom Audience feature and saved it, you can create an ad based on this data.
Three Types of Facebook Audiences:
Finding your perfect Facebook Target Audience takes a lot of research. This is similar when you are working on your offline marketing tactics. You need to understand who they are, what they are, and specifically their online behavior. A guessing game will not work, and it's a good thing that Facebook has tools that can help you. Skipping your research can cost you the entire campaign.
While you can study what your competitors are doing, we recommend not to mimic it 100%. Just take some of their strategies that might work best for you, and create your own where necessary.
Once you have everything figured out, familiarize yourself with these three types of Facebook audiences:
Facebook Saved Audiences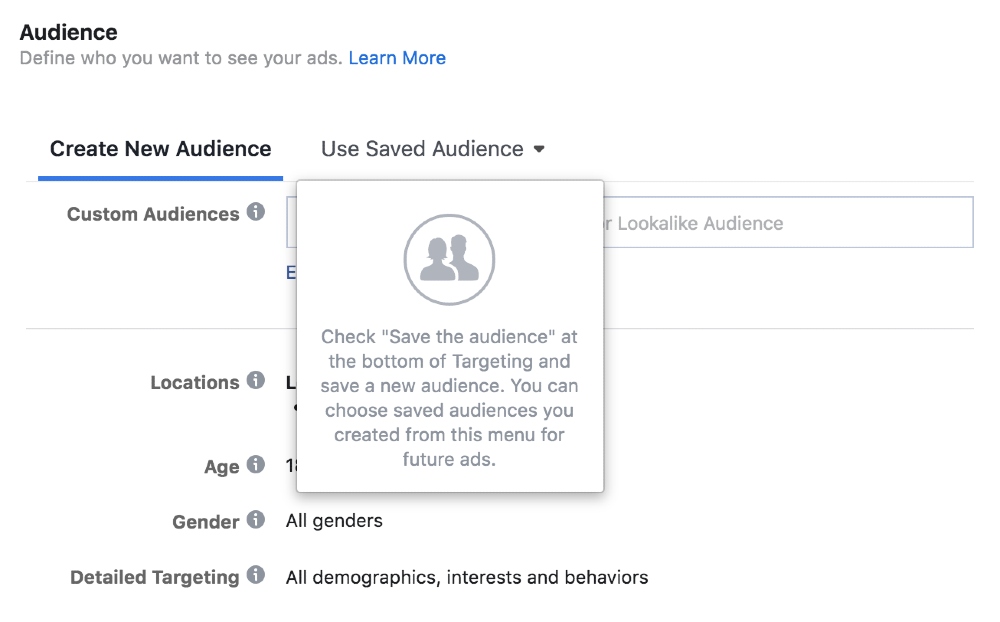 As the name suggests, Facebook Saved Audience is a saved setting for your audience based on location, demographics, interests, and more.
Go to the Create New Audience page, then save the audience setting. Once you've saved your setting, you can navigate through all of them by clicking the Use Saved Audience drop-down menu. From there, you can choose the saved audience settings from your previous Facebook ad campaigns.
Facebook Custom Audiences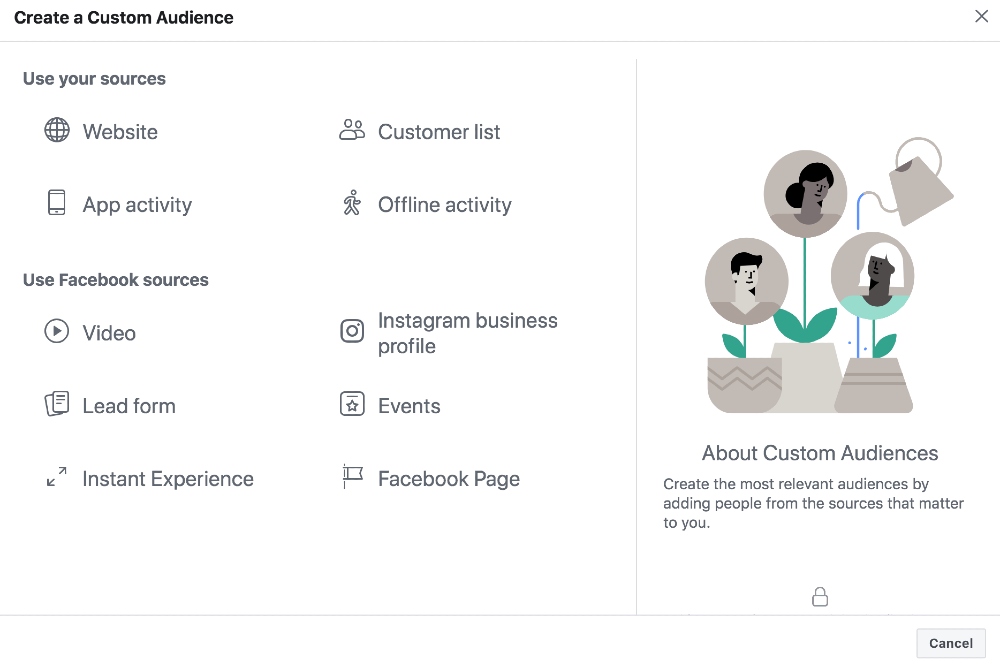 The Custom Audience feature is a more granular way of targeting your audience. This option allows marketers to make Facebook ads reach more relevant users. These audiences have interacted with your websites, ads, landing pages, one way or another. You may also export users' email addresses and phone numbers as CSV files if they're likely to be interested in your product or service.
Go to the Audience page and click on Create New Audience. You may click on the field box if you have previously saved Custom Audience groups. Otherwise, you can click on the Create New Custom Audience option. From there, you'll have two options: Use your sources and Use Facebook sources. Here's the complete list under these two categories.
Use your sources:
Website (users who interacted with your website)
App activity (users who launched your app)
Customer list (a list with existing customer information like email or phone numbers)
Offline activity (users who interacted with your physical store, via phone, or offline channels)
Use Facebook sources:
Video (users who watched your Facebook or Instagram videos)
Lead form (users who filled out any lead generation form)
Instant Experience (users who launched your Facebook or Instagram Instant Experience)
Instagram business profile (users who interacted with your profile or ad)
Events (users who associated with your events)
Facebook Page (users who follow, like, share, or comment on your page)
Facebook Lookalike Audiences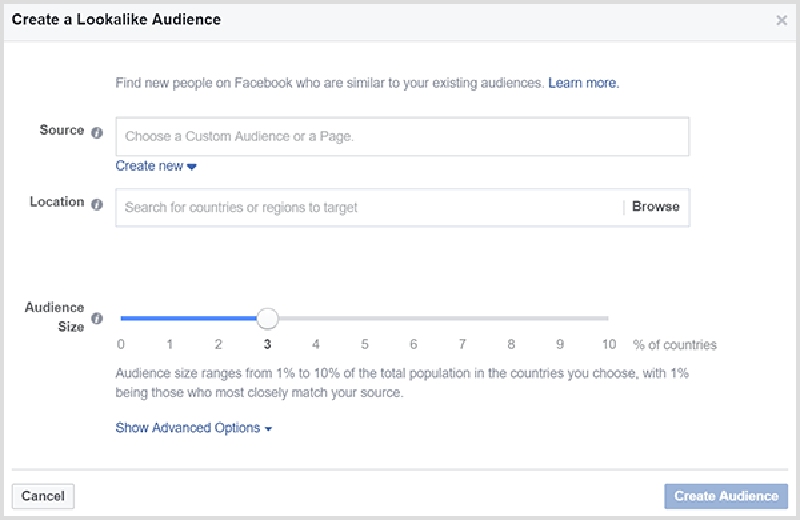 If you want to let Facebook do all the work in finding similar audiences that you've customized, use Facebook Lookalike Audiences. It only takes three easy steps:
1. Select your Lookalike Source. You may select an existing audience, or create one by clicking on the Create New Source button.
2. Select Audience Location. Find your audience outside your geographical location. Click on Browse and search for audiences by Countries or Regions.
3. Select Audience Size. Audience Size refers to the quantity of the combined population of your audience locations. The size has a range of one to 10 percent. The lower the number, the more similar the lookalike audiences are.
Split Test Your Audience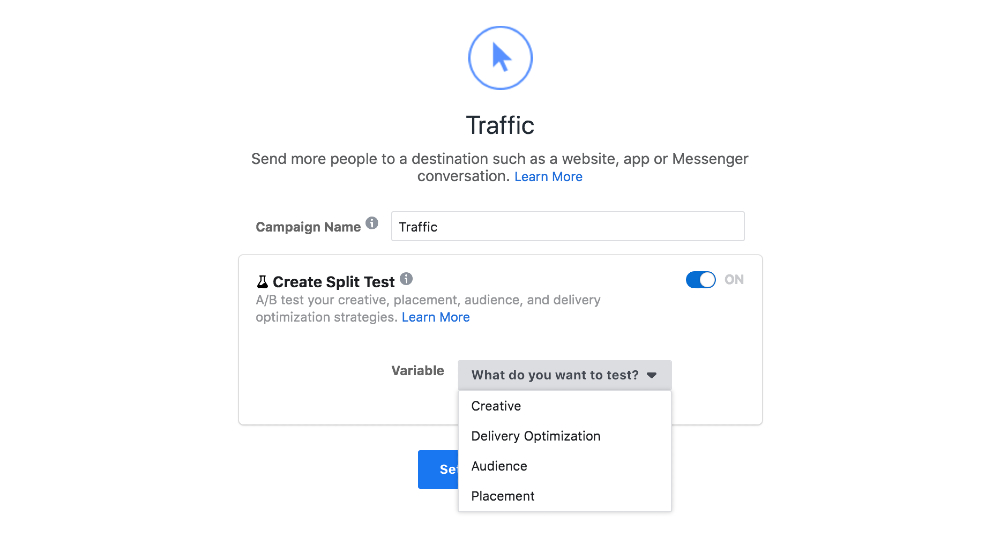 Split testing or Facebook A/B testing is crucial to know which advertising strategies and trends work well for your brand. This step is when marketers create two variations of the Facebook ads and show them to specific user groups.
A/B testing will depend on four variables which are:
Creative
Audience
Placement
Delivery Optimization
A few samples of variations would be:
Creating two types of images to know which one sits well with your audience
Experimenting with different copywriting (headlines, CTA, caption, etc.)
Testing two different creative concepts for specific buyer personas
There are many ways you can create Facebook ad variations. However, there is only one thing to remember: DON'T TEST SEVERAL CREATIVE VARIABLES SIMULTANEOUSLY!
For example, if you're testing imagery, don't tweak the other elements like call to action, copy, or placement. This makes analyzing your ads more accurate. If the images, calls to action, or copy are different, you won't know which of the creative variables urged your audience to engage or purchase.
Pro Tip: Create multiple A/B tests for every variable for granulated results.
Lastly, when testing creative variations, don't make minute tweaks as it doesn't help you see which creative marketing path your brand should take. Split testing involves showing your audience entirely different concepts.
Use Penji for Facebook Ads
Now that we've covered the highly technical side, let's now move to your visuals.
Businesses of all sizes enjoy using the services of Penji for a number of reasons. One, our platform is easy to use. You don't need to be tech-savvy to understand it. Plus, our designers could deliver the best graphic designs you need. Here's a quick tutorial on how you can use our platform.
Sign Up and Request for Designs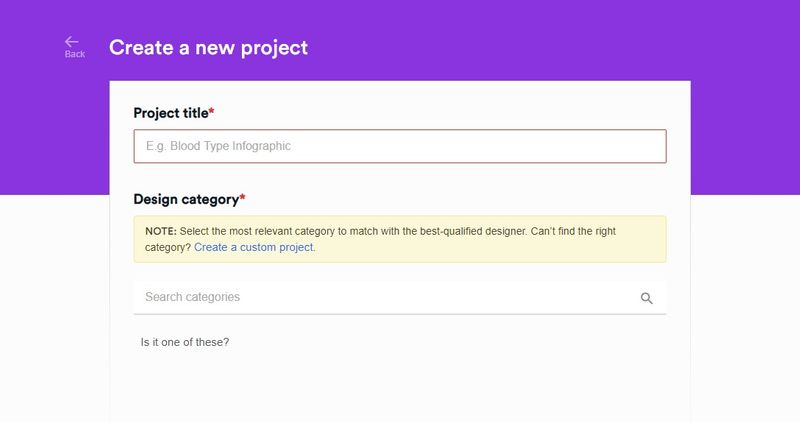 You can choose from three different design plans. And yes, signing up will only take you a few minutes. From there, you can log in to your account and find the New Project button on the right side of your screen.
This button will take you to a new page where you can provide all your project details. You can answer the guide questions if you don't know where to start. There is also a short checklist to follow.
Wait for 24 – 48 Hours for the First Draft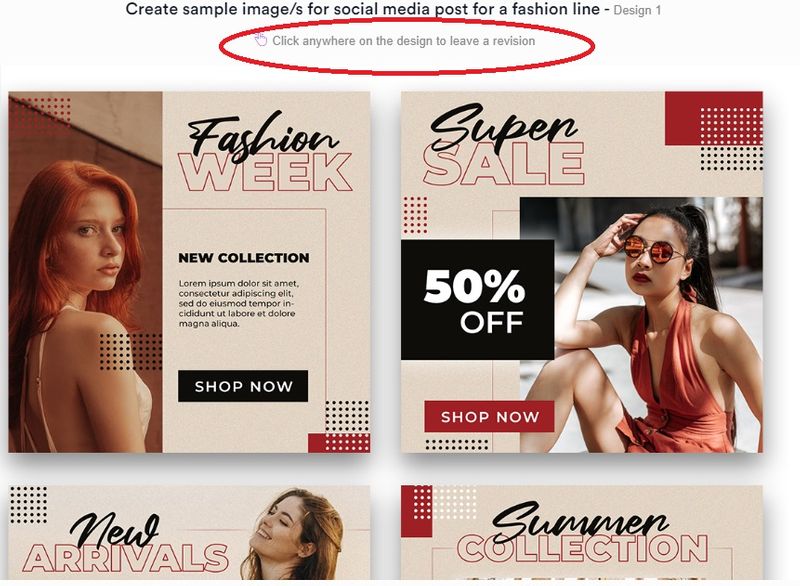 As a rule of thumb, the designer should send the initial output within 24 to 48 hours. Cross-check each detail by enlarging the image. Once you find discrepancies from your request, you can just click the specific parts in the image to make a comment box appear. Type your feedback and send it to your designer.
You can ask your designer to revise as many times as you want. At Penji, we only want our customers to be 100% satisfied with our deliverables. If you want to replace your designer, we will accommodate your request.
Download the Source Files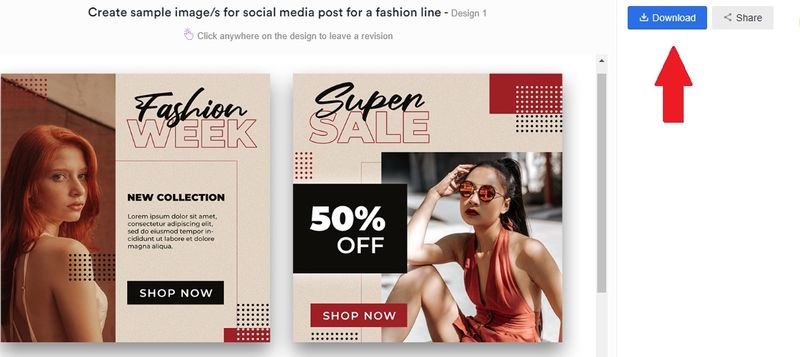 And lastly, you can download your files whenever you can. The source files will always be readily available for you. Start your Facebook Ad, and win your target audience.
Penji's Sample Works
Below are some of the best works that our professional designers created over the past years. If you will notice, these are for various niches with different target markets. If you are in the food, fashion, technology, or non-profit organization, we can create the perfect visuals.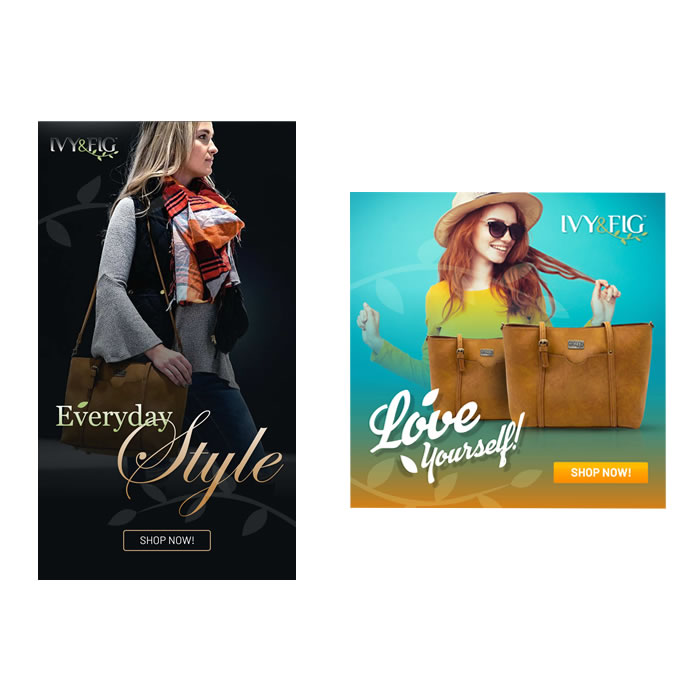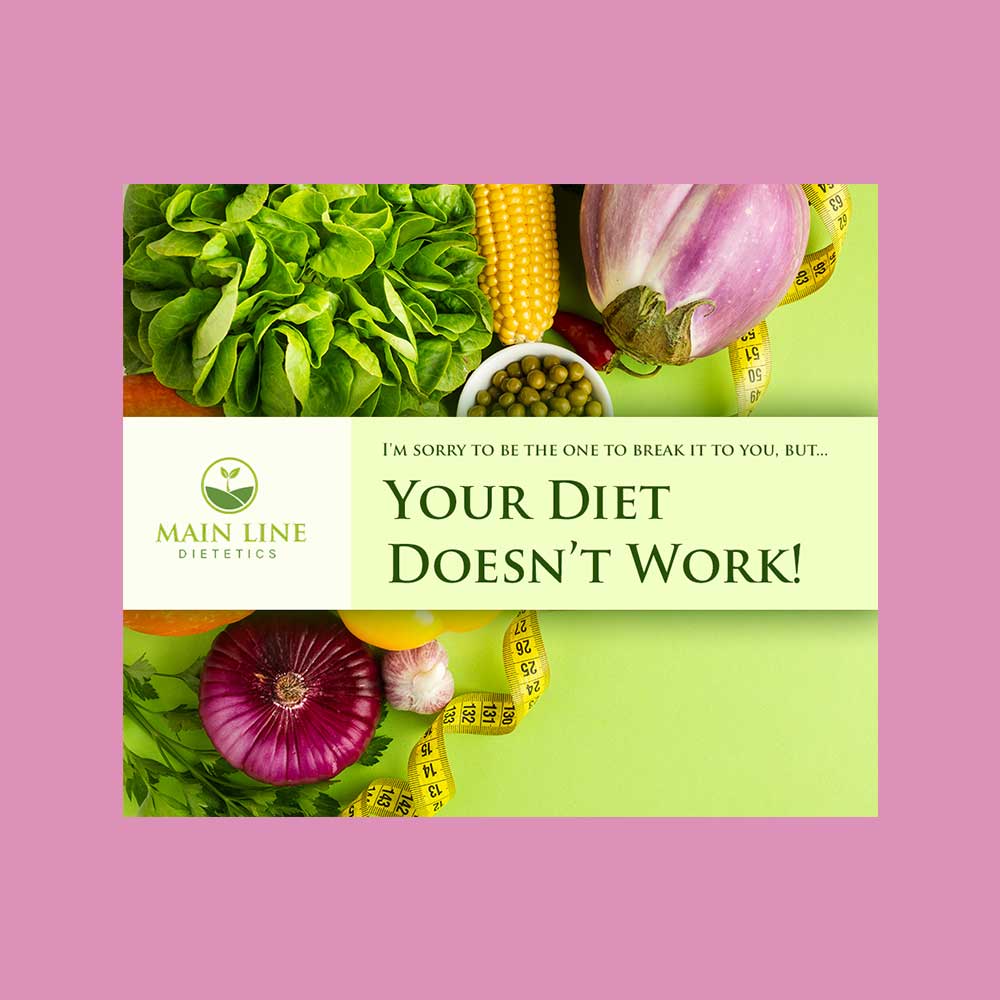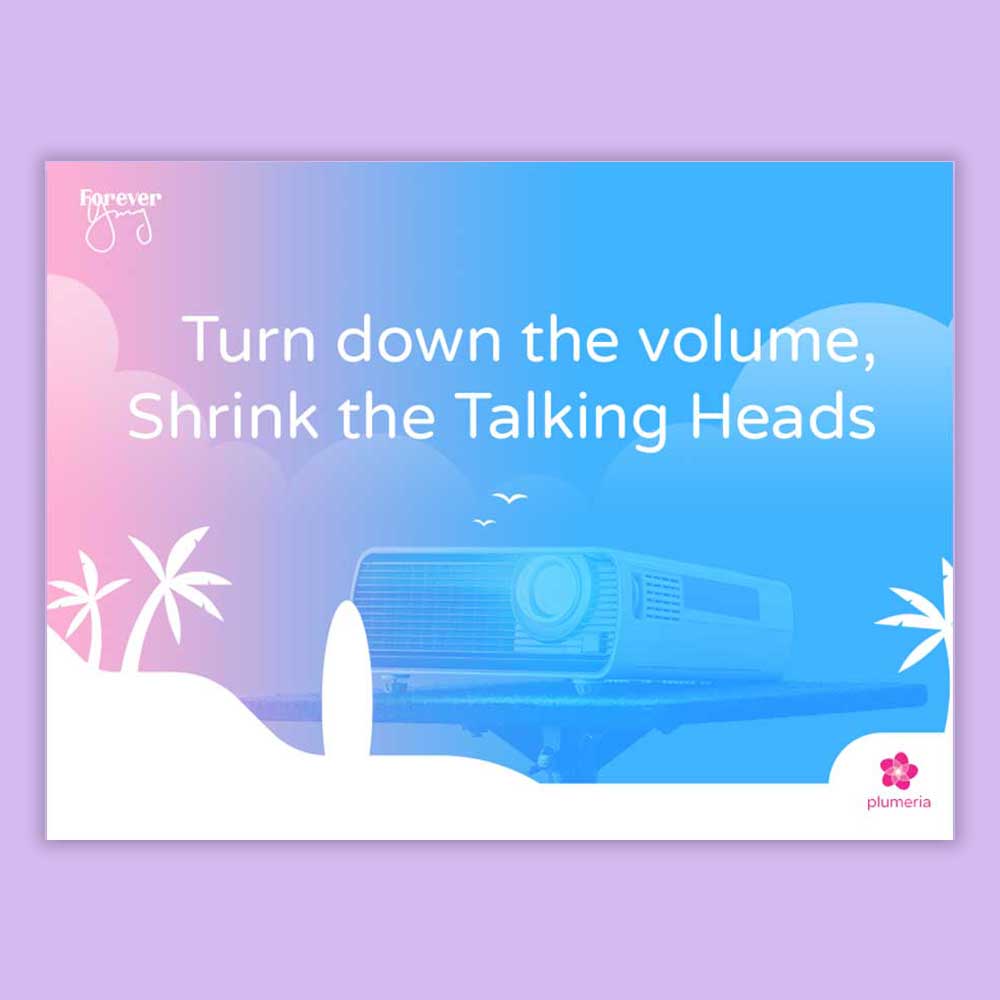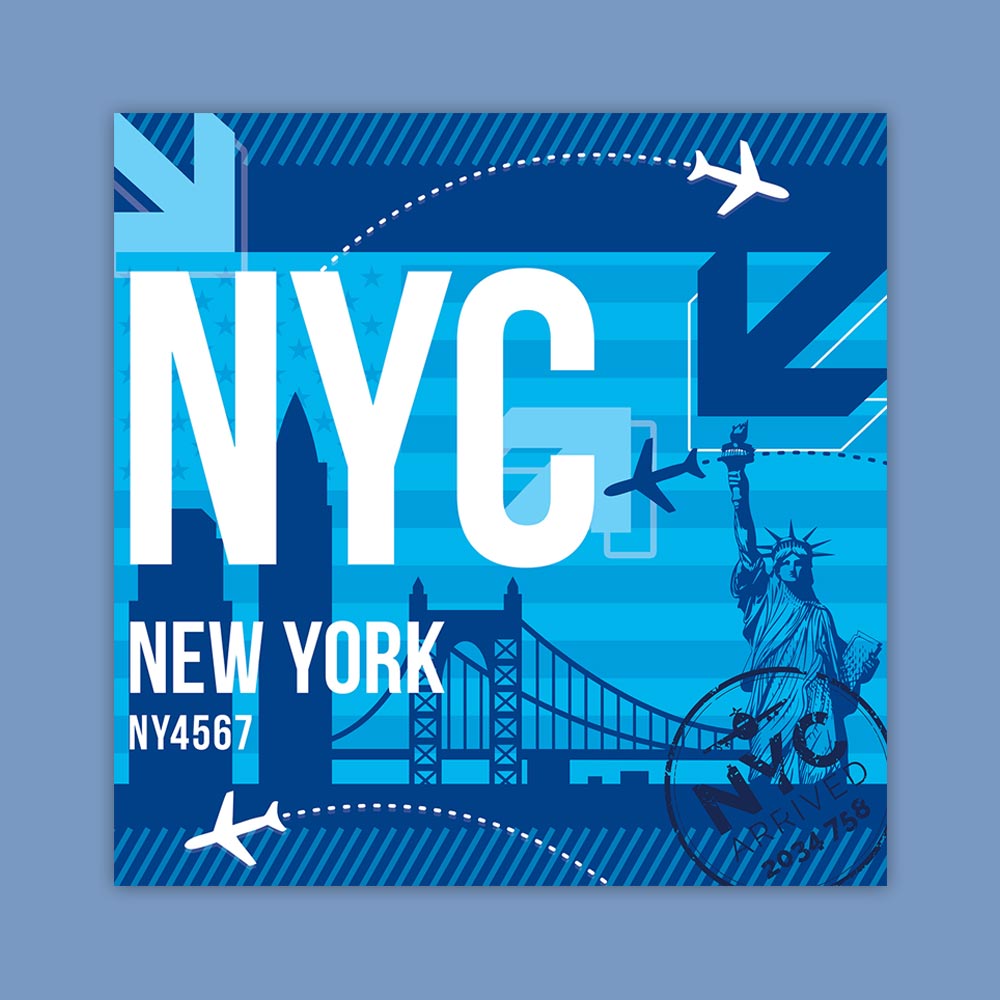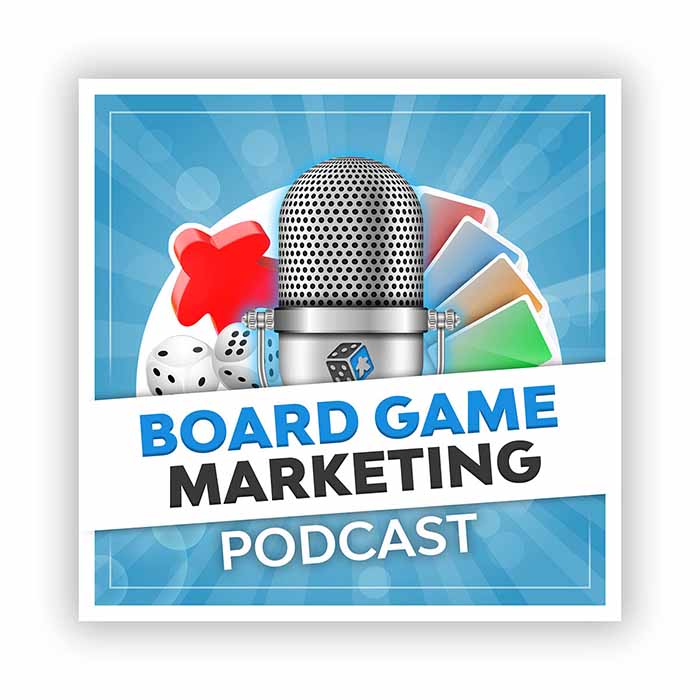 We design graphics not just intended to shock and amaze the market. It should primarily help you achieve your business goals.
Final Thoughts
It may take a while for marketers to master Facebook Audience targeting. But with simple and user-friendly platforms like Facebook Ads Manager and Facebook Audience Insights, marketers can get the hang of it quickly. And we hope this ultimate guide on Facebook Target Audience will kickstart your Facebook marketing campaign soon.