If you're not A/B testing your Facebook Ads, you're wasting your marketing efforts.
There is no cookie-cutter method in advertising on Facebook. It takes time and research to craft Facebook Ads that generate test results. One way to gear your marketing team in the right direction is to split test Facebook Ads.
In the meantime, get an overview of what A/B testing is. Plus, read on to get a sneak peek on how to request creatives for your Facebook ad campaigns.
If you or your business is look for a Facebook ad design, you've come to the right place. Check out the code at the bottom for a special promo to try Penji!
What is Facebook Split Testing?
A/B testing, otherwise known as "split testing," is the process of researching which types of Facebook advertisements work better for specific audiences. Marketers perform this by making two different variations of the post and showing each variation to different groups.
However, when A/B testing, marketers should only test one variable at a time. Using several variables can damage the desired marketing goals. One variable at a time allows for pin pointed results and stronger market research.
Invespcro says 60 percent of companies think that A/B testing is crucial for conversions. A Harvard Business Review case study in 2012 involves a Microsoft employee who had an idea to change the way headlines are displayed on the Bing search engine.
An engineer found the task achievable at low costs, so he experimented with A/B testing tools to see if it makes a difference. Surprisingly, the result was an increase in revenue by 12 percent. It was one of the fastest and successful advertising experiments in Bing's history. That goes to show how A/B testing in marketing approaches are foolproof ways of increasing conversion rates.
A/B testing Facebook Ads, however, requires a different and easier process. Everything is done through the Facebook Ads Manager and may require advanced options. This is to better promote your products or services.
By definition, Facebook split testing lets marketers change their variables to determine which ads work best. This is also an excellent way to create more specific and money-making marketing campaigns in the future. Users are divided into several groups and shown variations of a particular variable.
Types of Variables in A/B Testing:
Creative. This variable refers to text, images, or other creative types like videos or carousels.
Audience. Marketers test this variable when they want to know which type of audience reacts to ads. They can filter through geographical location, demographics, or psychographics.
Delivery Optimization. Campaign Budget Optimization is the ability to let Facebook optimize the budget to ads that work best. You can assess the impact with or without Campaign Budget Optimization.
Placements. Change where you want your ads to appear: Facebook, Instagram, Messenger, or Audience Network. See which ad placement gets more reactions and engagement.
Product Set. You can compare two product sets to test the waters and assess which set garners sales.
In some cases, marketers also compare two complex ads by changing multiple variables. However, this might not be advisable for newbie Facebook Ads marketers as this would require skills to analyze which variables users react to. Wrong presumptions on variable assessment could mislead your entire marketing strategy.
Facebook A/B testing best practices:
Do one Facebook split test by experimenting with one variable at a time.
Conduct multiple split tests for more accurate results.
Make sure you split test Facebook Ads to a large audience.
Make sure the ad sets are varied if you're testing audience, placement, or delivery.
Increase your budget to avoid under-delivery.
After A/B testing Facebook Ads, determine the winning ad set by comparing the cost per result or ad's objective. Winning ad sets or ads will have a star icon next to it.
Why Facebook Split Testing Works?
Facebook A/B testing works because it helps you narrow down your social media posts. From the headlines, images to the copy and placements, Facebook split testing makes it easier to segment future advertising methods.
It might be tempting for marketers to search for Facebook marketing on Google. However, gathering all vague and general information will give you a hit-or-miss outcome. By knowing which advertising elements trigger your audiences, your marketing strategy could generate positive results.
For example, if you want to test creative variables like videos, making small variations makes a significant impact. Here are ways you can vary your video ads:
See if a long video works better than a short one.
Assess if clips work better than carousels.
Check if videos with sound work better with ones without.
When you split test your ads across all your social networks, this takes the guesswork burden off your shoulders. Plus, making small variations on your Facebook Ads means you're going through them with a fine-tooth comb. In turn, you'll be guided on which ads work best on which platform or particular audience.
How to Set Up a Split Test
Although it's recommended to do multiple split tests for every variable, the entire campaign's success will be summed up based on the winning ad in each variable category. This will allow you to tailor-fit every advertisement for a particular audience down the road.
To set up a split test, Facebook Ads Manager has a user-friendly process. Here's a step-by-step guide:
1: Open Facebook Ads Manager and select a campaign objective.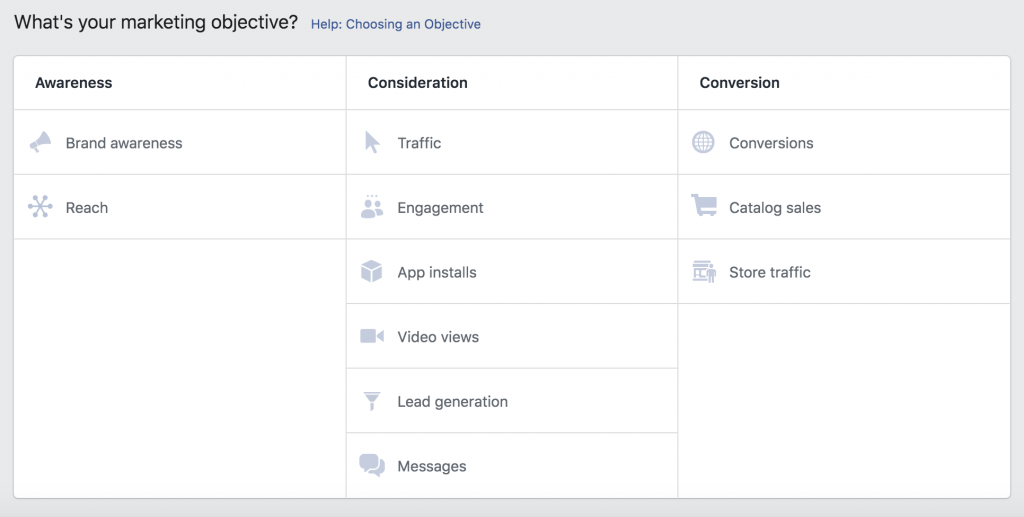 2: After naming your campaign, turn on the "Create Split Test" button.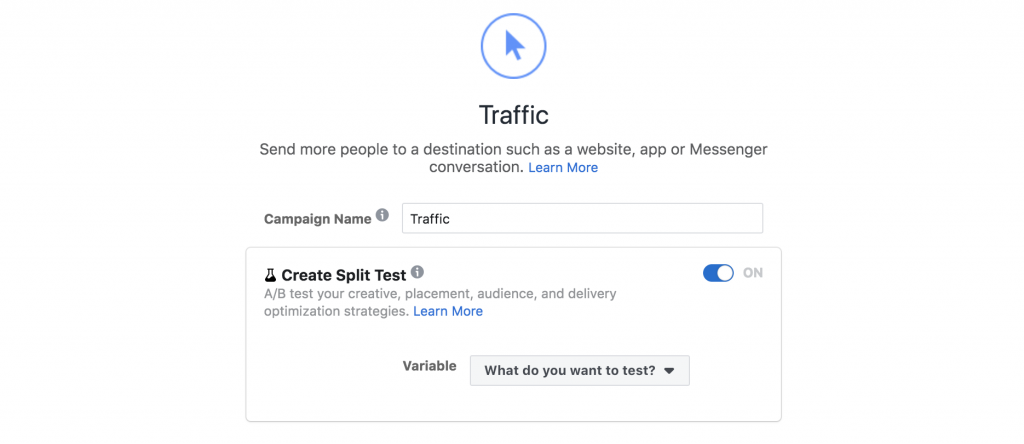 3: Select which variable you want to test for your Facebook Ad.. Choose between Creative, Delivery Optimization, Audience, and Placement.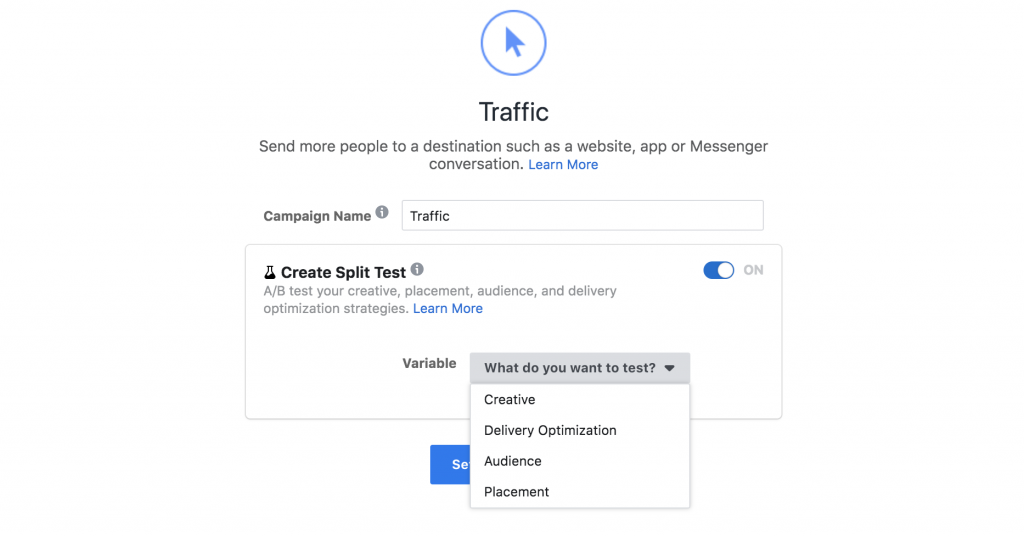 4: Customize your audience to fit your target market profile.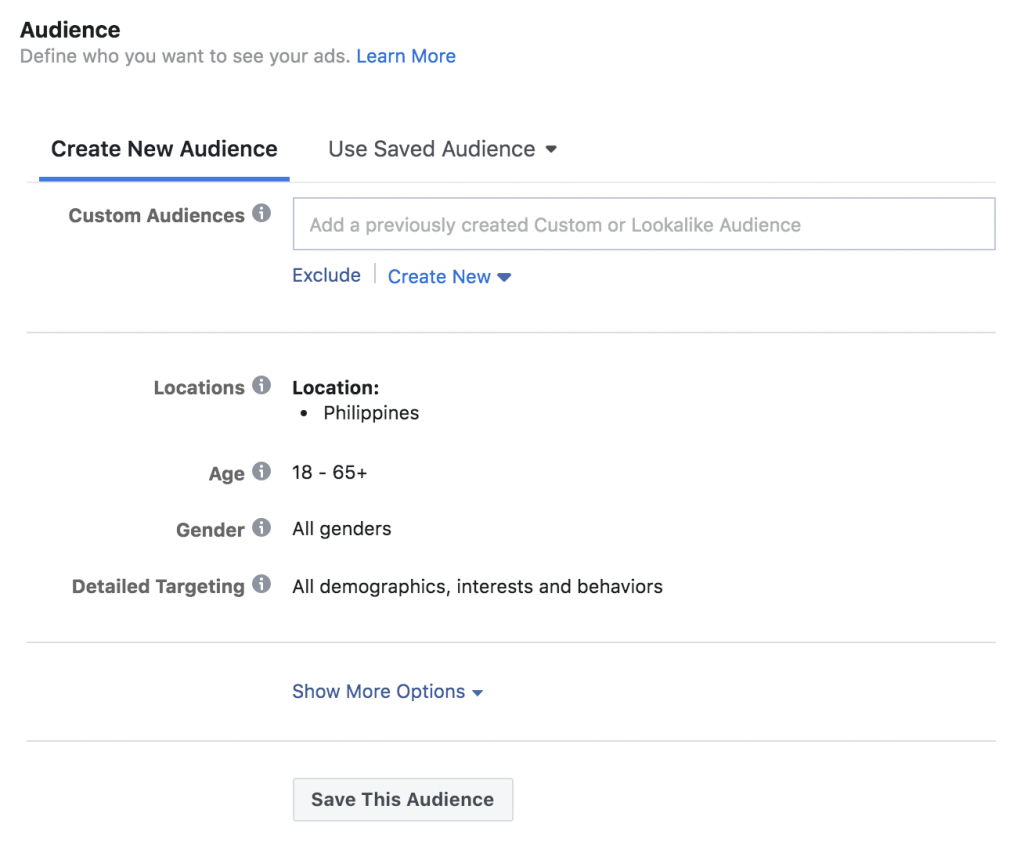 5: Select Manual Placements and tick the preferred boxes.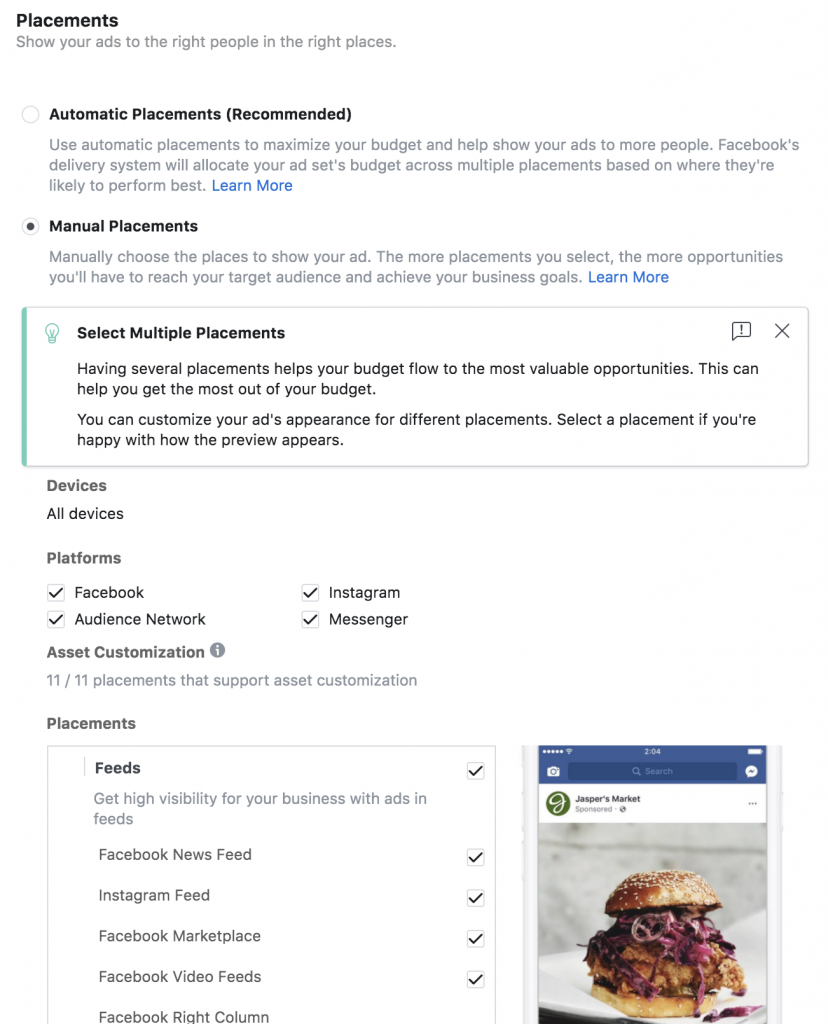 6: Customize the Budget & Schedule. Select between Daily and Lifetime Budget, then input amount.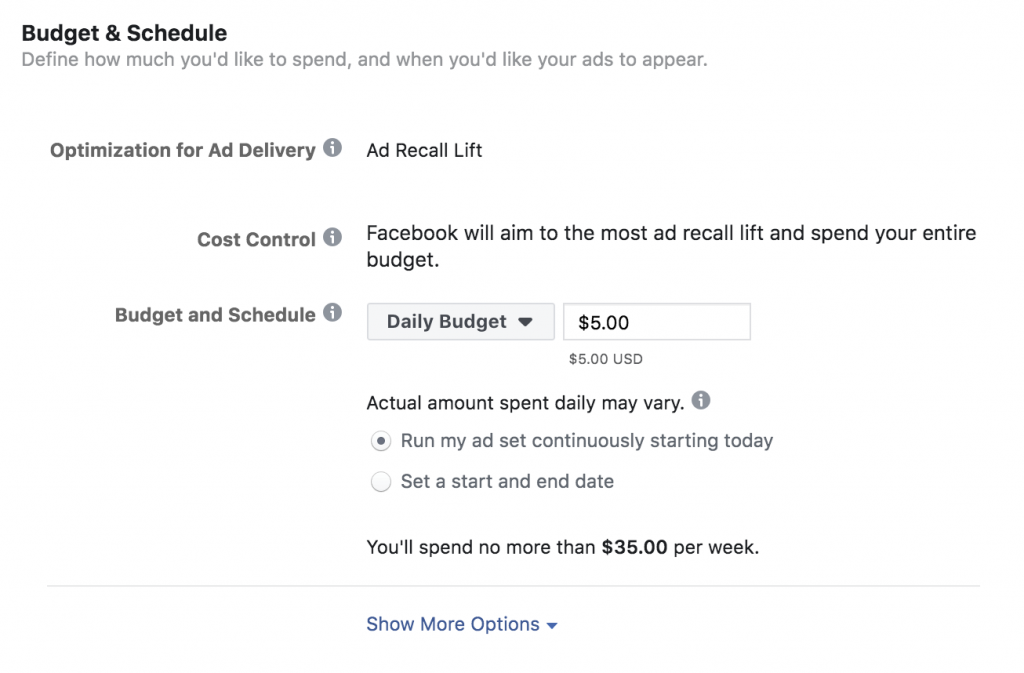 How to Split Test an Existing Ad Set
Go to your Facebook Ads dashboard and click the ad set you want to split-test.
Click on "Edit" to get started.
Here, you can make a few adjustments in the Creative and Budget pages.
Look for the "Want to test changes" in the upper-right corner.
Choose "Create Test" and hit "Confirm." Split testing starts after you publish the adjustments.
How to Duplicate an Active Ad Set
Duplicate an active ad set if you don't want to add a split test to an active ad set by selecting "Duplicate."
Choose "Create a test to compare a new ad set to your original ad set."
On the new copy of your ad set, edit the variables you want to change.
Publish the new ad set. In case you cancel your duplicate split test, your current ad set will run continually.
Testing Imagery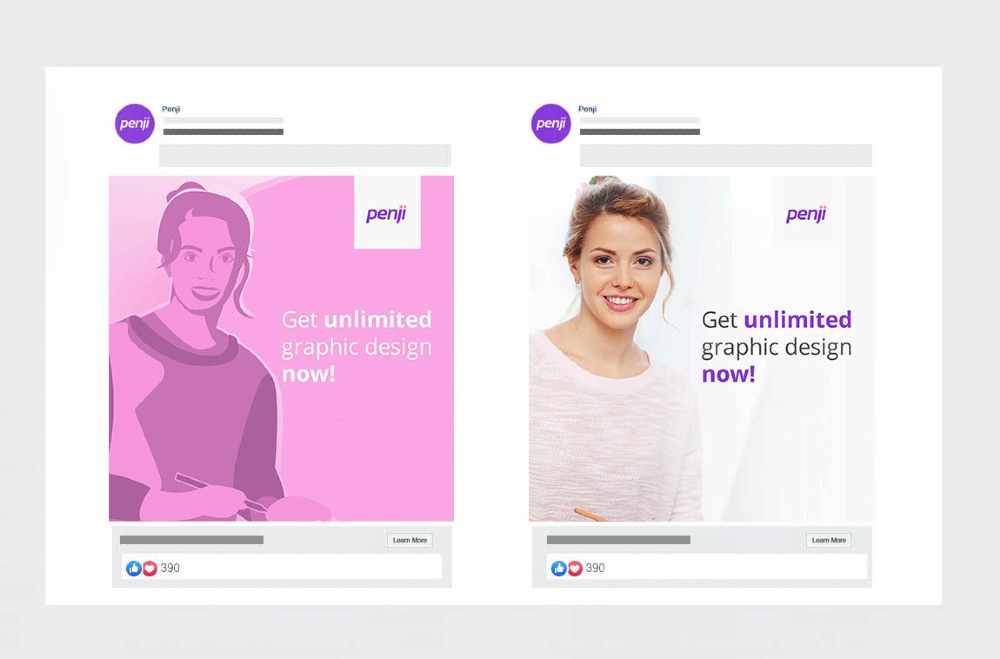 Testing your creative variable is essential to lead all your advertising designs in the right direction. Marketers should learn how to go against the grain and be creative with their graphic designs. Although there are proven metrics that work for ads, making variations in contrast to the parameters gives you a clearer picture of what your audience wants.
For example, we ran a graphics-based ad with high engagement. For the variation, we decided to keep the same headings, copy, call to action, and concept. The only thing we changed is the graphic design concept.
Winning Ad: The winning ad had a lower cost-per-action. Through this, we decided to build our creative variable around the type of graphical concept that gave returns based on a lower CPA.
Testing Copy

Testing your copy is important to determine how to communicate your value proposition to your target audience. While messaging should be accompanied by excellent visuals, choosing the right language is vital to make your audience engage.
We started with a vague copy. Then added variations like including an excellent offer. We also tried to include a pain point resolution by choosing words like reliable and cheap. Lastly, we combined the discount and the resolution to customer pain points.
Winning Ad: Although all variations didn't have that much difference in terms of the click-through-rate, one that emerged is the combined copy. The winning copy tells us that our audience prefers a more straightforward messaging. However, we also take into consideration other elements such as graphic design or our audience demographics.
Testing Imagery by Demographic

Did you know that 93 percent of communication is nonverbal? Some people communicate better with visuals, and that's why testing your creative variable against demographics is vital. This allows you to create graphics depending on the audience group.
For instance, we created two variations of one visual concept. One was to show a minimalist graphic design sample of our designers' work. The other one included a caricature of our graphic designers.
Winning Ad: The winning ad tells us that segmenting visuals for those two particular groups gains more engagement and conversions. This guideline will help us how to communicate with our target audiences with various demographics and psychographics in the future.
Testing Copy ROAS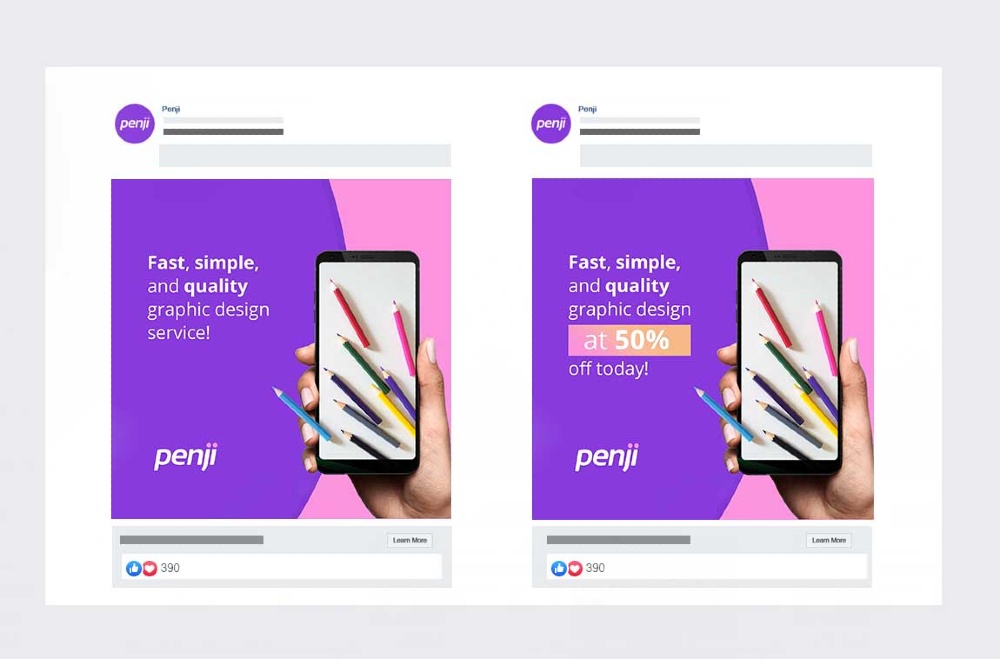 One way to test your return on ad spend (ROAS) is through messaging or audience segmentation. You can either choose which copy resonates with your audience and put them at the bottom of the sales funnel. Or you can also test varieties of messaging depending on demographics such as age, gender, education, or interest.
As a graphic design company with a subscription-based model, we segmented our ad copy with and without an offer.
Winning Ad: Although the messaging variations have slight nuances in terms of conversions, the ROAS was higher on the winning ad.
The WRONG Way to Test Facebook Ads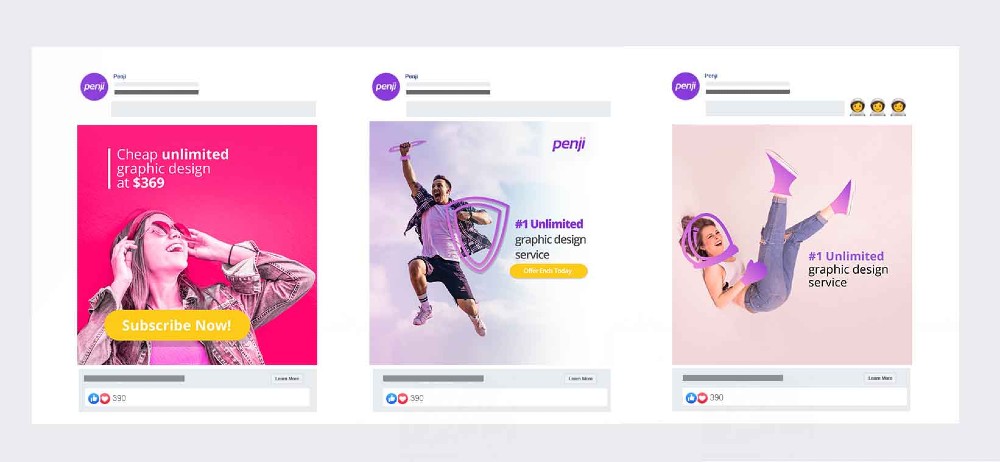 1. Split-testing several creative variables at a time.
As a general rule, split-testing one variable at a time can garner a more granulated result. However, if you need to test several variables, you can take advantage of Dynamic Creative Optimization (DCO).
DCO is the process of displaying ads through the use of the latest technology. This technology creates personalized ads based on data-driven viewership.
2. Split-testing minor creative variations irrelevant to your business.
Making minor creative variations such as calls to action, headlines, and messaging can return superficial results. When split-testing creative variables, it's advisable to show two entirely different concepts to get a more specific outcome. Changing the visual concept of the ad provides your business with more value and marketing insight.
How to Request Facebook Ad Designs on Penji
When you sign up for a Penji plan, you will have access to the Penji platform. This will allow you to submit design projects, review designs, and download designs. You can do those in three easy steps.
1: Create a Design Project
First up, you have to go to the Penji platform. To make your first request, click the +New Project button.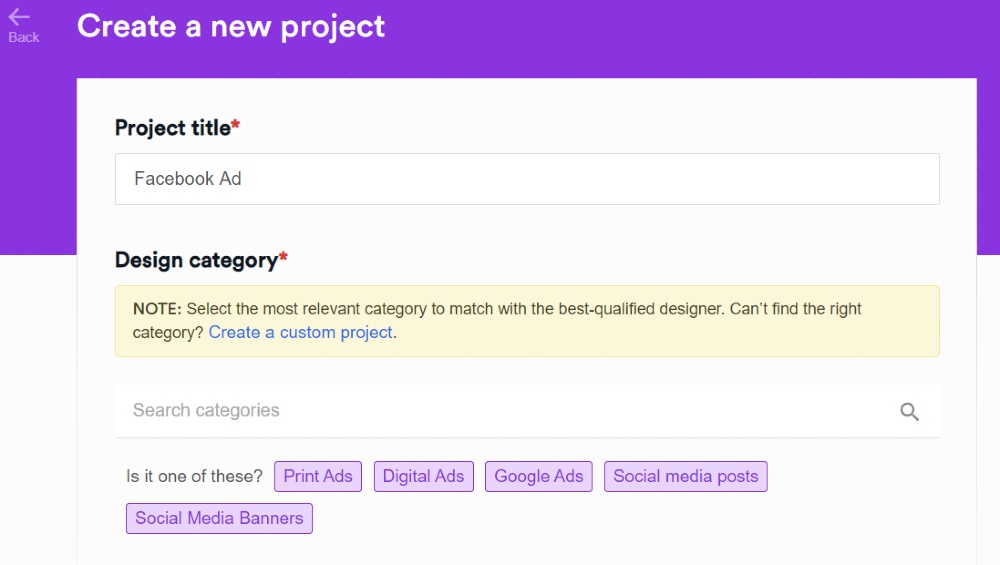 Then, you need to supply details of your projects. The first thing is to provide the Project title and select a Design category. For the design category, please choose Digital Ads.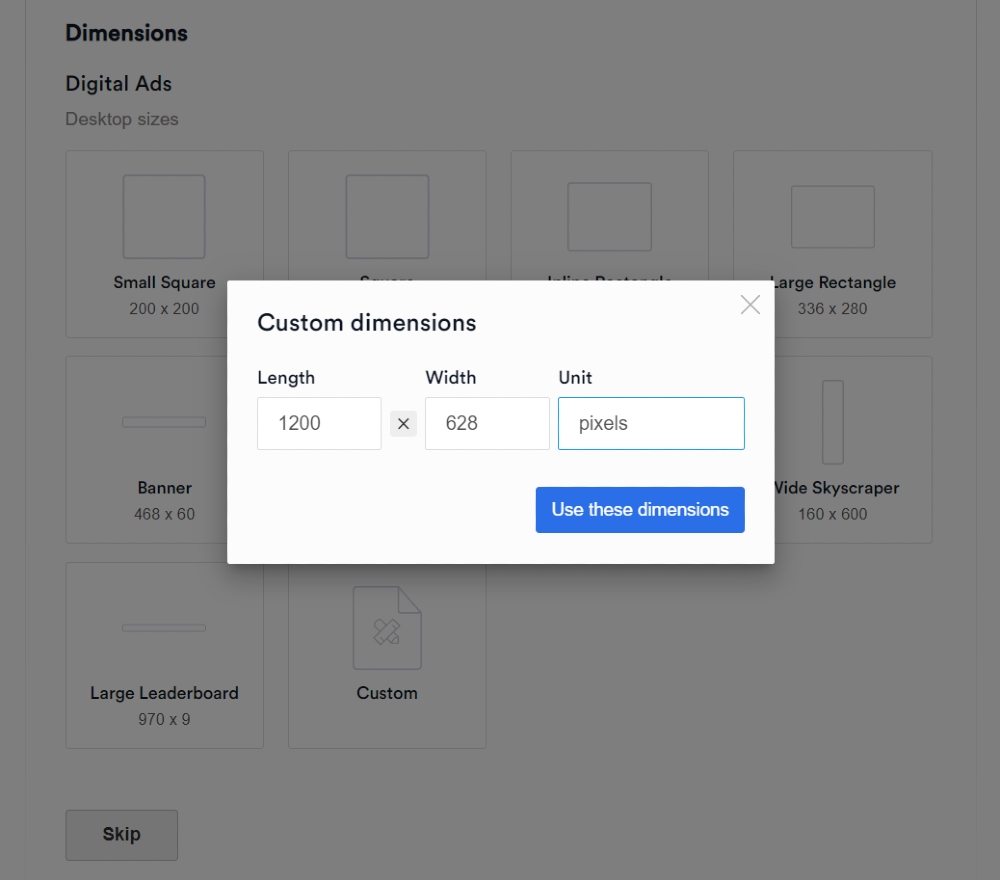 Once clicked, you'll then see Dimensions. Since Facebook has specific dimensions, please click Custom and key-in the dimensions of your Facebook ad. In this case, let's write 1200×628 px.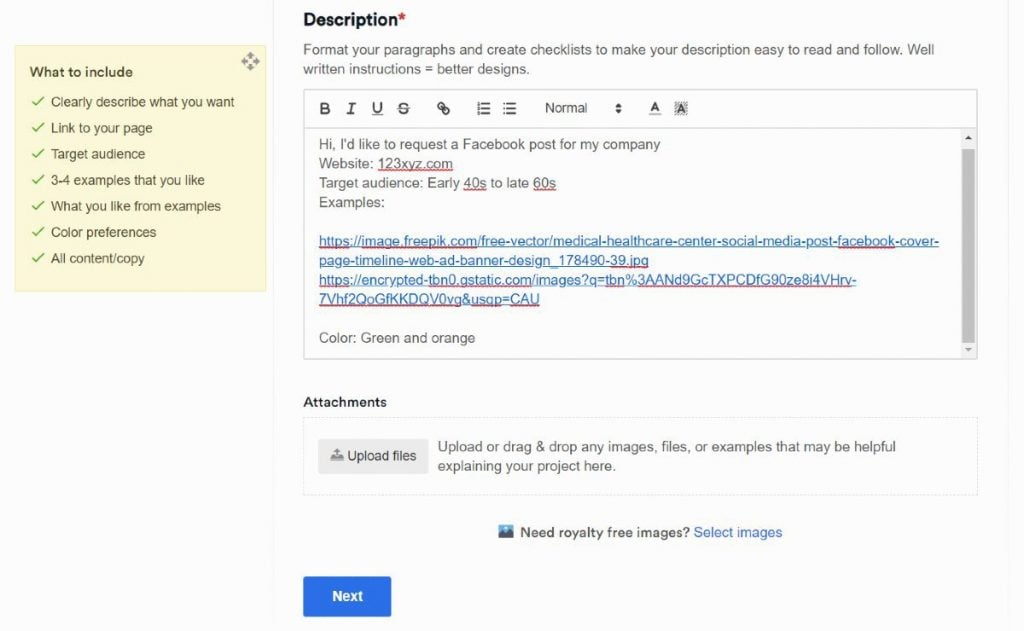 After this, you can finally include details of your design project. Tip: please follow the What to Include guidelines, found on the left side of the page. It will help you write a clear description, which will guide the designer in producing creatives based on your preferences.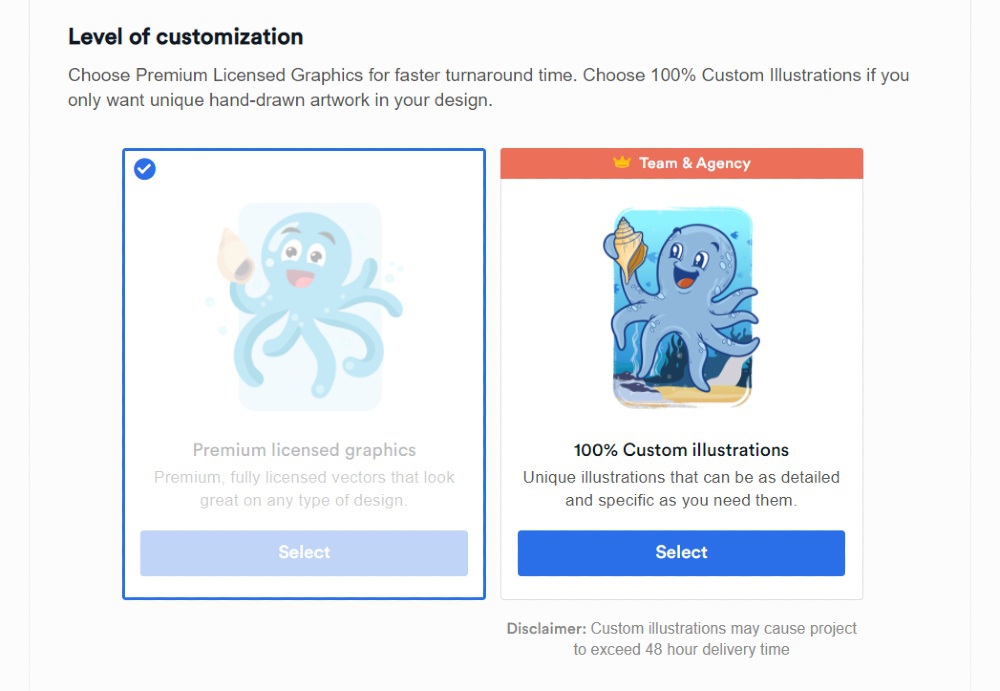 After this, you can click "Next". Please choose the Level of customization, File deliverables, and Associated brand.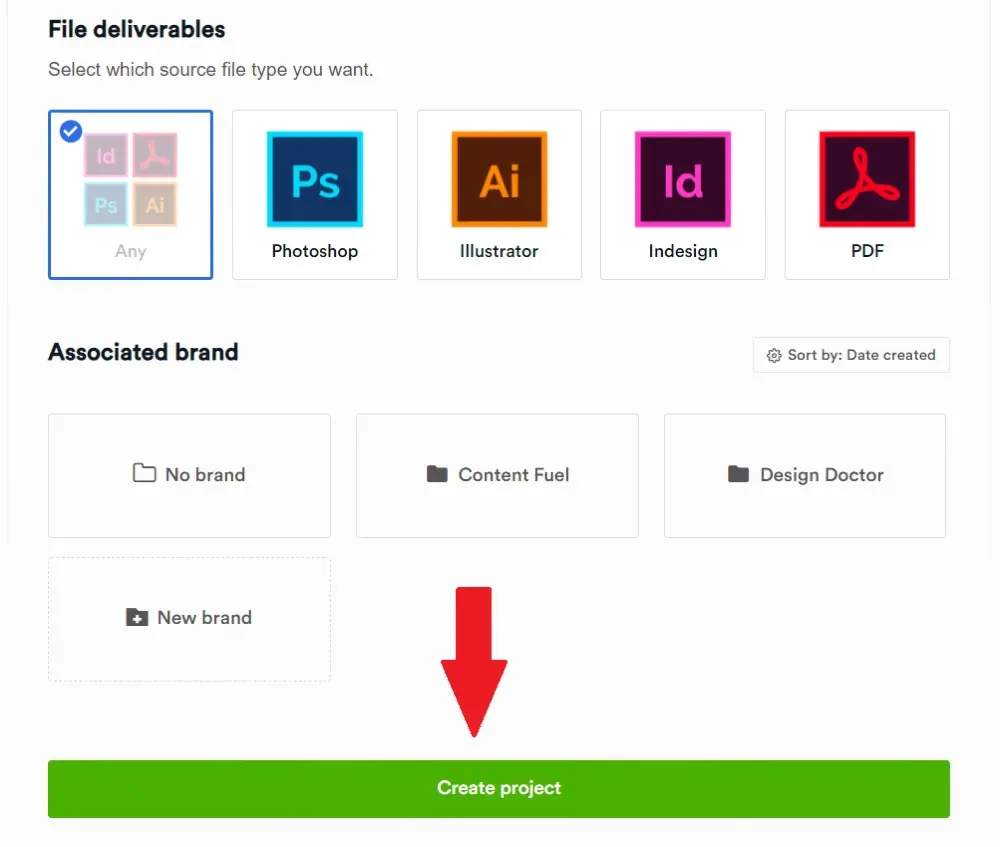 Once selected, click "Create Project" to start your design.
Penji will then assign your project to a designer, and they'll read your design request. They'll work on it right away and present the first draft within 24 to 48 hours.
2: Review the Facebook Ad Design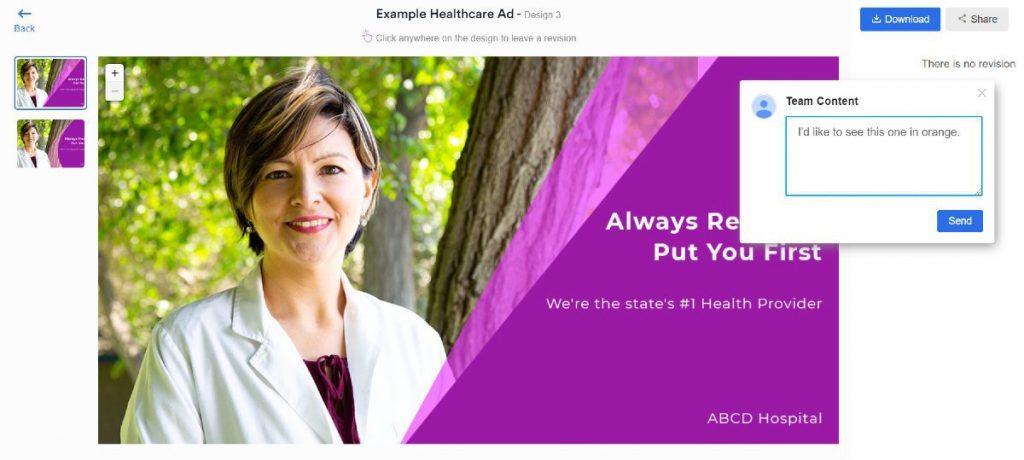 When the designer finally submits their first draft, you can give your feedback. Please use the handy revision tool. This will help convey your feedback clearly. Plus, your designer will know how to improve your design.
Moreover, on any Penji plan, you have unlimited revisions. It means you can ask for revisions until you're satisfied with it. Most design services don't offer this feature. And that's one of the many reasons why brands love Penji.
3: Download the Design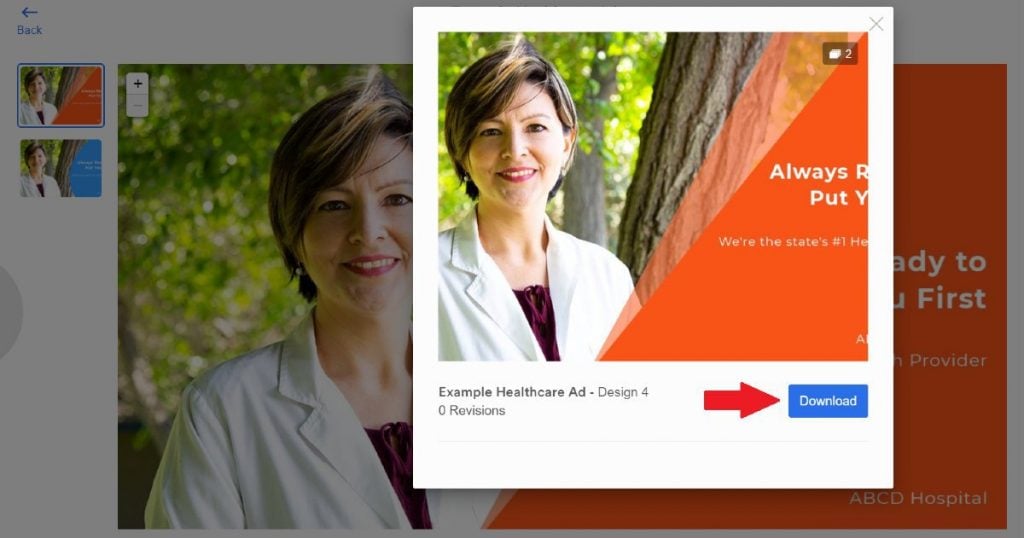 Once you're 100 percent satisfied with the creative provided by the designer, you can finally download it. All you need to do is click the blue Download button, and the files will be saved to your computer!
Final Words
A/B testing is useful if marketers are uncertain of particular variables. Indeed, when you split test Facebook Ads, it prevents redoing ad designs, CTAs, messaging, colors, or design concepts after realizing one works better than the other. When you know which creatives, placements, or delivery resonates with your audience, you gain a clearer perspective of how to appeal to them. Overall, A/B testing is an important tool to master because it lowers the marketing budget and increases conversions.
Get well-designed Facebook creatives by subscribing to Penji. Make the most of your subscription by requesting different images for your split test. Use code "SPLITTEST" for 25% off your first month of Penji!