Brands and businesses have attained success advertising on Facebook. Their effective Facebook PPC campaigns have increased brand awareness, traffic, or revenue. In turn, many are considering Facebook as one of their primary sources of advertising. As such, companies would turn to agencies to help them with their creatives to produce a solid campaign.
That's why you need a reliable design service when you create your Facebook PPC campaigns. Entrust all your design work with Penji. Don't worry about paying per project anymore. By subscribing to Penji, you can request all designs you need for an affordable flat rate. Plus, you can guarantee that you'll get high-quality and compelling visuals from our designers. Discover what they have produced for our clients.
In the meantime, learn why companies advertise on Facebook. Plus, get an exclusive step-by-step tutorial on how you can request Facebook PPC campaign designs on the platform.
Reasons Why Companies Advertise on Facebook
Facebook launched its advertising platform in 2007. Since then, many brands and companies have used Facebook PPC and yielded success. But what makes Facebook an attractive platform to promote products or services? Learn the top seven reasons why.
Billions of Active Users
As Facebook advertising evolved over the years, many companies and brands realize the value of doing so because of the growing user base. Facebook reported in July 2020 that its billion daily active users (DAU) are at 1.79 billion. Marketers can benefit from the number of active DAU since most of them spend hours browsing and scrolling on the platform.
Not to mention, ad impressions increased by 40% as well. This means, more and more people are viewing ads. Even if they might not interact, the high impression rate may further motivate brands to advertise on the social media platform. Plus, it might encourage them to evaluate their ad objectives and performance for future Facebook PPC campaigns.
Facebook Ad Platform Tools
Since Facebook has a dedicated Facebook Ad Platform, marketers have a wide range of tools for advertising and monitoring purposes.
For one, organizations can target their audience directly and with much ease because of the technology available on the platform. Marketers can target three types of audiences on Facebook. These are:
By using these audiences, marketers can optimize their campaigns. From there, they can further review ad performance accordingly.
Aside from that, you can keep track of your Facebook ads too. You can monitor the performance of your Facebook PPC campaigns also. From there, you can evaluate if you need to post more ads or adjust your budget as needed.
One more thing to remember is that you can create ads on mobile too. While you're on-the-go, you can post ads anywhere and anytime.
Different Ad Types
Companies and brands can use a variety of Facebook PPC ads at their disposal. If you're a regular Facebook user, you'll notice that ads are scattered everywhere on the site or other Facebook platforms. But you'll also observe there's a variety of ads that companies and brands use. It's dependent on the type of campaign or objective.
According to Facebook, here are the different types of ads you can publish on the platform:
Photo
Video
Instant Experience
Carousel
Collection
Captivate your audience by posting well-designed ads. Learn more about how you can do so when you use Penji as your graphic design partner.
Customizable Objectives and Costs
Most social media advertising platforms will enable the customization of objectives and costs. And Facebook is no exception. Facebook categorizes the goals based on the buyer's journey. It's helpful for businesses because they can maximize or optimize their ad campaigns more effectively.
Another great reason to advertise on Facebook is the adjustable budget. Those who have limited funds but still want to use Facebook can do so. According to Facebook, you have two budget options. One is the daily budget. The other one is lifetime.
For the daily one, think of it as your spending average. You have a minimum of $1 to spend on the daily budget. Meanwhile, by using lifetime, Facebook will only run ads based on the budget you set for the whole campaign.
Low Cost-Per-Click Acquisitions & Cost
Back in 2017, Wordstream revealed the cost-per-click (CPC) was $1.72. That's good because you want more people clicking on ads while you stay in budget. One way you can also lower CPC is to schedule your ads when there's high traffic. That's what Social Media Examiner suggests.
In terms of costs, many reports that advertising on Facebook is cheap, too. Wordstream did find that it costs half to run a campaign than in other platforms.
Achieved Objectives
In line with the customizable objectives, many brands report good outcomes for their Facebook campaigns. Some said they had increased app installs, leads, website traffic, and even sales.
One great example comes from OnePlus and their ad campaign from November 6 to 16, 2017. Their objective was to increase awareness and, eventually, sales of their new product. That campaign generated a 14% boost in sales and 20-point brand awareness.
As such, many brands want to observe trends and view if Facebook is feasible based on budget and needs.
Split Tests
By using Facebook, you can conduct A/B testing. This means you can compare the performance of strategies and see which one yields the most views and engagement. Here, you need to run different ads with different creatives.
One of the reasons you need A/B testing is to see which type of ad your audience will respond to the most. This way, you can optimize succeeding campaigns if you choose to continue running more on the platform.
Now you have an idea about why companies advertise on Facebook, here are ten Facebook PPC examples to inspire your own.
10 Examples of Facebook PPC Campaigns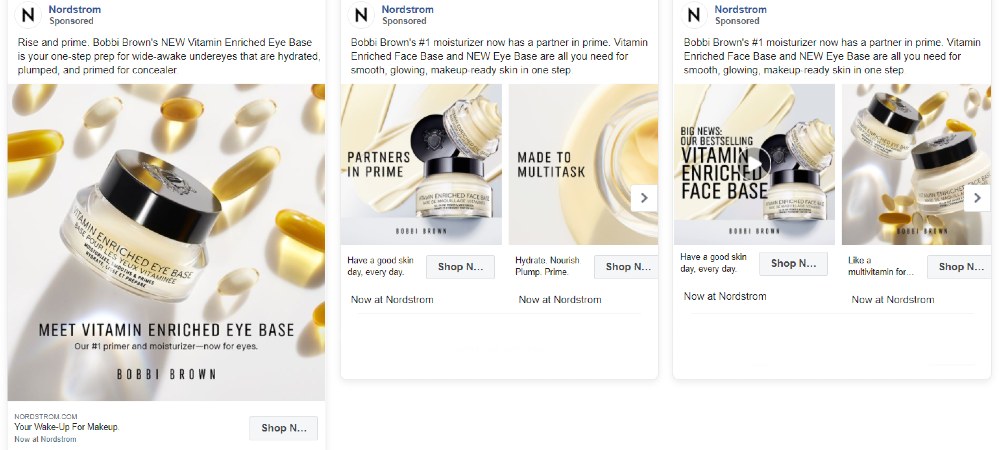 Nordstrom uses links, photos, and video ads for one of their campaigns. In some of their published ads, they use it as a set for their carousel ads. Plus, they even use Instagram to increase their visibility and reach. In this example, you'll see they both used photos and video of this carousel.

Samsung also uses different ad types for their ongoing campaign. Plus, it seems they're targeting Texas for one of their campaigns. It's to help them maximize their engagement, impressions, and reach. As illustrated in the example, they produced a custom ad design to capture their audience's attention.
You can do that by signing up on Penji! We have plans for different budgets. Check out pricing plans here.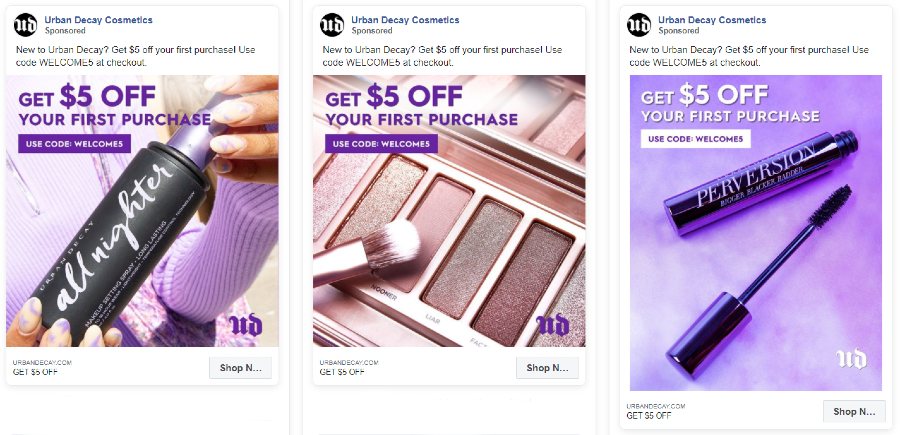 To increase sales by using a promo code, Urban Decay posted their ads on both Facebook and Instagram. They used photo ads and placed the promo code as a copy on the ad design. Here's an example of how they designed an advertisement to generate more sales during this campaign.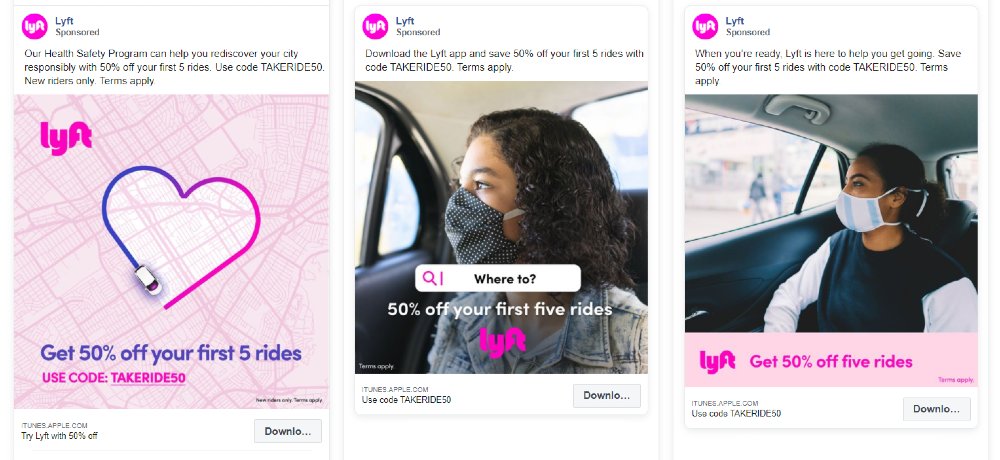 To increase app installs, Lyft has a promo code included in some of their ads. The promo does apply for new users only also. They had photo and video ads placed across Facebook platforms and the Facebook Audience Network.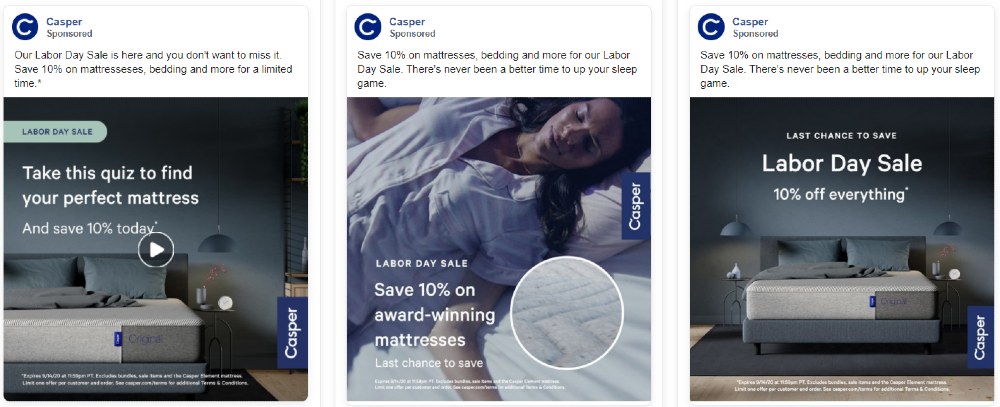 For their Labor Day campaign, Casper had their ads placed on the Facebook Audience Network, Messenger, Facebook, and Instagram. By clicking one of their ads, you'll go to their website, and then you can apply the promo code indicated on their ad design. Check out how they produced a variety of creatives for the campaign.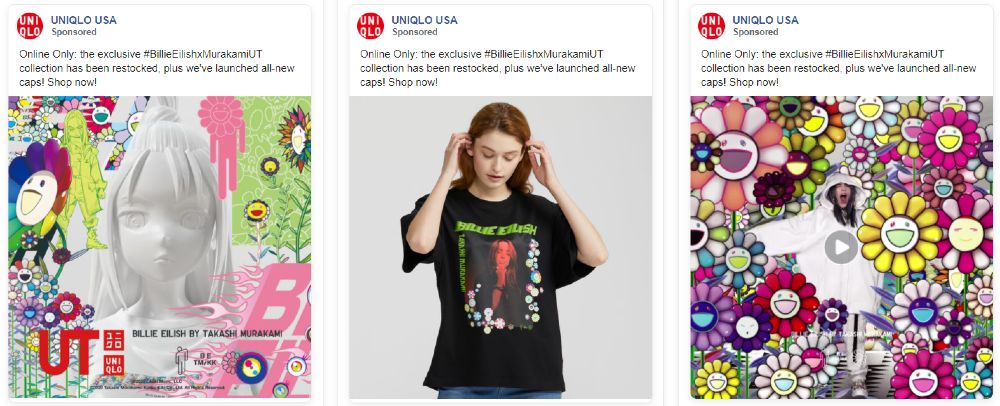 Uniqlo promoted the Billie Eilish and Takashi Murakami collection for an ongoing campaign. Once you click on one of the creatives, you can view the extensive collection on their website. They used a combination of still images, graphic design, and video. They even had a carousel one showing products for different audiences.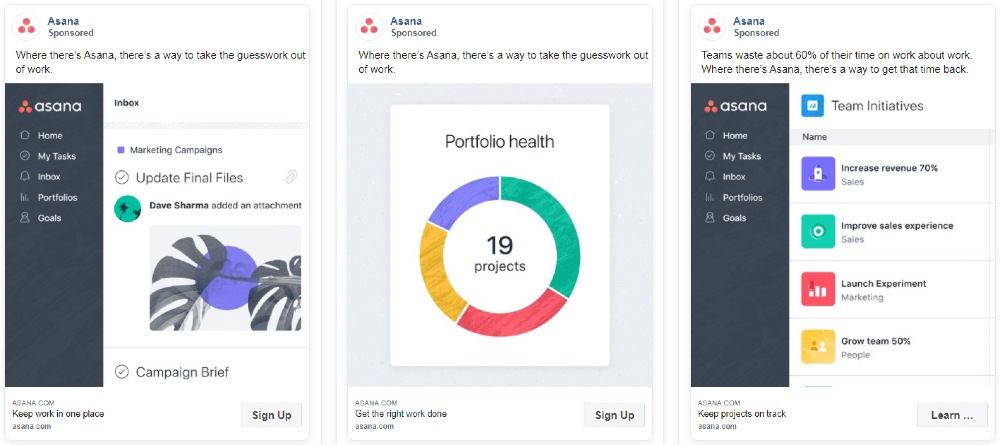 Asana looks to increase sign-ups on their website. To do that, they created a preview of what their dashboard looks like on the ad. They also used charts and icons to produce a variety of creatives for the campaign. Check out the samples on how they designed the ads.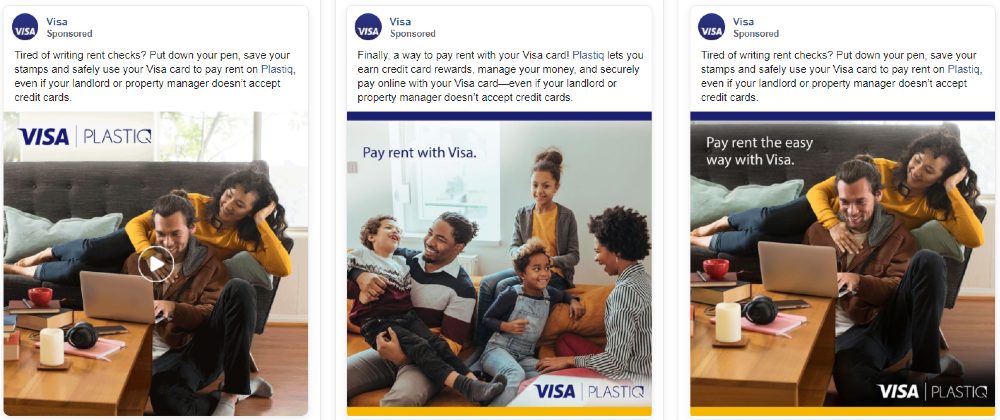 Visa promoted their Visa Plastiq on one of their campaigns. It seems to increase more awareness of the product. When one clicks on one of the ads, they can learn more about it on their website, and they can sign up if Visa is the right card for them. They used a video and photo and even a carousel ad for the campaign.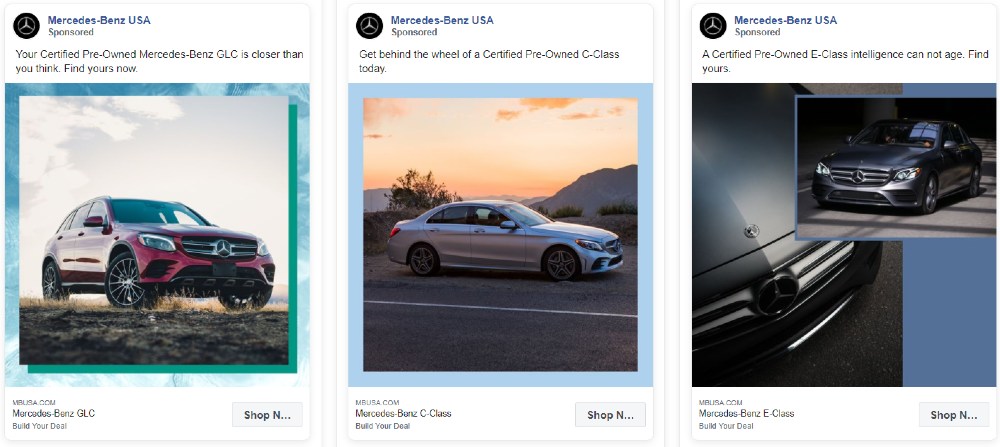 Mercedes-Benz has an ongoing consideration campaign for pre-owned cars. They applied graphic design trends like asymmetry and borders too. Once a user clicks on one of the ads, they get redirected to the site and browse pre-owned cars they can check in their nearest dealership or store.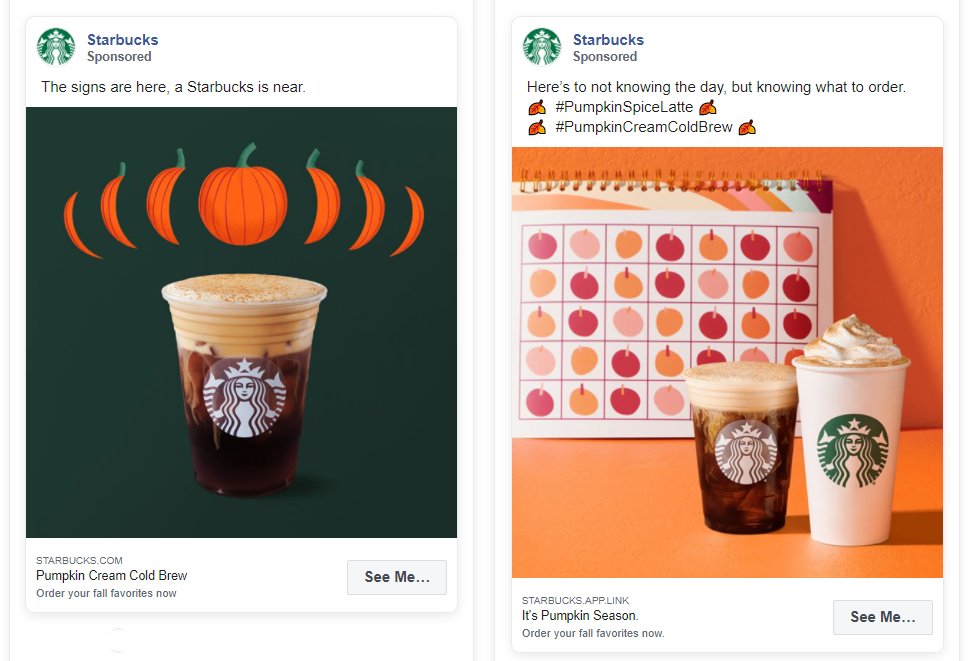 Pumpkin Spice Lovers will rejoice, knowing their favorite drink is once again available in Starbucks. Plus, there are other fall-related drinks that Starbucks fans may enjoy. They use both video and photos to promote the beverages. Plus, they can be redirected to the official Starbucks website or app to order the drinks. Here are samples of how they designed their ads.
Requesting Facebook PPC Campaign Designs on Penji
When you sign-up and subscribe to a Penji plan, you get immediate access to the Penji platform. It's where you can finally make design requests to start running your Facebook campaigns ASAP. Check out our three-step process on how to make a request and receive your designs.
Step 1: Create a Project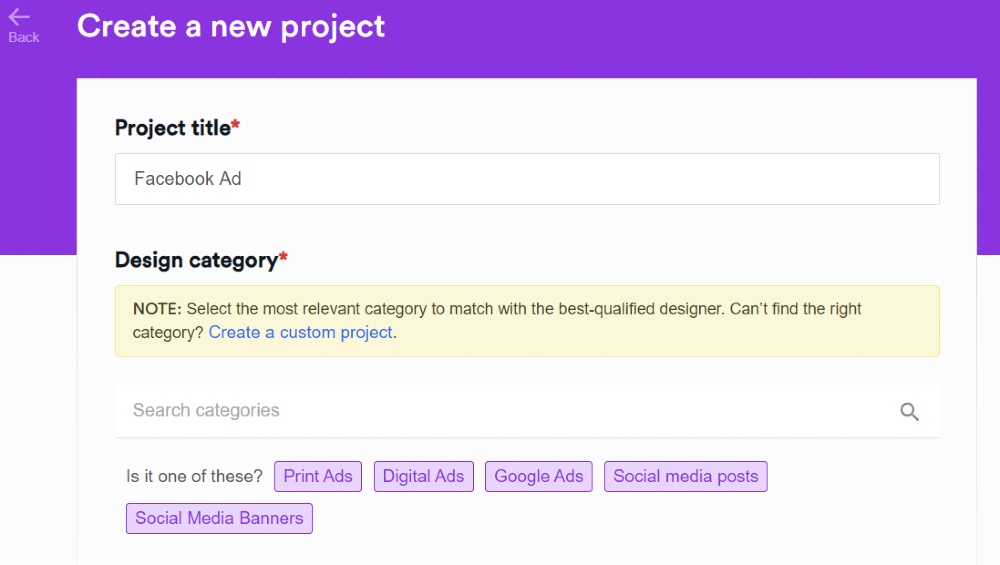 Once you're on the Penji platform, click on New Project. From there, you'll submit a form where you'll fill in details of your design project.
In here, make sure you input the Project title and the Design category to move to the next section.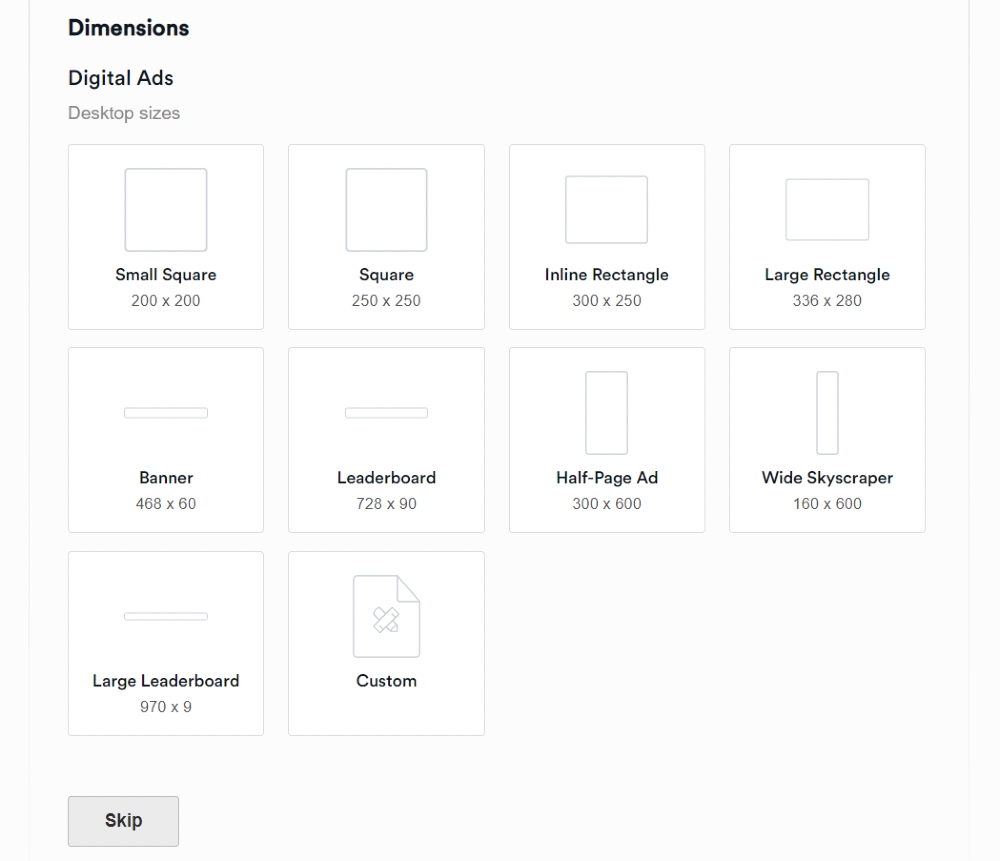 Since you need to request a Facebook ad, select Digital Ads. You'll be prompted to click the type of ad you need. You could either click Custom (you can indicate the dimensions here). Or click Skip and specify the size(s) of your ad on the Description.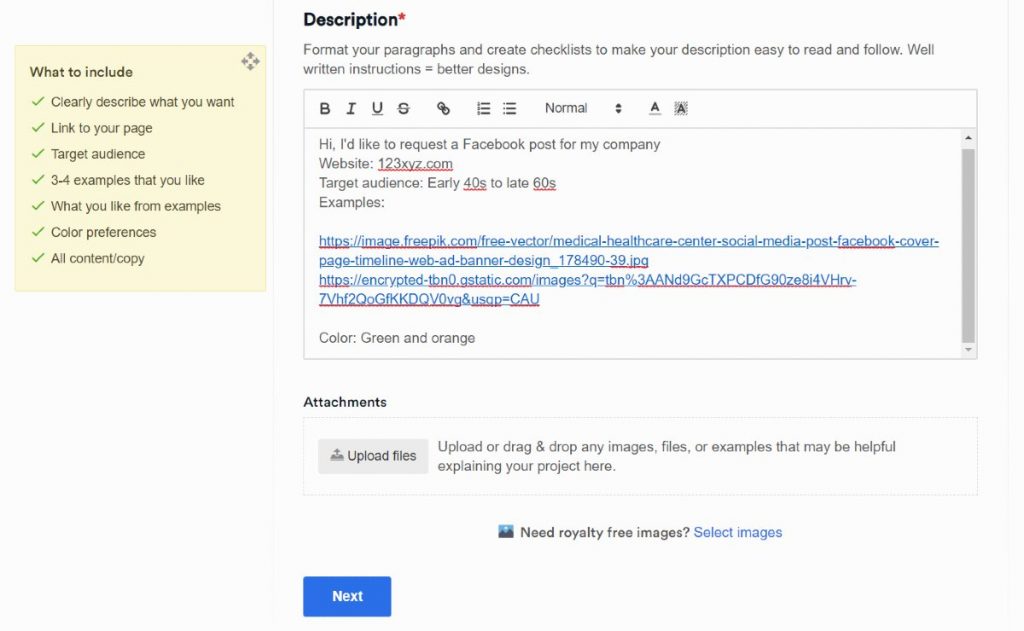 From there, you can write down the Description.
Tip: Designers appreciate specificity while allowing them room to show off their creative prowess.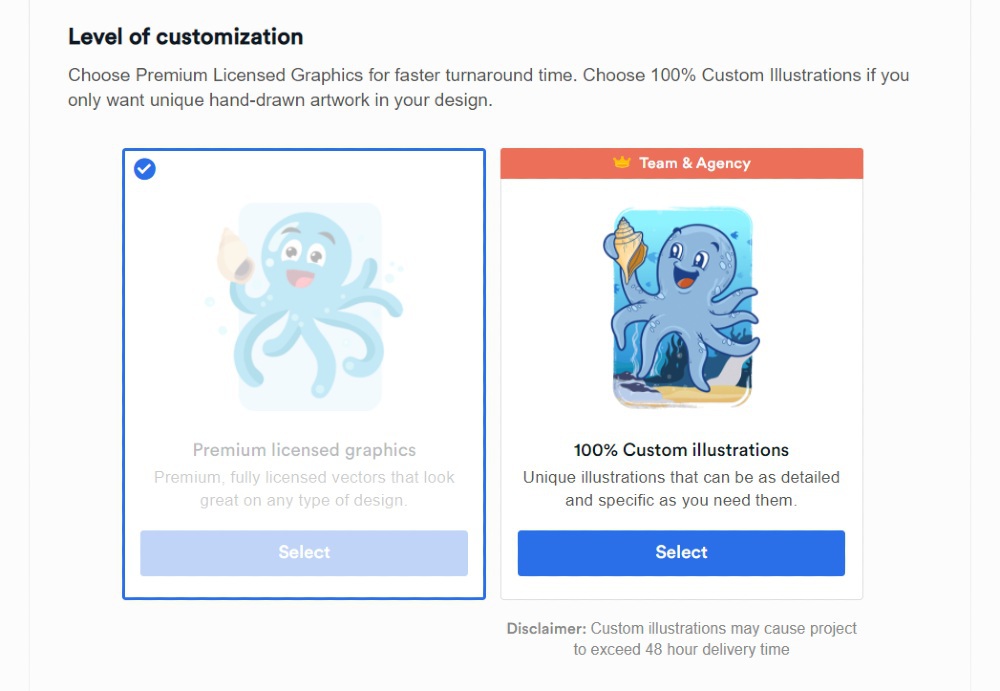 You can also follow the What to Include guidelines to see what you may have missed on your initial project description. Once done, click next, then choose the following:
Level of customization
File deliverables
Associated brand
After this, click Create Project, and you finally have your first active project on the Penji platform!
Penji then assigns a designer to your project, and then they'll submit the first draft within 24 to 48 hours.
Step 2: Review the Design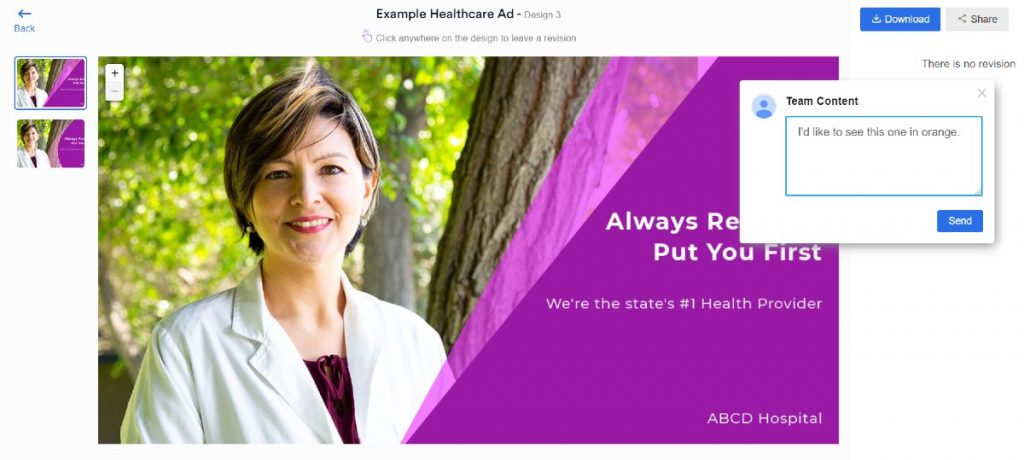 Once you receive the first draft of the design, you can finally review it. You could either download it or have it improved.
One of the reasons why brands love Penji is the unlimited revisions feature. Most design services and freelancers don't offer this benefit. We want to make sure you get the best design. Not to mention, on the Penji platform, there's a user-friendly revision tool. All you need to do is to point and click on the design and leave revision comments.
Step 3: Download the Design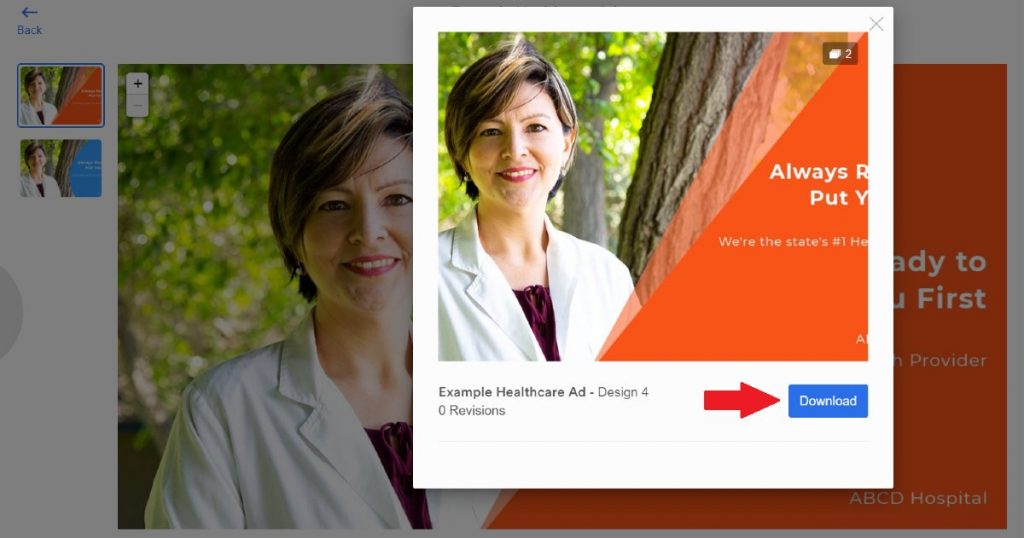 Are you 100% happy and satisfied with your design? If so, all you have to do is download it. Click the blue Download button, and your files will be saved to your computer. No need to request for an email link or go to an external site. You can do it all on the Penji platform.
You also won't have to worry about losing files. Penji stores your files on a cloud. You can always access your files anytime when you need them.
Wrap Up
Advertising on Facebook has become a source of success for companies. In turn, many follow suit to assess if the platform can become a viable option for their Facebook PPC campaigns. Even if more consider using the ad platform, it continues to boom and a way for businesses to earn more revenue.
Let Penji become your graphic designer for your Facebook campaigns. Make your target audience stop scrolling on their feed with captivating designs. This will surely make them click on your ads.
For only $499/mo on the Team plan, request other visuals on the Penji platform. Create design projects for your website design, illustrations, marketing collateral, and more! Sign up now and try the platform 100% risk-free for 15 days!