With 2.7 billion users worldwide, it's not a surprise that many advertisers are flocking to Facebook to market their goods and services.
But merely using the platform isn't enough; having the right Facebook ad design and strategy are paramount to making your ad spend worth it. In fact, many of our clients here at Penji come to us for Facebook ad designs. A professionally-designed ad creative helps ensure that it will get approved, and more importantly, it will convert.
Despite the presence of digital marketing agencies who are good at what they do, you can also opt to handle ad placement by yourself. If you know exactly what you're doing, that is. Otherwise, you'll bleed faster than you'll realize.
The good news is, there are a ton of valuable info sources online if you only care to learn. In fact, Facebook Business Help Center itself offers info-rich guides designed to gear users for success.
In this article, we'll go through the top secrets professional Facebook ad marketers don't usually tell clients (hey, they need to earn too!). Keep these things in mind as you try to navigate the exciting world of Facebook marketing.
1. Go easy on the text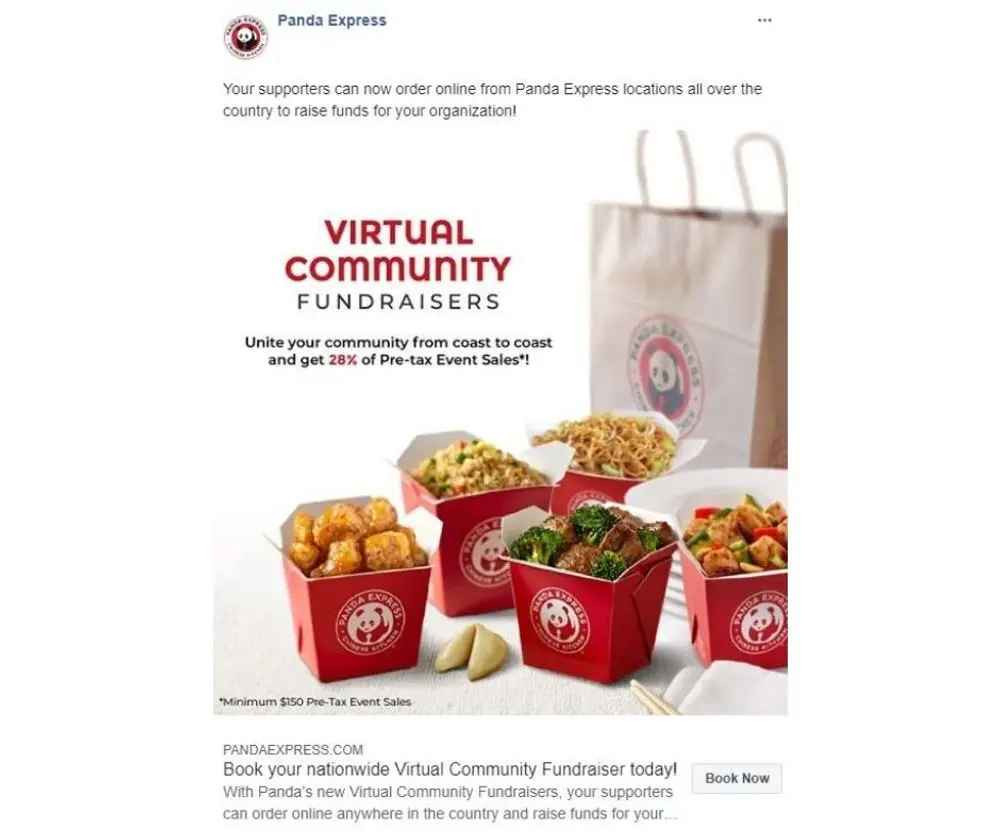 Gone are the days when advertising art for print includes a headline, a tagline, and a long chunk of text explaining what the product or service is all about.
If you look at Facebook ad design examples, you'll see that all of them have minimal text or none at all. Why? Through time, Facebook saw that the best-performing ads are those with little to no text. As a result, they made a rule to only approve image ads with a maximum of 20 percent text.
That said, only include the most important copy in the image. Everything else, you can put on the headline and caption sections of the ad.
For instance, this ad for Panda Express has text in it, but it doesn't overwhelm the whole image. In fact, the design allows for an ample amount of negative space, drawing the eyes on those sumptuous-looking takeout boxes.
2. Test multiple designs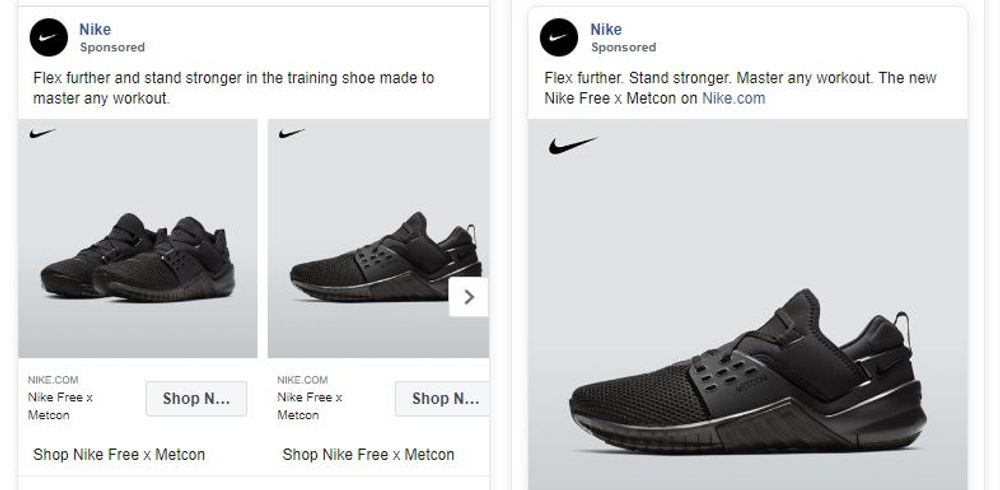 It's hard to judge which ad creative will work and what wouldn't. After all, visual stimulation can greatly vary from person to person. And sometimes, even if an image looks perfect to you, it may not be enough to catch your audience's attention.
That said, testing multiple designs is a crucial part of gearing your campaign for success. By using more than one image, you can learn more about what appeals to your audience.
Don't believe us? Check out these ads for Nike. The first one is a carousel ad that shows three images of the same item – side view of one shoe, side view of a pair, and the sole of the shoe. They also ran a single image ad showing one of the three photos used for the former.
PRO TIP: If you're going for a carousel ad, you can enable an option that automatically shows the best performing cards first. By doing so, you're practically surveying your audience to gauge which image draws them in.
3. Design based off of buyer personas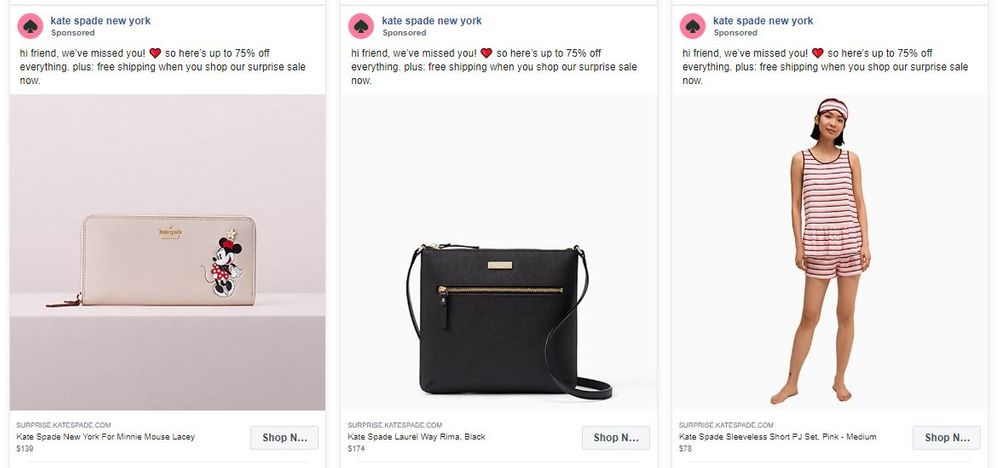 Here's one thing that sets professional marketers apart from amateurs: they don't merely rely on a Facebook ad design inspiration. Instead, they take a close look at their audience and design ads custom-fit to suit their specific needs.
Take a look at these ads for Kate Spade New York. As the captions suggest, all three ads seem to be part of one ad set. But the marketers choose to run three different ad creatives all at once.
As you can see, the image used for each ad is different and appeals to a separate buyer segment. The Mini Mouse wallet may appeal to someone who likes cute and nostalgic items, but not to someone who likes minimalist accessories. So, to attract the latter, they chose to use an image of a sleek back purse.
4. Use social proof and testimonials in your design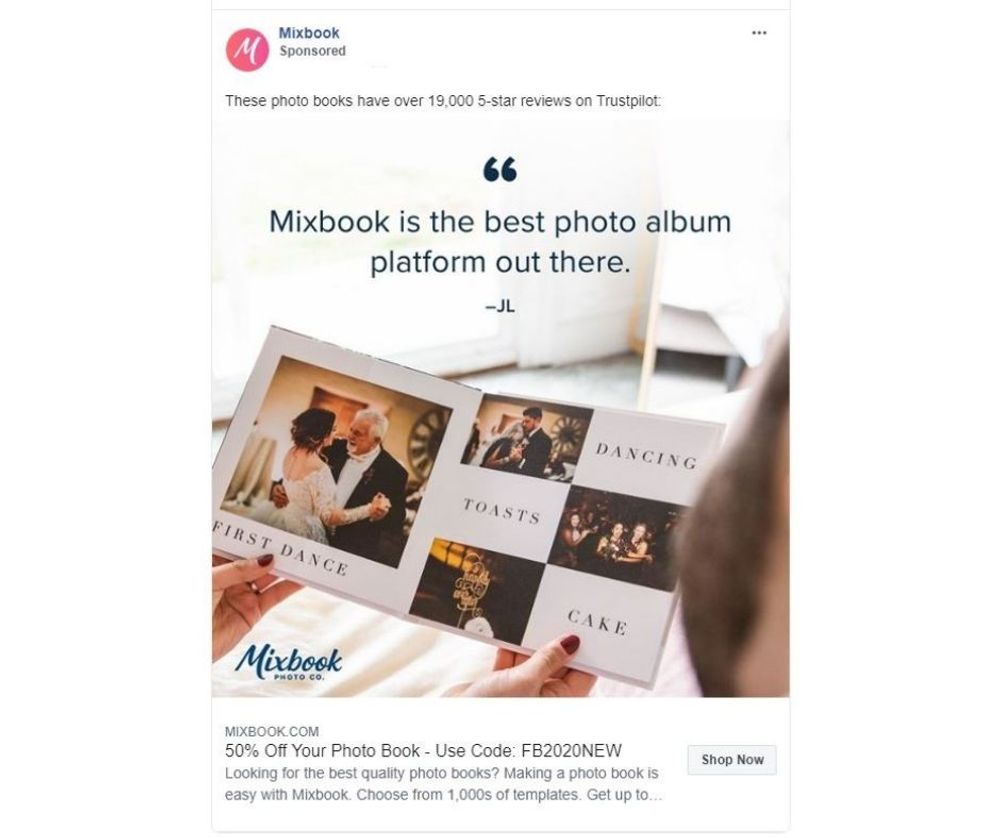 Many marketers use social proof and testimonials in their social media marketing strategy. However, it's also a great tool to use in Facebook ad design.
For one, testimonials give Facebook ads a personal touch. It's somewhat similar to letting former clients "convince" the prospects to join them in your community of supporters. In addition to that, it also takes the material from a mere ad to a recommendation.
When choosing the review to use, make sure to select one that's relatively short but persuasive. For instance, this ad creative for Mixbook is an excellent example. After all, you wouldn't want to go beyond the 20 percent text rule.
PRO TIP: Marketing specialists don't use the term "review" in the caption because it sounds too "salesy." This might counter the sincerity you're trying to achieve with a social proof ad.
5. Images MUST stand out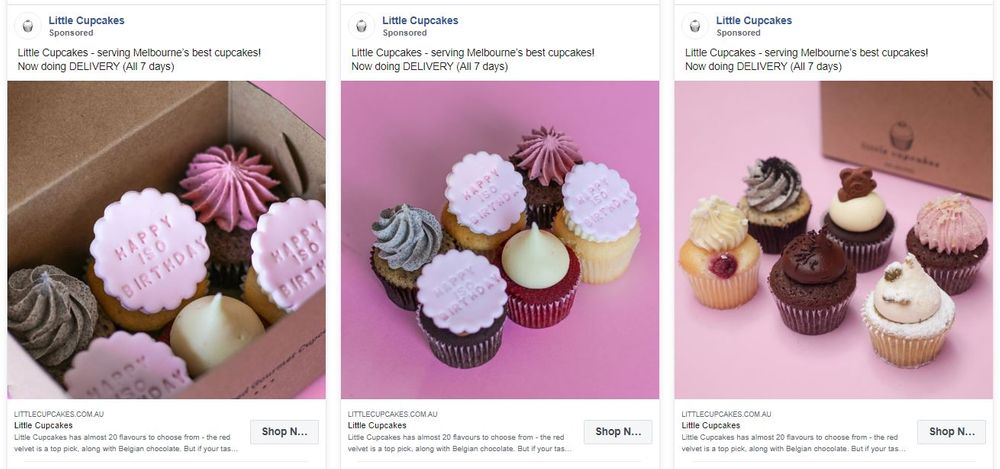 Here's the huge challenge to every single Facebook marketer out there: stopping the scroll. Users' eyes may be glued to the screen, but if your ad doesn't spark their interest, then it's another opportunity lost.
That said, it's critical to use ad creatives that catch the audience's attention – it must stop them in their tracks. Take these beautiful ads for a Melbourne cupcake store, for example. What kind of a person with a sweet tooth wouldn't stop and drool at the sight of these beautiful images?
This is one reason why a ready-made Facebook ad design template typically won't work to boost a brand. Generic designs tend to look drab. At Penji, every one of our Facebook ad graphic designers has the skills, knowledge, and training to create ad creatives that pack a punch.
6. Design around emotion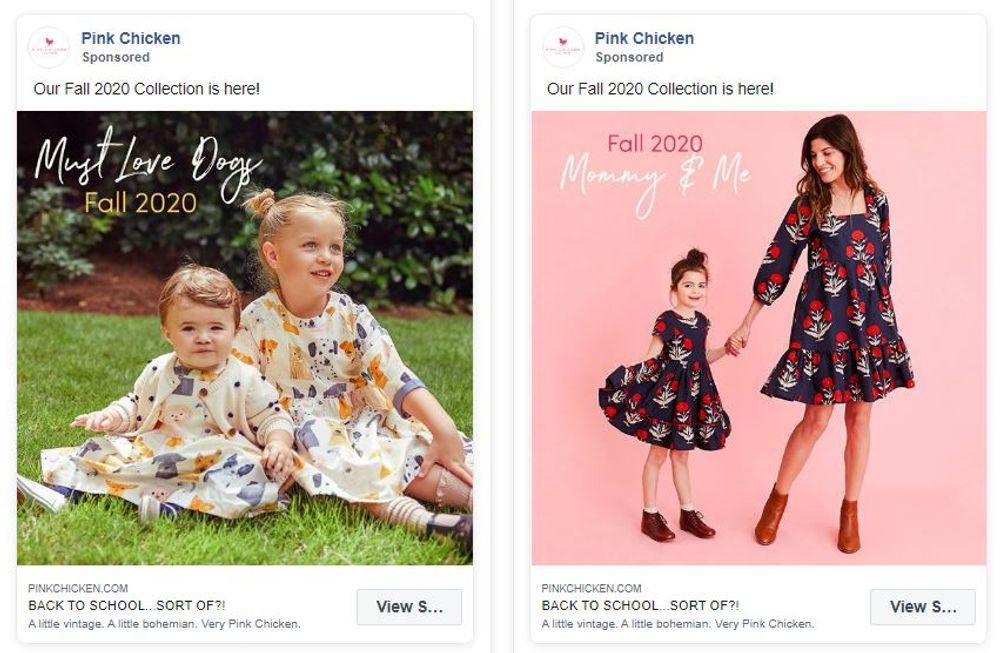 The best creative images don't only tantalize the eye but touch the heart at the same time. It's the oldest trick in the book; making the most out of emotions to draw attention to a product, service, or brand.
Take these ad examples for an apparel line, for instance. The marketer could have highlighted the quality of materials or trendy cuts. However, the brand knows that their target audience is mostly parents. So, they used images that remind the audience about bonding and having a close sibling or mother-daughter relationship. The ad painted the product to represent an ideal family connection.
7. Placement is key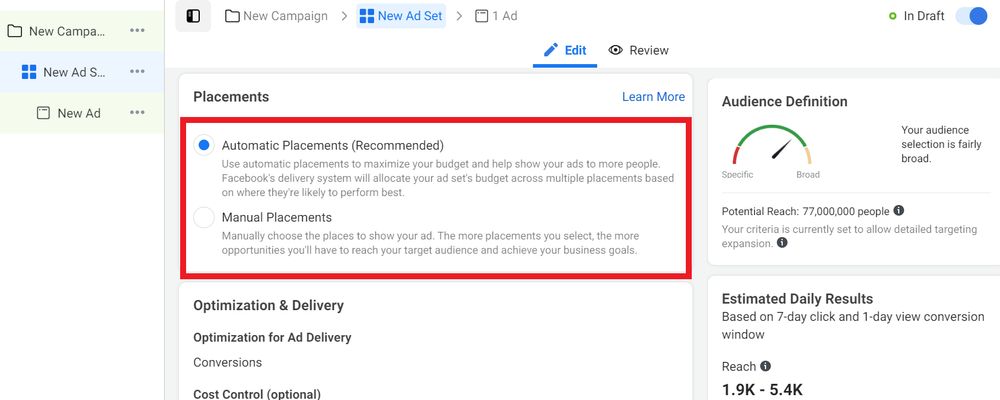 When you create a new ad, Facebook Ads Manager will ask you to pick one from two placement options: Automatic and Manual. Here are the key differences between the two:
Automatic. Facebook Ads manager recommends this option for most advertisers. It allows the system to maximize opportunities to show your ad from the widest range possible. Depending on the engagement and performance, the system may show it on Facebook, Instagram, Audience Network, and Messenger to maximize your set budget.
Manual. This setting allows you to pre-select where the ad will appear. Aside from the general platform categories mentioned above, you can also choose the specific placements, such as:

Feeds
Stories
In-stream
Search
Messages
In-Article, and
Apps and Sites
Facebook ad design matters in this department because the size and format should conform to the ad placement. For instance, Facebook recommends a horizontal (1.91:1) image for general search and Marketplace search. For stories, on the other hand, the platform recommends a fullscreen vertical (9:16) image.
8. Play into people's interests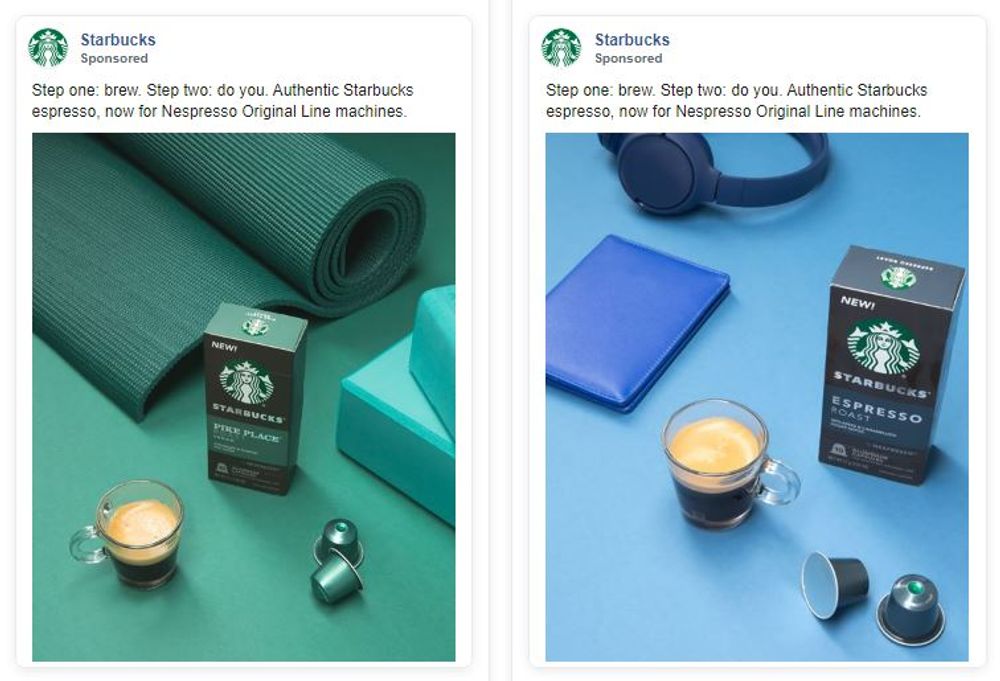 Personalization is one thing that makes Facebook ads different from traditional marketing channels. For one, the platform is delivering the ad straight to users' personal devices – the same device they use to take personal notes and communicate with friends and family.
In addition to that, people's interests are built into the whole dynamic of Facebook ads. You're targeting your audience based on their hobbies, the brands that they support, pages that they like, and even their recent life events.
If you look at examples from the Facebook ad design library, you'll see that many brands integrate other interests into their ad creative. For instance, these two examples of Starbucks ads are not just aimed at generic coffee lovers. The first one is for coffee drinkers who are also into fitness (clue: yoga mat and yoga blocks). And since the second one shows a pair of headphones and a passport sleeve, it could be aimed at travelers.
9. Multiple ad formats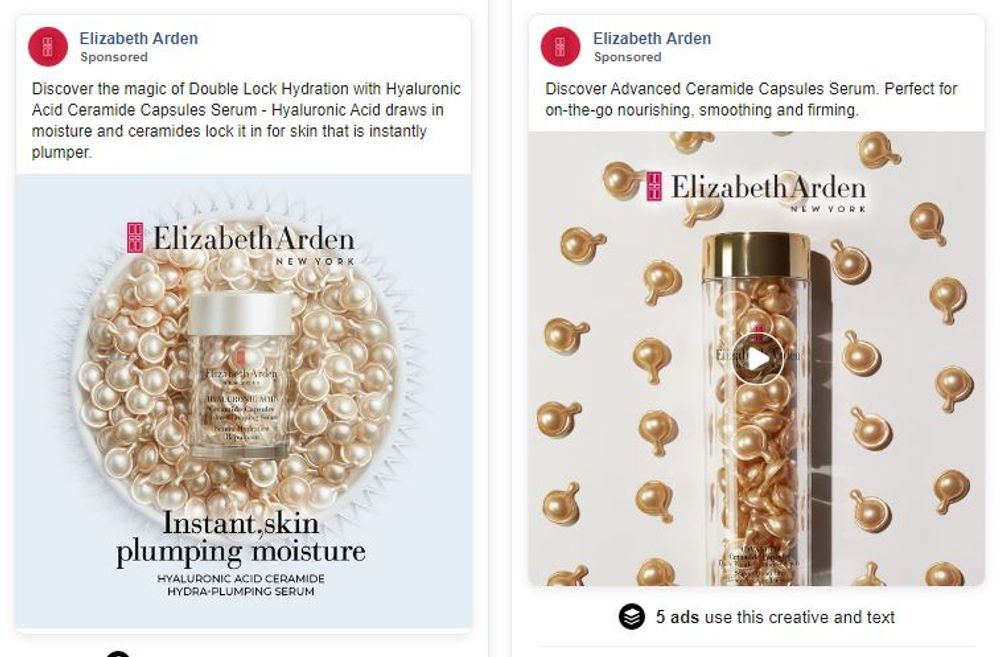 As established above, it's always a great idea to test various designs and even multiple and formats. For instance, just because a single image ad worked well for you last time doesn't mean you should stick to it until the end of time.
Experiment with ad formats and placements – from feeds and stories to Messenger and in-stream. By doing so, you'll gain a deeper perspective about how your audience consumes content and give you a better grasp of how to optimize your ad campaigns.
Take a look at these ads for Elizabeth Arden. They're both for the same skincare product, but featured different formats (one is an image, the other is a video) and different creatives.
Requesting a Facebook Ad Design on Penji
Learning the ropes of Facebook ads is challenging. Luckily, we can help in the design department so that you can focus your time and energy on strategizing and managing your campaigns.
Best of all, requesting for a Facebook ad design from us only takes three easy steps!
1. Create a Project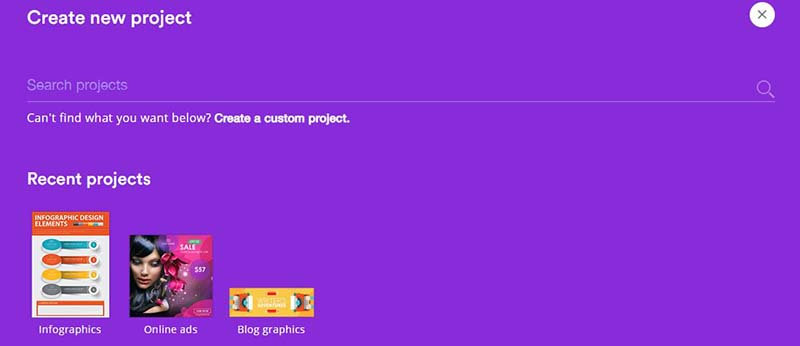 In the Penji dashboard, click New Project. Type in a project title and select social media posts. You can customize the size of the requested image to fit the type of ad you're placing. For instance, a single-image Facebook ad size is usually 1,200 x 628 pixels while carousel ads are typically 1,080 x 1,080 pixels in size. Type in the description, including product photos, color palette, and other details about the project. Click Create Project. It will be assigned to a designer who specializes in Facebook ads.
PRO TIP: Help your designer understand the goals of your project request. You can include links of peg images and other relevant resources such as your website, social media accounts, or past ads.
2. Review and Revise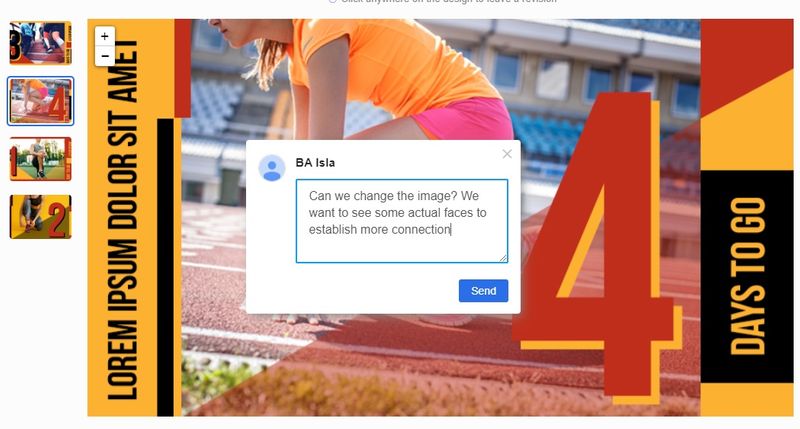 Within 24 to 48 hours, the assigned designer will get back to you with a design draft. To open, simply click the attachment within the thread. If you need anything revised, hover the pointer over the part, click, and type in your comments. The designer will revise the image according to your instructions. Our packages come with unlimited revisions, so feel free to request changes until you're happy with the design.
3. Download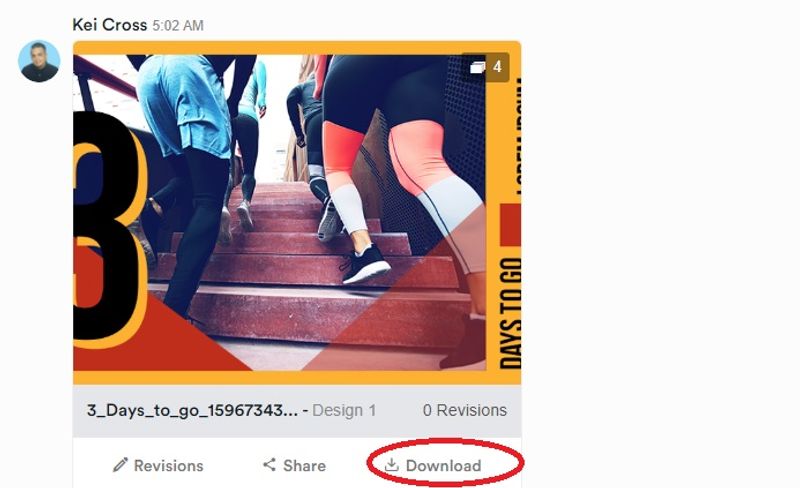 Once you're 100% satisfied with the images, click Download and it will automatically be saved on your computer. Aside from ad designs, you can also use our subscription services for your logo designs and other branding visual assets.
Key Takeaways
Here are a few tips to keep in mind before you start a new campaign:
First and foremost, familiarize yourself with Facebook ad design guidelines. In a way, you need to be creative without going too far beyond the box. Otherwise, your ad won't get approved and all the time and effort you've put in will just go down the drain. Know the rules and work within those parameters.
Base your ad decisions on solid data. Various FB ad gurus have different parameters on when to continue running and when to kill an ad. Be sure to examine the analytics carefully before proceeding to the next step.
Use a Facebook ad design service for your design needs. By delegating this heavy task to a pro who specializes in it, you can focus more on campaign strategies. And by this time, you should know that there are just too many factors to consider when running campaigns.
Just like any other advertising platform, placing an ad on Facebook doesn't always guarantee results. But with the right preparation and an informed strategy, you'll surely up your chances of getting your investment's worth.
Like what you learned? Share this article with your team! And if you haven't done it yet, sign-up for our services today and get to enjoy our premium services risk-free for 15 days.