Email marketing is an innovative way to connect with your subscribers. Marketers and designers have integrated their version of email campaigns in order to create brand loyalty. But, in order for subscribers to be interested in clicking on your email campaign, your email design has to be compelling. Design is an important feature to have in an email, it keeps viewers from leaving and it most definitely attracts consumers.
And creating email designs is time-consuming. It needs various design elements to convert leads. Delegate your email newsletter designs to Penji, an on-demand graphic design service that offers affordable monthly rates in exchange for unlimited designs. Check out their portfolio here.
In this article, read on the different types of emails to send for your marketing campaign, and tips to create the best email design. Plus, check out some examples to inspire you.
Email Design Tips
Before you know which types of emails you could send for your email marketing campaigns, here are some design tips to get you started.
Keep it Simple
Simplicity is the key to win over an audience. Less is sometimes more, according to design experts. It is effortless for consumers to interpret, easy on the eyes, and is more likely to attract a broader audience. Do not distract your viewers with a complex design that is hard to decode. Allow the focus to be on your message and brand. Design is only there to enhance your message, it's not supposed to be the center of attention.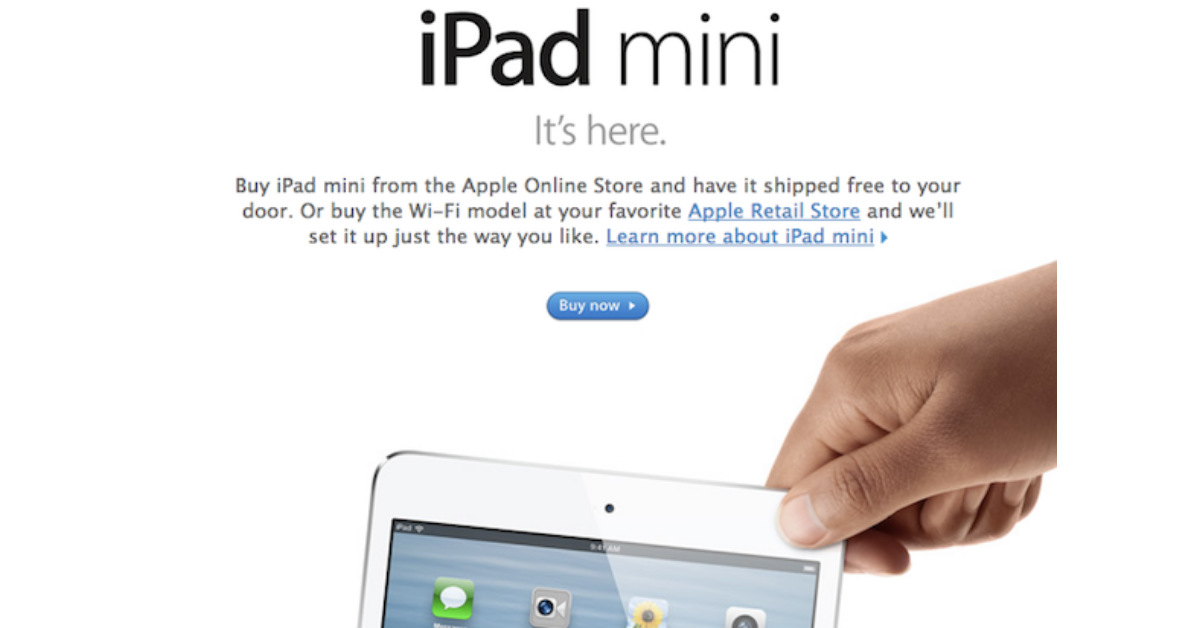 Apple invents all sorts of products ranging from iPhones to MacBooks. Just like their products, their emails are designed in a modern and simple style. A sense of simplicity promotes a style of luxury and relaxation. Consumers are more attracted to simple design in order to better focus on the product.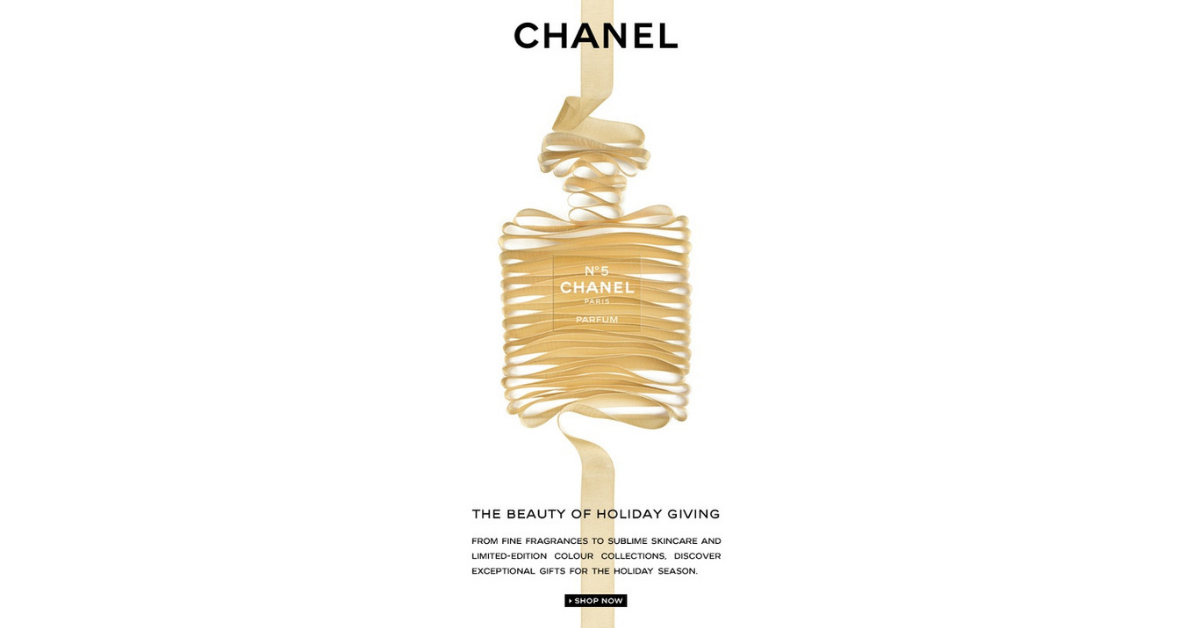 Chanel is a moderately luxury brand, as it shows in their email design. It's an illustration of a simple golden ribbon that is shaped into their perfume product. It's a clever design that is aesthetically pleasing, as well as enticing enough to share.
Consider Adding Animation
Most people have a full mailbox, awaiting them are mundane, poorly designed automated emails. Do not be the email that gets skipped over and ignored, simply because you blend in with other emails. In order to be interesting, have animations within your email. Animations are a fun email design inspiration that can be very useful for getting a lot of views.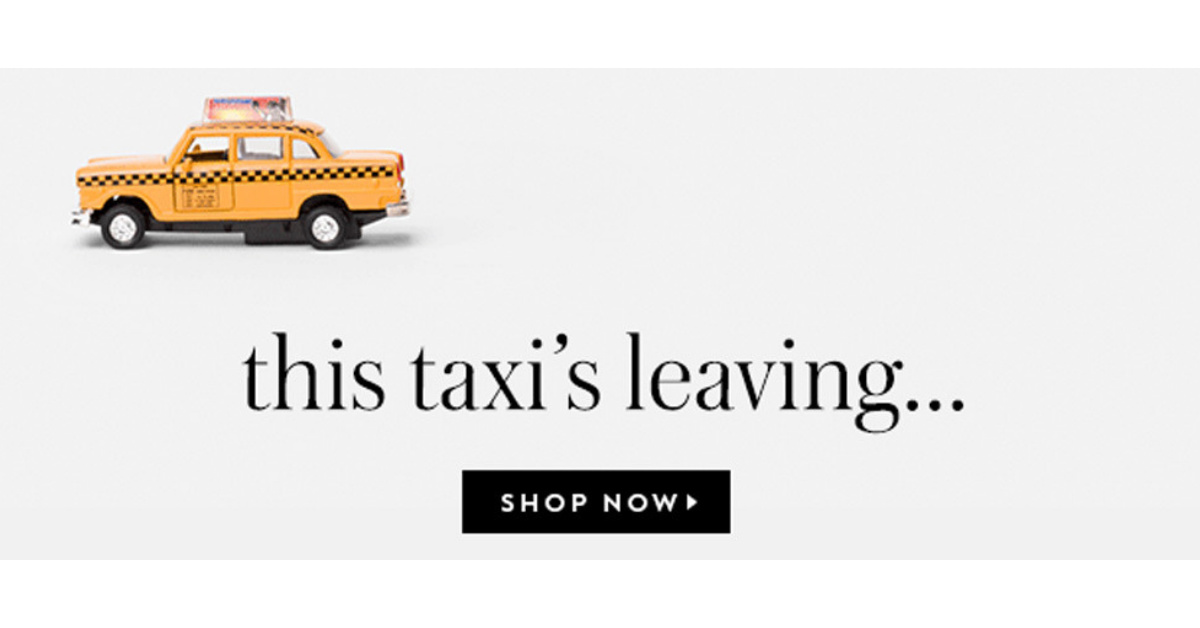 Kate Spade is known to create clever emails, especially due to the added animations. The email above has taxi cars moving in the email. Although it is a simple touch to include, it's fun to view and it shows that the business is creative.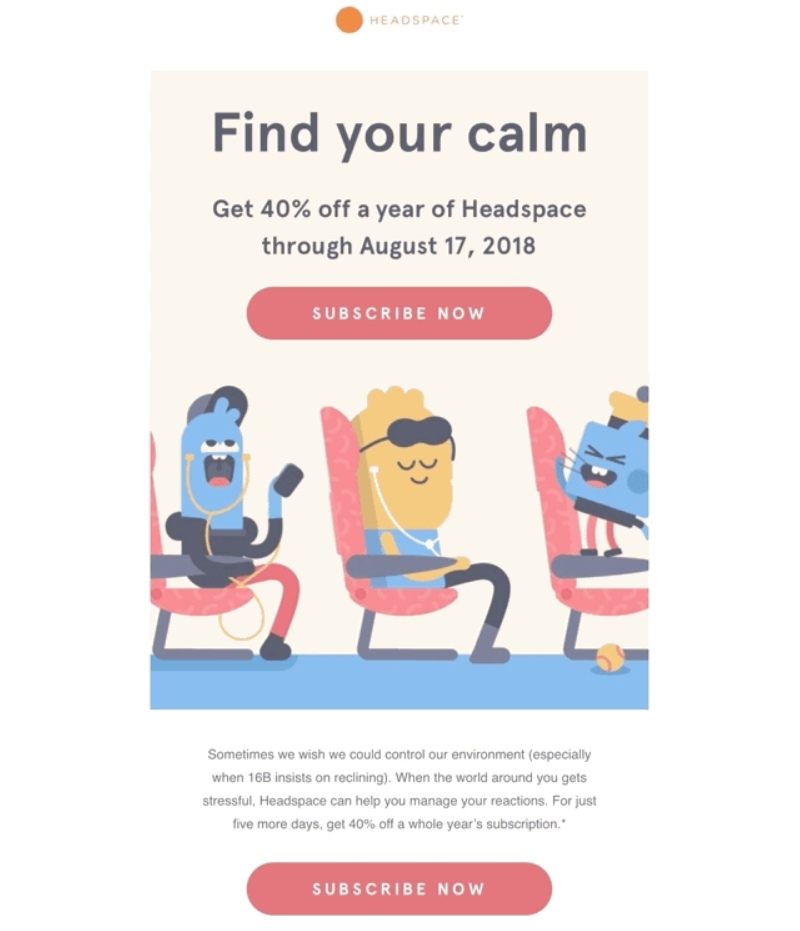 Headspace never fails to create compelling visuals on their social media platforms, emails, and website, and app. On one of their emails, they used animation on their characters. It looks like a fun email to view, and it can make a subscriber click on the CTA button.
Content is the most important aspect of an email. Make sure that your subscribers will be interested in what you have to offer. Animations will make the email appear less serious and more welcoming to consumers. It can look like a friendly and fun company to have around.
Make It Legible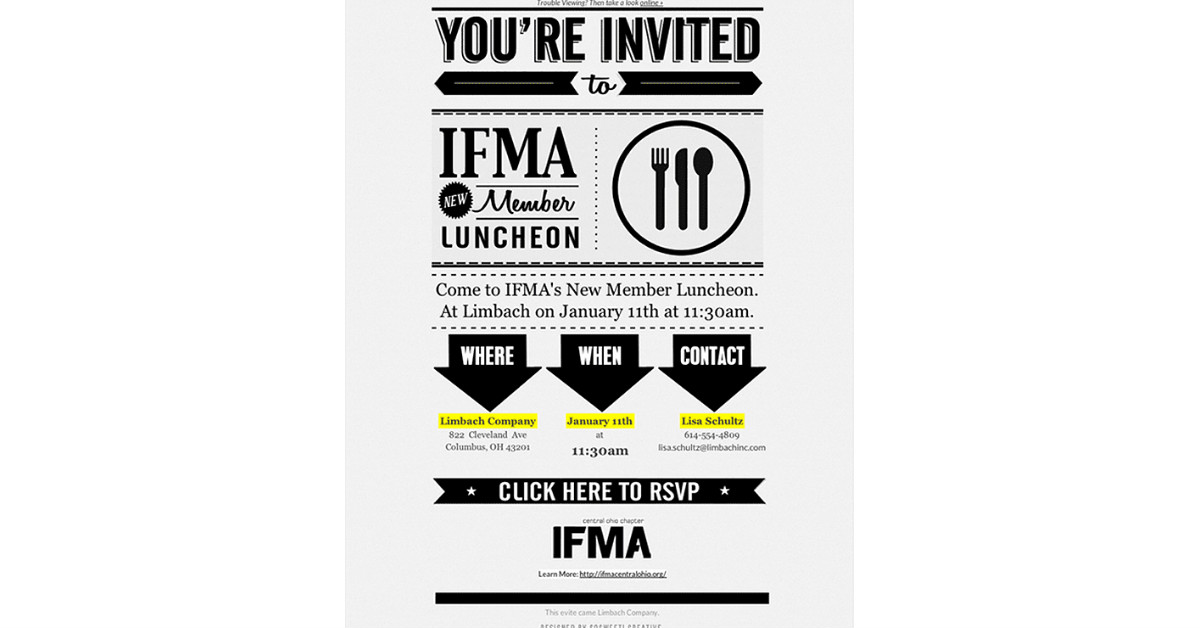 The invitation above is legible, as it should be. So Sweet Creative made sure the content is easy to read because it's an important message. The fonts are creative still but extremely considerate in the legibility.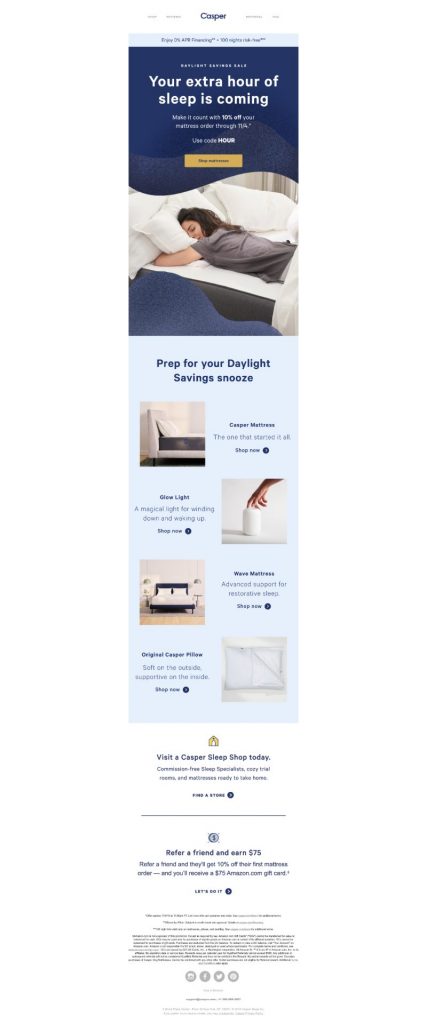 Casper knows how to use headings effectively. This allows the subscriber to focus, which would eventually funnel to the CTA. It's nice, too, they either use illustrations or still images for any email they send to subscribers.
Focus On Color
The email above is bright and noticeable. The purpose of it is to be vibrant and to express a fun and free spirit.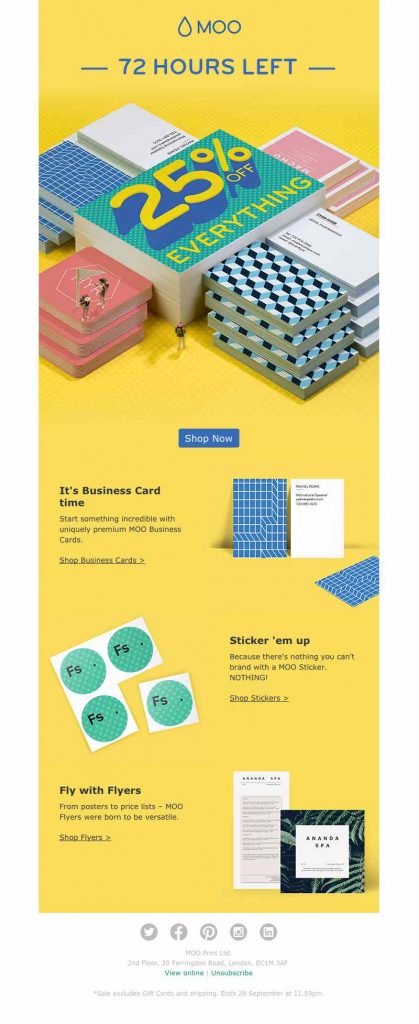 When it comes to color, you don't have to go overboard. Sometimes, you can mix it up like how Moo creates their emails. They use different colored backgrounds. In this example, they use yellow, which will make the email stand out from others.
Types of Emails
If you're thinking of implementing an email marketing campaign, here are the three basic emails you can send to your leads or subscribers.
Promotion
Email is another channel where you can promote your products or services. According to My Emma, marketers like promoting through email because of the ROI it yields. Added to that, Litmus found that the ROI is $42 per every $1 spent on email marketing campaigns. So, you shouldn't disregard the power of email marketing.
Here are the four common promotional marketing campaigns for email:
Product or Service Promotion
Holidays
Deals
Product Promotion
If you have a business product, you can showcase your new products or even current products with email design. This is a great email design inspiration to show off your brand. For example, seasonal themed designs should be marketed in your email. Consumers tend to follow a theme. So, when you create products aligned to modern trends or the upcoming seasons, there is no faster way to inform people than through a subtle email. You can also use an email outreach program to help.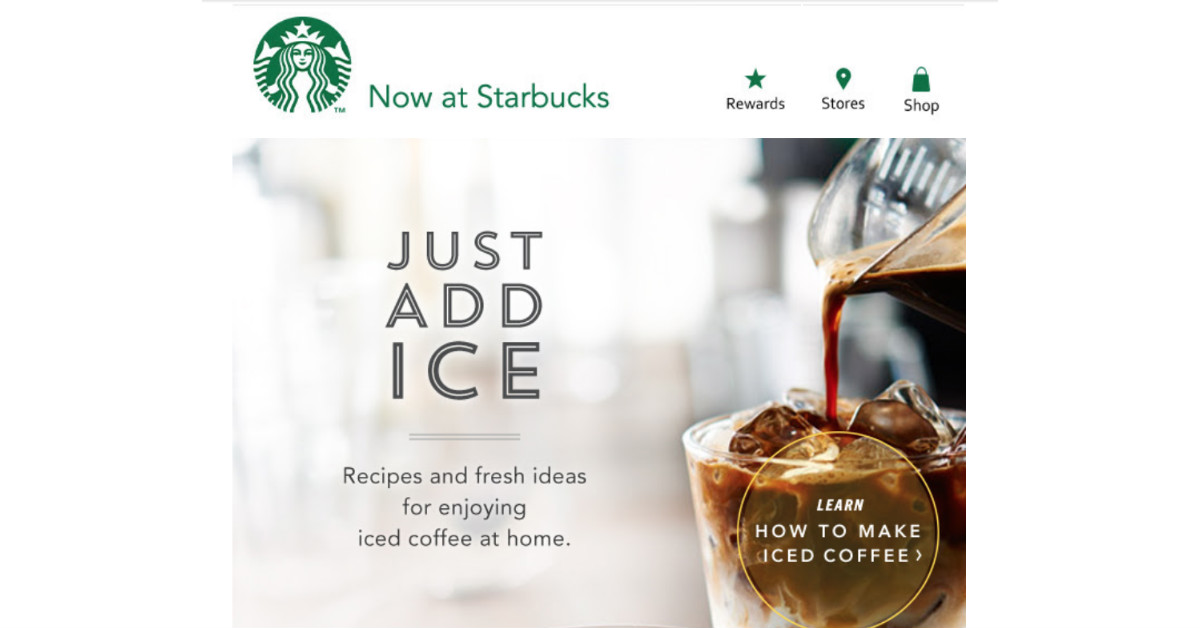 Starbuck sends email campaigns to their subscribers regularly to either update them on the new coffee inventions or to simply learn basic barista tricks. The email above promotes their own product, as well as provide quality content for their subscribers to use.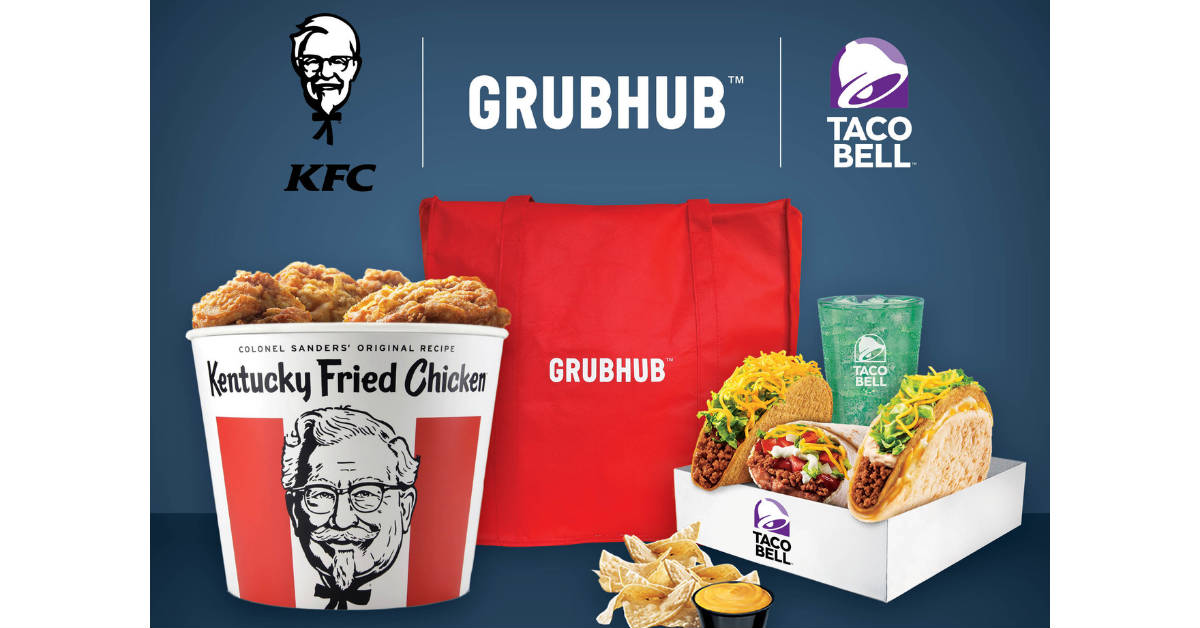 Grubhub showcases the food companies that they work with and can deliver for. They entice their subscribers with the images in order to promote their delivery service.
Holiday Promotion
The holidays are one of the most important times to market. Consumers are more likely to impulsively buy products during the holidays. When you promote the holiday and get into the spirit of the season, it radiates into a positive impression. During the holidays, people tend to gravitate towards any form of design or product that embodies that spirit. For example, consumers spend exceedingly more for Christmas. So, the market during the time is when consumers spend the most.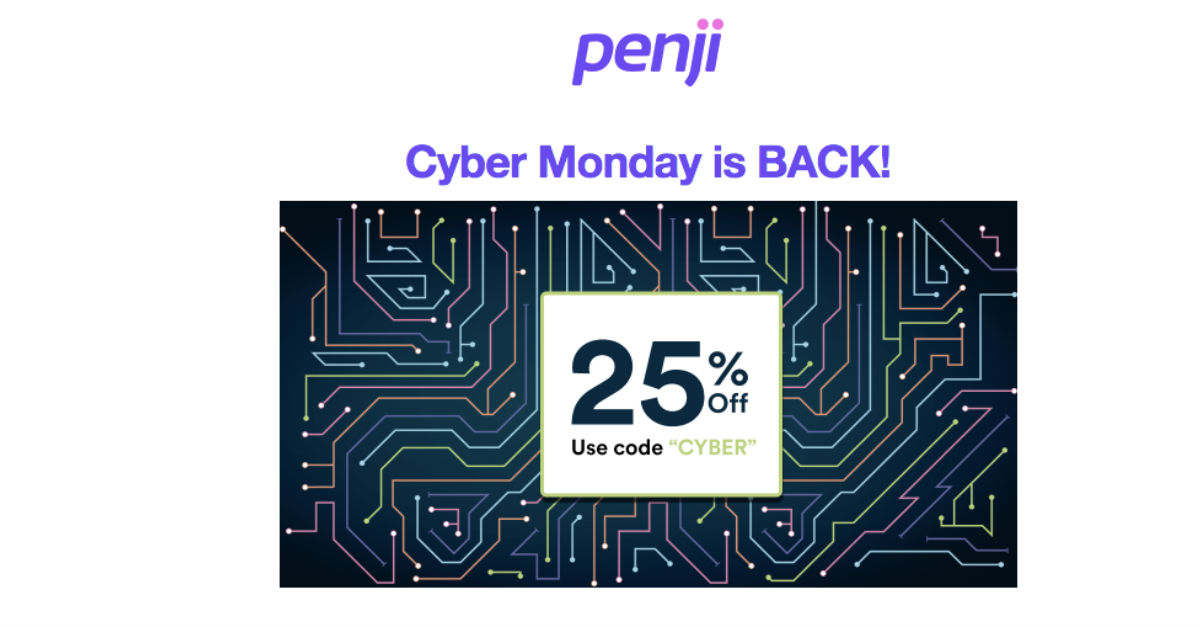 Black Friday is a special holiday for consumers and businesses. To be a part of the tradition, celebrate by giving deals and promoting it through email campaigns.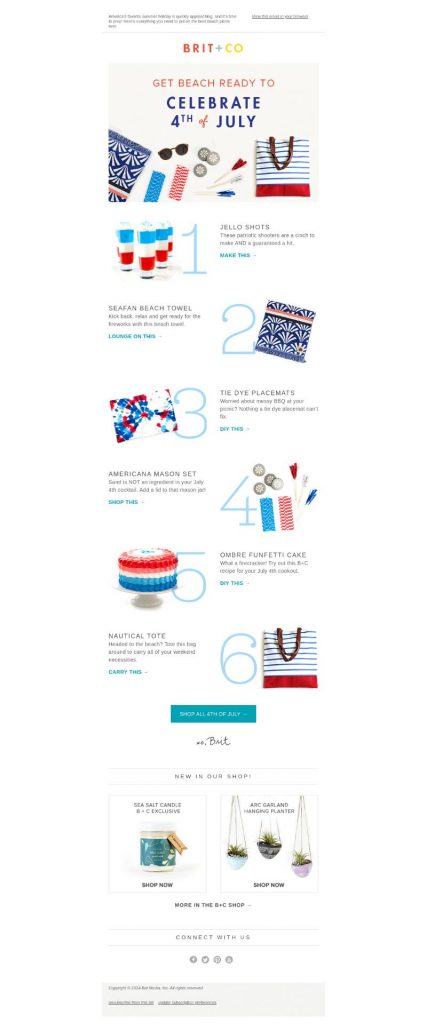 Check out this email design inspiration from Brit+Co. In celebrating the 4th of July, they incorporated colors that relate to the holiday. Since the 4th of July coincides with summer, it's great they made it relevant to both the holiday and the season.
Deals and Promotions
Emails are the perfect platform to announce your deals or promotions. Create a direct link on the email for sales conversion fast.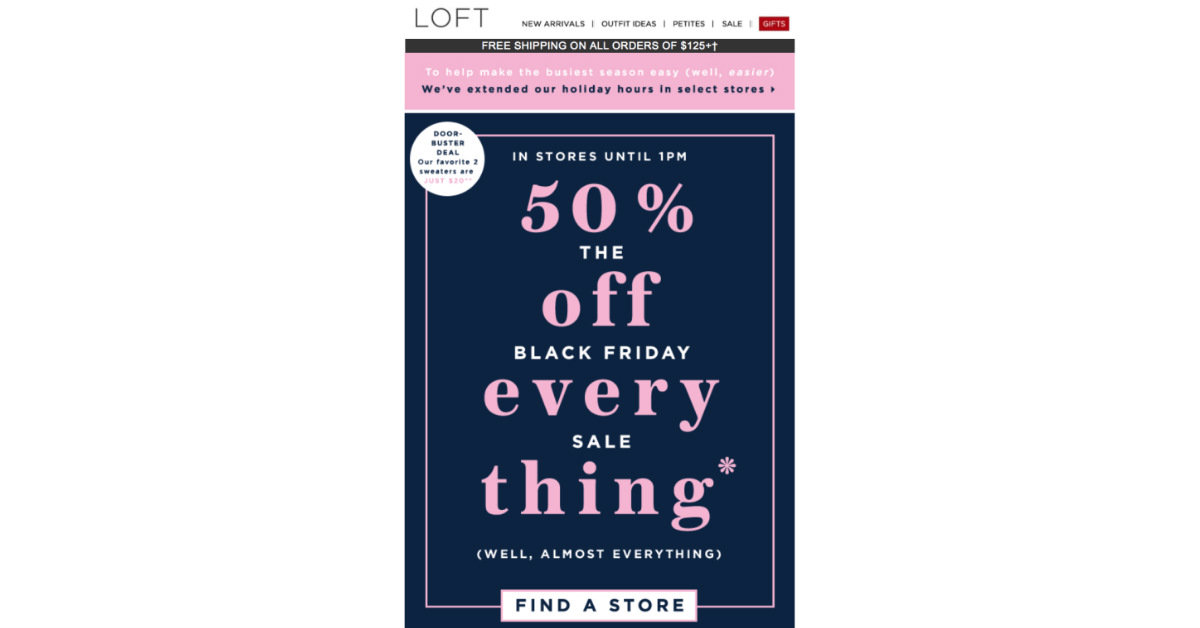 This one from Loft is straightforward. The copy and typography are eye-catching, which will make subscribers click on the CTA.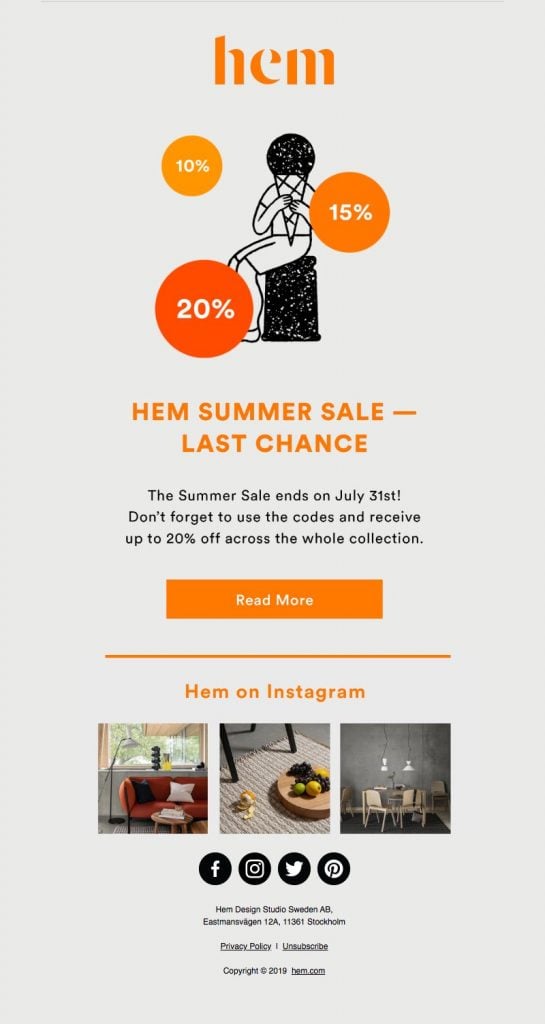 Here's another email design inspiration from Hem. You'll notice three circles with all the discounts. It's also a bonus they used three colors and sizes for emphasis. Moreover, it's great that the email is short too. This will allow the subscriber to head on over their website and add products to their cart.
Although the design is an important feature in email design. The font that you pick should be legible enough for your subscribers to read. Even though this sounds like an obvious thing to consider, some designers go overboard with their own creativity. You have to be extra considerate with legibility during email announcements, invitations, and other informative news.
And that is why you need to entrust email designs to professionals. Penji's graphic designers belong in the top two percent in the industry. They know how to make your typography designs stand out.
Color plays a huge role in how a design is interpreted. So, designers incorporate this feature very efficiently. Explore various color options like an email design inspiration. Some emails implement a monochrome theme while other brands showcase bright colors to convey their creative personalities. Pick a color that best describes your brand's personality and make sure the design is focused on that feature.
Newsletter
Newsletters are a cost-effective way to maintain regular contact with your subscribers. It is a subtle and indirect way of promoting your brand, as well as provide quality content.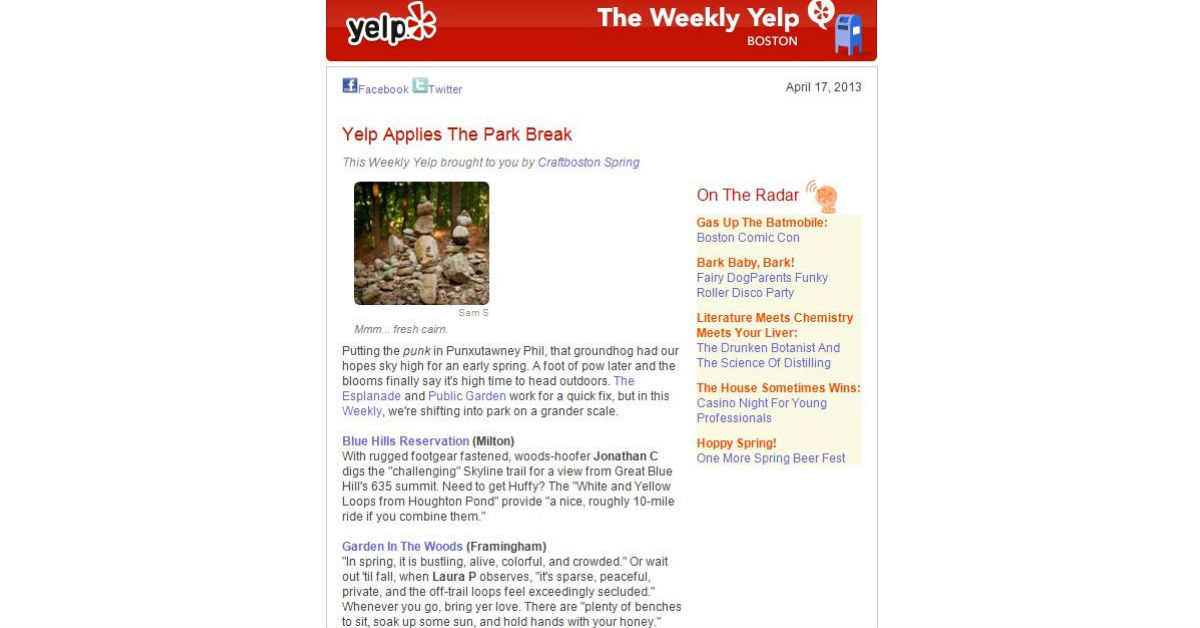 Yelp is a platform to create reviews for food restaurants. To fit in with the branding, the email campaign is informative, just like their business and it has the same design format as their forums.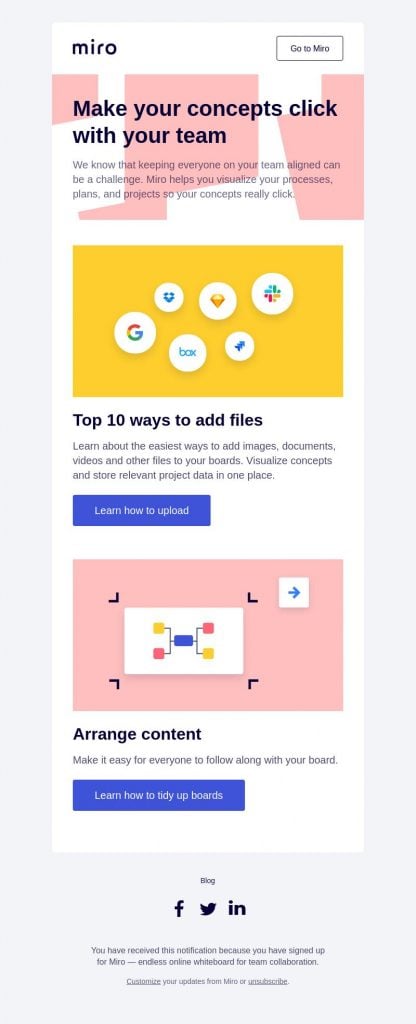 This example by Miro shows that you don't have to put too much information into one newsletter. So long as you present it in an organized way, you can guide the subscriber to take action.
Entrust your email newsletters or marketing campaigns with Penji. Watch this 10-minute demo on how you can request email designs on the Penji platform.
Gifts or Freebies
Make your emails seem exclusive. When a new visitor or lead signs up for emails, you can give them discounts or freebies. This way, they might consider buying a product or availing of a service from you. Who knows, they might end up adding something on their cart after sign-up. In most instances, companies would add discounts or gifts on their Welcome emails or referrals.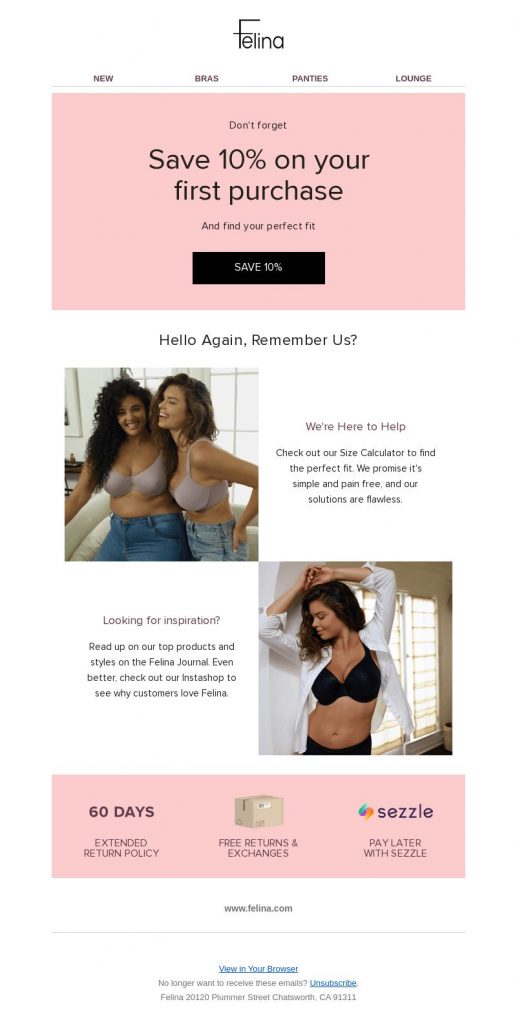 This welcome email from Felina reminds the subscriber to avail of their 10% discount. It's nice they also used a Z-style format at the bottom of the email to make it readable for the new subscriber.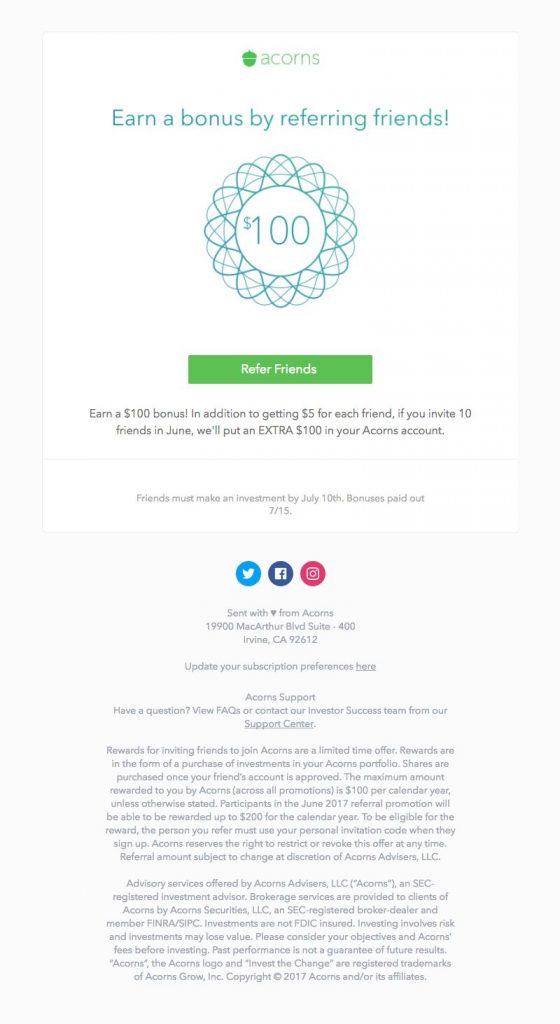 Check out this example from Acorns. All it offers is a bonus, and nothing else. It's simple and clear that it might prompt the subscriber to take immediate action.
Request Unlimited Email Designs from Penji
Using Penji's platform is relatively easy compared to its competitors. It is built with the customer in mind. Here's how:
Create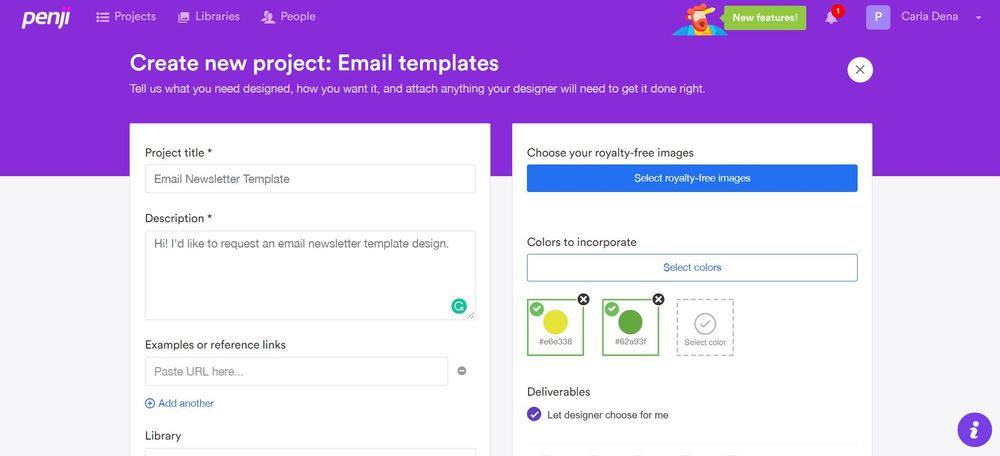 Create a new project on the dashboard and choose the particular project type you want. You may also have the option to create a customized project. The important thing is to provide all the necessary design details for your designer.
Revise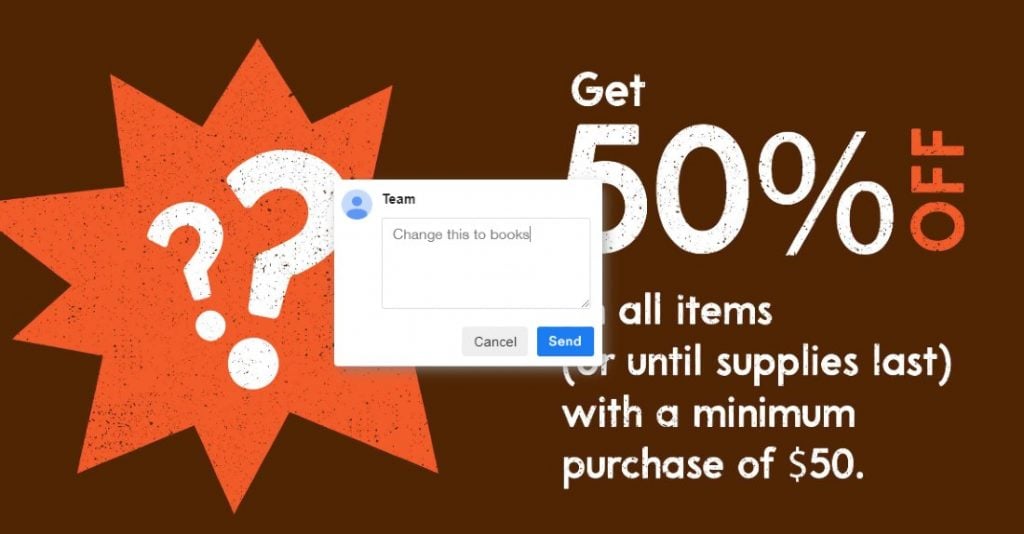 In some cases, designs may need some tweaking and that's okay. With Penji, you get unlimited revisions for all plans. Once you receive the first draft after 24 to 48 hours, ask for revisions if needed. Simply click on the part you want to be changed and type in what your exact requests are. Click on "Submit" and communicate with the designer on the platform further for more instructions.
Download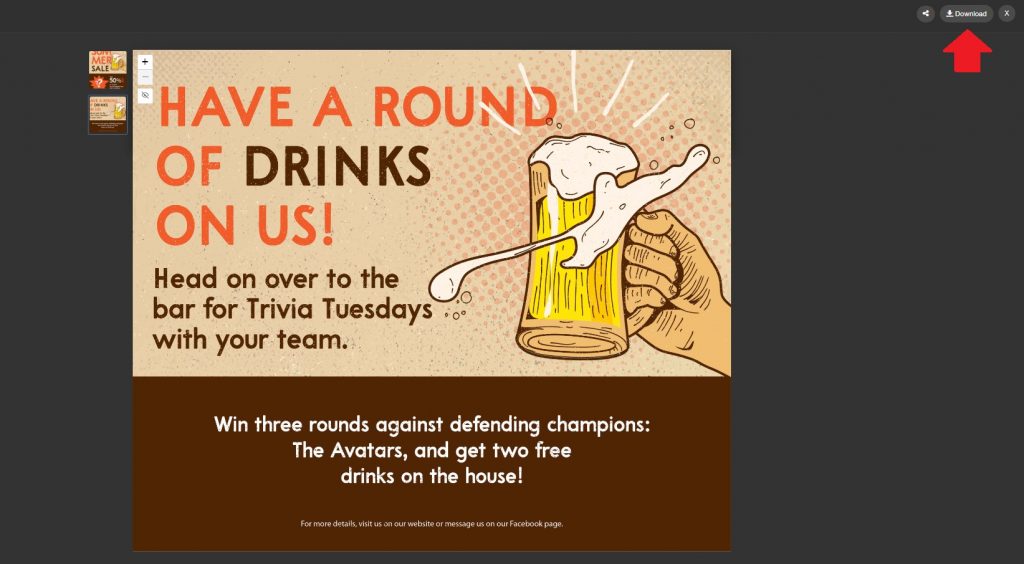 Penji's platform is your all-in-one tool. You can submit design requests, ask revisions, download files, and provide feedback. All you have to do is click on the "Download" button and the design will be saved on your computer.
Conclusion
Subscribing to Penji means you're getting quality, fast, and affordable designs. If you want to try Penji for 15 days, sign up here and submit your first project.