Email marketing can help you communicate efficiently with your customers as an online business owner. This means an adequately managed automated email campaign can attract more customers and let them stay. The good news is that the process costs little for your business.
To help you get started, we compiled a list of the five best ecommerce email automation software you can explore:
1. Brevo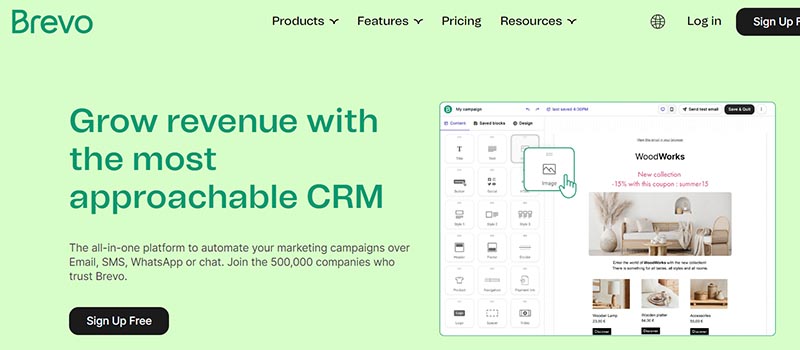 Brevo, formerly Sendinblue, is a SaaS platform for relationship marketing. Established in 2007, it has evolved into an all-in-one platform for automating email, SMS, and chat marketing campaigns.
With Brevo, those new to email marketing can swiftly launch their initial campaign using several workflow examples and over 40 email templates. On the other hand, seasoned marketers can easily construct landing pages and execute cross-promotions with Facebook ads. You can do both from just a single dashboard.
The one-click integrations for Shopify, Prestashop, and WordPress allow you to connect your website to Brevo email automation tools. Alternatively, you can use Zapier to link thousands of apps, including Salesforce and HubSpot, to optimize your workflow. Additionally, the website tracking capability lets you use any user action or website event for automation and engagement.
Key Features:
A high email deliverability rate ensures your emails land in subscribers' inboxes.
Brevo employs double opt-in by default, allowing you to separate transactional and marketing emails into distinct streams with different IP addresses.
Brevo enables the automatic exclusion of unengaged subscribers, assuring higher open rates.
Pricing: Starts at $25/month
2. Drip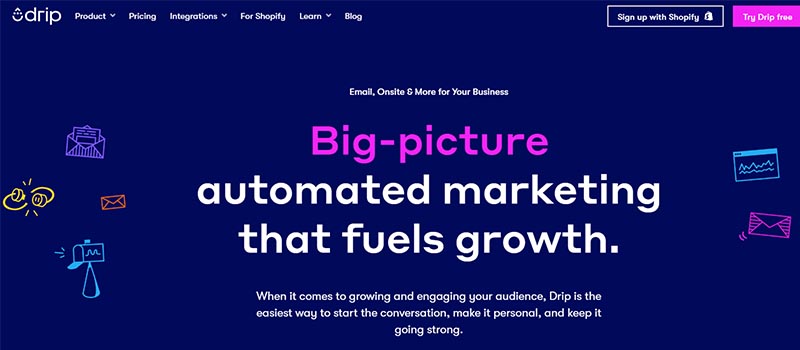 Drip is a customer-centric email marketing automation software designed exclusively for online businesses. Its native ecommerce integrations include Shopify, WooCommerce, Magento, and BigCommerce.
Drip's API can also be extended to work with custom storefronts. In addition, Drip offers a helpful workflow template set that includes abandoned cart, post-purchase, win-back, birthday, and welcome emails.
Key Features:
Integration of smart analytics
Sync segmentation feature with Facebook Custom Audience insights to create comprehensive customer profiles.
The plug-and-play segments and customer-first approach help get your ecommerce store on the most sustainable path forward.
Pricing: Starts $39/month
3. Omnisend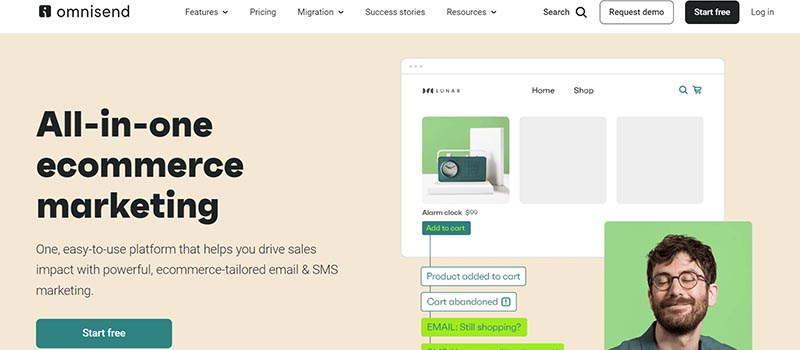 Omisend is an email & SMS marketing platform to help ecommerce stores grow their online businesses faster. The platform offers one-click integration with major ecommerce platforms and pre-made automation and email templates. You can access all these features without exaggerating the cost.
Today, over 100,000 ecommerce brands use Omnisend to grow their businesses on autopilot using automated email marketing strategy.
Key Features:
Combine shopping history and social media interactions with ad retargeting on Google and Facebook.
Send newsletters and targeted campaigns
Drive sales on autopilot with ecommerce automation
Improve targeting with robust customer segmentation
Combine email with SMS and more channels
Build email and SMS lists
Award-winning 24/7/365 live customer support, making it easy for brands of any size to sell more
Pricing: Starts at $16/month
4. Mailchimp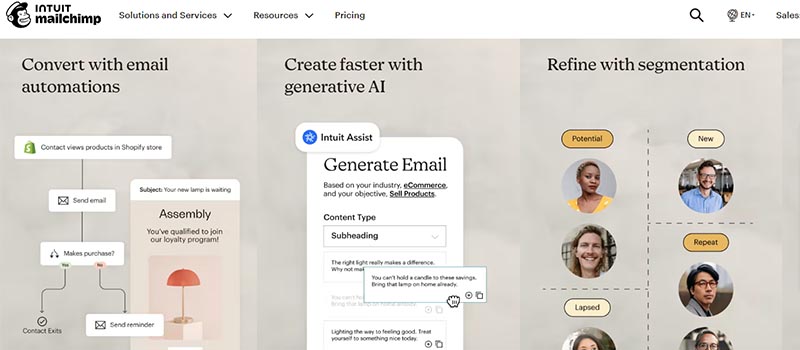 Launched as a newsletter tool, Mailchimp has evolved into a sophisticated email marketing automation platform. Mailchimp offers features such as signup forms and surveys, a website builder, and separate pricing tiers for transactional emails.
Key Features:
Mailchimp's content studio tool can adapt content to fit unique email design layouts.
Tools like an email subject line assistant provide marketers with valuable real-time suggestions.
A new AI-powered creative assistant can autonomously generate email designs using your company's branding assets.
Pricing: Starts at $39.50/month
5. HubSpot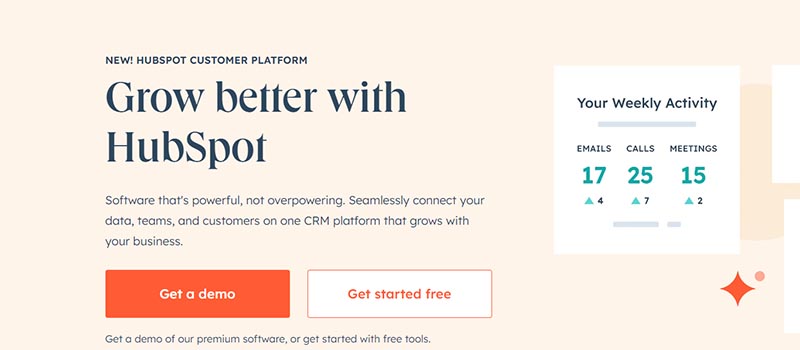 HubSpot is the go-to email automation platform for many marketing agencies, and it's renowned for its capabilities in contact management, email tracking, and lead evaluation.
Although HubSpot is primarily known as a CRM tool and is typically linked with its lead nurturing process, it also offers an extensive array of features within its Marketing Hub suite. This makes it a comprehensive email marketing solution for ecommerce businesses and other agencies.
Key Features:
Can build lists dynamically
Segment leads
Route leads
Provides internal notifications, making it an excellent choice for sales and marketing teams seeking to work together.
Pricing: Starts at $50/month
What is Ecommerce Email Automation?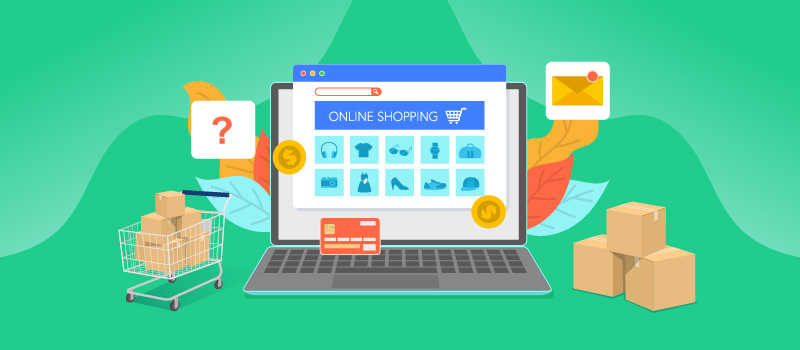 Email automation simplifies email marketing by using software to automatically send the right emails to the right people at the right time. It works by setting up rules that send emails based on what the customers do or specific criteria set by the user. It makes your email marketing more accessible and efficient.
The pricing structures of email marketing automation tools typically fall into two distinct categories:
Based on the number of contacts or subscribers
Based on the volume of emails sent
Specific email automation tools can become more costly as your subscriber count increases. Some ecommerce businesses may have an extensive contact list, making email service providers with unlimited contacts an appealing option from a cost perspective.
Additional features to consider in an email automation tool include:
Efficient contact management with list and tag sorting
CMS and website integrations, including visitor tracking
Tools for cross-promotion messaging, such as SMS and Live Chat
Ready-to-use and fully customizable email templates
Direct email messaging and autoresponders
Customizable landing pages with opt-in forms
Automated workflow builder with pre-existing templates
Drag-and-drop editor with the ability to directly edit email HTML
Conclusion
Each of the top ecommerce email automation tools has unique features. However, the interfaces are different from device to agency, and so is the general process of creating a workflow or automation.
The final verdict will often come from your personal preference. It will depend on your preferred design, user-friendliness, and pricing of a particular tool or software. You may use a free plan or trial of these top email marketing automation tools to get started. Try a few of them to see which one works best for you before deciding.
If you need assistance creating email marketing graphics, Penji is here to help. Visit our website to learn more about Penji's unlimited graphic design services.