Email direct marketing is a powerful marketing strategy. However, with the average individual receiving dozens of emails daily, creating campaigns that grab the readers' attention is essential. The success of your strategy also depends on how well you execute your email direct marketing.
What is Email Direct Marketing?
Email direct marketing (EDM) involves sending commercial messages or promotional content directly to target recipients through email. This marketing strategy lets you reach out to current and potential customers cost-effectively and strategically. It can be used for several purposes, and that includes:
Promoting a new product or service
Announcing a sale or discount
Providing informational content
Keeping informed about the latest updates and news from a business
Email campaigns are a vital part of inbound marketing, where marketers meet buyers at any stage throughout the marketing journey. Through email, businesses can provide valuable information through their inbox. Plus, this strategy can be enhanced using marketing automation software.
Best Email Direct Marketing (EDM) Campaigns
Constant Contact reports that the average return for email marketing is $42 for every $1 spent. Again, the campaign's success largely relies on how you craft your email campaign. Below are the ten best practices in EDM:
1. Uber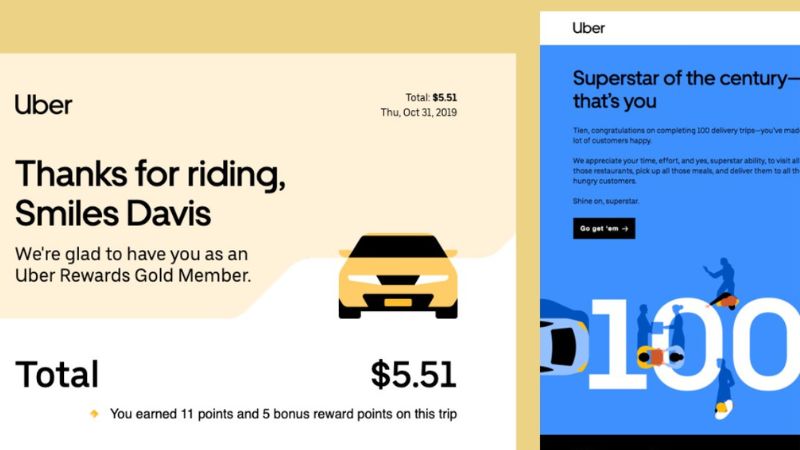 The simple email marketing strategy of the ride-hailing app Uber delivers a straight-to-the-point message to its subscribers. It is ideal for busy readers who can find content quickly. The email campaign contains a catchy title, a brief promotion description, and a clear CTA.
This email demonstrates the standard Uber colors and imagery while clarifying the value proposition.
2. Nike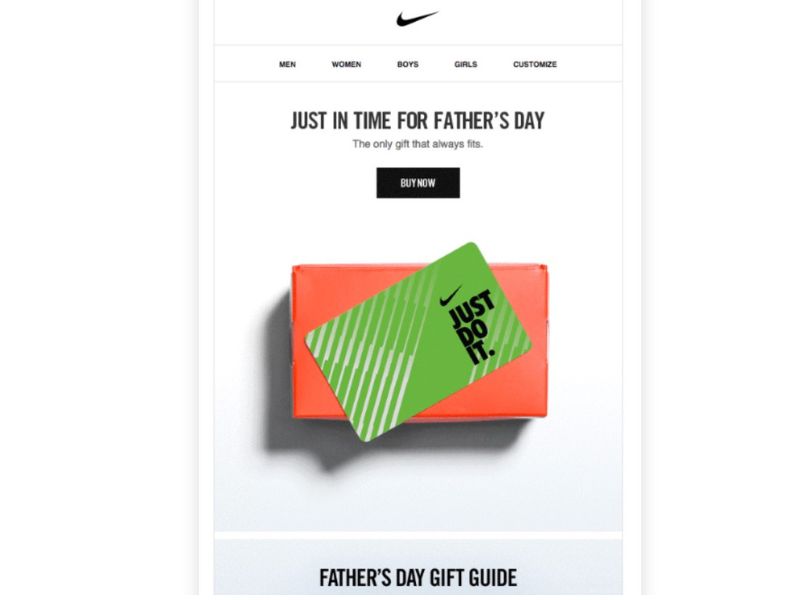 Nike, the global sportswear and footwear brand, has been recognized for its effective email marketing campaigns. Nike's email marketing strategy engages customers with personalized content and promotions. The example above targets a Father's Day special. Here, Nike uses a suitable product image and a clever copy.
Nike's email campaign reminds us that less is more when crafting compelling email direct marketing copy.
3. Birchbox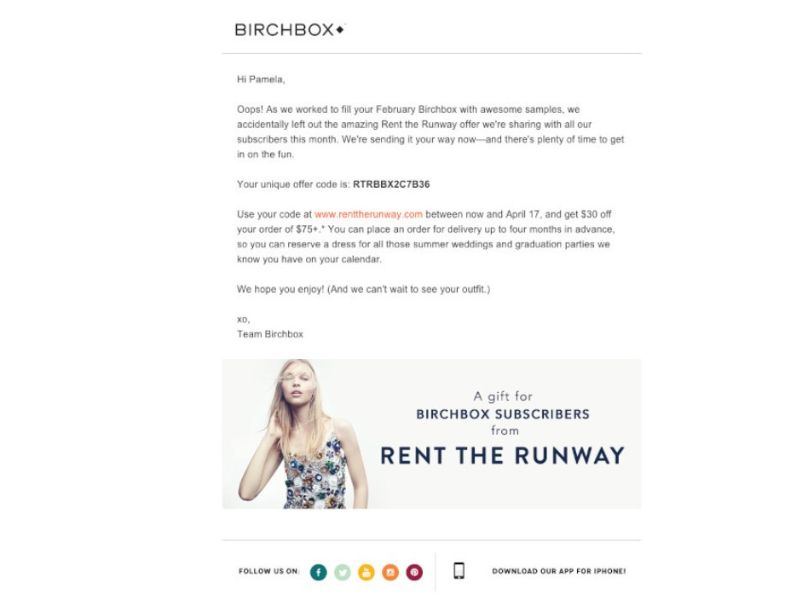 Image Source: HubSpot
This enticing campaign from a beauty product subscription service attracts the recipient's attention. Its subject line reads "We Forgot Something in Your February Box!". But, Birchbox did not forget to add that discount code to the box if it was a smart way to get the reader's attention. It turns out that it was actually a bonus promotion for a dress rental company, Rent the Runway, that matches the profile of Birchbox customers.
The email is primarily text, which looks like a personal email from a friend. It has a personalized touch and is straightforward.
4. Dropbox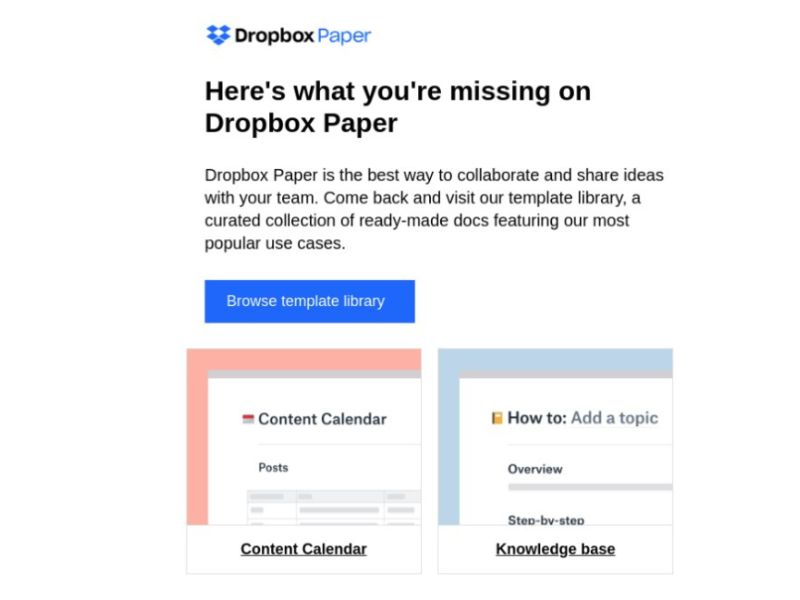 This email marketing campaign is an example of a re-engagement strategy. When new users sign up for Dropbox, they receive a welcome email introducing them to the service and offering tips on getting started. Then, they send regular emails that provide helpful tips and tricks for using the service. These emails may include tutorials, how-to guides, and best practices for managing files and collaborating with others.
It uses a simple grid layout to promote its product as a diverse solution. In this email, the recipient gets an idea about the benefits of using Dropbox Paper templates and documents they can customize.
5. Starbucks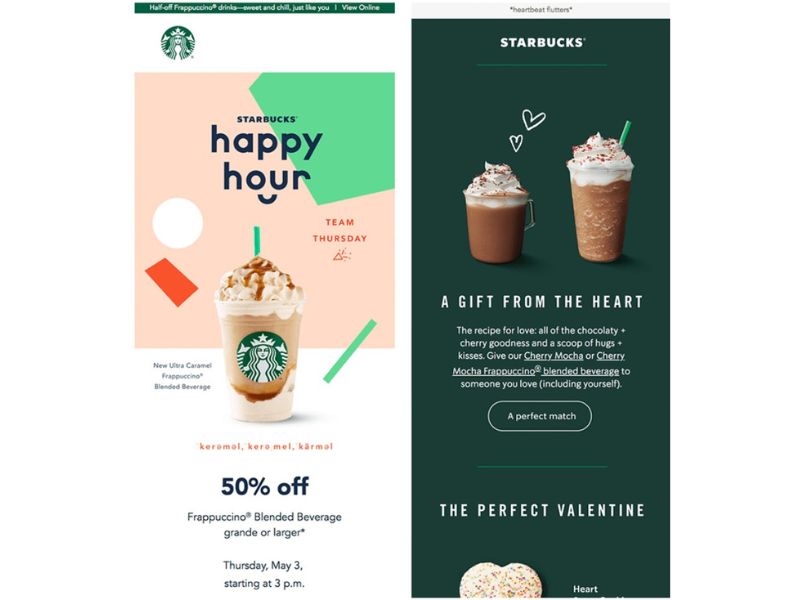 Starbucks uses the power of beautiful images. Most of their emails showcase tempting pictures of items from their menu and irresistible offers! Starbucks knows its customers would love discounts on their most popular items. They also offer to buy one get one free deal, so they know you'll bring a friend and order other things on their menu.
Starbucks' email copy is crisp and clear, with essential words in bold. That's sure to grab their subscribers' attention!
6. Canva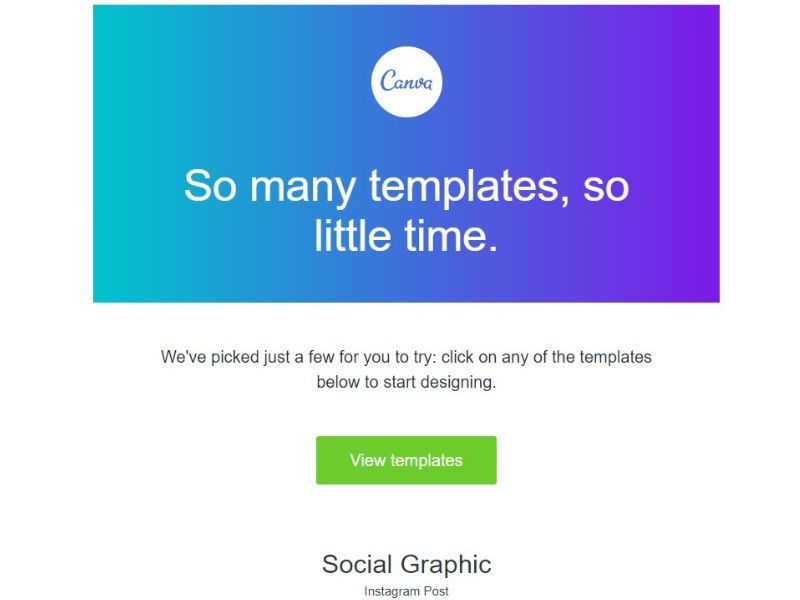 Canva has a highly effective email campaign to showcase the capabilities of its platform while also providing value to its audience. Canva's email is simple and embodies the "less is more" principle. The explicit content and the ample white spaces make the email easy to read.
7. Adobe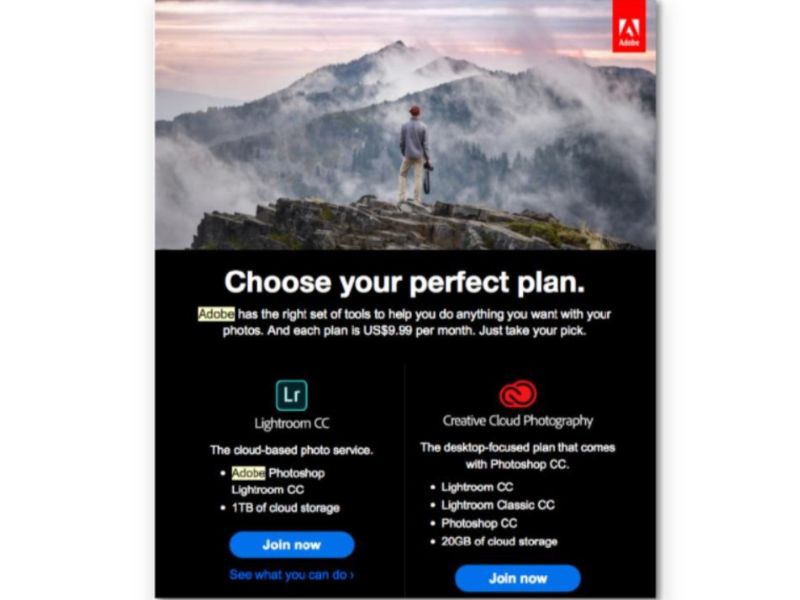 This email from Adobe is unique in the sense that it includes two CTAs. It allows customers to choose which version of the product they want to purchase. This example proves that you can offer two similar products in the same email to the recipient. It gives them the option as to which product is more suitable for their needs.
8. Houzz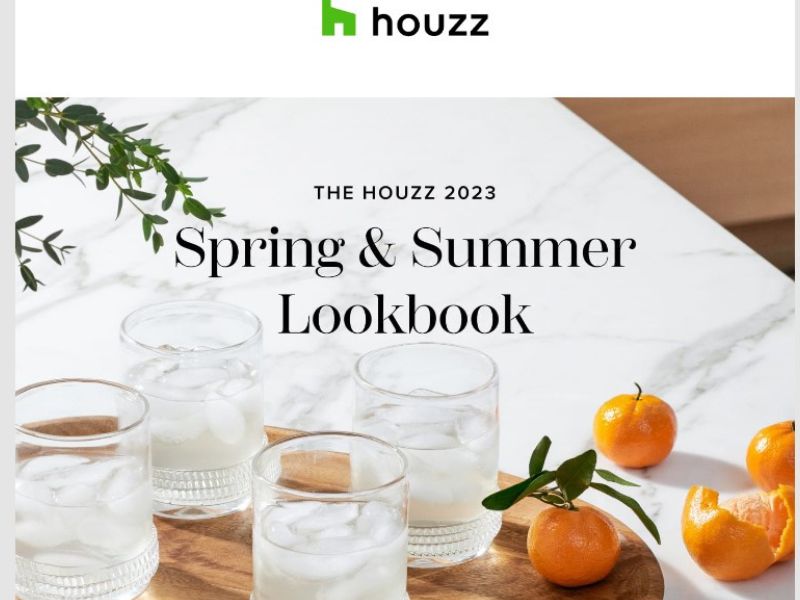 Houzz, the online home remodeling and design platform, has a highly targeted email marketing campaign. Also, Houzz sends personalized emails to its subscribers based on their interests and behavior on the platform. The email above provides design inspiration for different areas of the home for a specific season.
Houzz is able to keep its audience engaged and informed about the benefits of using its platform for home remodeling and design.
9. Etsy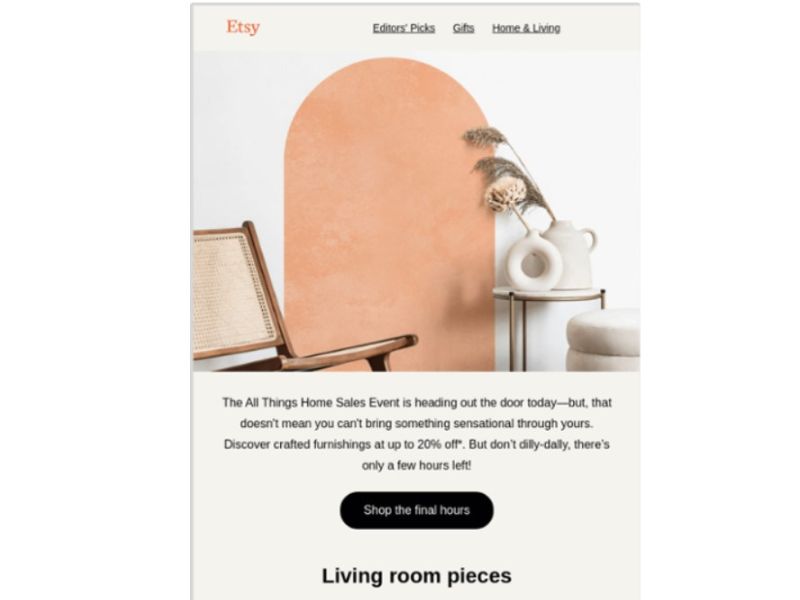 Here's another eye-catching email from Etsy. This example features creations by Etsy stores. When those creators notice that Etsy features their content, they'll be encouraged to forward the email to friends and acquaintances. The email campaign also includes a time-bound call-to-action. For that reason, Etsy's customers are likely to purchase and open other emails in this campaign to find more ways to save on items they love.
10. Spotify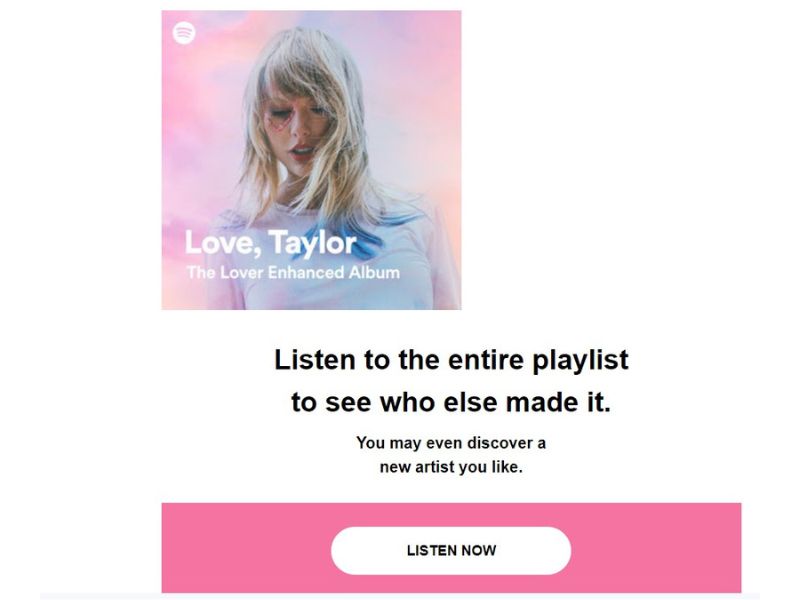 Spotify is popular for personalized playlists. For example, this email features the artist that the subscriber loves. The offer encourages the reader to listen to the entire playlist of Taylor Swift's
Love, Taylor: Lover Enhanced Album. This email is well-designed to generate purchases from the photos to the CTA. We also love the color palette, which highlights the colors from the album.
Bottom Line
Email direct marketing is a powerful tool for businesses to engage with their audience and promote their products or services. Its success depends on several factors, such as targeting the right audience, creating compelling content, and measuring and optimizing performance. When executed effectively, the marketing strategy can be cost-effective for businesses to drive sales and increase customer loyalty.
The good news is that Penji can help you create the best graphics for your email marketing campaign. Watch this demo video to take advantage of our 120+ design services.