Marketers and advertisers are continually looking for ways to elevate their approach. Whether it be billboard marketing or some form of guerilla marketing, stepping up one's game will boost brand connection within its audience. Some brands on a shoestring budget would want to skimp a bit on marketing expenses. And one effective yet affordable way is through custom stickers. In other words, sticker marketing.

Custom sticker designs are weaving its way into the consumerist culture. But mind you, you'd have to have the skill to make them. If you need help with your personalized stickers, Penji can make high-quality customized stickers. Whether it's for personal or professional use, Penji prides itself on creating designs that suit your taste. In fact, we're so meticulous to customer satisfaction that we offer unlimited revisions until customers are 100 percent happy with the design.

So if you're wondering if sticker marketing is the best route for your business right now, here are five reasons companies are taking advantage of custom stickers. Plus, we'll also let you in on the top 10 custom sticker trends for 2020.
Benefits of Custom Sticker Designs
Stickers are so fashionable that people would want to get first dibs on cool sticker designs. In fact, when you go to job fairs or trade shows, you won't be surprised why most companies give out stickers.

So here are five benefits of using stickers for your marketing scheme:

First of all, custom stickers are trendy! And you know what they say, you must keep up with the trends. If your competitors are doing it, so should you.
They're very cost-efficient. Another reason why brands print so many of these bad boys is that they're very affordable. Unlike other types of outdoor advertising, stickers emerge as one of the cheapest.
Stickers are versatile. It's easy to integrate customized stickers to any marketing campaign. You can stick it on your posters, flyers, billboards, catalogs, packaging; the possibilities are endless!
They come in different shapes and sizes. This top benefit is also another reason why companies love the flexibility of stickers. Big, small, round, rectangle, you name it.
Stickers offer lifetime messaging. If you have cool designs, people would want to show off your stickers. They can even stick them on their personal belongings such as laptops, mobile phones, car windows, and whatnot. That said, bespoke stickers can do a lifetime of marketing for brands.
Biggest Custom Sticker Trends in 2020
Unconventional Design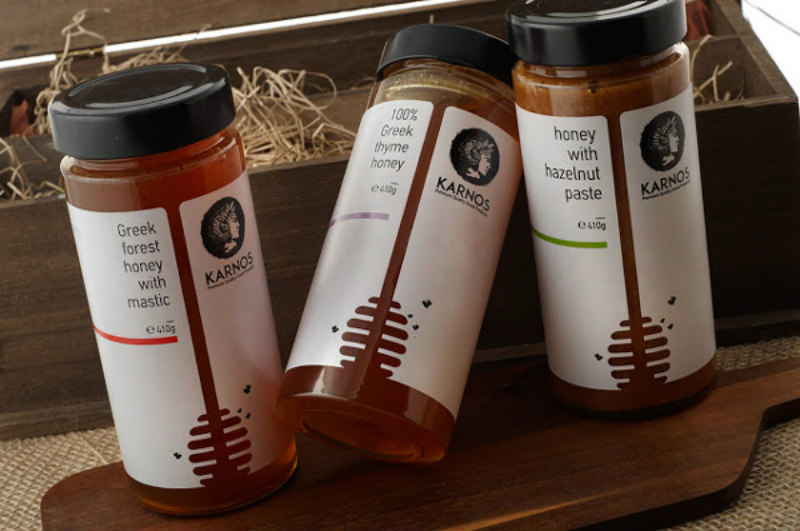 Any brand would want their stickers to stick out (pun intended). That's why creating unique designs is imperative. Rectangular shapes are out, and unconventional shapes and cuts are in. Here's an example from an organic honey seller. They used stickers on their bottle packaging, but the honey dipper design is what makes it stand out.
Distressed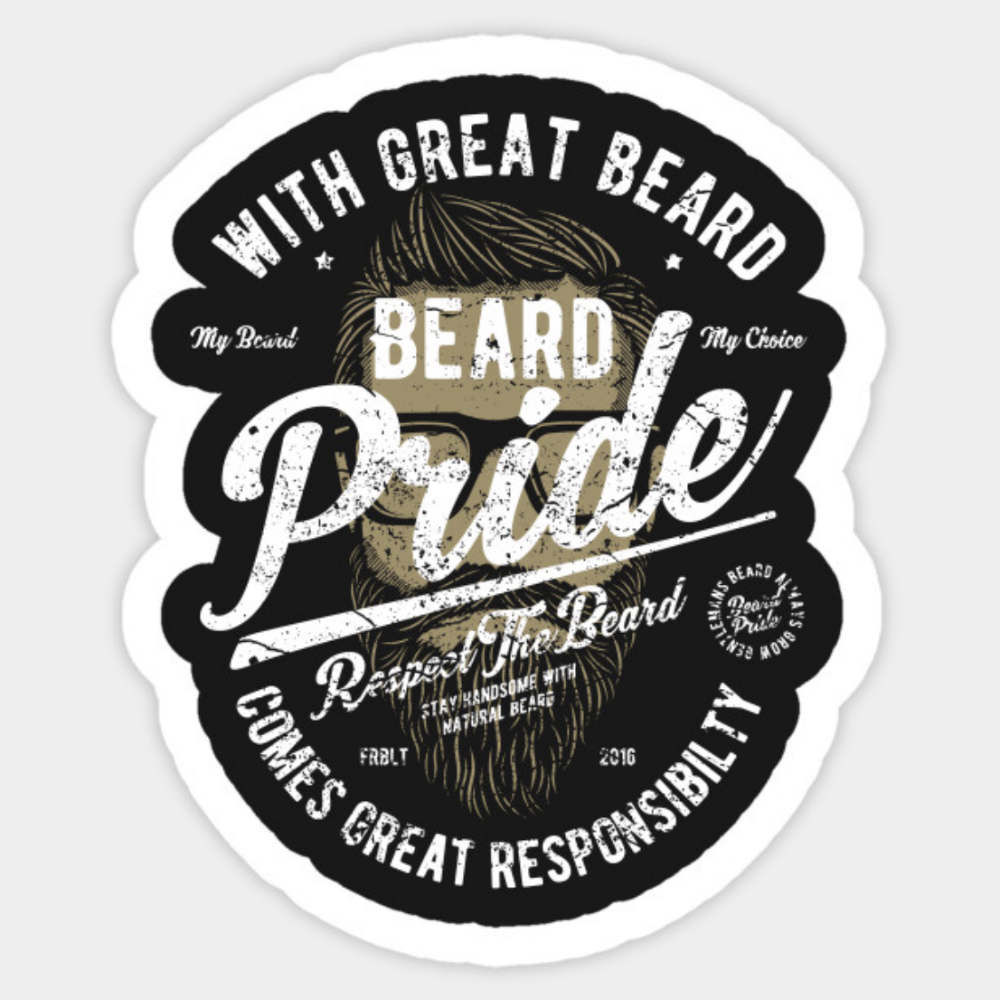 No one will ever go wrong with distressed design. It suffuses a vintage branding that's fit for some brand identities. In this case, a sticker that shows off men with beard. You can use distressed sticker designs for barbershops, cafes, or even fast-food chains.
Die-Cut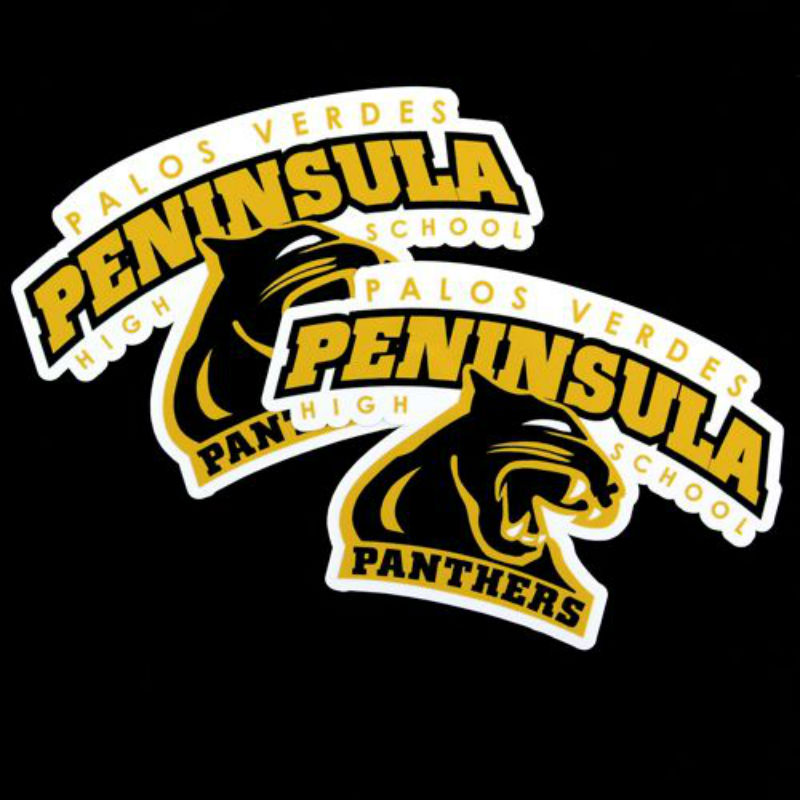 Die-cut stickers present a more attractive form of sticker marketing. Die-cut means stickers are cut in the exact shape of the design. This is excellent because people can stick them anywhere without the bulkiness of the typical rectangular or square shapes. This one is an example from the Palos Verdes Peninsula High School.
Kiss-Cut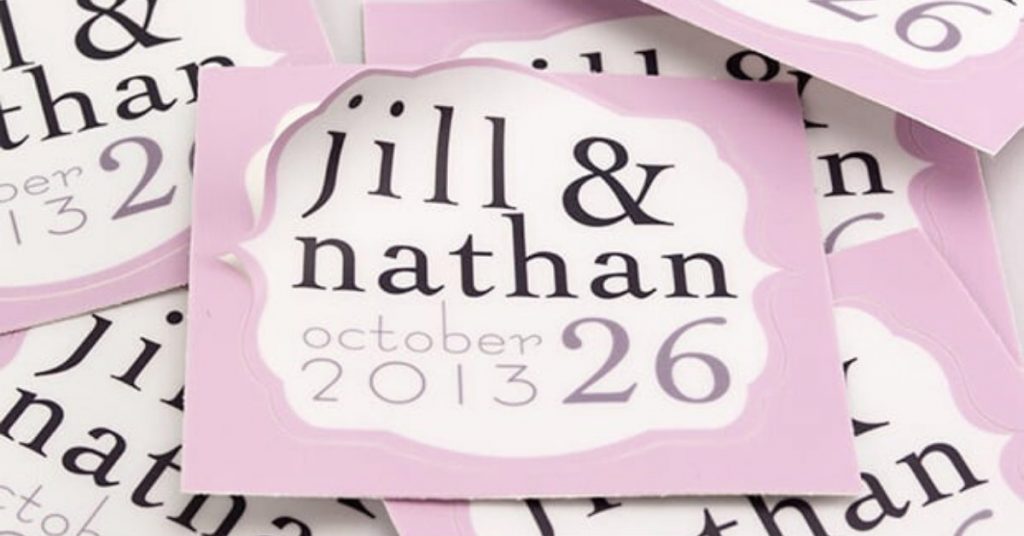 Like die-cut stickers, kiss-cut stickers also come out in the exact shape of the design. The only difference is a backing paper that protects them. The backing paper is a large square paper where you can peel the sticker from. Here's a customized sticker for a wedding that comes in a beautiful light pink shade.
Vivid Colors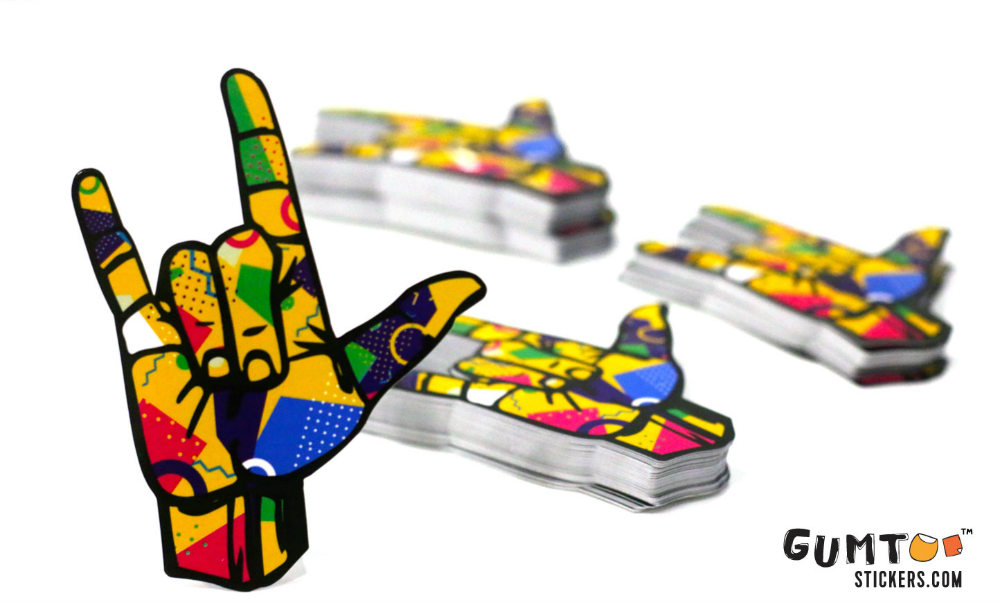 If you're leveraging sticker marketing, one way to make people take notice is to use bright colors. Even from a distance, vivid colors on stickers can make heads turn, especially if they're coupled with strategic designs. Here's a hand-horn sign, which can be used in the music or entertainment industry.
Glossy Finish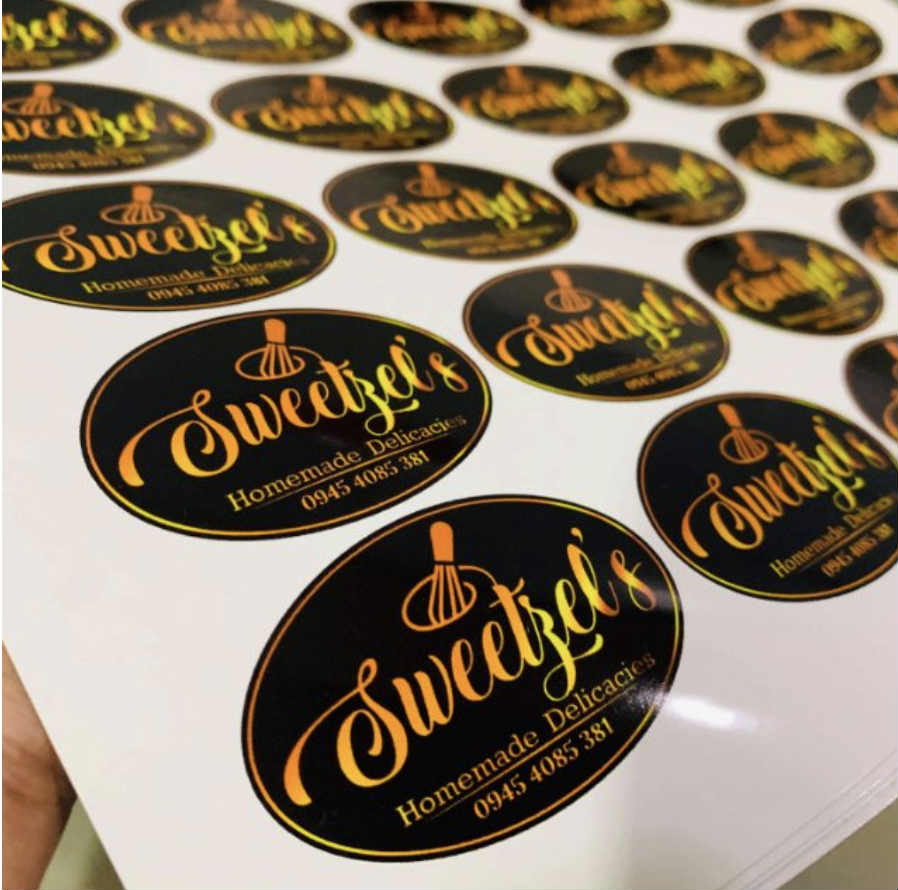 If you want more appeal in your outdoor advertising, go for a glossy finish. Glossy stickers are perfect for any design project. But I would have to agree they fit better on car windows, store windows, or anything outdoors. They're livelier and playful. Here's one example for a pastry business, the gloss really makes the yellow and orange hues pop.
Matte Finish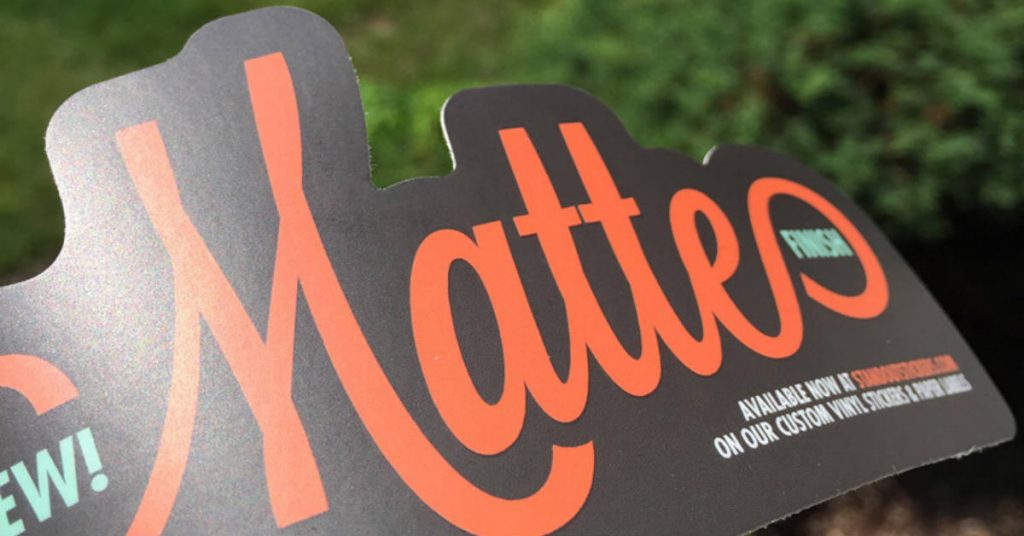 A matte finish on stickers is a different beauty, on the other hand. They're more elegant looking and are perfect for weddings and corporate events. They're also excellent on bottle or paper packaging, jars, or home wall decors. Here's an example of a matte-finished sticker design.
Retro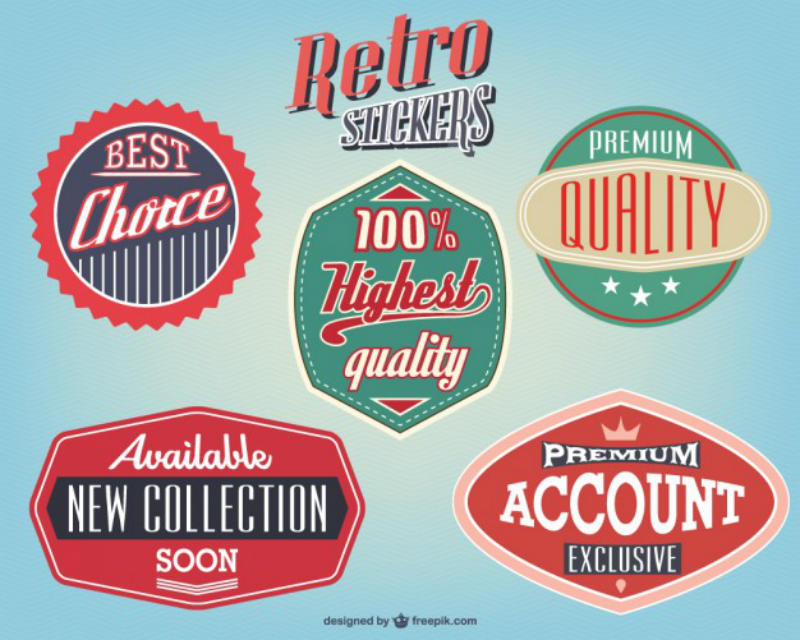 Retro stickers, or retro designs in general, will never go out of style. It's the beautiful classic appeal that makes these designs a cut above the rest. Retro sticker designs are also apt for a fast-food or any family-style restaurant, apparel business, bakeshops, or any business with a more casual branding.
Minimalist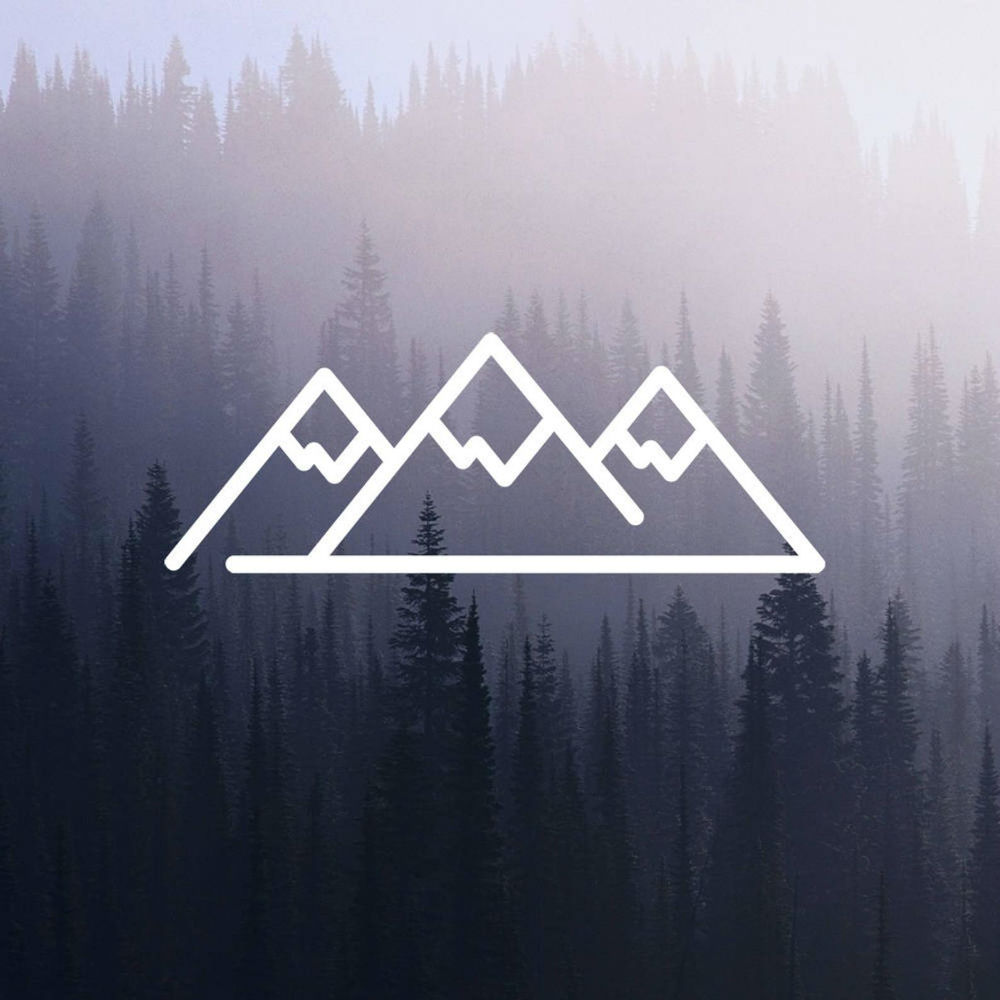 Some conventional companies would prefer a more minimalist design when it comes to decorating their office spaces. Think financial institutions, educational sectors, or the hospitality industry. However, there is no rule of thumb when using minimalist designs. This example, which is a simple mountain sticker, could be well-suited for an outdoor shop.
Clear Vinyl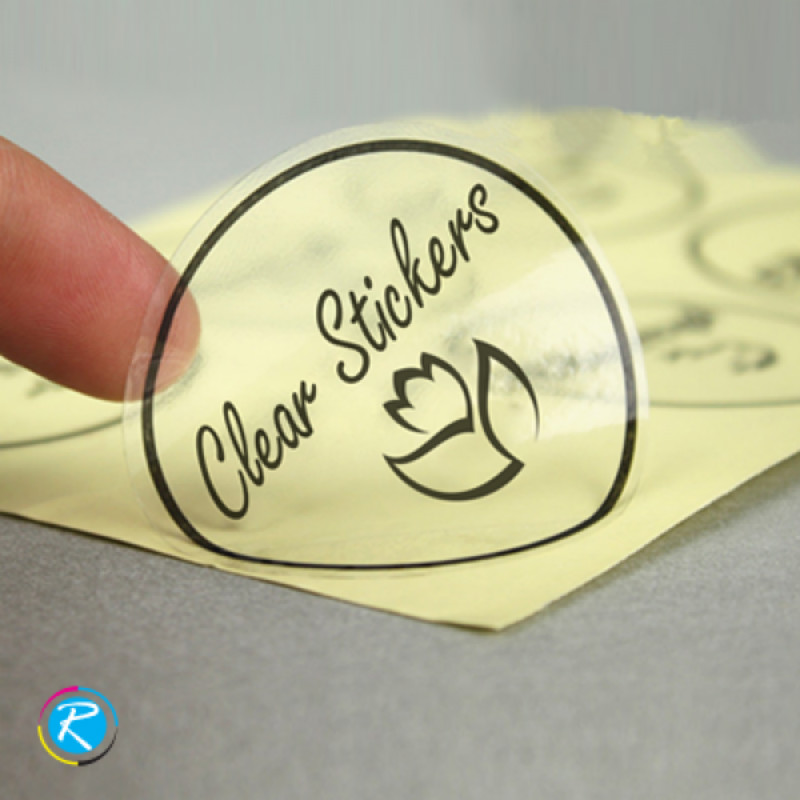 Clear vinyl stickers are typically printed on white ink. This type is perfect when you want to showcase your design vibrantly. The design will surely loom over any material as there are no background colors. You get a translucent sticker paper that displays your design clearly, perfect for custom stickers with brand logos. Here's what a clear vinyl sticker looks like.
Wrap Up
There is no cookie-cutter approach when it comes to sticker designs. As long as your designs communicate to your audience, they'll likely want to keep them. Hiring graphic designers might be your best bet to get the most out of sticker marketing. Penji's subscription-based service will allow you to subscribe and cancel anytime, with no questions asked.