Out of 10 posters you see every day, one poster design always stands out. Whether it makes you smile or provokes the heck out of you, the poster still captured your attention. Don't know what we're talking about? Here are some disturbing poster advertisements that depict some of society's elephant in the room.

1. PETA's Poaching Campaign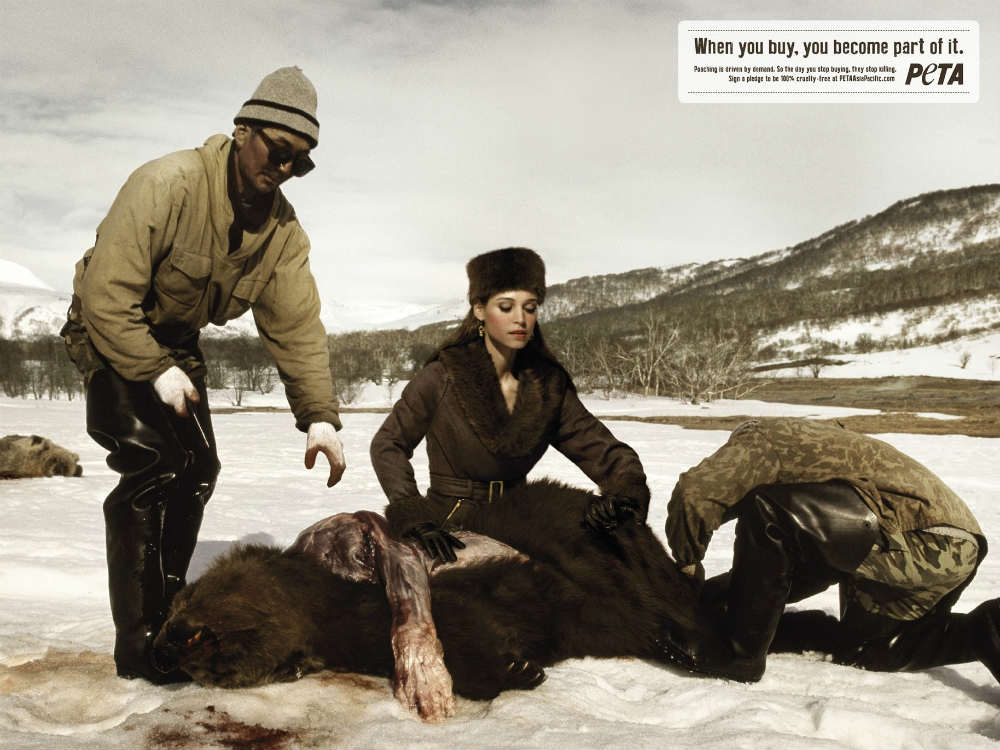 When it comes to advocacies that center on animal protection, PETA instantly pops up. They're an organization that speaks for the voiceless, and their ads also showcase how passionate they are of their cause. This particular PETA poster design is for a campaign against bear poaching in Singapore.

The gruesome picture shows a bear with its skin and fur scraped off, showing some dead flesh. Then over him sits a woman wearing a classy fur coat, with eyes fixed on the bear's fur. Two poachers are seemingly happy about their kill and the sale about to transpire. Finally, the point of the message is to remind consumers that buying fur coats makes them one of the culprits of animal poaching.

2. Shirley Manson for PETA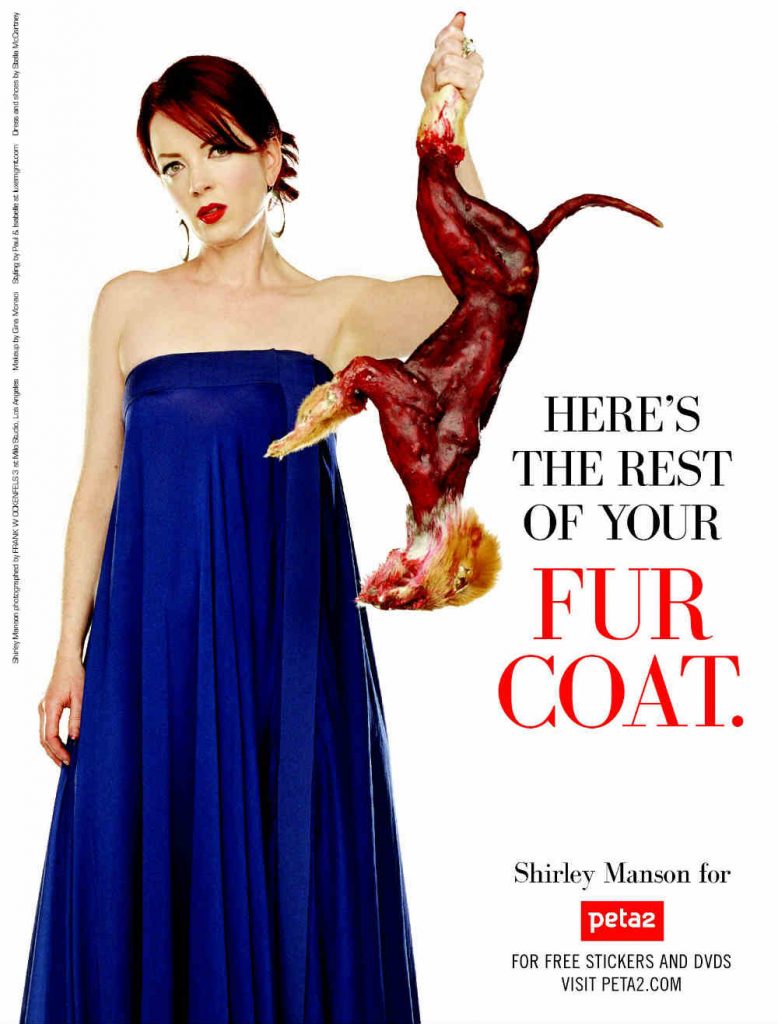 If lead vocalists of prominent rock bands like Garbage come together for animal protection, we all know how vital the message is. Shirley Manson admitted she was never really an "anti-fur" person per se. However, she claimed that as she got older, she became more mindful of the consumerist culture we have.
The picture is so disturbingly striking that anyone would've had a change of heart in their fashion sense. Shirley holds a skinned fox with the caption, "Here's the rest of your fur coat."

3. Michael Stich Foundation's AIDS Campaign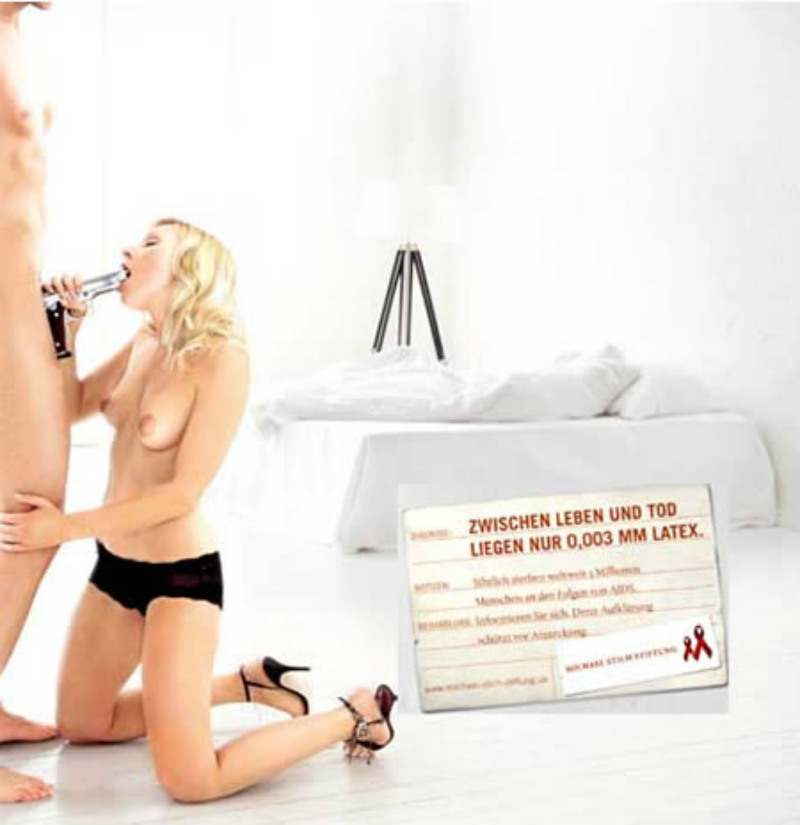 HIV and AIDS continue to become a social stigma that everyone is afraid of, despite the recklessness in their decisions when it comes to having different partners.
This poster design for Michael Stich Foundation received mixed reactions from its audience. It's a picture of two people about to engage in a coital activity. But the most striking part was the gun resembling a man's penis and the woman taking it head-on. The message is plain and straightforward: A condom can save your life!

4. French Government's AIDS Campaign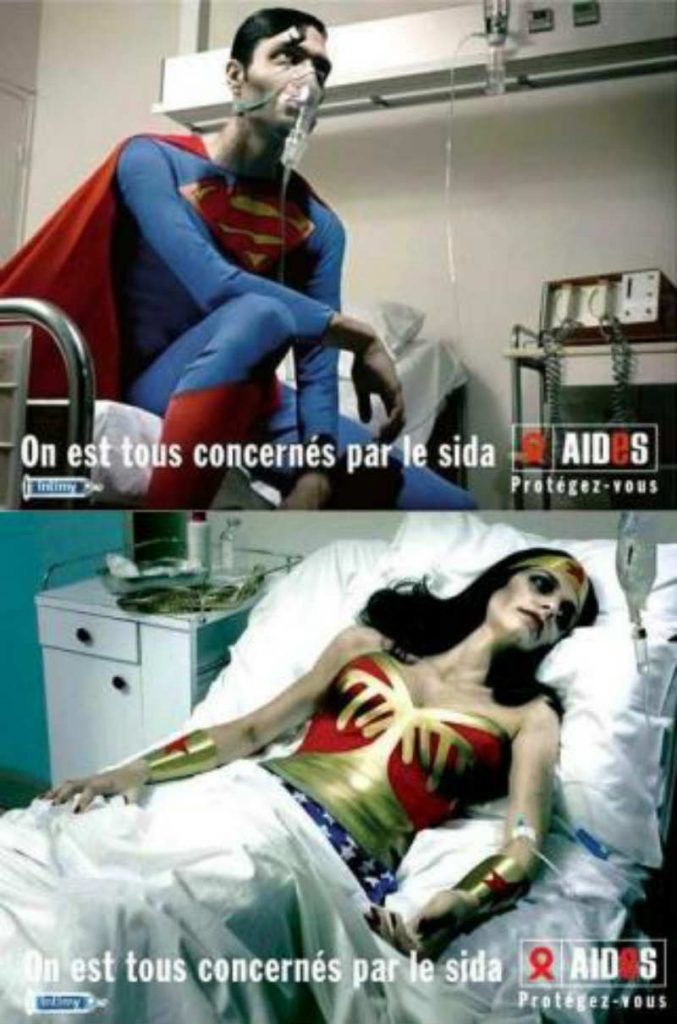 Here's one from the French government and AIDES.ORG that resulted in a controversy. It's a picture of sickly, famous superheroes, Wonderwoman and Superman, lying on a hospital bed.
A message across the poster says, "Aids makes us equal." It signifies it doesn't matter how tough you are. If you don't use protection, you run the risk of getting AIDS.
The poster design stirred controversy and resulted in campaign organizers canceling the ad.

5. Volvo's Airbag Campaign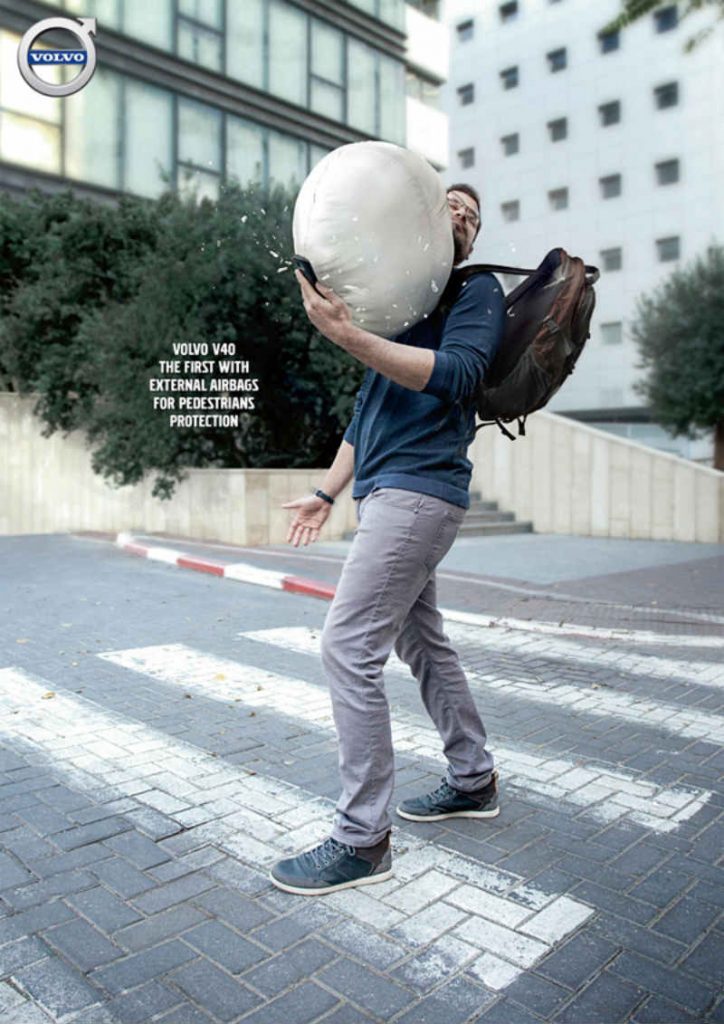 This is one of the meaningful yet head-turning poster advertisements from a luxurious car manufacturer, Volvo. At first glance, you'd instantly wonder why a pedestrian has an airbag on his face while crossing the street.
But then as you look closer and read the fine print, you'll realize how the brand is innovating airbags. Volvo's brilliant idea on the world's first external airbags will surely get those sales through the roof.
This poster has been well-embraced by its audience, even praising the brand for its genuine take on road safety.

6. YO BK Hot Yoga Campaign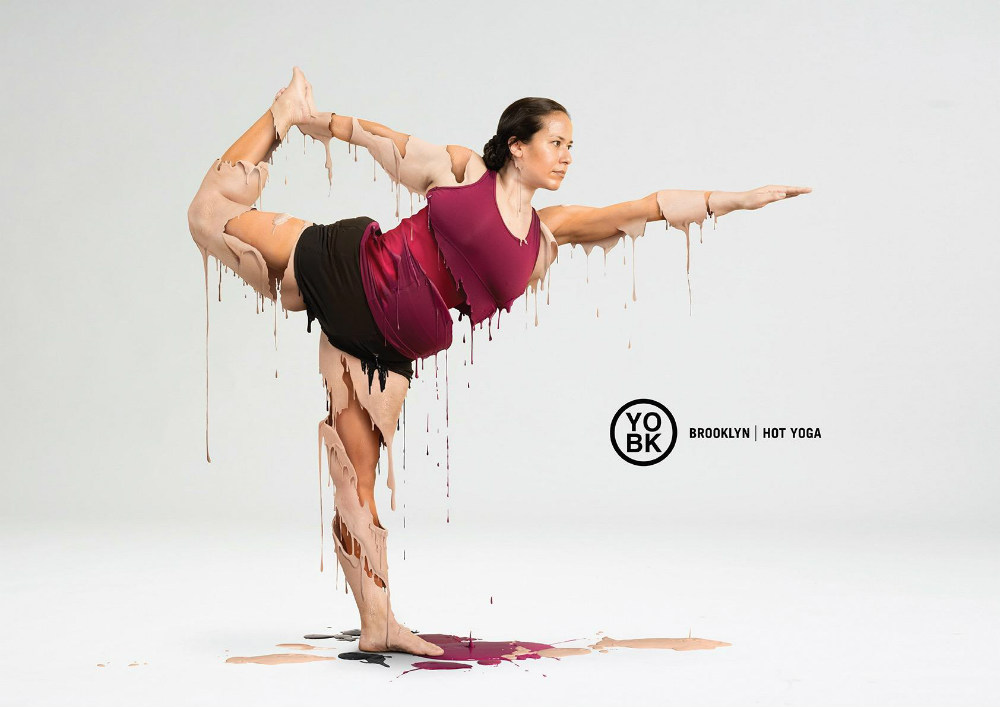 YO BK is a yoga studio in New York, and their drive for an active lifestyle is resonated in this poster advertisement. The graphic designer instinctively knew how to represent the sweat and the extra pounds creatively.
Here, a woman does a Natarajasana or Dancer pose. She appears to be covered in paint, which seems to trickle to the floor. The entire message conveys how hot yoga can make you lose those extra pounds.

7. Crossfit Liege's Campaign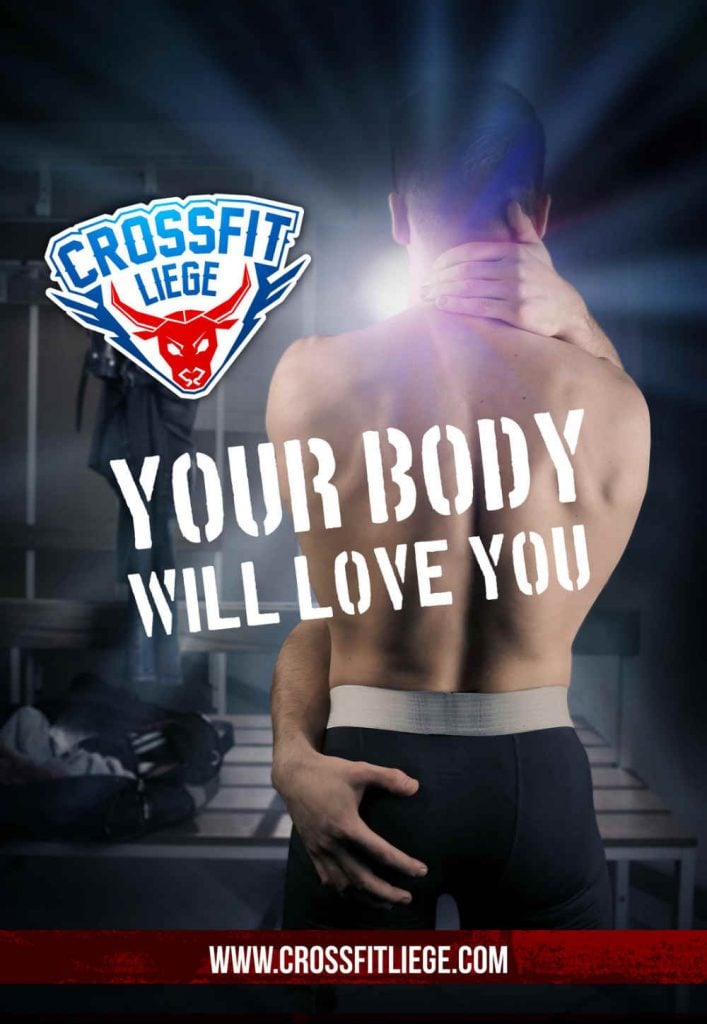 Crossfit Liege is a lifestyle and fitness gym located in Belgium. In an effort to encourage everyone to feel and look good inside and out, Crossfit Liege created this poster to spread its message.
What strikes this poster as disturbing is the outstretched hands that come from opposite directions. Whether the image is trying to reflect strength or flexibility from regular exercise, it certainly cuts the mustard.

8. De Facto's Tobacco Campaign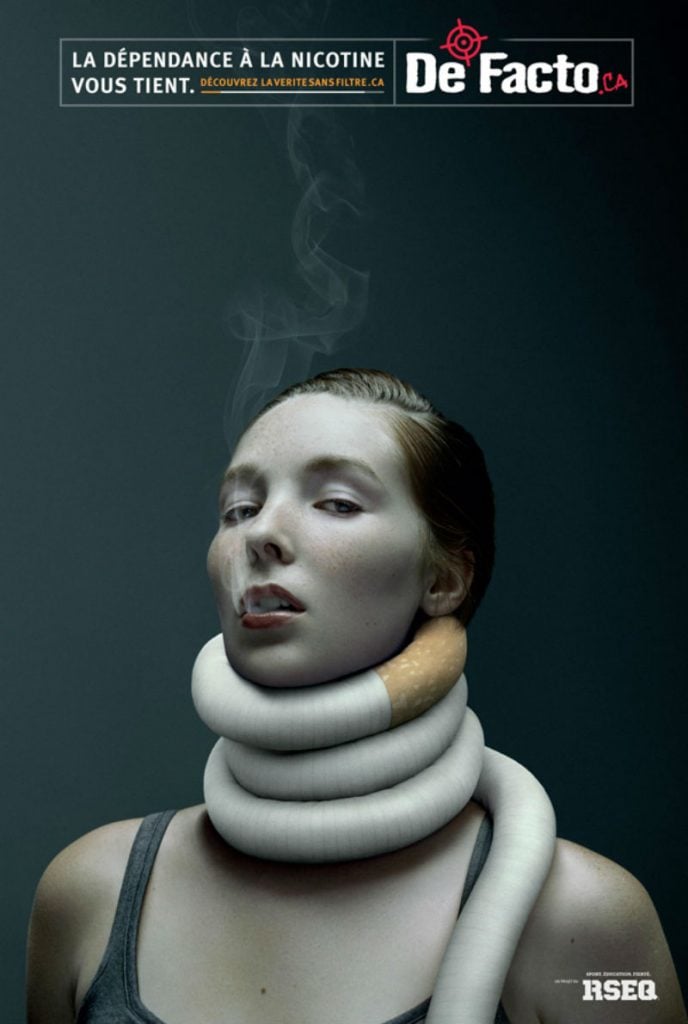 The tobacco industry is one of the most progressive sectors the world over. It relies on the sheer law of supply and demand. And where there's more demand for tobacco, tobacco companies also cater to that demand.
In fact, a low supply of cigarettes will result in higher prices due to the high demand. De Facto is the brainchild of Quebec students and athletes who want to spread awareness on the tobacco industry's practices.
Poster advertisements like this will probably not do much to persuade people to stop smoking. However, a disturbing image of a girl seemingly choked by an oversized cigarette will truly make them think twice.

9. Let's Do It Romania's Anti-Litter Campaign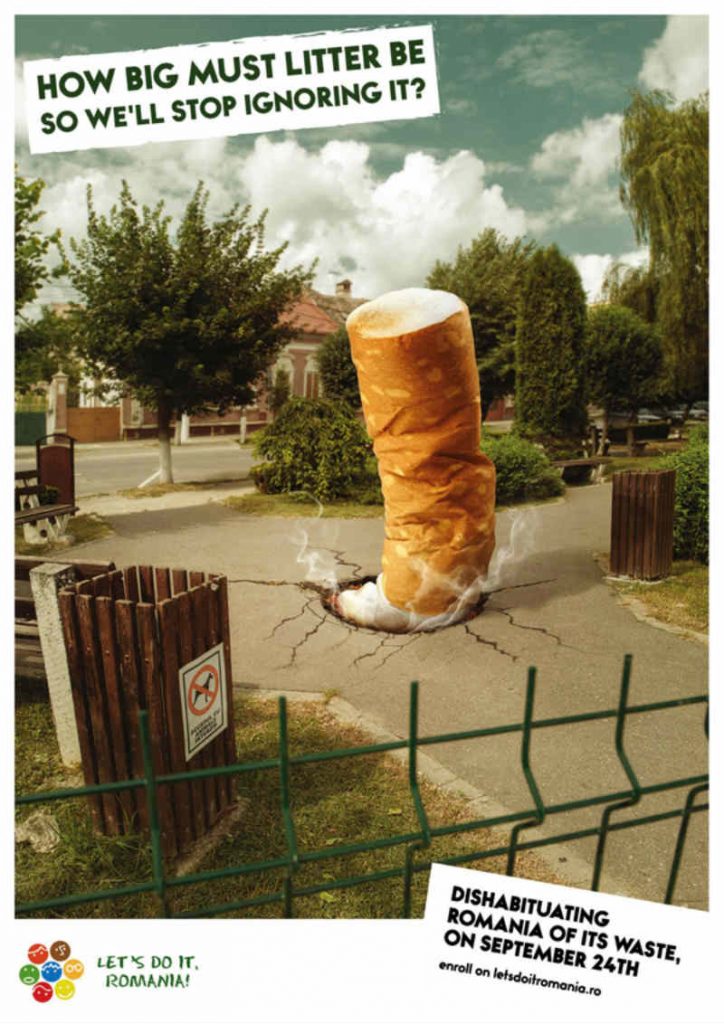 When it comes to environmental preservation in Romania, Let's Do It Romania spearheads the advocacy. Since 2010, the organization has involved over a million volunteers and cleaned more than 25,000 tons of trash.
This disturbing poster design of an oversized cigarette butt put out in the middle of the street implies how people nonchalantly throw their litter anywhere. The question, "How big must litter be so we'll stop ignoring it?" is also thought-provoking.
The message tells us how the increasing garbage problem impacts the environment globally. But sadly, people are turning a blind eye because they think it's a "small" issue.

10. Mr Leggs' Product Campaign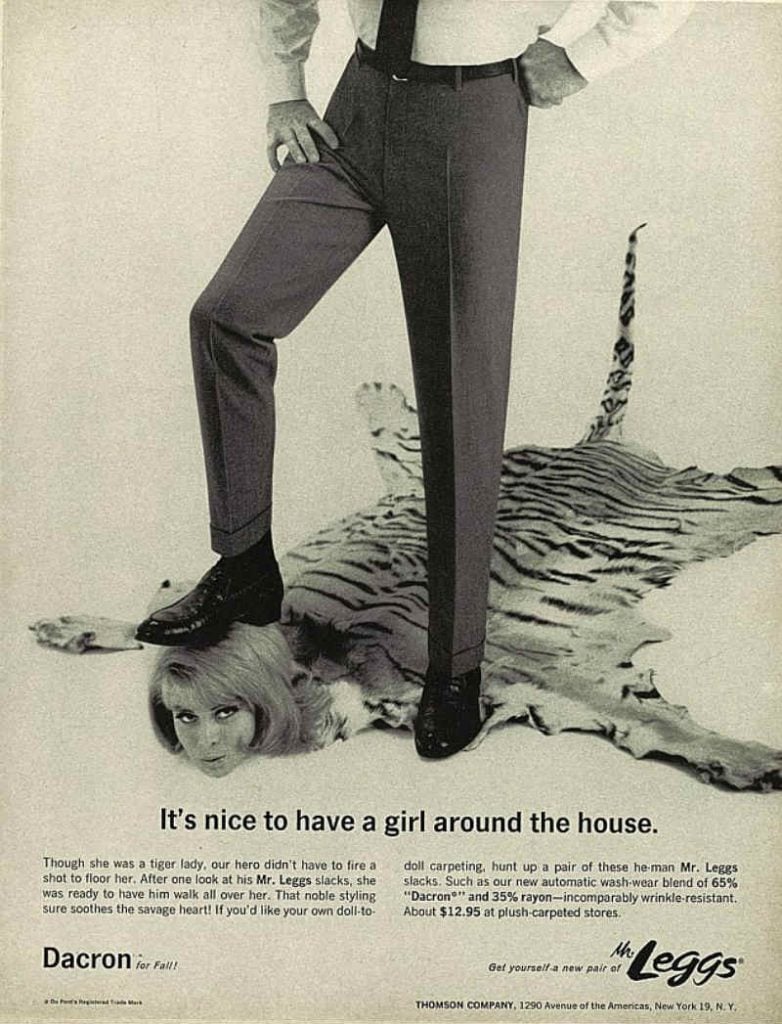 Here's one of the most shocking vintage promotional posters that'll make your jaw drop. It's a campaign for Mr Leggs pants.
A man, wearing the pants, props his foot down on the woman's head, who is lying on the floor. The tiger coat indicates the woman is the "prey," while the man is the "hunter."
Then as you read through the text, it highlights how wearing Mr Leggs pants didn't even require the hunter to "fire a shot to floor her." The woman instantly bowed down to the man after seeing him in those pants.
This poster ad got a negative reaction from women for subtly describing them as shallow. However, this ad might drive egoistic men who want to validate their machismo.
Conclusion
These poster designs should be enough to make your blood boil. But the designer precisely invoked specific emotions he initially targeted with these poster examples. So kudos to him!
Do you need help with poster advertisements that stick in your prospects' minds? Subscribe to Penji and get these benefits:
Unlimited designs and revisions
Affordable rates
Fast turnaround (24 to 48 hours)
Bespoke design platform
Dedicated account manager
120+ design services
Brand folders for organization
Sign up here for a 15 percent discount!