Building a startup means going through the process of getting face to face with chaos. You must understand that every beginner has a learning curve, and that goes for both you and your staff. It can be overwhelming, but if you compartmentalize your organization, it's actually manageable. When you delegate the work to different departments such as research, development, marketing, and design, you'll see a smooth workflow.
Everyone on the team should have the startup's goals in mind and work towards achieving them. And, as Penji is an on-demand graphic design service, we have a good grasp of why communicating can be a challenge for some startups. When you work with us, good design will no longer be a part of that chaos.
Reasons Your Startup Design Message Isn't Getting Across
"Every winner was once a beginner," a random quote that offers a significant impact, especially for those who have no idea where to begin. Taking a look at the big brands, it's evident that time has molded them to be what they are today. From their brand personality to how they communicate to their audience is a work from years of trial and error.
Graphic design for startups mostly means projecting your image to target your exact audience. You want people to know about you—your mission and vision. But if you notice that your message isn't getting across, it's time to rethink how you do your designs. Here are the reasons why some startups feel that they're not getting to the people that matter:
Your Design is Not Customer-Centric

Client-centric design means placing your customers at the core of your business. Investopedia defines it as a business approach that focuses on creating a positive experience for the customers. Designwise, it means putting the emphasis on what the customers like, need, and expect from your brand.
If you ignore your target market's preferences, the chances are high that you won't connect with them. This is why taking to heart the startup's objectives is essential. Understanding what these are and creating designs that correspond with the goals will effectively communicate them. But all of that needs to be aligned with what the audience wants.
Related Post: 8 Reasons Why Small Businesses Need To Make Graphic Design A Priority
Focusing on Research for Too Long

A large part of a startup's success is gained through market research. Knowing who to target and how to get their attention is crucial. To do this, research is a requirement. However, focusing and spending too much time on it can also bring in the negatives.
Research takes a long time for you to see its results. You cannot disregard its value, but spending more time than you should is also counterproductive. A good marketer can sell anything given that the product has appeal, in this case, your startup design. This is where great graphic design can make a big difference between selling and being ignored.
Related Post: 9 Marketing Strategies to Increase Sales in 2020
Ignoring User Feedback

Whether it's a Google review or social media comment, it's a smart business move to listen to what the people are saying. This will show you the directions in going forward with your startup, designs included. Feedback, both positive and negative, will show you what works and what doesn't in all aspects of doing business.
There is a lot to learn from reviews and feedback. It will take time, but you'll discover so much about your brand. Remember, these are the very people you want to hear from. Oftentimes, they are the ones who have used your service or product.
No Team Balance

Coming up with strategies to boost your startup is quite a demanding endeavor. Marketing and advertising are exhausting tasks, more so if you also have to think about designs. This scenario of having no balance in the team can make it hard to build customer connections.
Getting the help of a professional designer is what your startup design needs. Penji can take the burden of designing to leave you more time and energy in strategizing. Working with us allows you more time to focus on your business without sacrificing your designs' quality.
Continue reading this article to learn how Penji can help. You can also watch our demo video here to give you more details about our service.
Related Post: Everything You Need to Know Before Outsourcing Graphic Design
Not Accepting Change

A common misconception about graphic design is that once you created everything you need, you can stop. A WebFX study shows that 73% of businesses invest in design to help them stand out from the competition. This isn't surprising as, according to Get2Growth, there are around 100 million startups that open each year. Your startup needs to differentiate itself from all that noise.
Graphic design is an investment that you will unceasingly need in your startup. Standing out from the crowd is a goal that even the most prominent companies have. As much as you want to get designs that will stand the test of time, you have to accept that you need constant change in your designs.
Related Post: Graphic Design Isn't Visual Communication And This Is Why
Using Penji for Your Startup's Designs
To effectively communicate your brand to your target audience, you need a startup design that's efficient in getting your message across. You'll always find that online logo maker or that freelancer that offers designs for just $5. Although they are cheap and probably serve their purpose, they won't do much in creating a good brand identity.
Using Penji for your startup's designs will be advantageous for your startup as we provide unlimited designs at flat monthly rates. You can have all the web designs, digital ads, or print materials that you need with our affordable plans. Agencies love us because we take the secondary tasks off their hands, while small businesses and startups prefer us for our cost-effective service.
The Penji Process
Startup design need not be complicated. This is why Penji has made the design process straightforward. You can see from these simple steps that getting your logo or infographic is quick and easy:
Create
When you sign up for Penji, you'll get access to our design platform. This is where you'll send your design requests and communicate with our designers. Click on the New Project button to get started.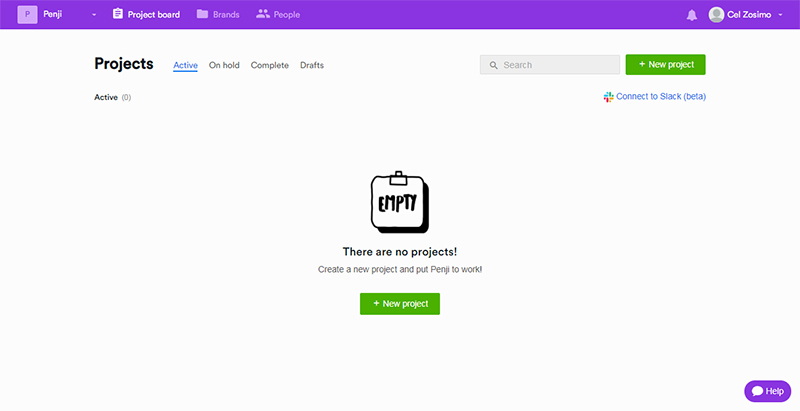 Give your project a suitable title, then choose the design category. Our graphic designers specialize in a wide range of styles that covers most of your startup design needs. If what you need isn't on our list, we can custom create them for you.
On the description box, write a brief yet thorough description of your project. You can find tips on what to include in your brief on the left side of the page. We also encourage you to attach links, documents, or any file that can help the designer understand your project better.
We also have a collection of royalty-free images that you can use. Just click on Select images to choose. Click Next.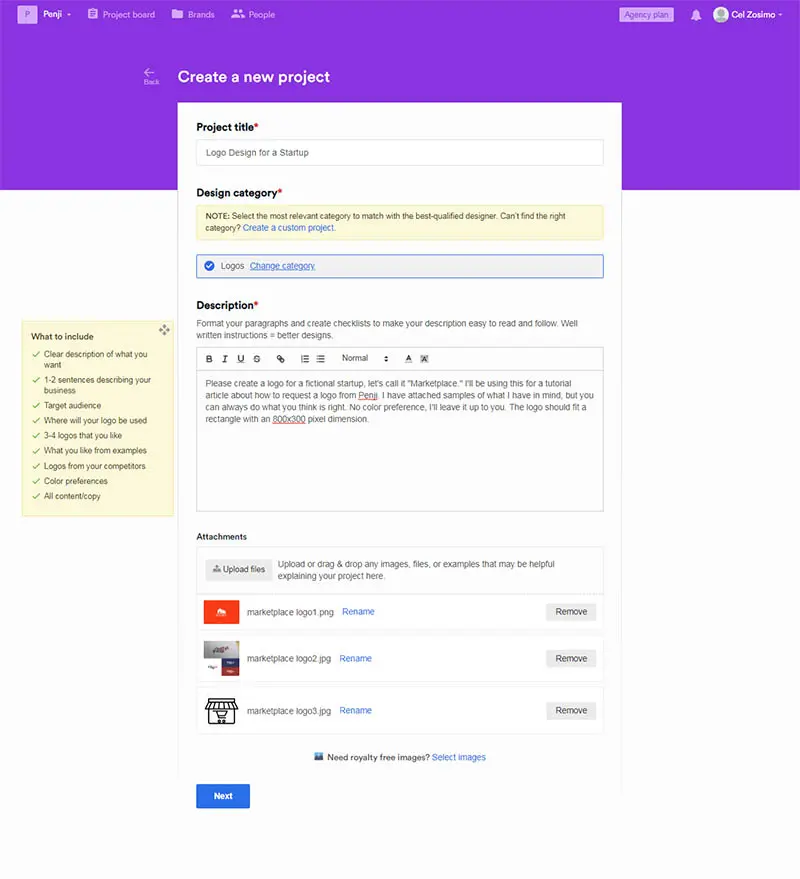 Choose the level of customization. Our Team and Agency plans allow you to request custom illustrations. Click this if you want illustrations for your startup designs.
Next, select which files you want your design to come in from the File deliverables section. For the Associated brand, you can create a folder and upload all your design assets such as fonts, logos, or color schemes if you already have them. You just need to click on this folder if you want to use them in your next projects.
Click Create project.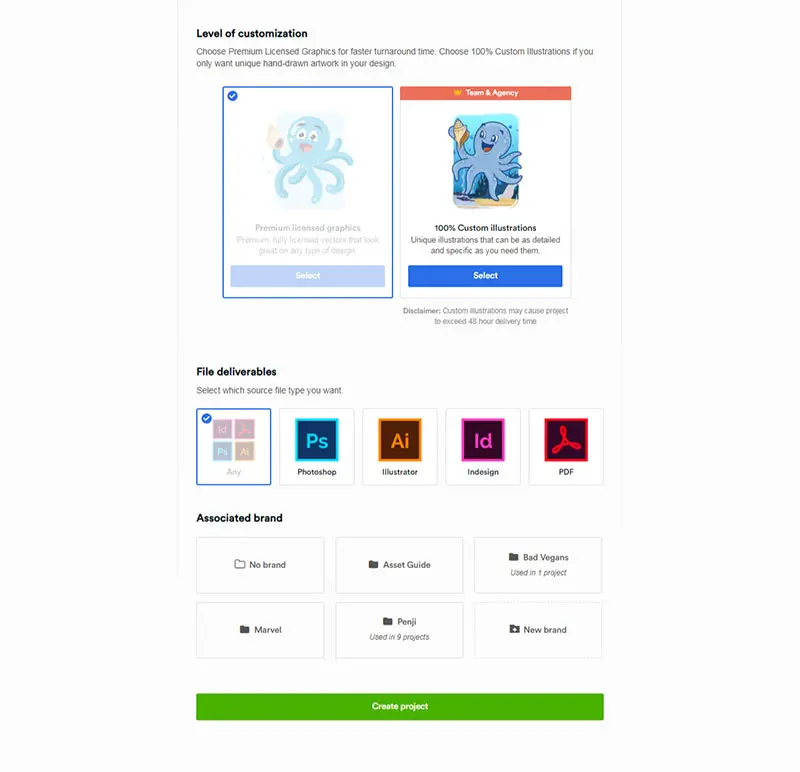 Penji's system will automatically assign your project to the best designer for the job. In under 48 hours, you'll then receive an initial draft of the design.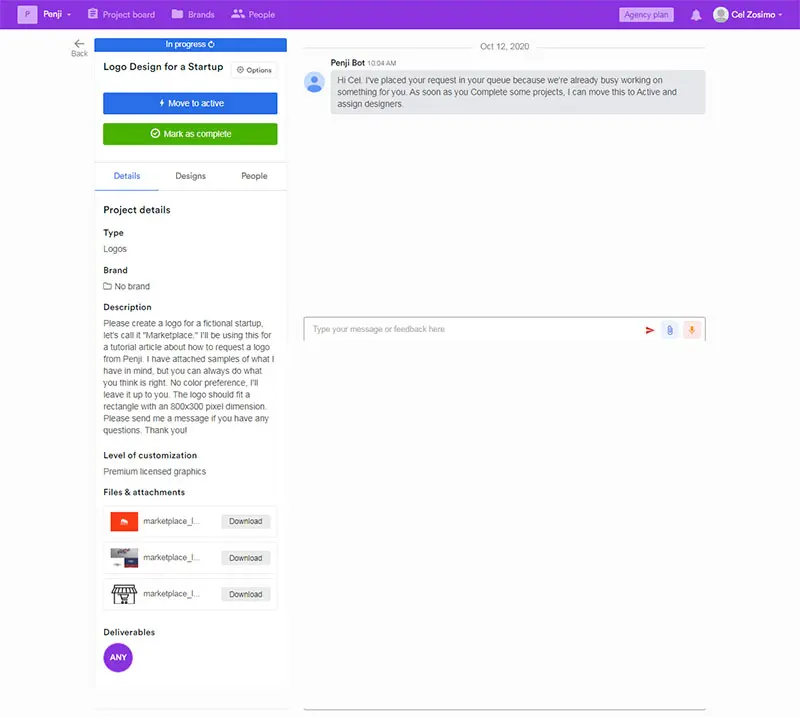 Review and Revise

Review your design and send it for revisions if you need to. Just direct your pointer to what you want to be changed, leave a comment, then click Send. Penji's unlimited graphic design includes unlimited revisions at no extra cost. This is to make sure that you get only the designs that you'll be happy with.
Our designers will work on them within 12 to 24 hours. Check the dashboard regularly to see the progress of your request. You'll also receive email notifications so you won't miss anything.
Download
After the revisions, you can now download your design directly from the dashboard. Create your next project so the designers can start working on them. The designs will be stored in the system, you can come back for them anytime you need to. You'll also get full ownership of the designs and will be yours to use in any way you want.
Final Thoughts
Communication is the key if you want your startup to grow towards success. It's essential that you get your message across to the right people. With Penji, you'll get the help you need in creating graphic design that speaks to your target audience. And our unlimited service and flat, monthly rates assure you that you'll get quality and affordability in your designs.
Click here to sign up for Penji.