A picture is worth a thousand words – especially when you're hungry and you come across an appetizing ad. As a graphic design team, we've seen a ton of digital ads. Some of the most creative banner ads come from the food industry, particularly restaurants. There's just something about a bold restaurant ad that inspires you to take action. Whether it's the rich assortment of food or the tempting offers featured in the design, it wins your attention. In this article, we'll go through some of the best restaurant banner design examples to see what works.
1. The Baroness Bar

Who doesn't like a good burger after a hard day's work? I know I do. And The Baroness Bar restaurant banner design really seeks to exemplify that. The first thing that sticks out to me is just how detailed the burger appears as a result of its close-up.
It tells me that I have something great to look forward to in a Baroness burger. Furthermore, I love the Happy Hour emphasis – it's just the kind of thing I'd be looking forward to at the end of the day.
2. La Hacienda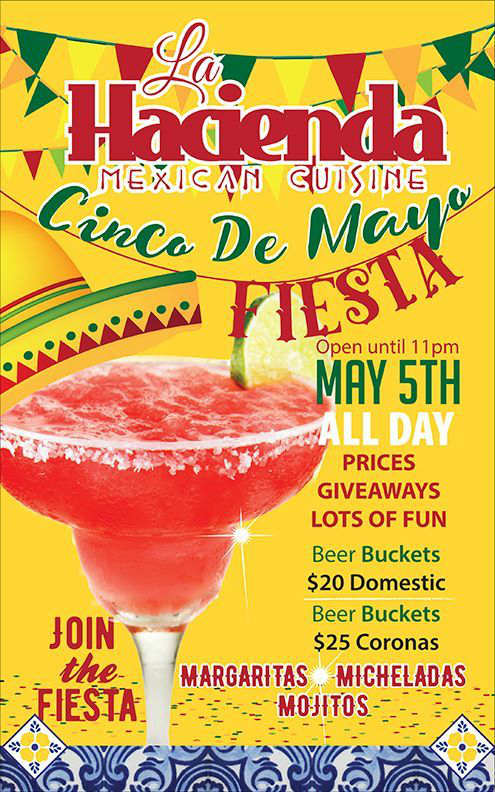 La Hacienda's restaurant banner designs' use of green, red and especially yellow really drives their point across. Another thing I like is the typography of the text here. It really conveys that Latin atmosphere and I absolutely love it. The use of Spanish terms doesn't hurt, either. It only piques my interest further.
3. Azeez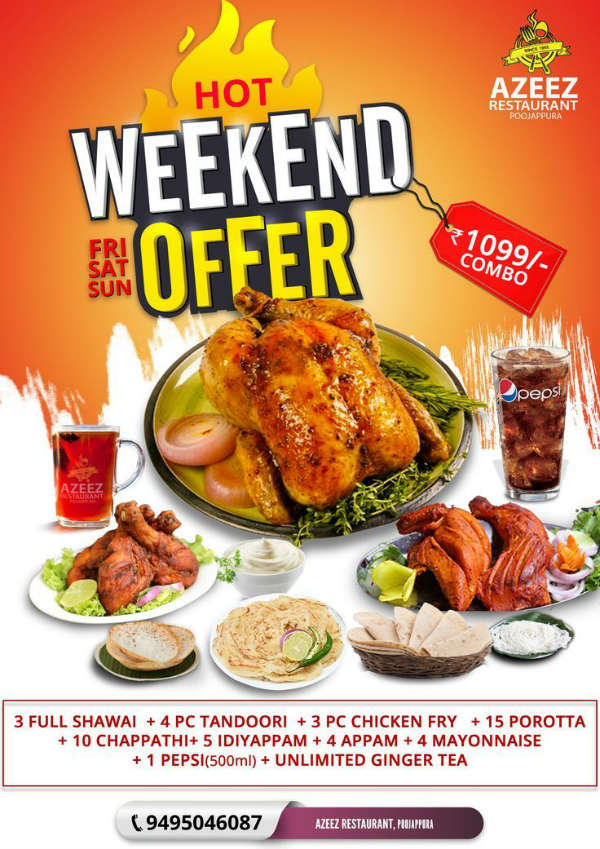 Hey, now this is pretty spicy for a restaurant banner design. The first thing that captures my attention is the well-done chicken in the middle of the banner. It does its job well at turning heads. Next is the "Hot Weekend Offer" caption. Of all restaurant promotion ideas, showcasing the food is an obvious trick that tends to work.
What I like about how eye-grabbing it tends to be is the way how it creates a sense of urgency. Plus, the flame pattern is pretty cool to look at.
4. Arni's Ballpark & Pizzeria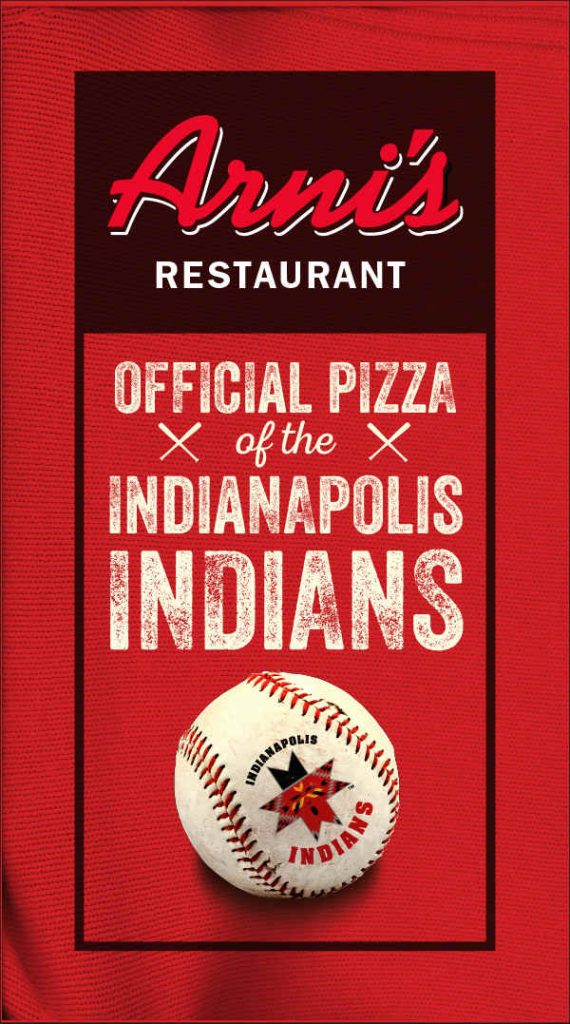 There's something to be said about a restaurant chain that not only serves great food, but they're also diehard fans for a certain sports teams. Like Arni's, for example.
This restaurant banner design they have here is a bit on the simple side, but it works to catch the interest of the average passerby by stating that they are the official pizza restaurant of the Indianapolis Indians, one of the many baseball teams in the MLB season.
5. Arby's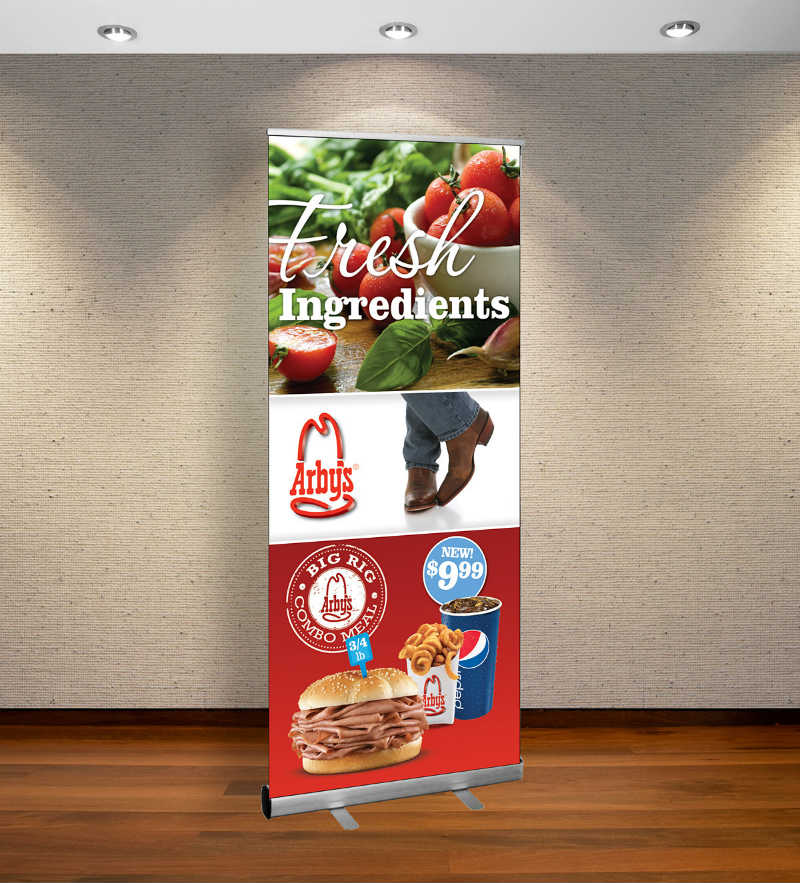 Arby's is well famous for creating some of the best advertising that we've ever seen. From their YouTube ads to their social media posts, Arby's just seems to be on top of things, don't they?
This restaurant banner design is no different if you were to ask me – I love the different contrasts between the ingredients and the finished foods near the bottom of the banner, as it creates a nice transition. I also can't help that the boots in the middle really sells the whole Western feel for the banner. Of all the restaurant banner design examples, this one goes lightest on text.
6. Great Raft Brewing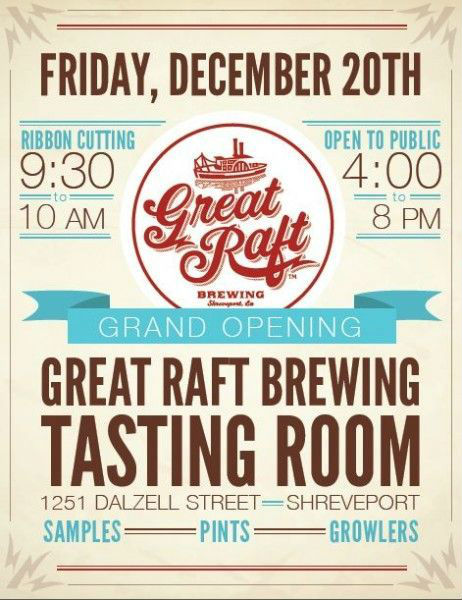 Now, this may not be your typical restaurant, but I was so captivated by the restaurant banner design of Great Raft that I couldn't help but share. As fitting in with their name, Great Raft Brewing has a well-done banner here to signify their grand opening. I just love how their large logo helps to paint a somewhat nautical like poster, combined with the striking contrast of blue and brown.
7. La Curacha Cafe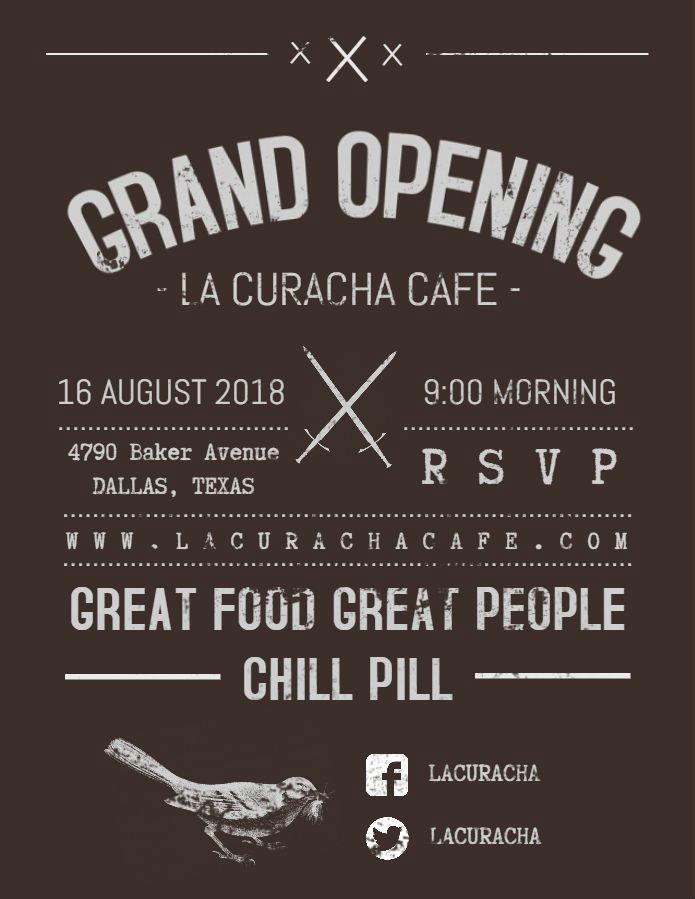 I really like this restaurant banner design for La Curacha Cafe. It may just be me, but with banners with a vintage-like feel will always garner my attention. I also like the fact that "Grand Opening is big and bold, thus easy to spot from a distance. "Great Food, Great People – Chill Pill". That's more than enough to at least glance a look at this design.
8. Best Blend Coffee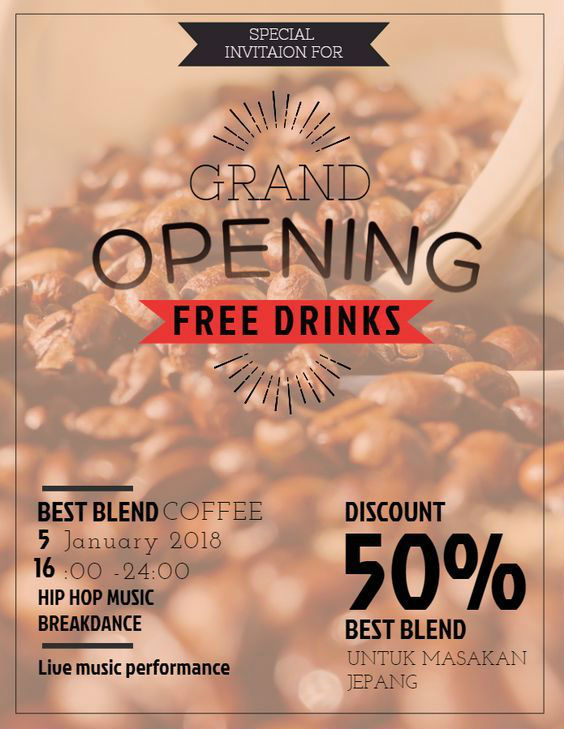 This is another great restaurant banner design. I love the fact that the coffee beans are used as a whitewashed background to carry the whole coffee theme that this ad is trying to sell me. Furthermore, what best way to launch a grand opening of a coffee shop than with free drinks? If there's one thing I know that people are guaranteed to turn out for, it's free food.
9. La Crianza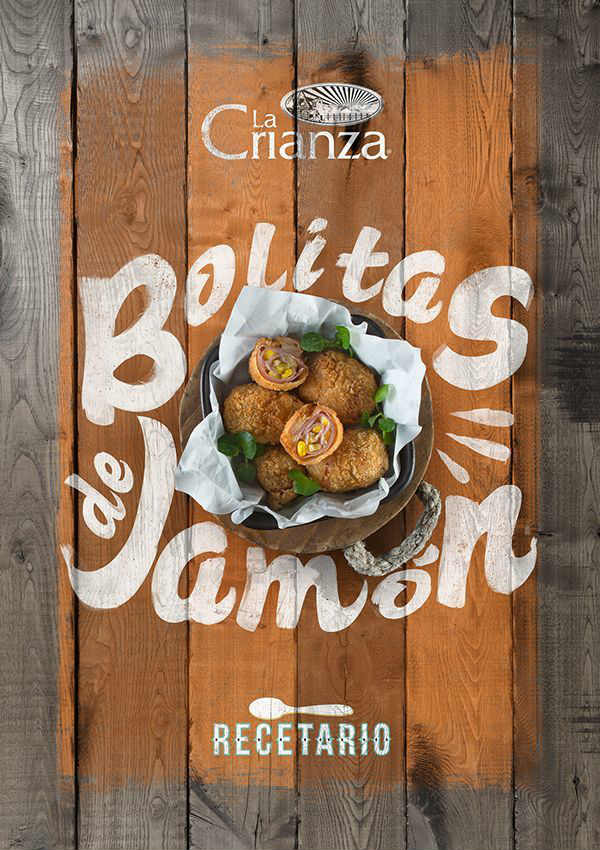 Anyone in the mood for some seafood? Well, with this banner design from La Crianza sure puts me in the mood for some. I also love the slightly weathered finish for the board in the image. It tells me that this is set up right by the seaside, further emphasizing the fish. And is it me, or is this typography for the "Bolitas de Jamon" really popular with seafood restaurants? Of all the restaurant banner design examples, this is probably my favorite.
10. Southport and Irving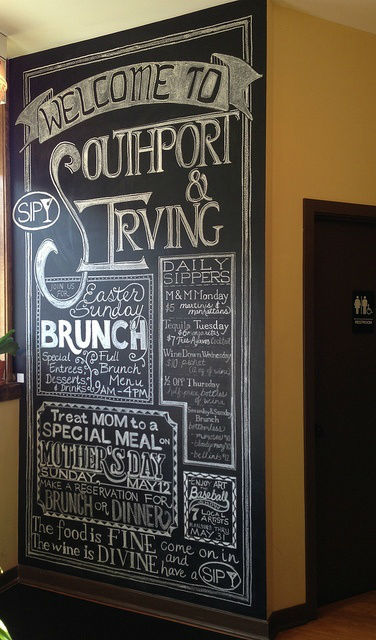 Now, this restaurant banner design is just awesome. Why? Well, not only is it large, conveys its points clearly and is pretty to look at, I'm also amazed at the fact that this looks to be entirely handmade. That's some serious dedication, and it will turn heads! Another great point is that it seems to be put in a place where everyone is more likely to see it. Well played!
11. The Noodles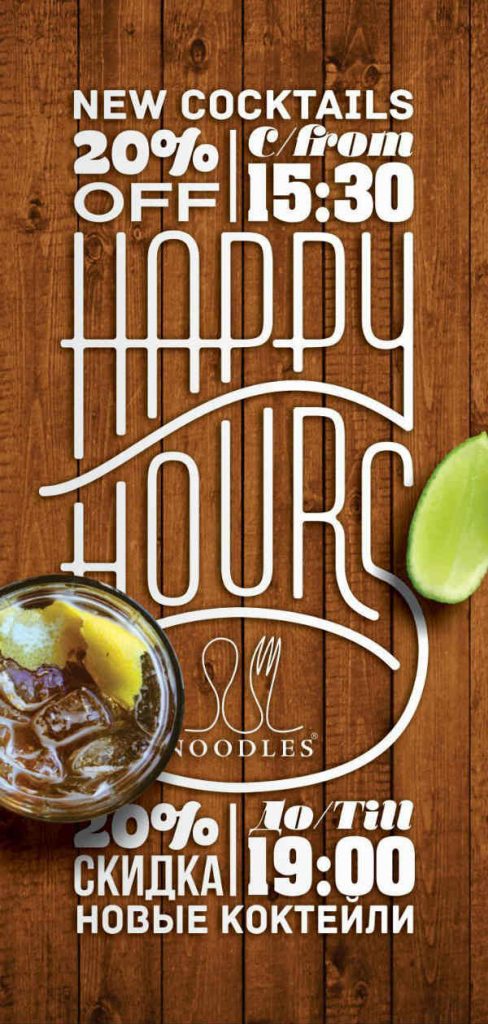 Happy hours are always a great time, aren't they? And The Noodles restaurant seeks to capitalize on that fact with its banner. The typography here is whimsical and striking, especially against the wooden background. Not to mention the offer of 20% off new cocktails.
But what really strikes me is the dual language that the offer is being offered in. Quite the oddity to include on a restaurant banner design, but it makes me pay attention to the design more.
12. Starbucks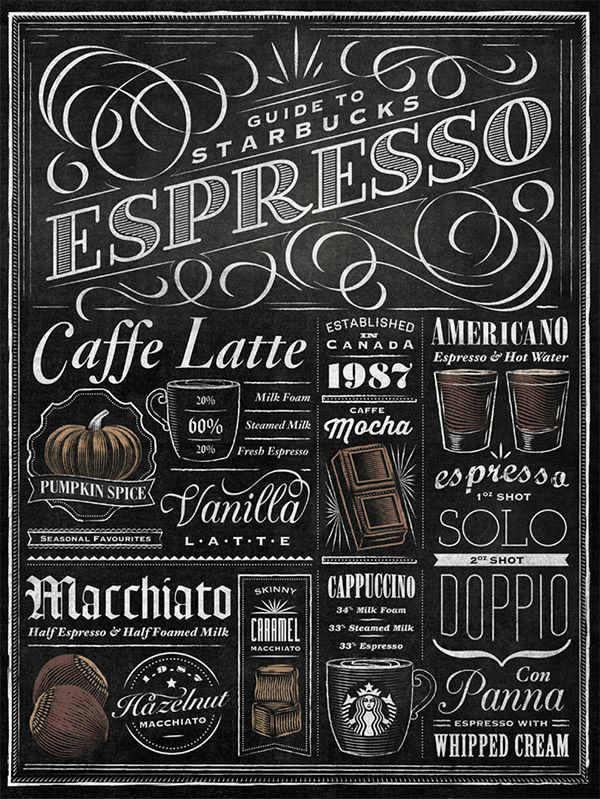 When was the last time you had a latte from Starbucks? Not very long ago, I figure. Well, have you seen a more elegant restaurant banner design to go with your cup of coffee? Now, this design is also adopting a chalkboard-like feel with regards to its presentation, but in this case, it feels a bit more exquisite.
I attribute it to the large espresso graphic at the top, combined with the various other fonts that permeate the banner design. It shows sophistication. Maturity. And very good types of coffee.

13. Nara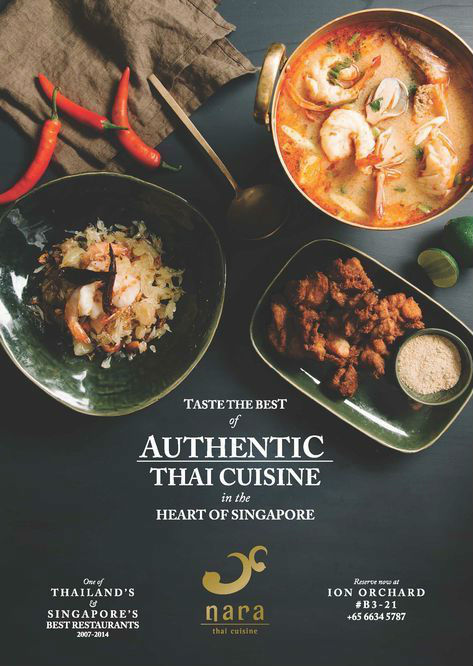 Simple is always the best restaurant ad design strategy, and Nara here embodies that to a T. By showing some examples of traditional Thai cuisine, they're subtly telling us that this is the best that Singapore has to offer, and you haven't been to Singapore until you've eaten at Nara. Plus, I love the accolade appearing on the bottom left corner of this thai restaurant design example – that further cements why I should check Nara out.

14. KFC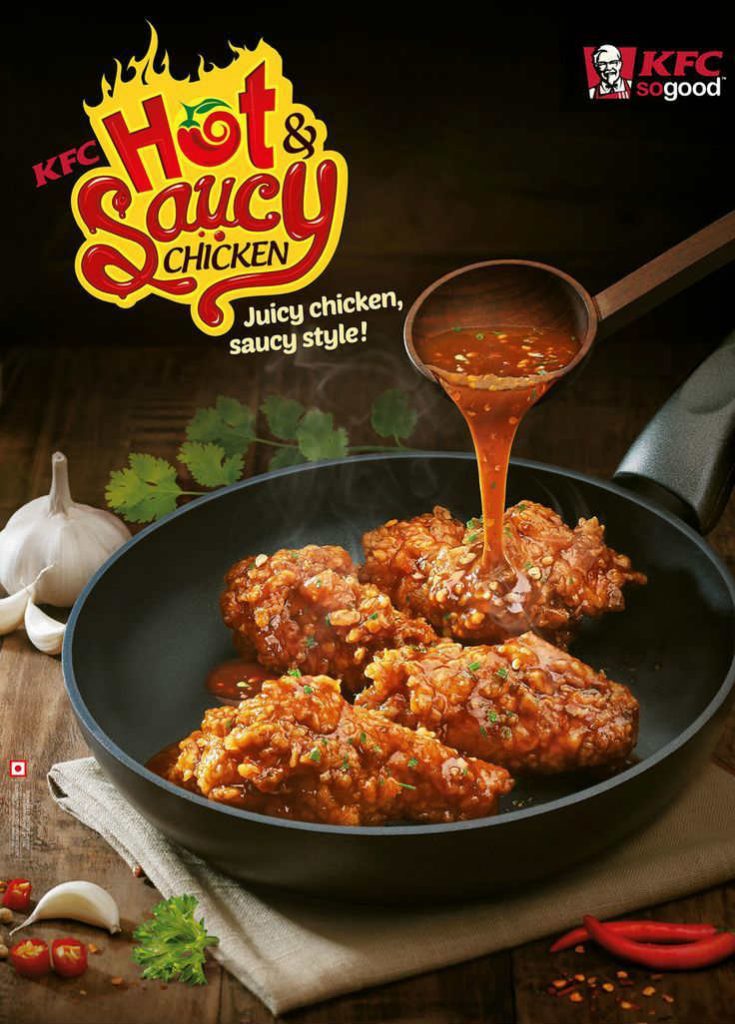 Do I really need to give KFC an introduction here? Everyone knows their chicken. But for the 2 people living under a rock that are still unfamiliar with the brand, this fast food design does a quick, yet efficient job at showcasing just what they have been missing out on.
Showing some crisp fried chicken, having some sauce poured on to whet the appetite of the viewer, and the "Hot & Saucy" graphic at the top… what more would you need?
15. The Hungry Gecko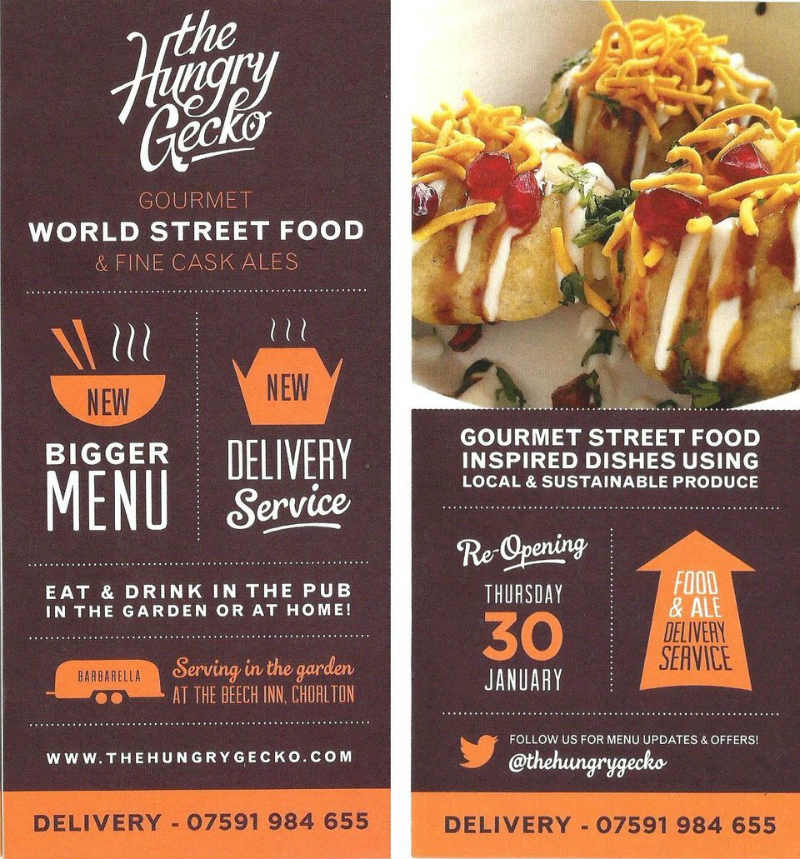 From a restaurant ad design, this is showing off a lot of information. However, it's a good thing that this is so well designed so as to not bore me. The Hungry Gecko blends information with graphics pretty flawlessly, if you ask me, there's the text that gets right to the point, food images to entice me, and cute little graphics that meld well with the overall design. Plus the smaller typography is spot on and complements the main logo.
Whew, this has got my tummy rumbling. Make your banners as enticing and mouthwatering through the Penji platform.
Request a Restaurant Banner Design on Penji
Login and Open a Project
After you sign up for a Penji account, you can log in to your dashboard and Create a Project.
From here, you can select the appropriate category and move on to writing your design brief.
Describe What You Need in Detail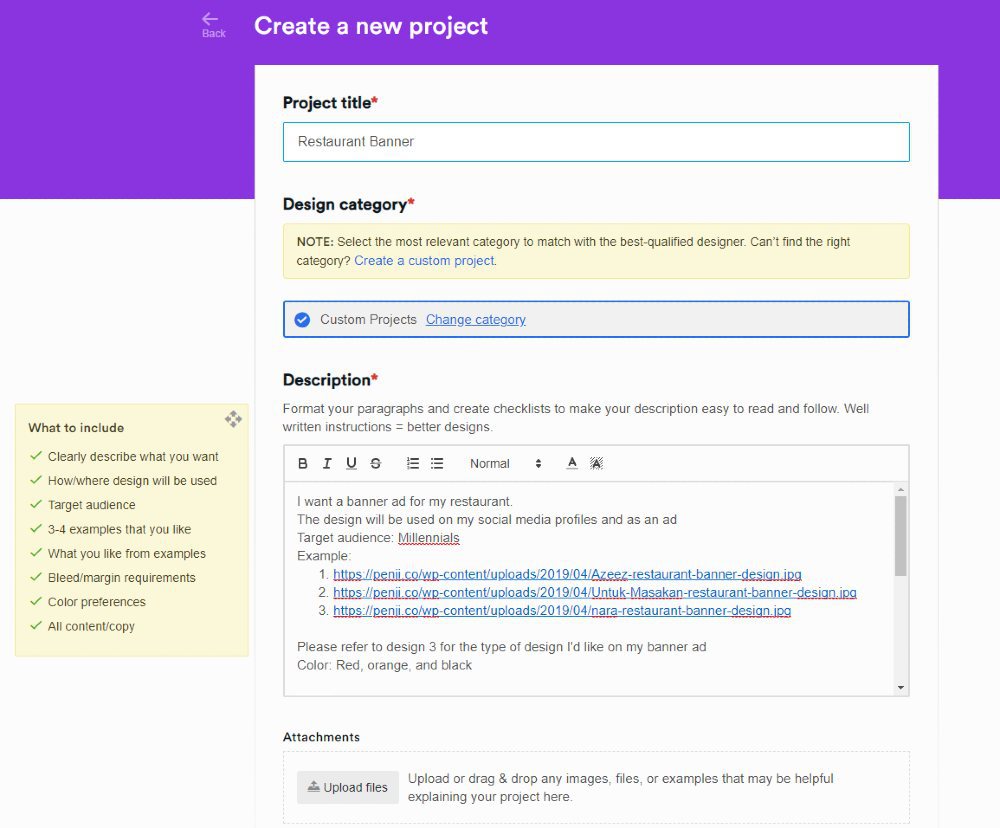 Make your banner stand out by providing specific details about the design you want to have. You could say something like making the promotion (e.g., 20% off) a bigger text than the other text. Maybe, most of the copy is in white but emphasizes the promo.
You should do it this way. It will help your designer get an idea of what you want in the design. Plus, if you can, add a reference. This way, your designer will know how to produce a banner and take it up a notch.
Review and Provide Feedback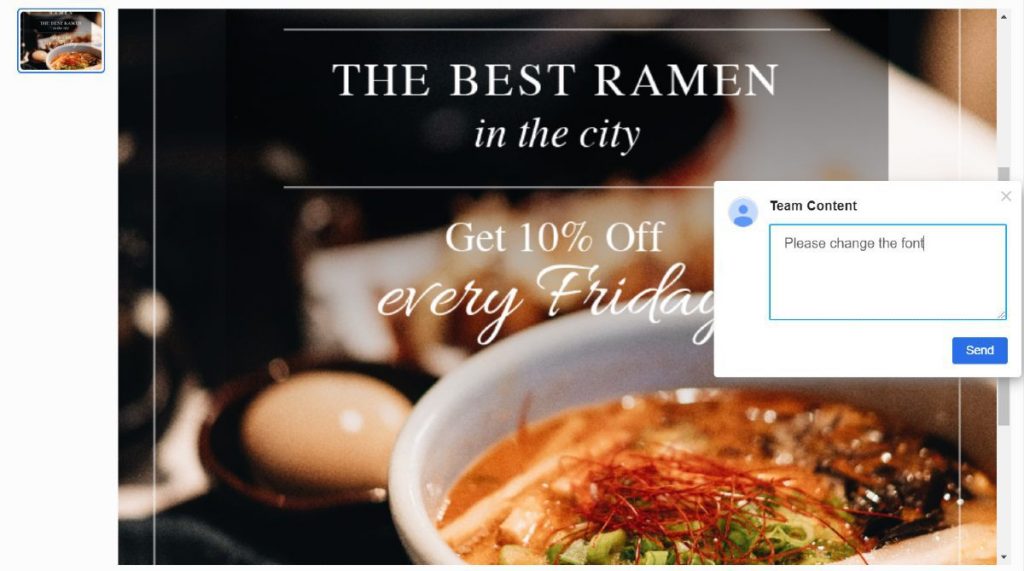 Once you've submitted your design brief, expect to receive your design within 24 to 48 hours. Some graphic design services take three days on their starter plan. With Penji, no matter what plan you're subscribed to, you'll get the first draft in half the time than most services.
When the designer uploads the first draft, it's time to take a look and see if it may need more improvement. Sometimes, you might need to revise more than once. Penji makes it easy for you to point out revisions anytime.
Plus, on any Penji plan, you're entitled to free unlimited revisions.
Download and Request Another Design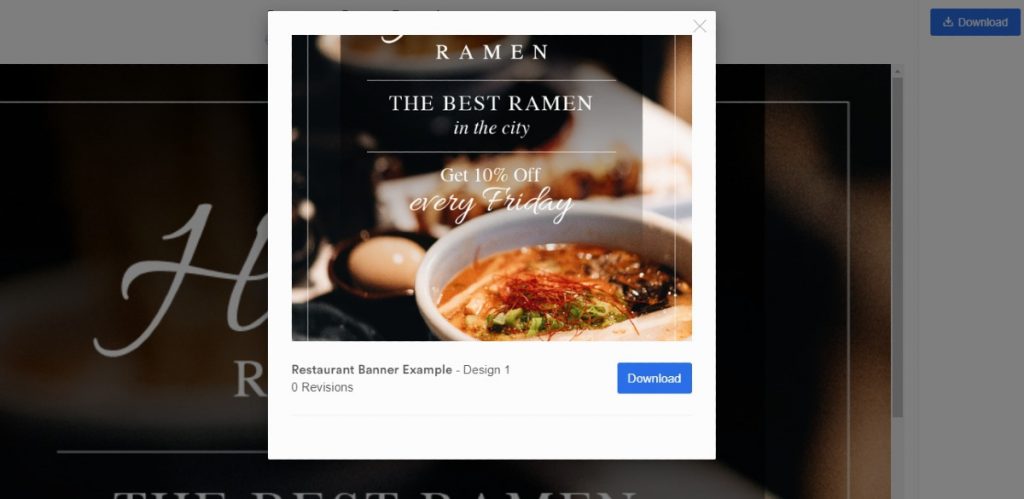 Once you're thrilled with the design, download it in just one click and save it on your computer. The files are all yours, by the way, and publish it as an ad. It's so your customers can finally see it and flock to your restaurant.
Impressed by our designer's work? Request another and start the process anew.
Create Mouthwatering Restaurant Ads with Penji
Make your restaurant the next foodie destination. Penji's top tier graphic designers can create custom food ads personalized to your audience.
Need designs other than banner ads? No sweat. Our team tackles any design project and submits it in 24-48 hours. No need to wait weeks or work through a tedious revision process with a freelancer who doesn't get you. Suggest detailed revisions right from within our platform and get all the designs you need on a rolling basis.
Sign up now to test the platform risk-free for 15 days.