Heading out to a special event can be exciting for many reasons, but let's be honest: The food is #1. Yes, you get to see the host, marvel at the decorations, and partaking in the activities. But food is often the limelight of any big gathering. So a show-stopping event menu design is a must-have if you're the host.
When people arrive at a party, the first thing they look around for is the food. If it's a fancy event, they'll check the event menu card to see what they have to look forward to. This is your opportunity to wow them with your menu design.
Difference Between Restaurant and Event Menu Designs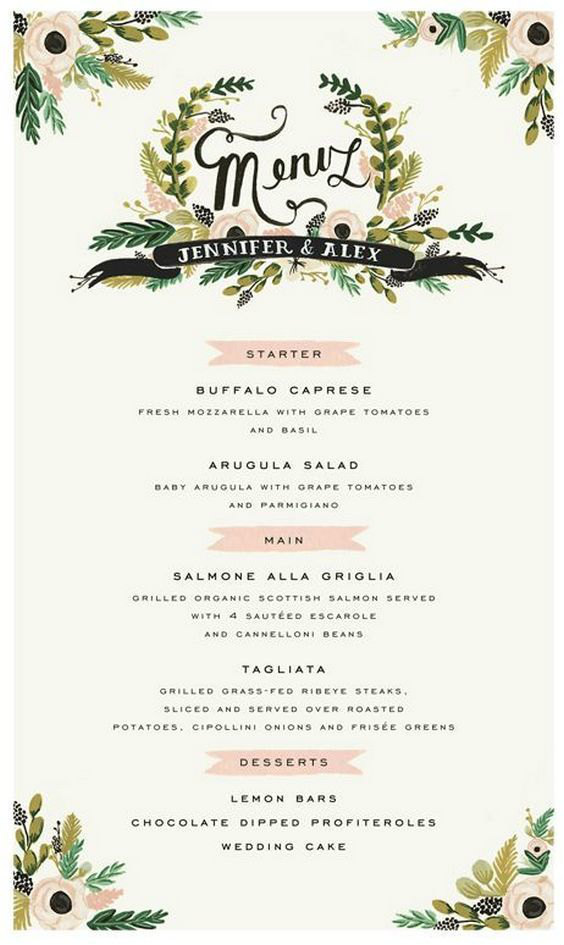 At first glance, event menu card designs look relatively smaller than typical restaurant menus. While a restaurant expresses its branding through its menu, an event menu design, on the other hand, will depend on the specified venue, theme, attendees, and event type.
Also, the dish options on an event menu card are fewer compared to a full-scale restaurant. That's because some types of event schedules only last for a couple of hours, giving chefs and caterers a limited time to prepare the food.
5 Factors that Make an Excellent Event Menu Design
Whether you're a caterer, event planner, or a graphic designer, an outstanding event menu design is one of the things that people will remember in a special event. Before putting a menu card together (or a mobile menu), consider these important things that should go into your menu design.
1. Must Align with Guest Profile and Preferences

For people who are accustomed to the rubber chicken circuit, expectations about insipid event dishes are almost always accurate. Before designing an event menu, make sure that you determine the guests' profile and preferences. Do some research or reach out to the event organizer for details. Provide questionnaires to some of the guests if necessary.
To prove some people wrong about their preconceived notions on event food, give the guests something original and exciting. Something that will get them thrilled on the next fundraising event or corporate event because they had a delectable experience from the previous one.
Here are some questions to ponder on:
What is the guests' professional level?

What is the client's profession?

Where do most of the guests live?

What is the guests' ethnic background?

How frequently do the guests attend these kinds of events?

What is the average age group?
Identifying these details about the guests will help you think about the dishes and the menu design that will impress them.
Take for example these two menu designs on different birthday occasions. One is for a teen's birthday, and the other is for an elderly's 75th birthday. Surely, the bunting and balloon designs on the senior celebrant's menu would seem out of place, right?
2. Readable and Coherent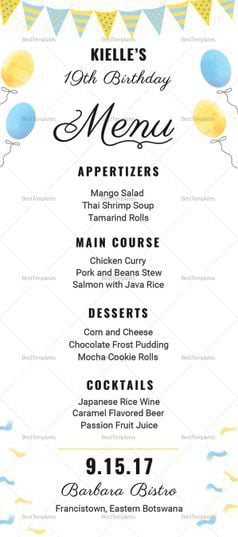 When crafting the descriptions for the food choices on your event menu, make sure that they're legible. Don't try to overdo it with squiggling the calligraphy designs, or looping every letter on every word. Use a font that is easy to read but also matches the type of event.
Also, since event menu cards are relatively smaller in size and are sometimes short on space, make sure you use a font size that is large enough to read but isn't too dominating.
Most guests would prefer to know what they're about to indulge in. If they can't decipher a single word because of a badly-written menu, they won't even know how to give proper credits or appreciation if they enjoyed it that much. Plus, it might be tempting to use a "language" associated with the cuisine on the menu but ensure that the guests will have the ability to understand it as well.
Networking events are usually held so people can talk and socialize, so hors d'oeuvres are usually served so guests can walk around and mingle. When creating a menu for this event type, keep the descriptions and fonts simple like this example right here.
3. A Color that Complements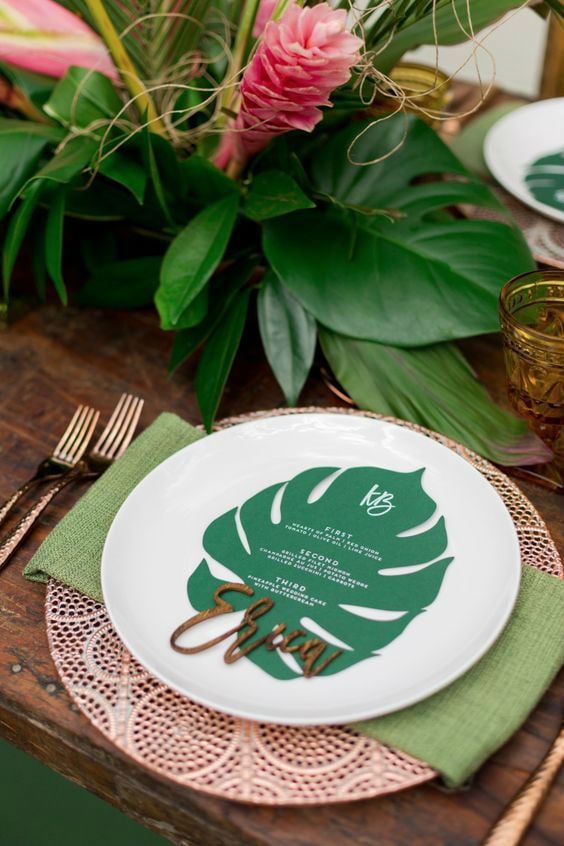 First and foremost, you want to make sure that the background colors aren't too dark and distracting. If you have to choose a darker color to meld with the event's theme, ensure that you pick a suitable font color too.
Also, consider the stationery that you're using the menu on. All details have to complement one another. White is the usual color used in most wedding event menu cards. Take a look at these examples.
4. Match with Venue, Motif, or Theme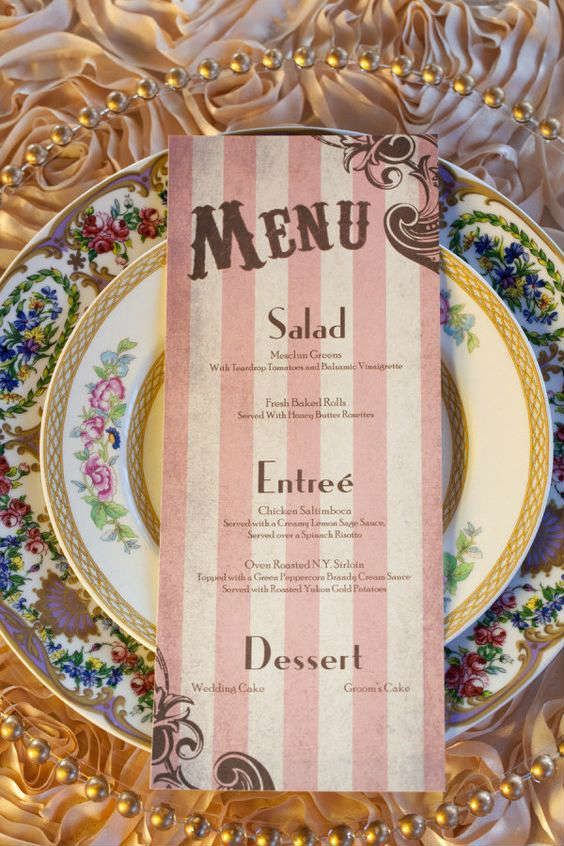 Always make sure to match the overall look and style of the menu card design with the venue's level of formality, event motif, and theme. Most of these special events or occasions aim towards a particular style or theme. So make sure that you check every detail during your site visit before the event.
Say, for example, you're creating a menu for a formal masquerade event with chandeliers, red carpet, string quartet, a ballroom, and masks. For sure, this rustic event menu design will look out of place in a masquerade event, right?
See restaurant ad designs here.
5. Stick to a Maximum of Three Choices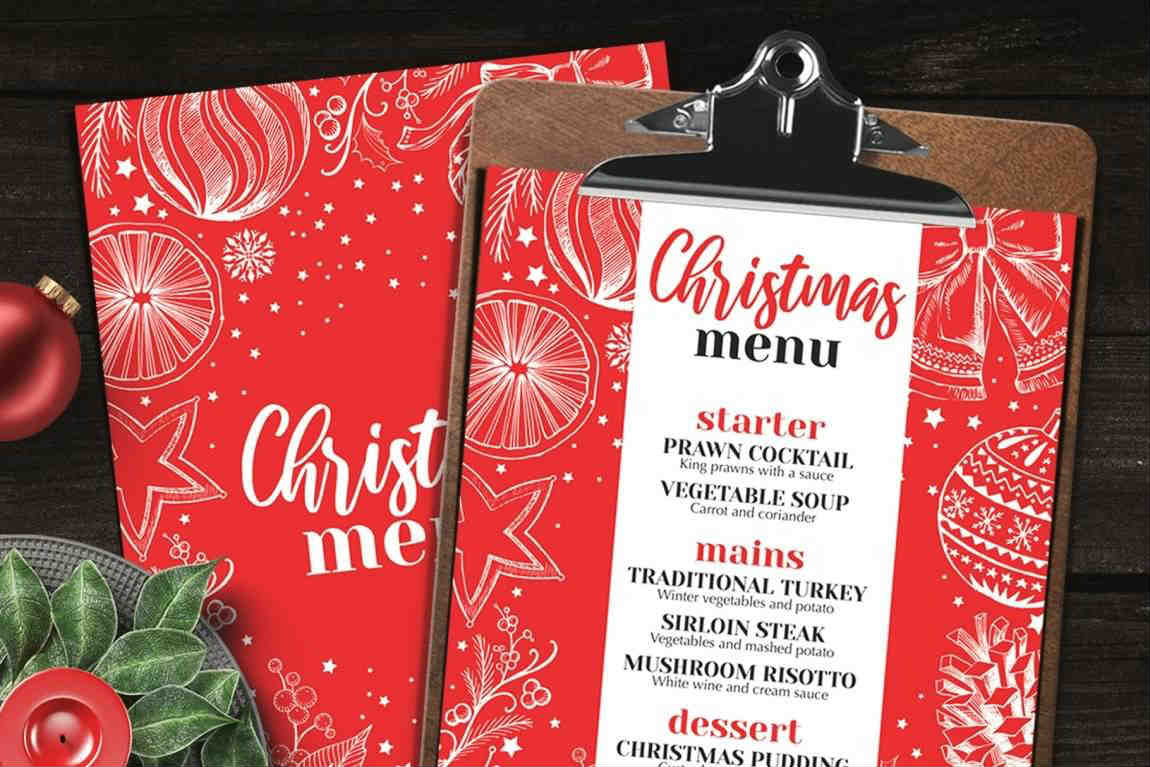 Guests will inevitably have different dietary needs. Some will probably be vegans, vegetarians, pescatarians, and then there's the majority who would devour anything served in front of them.
When creating the perfect event menu design, ensure that you have options for everybody. Having only meat options in the entrée section for a plated event dinner will make vegetarians feel left out. Or offering chocolate cakes only in the dessert section will not make the fitness buffs or diabetic guests very happy.
However, don't turn your menu into a full-blown restaurant menu. Keep the food choices down to a maximum of three like this Christmas menu card for example. This will make various guests happy and will make the caterer's job easier as well.
Get unlimited designs with Penji
If you need menu designs or any other graphics to propel your business forward, look no further. Penji can help you visually brand yourself and create a steady stream of visual content that draws your ideal audience.