Chances are you get hit with thousands of digital ads every day. But how many of them can you remember?
The fact is, the sheer number of ads you see online make it much more difficult for anyone to stand out. Meanwhile, 71% of people surveyed say that outdoor advertising is more attention-grabbing.
At Penji, we've created both digital and physical ad designs for over 25k+ clients. We understand that a lot of different factors go into choosing which type of design is right for you. Here's the complete rundown on 9 key types of outdoor advertising.
What is Outdoor Advertising?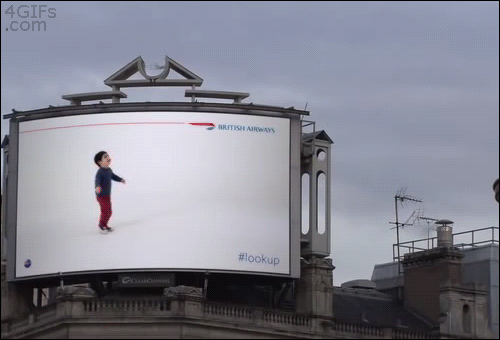 Outdoor advertising is a form of advertising strategy that targets consumers out and about in the world. But it doesn't just refer to ads that are literally "outdoors." Ads in malls, subway stations, and any other public space can be considered a kind of outdoor ad. This is why many people call the strategy "out-of-home advertising" or OOH.
What Are the Types of Outdoor Advertising?
The 9 types of outdoor ads we'll be looking at today are
Static billboards
Digital billboards
Mobile billboards
Banners
Outdoor signs
Transit advertising
Retail advertising
Street furniture
Experience advertising
Which one you choose can depend on a number of factors, including budget, location, and target audience. You can also break outdoor advertising into 2 types: traditional and digital.
Traditional outdoor ads are static prints such as billboards, posters, and face-to-face experiences. Digital out-of-home ads (also called DOOH) include electronic screens and virtual/augmented reality experiences. While digital ads can be more costly, they offer more opportunities to catch people's attention.
Now that you understand the basics, here's a breakdown of each type of advertising.
9 Types of Outdoor Advertising
1. Static Billboard Advertising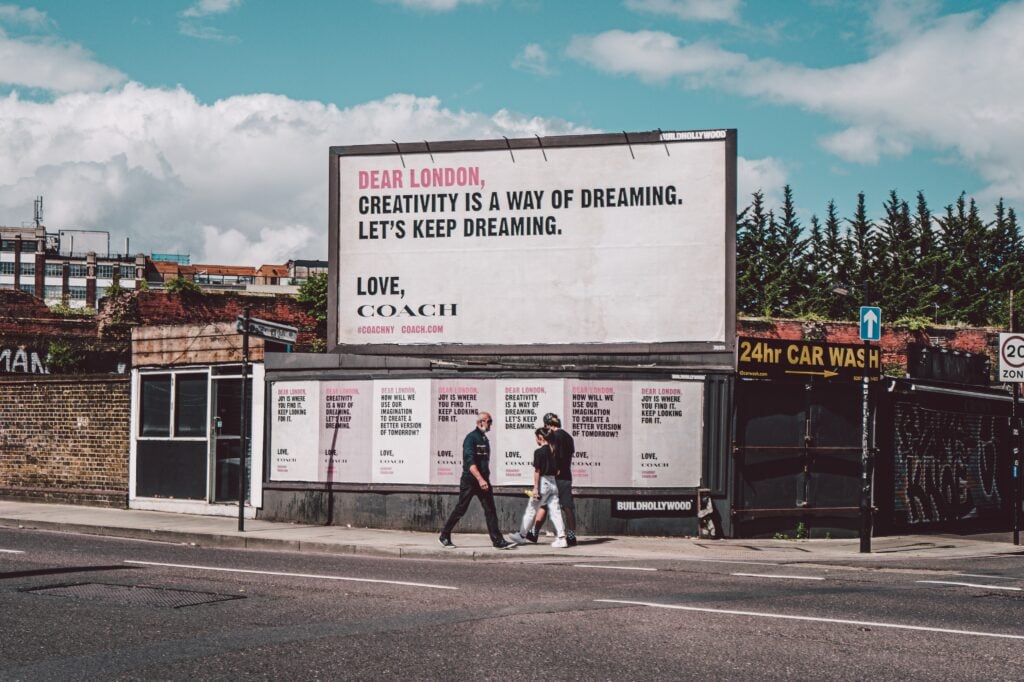 Billboards immediately come to mind when thinking of outdoor advertising, and for good reason. They're huge, they're everywhere, and they're proven to yield results. The cost of billboards can vary greatly based on size and location, ranging from $750 to over $14,000 per month.
These are the classic, non-digital billboards you'll find on highways and city streets all over the world. After all these years, they're still pretty effective at catching people's eye, especially when they stand out from their environment.
2. Digital Billboard Advertising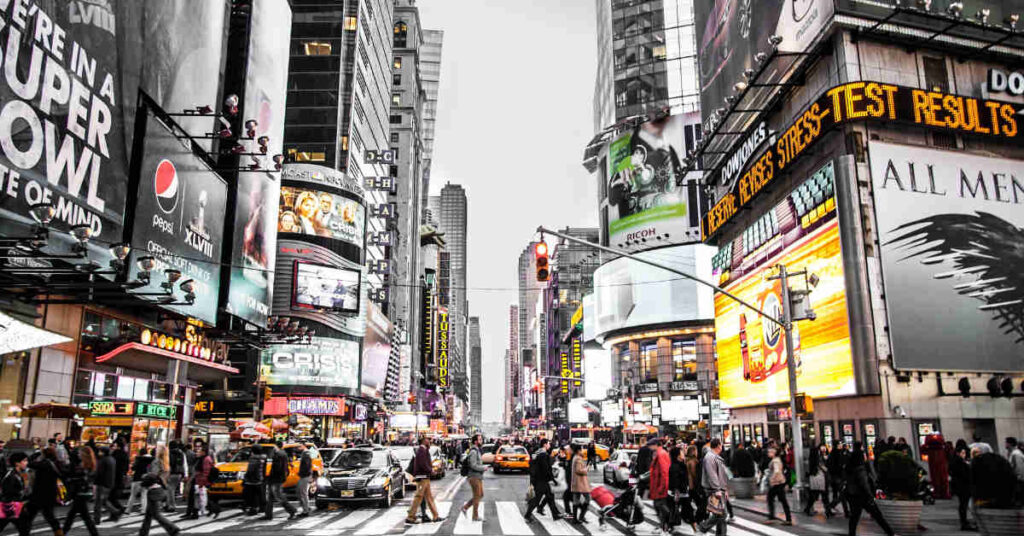 Digital billboards have the advantage of displaying videos and animations, making them significantly more eye-catching for outdoor advertising. You can be creative with your billboard design and messaging. The catch? They can cost up to 4x more than static billboards.
You can also expect them to cost more to design. Digital billboards often feature motion graphics, which can range from simple animations to full CGI videos.
3. Mobile Billboard Advertising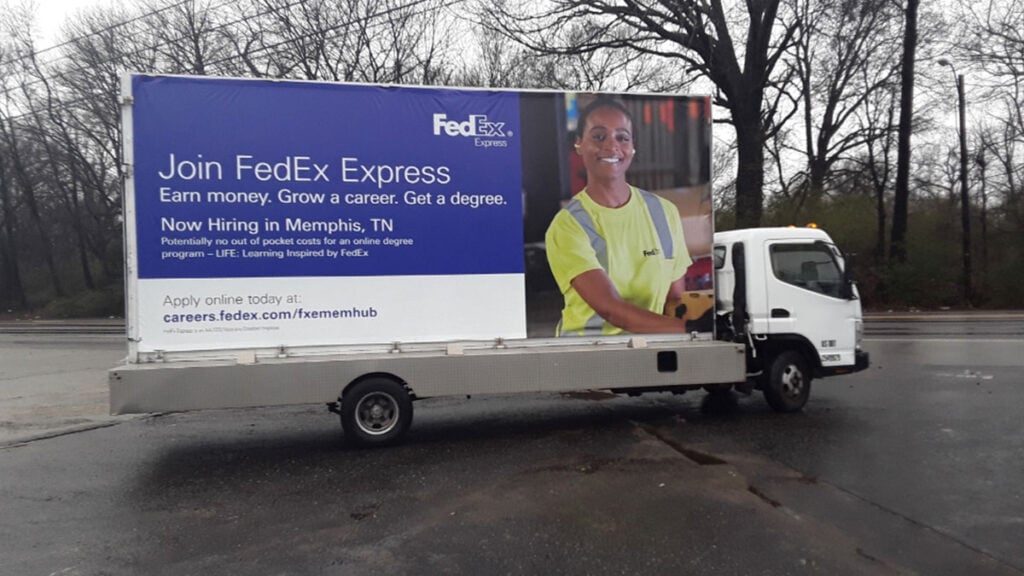 These are trucks, trailers, and other large vehicles with vehicle wrap designs to promote your business. You can rent out these trucks for roughly $100-400 per hour to advertise your business in a highly-trafficked area, using either static or digital designs. Branded delivery trucks also fall into this category.
4. Banners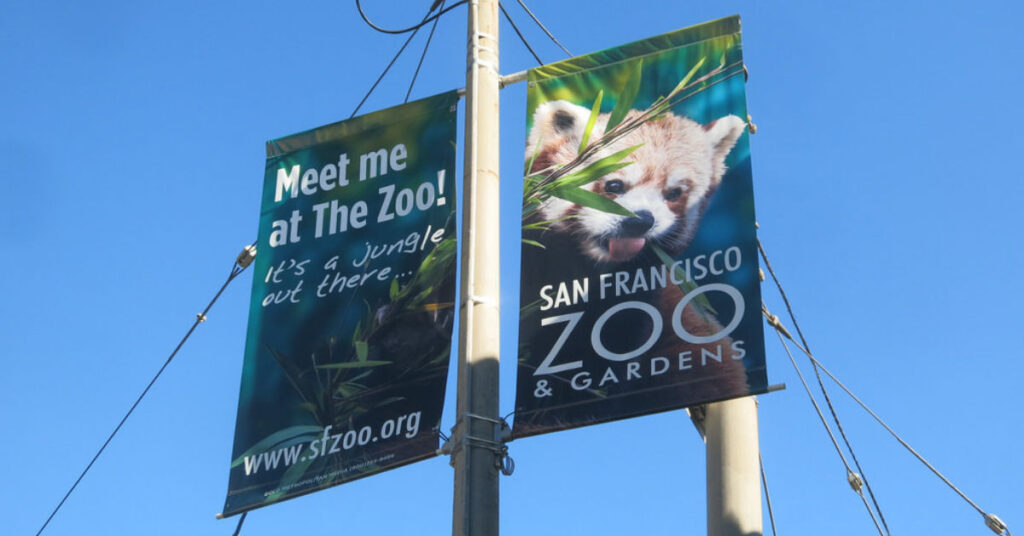 The first example of a banner advertisement you might think of is a pole banner, like the one pictured above. These often advertise events and tourist attractions in major cities. But there are other types of ads under the banner umbrella, including:
Bridge banners: If you're looking to appeal to travelers, billboards aren't the only option. Advertising on the sides of bridges is another way to get attention on high-traffic highways.
Indoor banners: Yes, there's such a thing as indoor outdoor advertising. From airports to sports stadiums, banners in big public areas have a high chance of catching people's attention—which is why companies often pay over $50,000 for prime spots.
Standing banners: These are one of the most common low-cost solutions for small businesses to do outdoor advertising. A simple banner set up on a pole or stand can drive local traffic in your immediate area. Custom free-standing banners can cost $50 or less.
5. Outdoor Advertising Signs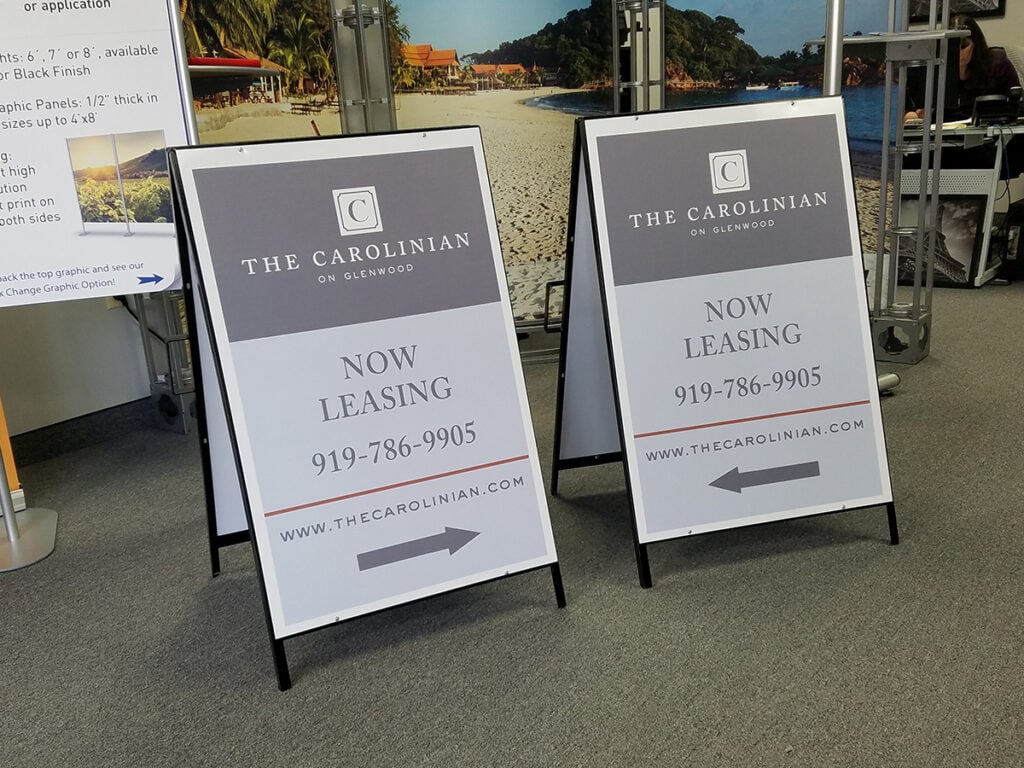 Speaking of low-cost, a banner isn't the only way to attract attention outside of your business or event. If you're looking for foot traffic, a simple outdoor sign can be just the thing—as long as you put the right amount of effort into your design.
The above example illustrates how graphic design itself can convey information without words. Real estate graphics often use elegant designs with muted colors and typography to convey professional agents and upscale properties.
Outside of A-frame signs like the ones above, outdoor signs can include evergreen signs outside a business, political posters at public events, and much more. If you want to get DIY with it, you can paint designs directly on your storefront window, ensuring that even people on the go will take a second look at your business.
6. Transit Advertising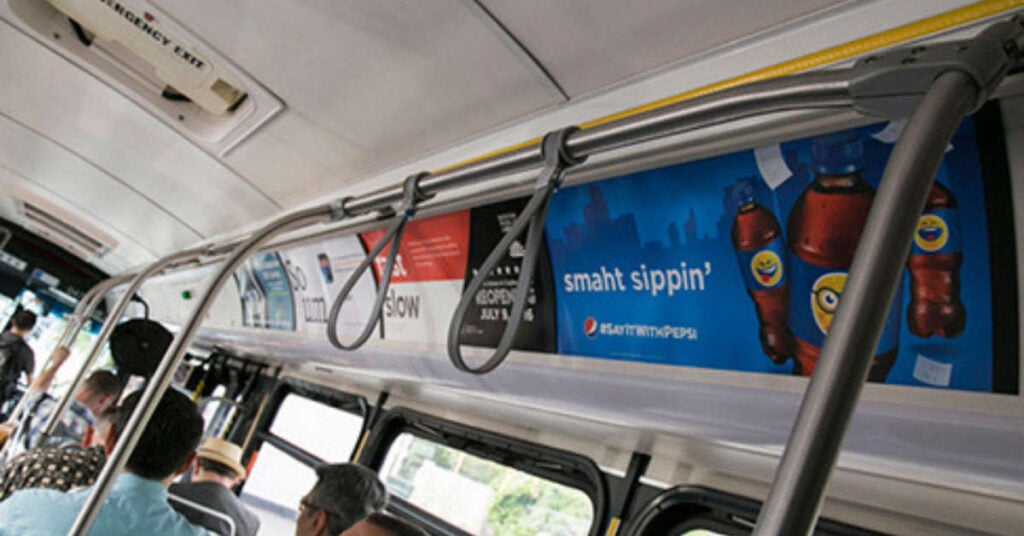 This type of outdoor advertising is typically seen on trains and busses. About 38% of consumers tend to stop at the store while on their way home, so transit ads have the potential to yield immediate results from commuters.
Transit is one of the few spots where your audience is likely to be seated and able to take in more information from your ad. The above example from Pepsi uses a clever, region-specific slogan for Boston commuters that might be too niche for a larger ad.
Transit commuters may have more time to take in your ad, but they've still got places to be, so remember, less is more.
7. Retail Advertising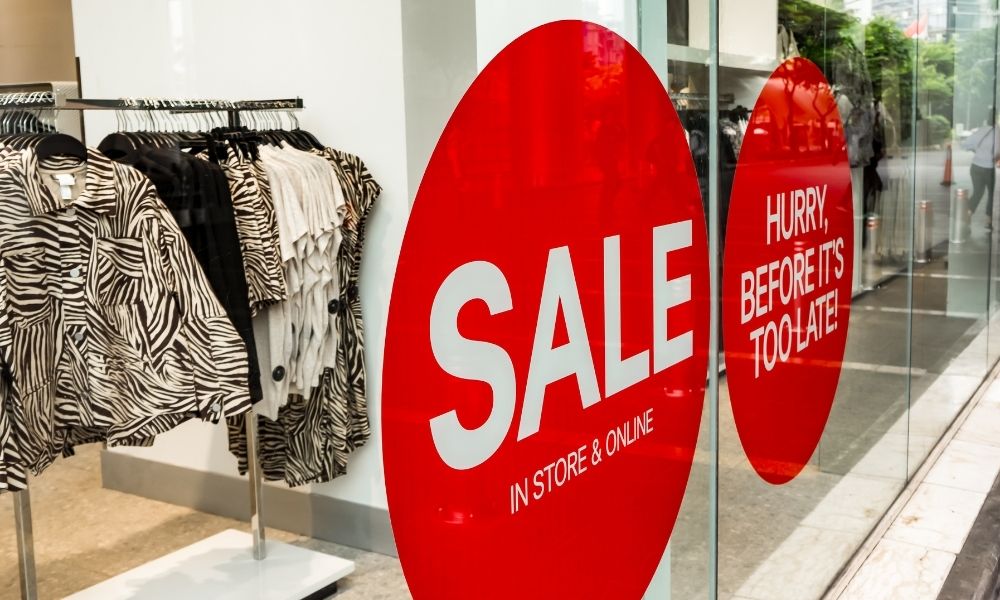 Whether you own a store, sell a product, promote a lifestyle, or all of the above, retail advertising can be a great way to get the word out. When someone enters a retail space, they're specifically looking for products to buy, and you have ample opportunities to prove that what you're selling is what they need.
Examples of retail advertising can include:
Window displays (pictured)
Packaging designs
Mall/in-store signange
And much more
Basically, every aspect of the retail experience is an opportunity to make your brand stand out. This type of advertising is cheap, especially if you're using your own space, but it's also among the most competitive.
8. Street Furniture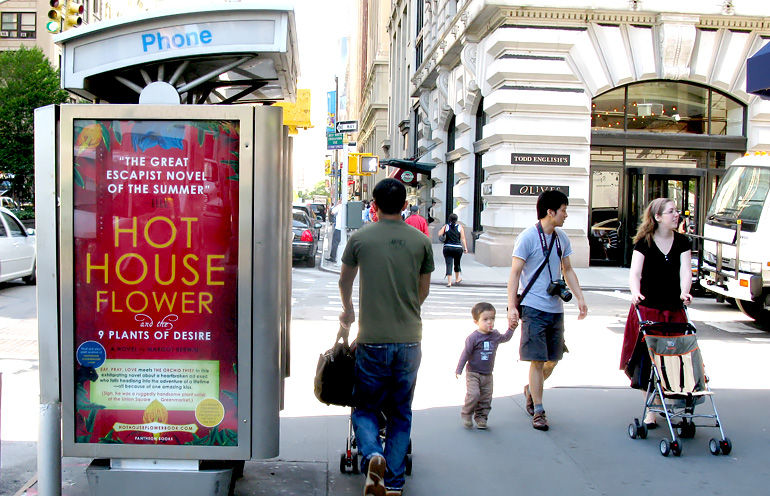 In urban areas—where outdoor ad space is the most competitive—a 10-foot-tall billboard isn't the only way to grab attention. Street furniture ads are the next big thing in outdoor marketing, becoming more and more prominent at bus stops, bike racks, charging terminals and more.
These ads have the advantage of meeting customers at eye level. In areas where big, flashy outdoor ads are all over the place, street furniture is the sort of unassuming space where people may actually be more likely to look—and for a fraction of the cost.
9. Experience Advertising
In 2016, Reebok installed an interactive billboard with a speed camera with the ZPump shoes on display. Passersby were then encouraged to go past the speed camera and try to hit as fast as 10.5 miles per hour. All those who hit the goal were then rewarded with new Reebok ZPump 2.0 kicks.
This is just one example of the infinite possibilities of experience advertising. It requires targeted campaigns in major areas, but if you do it right, it can have a lasting positive impact for your brand. Examples include:
Guerrilla marketing
Stunt/viral marketing campaigns
Face-to-face advertising
Scheduled outdoor advertising events
Flash mobs
And more!
Creating experiences can involve building displays and pop-ups, hiring actors, and a lot of coordination that goes well beyond graphic design. Still, as with all advertising, a professional, eye-catching design is the ultimate key to success.
Need an Outdoor Ad Design? Penji Is the Place
Partner up with Penji to make engaging outdoor advertising designs. As the top alternative to freelancers, our on-demand graphic design service gives you more results while saving you time.
Quality Designs: Work with an elite team of designers hand-picked to suit your project.
Fast: You can expect a draft of your design in just 24 hours.
Easy Communication: If you need any help, Penji cuts out the middleman. Unlike other graphic design solutions, you can directly talk to your designer AND Penji's support team.
Get unlimited designs for your business starting at just $499/mo. Here's how Penji can help.