Billboard advertising is effective because according to Arbitron, 71% of Americans "often look at the messages on roadside billboards". That means outdoor advertising has a huge impact on how consumers behave.
With digital ads being at the front and center of many marketing campaigns, some start thinking twice about traditional forms of advertising.
But make no mistake about it – billboard advertising is definitely here to stay.
Think back to the latest billboard you've seen this week. Chances are, it featured an eye-catching design that made you look at it, and more importantly, remember it despite the countless distractions on the road – from speeding cars, pedestrians, and even weather conditions.
Here at Penji, for instance, many of our clients ask us to create billboard designs that catch attention and make a mark. They know just how competitive billboard advertising can be, and they know they can rely on our creative chops.
Billboards remain relevant at any given time – even after the COVID-19 pandemic. Despite lockdowns implemented to curb the spread of the virus, people are still bound to go outside for essential travel.
How does billboard advertising manage to sustain the market's attention after all these years? Let's examine the factors.
1. Billboard Design Opportunities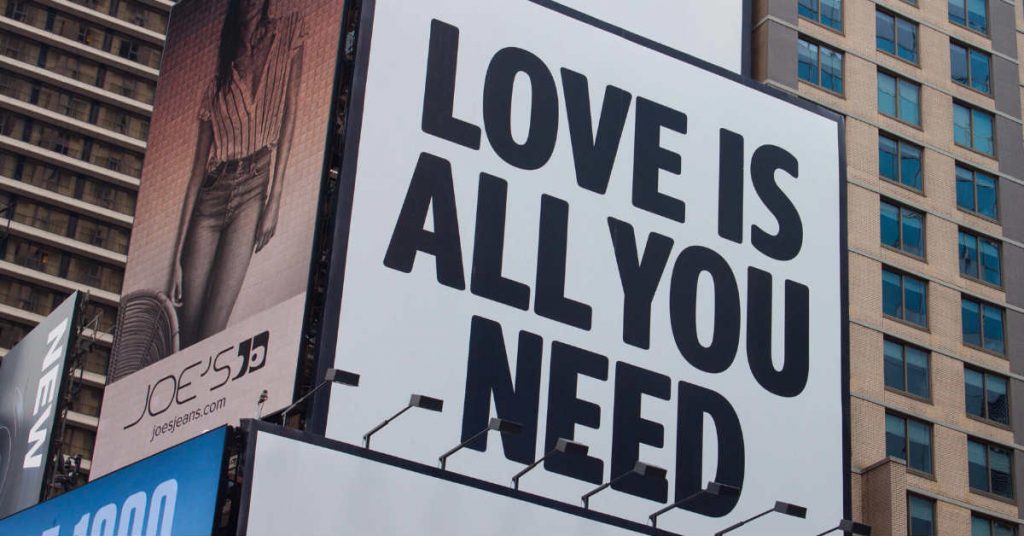 Billboard advertising offers a lot of space and freedom to be creative. Utilize your creativity to stand out from your competition by enforcing outdoor marketing strategies that work. Consider these types of billboard design opportunities:
Bulletin boards
Vinyl billboards
Painted billboards
Posters
Mobile billboards
Three-dimensional billboards
There are many brands that made a work of art with their billboards. They have stretched their creativity, and that's a good thing because it shows their company culture. For example, there was a Coca-Cola billboard wherein they did more than just placing an image of their signature bottle. Instead, they placed their ad in an old building and created an illusion of having multiple straws from different windows. And it seems that everyone was drinking from the same bottle.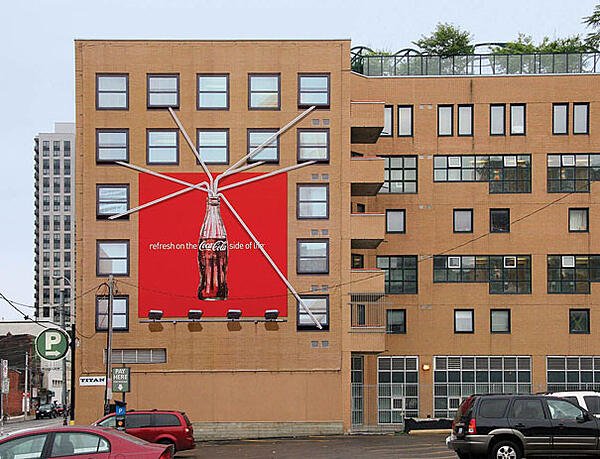 Their objective was to encourage people to drink – and it worked well. You see, these ideas cannot be translated the same way in digital platforms. You can only do that offline.
2. Billboards Can't Be Avoided
You will be guaranteed an audience when it comes to billboard advertising. The location of your billboard ad makes it hard to ignore. It's huge and eye-catching, forcing people to look at the sign. This is contrary to digital advertising, where your ad is scrolled past in less than a second. The amount of advertising the average person is exposed to has created "advertising blindness", making ads skip over. However, the mere size of billboards makes them hard to ignore.
In addition, more people have the power to turn off these pop-up ads online because, quite frankly, it affects the overall experience. On the other hand, you can't block billboards, can you? How many people will deliberately stay out of their usual route to avoid a billboard? We say – not a lot!
3. New Technology and Styles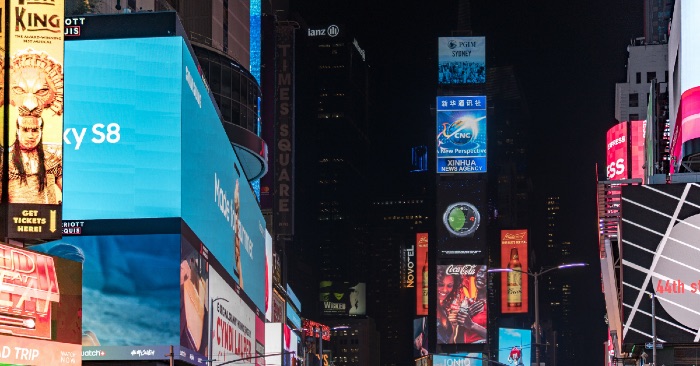 Marketers tend to have a misconception that there is only one form of billboard advertising. But in reality, there are plenty to choose from. Pick the billboard that will work best with your business and the people you are trying to target. Here are some to choose from:
Digital billboards
This type shows different ads in one spot. This could be a great option that will allow you to share the billboard cost with other businesses, which is an affordable way to market your business while bouncing back from the pandemic.
Color-Changing Displays
Color-changing displays are a great way to capture attention and put the spotlight on your message. With many people trying to limit their time outdoors, using this billboard style will let you maximize your ad spend.
Interactive Billboards
This type uses motion sensors and displays information depending on the user's input.
E-ink Displays
This option offers full-motion, full-color, and high contrast images using ambient light to enhance image quality. As the name suggests, it's much like ink on paper.
Create smart, effective campaigns efficiently

Meet your conversion goals using visuals that stand out

I need this!
4. Be Exposed To More Than One Audience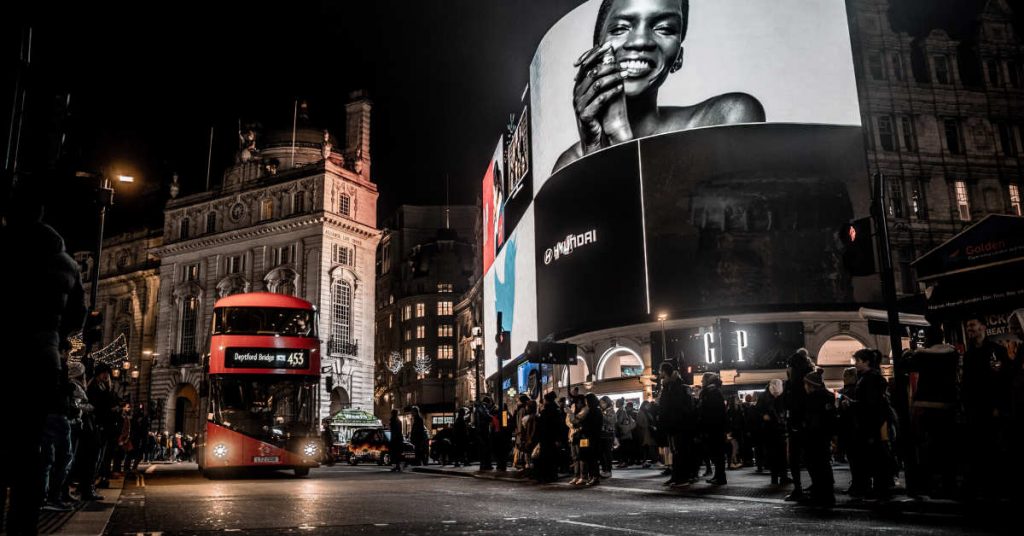 What makes billboard advertising unique is how it presents an ad to a maximum number of people without exerting too much effort. Digital media require the audience to turn to their gadgets to see the ad. For instance, in the case of social media ads, people would have to use the platform and browse to see ads that target them.
On the other hand, being an audience for a billboard doesn't require any preparations. Top Media says 71% of consumers often look at roadside billboards, thus proving billboard advertising's effectiveness.
5. Affordable Advertising Tool
Billboard ads offer increased consumer exposure minus the added cost. Top Media says paying for billboard ads is 80% less expensive compared to TV.
Despite being an affordable route, Top Media says four of the biggest billboard spenders are big ventures that continue to thrive in their fields. These ventures are Apple, Google, Amazon, and Netflix. What does this mean for marketers? Even if it's more affordable than TV advertising, it's a tool utilized by big companies with huge resources. That means you really need to step up your game for your billboard to be noticed alongside those of bigger ventures.
6. Less Effort For the Target Market
What makes billboard advertising unique is how it presents an ad to a maximum number of people without exerting too much effort. Digital media require the audience to turn to their gadgets to see the ad. For instance, in the case of social media ads, people would have to use the platform and browse to see ads that target them.
7. Increased Consumer Exposure
One of the advantages of billboard ads is its constant availability. Just look at billboard advertising examples you regularly see during your daily commute. Chances are, you've somehow memorized some of them because you're exposed to them every day.
8. Encourage Impulse Purchases
One of the reasons why billboards are still effective is their power to influence and encourage people to purchase right away. What does this mean?
For example, you are on a long drive with your family. Even with a bag filled with chips and soda, seeing a billboard with mouthwatering pizza or menu would make you want to have a pit stop and eat.
It wasn't planned, but because of a billboard strategically placed near a pizza restaurant, you can't help but push the brake and eat.
9. Build Trust Among the Market
Neilsen has published in their report that people trust brands that use traditional channels for promotions. The reason for this is that many people are now aware of how false information could easily roam online. So if they see digital advertisements on their smartphones, the level of trust is not the same compared to seeing it outside.
Regardless if you have the best designs for your marketing collaterals online, nothing beats putting a huge billboard outside. It gives the impression that you are confident and bold enough to expose your brand in the real world.
10. People Will Start to Love Outdoors
At the height of the pandemic, most people were forced to stay at home. Or if they need to go out, these are limited to important errands. However, once our fight against the pandemic is over, you will see more people going out. There will be volume traffic because everyone wants to have a piece of outdoors.
And if your brand does not have a billboard space, you are losing thousands of potential eyes that could see your business.
11. Shopping Decisions are Made While Driving
Did you know that 72% of billboard viewers shop on their way home from the office? That means your primary viewers are also your decision-makers. If you can tap their brains through your billboard, they can immediately go to your shop and buy from you.
It's a demographic that shouldn't be ignored. After all, most people who are regularly on the road are professionals who have the buying power.
12. Strong Visual Appeal
One argument that cynics can make is that billboards aren't as eye-catching as moving ads like TV and social media videos. Furthermore, it's not as mobile as print ads that you can take with you and keep as long as you want. Despite these constraints, billboard ads continue to flourish because of its main strength – its size.
Moreover, one tech solves the issue of billboard's immobile nature: the rise of digital billboards. Statista says there are 342 thousand large format outdoor displays listed in the United States in 2019. Out of this number, 8.8 thousand displays were under the digital billboard category. Without a doubt, digital billboards that change colors and display movements boost the impact of billboard advertising.
Strong visual appeal is one of our specializations here at Penji. If you want a billboard that makes your brand stand out from the rest. Requesting a design from us will definitely put you in the right direction.
Frequently Asked Questions
What is Billboard Advertising Called?
Billboard advertising is sometimes referred to as outdoor advertising. As the name implies, the advertisement is seen on a billboard or a digital version of one.
How Much Does a Billboard Advert Cost?
This depends on location, size, and billboard type.
On average, a standard, traditional billboard will cost $750 minimum. That's the standard cost for those in rural cities. However, when advertising urbanized areas, expect to double the cost. In some cases, it can reach up to $15,000 or even more.
As an example, in California, it could reach up to $55,000 on the Sunset Strip. But those in Times Square can go upwards of $20,000 for only 2 weeks.
Meanwhile, the cost for billboard types also varies. Smaller billboards, for example, will start at $250 for a few weeks. Larger ones may be upwards of $20,000. Meanwhile, digital ones have an average of $2,000 for four weeks.
How Effective is Billboard Advertising?
Billboard advertising has yielded success for many businesses that have tried this advertising strategy. Although 70% of people will look at a billboard, placement and design are huge factors ensuring that your billboard will be effective. Case studies are an indicator that billboard advertising may have been successful for a certain company or organization.
For example, a campaign by Outfront for the Dollar Shave Club drove awareness for the company using billboard ads. Based on their result, 63% recalled seeing Dollar Shave Club on billboards, while 45% of consumers wanted to search for Dollar Shave Club online.
Requesting a Billboard Design from Penji
When putting out a billboard ad, you'd want to make the most out of your ad placement fee by using the best design possible. Luckily, requesting one from Penji is not simple but guarantees fast results as well.
Here are three easy steps when requesting a billboard design:
Create
On the Penji dashboard, click the +New project button.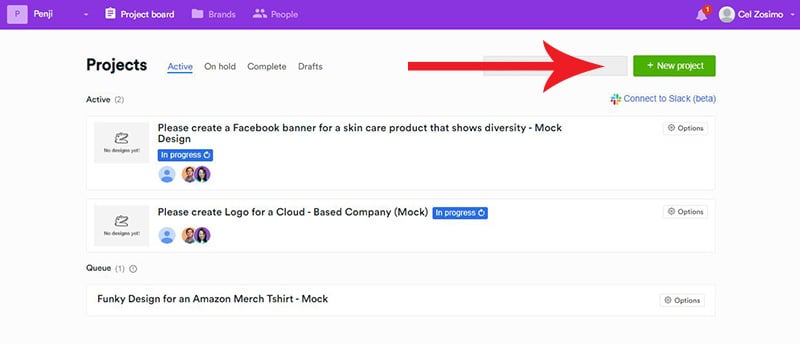 Type in a suitable title for your project. To choose the design category, click on the drop-down menu, and select Billboard ads. If your next project isn't on the list, click on Create a custom project.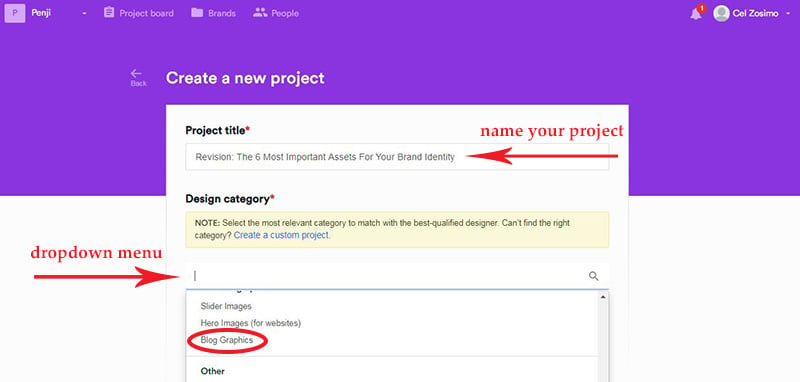 Write a thorough description of your project. You will be assigned the most suitable graphic designer for the job. Wait for 24 to 48 hours for the project to get completed.
PRO TIP: Ask the ad placement company about their design size requirements beforehand. Giving your designer the correct dimensions from the get-go can save you a lot of time.
When done, click on Next.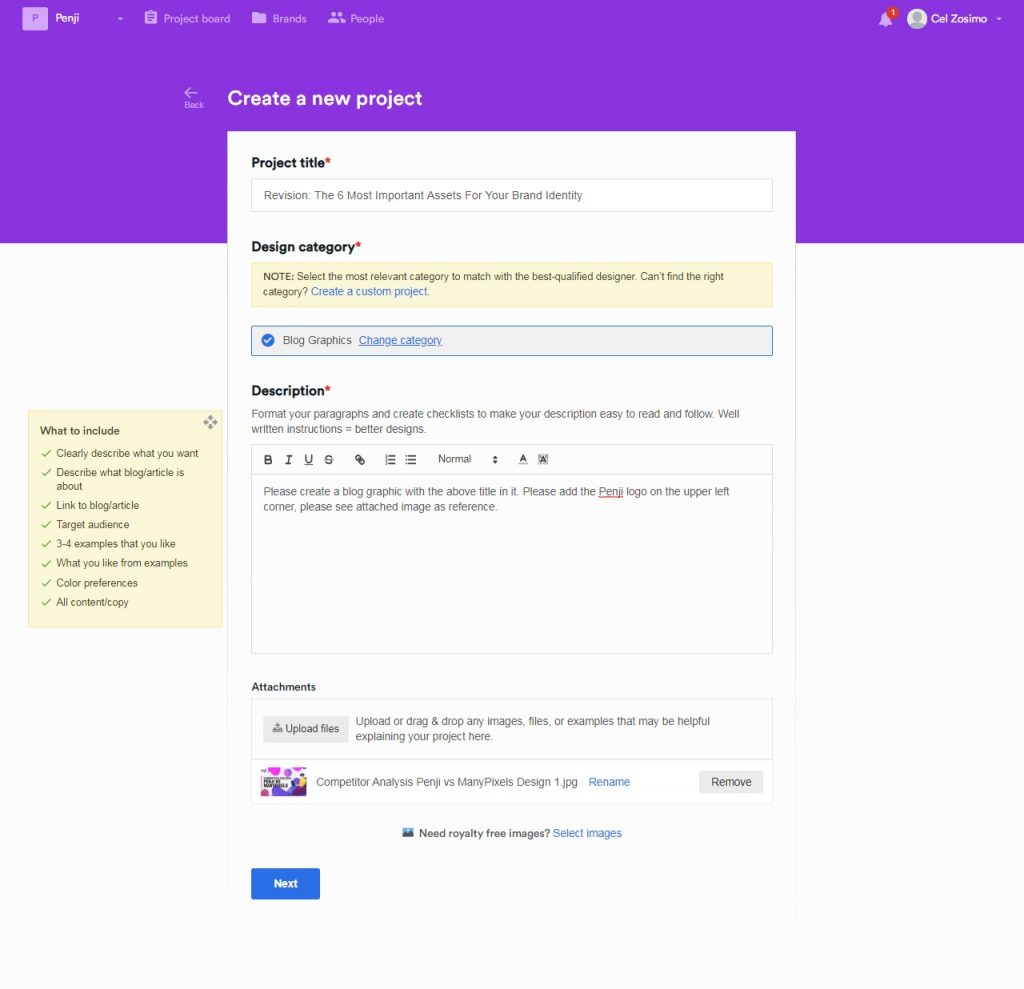 Click on Create project.
As you can notice, the panel also has a space to add your comments to your designer. This is where you'll communicate with them. You'll also receive email notifications about the progress of your project.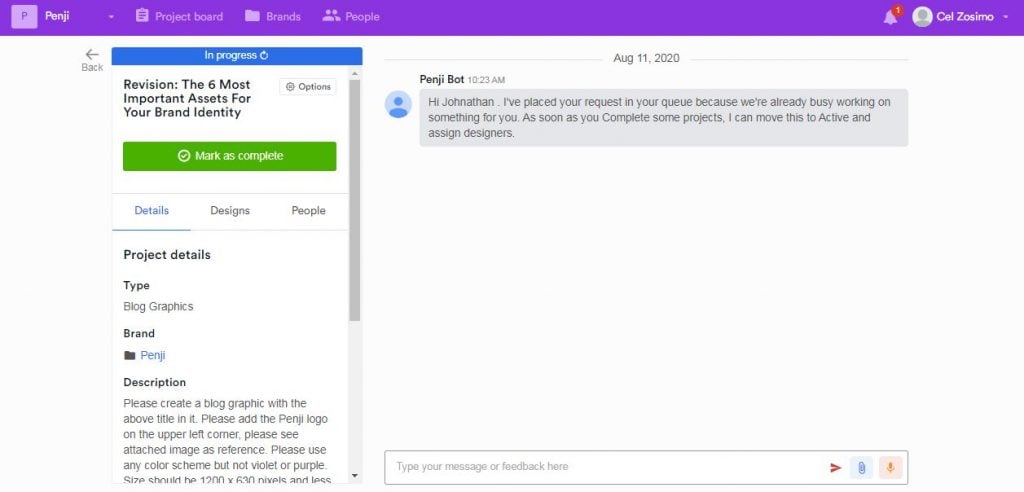 Revise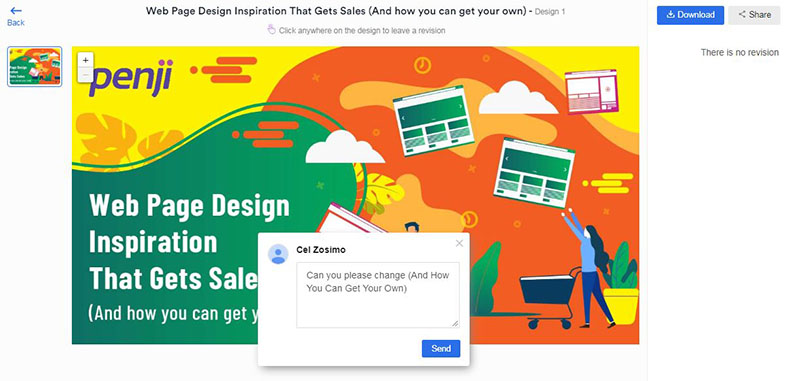 Within 24 to 48 hours, the assigned designer will deliver the first draft. You can view the design by clicking on the file. Should you want anything revised, click on any part of the image and type in your comments. The designer will revise the image according to your input and return to you with a new draft. Packages come with unlimited revisions, so feel free to request changes until you're happy with the work.
Download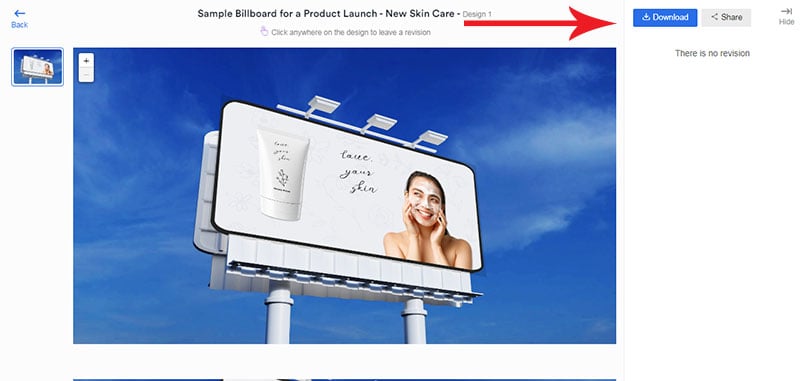 Once you're satisfied with the design, click the "Download" button and it will automatically be saved to your computer.
So there you have it – the benefits of billboard ads. Need your own billboard designed? Use promo code "BILLBOARDADS" for 25% off Penji's Pro Plan for 1 month.
Conclusion
Billboards are here to stay. And as marketers and business owners, you should take advantage of its real estate. It can still help you grow your business, most especially if you use the right designs. Seeing your brands in different marketing channels can increase its brand recognition.
Speaking of which, sign up with Penji and work with the best graphic designers for your billboards.