Many marketers choose digital marketing over traditional ones. The advent of Facebook and Google may be the reason why this is so. What they're missing is one avenue that still proves to be effective in sparking audience interest – billboard advertising.
How do billboard ads manage to sustain the market's attention after all these years? In this article, we'll discuss how the medium helps drive up sales and why you should consider including it on your 2020 marketing plan. We'll also explore why Penji is the go-to service provider for savvy marketers who want top-shelf graphics for their promotional needs.
1. Billboard Design Opportunities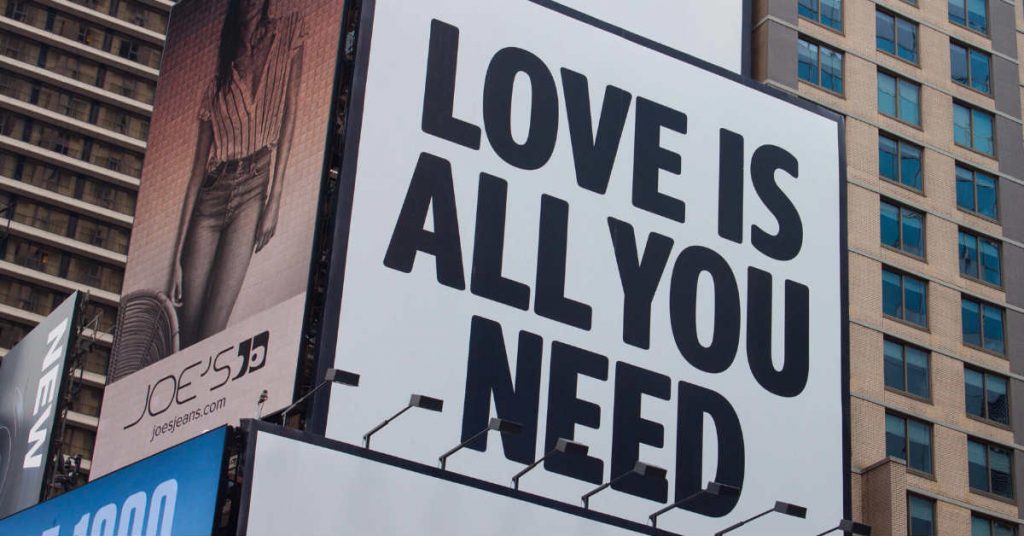 Billboard advertising offers a lot of space and freedom to be creative. It comes in many different forms and styles. The more creative you are, then the more memorable your ad and message will be. Utilize your creativity to stand out from competitive marketing campaigns. Aesthetics will capture their attention, and if it looks unique enough, people will spread the image as well as remember who you are.
2. Billboards Can't Be Avoided
You will be guaranteed an audience when it comes to billboard advertising. Due to your marketing campaign's display and location, it's more difficult for consumers to ignore your ad. Since billboards are so huge and eye-catching, people are forced to look at the sign. Unlike digital advertisements where people can just scroll down without ever taking a peek at your ads.
3. New Technology and Styles
Marketers tend to have a misconception that there is only one form of billboard advertising. But in reality, there are plenty to choose from. There are digital billboards, bridge billboards, and a lot more. You can pick the billboard that will work best with your business and the people you are trying to target.
4. Be Exposed To More Than One Audience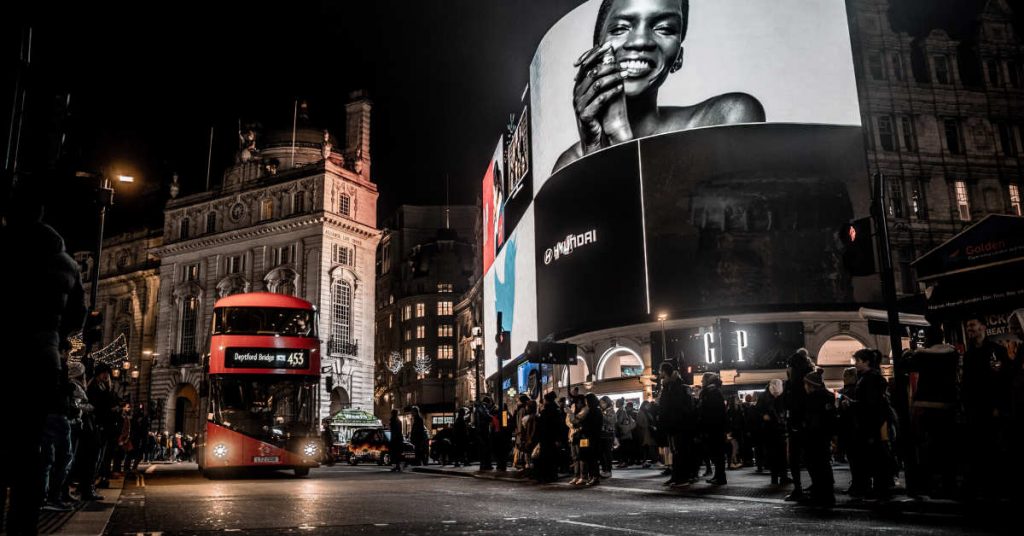 The large size and placement of billboards are meant to boost the exposure of your message. Unlike digital advertising, you can reach a broader audience through billboards. Not everyone has a technological device to get on to see ads, but outdoor and indoor advertising cannot be avoided. People of all ages, gender, and races will be exposed to your billboard advertising. You will be able to target a large and diverse market.
5. Advertise More Than One Message
When it comes to marketing, every business wants to display more than one message. When given the opportunity, marketers want to share every positive information about their business. This includes testimonials, sales, and other informative news. So, if you're going to market more than two deals or messages, invest in digital billboards. You will be able to create two digital ads and display both of them during your given time slot.
6. Less Effort For the Target Market
What makes billboard advertising unique is how it presents an ad to a maximum number of people without exerting too much effort. Digital media require the audience to turn to their gadgets to see the ad. For instance, in the case of social media ads, people would have to use the platform and browse to see ads that target them.
On the other hand, being an audience for a billboard doesn't require any preparations. Top Media says 71% of consumers often look at roadside billboards, thus proving billboard advertising's effectiveness.
7. Increased Consumer Exposure
Billboard ads offer increased consumer exposure minus the added cost. Top Media says paying for billboard ads is 80% less expensive compared to TV. Top Media says four of the biggest billboard spenders are big ventures that continue to thrive in their fields. These ventures are Apple, Google, Amazon, and Netflix.
Also, one of the advantages of billboard ads is its constant availability. Just look at billboard advertising examples you regularly see during your daily commute. Chances are, you've somehow memorized some of them because you're exposed to them every day.
8. Strong Visual Appeal
One argument that cynics can make is that billboards aren't as eye-catching as moving ads like TV and social media videos. Furthermore, it's not as mobile as print ads that you can take with you and keep as long as you want. Despite these constraints, billboard ads continue to flourish because of its main strength – its size.
Moreover, one tech solves the issue of billboard's immobile nature: the rise of digital billboards. Statista says there are 342 thousand large format outdoor displays listed in the United States in 2019. Out of this number, 8.8 thousand displays were under the digital billboard category. Without a doubt, digital billboards that change colors and display movements boost the impact of billboard advertising.
So there you have it – the benefits of billboard ads. Despite its image of being old-school and outdated amid digital avenues, times have proven that billboards are here to stay.
Requesting a Billboard Design from Penji
When putting out a billboard ad, you'd want to make the most out of your ad placement fee by using the best design possible. Luckily, requesting one from Penji is not simple but guarantees fast results as well. Click here to watch our demo video.
Here are three easy steps when requesting a billboard design:
Create
On the Penji dashboard, click the +New project button.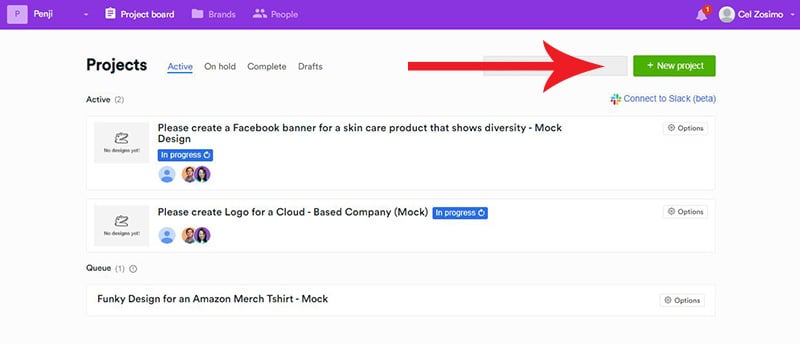 Type in a suitable title for your project. To choose the design category, click on the drop-down menu, and select Billboard ads. If your next project isn't on the list, click on Create a custom project.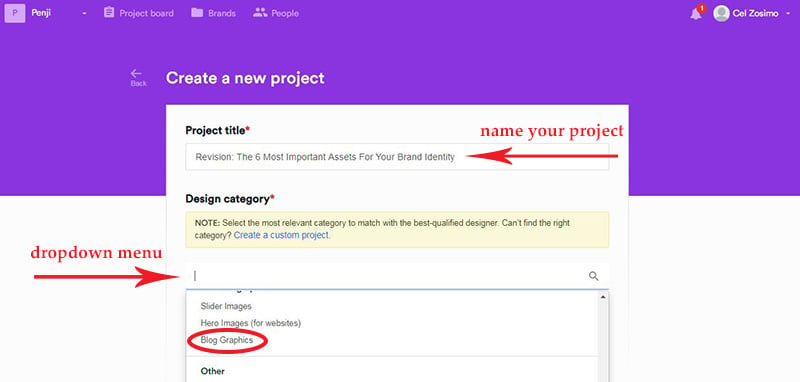 Write a thorough description of your project. There are tips on the left side of the dashboard to help you with what you need to include. You can add attachments or links that you want the designer to use as references. There is also an option to use royalty-free images.
PRO TIP: Ask the ad placement company about their design size requirements beforehand. Giving your designer the correct dimensions from the get-go can save you a lot of time.
When done, click on Next.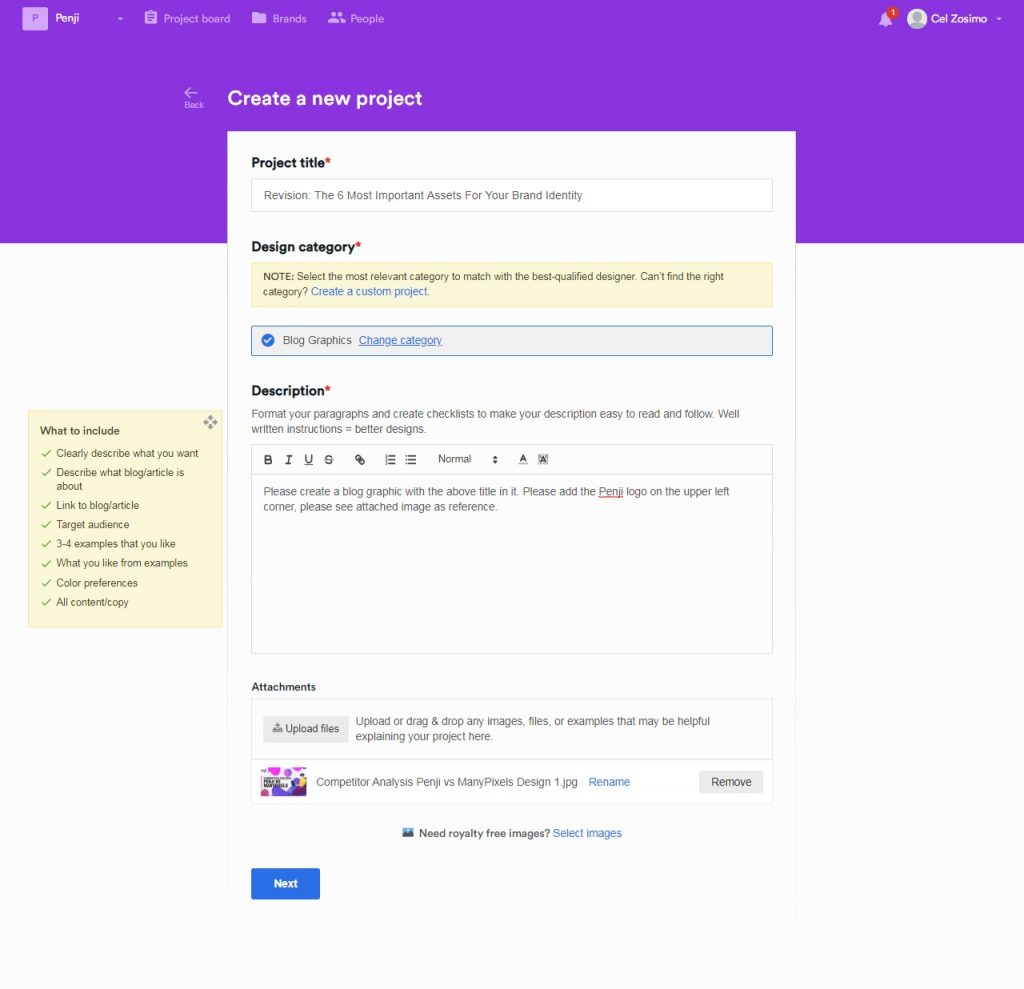 The page will extend to show more options you need to select. If you're on our Team and Agency plans, you can choose to request custom illustrations for your billboards. This is where you'll also select which file type you want your project to be. The Associated brand section lets you create a folder where you can store all your brand assets such as logos, and other guidelines. The next time you request for a project, you won't have to upload them again.
Click on Create project.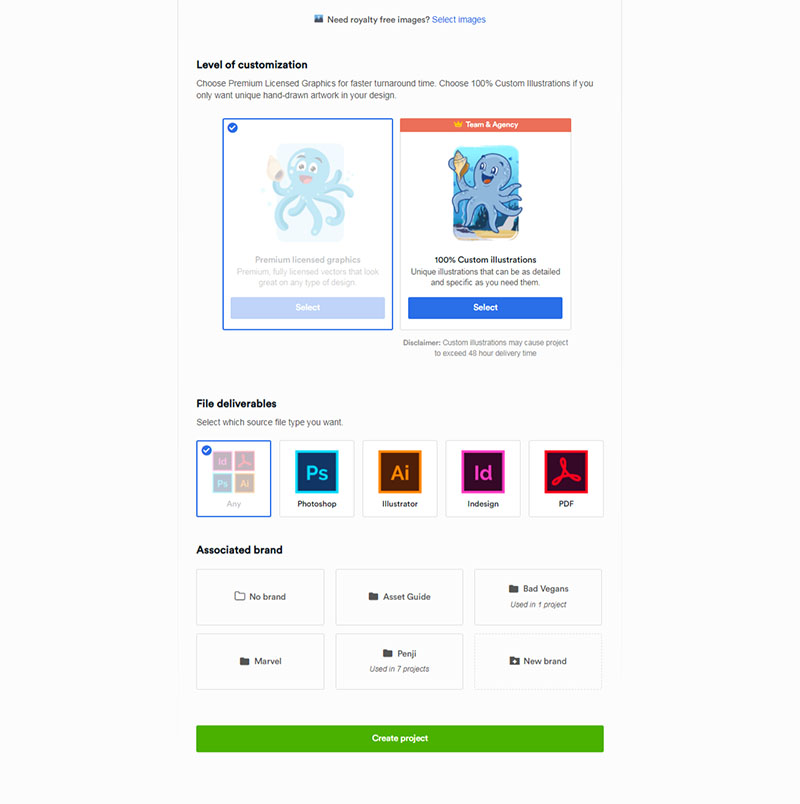 You'll be redirected to the following page. Your project is now awaiting completion. The Penji system will assign the most suitable graphic designer for the job. Wait for 24 to 48 hours for the project to get completed.
As you can notice, the panel also has a space to add your comments to your designer. This is where you'll communicate with them. You'll also receive email notifications about the progress of your project.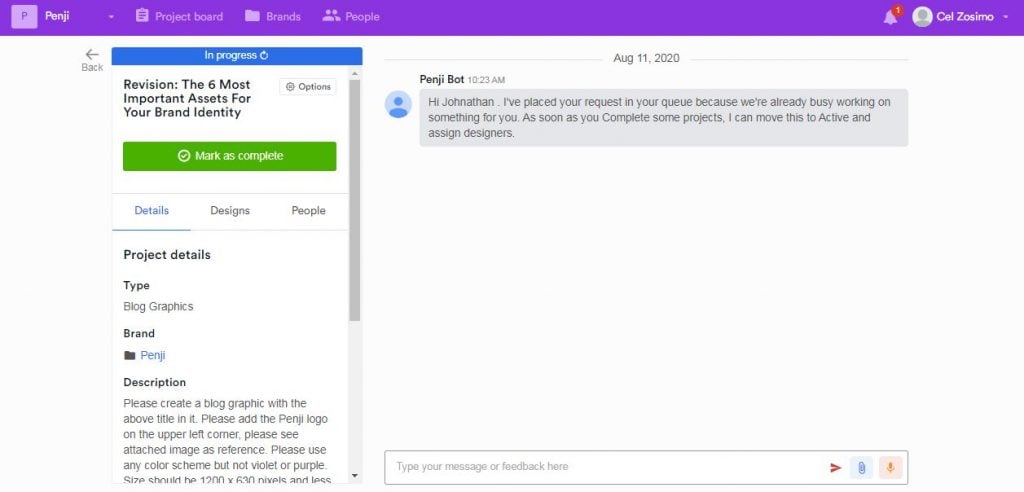 Revise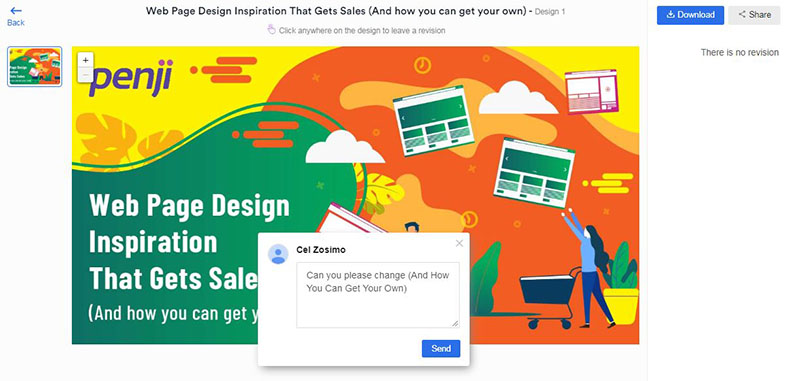 Within 24 to 48 hours, the assigned designer will deliver the first draft. You can view the design by clicking on the file. Should you want anything revised, click on any part of the image and type in your comments. The designer will revise the image according to your input and return to you with a new draft. Packages come with unlimited revisions, so feel free to request changes until you're happy with the work.
Download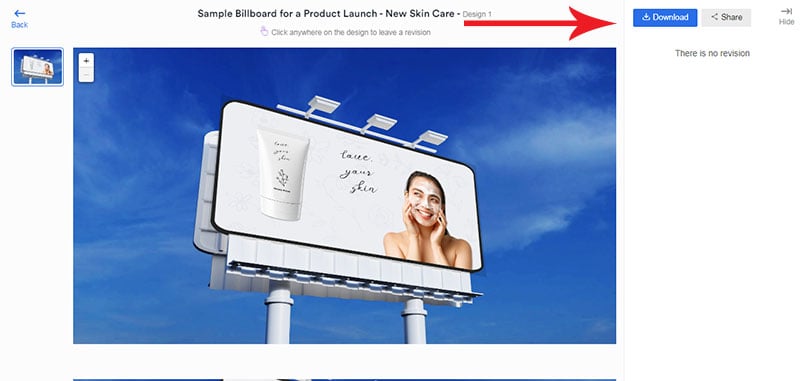 Once you're satisfied with the design, click the "Download" button and it will automatically be saved to your computer.
So there you have it – the benefits of billboard ads. Despite its image of being old-school and outdated amid digital avenues, times have proven that billboards are here to stay. Sign up today and try any of our plans risk-free for 15 days.