Building brand awareness is every business' main battle cry. It's imperative to let the world know what your services and products are. If you don't, you'll slowly see your company sink into oblivion.
And with the current world situation, online advertising platforms are taking center stage. According to Influencer Marketing Hub, only digital channels can expect net gains in the fiscal year 2021. So for the new year, take your advertising efforts online with Penji to help you.
The Best Online Advertising Channels for 2021
There is a myriad of online advertising platforms you can go to to promote your brand. The bigger question is, which ones should you use? There are no set rules as to which channel as this depends on your products, target audience, and other factors.
If you're still in doubt, here are the top places to use for online advertising. We've listed their pros and cons to help you make an informed decision:
Facebook
With more than 2 billion active monthly users, you'd be missing out on a lot if you aren't on Facebook. According to their website, over 180 million businesses use their apps to connect with their customers. You won't find any platform with this wide of a reach.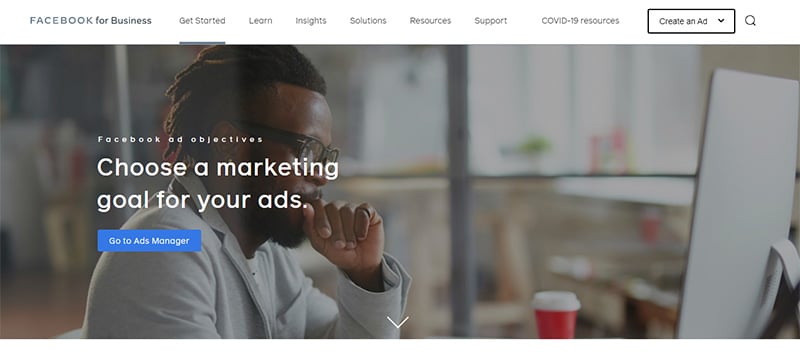 Facebook lets you pay for ads to promote your brand and place it in front of the right people. The platform has features that can help you place your ads when and where you need to. There is no second-guessing when your ads will appear and who'll be seeing them.
Facebook has paid ads in various formats, which are as follows:
Image
Video
Carousel
Instant Experience
Collection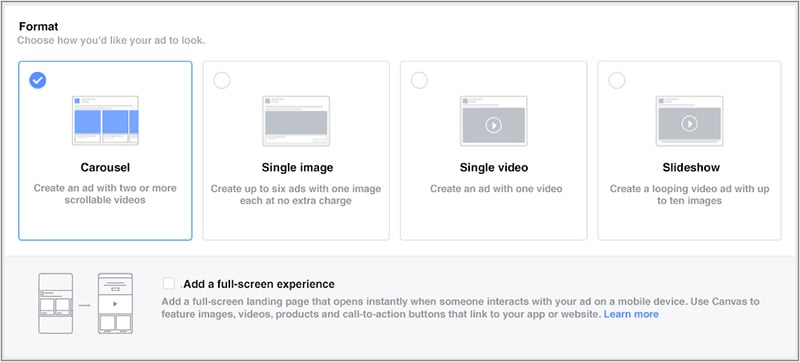 You can place your ads across Facebook, Messenger, Instagram, and Audience Network in the following areas:
Stories
Feeds
Search
In-stream
Messages
Apps
In-article
Related Post: Setting Facebook Ad Goals for the Most Effective Campaign
Facebook gives you the option to choose the right objective to make your campaign more effective. You can choose from the following:
Generate traffic and leads for your website
Increase sales for your product or service
Get more engagement for your Facebook page
Mobile and desktop apps installations
Invitation to your physical store or events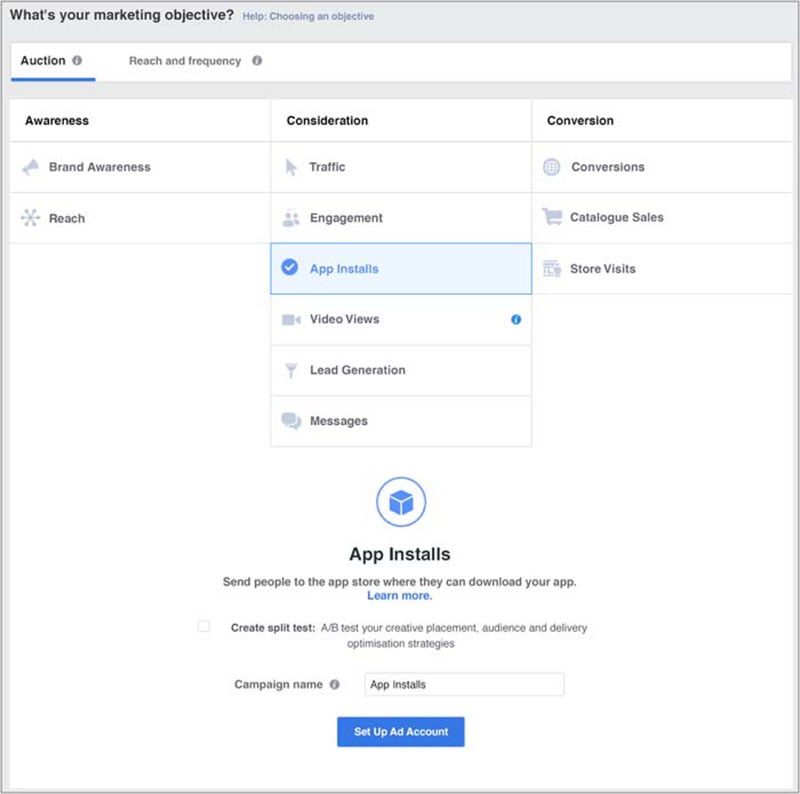 The Pros
Facebook's wider reach is more than enough reason to use this platform. Statista data shows that as of the third quarter of 2020, it has become the biggest social media network. It also offers the following features:
A/B testing
Microtargeting
Conversion measurement
Low Cost
The Cons
Its broad reach can also be one of Facebook's downside. Unless you're paying for ads, your chances of being seen are low since your competition is on it, too. And there are billions of them to stand out from.
Also, since most people come to Facebook to socialize, your ads can get lost in a sea of vacation pictures or dog videos. What you need to do is to create Facebook ads that can help differentiate you. Make sure that your social media graphics are attention-grabbing.
Instagram
Another platform if you want to reach a massive audience is Instagram. More and more advertisers are recognizing the power of advertising on Instagram. And for good reasons.

A Digiday study shows that ad spending on Instagram is 23% higher than on Facebook. This increase is showing no signs of ever going down. Proof that this online advertising platform is one of the best to promote your brand for this new year.
Instagram offers the following ad types:
Stories
Photo
Video
Carousel
Collection
Explore
IGTV
Instagram Shopping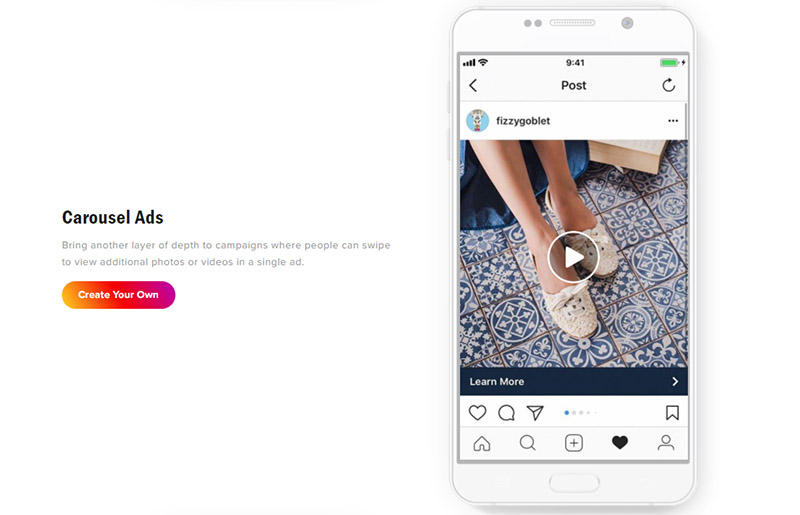 If your target audience is in the Millennial and Gen Z age brackets, Instagram is for you. It is a highly visual platform to showcase your products, especially on Instagram Stories. You'll be seen by the channel's more than 500 million Instagrammers.
The Pros
Since Facebook owns Instagram, it's no surprise to see many similarities in their advertising offerings. Its paid ads give you the ability to target your specific audience by location, interests, and other demographics. Its unique ad formats allow you to promote your wares in visually appealing ways.
The Cons
Instagram is perfect for brands that have picture-perfect products. But for those that need heavy amounts of texts, this may not be the platform for you. In addition, Instagram's users are primarily from the younger generation of 18 to 29 year-olds. This platform will limit your reach when you compare it to Facebook.
Google Ads
When we need to find a product or service, most of us turn to Google. A Clutch survey found out that 75% of internet users believe that paid search ads make it easier to find information. With 63% of them saying that they have clicked on a Google ad, this is one online advertising channel you shouldn't ignore.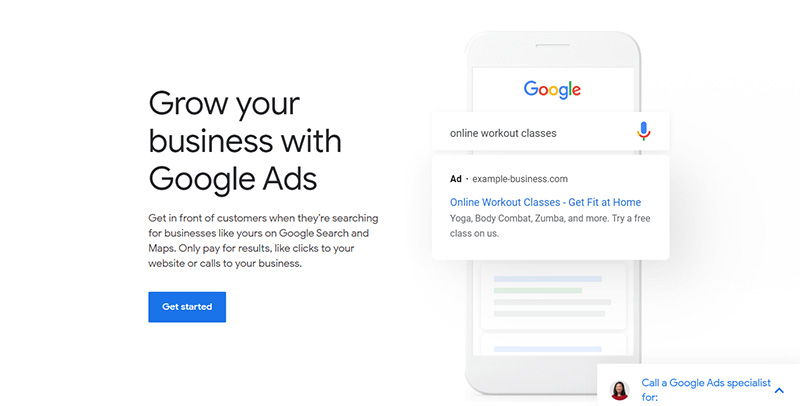 So if you want your brand to get right on top of the most used search engine, Google Ads is the way to go. The platform is rich in features that allow you to target your ads. You can base your ads on geography, behaviors, demographics, and even the device your audience is using.
Like Facebook, Google Ads will ask you for your ad goals or objectives. These are:
Get more calls to your business
Increase visits to your store
Drive people to your website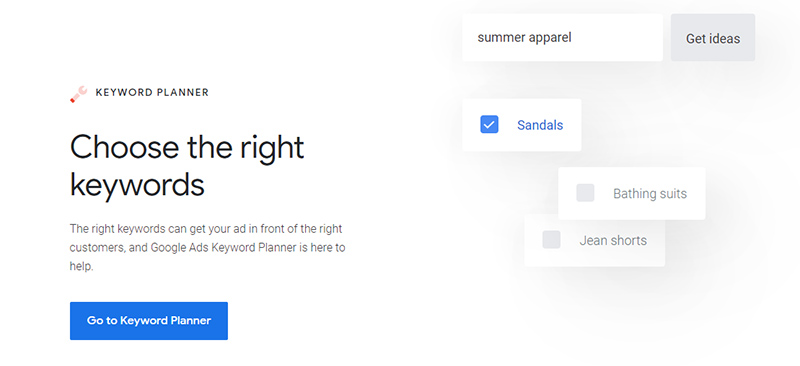 You also have the option to advertise locally or choose a more expansive space by going global. There are options for you to refine your searches as it's an extremely flexible channel. It also allows you to set your ad budget by limiting the amount you want to spend on keyword clicks.
Related Post: Online Advertising: Facebook Ad vs Google Ad
The Pros
If you want to drive traffic to your site quickly, Google Ads is the best channel for this. Creating a campaign is quick, and you can see results instantaneously. Internet Live Stats tells us that this channel processes around 40,000 searches each second. In terms of exposure, you can't get any better than Google.
Another pro for Google Ads is the analytics they provide. You can easily measure the results that will give you insightful data. Data that you can use to create more effective online advertising campaigns.
The Cons
Advertising on Google using PPC (Pay-Per-Click) can be a bit costly. Whenever someone clicks on your ad, you have to pay Google for it. Whether it will lead to a sale or not, you will still be charged. The ads are also limited, as many advertisers compete for advertising space on the first pages.
Twitter
Whether or not Twitter is guilty of political polarization, it's still one of the best online advertising channels. Boasting of its 330 million monthly active users, 145 million of which are monetizable daily active users. Although not as big as Facebook's or Instagram's, it is still a sizeable amount of users who will see your ads and possibly convert.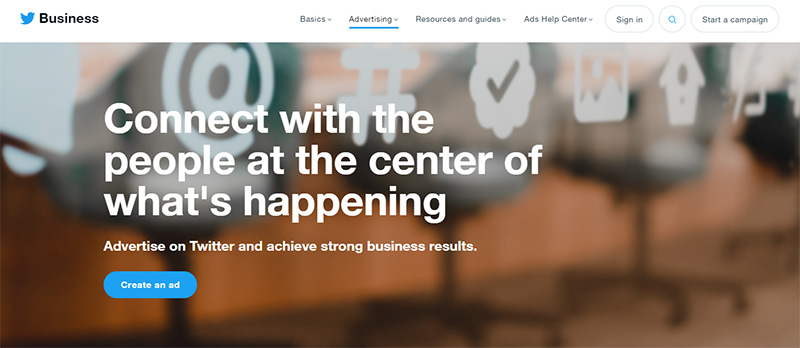 Twitter ads come in different ad formats. These are:
Promoted Tweet
Video
Cards
Brand
The Promoted Tweets are the best. They can be made to be seen even by those who aren't following your brand. These are very much like ordinary tweets that people can retweet, like, and reply to. This is great for engaging prospects and generating leads.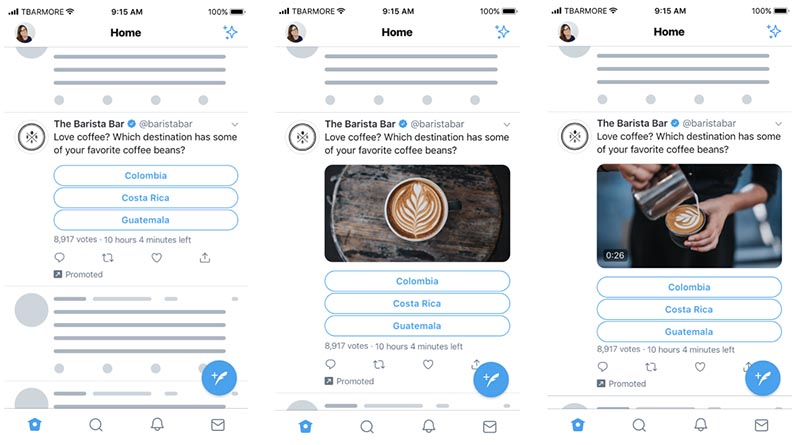 Twitter's user interface makes it easy to create ad campaigns, unlike Google Ads that require a bit of tech know-how. Defining your audience is simple as well, using a variety of parameters. It also offers retargeting features to remind prospects of your brand.
The Pros
Aside from the pros already mentioned above, Twitter has a high level of interactivity among prospects through the ads. Create eye-catching content, and people are sure to retweet, reply, or like (formerly known as favorite) it. Twitter ads are most cost-effective than most, especially the traditional advertising channels.
It also offers good reporting on your campaign to help you make them work more efficiently. Its dashboard will show you organic and paid impressions and their results.
The Cons
Twitter's targeting capabilities can leave you a bit frustrated as it's not as reliable as the others on this list. Although most of the time it's relevant, there are times that they are unrelated. There is also a high possibility of people ignoring your ads due to cluttered posts and intertwining content.
Bing
If you haven't used Bing as an online advertising platform before, the new year's the best time to do so. While Google is the king of search engines, Bing is an excellent second option that you should start using now.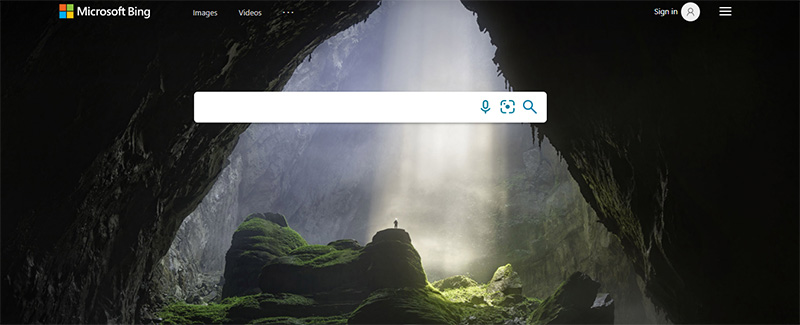 According to its owner, Microsoft, Bing processes 13.9 billion PC searches each month. This number accounts for 34% of U.S. desktop searches. Advertise online with Bing or lose being seen by one-third of your audience.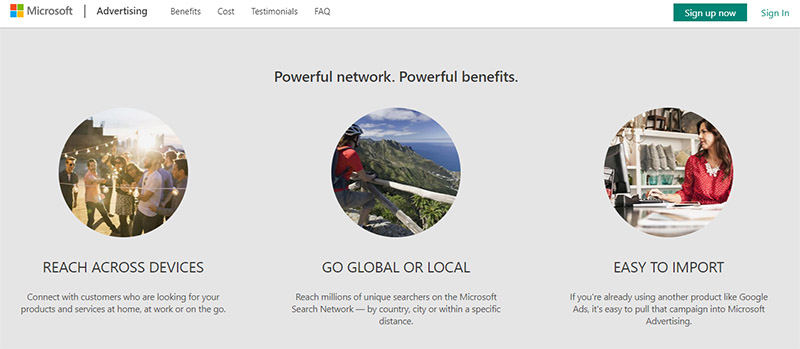 With Bing, you get more exposure as your ads will be shown on three search engines—Bing, Yahoo, and AOL. If you're already acclimated to Google Ads, you won't find it difficult to use Bing. They almost look and operate the same, so you won't need much reviewing to do.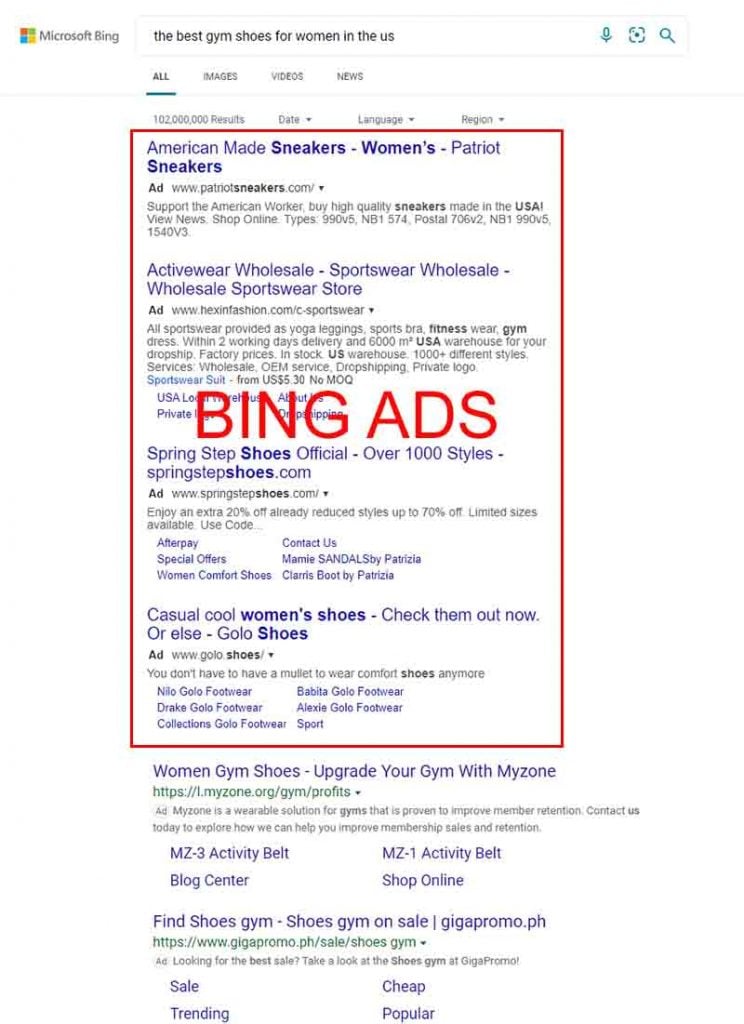 The Pros
Admittedly, Bing is less popular than Google. This means that it's less expensive and also less competition for keywords. It also shows more ads at the top compared to Google. This means more chances of your ad being placed on top. This results in higher quality traffic at less the cost.
Additionally, Bing's user interface is more user-friendly than Google's. Editing bulk changes is made simple and offers image ad extensions that Google doesn't.
The Cons
As second only to Google, Bing has less traffic to offer. It's not a recommended alternative to Google, but it will still benefit your brand when used side by side. Lower traffic also means lower click-through rates. While Google Ads is available worldwide, Bing is limited to only approximately 20 countries. If dominating the world market is one of your targets, Bing can't help you with it as yet.
Related Post: How Visuals Can Level Up Your Marketing Game
How Penji Can Help with Your Online Advertising
All these online advertising channels have one thing in common—they all have millions of users. This poses a very challenging question, how do you stand out from the rest? By creating striking digital ad graphics that are hard to miss.
Penji is an unlimited graphic design service that can help you make the most of your online advertising efforts. Even if you place ads on all the best channels, it will amount to nothing if you aren't getting people to notice your brand.
When you sign up for Penji, you can get digital ads that stand out at a fraction of the cost. Freelancers or in-house graphic designers can be troublesome and costly. With Penji, you get affordable and high-quality graphic design when you need them.
Here are some of Penji's digital ads to inspire you: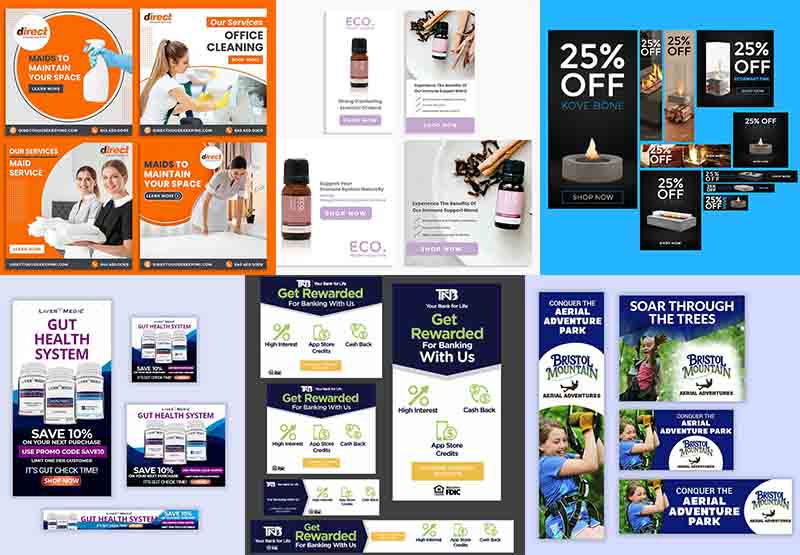 Final Thoughts
Finding the right online advertising channels depend on what your brand objectives and goals are. You can always try all these, a few, or a combination of some. Experiment with them to determine which gives you the most positive results.
For even better results, create digital ads that help you stand out from all the competition. Watch Penji's demo video today to learn more about how great graphic design can help you create better ad campaigns.