Connecting with over 1 billion users sounds like a marketer's dream. With Facebook Ads, you can do just that.
Using the world's largest social network has its own challenges, but the reach and visibility can level the playing field for small and large businesses. By understanding your Facebook Ad options, you'll be able to get your message out there to people who want to purchase your product.
Conquer Facebook Ads with this guide.
KTF Sports Team (Demo account)
We created a fake business call KTF Sports Team for the purpose of showing you exactly how to set up your business on Facebook and create your first ads. We'll walk you through each step with screenshots and clear instructions so you can follow along. Now let's get familiar with who KTF Sports Team is.
Who are we? We're KTF Sports Team, an online Ecommerce Store that specializes in selling professional equipment to E-sport athletes.
Why do we want to be on Facebook? Our target audience is on Facebook and Facebook's advertising platform lets us advertise specifically to gamers.
What's our Facebook strategy? We'll be using Facebook to both be updated in our community, advertise, and engage with our followers through our business page. Our strategy includes advertising, posting on our business page 3 times per week, and hosting Facebook live videos once a month to engage with our fans.
Now that you're familiar with who KTF Sports Team is, let's get started by creating your Facebook Business Manager account.
Creating a Facebook Business Manager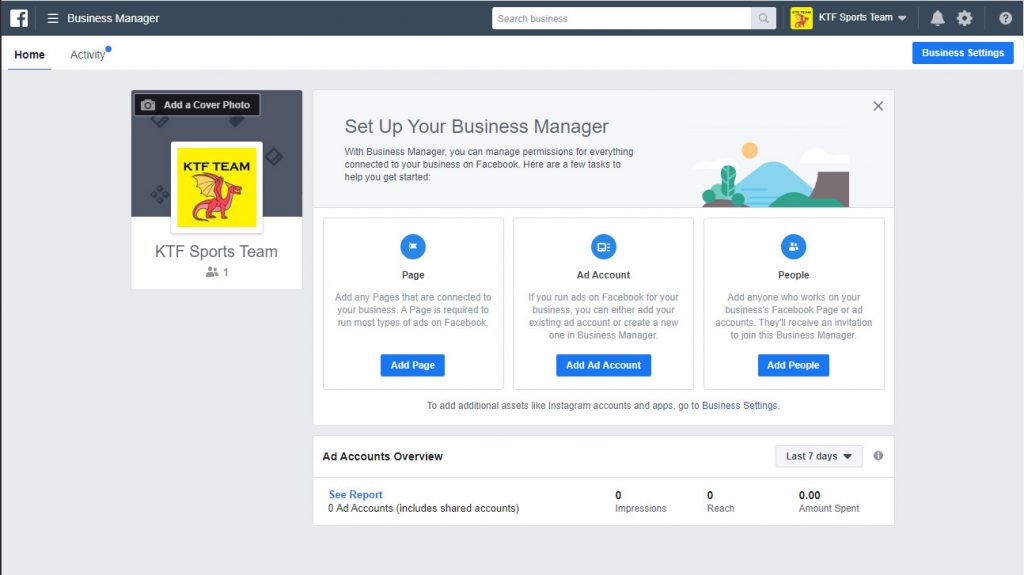 Before we can advertise or promote on Facebook, we'll need a Facebook Business Manager account set up for KTF Sports Team. With this tool, we'll be able to organize manage all of your Facebook marketing and advertising activities. We can also manage multiple businesses under one Business Manager account.
As stated by Facebook, you'll be able to:
Control and manage access and permissions for all your assets in one place as your team, agency partners or vendors change over time.
Work with your colleagues on Business Manager without having to connect or give them access to your personal Facebook profile.
Identify risks and see recommended actions you can take to improve security.
Manage multiple assets with batch actions. Track performance across multiple Pages and ad accounts.
Here's the step by step guide (with screenshots)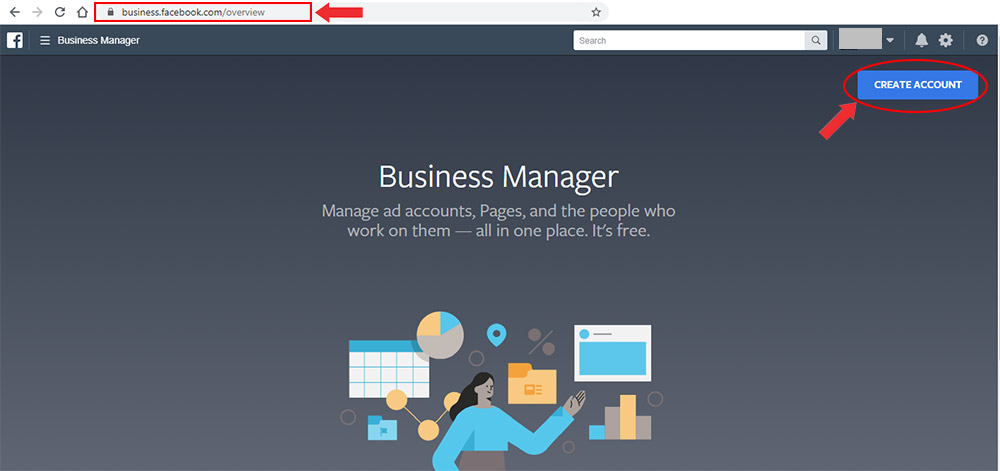 First, we visited Facebook's official landing page for Business Manager. We took some time to review all of the information on this page as they do get updated frequently. Once ready, we clicked on "CREATE ACCOUNT" button on the top right-hand corner to begin.
Important! The "CREATE ACCOUNT" button won't appear on all browsers. It doesn't work on Firefox as far as we know. To be sure, use Chrome for this process.
Step 2. Fill Out Business Information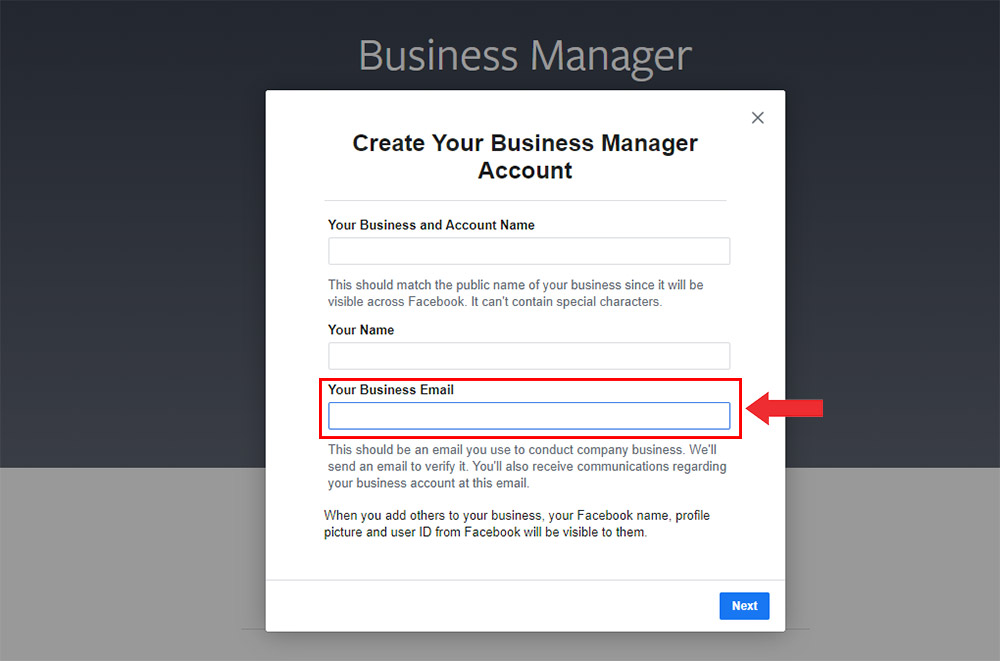 A popup should appear on your screen (make sure to disable Popup blocker). The first step asks for your basic business. The "Business Email" field can be a bit tricky as not all email extensions are accepted. It's best to use your domain emails such as [email protected], instead of @aol or @hotmail. Gmail extension seems to work fine.
Note: Your Business Email does NOT have to be as the email you use for your personal Facebook account.
Step 3. Address And Location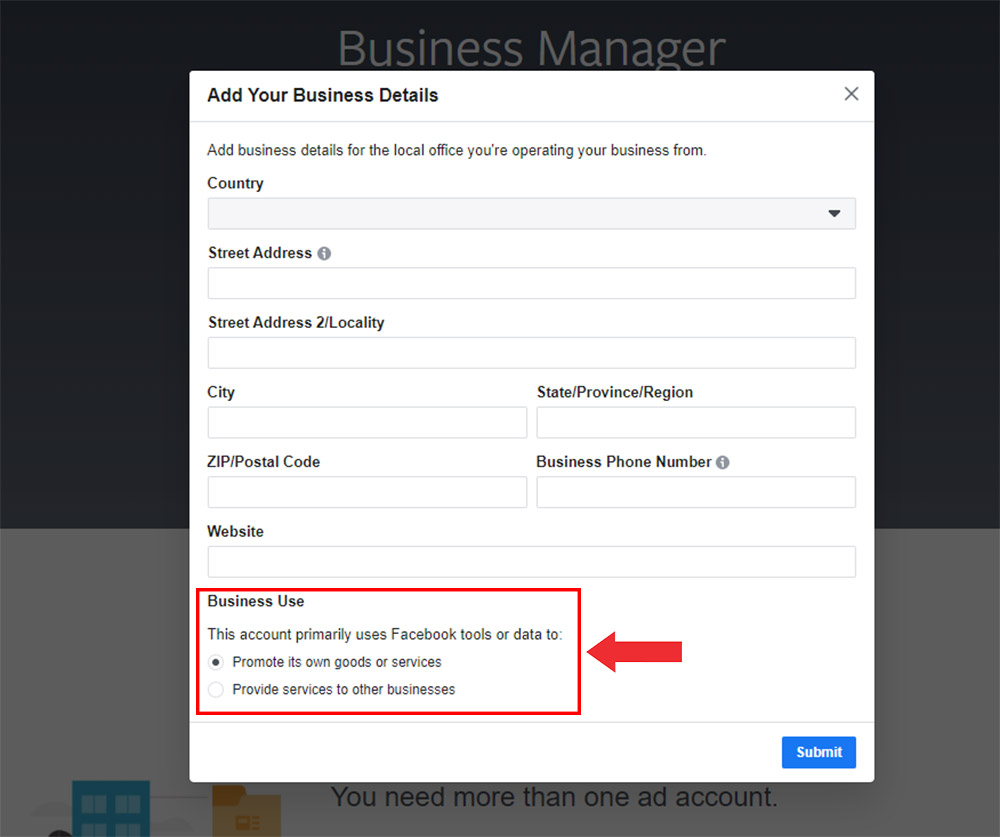 Now Facebook will ask for our business location. If you have a physical store or location, this should be self-explanatory. But since we're an online business with no physical location, we used our P.O box address. We can always update this information later.
Pay extra attention to the Business Use question. It's selected on "Promote its own goods or services" by default. Make sure to check this field to ensure it applies to you.
Step 3. Complete!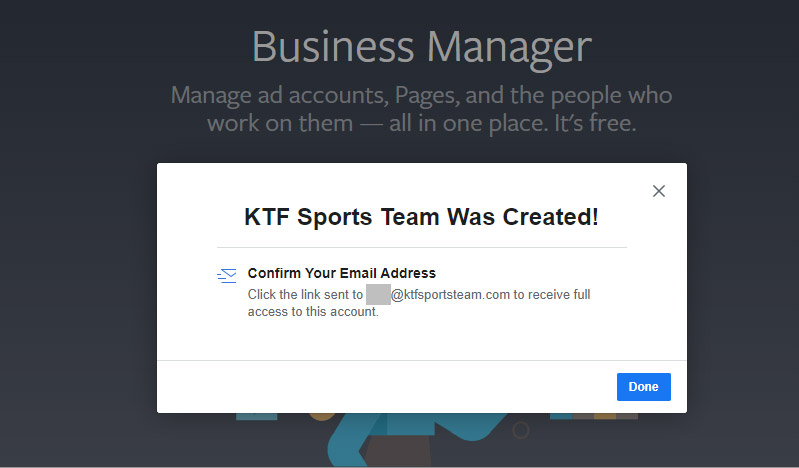 That's it! We've successfully created our Facebook Business Manager account. KTF Sports Team is now in business on Facebook! Be sure to verify your email.
After we hit "Done", Facebook redirected you directly into the Business Manager's Dashboard, which looks something like the screenshot below.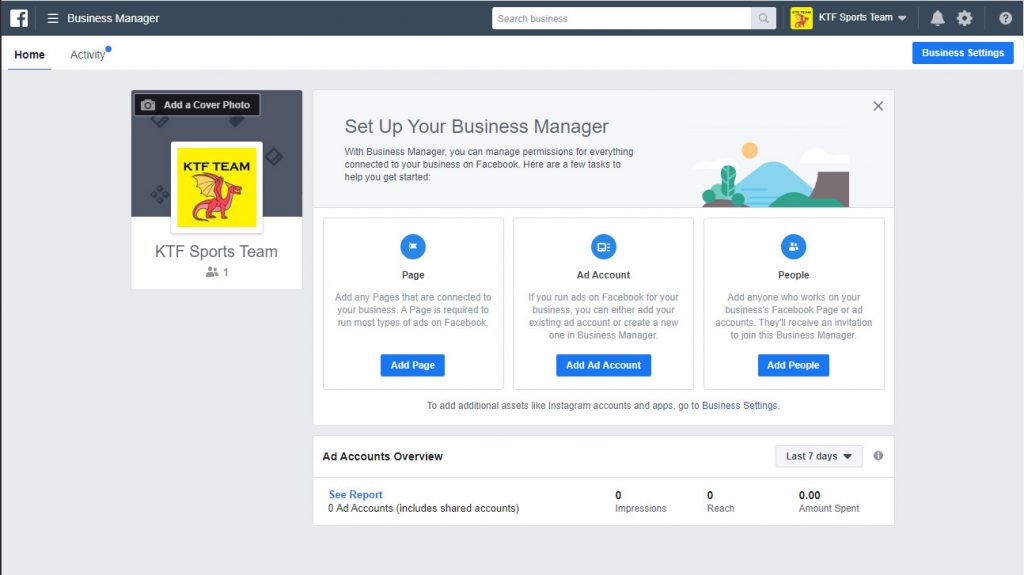 Facebook Manager is quite extensive and we're not going to go through all of its features. Most of it is self-explanatory. The important items that we needed to update are on the front page.
Creating A Facebook Page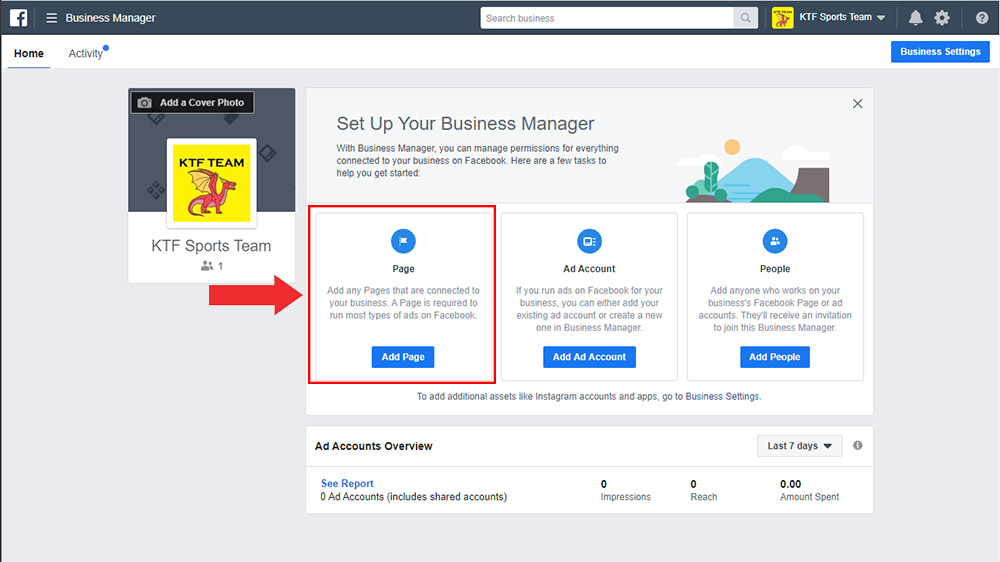 We can't advertise or promote if we don't have a Facebook page. Directly on the Business Manager dashboard, there's a link for us to either add an existing page that we own, or create a new Facebook page entirely. KTF Sports team doesn't have a Facebook page yet, so we'll need to create a new page.
Note: There are actually many ways to create a Facebook business page. In this tutorial, we're only going to cover how to create a Facebook page from the Business Manager dashboard so it's convenient and easy for you to follow.
Here are the step by step instructions on how to create a Facebook page from your Business Manager Dashboard:
Step 1. Select "Add Page" from Business Manager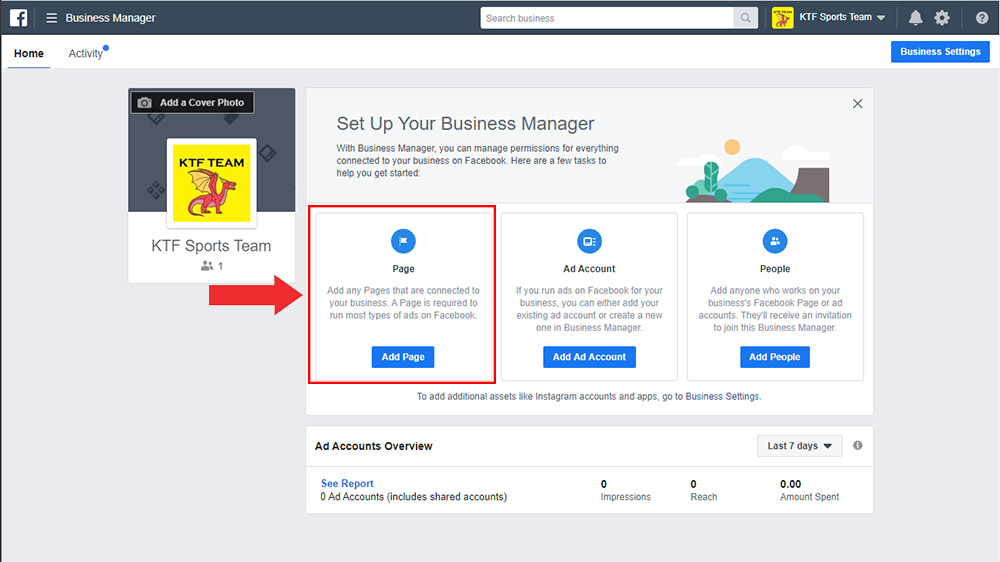 From the Business Manager account, we clicked on "Add page" to begin creating a business page for KTF Sports team.
Step 2. Create Page Popup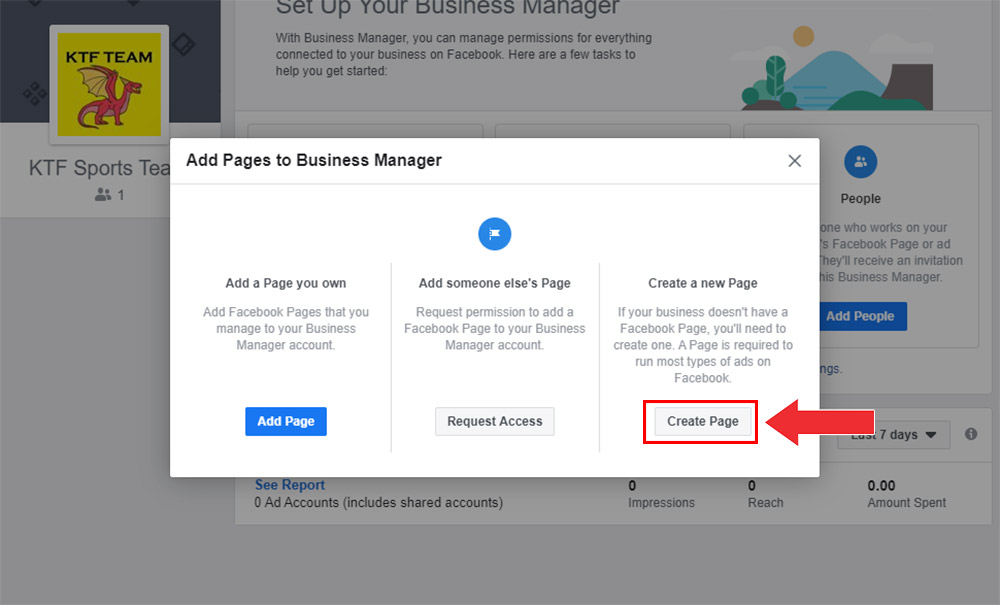 A popup will appear (make sure to disable any popup blockers) giving you several options. If you already have an existing page, click "Add page". Since KTF Sports Team doesn't have a page yet, we're going to click on "Create Page".
Step 3. Select Category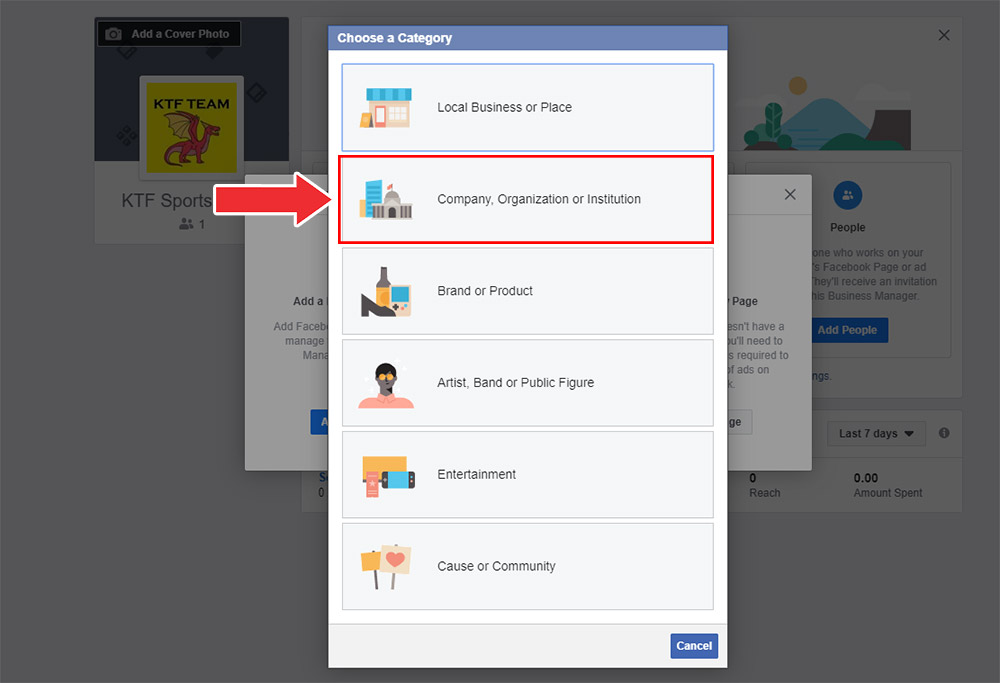 Choose the best category for your business. For our demo business KTF Sports Team, we chose Company, Organizations or Institutions.
Step 3. Define Business Category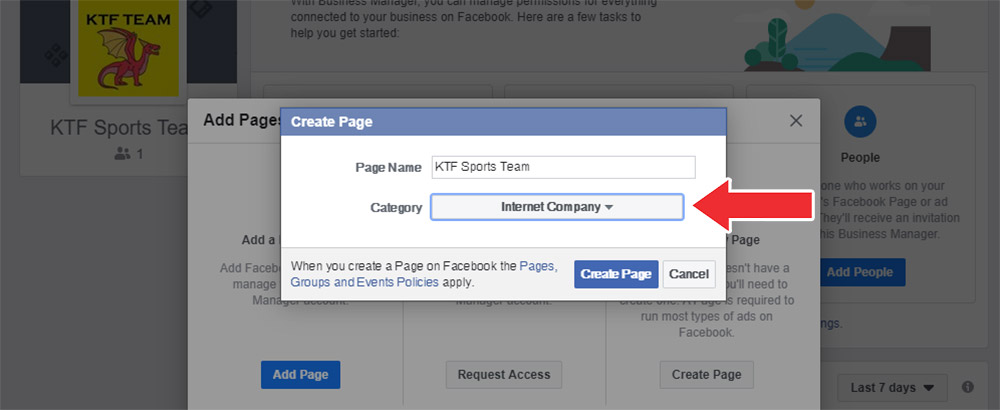 Now you'll need to specify specifically which business category best defines your organization. We're an online company so we chose Internet Company.
Step 4. Complete!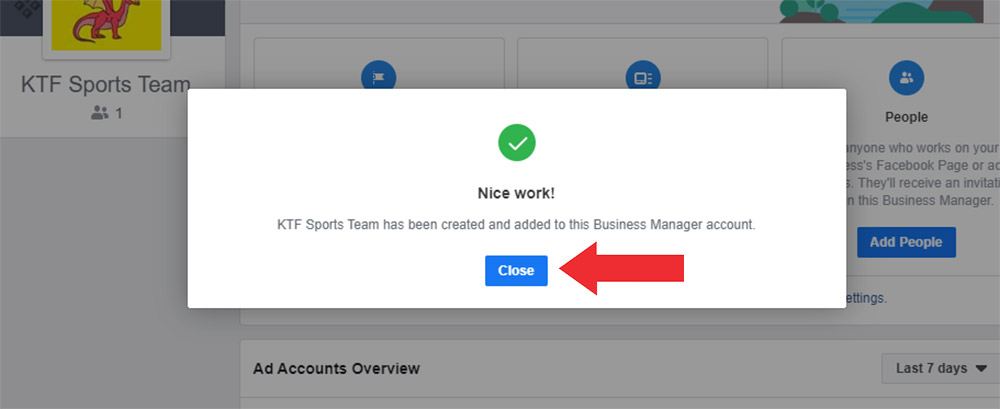 That's it, all done! Our Demo company KTF Sports Team now has an official Facebook page that you can visit and interact with.
Step 5. Updating About information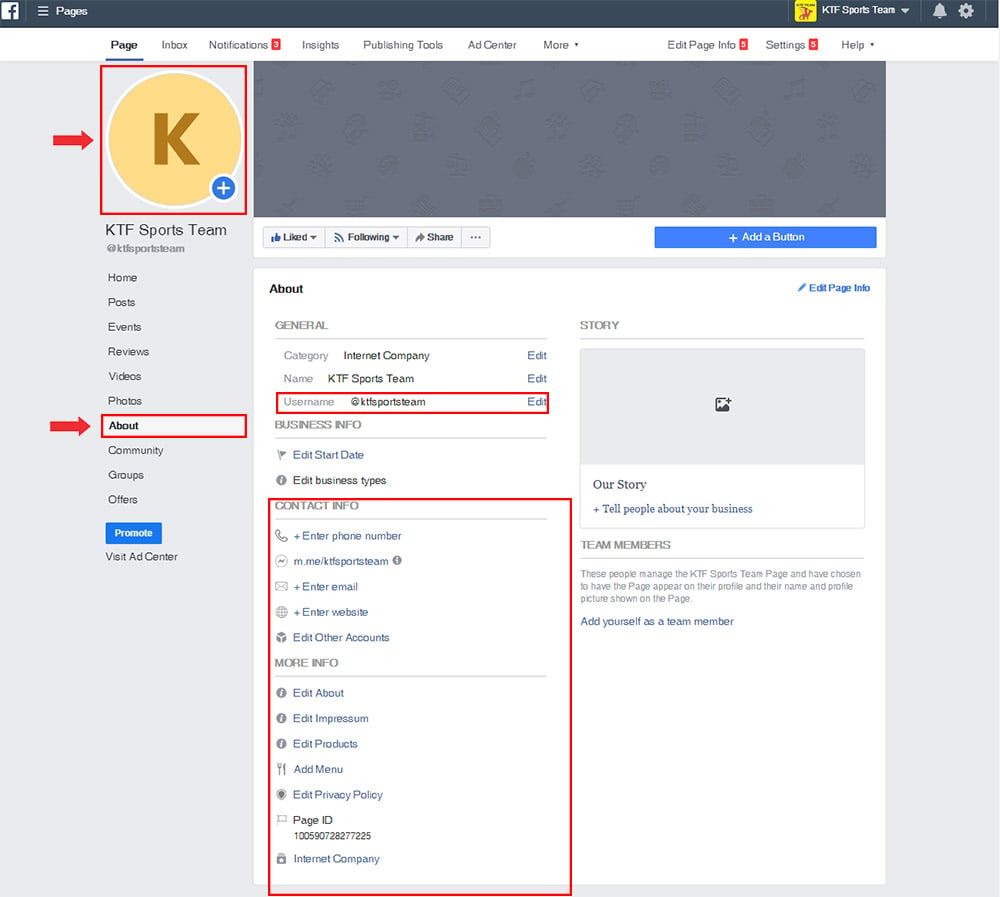 Our Facebook page is created but we need to set it up so it looks presentable. On the left sidebar you'll see several tabs. This is where you can edit information, add photos, and manage your page. We're not going to go through everything. For now, we'll just update the important details to make our page presentable and professional.
Navigate to the About us tab from the left sidebar menu and update as much information as you can. See the screenshots above to see what you should be updating.
Step 6. Updating Cover photo and Profile picture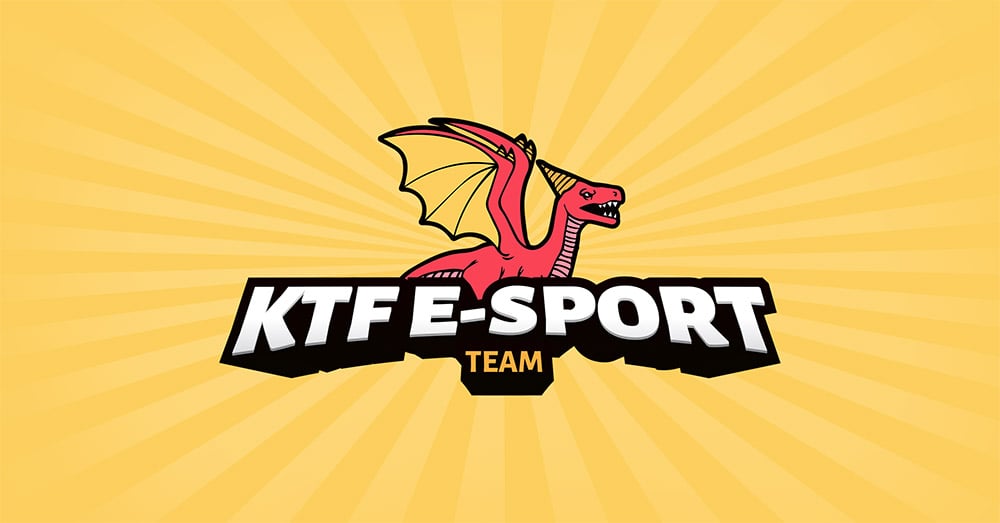 The first thing people see will be your profile picture and cover photo when they land on your page. For this reason, we had our cover photo professionally designed by Penji. If you like our cover photo design, check out Penji's unlimited graphic design service offering.
Once completed, your profile should look like the screenshot below.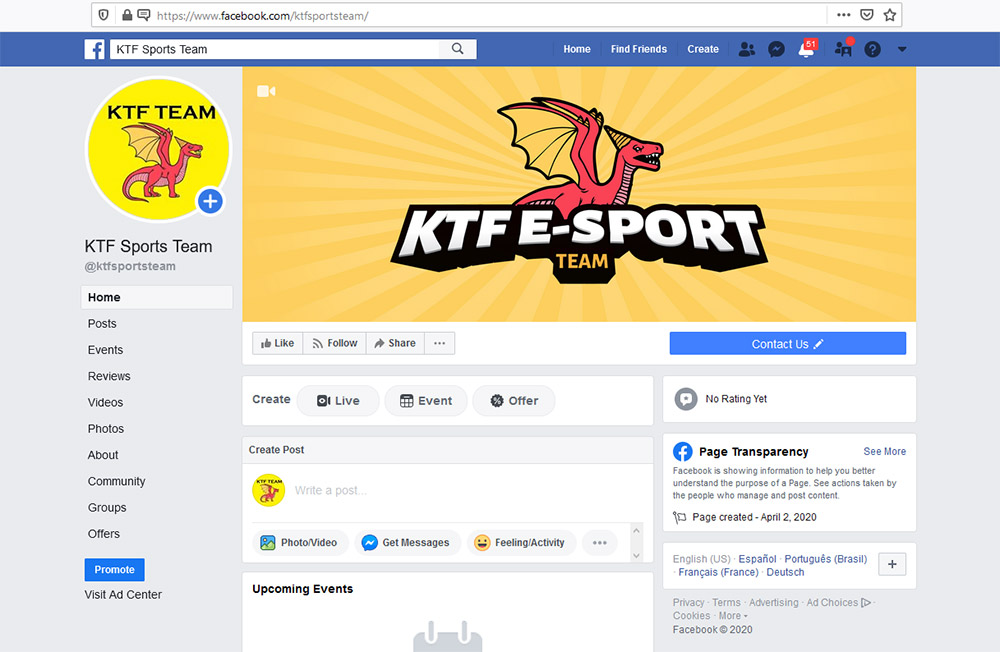 You can check out the live page at KTF Sports Team's official Facebook page (it's fake obviously but will give you an idea).
Setting up Facebook Pixel
Before we create our ads we need a way to track if the ads are working or not. The Facebook Pixels is a custom algorithm that is placed onto your website to make your Facebook Ads more effective. Since we already have a Business Manager account, creating a pixel and installing it on our website will be fairly simple.
The demo company we're using for this tutorial KTF Sports Team doesn't have a website so we can't complete this step. For this process, we're just going to walk you through everything except the final installation. That, you'll need to consult your web developer.
Step 1. Go to Business Settings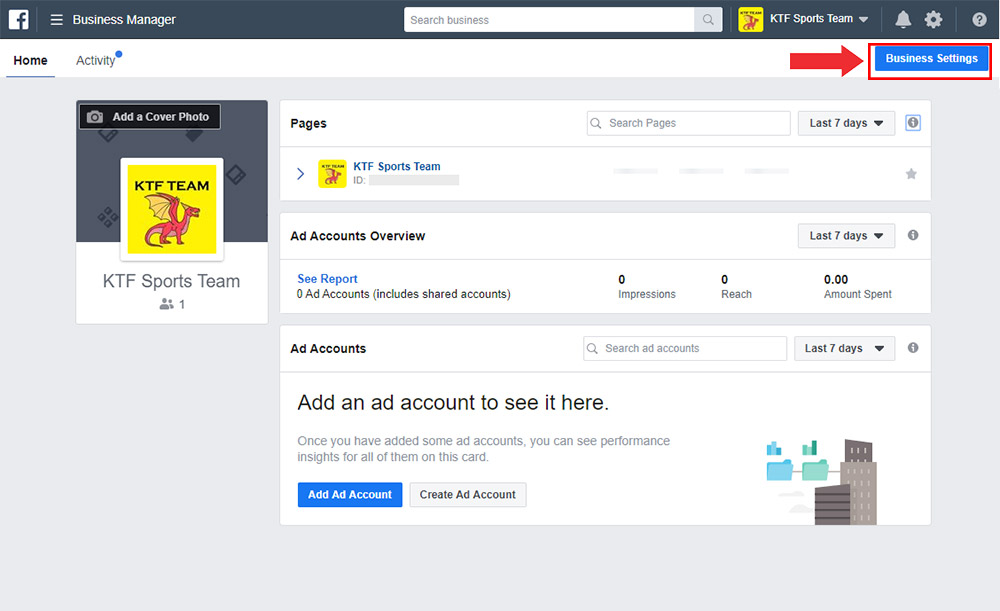 We clicked on "Business Settings" from KTF Sports Team's dashboard inside of Business Manager.
Step 2. Click "+ ADD"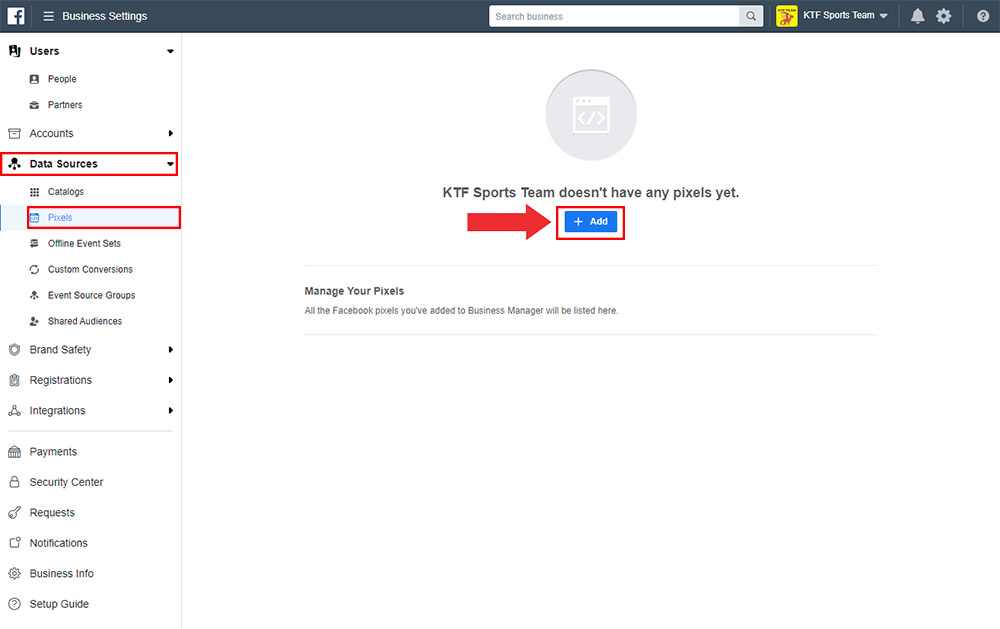 We navigated on the left sidebar, clicked on Data Sources, and then click on "Pixels". Then proceeded to click on "+ADD" to begin the process of creating a Facebook Pixel for Demo company KTF Sports Team.
Step 3. Connecting Website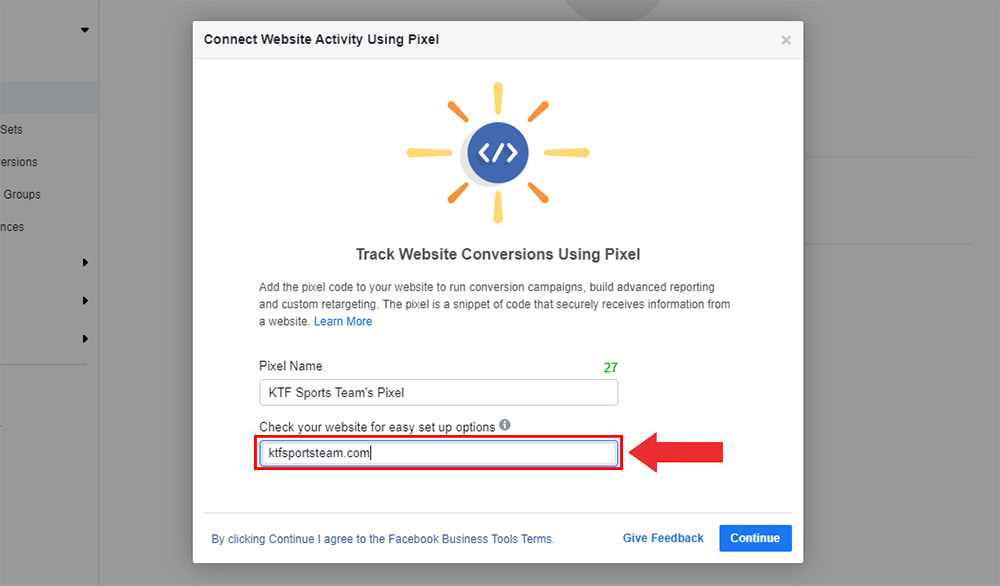 We entered KTFsportsteam.com for the website. Facebook will now create a pixel specifically for our website. Clicked Confirm to proceed.
Step 4. Set up Pixel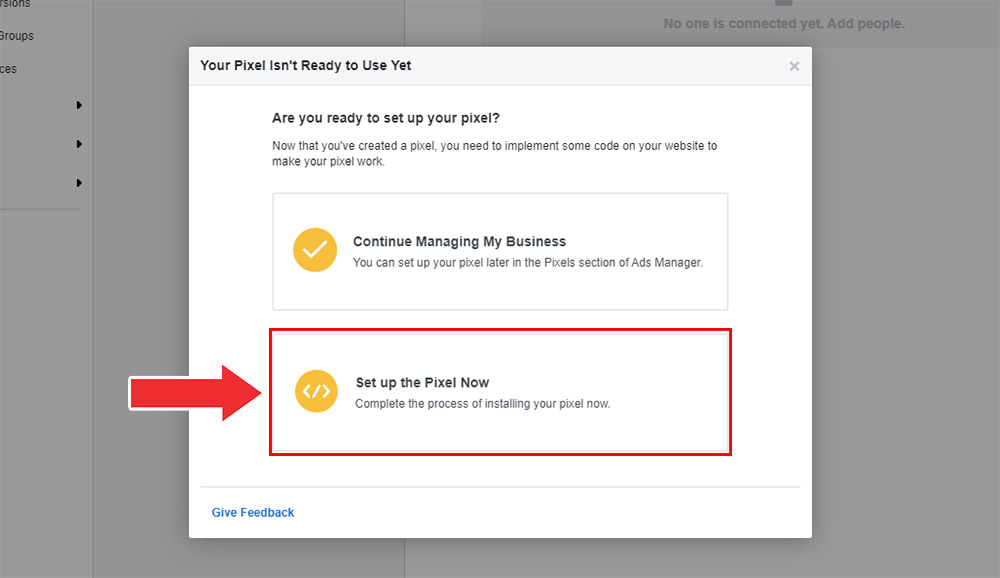 If you're following along you should see the screen above. The Facebook pixel for our website ktfsportsteam.com has been created but it needs to actually be set up on the website for it to be usable and gather advertising data.
We selected "Set up the Pixel Now" to continue.
Step 5. Choose Method Of Connecting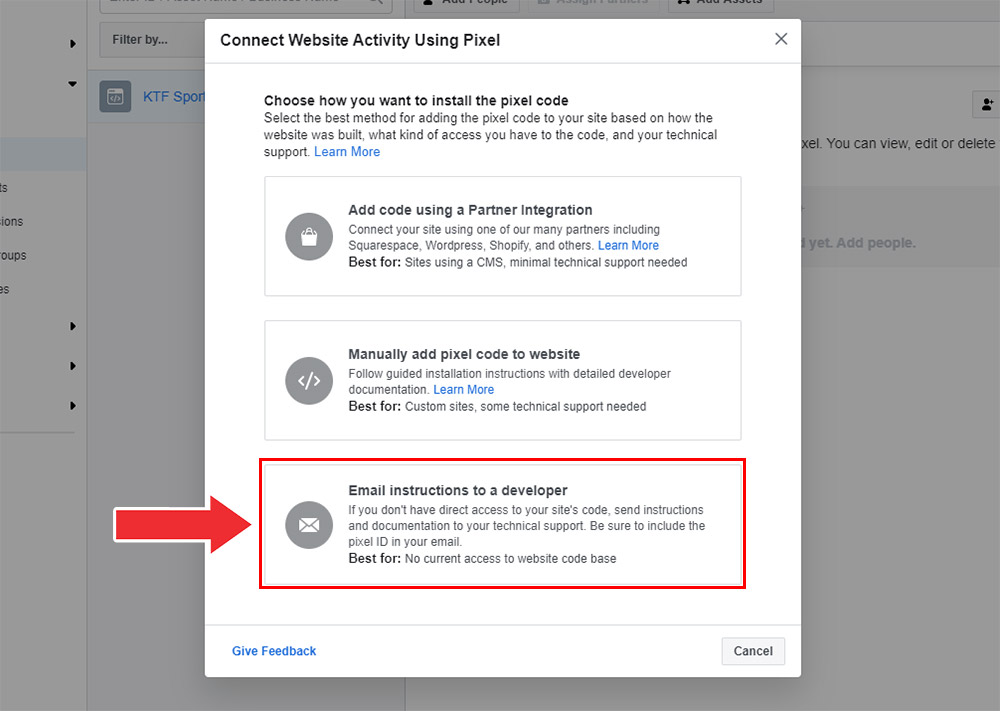 Now Facebook gives us a choice of how we want to connect the Pixel to our website. Take time to read the options and choose what's best for you. If you're not a developer and have very little experience with codes, choose "Email instructions to a developer". Facebook will send an email to your developer with all the instructions needed to set up the pixel.
Step 6. Complete!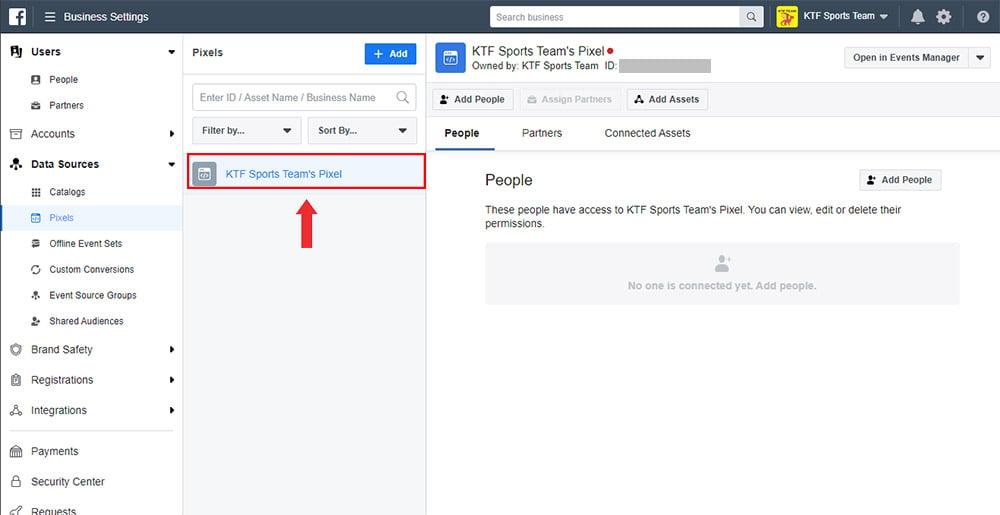 Our Pixel has been created and can be found under Business Settings > Data Sources > Pixels. Yours should look similar to the screenshot above.
Important! Make sure you don't forget to actually install it on your website. Right now the pixel is only created, it's not gathering any data from your website yet.
Creating Facebook Pixels steps listed out:
Go to Business Settings in Business Manager.
Select your business.
Click Data Sources.
Select Pixels.
Click the + Add button.
Type in a name for your pixel.
Optional: Enter your website URL.
Click Continue.
To install your pixel on your website, click Set up the Pixel Now. If you'd like to stay in Business Manager, click Continue Managing My Business.
Creating Facebook Ad Account
We're now just one step away from being able to create ads. Now we will be creating an ad account for our demo company KTF Sports Team. There are many ways to go about creating your ad account. We will be creating it through Business Manager to make it easy for you to follow along.
Step 1: Log into Facebook Business Manager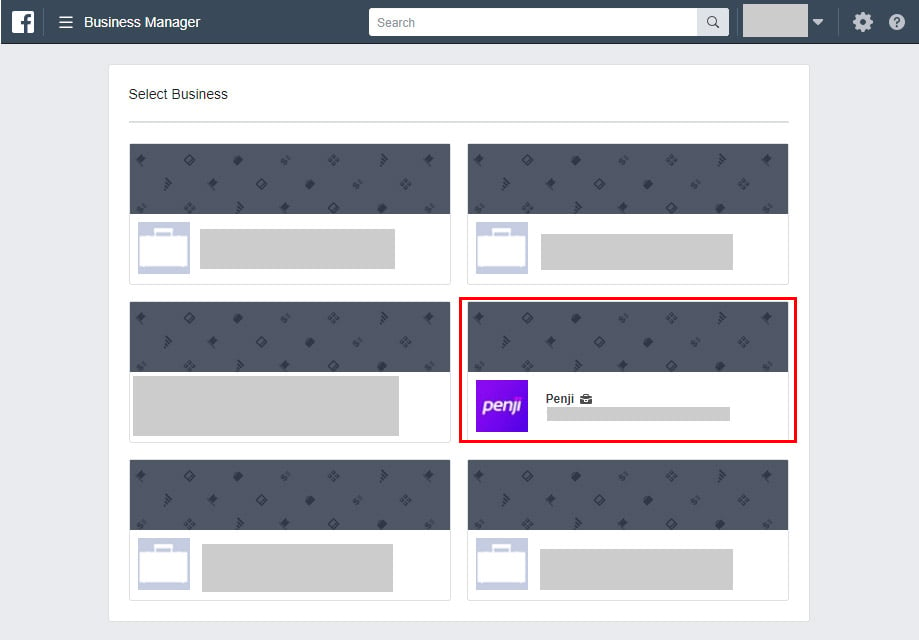 Start by logging into Facebook Business Manager. If you have multiple businesses set up, you'll see the screen above. Select your business to proceed. KTF Sports Team only has one page so Facebook redirects us to the business manager page directly.
Helpful tip: We recommend book marketing this page to make it easier to access. It takes quite a few clicks from Facebook.com to get to.
Step 2. Creating Ad Account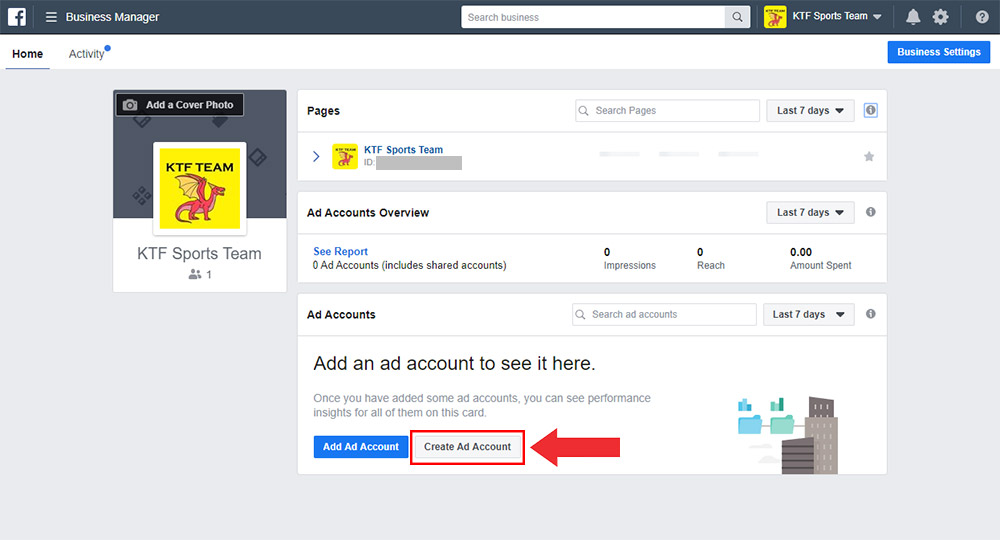 This is the Facebook Business Manager page looks like for our demo KTF Sports Team business. We clicked on "Create Ad Account" to begin the process of creating an ad account.
Step 3. Create New Ad Account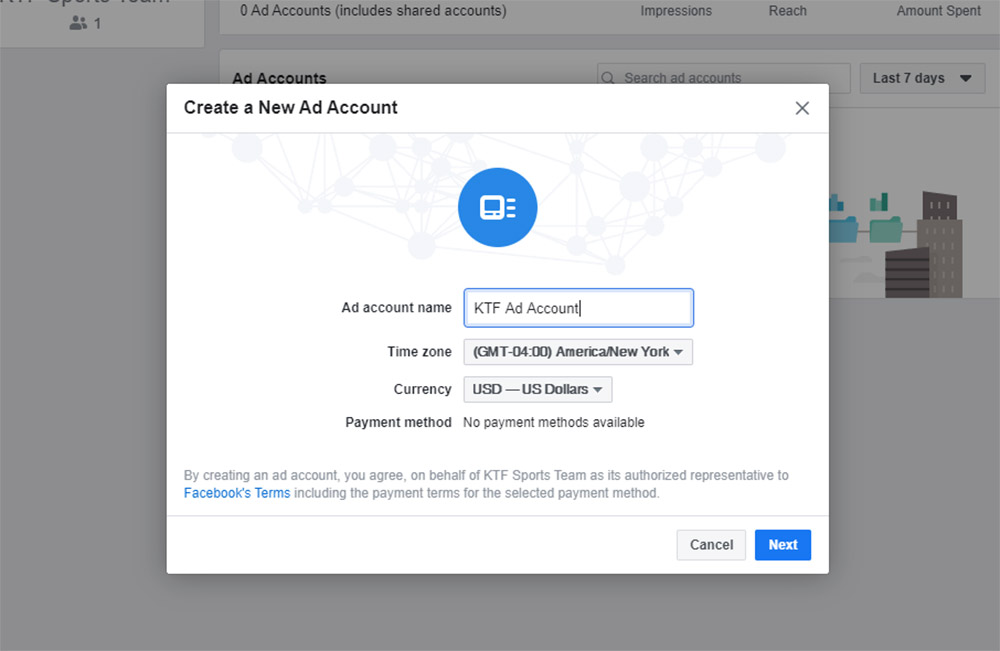 A popup will come up asking you a few brief questions. This is one of the shortest forms you'll ever encounter, so don't sweat it. The popup should look something similar to the screenshot above. There are about 2-3 screens and a total of about 4-5 questions total to create your ad account. We're not listing them out here because Facebook does change them from time to time. However, they're all self-explanatory.
Step 4. Select Business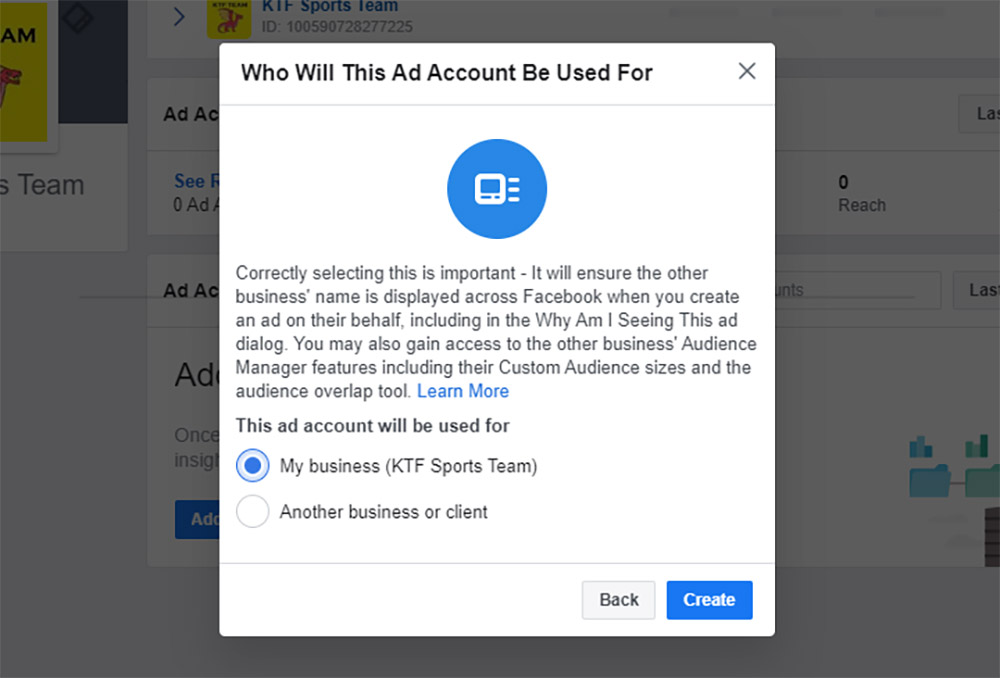 Select the business you want this ad account associated with. We obviously chose our demo company KTG Sports Team.
Step 5. Add People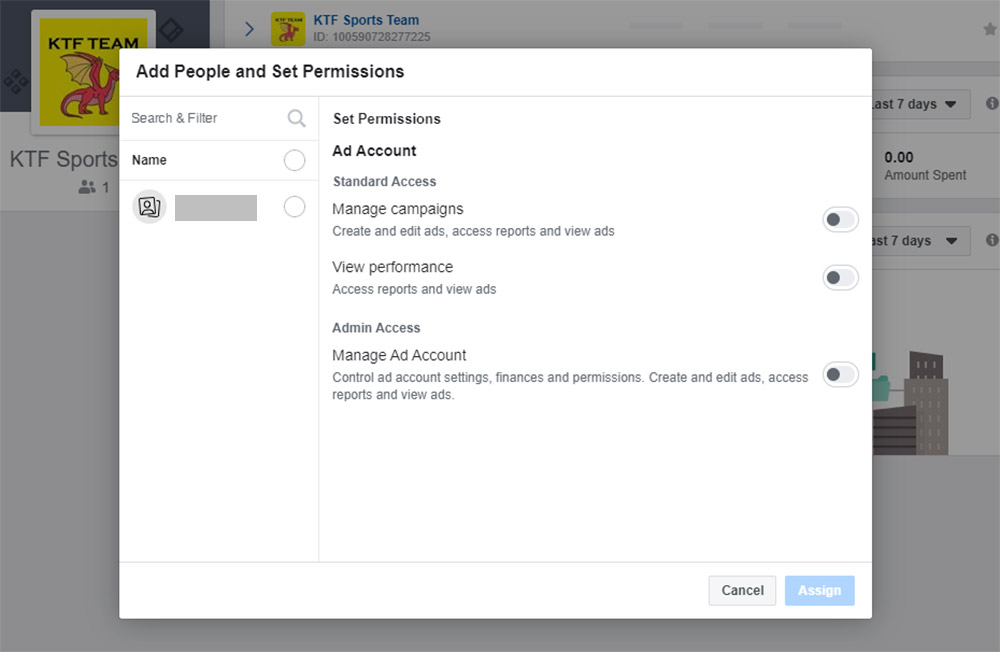 Facebook gives us the option to add people to help manage this ad account. You can even select the permission they can have. We opted not to add anyone at this time.
Step 6. Complete!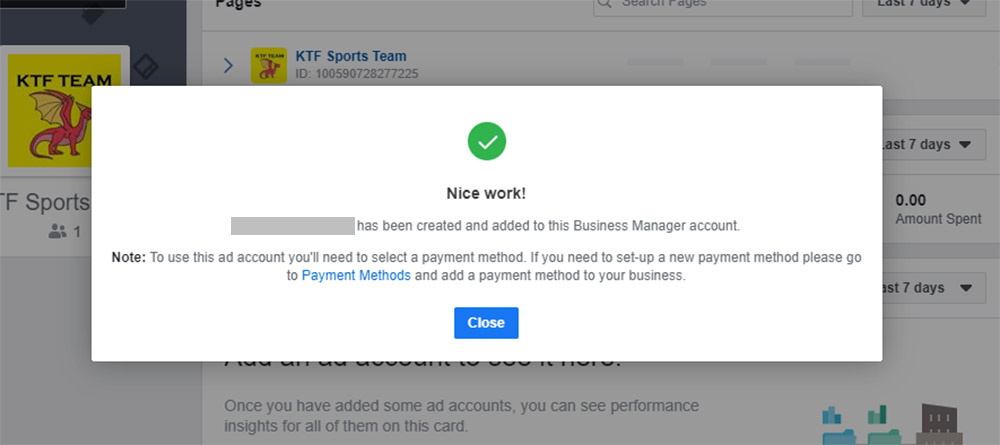 Once we filled out everything, the success message appeared with your Facebook Ad ID, and that means we've successfully created your Facebook Ad account.
Strategy
Before posting anything, you must have a strategy in place. There are an overwhelming amount of options when it comes to Facebook Ads, so you have to go in knowing what you want to achieve.
For each campaign, you'll have to ask yourself:
What am I promoting?
Who is going to see the ad?
Do they know who we are?
How will your product or service be used?
What issues are you solving?
Where are they in the buying process?
What do you want to achieve?
Do you want leads, brand awareness, site traffic, sales, or something else?
How to create the perfect Facebook Ad
Now that our Facebook Ad Account is created, we can begin creating ads. It's time to put our demo business KTF Sports Gaming on the map! Follow the steps below with us as we create our first Ad.
Step 1. Navigating to the ad page
You'd think Facebook would make it easy for you to find the business page to create ads. Unfortunately, it's hidden away in quite a few steps and can be difficult to access the first few times. There are two ways you can access Facebook Ads Manager (not the same thing as Facebook Business Manager)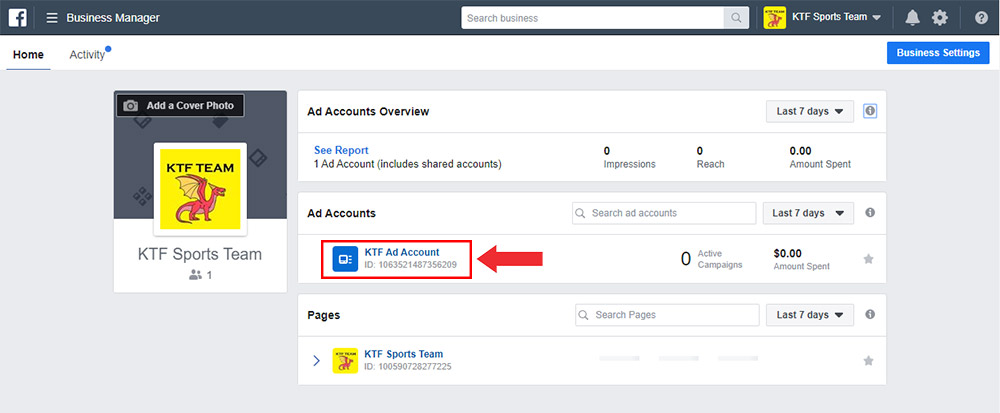 Accessing from Facebook Business Manager
Log into Facebook Business Manager and select your business. Under "Ad Accounts", click on the title. Be careful to not click on the ad id number, that will just copy the number to the clipboard instead of redirecting you to Facebook Ads Manager.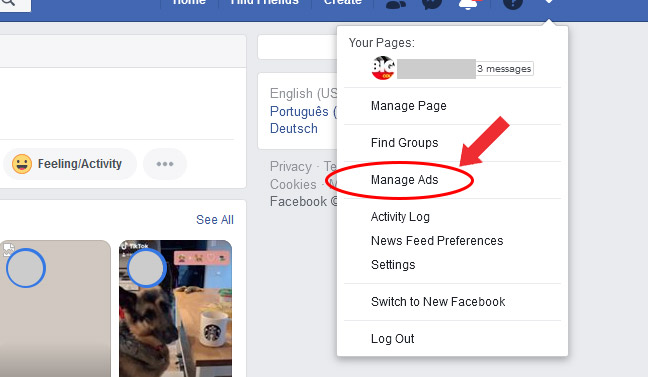 Accessing from your personal profile
Log into your personal profile, click on the drop-down arrow on the top right navigation and select "Manage ads". It should take you directly to your Facebook Ads Manager page.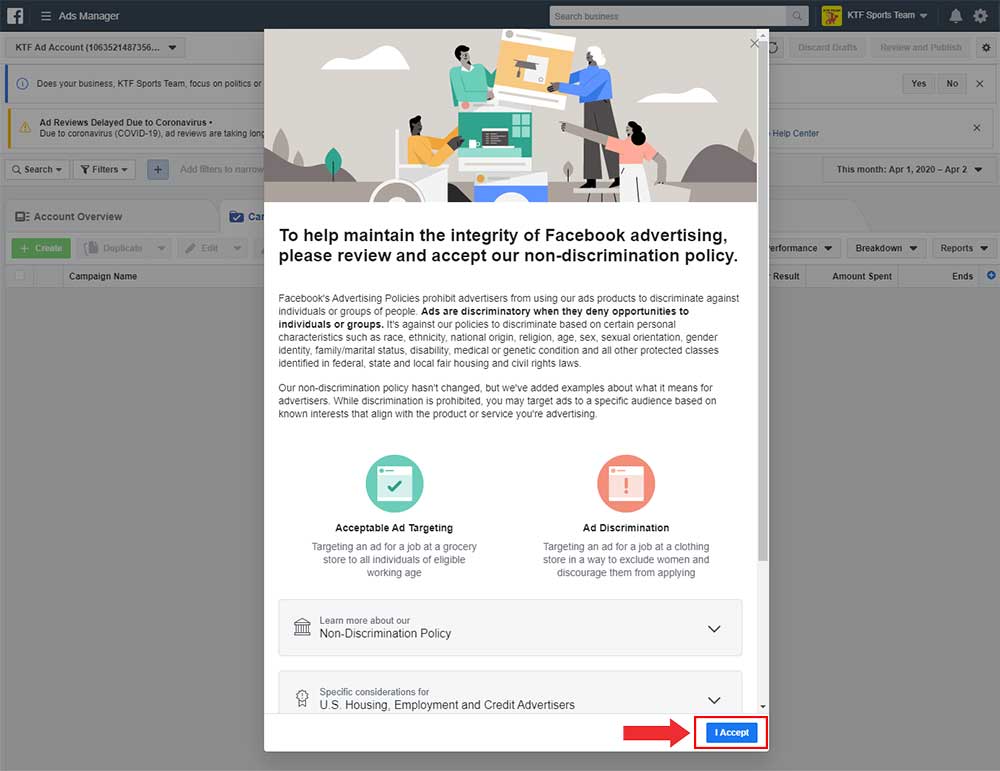 Accepting policies
Afterward, Facebook asks us to agree to its advertising policies. We reviewed and accepted.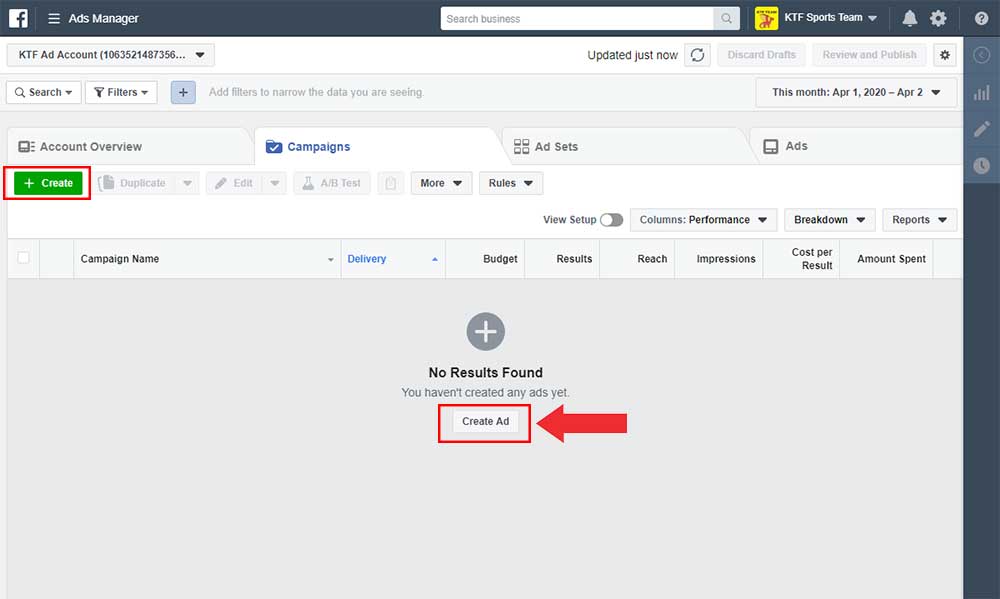 Creating Your First Ad
Now we're inside the Facebook Ads Manager dashboard. It looks a bit overwhelming, however, it's quite simple to use and we will create another guide with step by step instructions on how to navigate all features of Ads Manager.
For now, we clicked on any of the Create Ad buttons to begin the process of creating our first Facebook ad.
Tip: Be sure to bookmark the Facebook Ads Manager page or save the link on your browser's toolbar for easy access. Trust me, you will forget this link and it will be frustrating to go through 3-4 pages every time.
Step 2. Choosing Your Objective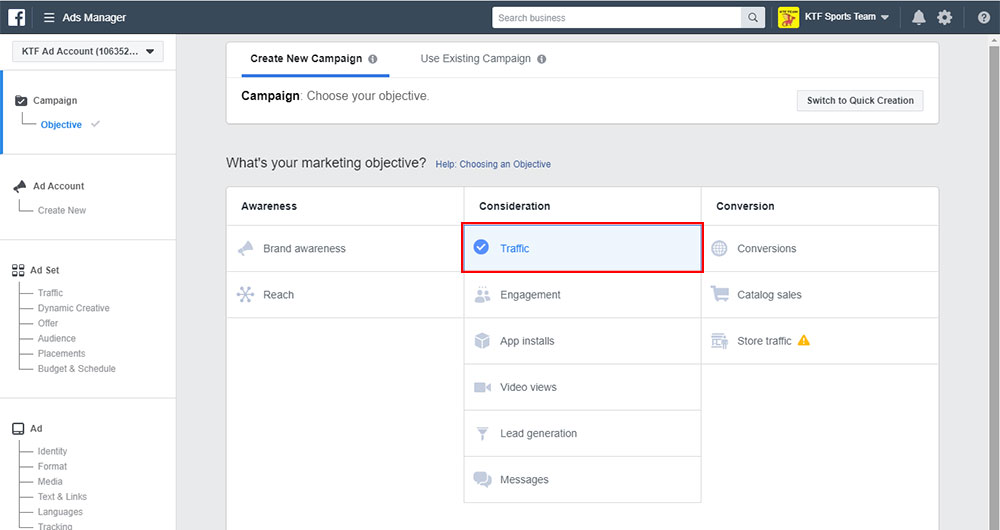 Before creating your ad, the first thing you should know is your ad goal/objectives. Each Facebook Ad should have a specific purpose behind it. Goals/objectives should be set depending on where your potential customers are in the content funnel. Setting a specific Facebook campaign goal can help you reach the outcome you want faster and more efficiently. There's a lot more to know than you would think. Don't have a proper goal for your Facebook Ads? Here are some of the most common ones:
Sales
Add value – ex: provides info about your org
Brand awareness
Community engagement
Increase web traffic
There are 11 objectives in total, each serving a completely different purpose. Below are the Facebook marketing objectives.
Promote your Page
Send people to your website
Increase conversions on your website
Get installs of your app
Increase engagement in your app
Reach people near your business
Raise attendance at your event
Get people to claim your offer
Get video views
Collect leads for your business
We chose Traffic because right now we want some traffic for our website. You can choose whichever objective is best for your business.
Step 3. Traffic Settings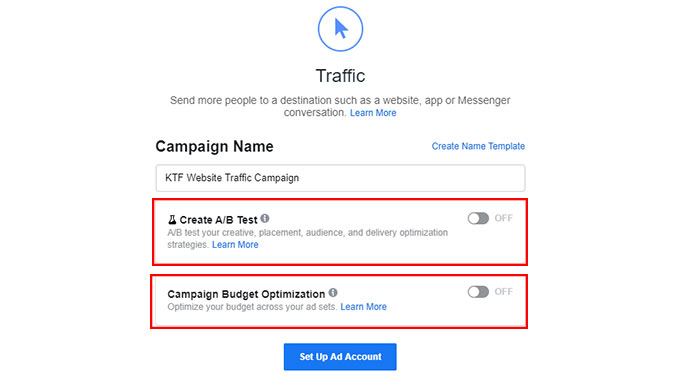 Campaign name. You can name your campaign whatever you want. However, we recommend having a clear naming structure so it will be easier to organize and find if you run multiple ad campaigns.
Create A/B Tests. A/B testing lets you experiment to find out which audience, creative, and bid-type works the best for your campaign. For this guide, we won't be covering A/B tests as it's quite comprehensive and requires it's own tutorial. We kept this option off.
Campaign Budget Optimization. Use this if you have multiple ad sets running at the same time. For now, we only have one and will also leave this option off.
Step 4. Currency & Timezone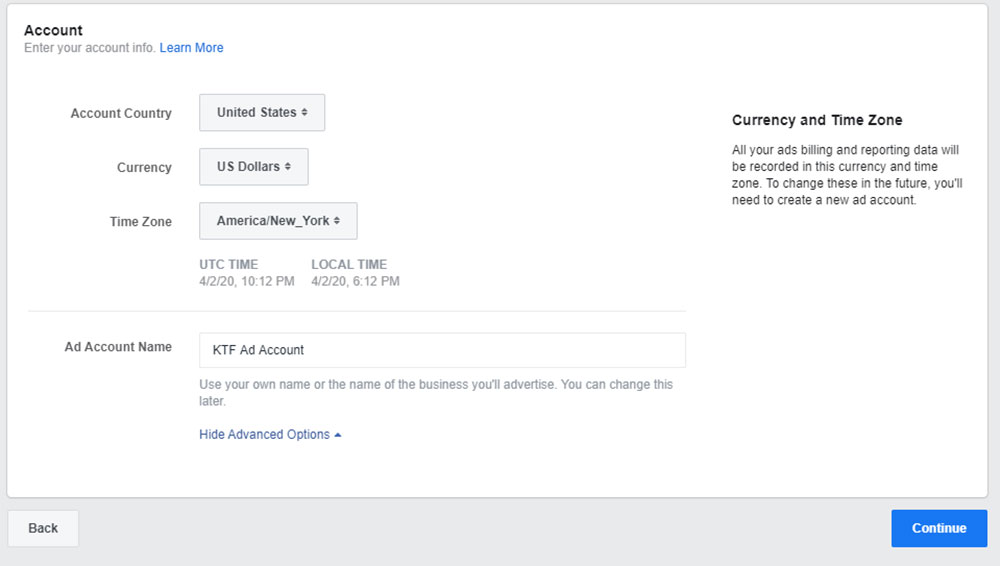 Now you'll simply need to confirm the country, currency, time zone, and name of your ad account. The name of your ad account doesn't matter, it can be anything. Everything else, however, must be accurate.
Step 5. Dynamic Creative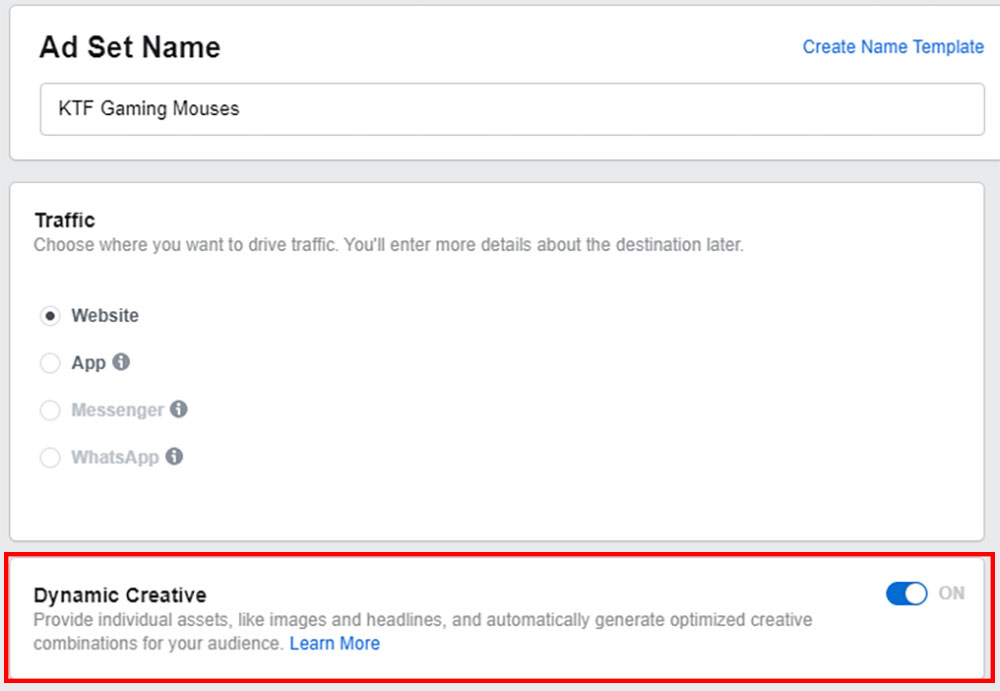 Dynamic creative is only available for Traffic as of this writing. It's an amazing feature that lets you upload multiple images, videos, headlines, descriptions, and more to test. Facebook will automatically create different versions of your ads using all possible combinations of what you uploaded. Then it will tell you which combination worked best. I personally always leave this option on for Traffic.
Step 6. Setting Up Audiences (Long)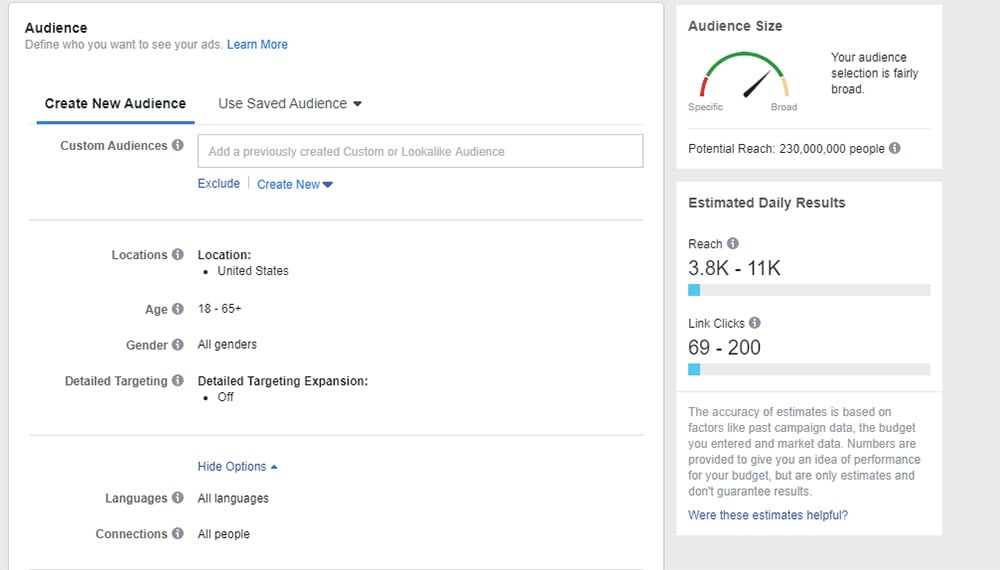 Understanding your Facebook Marketing Audience can help you create ads that reach your audience. But first, you must find your perfect Facebook target audience. Facebook Business Manager has a tool call Audience Insight that lets you search, filter, find, and create audiences to be used for your advertisements.
We won't be using Audience Insights in this guide. Instead, we'll be using the tools provided in the ad-creation process. It's not as in-depth and thorough, however, it's convenient and enables you to quickly get the hang of how to build audiences. Later as you become more advanced, you can play around with Audience Insights and discover even better audiences to advertise to.
Creating Custom Audiences
The ability to pinpoint our target audience is one of the main reasons why we chose to be on Facebook. In our opinion, it's much more robust, detailed, and accurate than Google ads. We can literally write several guides detailing custom audiences, lookalike audiences, and detailed targeting. For this guide, I'll just briefly go over a few main points.
For our demo company KTF Sport Team, we want to target specifically gamers in the United States between the ages of 18 and 40. The following steps will walk you through our thinking process as we create an audience.
Create New > Custom Audience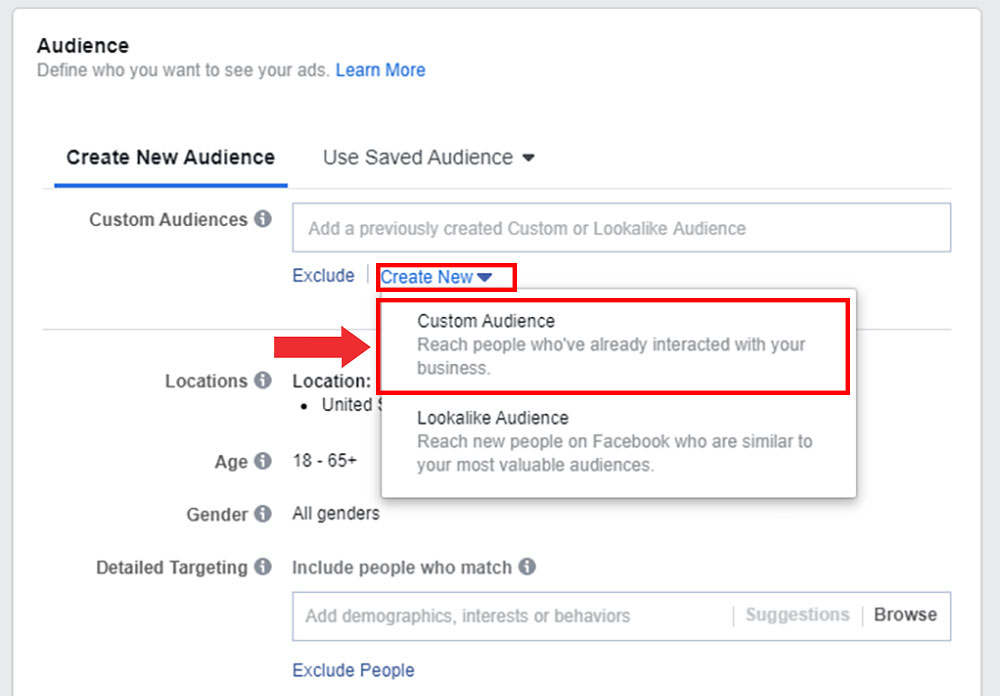 Since we'll likely be using this audience again for future Facebook ads, we should create a custom audience so we don't have to go through this process every time. Clicking on "Custom Audience" lets us begin this process.
Choosing Sources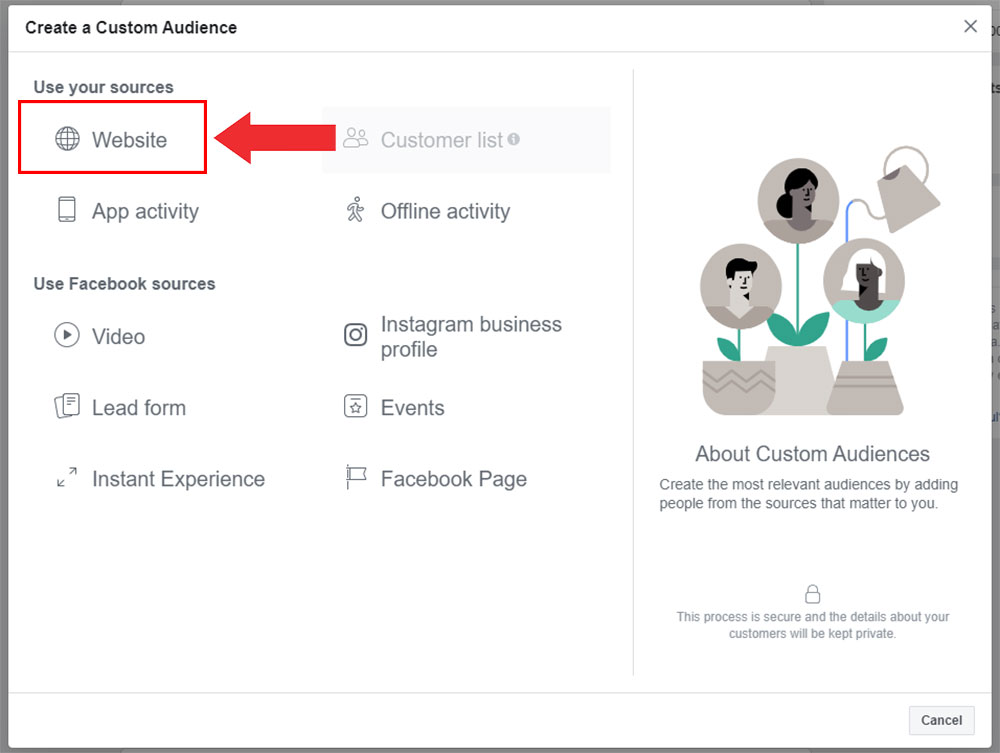 We'll need to select the source for gathering customer intelligence. We're going to choose Website since we want to create an audience based on the activity and engagement visitors have on our website. And Facebook will have this data because of the Pixel that's already installed on our site.
Defining Criteria #1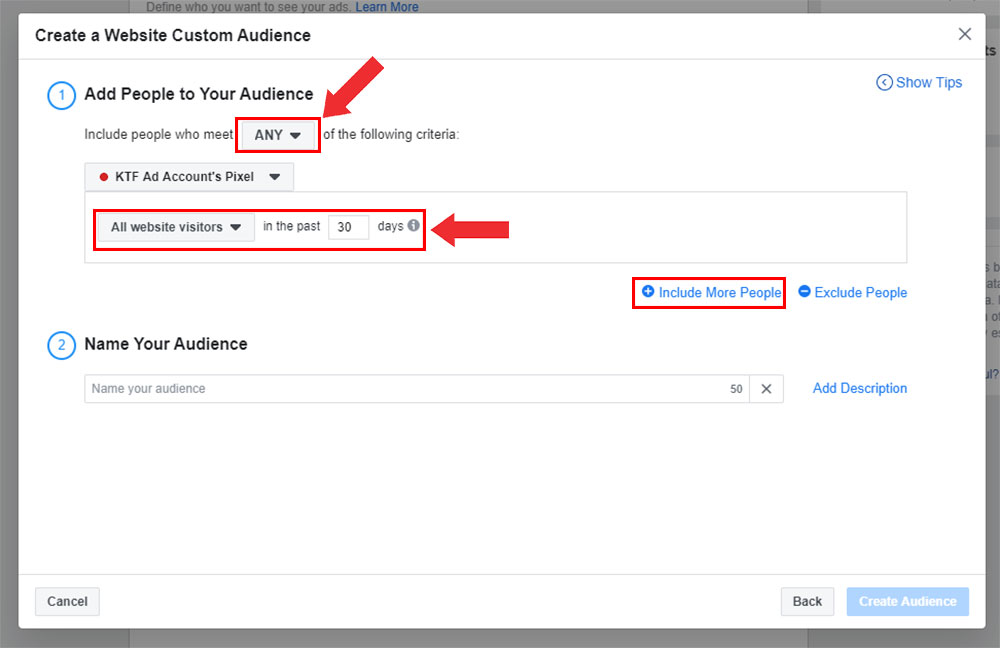 Let's define who we want to target that goes to our website. Make sure your pixel is selected. Our first criteria is "All visitors – In the past 30 days". This will target only visitors who visited our website in the past 30 days.
And since we will be creating defining multiple criteria we checked off "Include people who meet ANY of the following criteria".
Now we click on "Include More People" to create additional criteria since "people visiting our website" is too broad. We want to be more specific.
Defining Criteria #2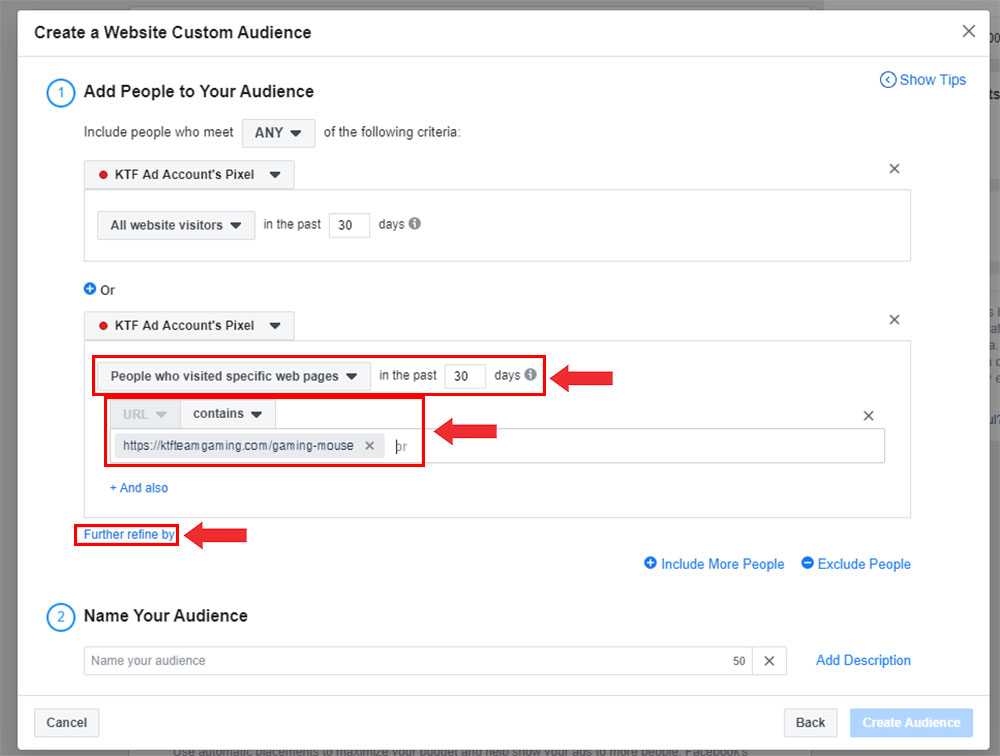 In order to laser in on visitors most likely to buy our gaming mouses, we also want to target a specific page. For these criteria we selected "People who visited specific web pages in the past 30 days" and defined the page as https:/ktfteamgaming.com/gaming-mouse, a page where we sell our gaming mouses.
We figured people visiting this page, in particular, would be most interested in buying our product. But what if we wanted to be even more specific about people who visited our gaming mouse page? Luckily Facebook allows us to specify how frequently they visit the page and on which device.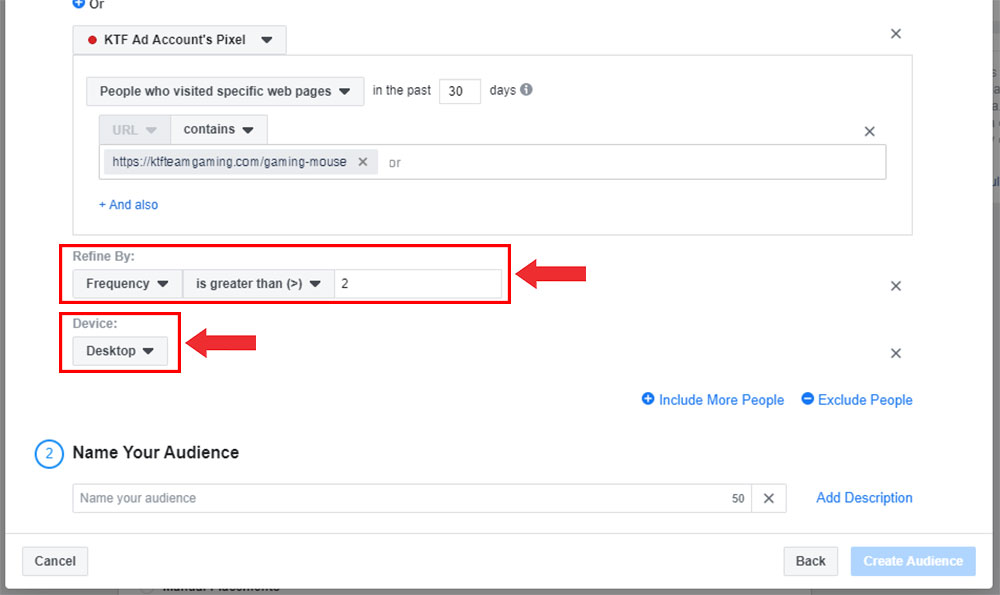 We selected that they need to visit this page at least twice and only on desktop. That's because our customers aren't impulsive buyers and will likely visit the page multiple times. 90% of our transactions actually take place on a PC desktop where they're gaming, so naturally, we selected Desktop only to be a criterion.
Defining Criteria #3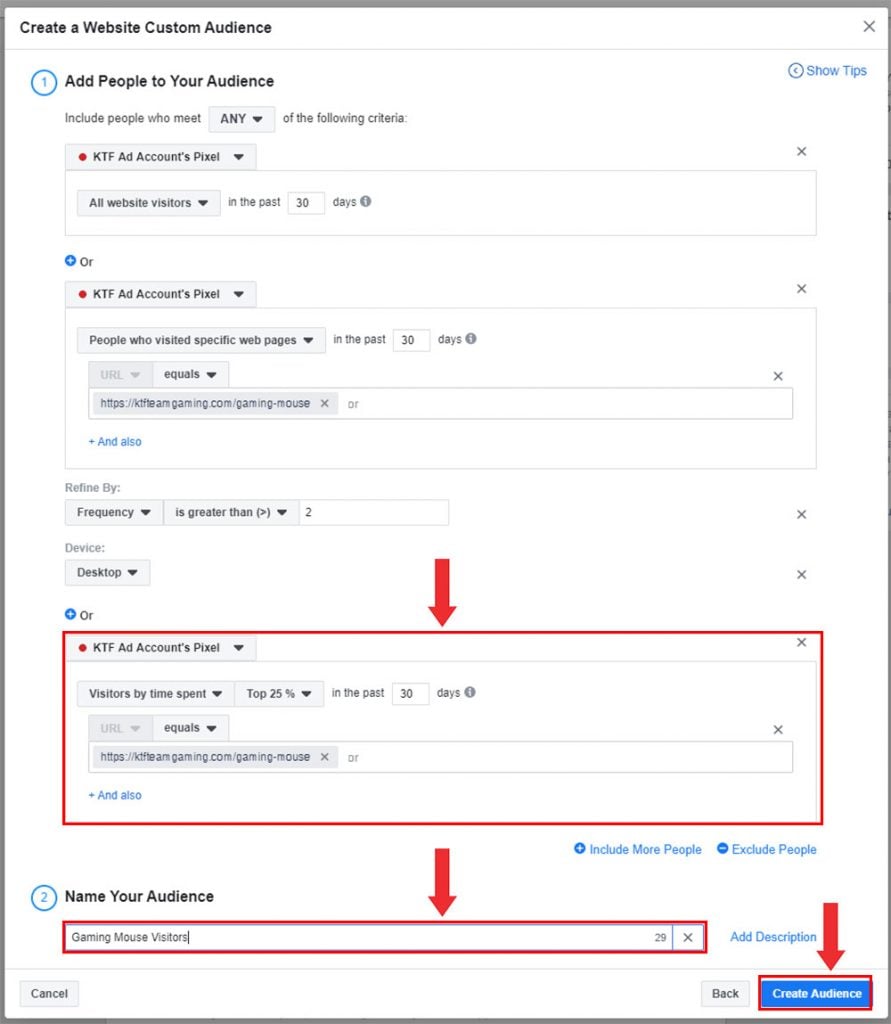 We don't need to any further, but just to show you another cool trick we're going to create a 3rd criteria. We also want to target "Visitors by time spend, top 25% in the past 30 days". Now we have a total of 3 criteria for our custom audience.
#1: All website visitors in the past 30 days
#2: Visitors who visited https://ktfteamgaming.com/gaming-mouse at least TWICE on Desktop.
#3: Top 25% percent of customers who spend the longest amount of time on our website in the past 30 days.
Visitors who meet ANY of these criteria will be targeted. This feels like a pretty solid custom audience that can help our ads convert.
Now we just enter in a name for this custom audience and hit "Create Audience".
Audience size warning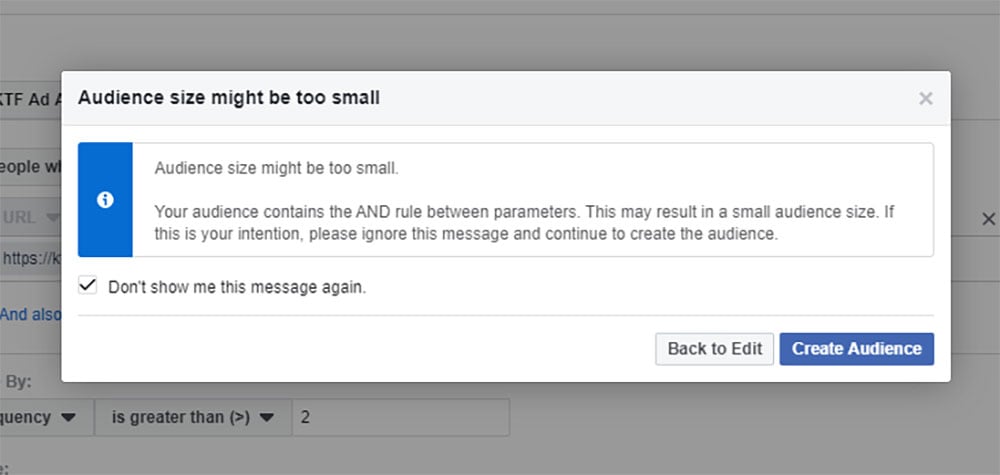 Depending on your audience you may or may not encounter this error. Facebook is alerting us that our custom audience might be too small and won't reach many people. For us, this was intentional and perfectly ok. We only want to target a small segment of our demographic anyway, so this isn't a problem for our business. It might be different for your business.
Custom Audience Complete!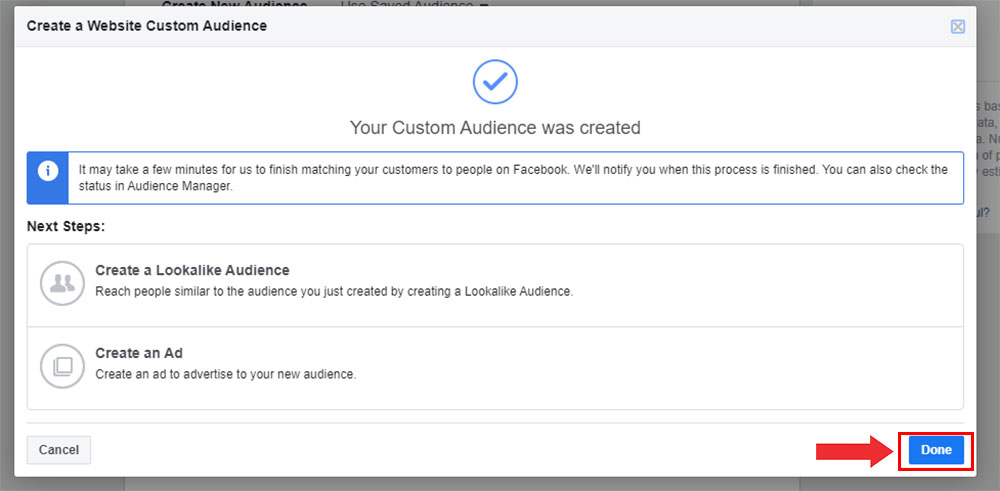 Once you arrive at this screen, you're officially done. Be sure to click "Done" to save your progress. If you hit "Cancel" nothing will be saved.
Step 7. Location, Age & Gender

This section is self-explanatory. You can target users anywhere in the world, between any age range, and any gender. We chose to target men and women between the ages of 18 and 30 in the United States.
Step 8. Detailed Targeting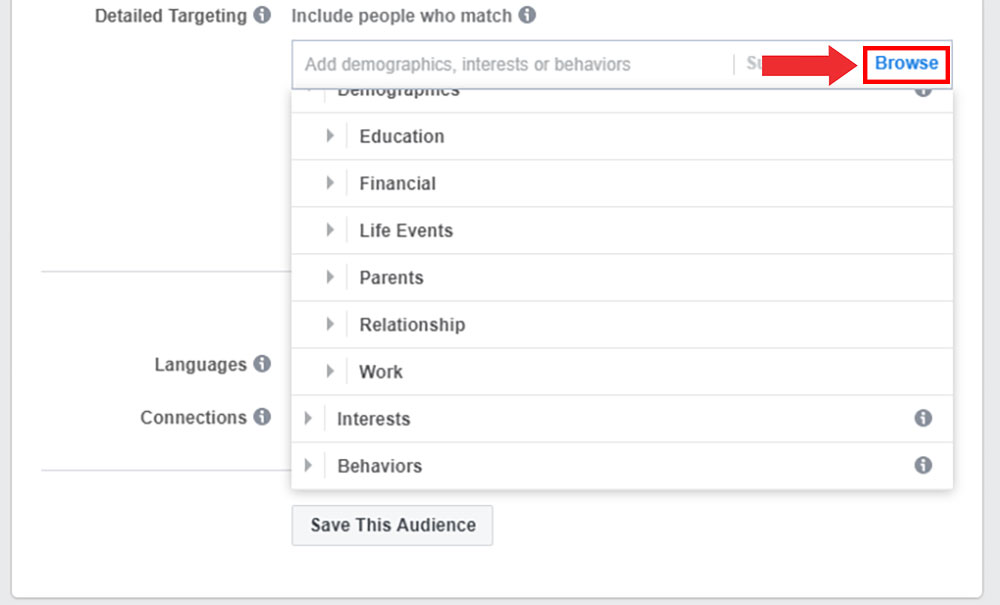 Detailed targeting is where we can target a user's specific interests, behavior, and demographic. This section is very in-depth and is a topic on its own.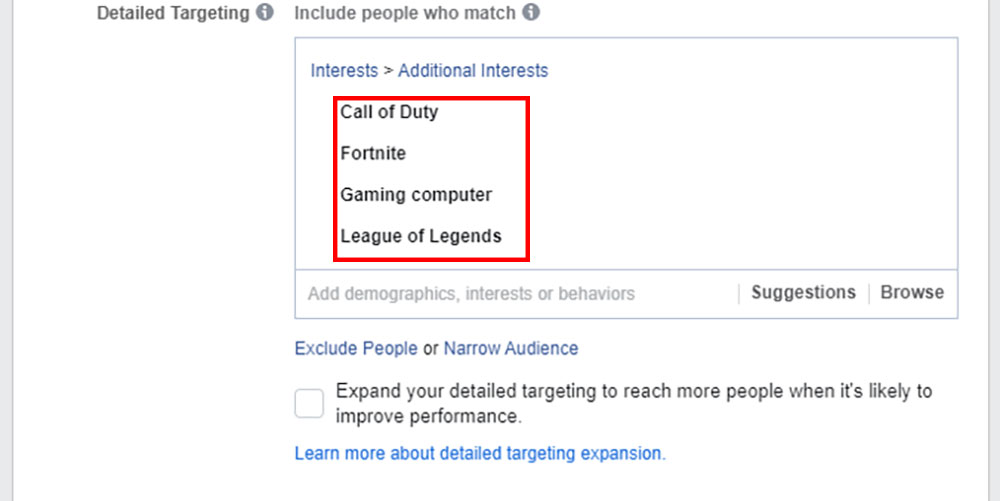 We chose the interests Gaming Computer and several major game titles for our detailed targeting. Because of this, we figured individuals who play these games are likely PC gamers who need to buy a mouse.

We chose to "Save This Audience" because we'll likely use it again in the future.
Step 9. Placement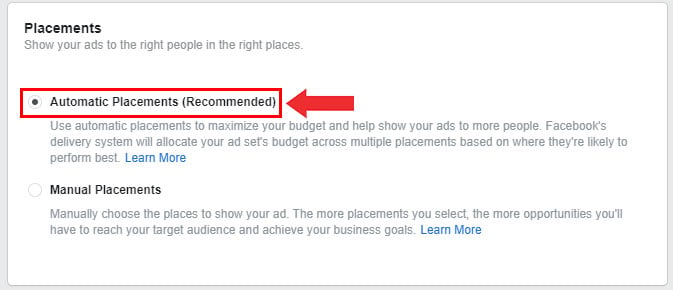 You can choose where you want your ads to be displayed on Facebook. For the sake of simplicity, we left it on Automatic Placements. If you want, you can choose Manual Placements and specifically choose where you want your ads. For example, if you only want your ads in the News Feed but not on the sidebar or in Facebook Stories, you can set that in Manual Placements.
Step 10. Budget & Schedule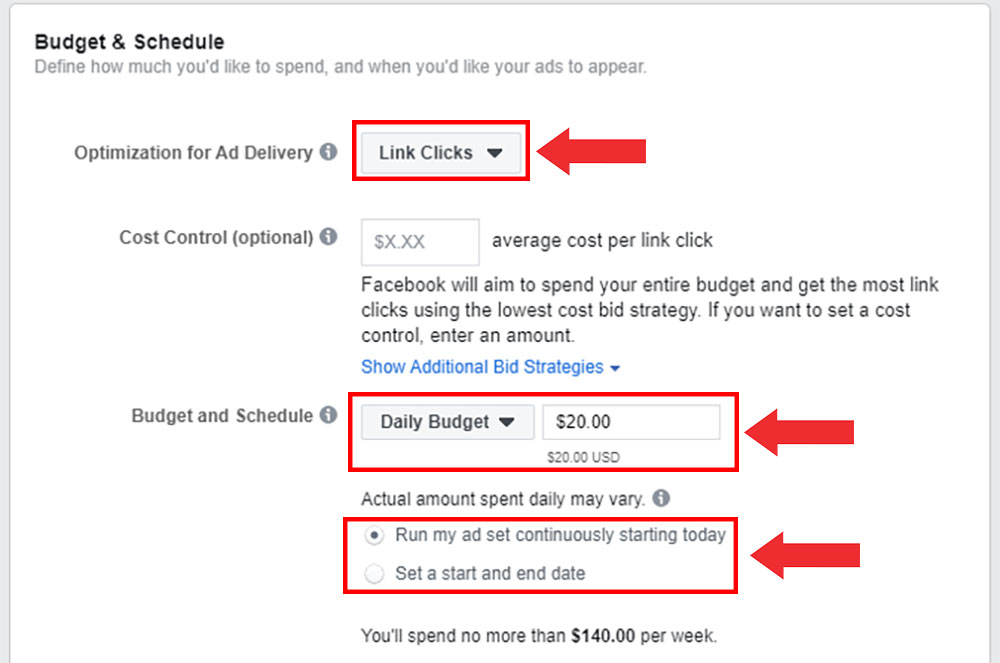 The next step is setting your budget and schedule. There are a lot of options here and you should take time to experiment with them to see which combination works best for you.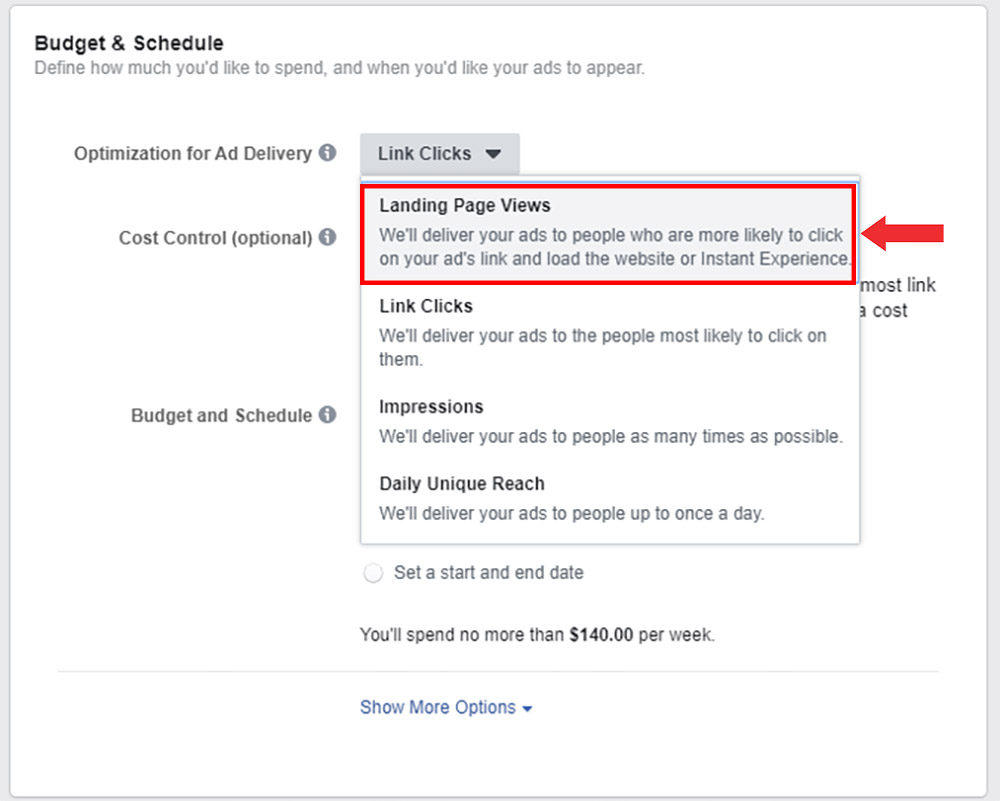 Optimization for Ad Delivery. This is how Facebook will determine which method to deliver your ads. My personal experience has been very mixed with Link Clicks, Impressions, and Daily Unique Reach. Landing Page Views tends to get the most results and the most valuable traffic for my campaigns.
Cost Control. You will be charged per link click or per 1000 impressions. You can set an amount for Facebook so that it doesn't go over this amount per each bid. The higher the amount, the more likely you will appear and the better your ad placement. Typically I leave this empty and let Facebook decide.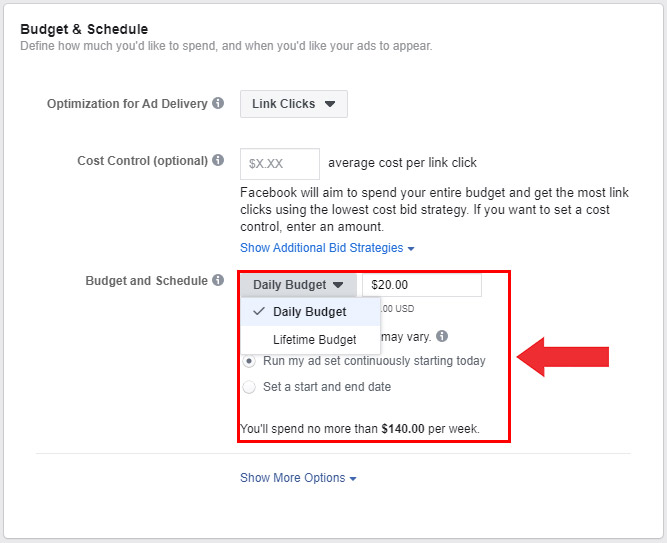 Budget and Schedule. Here's what you've been waiting for. It's time to tell Facebook how much you want to spend. You can schedule the ad to only run within a date range or set it to run continuously and have a specific budget each day. Facebook usually won't go over the daily budget you set, and if it does it's usually very minor.
Our Budget & Schedule settings. For our demo company KTF Sports Team, we chose the following:
Optimization for Ad Delivery: Links Click
Cost Control: Blank
Budget and Schedule: $20 per day. Run continuously.
Even though it's set to run continuously I can stop the ads anytime.
Step 11. Name & Identity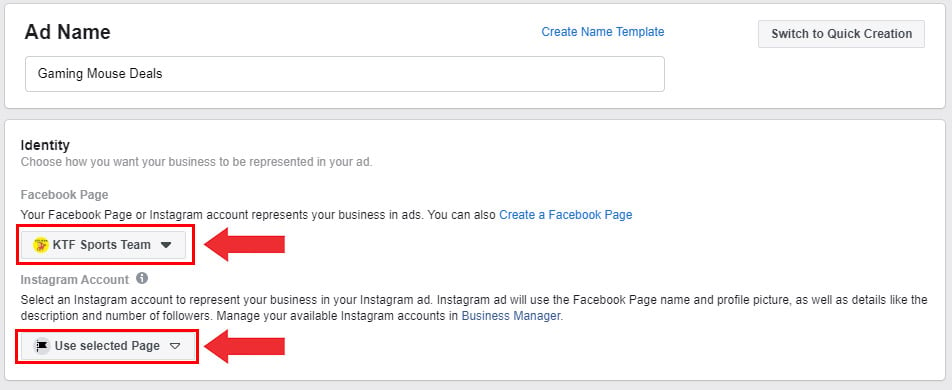 After you defined your budget and schedule, you can now begin actually creating your ad visually. If you're an admin of multiple Facebook pages, make sure to double-check the Identity. Facebook doesn't always select the obvious page you want, we've made this mistake a few times ourselves where we created an ad for a completely different page by accident.
The Ad name can be anything you want. This won't affect the appearance or performance of the ad. We name our ad "Gaming Mouse Deals" because our ad is specifically selling gaming mouses.
Facebook Ad Formats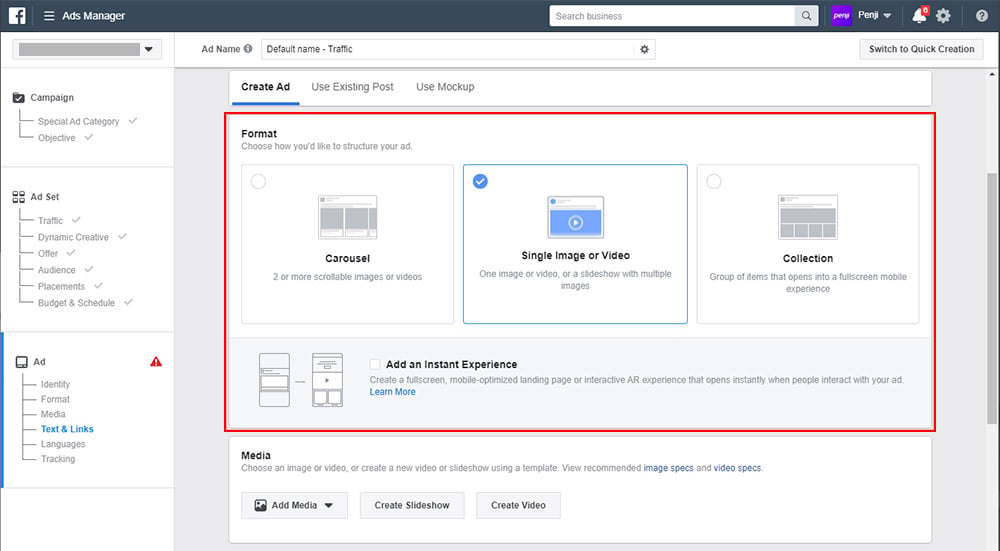 Facebook Ad formats shouldn't be chosen on a whim or simply at your discretion. Your campaign goal objective needs to be matched to your ad format to ensure success. There are seven different formats to choose from. Each comes with its own distinct features. Below is the full list of different Facebook Ad formats.
Video
Photo
Slideshow
Carousel
Dynamic Product Ads
Lead Form Ads
Some seem similar which can lead to people becoming confused about the difference. An example of this is slideshow ads v.s. carousel ads. By finding the best format to display your information, you can increase the chances of capturing your audience's interest. Learn about the different formats and which objectives are best for each.
Step 12. Uploading Images / Video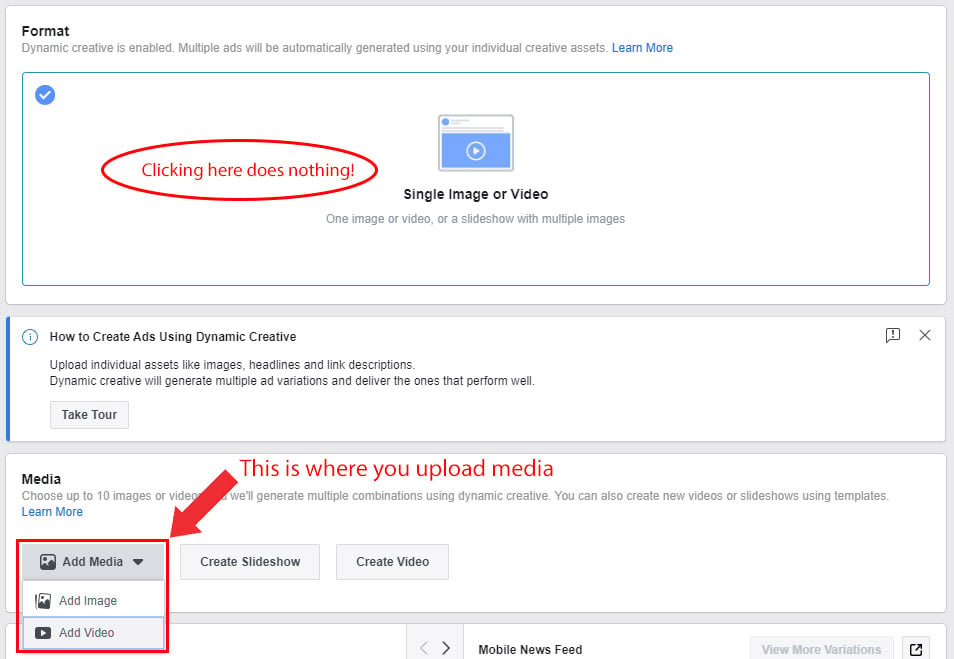 Now is the moment we've been waiting for. It's time to upload our images and/or videos and begin creating our very first Facebook ad! Because we selected the objective Traffic and also checked Dynamic Creative, we're not limited to just Images and Videos in this step. Normally we're given more options.
Where to actually upload. We were confused on our first time. Clicking in the top "Single image or video" box does nothing. You'd think that's where you need to upload media and for some reason, it's not. You need to scroll down to Media and click on the "Add Media" button to reveal a drop-down giving you choices between Image and Video.
For Dynamic Creative you can upload up to 10 images or videos to have Facebook automatically experiment with different combinations.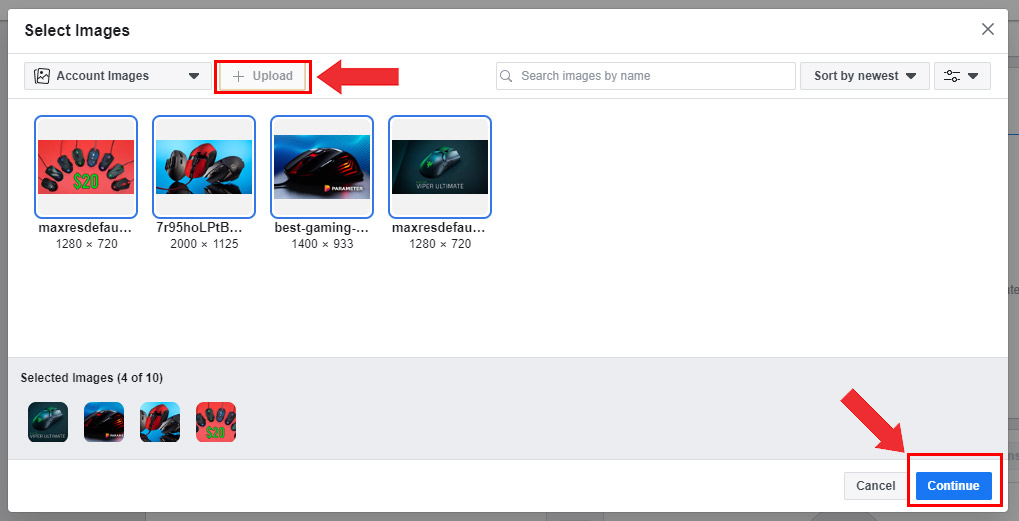 Begin upload. We gathered all of our advertisement images and began uploading using the Upload tool.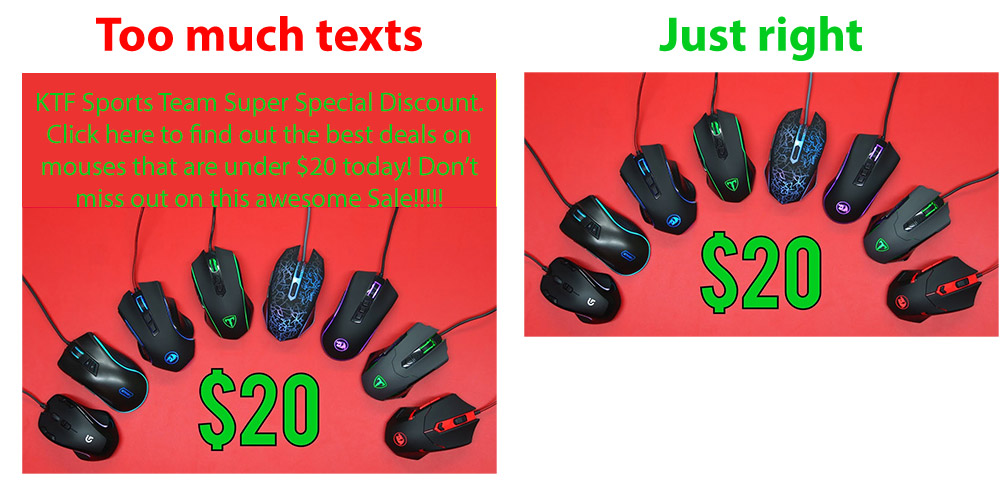 Facebook's 20% Text Rule. When uploading images with texts, be careful that the image doesn't have too many texts on it. Facebook doesn't allow any images with more than 20% texts. The image above (ignore the horrible design) gives you an idea of what will get rejected and approved.
Here's a great tool you can use to quickly identify if your image will qualify.
Step 13. Texts & Links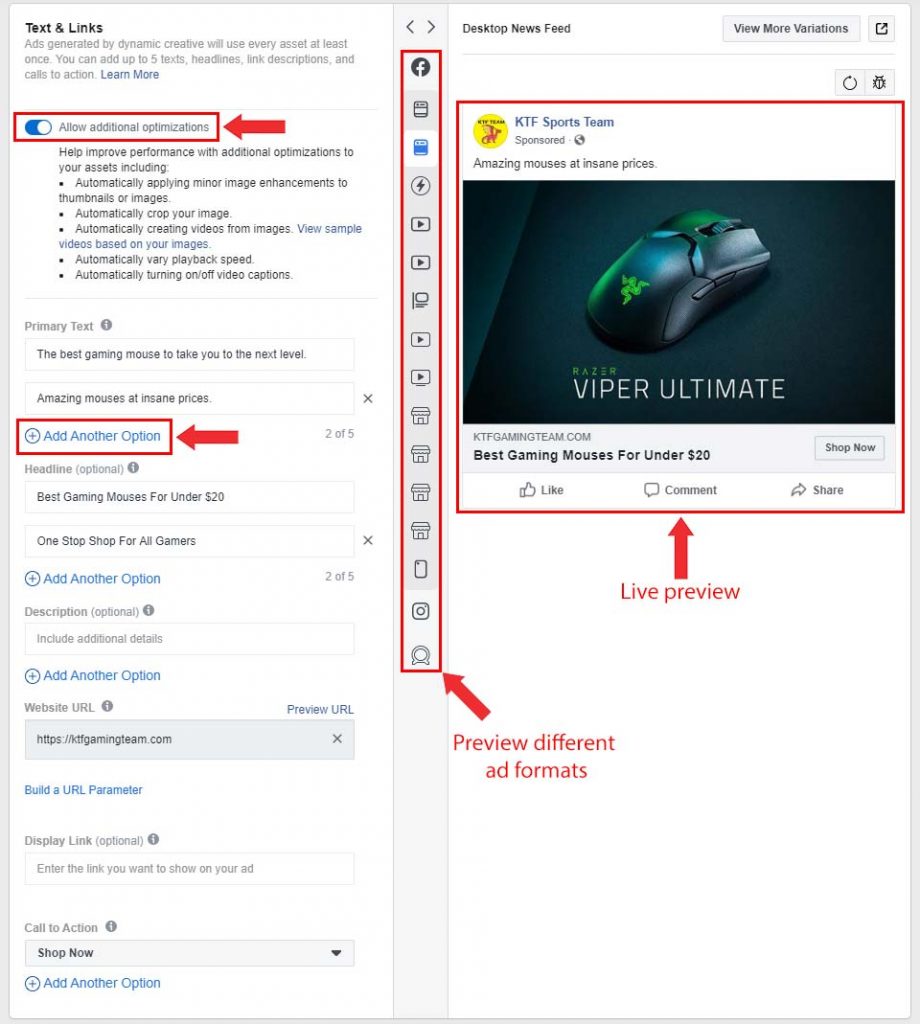 This is the fun part and you will be spending a significant amount of time on this step to get your ad just right. Don't rush this step. Save and come back to it later if you need to but definitely take your time here. You'll want to get this right.
Allow additional optimizations
Turn this off if you don't want Facebook to mess up your images and videos by cropping and editing. This tool isn't very smart and can crop important texts or images out of the ad. For this ad, I left it on because our images can be cropped and will still look fine.
Primary texts
This is the text that will appear directly above the image/video. You can write either short or long texts here depending on your ad copy.
Headline
It says optional, but don't ever leave this blank. This is the headline directly under the image and it's one of the most important elements of the ad. Make sure you have compelling and catchy headlines to draw visitors in.
Description
This text will only appear on certain ad format. It's optional and you can leave it blank or fill it out, entirely up to you. I usually leave it blank.
Website URL
Enter the URL you want to redirect visitors to. Make sure it's correct.
Call to Action
You can select what the Call To Action button is. I chose Shop Now as it's more appropriate for our goals.
Add Another Option
In several fields you'll notice a "Add Another Option" button. Click on this to add another option for the field. Facebook will automatically use each variation interchangeably for you and show you which version of the description, headline, image, call to action, etc. works best.
Preview format
In the center, you'll see a vertical row of icons. Facebook has many different ad formats. Click them to see how your ad will look for each format.
Live Preview
On the right side, you'll see a live preview of how your ad will look. Take advantage of this tool to make sure all your images and copy look good together and flow nicely.
Step 14. Review & Publish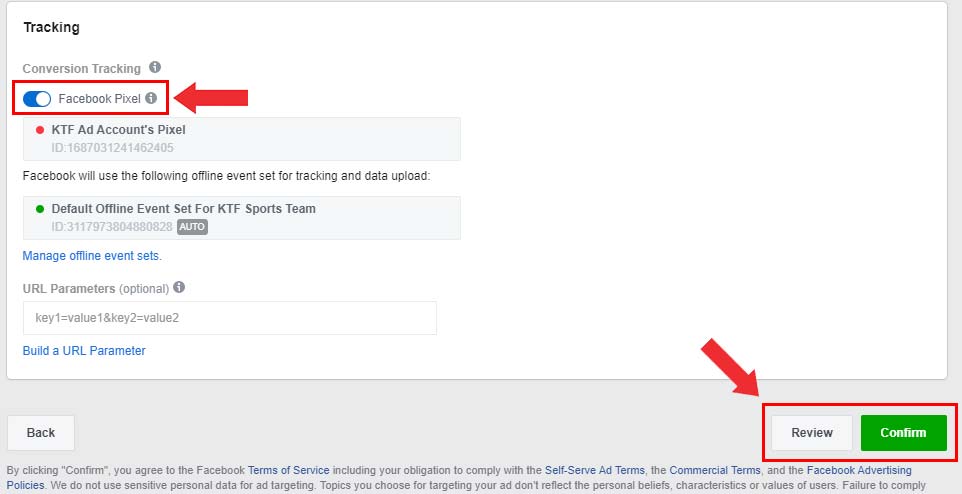 Once you've completed adding images and texts to your ad, the last step is to review everything and publish it. Scroll to the bottom of the page and make sure your Facebook Pixel is checked on. Sometimes it's checked off for some reason.
It took a while, but we finally did it. Our demo company KTF Sports Team successfully created our very first Facebook Ad. Now I'm going to click on Review just to make sure everything looks good. Clicking on Review will take me to another page to show the breakdown of everything (no screenshot). Once I'm happy with all the settings, I click "Confirm" to publish the ad.
If you didn't put in your payment information yet, Facebook will now remind you. Once your payment is cleared, your ads will begin running.
Engaging with your audience
After running a Facebook Ad, you're not done just yet. You have the ability to interact directly with your audience. If there are comments on your ad, respond. It makes your business appear more "human".
The beauty of Facebook Ads is your ability to choose your audience. Though you can let Facebook choose for you, there's also the option of creating a custom audience. That way you'll know exactly who will land on your ads and how you can prepare to interact with them.
Here are the types of custom audiences who you may be interacting with:
Website visitors
Those who visited your product page but didn't check out
People who visited your contact page
People in the middle of the buying process who didn't purchase
Past customers
Blog readers
Employee Advocacy
53% of people tend to trust a company's workforce more than the CEO. If a business's employees love the company, chances are the audience will too. Create engaging content that your team would want to share. They are your brand cheerleaders and know the company the best.
Prepare certain members of your team with the message you're trying to get out, language, type of posts, and how to respond to positive and negative comments. On Facebook Ads, you're likely to find a mix of both and people are more likely to trust the team member's response. This helps with company reputation.
Understanding Ad Data
Use Facebook analytics to optimize your ads and understand your audience. Monitor your campaign performance using Ads Manager. You'll see data from your ads running on Facebook, Instagram, Messenger or Audience Network. View reach and demographics breakdowns, and review the cost of your ads over any period of time.
The data includes:
The number of people who see your ad
The number of people who click on your ad
The amount you spend on your ad
To view your data:
Go to Ads Manager.
Click Campaigns, Ad Sets or Ads.
Check the box next to the campaign, ad set or ad you want to view.
Click to open the side pane.
In the side pane, click Performance, Demographics or Placement to view charts specific to the campaign, ad set or ad you've selected:

Performance: shows ad clicks, reach, and cost
Demographics: shows performance across all ages and genders
Placement: shows results of different placements such as Facebook or Instagram
Learn your Facebook marketing audience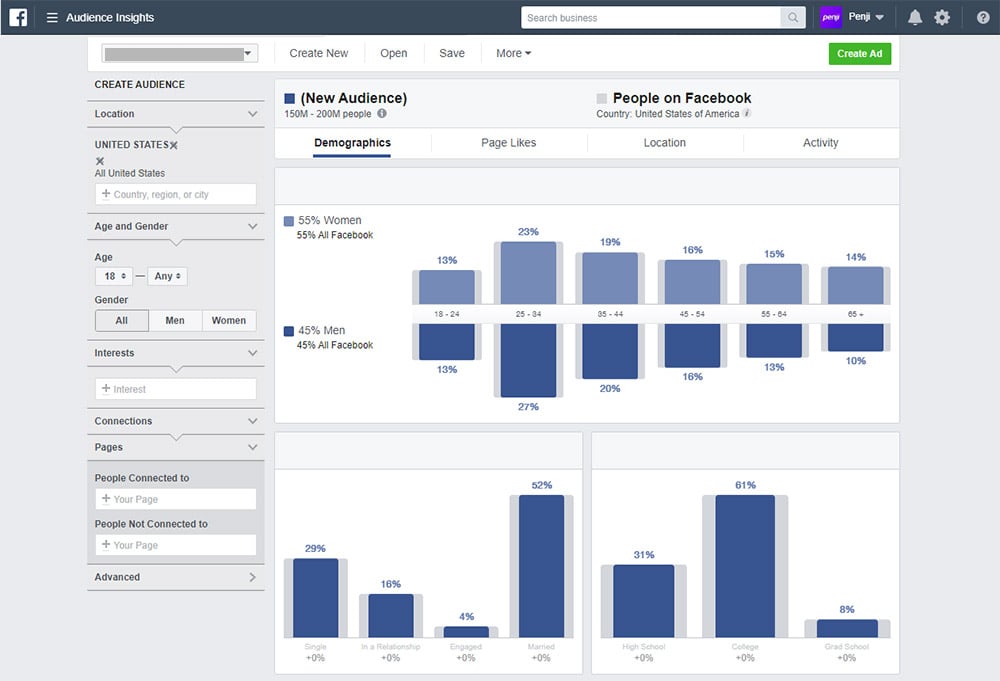 Your Audience Insights are based on the people who come to visit your page, current followers, ad engagement, and reach. This tool is created specifically to help marketers create the best experiences for their target audience.
Facebook gives you details about your audience that will greatly benefit your future campaigns. You can narrow down exactly who you should be targeting.
According to Facebook, here are some of the analytics offered:
Demographics — Age and gender, lifestyle, education, relationship status, job role and household size
Page likes — The top Pages people like in different categories, like women's apparel or sports
Location and language — Where do people live, and what languages do they speak
Facebook usage — How frequently are people in your target audience logging onto Facebook and what device(s) they are using when they log on
Purchases activity — Past purchase behavior (i.e. heavy buyers of women's apparel) and purchase methods (i.e., in-store, online)
Split Test
Creating a perfect Facebook ad is difficult from right off the bat. So, that's where A/B testing or split testing comes in. Split testing allows you to test the effectiveness of an ad by testing one variable. Testing the success of different types of variables allows you to create the best performing version of the ad.
Over time, split tests help you to get accustomed to understanding what your target audience wants to see and allows you to deliver better ads. Want better results on your Facebook ads? Read more on how to perform split-testing here.
In Conclusion
Facebook Ads can be a great addition to your advertising efforts. Just simply creating your account and creating your first ad, you're well on your way to becoming a Facebook Ad expert.
By using this guide, you'll be able to create an ad in under an hour. But it doesn't stop there. With your growing knowledge about your target audience, you'll learn how to interact with them and reach more people just like them.
Facebook is the largest social network. Your customers are out there. What's your next ad going to be?