With so much competition, getting into the ecommerce industry can be challenging. Joining the bandwagon and succeeding online requires a robust business plan, an aggressive team, and a platform. What if you need more resources to start from scratch? One fairly simple solution is to buy a Shopify business.
Why Buy an Ecommerce Business?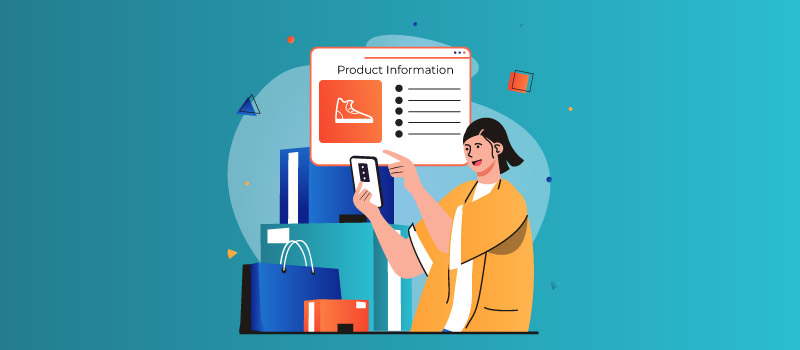 Today, a customer's entry point to a business typically occurs online, given that most companies are available on social media. For entrepreneurs starting businesses with limited resources, renting a physical retail space may no longer be a top priority. These are only some factors that contributed to the rising popularity of ecommerce businesses.
Although it has been for several years, the ecommerce business model continues to grow. In 2021, ecommerce sales totaled $960.1 billion, an 18.3% increase from the previous year. By 2040, ecommerce is expected to account for 95% of total retail sales worldwide. When you're looking at ecommerce businesses to take over, you must understand the following:
Business model
Target market
Competitors
Growth potential
Challenges
The following steps will provide the groundwork for buying a Shopify business that suits your preferences.
Evaluate the company.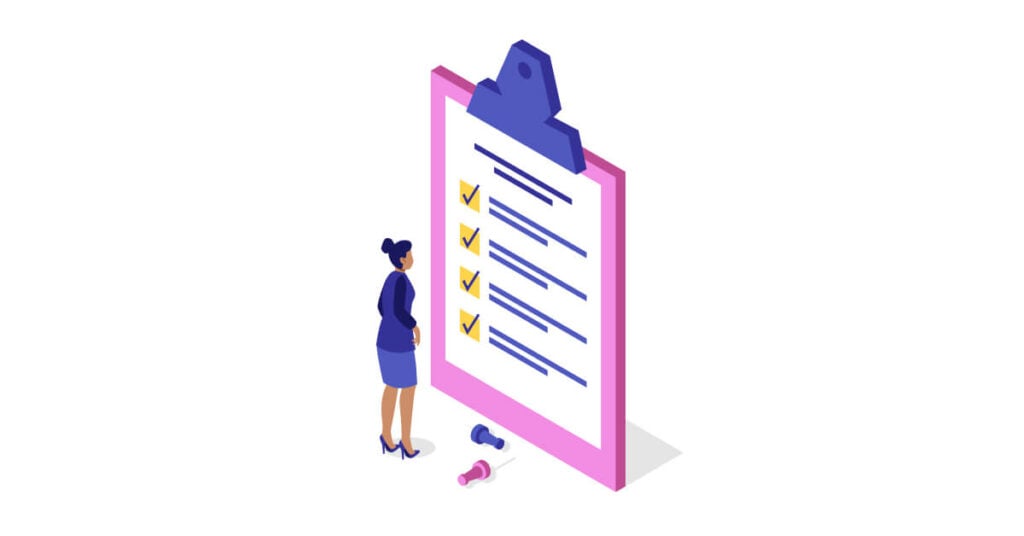 Analyzing a company's income statement will give you an idea of how trustworthy they are. The critical information you'll get from this financial profile typically includes:
Total units sold
Gross income
Gross profit
Expenses
Net income
Vetting the accounts lets you see how the business makes money and whether there are any red flags or exciting opportunities. For you to know those figures, the ecommerce business for sale should also grant access to platforms that support the claims about their income. An example of these platforms is Shopify analytics.
Understand how it gets products to customers.
Before you buy a Shopify business, you'll want to understand the supply chain. This is a critical aspect of any business and will help ensure orders are fulfilled after you are handed the keys to the company. Ask if they have an ecommerce business plan already written.
You can achieve that by confirming with the current commerce site owner that supplier relationships and contracts they have negotiated will be transferred to you. Doing so will help you avoid finding out that a seller offered a great rate with a supplier and then suddenly raises them after the point of sale. Fortunately, most manufacturers and suppliers are happy to work with a new business owner.
Know the competition.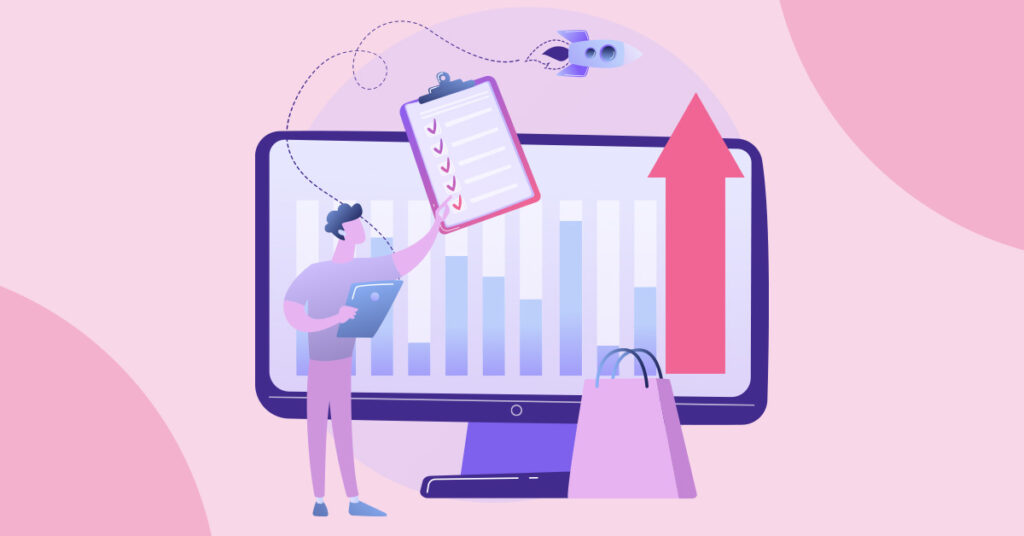 Our focus in the previous steps has been on analyzing the ecommerce company you're interested in buying. However, you also want to dedicate time to studying your competitors.
Customers are becoming savvy at comparing and finding the best products and prices. Ecommerce websites are not free from competitors, as well. Study the strengths and weaknesses of rival companies and compare them to the brand you'll purchase. Then, ask yourself which one you would buy from if you were a customer.
Analyze traffic sources and SEO.
Examine the sources of traffic to the Shopify store and its search engine optimization (SEO) strategy. Look for diversified traffic sources, including organic, paid, and social media traffic. A well-optimized website with a strong SEO presence can be a valuable asset. Assess the quality of backlinks and keyword rankings. If the site relies heavily on paid advertising, consider the long-term sustainability of these expenses.
Due diligence on inventory and suppliers.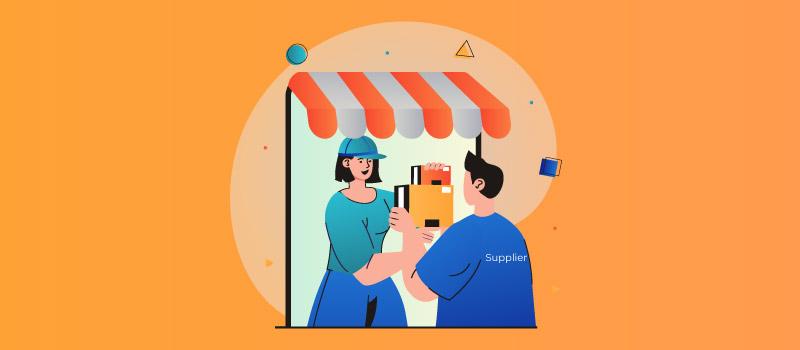 If the business involves physical products and inventory, perform a thorough inventory audit. Verify the quantity and quality of inventory, as well as its storage conditions. Investigate supplier relationships, lead times, and contracts to ensure a smooth transition of ownership. Understand the terms of any agreements with suppliers and check if they are transferable.
When an ecommerce business is for sale at a good price, don't throw caution to the wind. This is actually a time to look closer and make sure you're getting a good deal.
How to Sell on Shopify
Once you find and buy a Shopify store, it's likely that everything is set up for you. In which case, you can skip to the next section about working with an ecommerce designer. But if you're starting from scratch with a brand new store, let's delve into the Shopify setup process now.
You want a seamless sign-up to launch process with Shopify. That starts with preparing your business name, product images, and descriptions. Plus, make sure that you have social media pages ready to link to your online store.
Shopify has all the tools to help you register your business name without leaving the site.
If you own an online store in the US, UK, Canada, Australia, or another tax-required territory, you need to input your tax number. From there, you can set taxes on products.
Once you have these preliminary steps completed, it's go time!
Setting Up a Shopify Store
Currently, new online site owners can register with a free trial, so click on the Free Trial button on the homepage. Then, supply the following details:
1. Online Store Description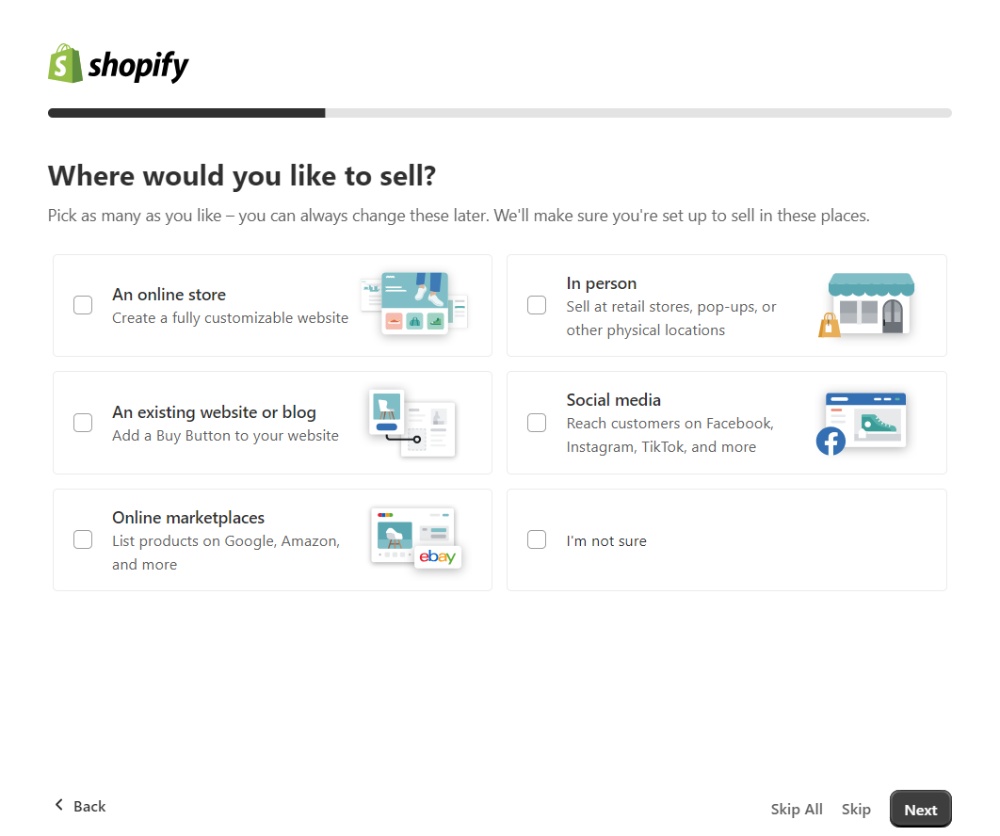 2. Where Would You Like to Sell? (digital location)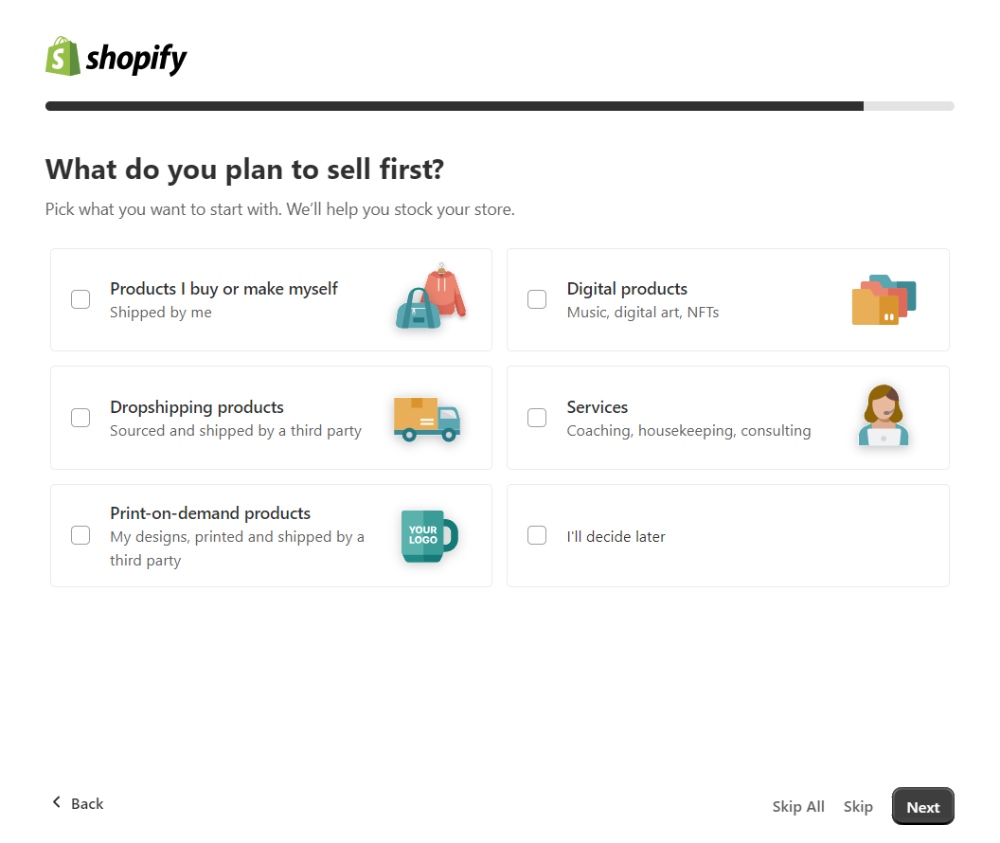 3. What Do You Plan to Sell?
4. Choose Where You'll Sell Items (geographic location)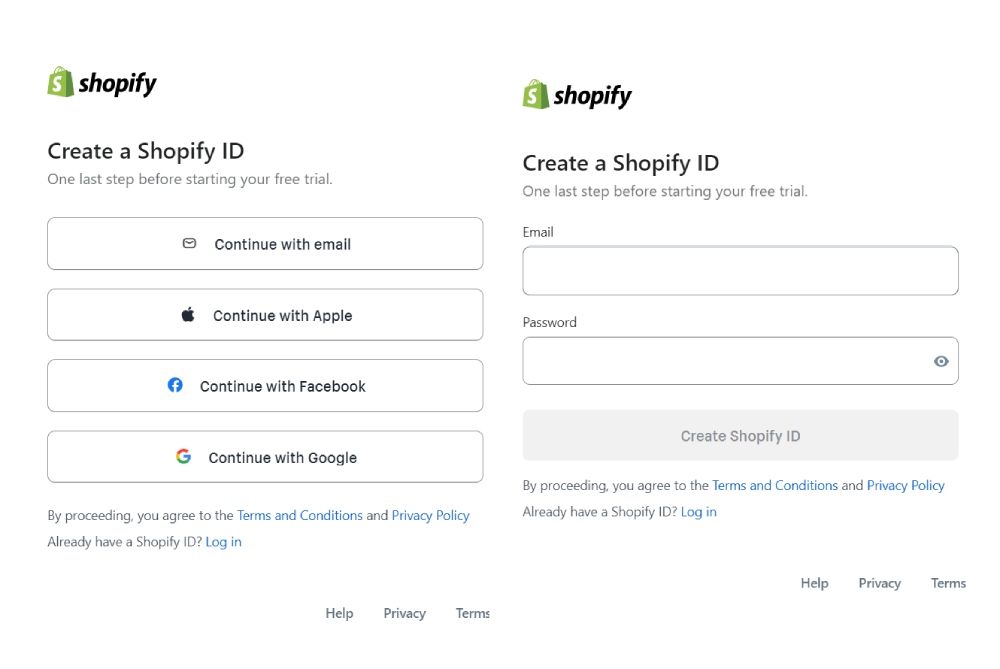 5. Select the option of how to create a Shopify ID. Then, enter your email address.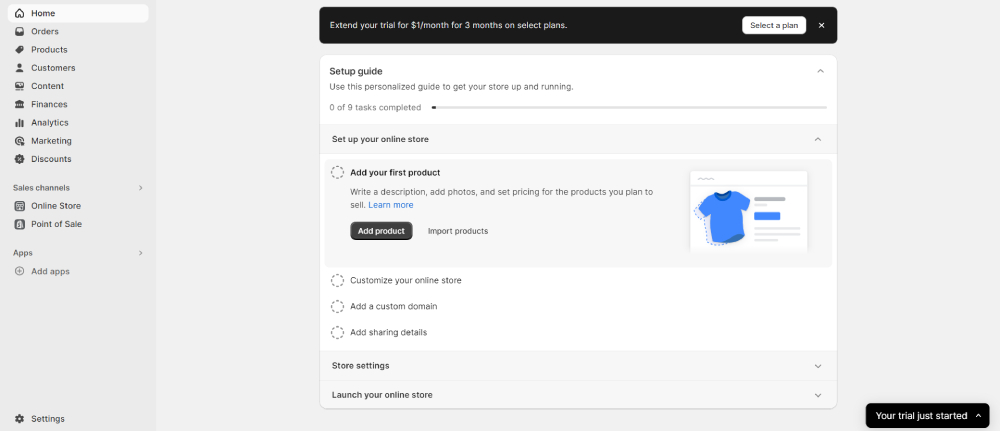 6. From there, you'll see your Admin panel.
3. Add Products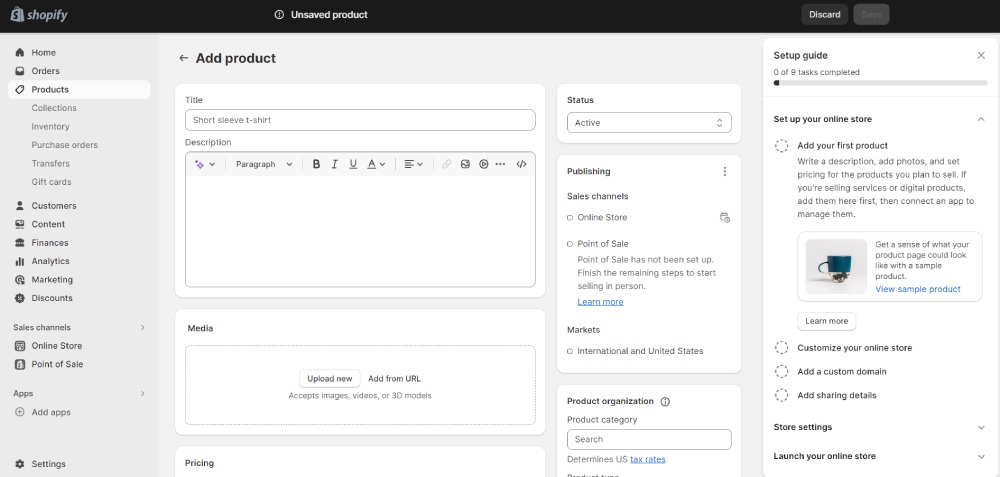 You have various customization options once you open your Shopify account. You can start by posting your products. This part can take a long time. However, if you've already prepared everything, you should be good to go. At this stage, you need to fill out details like:
Title
Description
Status
Pricing
Inventory
Shipping
Variants
Sales channels
Product category, type, vendor, collections, tags
Once you finish this, you can see your products under the "Products" section.
4. Design and Customize Your Site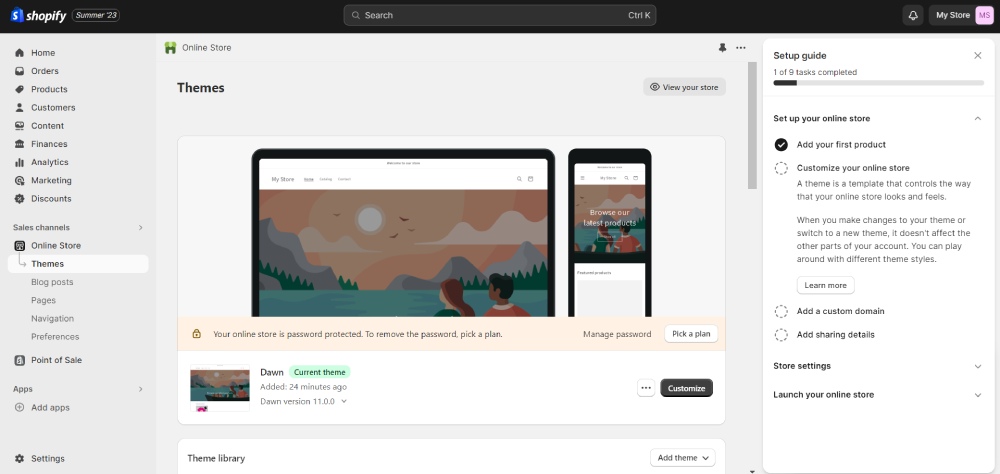 If you're still in the setup stage, this should be next. However, if you don't have the setup guide handy, don't worry. Here's how you can customize your site. Under "Online Store," click Themes, and you can edit your store there!
Scroll down to choose other themes or click the Customize button if you want to stick with the default theme: Dawn.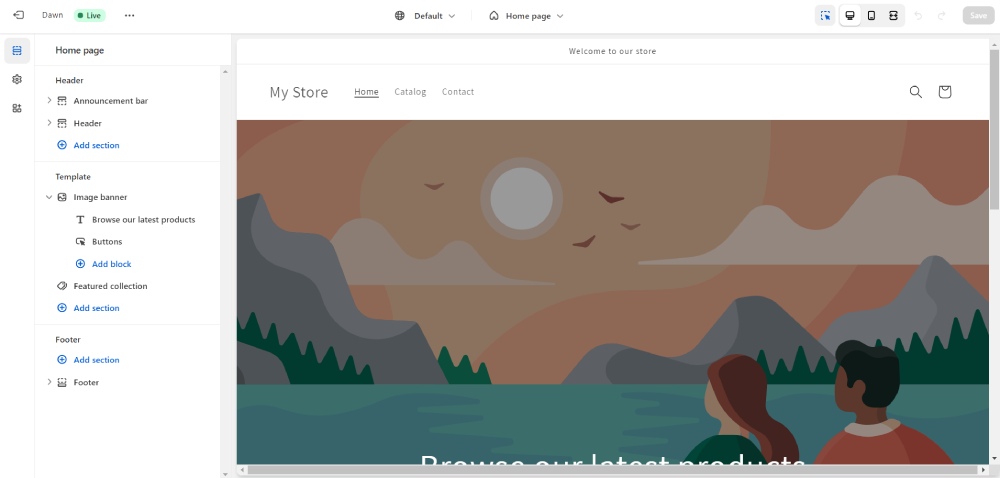 If you're editing your store, here's what the editor looks like. You can edit your background, header, footer, and more.
5. Add a Custom Domain
Now your ecommerce business needs a custom domain.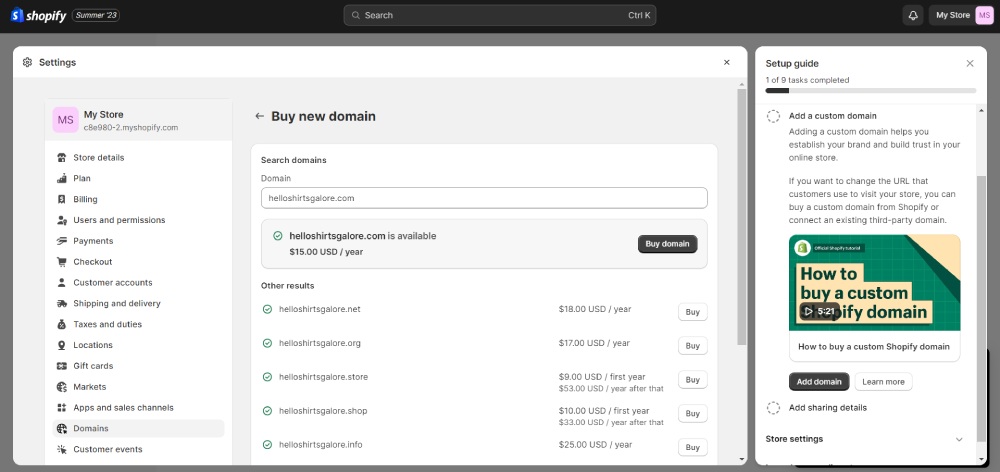 At this stage, you can buy or connect an existing domain. When you buy a domain, enter the domain you want for your store.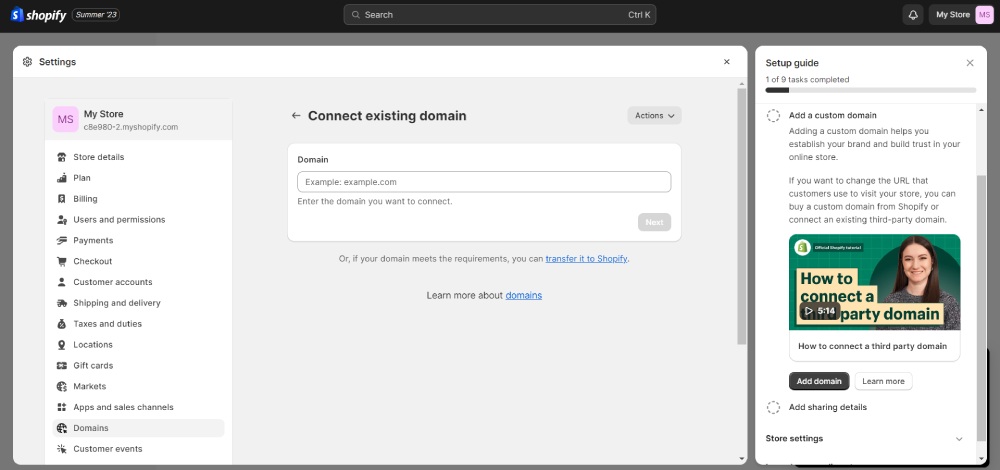 Or, if you have an existing site, you can click "Connect an Existing Domain" instead.
From there, make sure to set a primary domain by searching domains on the Domains page.
6. Customize Store Settings and Payment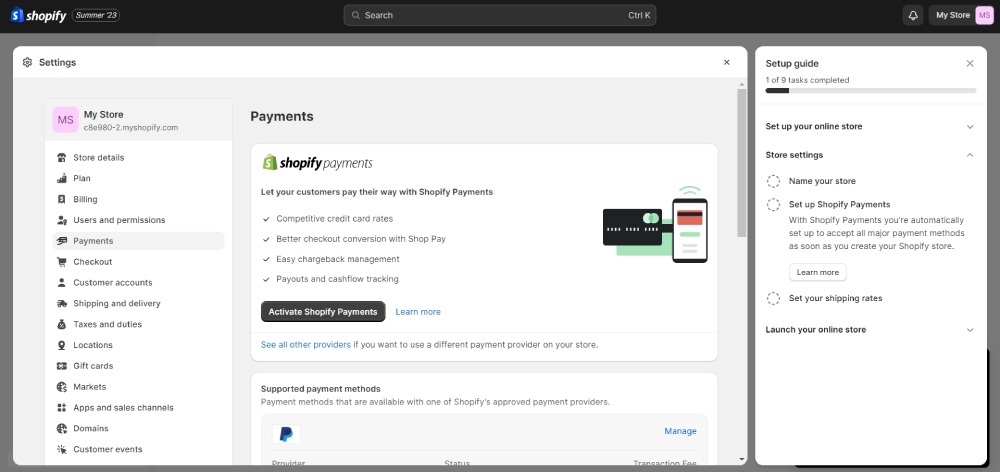 Make sure to give your Shopify store a name before launching it.
You can change the store name in the "Store Details" section. After that, you can set up your Shopify Payments.
Make sure to fill out the billing address.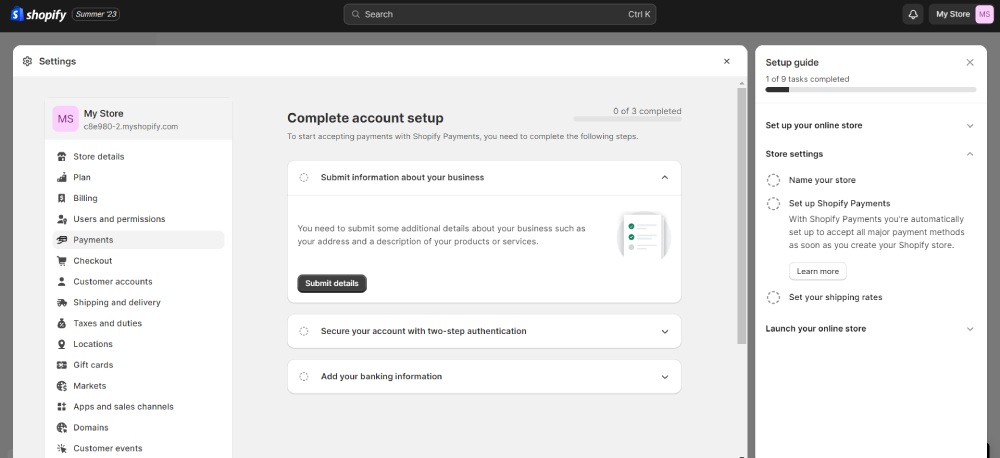 From there, you can complete your Shopify Payments by submitting information about your business, securing your account, and adding banking information.
You can also add other payments like PayPal and Amazon Pay. However, if you don't have an account for those other payment options, select "Add Payment Methods."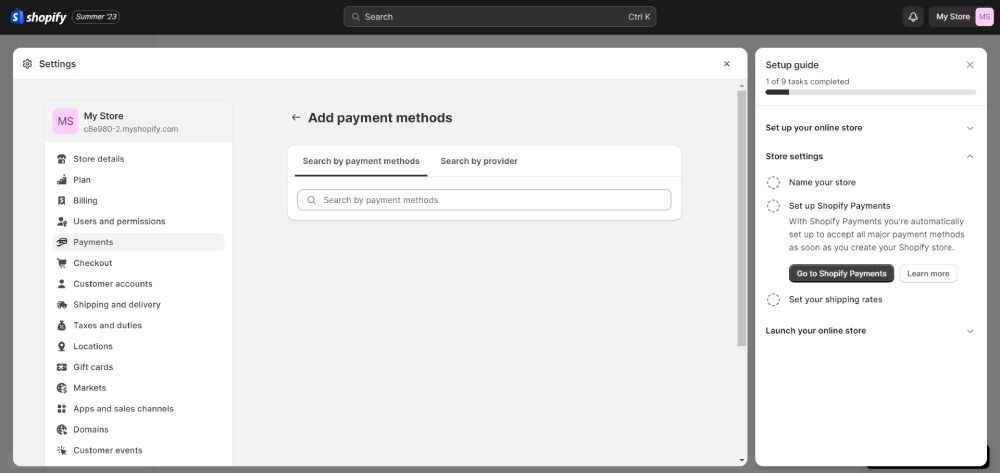 You can search for payment methods by type or provider.
7. Set Checkout Method
Once done with setting your payment options, make sure to have a checkout method. The checkout method requires you to select a way of contacting your customer. Then, get their details, such as name and address line. After that, customize the following options:
Marketing options
Tipping
Address collection preferences
Order processing
Order status page
Checkout language
Checkout rules
8. Launch Your Site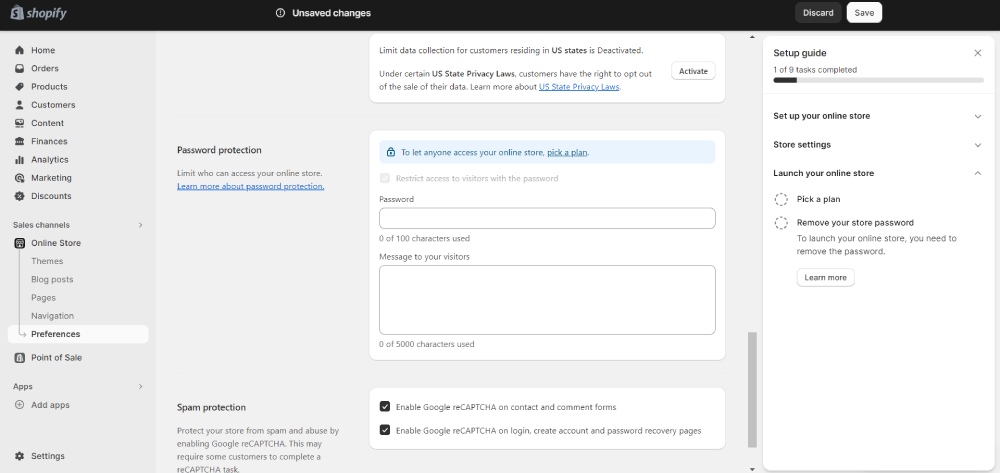 Ready to sell your products on Shopify? You can publish your site by going to Preferences. From there, scroll down to "Password Protection." Untick the "Restrict Access Visitors to Password." Then, click Save.
Launching your site isn't available on the free trial. But when you choose a plan, your site should be live, and you can finally sell products on Shopify!
Hire a Shopify Designer
Although there are plenty of Shopify themes to get your store up and running, some ecommerce stores hire a Shopify designer to go above and beyond. If you don't want a cookie cutter template that blends in with the rest, here's how to get the most out of an ecommerce designer.
What Does a Shopify Designer Do?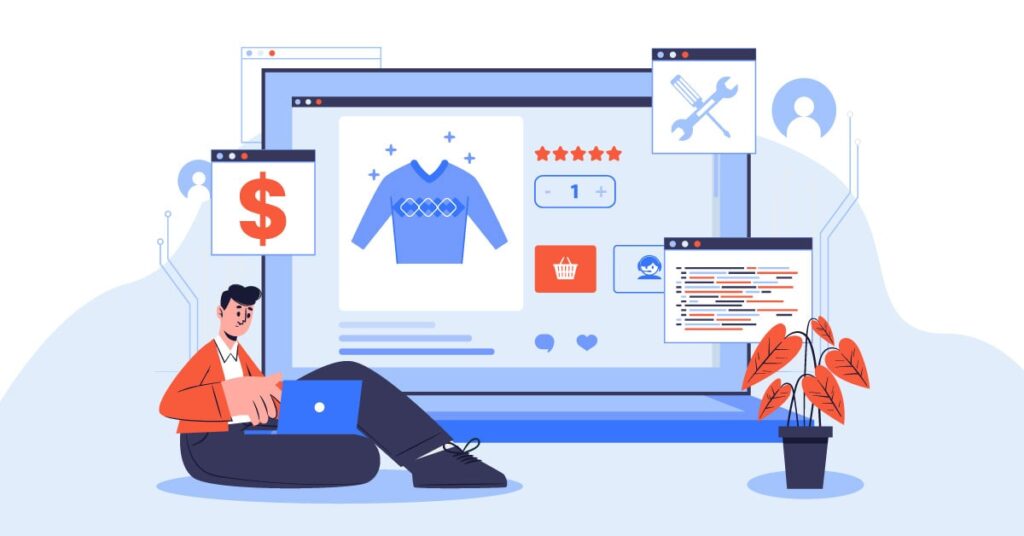 Shopify designers work on developing and optimizing your eCommerce store on the platform. Not only do they have designing in mind, but they consider user experience design as well.
Here's a rundown of all the tasks a Shopify designer does:
Customize the whole look of your website. They could use your current theme as their base and make significant changes, taking into account navigation, user experience, and conversions.

Design specific pages such as your About Us, Contact Us, landing page, and product pages. Designers could model these pages based on your current theme or create an entirely new one that reflects your brand.

They ensure your website is optimized for search engines. Plus, they will also design a website and ensure it's displayed properly across all devices such as tablets and smartphones.

They also check if the plugins you have installed on your eCommerce store work with the templates. This may pose a challenge for them, but it's important that you inform the Shopify designer about the plugin so they could also work around it.

Not only do they work around plugins, but Shopify designers also integrate the business' social media channels onto the website.

Finally, they do regular testing to check the website's functionality. An outdated website means getting lower rankings on search engines. That said, a Shopify designer keeps the website up-to-date.
Now you wonder, do you think Shopify designers should have coding experience as well? The thing is, most web designers don't need to learn how to code. While it could be a plus for most businesses, their priority is to provide a design for your eCommerce store.
Which Sections of Your Shopify Website Can Be Customized?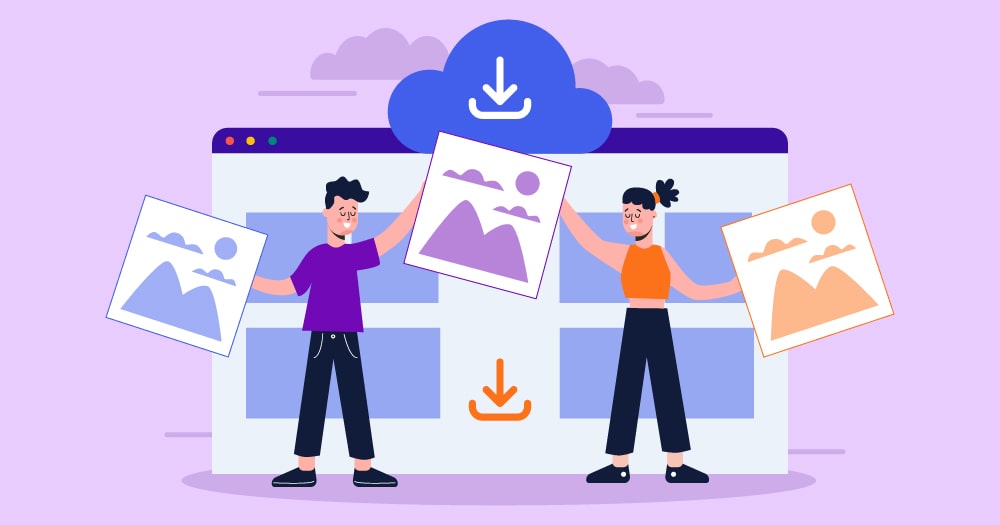 One reason why Shopify is one of the best eCommerce platforms out there is its customization features. Sure, templates are available for a quick and immediate site launch. And while Shopify believes that design familiarity is key to higher conversion rates, giving your eCommerce store a unique look can also benefit your brand.
Most Shopify designers can customize any page of your eCommerce store. And if they're designing your whole eCommerce store, they'll ensure consistency, so customers can jump from page to page seamlessly. Here are some pages they could design for you:
Landing page
About Us page
Contact Us page
Product pages
Blog page
FAQ page
They will optimize your landing and product pages, in particular, to ensure that your visitors convert into customers.
Where To Find A Shopify Designer?
Lucky for you, you have options.
You can search for web designers on freelance sites like Toptal, Upwork, and Fiverr. Expect to pay hourly or project-based rates, which might be more expensive. Meanwhile, Shopify partners with their experts: agencies and freelance designers. They have different rates, with agencies having higher fees. Currently, they have around 100+ options for you to choose from.
On the other hand, a much more affordable option and with faster turnarounds are unlimited graphic design services. Some of these services (including Penji) offer web design on top of their regular design outputs like ads, merch, social media graphics, email visuals, and more.
Why is a Shopify Designer Better than DIY?
Shopify makes it easy for non-designers to move things around and customize your website. But should you occupy your time making design changes now and then to your Shopify website when you should be focusing on running your eCommerce store?
Sure, DIY is cheap (and even free), but you can rest easy knowing that you can hand over the design reins to someone else. With the design off your to-do list, you have more time to manage your eCommerce store.
At Penji, we specialize in ecommerce design and can help you just as we've helped many brands. You can rely on our web designers to create a custom eCommerce site on Shopify. All you need to do is sign up, subscribe, request designs, and get as many revisions as you need. Get started here and try Penji 100% risk-free for 15 days!