As of January 2023, Shopify has more than 4 million online stores worldwide. Its biggest market is the USA, followed by the United Kingdom. And to keep up with the latest B2B ecommerce trends, every site owner dreams of having a beautiful, mobile-friendly website. You can find hundreds of themes on the Shopify store and other websites. However, choosing the one that makes you stand out from the competition takes a lot of effort. That is why we've collected the ten best Shopify themes and the essential details for your convenience.
1. Dawn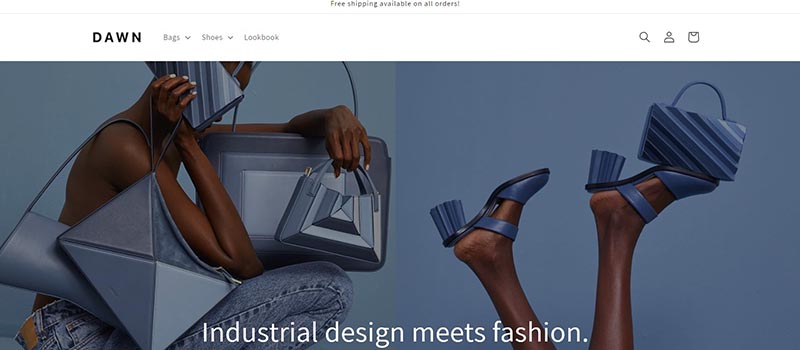 Let's start our collection of the best Shopify themes with Dawn, a template for store owners beginning their business with Shopify.
The Dawn theme is a simple yet elegant website template. It provides e-merchants with excellent performance and flexibility while minimizing the complexity of building an online business. This free Shopify theme supports large media files without affecting your website loading speed. As a result, customers can observe your products clearly while navigating smoothly around your online store.
Key Features:
Impressive media display to support visual brand storytelling
High-resolution images
Fast website loading speed
Compatible with mobile devices
Easy to use with several customizing options
Multiple checkout options
Price: $0
2. Empire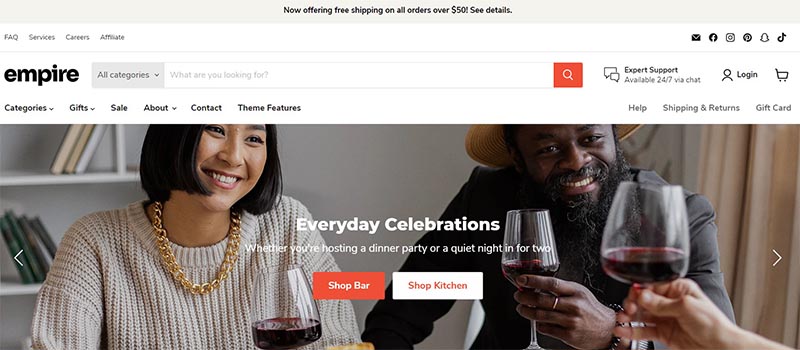 Designed and supported by Pixel Union, Empire is a theme meant for marketplaces. Perfect for large catalogs, this Shopify theme's visually appealing marketplace-inspired design is equipped to optimize large product catalogs for maximum conversions.
Key Features:
It is fully equipped for large catalogs, combining marketplace-inspired design with exceptional functionality, organization, and performance.
Increase customer confidence through product comparison feature
Exceptional navigation and filter features to guide customers and drive conversion
Price: $340
3. Responsive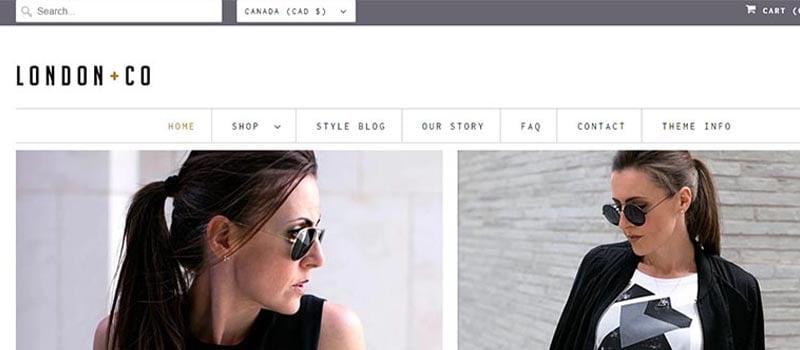 Responsive is a sensational option for those searching for the best Shopify themes. This website template will be a great assistant for store owners running houseware, home, and garden businesses. With this theme, you can show how your products fit the shoppers' house space. Responsive is a product of Out of the Sandbox, a well-known third-party Shopify theme.
Key Features:
Shopify theme default features
Responsive menus, search bar, and other content on collection and blog pages in a switchable sidebar.
Currency conversion available on the top of the menu bar.
You can link your Instagram account to the Shopify account.
Allows you to display full-width slideshows and centered focus on the menu navigation.
Price: $240
4. Minion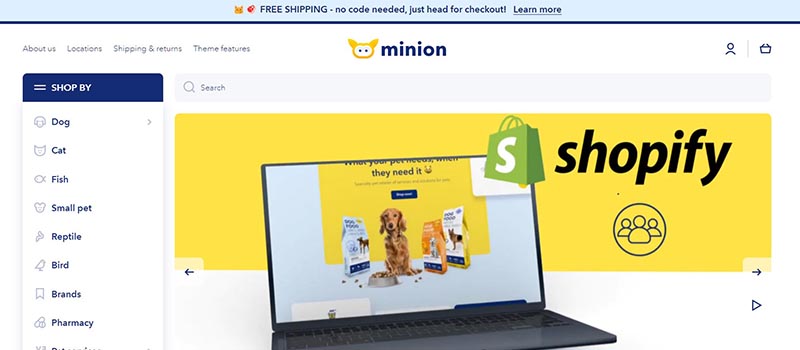 Minion is the Next Shopify Generation 2.0 theme. It is ideal for the pet industry, with flexible features to fit more niches. This Shopify theme is excellent, especially for ecommerce brands in the following categories: Pet Supplies, babies and kids, Books, Music, and Video, Clothing, Electronics, dropshippers, and high-volume stores.
Key Features:
Versatile Customizability.
Twenty-four sections and three different menu types.
Flexible design settings and customization options to achieve your professional store.
Variety of predefined skins and layouts.
Fast Performance and mobile-friendly
Best indexing by Google.
Price: $250
5. Roxxe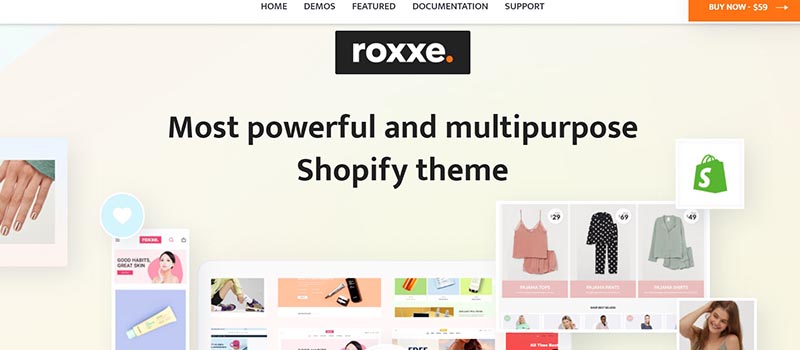 ThemeForest designs Roxxe Shopify Multipurpose Theme with current trends and user comfort in mind. It's provided with a powerful navigation search module that comes in handy with over 70 pre-designed layouts with ready-made sections.
Besides, Roxxe shows off skins for selling clothes, cosmetics, accessories, and others. Moreover, Roxxe works with Shopify's Visual Builder, letting you create as many pages and other web forms as you like.
Key Features:
Official Shopify app integration
Unique store demos
Customizable headers and footers
Collection of catchy banners
Various pop-ups
Price: $59
6. District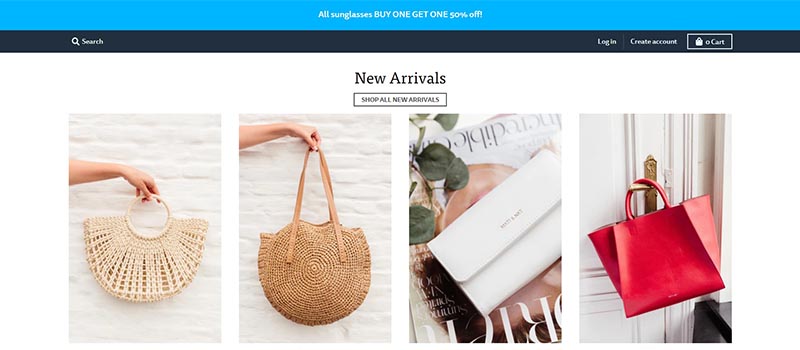 The District theme is an incredible option when searching for one of the best Shopify themes. If you want to showcase featured products and collections, District is a good choice. It is ideal for fashion and sports businesses because of the beautiful design with many functions to help customers see the finer details of your products.
Key Features:
Shopify theme default features
Marketing Email Popup
Color swatches
Dedicated support
Price: $180
7. Vendy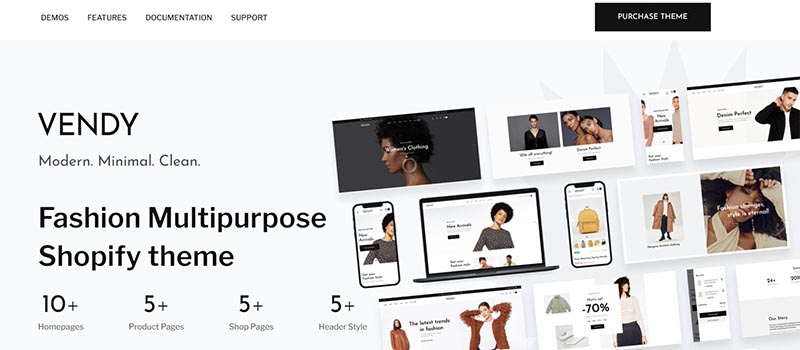 Showcase your brand with the Vendy Shopify theme with sleek styling and smooth content integration. It offers varied pre-made templates for home pages, lookbooks, products, and other pages. Vendy will help you create a stylish eCommerce site for selling clothes, shoes, accessories, etc. In addition, it is a simple solution with a ready-to-use minimalistic design on the board. This design will be relevant for years, and your commercial proposition will be highlighted from the best side.
Key Features:
Light-weighted and speedy
More than 10 Homepage layouts
Lookbook fashion pages
Size guide pop-up and page
SEO- and mobile-friendly
Price: $48
8. Testament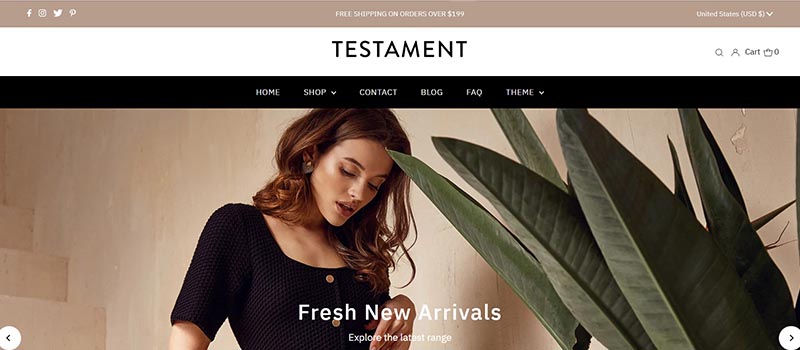 This theme is the best Shopify theme for different industries thanks to its fantastic customization ability. However, the Testament most suits the healthy and beauty businesses. Indeed, the customers in these industries usually want to envision how your products improve their looks and health levels. And this is what the Testament has you covered.
Key Features:
Shopify theme default features
Step-by-step Documentation, including animated steps and lively video tutorials.
Product quick view
Sticky navigation
Price: $260
9. Icon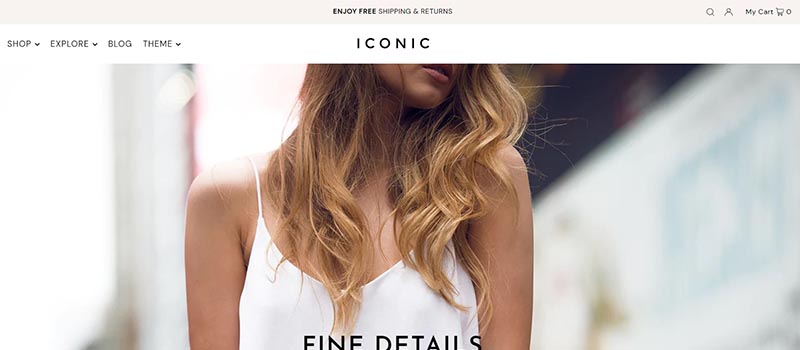 The Ion is wonderful for visually unique brands with image-focused content. Therefore, it is most suitable for those running art and photography businesses.
Similar to the Testament, Icon is a product of We Are Underground. But, this theme has outstanding features that hold the key to its reputation. The Icon theme has many features that empower Shopify store owners to create conclusive and particular experiences easily.
Key Features:
Shopify theme default features
Parallax Scrolling creates an animated depth on a website and improves user experience.
Google Web fonts
Price: $260
10. Shella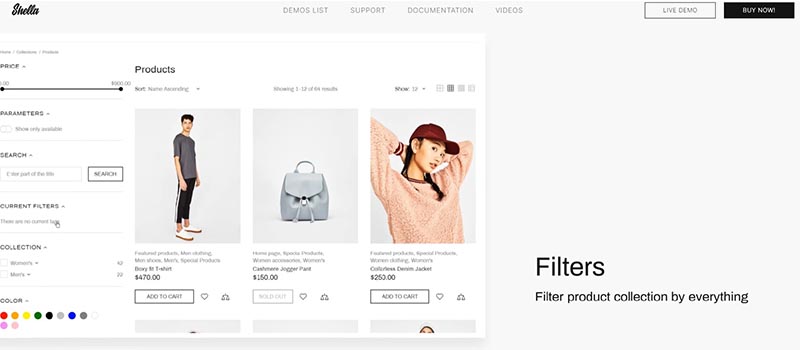 The Shella fashion theme is designed to attract online shoppers. It gives your online store a personality that entices new visitors to scroll to see more items. More importantly, it is the key to thriving online business. Shoppers looking through fashion brands are heavily influenced by your store's visual appeal.
Key Features:
SEO-optimized
Smart features for a responsive UI
Numerous pre-built pages
High page speed statistics
Price: $79
How Penji Can Help You Create A Custom eCommerce Site
It is easy for non-designers to customize your website, thanks to Shopify and third-party theme makers who create the best Shopify themes. Hiring a Shopify designer takes your hands off on working with Shopify website design and focuses more on running your eCommerce store.
Professional web designers at Penji can help you create your custom Shopify site. And while you're here, sign up, subscribe, and start a project with us. Get started here and try Penji 100% risk-free for 30 days.