Today, shoppers find it more convenient to buy in online shops than in physical stores. With ecommerce becoming a crowd favorite, more aspiring business owners want to start ecommerce stores. Aside from selling goods and services. ecommerce websites also offer other services such as affiliate marketing and drop servicing. If you're serious about owning an online shop that provides these services, you must learn about the right website that suits your skills, interests, and budget. Start your journey by checking out the best marketplaces to find a legitimate ecommerce business for sale.
Flippa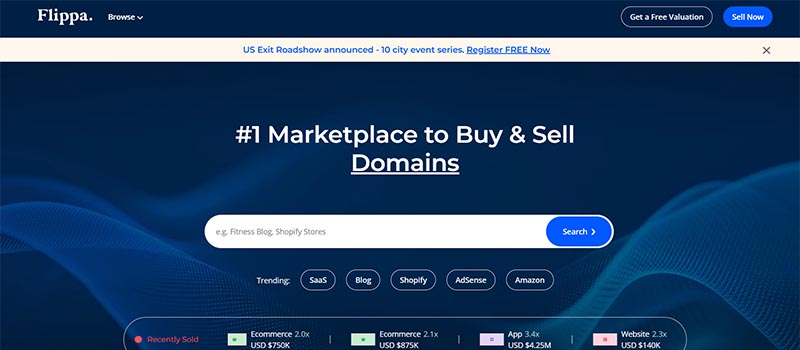 Founded in June 2009, Flippa is an outstanding marketplace for buying and selling digital businesses. You can find ecommerce stores, social media accounts, SaaS businesses, mobile applications, blogs, and online businesses at Flippa.
Flippa has 3 million users worldwide and an average of 1.3 million total visits in the First Quarter 2023. So far, more than 300,000 global digital assets have been sold via the platform, most of which are ecommerce websites. Below are ecommerce websites listed for sale on Flippa:
Amazon FBA stores.
Affiliate sites
Shopify stores
Dropshipping websites
SaaS web businesses
Traditional online stores
Blogs and domains
When looking for sites or digital assets for sale, you can filter Flippa's listings by business model, industry, website traffic, monthly profit, price, age, revenue streams, and seller location.
Flippa provides detailed insights into the ecommerce websites you intend to acquire. It allows you to review their unique selling points, product information, revenue, and website traffic statistics.
BizBroker24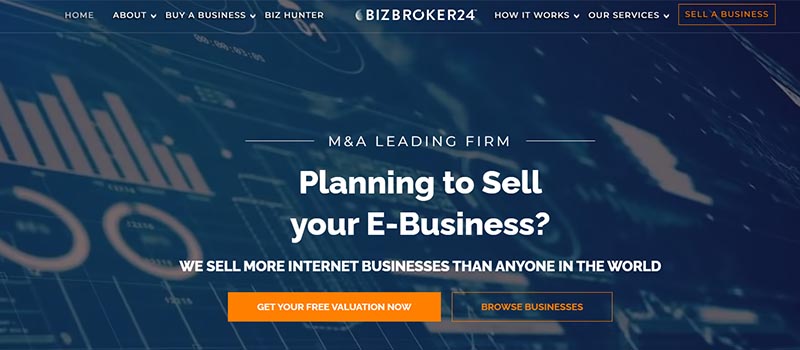 Here is another platform that has been helping new entrepreneurs and investors since 2009. BizBroker24 is a global merger and acquisition (M&A) specializing in ecommerce. Every ecommerce store featured in the platform has a value ranging from $15,000 to $20 million.
In addition, BizBroker24 offers to help you with the entire sales process. You'll work closely with insurance, real estate, banking, legal, and acquisition experts. They're the ones to advise you on due diligence, valuation analysis, and sale financing.
BuySellEmpire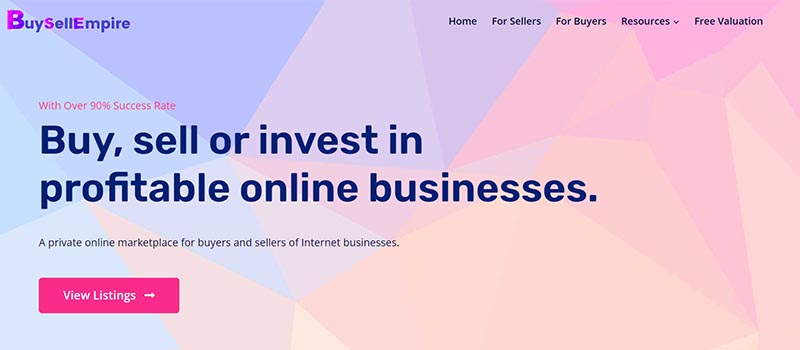 The BuySellEmpire marketplace lists high-quality ecommerce businesses for sale. The options here are not as many as Flippa's because the platform focuses on profitable online business that falls under the following criteria:
Generating revenue and traffic for the last 12 months.
Earns $1,500 or above
Posts content in English.
As for the pricing, the ecommerce websites for sale on BuySellEmpire are between $20,000 to $7 million. You can obtain affiliate sites, SaaS companies, Amazon Associates publishers, and Shopify stores on BuySellEmpire.
The platform facilitates the convergence of sellers, buyers, and investors, with a sale success rate of 90% and above. Buyers find researching easier in this ecommerce sales marketplace. BuySellEmpire gets a range of filtering tools and end-to-end professional assistance.
FE International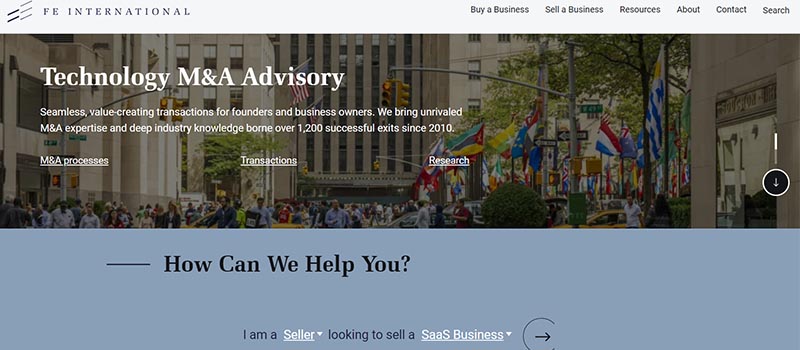 FE International is an M&A consultant for ecommerce, SaaS, and content-based online businesses. It has facilitated acquisitions of over 1,200 firms, pushing the total value beyond $1 billion. The company says that translates to a success rate of 94.1%, making it the most dependable M&A firm in the United States.
FE International has a rigorous review process. Merger and Acquisition experts usually review financial performance, website traffic, market trends, and growth potentials, among other factors.
Empire Flippers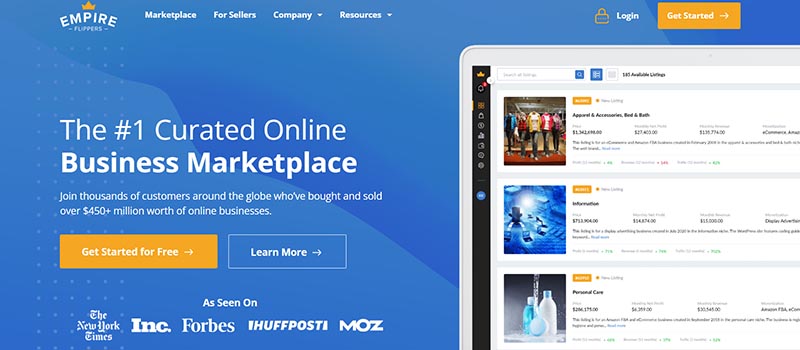 Empire Flippers is an online business marketplace making web business sales amounting to more than $400 million. The types of online business models that can be acquired here include:
Ecommerce
Dropshipping
Display advertising, ecommerce, affiliate marketing, SaaS, and ecommerce business on Amazon Associates, Amazon FBA, etc.
Before posting an ecommerce website, the marketplace analyzes vital business acquisition criteria, including revenue, web traffic statistics, budget requirements, and customer demographics. They also evaluate the legitimacy of the ecommerce website or digital asset for sale. One of the requirements is a monthly net profit of at least $2,000 for 12 months. The qualified web businesses sell for about $50,000 to $15 million.
QuietLight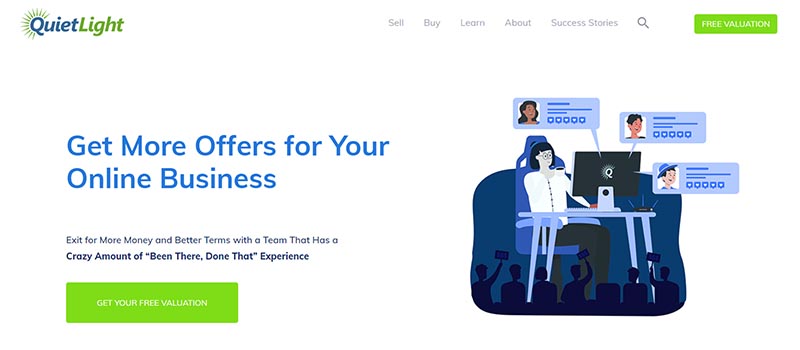 Here is another M&A advisor that also allows posting eCommerce businesses for sale. Established in 2006, QuietLight has facilitated the trading of more than 600 web companies. These transactions totaled over $300 million.
Quietlight is best known for buying web businesses such as ecommerce stores, Amazon FBA channels, content sites, and SaaS businesses. The platform regularly consults with people with first-hand experience in ecommerce.
Acquire.com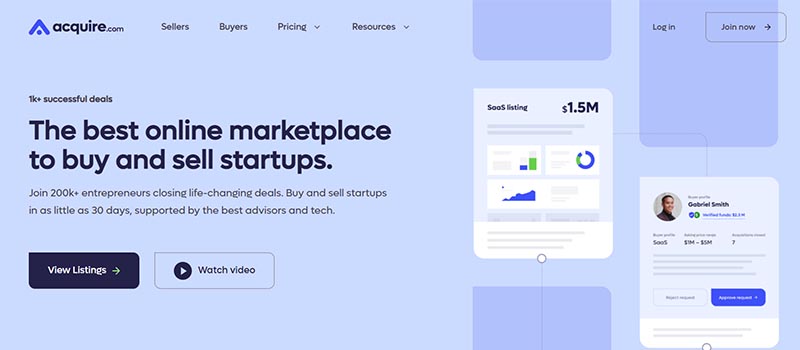 Acquire.com is the place to shop if you want to take over a profitable startup. They are a startup marketplace that converges sellers of young businesses with over 120,000 qualified buyers. Acquire.com ensures that only promising startups are listed on its marketplace. Every business undergoes a rigorous evaluation process.
Most of the ecommerce websites on Acquire.com have an ARR of less than $500,000. And if you want to find the safest bargains, you should purchase a premium package for $390 or $780 annually. The free option grants access to public listings of all ecommerce startups. You can view all the finer details and financial metrics excluded from the public listings.
Latona's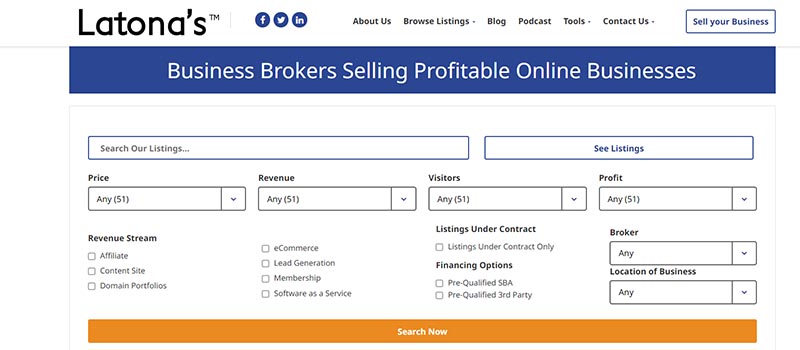 Latona's is a former domain brokerage that became a credible mergers and acquisitions company. It hosts a vast listing of profitable digital assets. This platform offers SaaS businesses, membership websites, domains, blogs, and ecommerce stores for sale.
The marketplace only includes web companies with an annual net profit of $20,000 to $1 million and above. Additionally, the business should have at least 12 months of profitable operations.
The most common ecommerce types available on Latona's website are:
Shopify store
Amazon FBA seller account
Digital shopping cart
Online storefront
Conclusion
Your business idea could be incredible, but you must prepare for the risks and opportunities ahead. And like other businesses, you must consider your skills and budget to start an ecommerce website. Moreover, to avoid the risk of being a victim of fraudsters, you must be careful in choosing the right place to connect with companies that offer ecommerce business for sale.