Companies working in the financial technology sector are what is called fintech. According to The Business Research Company, the fintech market is expected to reach $309.98 billion in 2022. It is one of the fastest-growing industries in the world today, thanks to global digital transformation.
What was once a disruptive threat, fintech is now considered an enabling partner in almost all industries worldwide. If you have embraced the promise of fintech, you should turn your fintech app ideas into reality. But where and how do you start?
This article aims to help guide you in building a fintech app for your startup. And with the help of Penji, we'll show you how you can create the fintech app of your dreams.
Why Build Your Own FinTech App Now?
Now is the best time to create a fintech app for your startup more than any other time. According to Forbes, the pandemic has driven a 72% rise in its use. While some countries' use of fintech apps remains the same, there are some that we can see as skyrocketing. Take a look at this graph from Statista: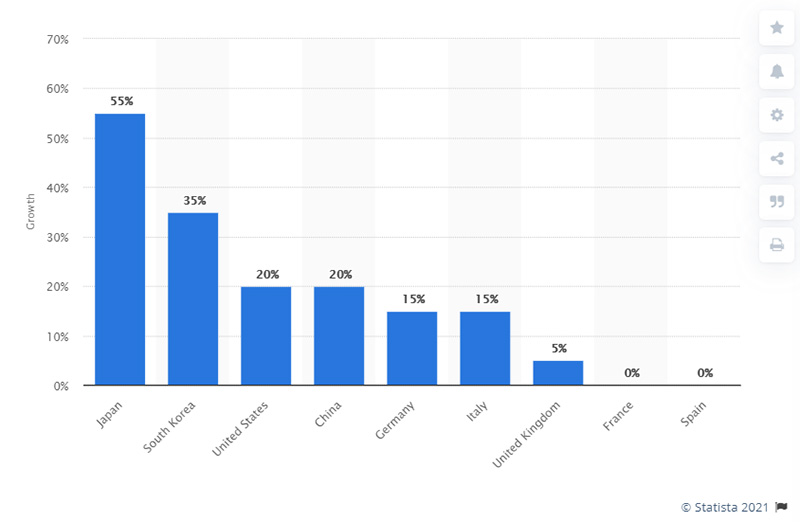 This trend in using more apps for finance management is not going down any time soon. According to Statista, we are going to see a surge in mobile app usage come 2023. Proof of this is that even the traditional banking and finance institutions have already gone digital with their services through fintech apps.
This is their way of adapting to the ever-volatile scenario of their industry. And you don't have to be an established name to have your fintech app. Startups can, too, and with resources available everywhere, there's no reason not to.
Related Post: How To Succeed In The FinTech Industry
Different Types of FinTech Apps

To guide you, we've listed the primary types of fintech apps. Knowing what these are can help you get the direction you need in your app development procedures.
Mobile Banking

This type of app lets customers manage their finances and bank accounts without having to leave their homes. JP Morgan Chase and Bank of America are two excellent examples. You can check out their apps to get an idea of what a bank app should be like.
Digital Payments

For cashless money transfers and online payments, fintech apps are the perfect solutions. This type of fintech app includes digital currencies, e-wallets, and payment methods for online buying and selling. Excellent examples to get inspiration from are PayPal and Stripe.
Digital Investment Platforms

Investing in stocks and other financial assets is made easy with fintech apps for this service. Using data analytics, investment companies can provide management solutions to their customers quickly. Robinhood and Riskalyze are excellent models you can look into.
Consumer Finance

As with almost every service known to consumers, managing expenses has also gone digital. Planning your spending or budgeting your money no longer needs ledgers or notebooks. All you need is an app. YNAB and Mint are good examples.
Related Post: FinTech Innovation Lab Startups You Should Know
Getting Started

Before you embark on your fintech app design journey, you need to understand a few things. A winning fintech app design begins with the following:
A Thorough Understanding of What a Fintech App Does
This may seem redundant, especially if you're a fintech startup. A fintech app uses technology to provide simplified convenience of financial services. A good fintech application is one that lets your users achieve their goals faster and easier.
A good reminder is to always keep the user's convenience in mind. Whether it's designing your app to entail fewer clicks or using less screen time. An app that's useful to your customers should be the guiding principle to use in its development.
Direct Engagement with Your End-Users
Understanding the needs of your potential users is paramount. It's easy to fall into the misconception of designing an app that will work for you. But it may seem a disservice to your users if you don't consider what works for them. What works for you may not necessarily be the right one for others.
You need to get the pulse of what your target users will want and need in a fintech app. Spend time researching what they want and need. This is where direct engagement with them is preferable. However, you will find that their needs will be diverse and a bit conflicting, you should find ways to balance them. Providing an overall satisfactory customer app experience should be your guiding principle.
Prepare for Artistic Excellence
A study from Toptal tells us that businesses lose billions because of poor UX design. Before starting with the app development process, make sure you're design-ready. Consumers are becoming more selective and discriminating.
With the proliferation of apps, people are now looking for ones that give more than just functionality. The most successful applications today are those that work and look superbly. To achieve this, getting the services of the pros is in order.
Penji offers unlimited graphic design services for a flat monthly rate. Our services include app designs among many others. Check out our sample works at the end of this article. You may also want to watch our demo video to learn more.
A Step-by-Step Guide to Building a FinTech App for Your Startup

Now that you're done with the preparations to build your fintech app, you're ready to start. Here are the steps to follow:
Step 1: Create an Outline
Use what you gathered in your research to create an outline of your plan. This will help facilitate a smooth workflow and avoid confusion that can make the process longer. It also ensures that you leave nothing behind and get all that you want in the app.
Step 2: Build a Team
Developing a fintech app is no small feat. This is something beyond DIY, and you need professionals to help you design one. Here's a list of the experts you'll be needing when forming your team:
Mobile developer
Backend developer
Dev ops engineer
Graphic designer
QA specialist
Testing team
If this seems overwhelming or if there are budget constraints, you can always outsource the tasks.
Step 3: Build Your Prototype
A minimum viable product (MVP) is a simplified version of your fintech app. As mentioned earlier, this is your app's prototype waiting for feedback for further development. Define its scope by doing the following:
Look at competitor apps that are already in the market
Ask your focus group about features they would like to see in your app
Talk to your developers about the must-haves in your app
This is to check the validity of your idea and see if what you envision it to be is doable. You can organize a focus group that will try out your app. The goal here is to get as many constructive criticisms as possible. This will define what your next steps will be.
It doesn't have to look good at this point, so never mind the aesthetics. What you want to achieve is understanding the overall usability of your app idea. Check for problems that the focus group may encounter such as difficulty in navigation. This will help improve your app design and anticipate issues to find solutions to.
Step 4: Talk to Your App Developer About Technology Stack
Also known as technology infrastructure and solutions stack. This is the language that developers use to build and design apps. Some offer basic features, and others are more costly. This can be a complicated topic for non-tech people. It's best to leave this to your app developer or ask them for suggestions on what to choose.
Step 5: Define the Basic Functionalities
For businesses that are already offering services such as bill payments and tracking, incorporating these into the app is easy. For startups, you have to build them from the beginning.
Building APIs (Application Programming Interface) is a necessary step in the fintech app creation process. Your app developer can fill you in with the details, so make sure to always keep the communication lines open.
Step 6: UI/UX Designing
Out of all the steps mentioned in this guide, this is the most fun part. Here is where you'll choose the colors and other design elements for your app. But beware though, if you aren't careful enough, you might end up with an app that's too congested.
To be on the safe side, tell your graphic designer your preferences and let them do what's best. They understand the psychology of colors and the use of white space. This will result in a visually appealing fintech app.
Step 7: FinTech App Testing
If possible, create a Beta version of your fintech app before launching. Have your staff or team try it out first. Or you can test the app on existing customers. Check for bugs or other problems you weren't aware of yet. Once you've ironed out all the snags, you're then ready to launch it.
Step 8: Update Your FinTech Application
Advancements in technology move at breakneck speeds. Keep up by regularly updating your app.
Related Post: Top FinTech Companies In America
Key Features of a Great FinTech App

To build the best fintech app for your startup, you need to understand what makes a good app. Here are the key features that can help make your app stand out:
Simplicity
This is the trait that makes a fintech app user-friendly. Simplicity makes the usage of the app hassle-free for even the most uninformed of users. Ensure that your users can track their financial activities in the easiest way possible.
A user-friendly fintech app is nothing short of mandatory. From transaction history to summary updates, users should be able to do all these with ease and convenience. This will help gain your company faith and loyalty from its customers.
Security of Data
Fintech apps require more caution in creation than all the other apps. This is because financial data is more prone to security risks and thefts. Part of giving your customers a good experience is giving them peace of mind each time they use your app.
The best fintech apps provide the following security features:
Having a secure signup and login page
Having the user re-enter their password upon any profile info changes
A limited number of login attempts
Must have authentication features such as fingerprints or facial recognition
Only the last three or four digits of the account number is shown
Real-time notifications about industry updates
Customer Support
Again, fintech apps pose greater responsibilities in designing as they are more predisposed to security threats. Providing easy access to a working customer support service is an excellent addition to your app.
Take into consideration that some people prefer to chat while others want to talk to a real person. Whatever means you provide as long as it's reliable in times of your customers' need.
Freedom to Personalize
The introduction of AI (Artificial Intelligence) to fintech apps is creating quite the buzz. It has afforded companies to give their users the freedom to customize. This makes for a more interactive experience for their customers.
Aesthetics in Your FinTech App

Functionality is an essential feature of any fintech app. But second to that, you need to think about giving it good looks as well. While developers may do a good job of building your app, they aren't the best trained in the aesthetics department.
For your fintech app to catch users' attention from the millions that are out there, great graphic design is vital. Penji understands well enough the struggles of startups getting excellent graphic design. That's why we offer our unlimited graphic design service at a flat, monthly rate.
Here are some of our app designs taken from our extensive portfolio: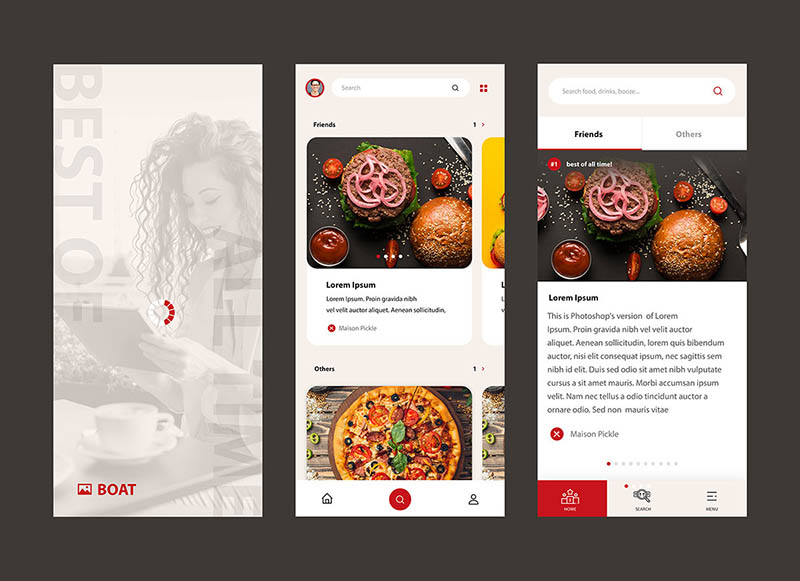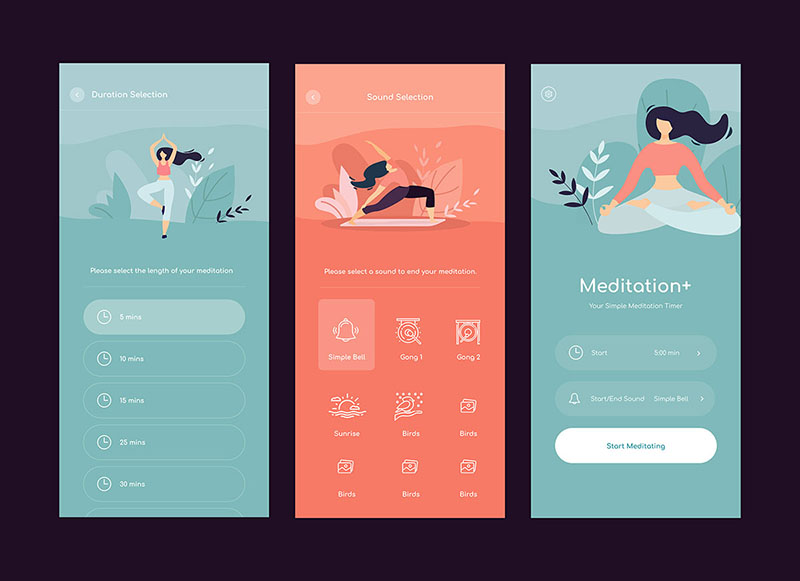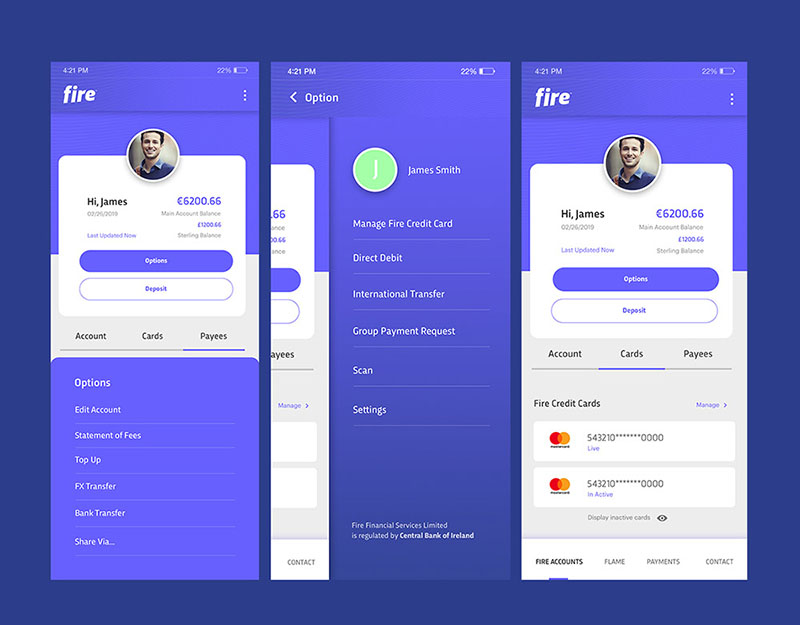 You can see more of our works here.
Final Thoughts
It's a sink-or-swim landscape for startups when it comes to going digital. If you don't have an app, it's highly likely that you'll sink. Build your fintech app today and let Penji help you swim with it. Sign up for any of our affordable plans to get you the fintech app your company deserves.