How often do you look at your phone to check your notifications? If you're like the average American, it would be once every 12 minutes, according to the New York Post. That's a total of 80 times during the hours you're awake!
And that only accounts for the times we check our phones and doesn't even include how long we actually use the apps in it. Smart Insights tells us that 90% of mobile time is spent on apps. Just imagine – if you're a small business with a great mobile app, you have the opportunity to get a slice of the pie. No wonder many of our clients here at Penji ask us to create small business mobile app designs that aim to engage their customers and increase revenue.
Is an App Right for Your Small Business?
Many small business owners think that a mobile app is for the more prominent companies only. This may be due to the restraints they have on budgeting. Or it could be the fear of being a small fry in a vast sea that's saturated with larger competitors. Whatever the reasons, an app is right for businesses, whether big or small.
The stats mentioned above are more than enough proof of why apps are right for your small business. Having a website and pages on a variety of social media platforms will no longer suffice. You have to go where consumers stay the most, and that's on their mobile devices.
Why Your Small Business Needs to be on Mobile
Anything that helps your small business get traction with prospects is always welcome. Statista shows us that the number of online shoppers in the US in 2016 totaled to around 209.6 million. This number is projected to increase by 230.5 million in 2021.
These data perfectly describe why a small business mobile app is a smart move. If you're still unconvinced, here are many more reasons:
It's an All-in-One Solution
A small business mobile app can do them all—marketing, product description, contact information, promotion, sales, and even loyalty rewards. It's like having an extra staff member that works 24/7. And as long as your app stays in the customers' phones, it is a living reminder of your brand. It will encourage repeat sales.
Customers Can Get Information Easily
Time is undoubtedly of the essence in the business world. The faster you can provide your business information to your customers, the better. Consumers want on-demand information, and your app will be the portal where they can get reliable data. Having info on hand will also encourage impulse shopping and allow you to hold flash sales.
It Allows for Quick Analytics Data Gathering
An efficient mobile app will help you gather data analytics, such as the number of downloads, customer behavior, or engagement. This greatly helps in providing better customer experiences and improving your services or products.
Mobile Website vs. Mobile App
One of the most frequently asked questions is this: Why do I need it when I already have a mobile website? This is quite understandable as small businesses have limited resources. But there are ways that you can have both designed at a fraction of the cost. Watch Penji's demo video here to know more.
Both mobile websites and mobile apps have their own uses and advantages. But having them both will give your small business more benefits than just having only one. As a matter of fact, you shouldn't have to choose one over the other. They go hand in hand in helping you move towards business growth and success.
Let's compare the two:
Definition:
A mobile website is your business website designed specifically for smaller devices such as a tablet or mobile phone. This is what they mean when they say having a responsive design. Your website is created in such a way that it can be comfortably seen whether the viewer is on their desktop or mobile phones.
A mobile app is an application that users can download and install on their mobile devices. These provide information to users without having to use a browser. Unlike your mobile website that customers have to find on the net, your mobile app stays on their phones.
Objective:
A mobile website's marketing objective is to attract prospects and make new customers. It will tell visitors what your company is about and what you have to offer. A creatively designed website can encourage purchases.
A mobile app is a means for your brand to build loyalty among your existing customers. When you have only a website, there is a tendency that customers will buy from you then forget about you. A mobile app is in their phones, a touch away from making a purchase.
Advantages:
A mobile website can be found by customers easily. They would probably find it first, and when they like it, that's the only time they'll search for your mobile app. However, once an app lives on your customers' phone, you'll be on their minds as long as it's there, no more searching for them.
As you can see from above, a mobile website and a mobile app can work together to help you succeed and grow. You don't have to choose which one to get, it's imperative that you get both.
Earn Money Through Your Small Business Mobile App
Another benefit of having a small business mobile app is its ability to earn money for you. According to App Annie, approximately 3,000 apps make at least $1 million per year in revenues. Here are a few ways how you can earn money through your small business mobile app:
Release Paid Apps
Instead of offering free downloads for your app, try releasing a paid version of it. When you look at many apps on Google Play Store or the Apple App Store, you'll find many apps that cost anywhere from $0.99 or more to download. This will depend on what services you offer. It may not be a good idea for retail stores, but it can work for services such as games or dieting meal plans.
Offer Upgrades
You can still offer your mobile apps free to download, but you can also provide premium upgrades. You can offer unique features such as dedicated customer support or certain privileges.
Allow In-App Purchases
Most commonly seen in game apps, offering in-app purchases is a great way to add to your small business' income. However, other companies can use it as well. You can use it to give out special offers or discounts and coupons.
Take in Advertisements
Including advertisements in your mobile app is an excellent way to earn extra money. This is especially helpful if you don't like the idea of having your customers pay for your app.
Reach a New Audience
With small business mobile apps, geotargeting and location services are possible. This lets your brand reach new audiences that are otherwise unavailable to you. Location-based marketing now comes easy and can help you provide a more personalized customer experience.
Geotargeting can help you understand customer behavior to adapt your business to what their needs are. You can develop marketing strategies that are more personal and in the most opportune times.
Planning Your Small Business Mobile App
Getting your business mobile app needs careful planning before you go on the drawing board.
Objectives
Before anything else, you need to clarify one thing: what does your app aim to achieve? Here are some of the main goals some ventures have for creating a mobile app:
Brand Awareness. This objective is pretty common among most business apps. However, brand awareness alone may not be a strong goal on its own to sustain users' interest in an app. For instance, if you create an app bearing info about the venture but without any other benefit for the user, there's a slim chance they'll want to download it. It's best to combine this goal with other objectives.
Loyalty. Some brands launch an app to replace their traditional loyalty reward cards. Whenever they buy something online or in-store, they only need to flash the QR code on the app. This provides more convenience to the user, as they won't have to bring a physical card to enjoy the benefits.
Engagement. An app could be the customers' direct line to your brand. In the same vein, it could also be a way for them to engage with other customers, fostering an air of community.
eCommerce. This, perhaps, is one of the most popular uses of an app. With eCommerce functionalities, it's easier for users to book an appointment or make a purchase seamlessly.
Features
The objectives of the app will guide you in knowing the specific features you'll need for the app. For instance, an eCommerce app should have add-to-cart and payment gateway capabilities for it to carry out its goal.
Here are other common features your app needs no matter what goal you're building it for:
Speed. In an age when everything can be available to anyone in a snap, no one likes using a lagging app. Speed is a crucial thing to discuss with your developers to ensure a smooth user experience for your customers.
Flexibility. It's ideal to have your app available on iOS and Android to cater to all types of users.
Search Options. Help your users navigate the app the way they want to by having a search functionality. This will help them save time and avoid frustration when they need to find something from the app.
Push Notifications. This feature helps inform the users of any announcements you may have, such as sales, discounts, and other promos. It also reminds them to use your app and engage with your brand.
UI/UX
The User Interface (UI) and User Experience (UX) are crucial components that could make or break an app. Here are the main definitions of each:
UX – This pertains to designing a product to provide the best user experience to the customer. This concept is not only applied to digital products but to physical goods as well. UX aims to create solutions to issues that users' might encounter while using the product.
UI – On the other hand, UI focuses on the aesthetic side of giving users the best experience. For instance, our UX/UI designers at Penji combines the best color palettes, typography, buttons, and imagery. The aim is to provide users with an interface that's easy on the eyes and makes them want to use the app.
In addition to building your app, you also need to determine the day and time of your app launch. Anytime is a good time to launch, but if you time it to coincide with a special event, the more impact it will have. It can be a new product launch or a seasonal sale. Either way, you can always opt for the app launch to be the big event itself.
Using Penji for Small Business Mobile App Design
As mentioned earlier, here's how you can get your mobile app design without going over your budget. Penji offers solutions to all your graphic design needs, such as mobile website and mobile app designs. Our unlimited graphic design business model is ideal for startups and small businesses.
For as little as $399 a month, you can have as many mobile app designs as possible. Our team of creative graphic designers can help you get the mobile app of your dreams. In addition, you can send requests for logos, custom illustrations, or print materials along with it.
The good thing is, you won't be bound by any contracts. Our services are on a month-to-month subscription base, and you can cancel any time you need to. See our pricing here.
How We Do It
Our designers will assess your request and ask for the requirements they need for your small business mobile app design. These can be your business objective, your target market, and the type of consumers you already have, among others.
They will then create a wireframe or low fidelity prototypes, in other words, blueprints. This shows you how the app will work and what's included in the app. The colors and images are yet to be added for you to see the app in its bare stages. They do this so you can focus on its functionality and not on the aesthetics.
They will then add in the designs for you to see your small business mobile app in its full glory. And as promised, we have unlimited revisions. This is to ensure that you'll get the mobile app design you want.
Below are a few examples of mobile app designs that we've created in the past. You can also see more of our work from our portfolio.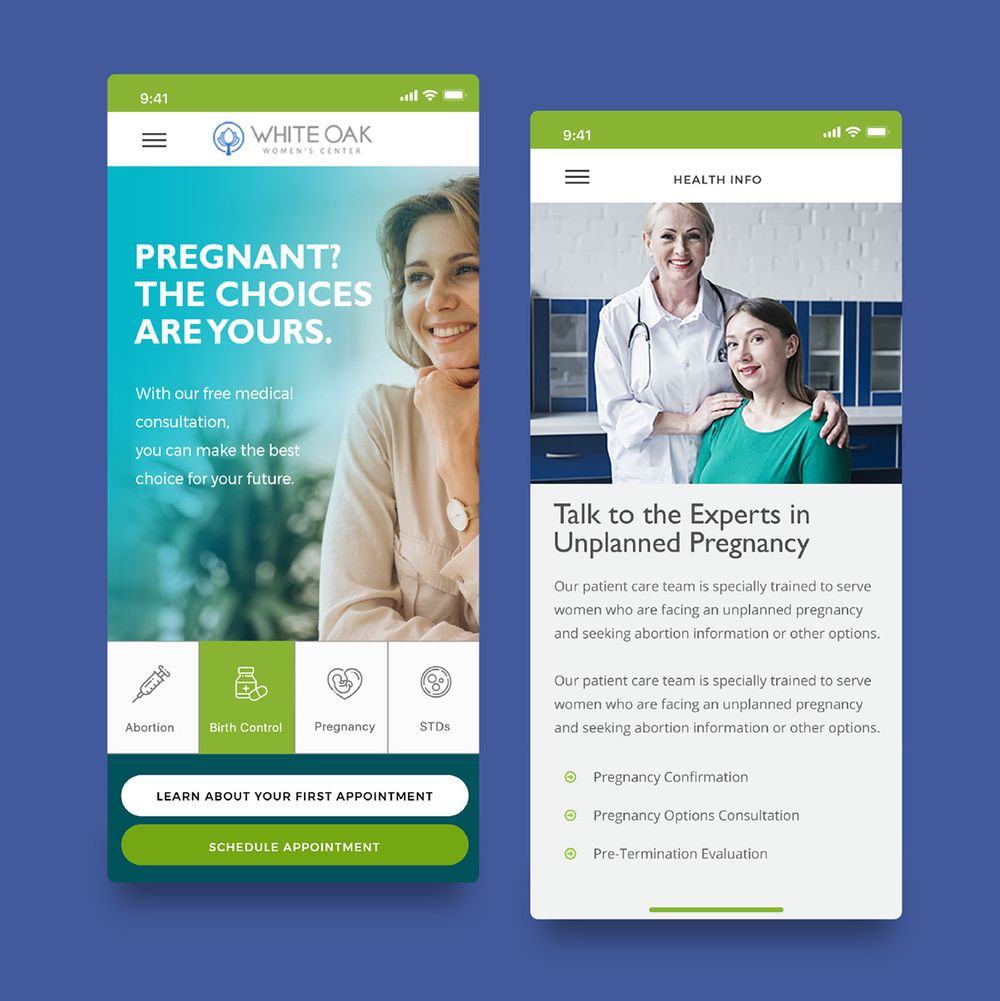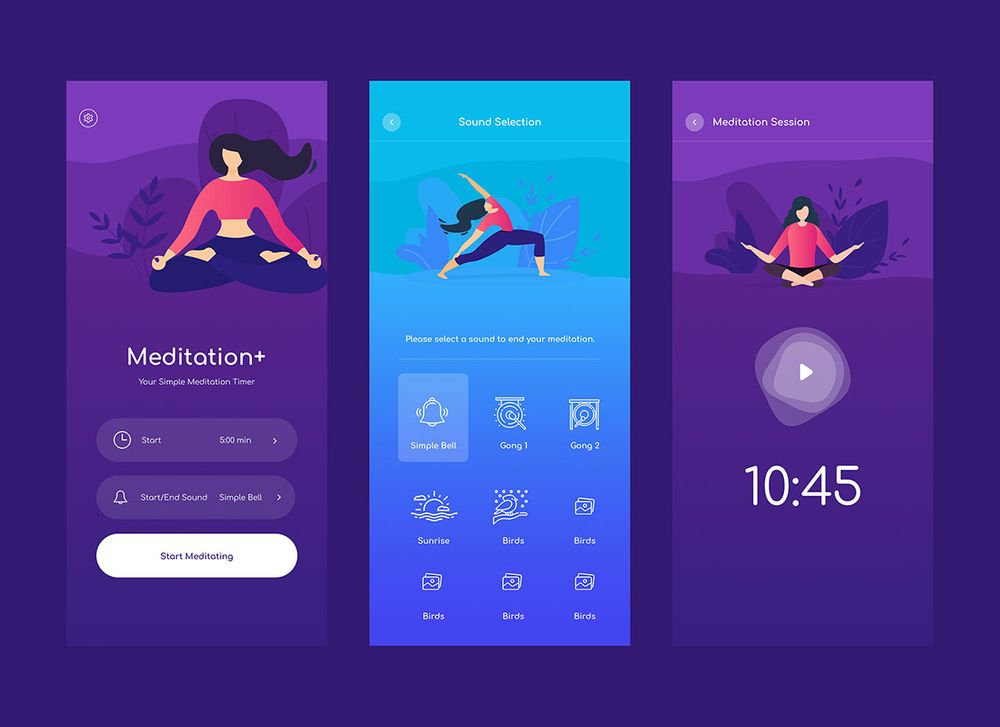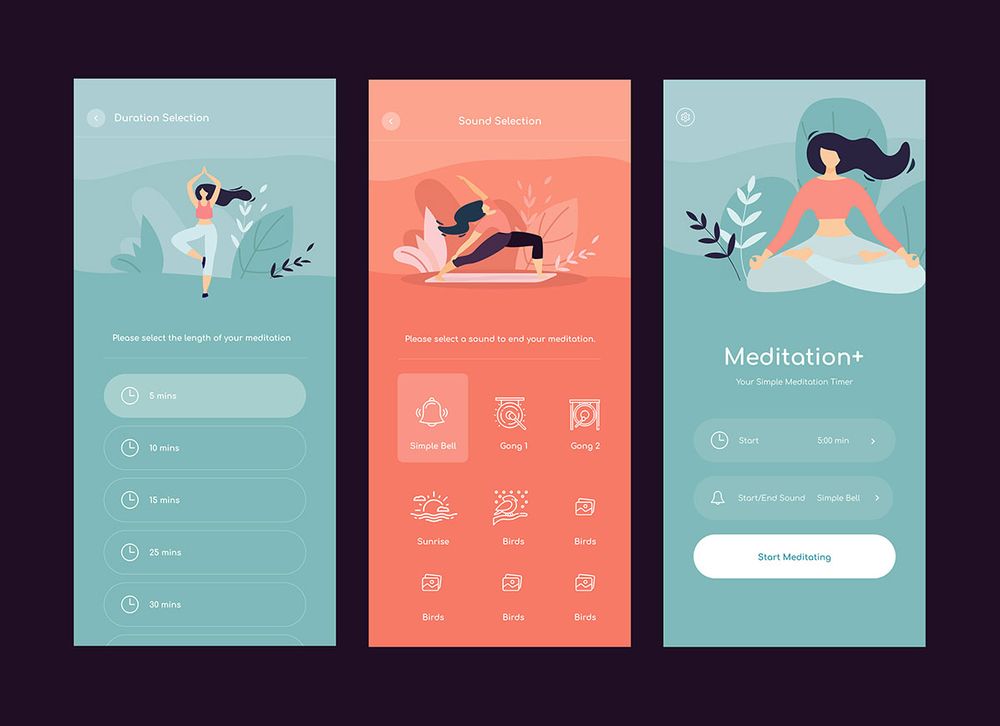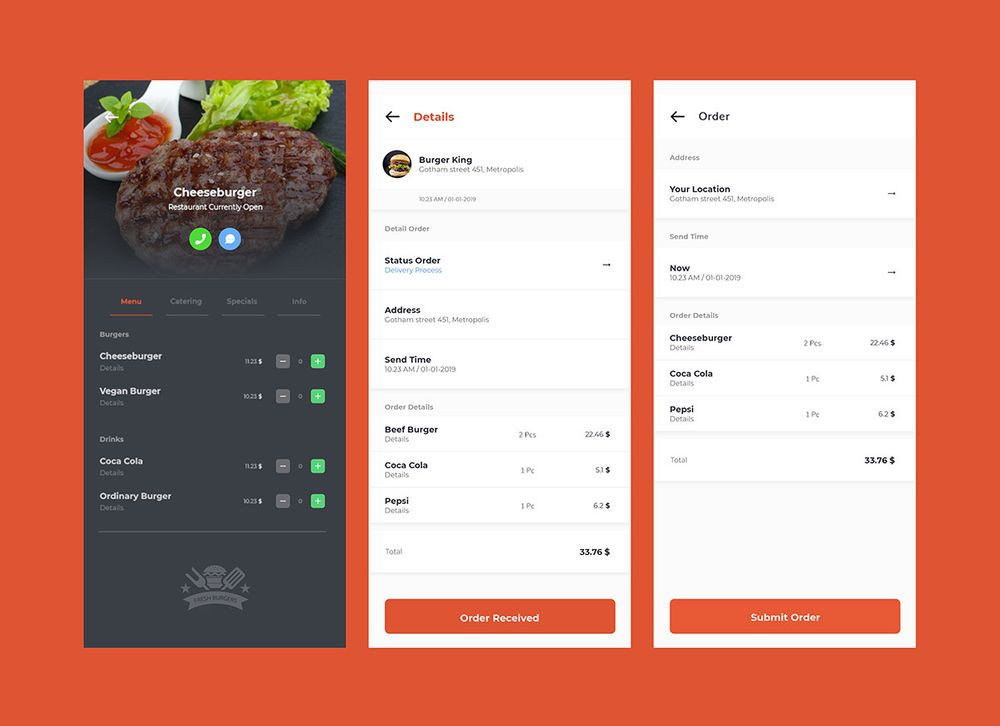 How to Request for a Small Business Mobile App Design from Penji
Penji has made graphic design accessible and affordable to small businesses. We made it even easier for you to send design requests. Here are the steps you need to follow when doing so:
Create
When you sign up for any of Penji's plans, you'll have access to our dashboard. To start the design process, click on the +New Project button.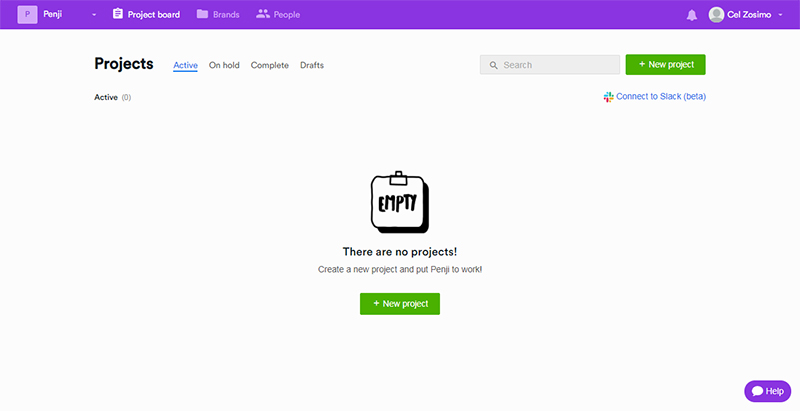 Type in your project title and select the design category from the drop-down menu. Choose which app size you want from the choices listed. Click Next.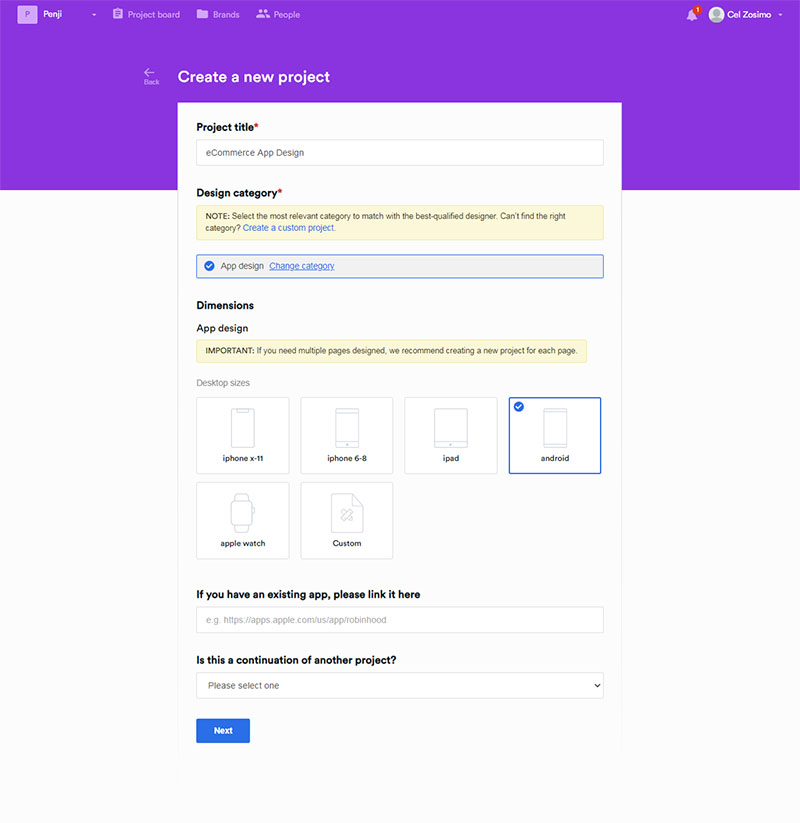 Describe your project in detail on the box provided. There are tips on the yellow box on what you can include in your descriptions. You can also attach files or links that can help you describe your project to your designer. You also have the option to choose from our selection of royalty-free images.
Click on Next.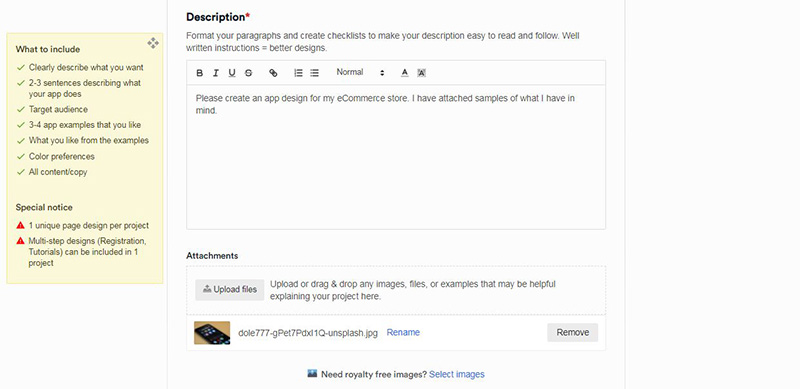 If you're on our team or Agency plans, you can send requests for custom illustrations. The next step is to select the level of customization and the file deliverables.
The Associated brand section allows you to create a folder that will contain all your branding assets. For your subsequent projects, you only need to click on this folder if you want your designer to use them.
Click Create project.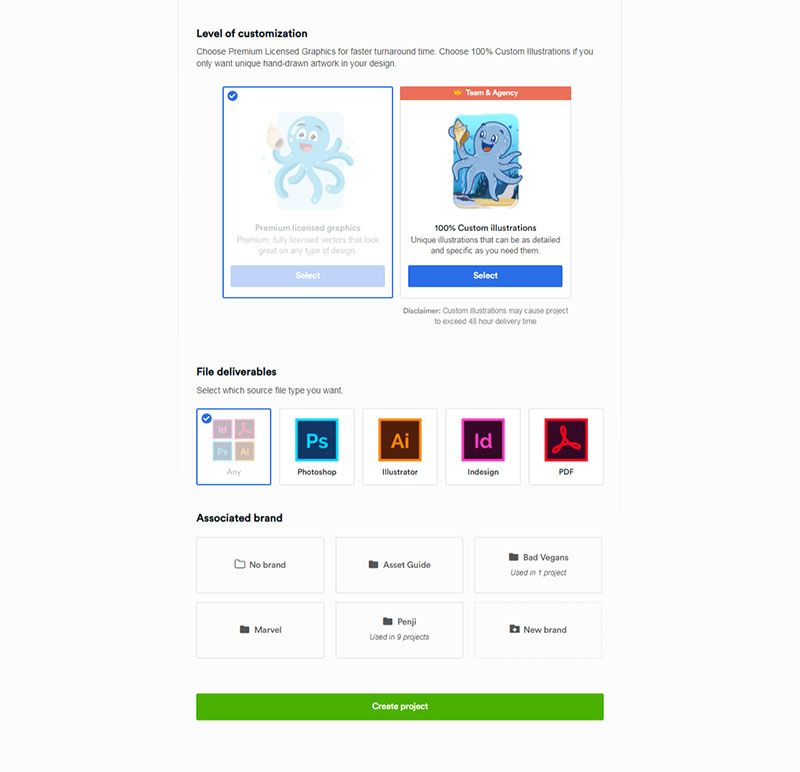 Our system automatically assigns your project to the best designer for the job. You'll get your first draft within 24 to 48 hours. The dashboard is also where you'll communicate with your designer. You can edit the project or send your message here if you need to add something to it.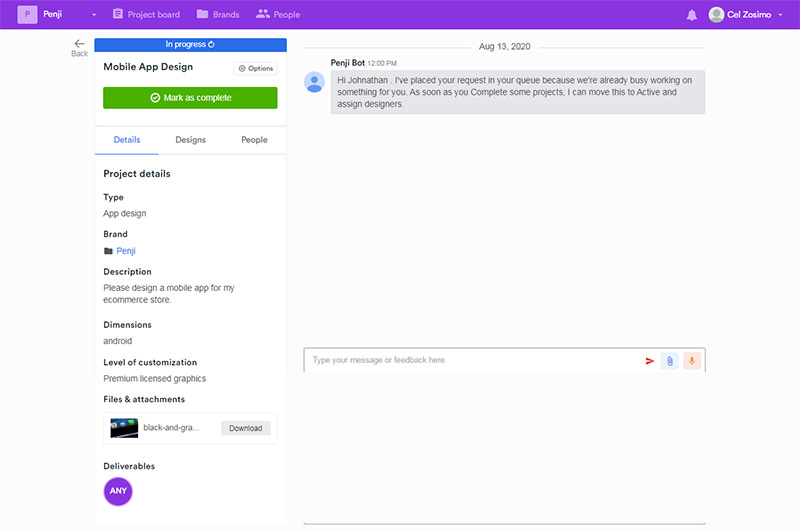 Review and Revise
Once you get your initial draft, review it. You'll receive email notifications about the project's progress, but you can always check the dashboard.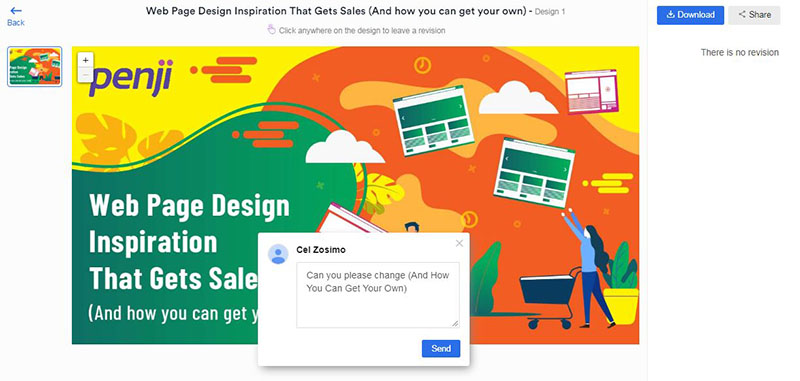 If you need to have something revised, just click on the design. Direct the pointer to what you want your designer to change, type in your comment, and click Send. Your designer will work on your revisions within 12 to 24 hours.
Download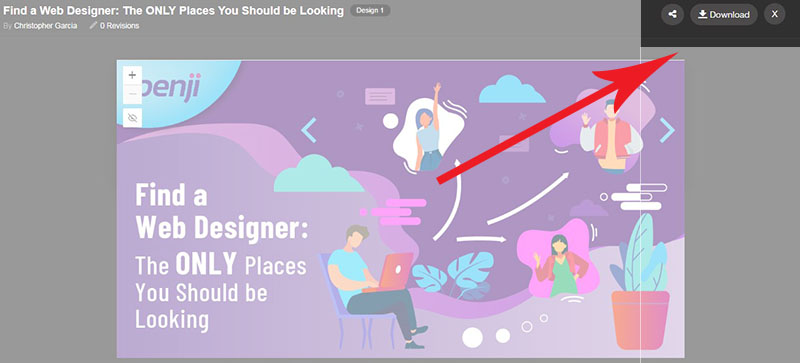 Your small business mobile app is now ready for download. It's yours to use however you want it to as you get full ownership of it. The designs will remain on our system for up to 90 days after you cancel your subscription.
Final Thoughts
If you want your small business to stand out from the crowd and play against the bigger brands, get it a mobile app design. The benefits it will give you is immeasurable. And when you work with Penji, you won't have to spend a ton of money on it.
Sign up today to start getting designs for small business mobile apps and every other type of graphic design.