You don't have to be a graphic designer to create professional looking designs. With a hint of creativity and the use of a few free platforms, you'll be able to shock everyone around you with your skills. DIY graphic design is easier than ever with the availability of services and resources on the internet. But of course, as your requirements become more complex, you might need the services of a professional graphic design team like Penji. These are online services where you can get unlimited designs for a reasonable price every month.
Meanwhile, we listed fantastic resources that will fit into your next DIY graphic design project. Whether you're trying to design something for web, or maybe a poster for your next startup launch party, these graphic design resources will be a lifesaver.


Often used by graphic designers worldwide, Freepik offers free vector designs and other graphic resources that can be used for free. They are a search engine specifically created for graphic designers and web developers to use on their projects.

Freepik is one of the largest vector providers. They come in extremely handy when you're working on your next DIY graphic design project. There is an endless amount of high quality pictures and wallpapers. You can also find illustrations and PSD files, which come in handy when designing for web.

An oldie but a goodie when it comes to looking for fonts. You can use the fonts for personal and commercial use. The DaFont website has a preview feature that is helpful when trying to see if a font is really what you want before you commit to downloading.

With thousands of fonts at your disposal, you will definitely find something that fits into your DIY graphic design project. Each font has an author who designed it and specifies what it can be used for. There are fonts that are either freeware, shareware, demo versions or public domain.

If you're looking for subtle patterns, Toptal has hundreds for you to choose from. These patterns has repeated tileable elements. Toptal provides subtle background designs that won't overpower your website.

Filling a background with full color, gradient, or a large image is no longer a good solution. Adding subtle patterns is a great way to create depth in web design and is easy on the eyes. It is often used to create character or even act as a focal point.


You can create professional looking designs using Canva's drag and drop feature and layouts. If you're looking for an alternative to costly graphic design software, Canva is for you. They have everything you need on their platform, including images, fonts, icons, shapes, filters, and more.

If you want something specific like a flyer, they provide hundreds of templates for you to use. This ensures that all your designs come out looking professional. Canva puts you in the right direction but you have the freedom to change, add, or delete whatever you don't need.
Stop using templates

Custom social media posts get more shares than overused design templates.

Design this for me!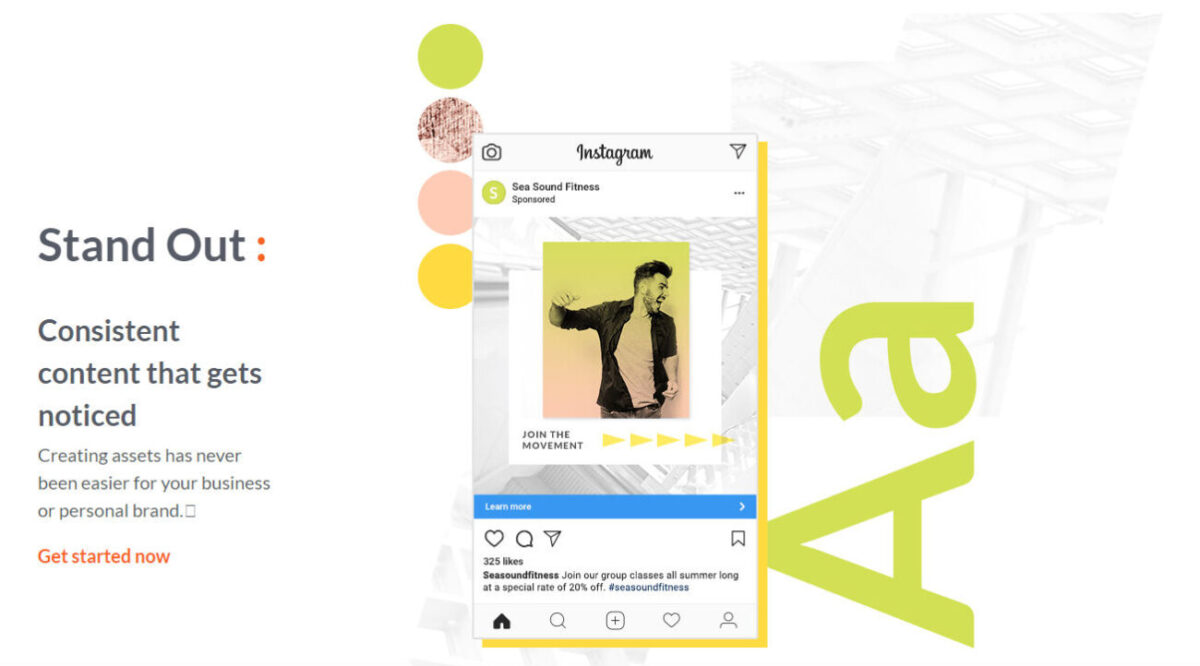 PicMonkey is one of the easiest ways to edit your photos without needing to use professional graphic design software. It has all the basic tools that you need in order to create a high quality photo edit. What's great is that they also provide tutorials, so you can get the results that you're going for.

If you're in need of some quick social media images but don't have the creative background to design it in Photoshop, PicMonkey is a lifesaver. There's even a PicMonkey app so you can create on the go.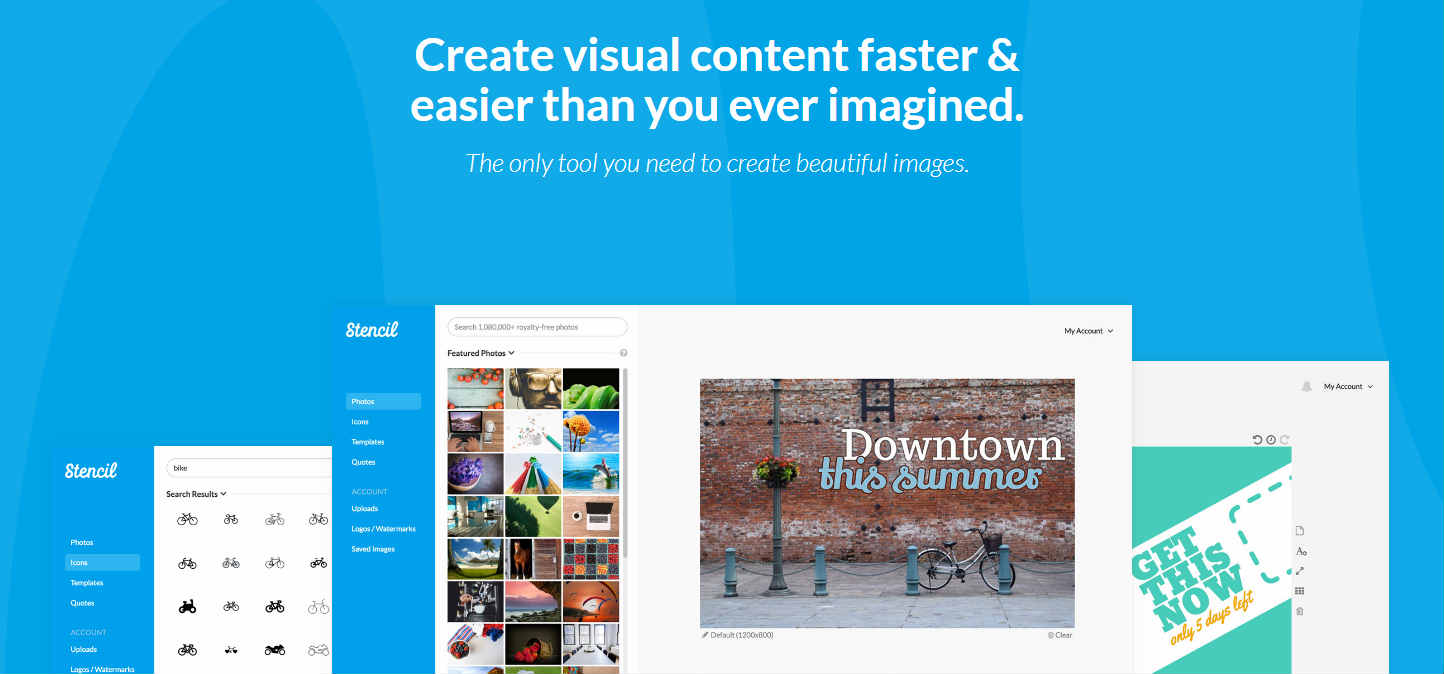 Another great social media image design tool is Stencil. All you have to do is choose a background and add some text. Stencil provides millions of images and thousands of fonts to choose from. There's even templates for you to make designing a breeze.

Stencil is perfect for the #motivation blogger. They have 100,000+ quotes for you to choose from. The research is done for you! And the best part is that you can preview the finished product live, so you know exactly what your audience is seeing.


Long gone are the bland stock photos that we once knew. No more painfully awkward smiles and pantsuits. On Pexels, the stock photos are taken by professional photographers of all niches. If you're looking for an office environment, you can find a plethora of modern day workplaces.

What's great about Pexels is that it's free. With endless pages of photos, you'll be sure to find one that fits your project. Designers and marketers use Pexels for websites, social media, promotional materials, and more.


A one stop shop for any type of mockup you're looking for. The mockups are free and ready to use. The files come in layered PSD files, so you'll need a bit of design experience for this one. However, everything you find can be used for personal and commercial use.

If you're looking for a way to present your work in a professional manner, Mockup World offers every mockup you'll ever need. Showcase everything from website and apps to billboards, flyers, and t-shirts. Your work will look more attractive and gives your audience a real idea of what it will look like once executed.
Yet again, the danger of using templates is that other businesses might be using it already, leaving you little room to stand out. If you wish for your graphic design to be unique and yours alone, work with a graphic design team like Penji. We have helped various small and medium sized industries with their graphic design needs. And this has tremendously improved their branding.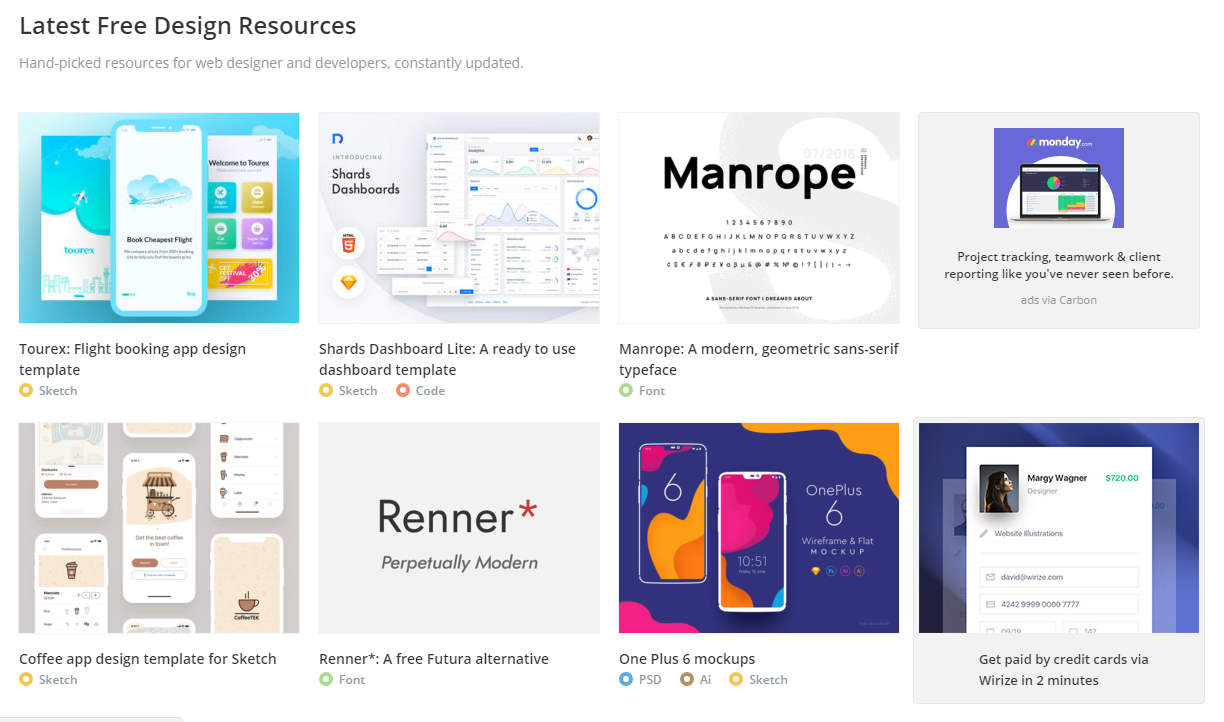 Another fantastic design resource. Freebiesbug is a web design blog for design resources such as high-quality fonts, PSD files, templates, and even coding plugins. You'll no longer have to hunt on the internet for hours looking for designs that will fit your vision.

Freebiesbug is for someone who has some knowledge of Photoshop and is looking to design for web. The collection is curated and categorized so the resources are easy to find and can be used in an instant.


If you're looking for inspiration, Dribbble is a great place to start. You'll find designers of all kinds upload their work for you to see. It's considered one of the top design communities and a source for inspiration for millions of people.

For a non-designer, Dribbble can be a huge help with DIY graphic design. You'll be able to see what is trending and develop a creative eye. It will make your design process much easier.


On Behance, there's an endless scroll of design work for you to sort through. Designers from all around the world showcase their creative work on Behance. Talent across all creative categories are covered, so you'll be able to surf through and explore for quite awhile.

As a non-designer, Behance is another fantastic inspiration resource. Not only will your views contribute to the graphic designer's success, it will help you with developing a creative eye as well. So when you begin your DIY graphic design project, you will have a nice foundation to work off of.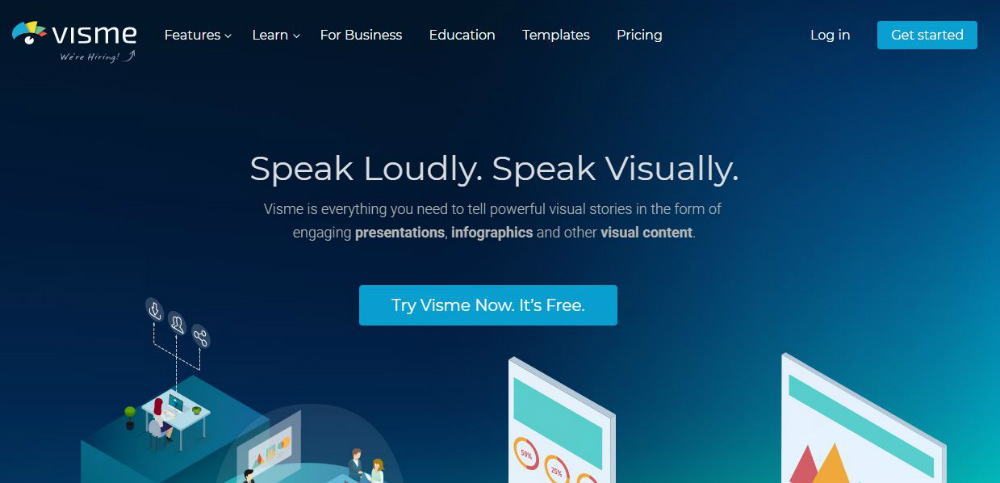 Visme can help you create professional looking infographics, presentations, web content, wireframes, web content, and so much more. It has an insanely huge library of templates, icons, and images that you can mix and match to create a lot of your projects using a workflow that's very flexible.

The templates are generic but can be customizable to make it your own. Adjusting them is pretty easy even if you have little to zero knowledge in graphic designing. It gives you the ability to download your project as a PDF file or image or have it embedded into a page directly.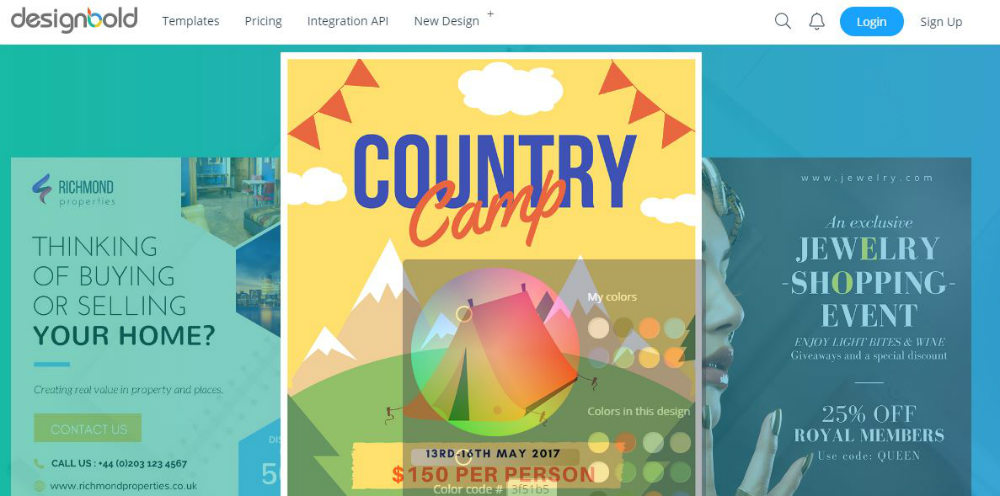 An online photo editor and graphic design software, DesignBold can help you create stunning content both for print and digital media in just a few minutes. You can create professional-looking letterheads, posters, infographics, social media posts, and many others even without graphic design experience.

It offers thousands of pre-designed templates that are highly customizable to suit your every graphic design needs. And it has a drag-and-drop interface that also makes creating designs from scratch simple and easy. Plus, it lets you choose from its 300,000 free stock photos that are all beautiful and not run of the mill. Plus, it offers unlimited storage space even for its free users.


If you feel like you've tried everything, or just don't have the time, Penji is here to help. Your graphic design needs are covered thanks to Penji's unlimited graphic design membership. Your monthly subscription includes unlimited graphic design, unlimited revisions, and a turnaround time of 48 hours or less. And it's a great alternative to hiring freelancers. That's a load off your shoulders! Let's give you more idea of how this works.
Request for the Design
What sets us apart from other graphic design services is we have our very own platform. This app is especially made for our clients and is designed to be user-friendly and highly intuitive.
Once you sign up for our services, we will give you access to this platform. In here, you can find a 'Create New Project' button where it will direct you to a request form. Provide all the information about your graphic design requirements and you are all set.
After completion, a designer will be assigned to your project. If there are follow-up questions, you can use the same platform as well. This means efficiency.
Review the First Draft
As a rule of thumb, we maintain a 24 – 48 hour lead time to submit the first draft. For simple designs, the turnaround time could be faster. So this really depends on your request.
Upon receiving your first draft, you can easily point to areas directly on the image where it needs to be changed. This is a great feature developed both for you and for the designers. Wait for the revised image and go to the last step.
Download Right Away
The third and last step is to download the source files directly from the app. This takes away the need for multiple email threads, and you can use your graphic designs right away. In just a matter of days, you can start using your graphic designs and start promoting your brand and business.
If you want to know more about Penji's services, check our demo here.