Artificial intelligence (AI) software apps are seeing an upward trend. In one click, it can generate a copy, content, and design. It's astonishing what it can do, especially with graphic design. You don't need to create a design from scratch or wait a few days for your deliverables. That's why AI graphic design software has popped up left and right. But are they the best tools to use for your visuals?
Graphic Designers vs AI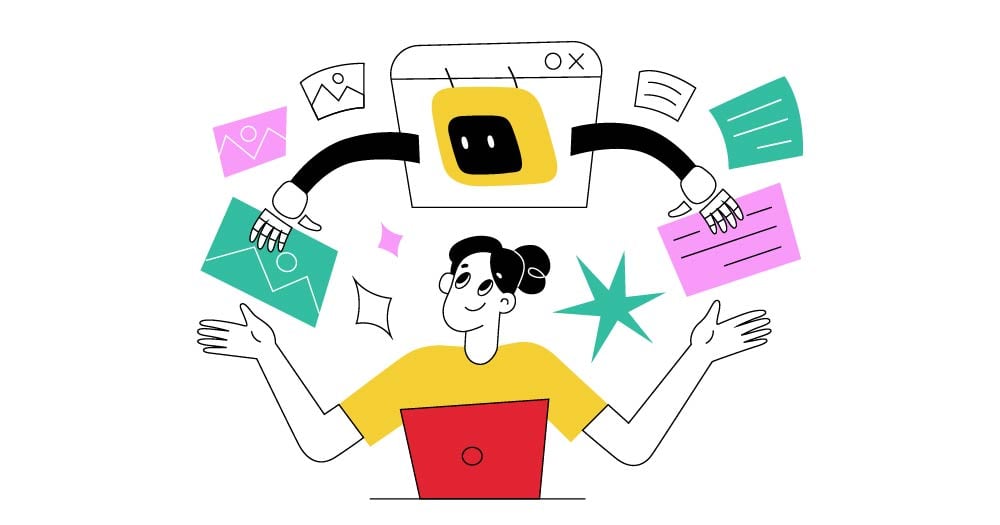 Humans vs AI is an ongoing hot debate because AI has made its mark in most industries. And with the emergence of AI art, marketers are invested in knowing how AI graphic design can help them boost their productivity. But would designers be replaced by AI? No. Here's why graphic designers will still be in demand even if AI is here to stay.
Graphic Designers: Pros and Cons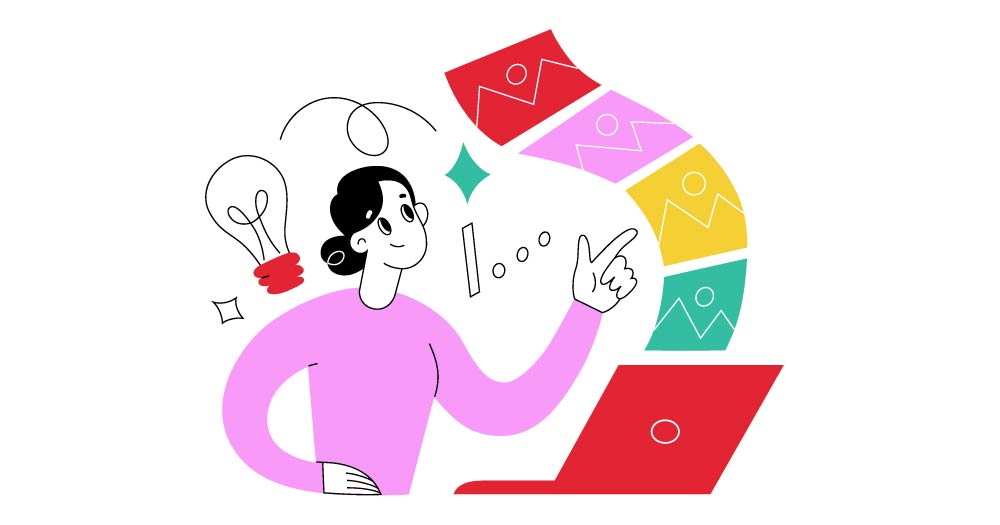 Pros
Graphic designers will make designs based on your submitted design brief and preferences. Even if they don't get it right at first, you can talk to the graphic designer by giving them feedback. Plus, depending on your agreement with the graphic designer, you can tap them again for another project.
Next, even though AI can instantly make designs in an instant, graphic designers still have the upper hand in creating enticing designs. If there's one thing AI lacks is emotion. Graphic designers will create designs based on your objectives and requirements. Although they might not create the copy, graphic designers can evoke the same feeling from the copy to attract your target audience.
Finally, a graphic designer can produce original designs for your brand. One tenet of branding is standing out. Graphic designers can help you become unique through custom designs. You can ask them to create logos, custom social media templates, email designs, and more!
Cons
Hiring graphic designers can be expensive for most business owners. That's why AI graphic design or DIY design software apps are an attractive option for small business owners and marketers.
Graphic designers can take time to create your designs. After all, most designers use sophisticated software like Photoshop to create killer designs. It's better to hire a graphic designer when you don't have an urgent and big project.
Pros and Cons of Using AI Graphic Design Software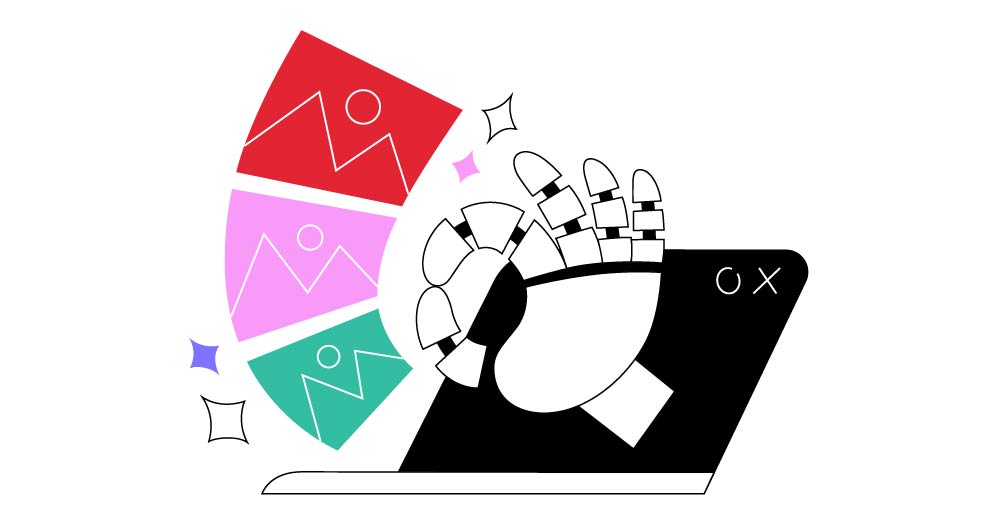 Pros
An AI graphic design software app's most enticing feature is its speed. You can get your designs in a few minutes. All you need is a prompt, and AI will make your designs in a snap.
Since AI graphic designers will generate outputs, you're left with editing what it created. AI isn't perfect. However, this saves you time from making a design from scratch. Then, you can tweak the designs as necessary.
Finally, AI graphic design apps are cheap. Although AI and machine learning are complex concepts, AI graphic design software creators make their software accessible and inexpensive for the public.
Cons
An AI can generate hundreds of designs, but it might not nail your envisioned design. This leaves you to edit its designs or hire a graphic designer to enhance the image.
One disadvantage of using AI for graphic design is copyright. Although it's amazing that the AI can whip up a design in no time, you can't guarantee its originality. Plus, you don't want to get into any legal trouble.
AI Graphic Design Software vs DIY Graphic Design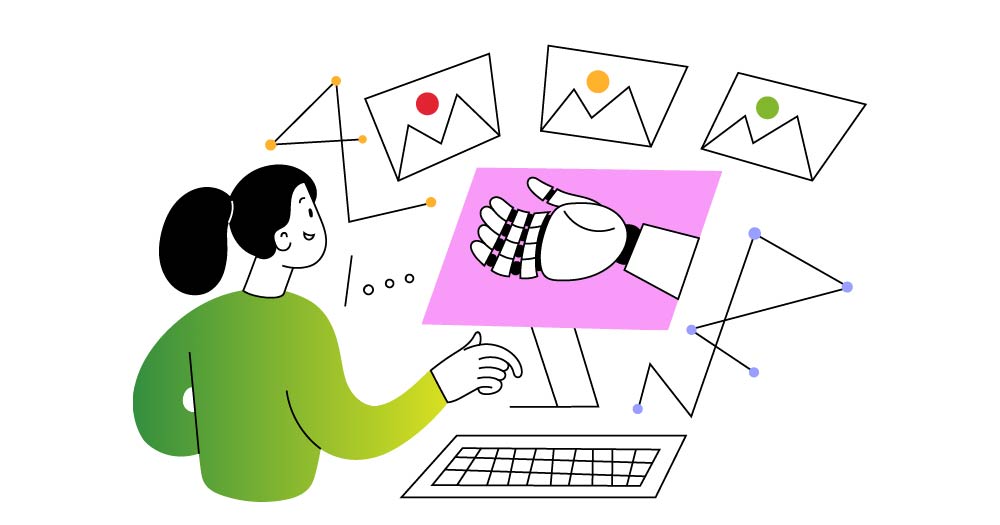 Aside from the AI vs human graphic designers debate, you can also pit AI with DIY graphic design software. Sure, AI graphic design has the edge considering that it will make designs in seconds. However, DIY graphic design software still has a lot to offer. Know what makes them similar and how different they are.
Similarities Between AI and DIY Graphic Design Software Apps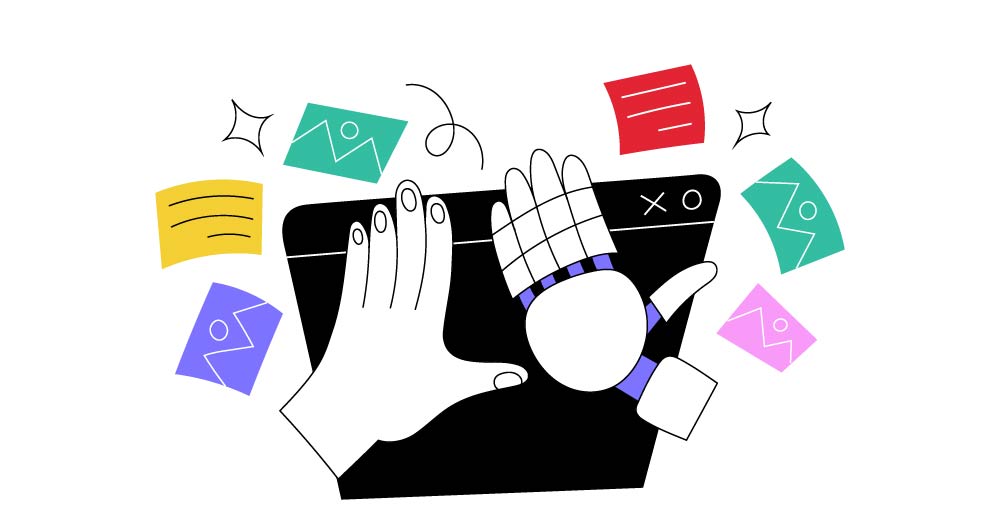 Use templates to create your designs from scratch
Access to images and other visual assets to create compelling designs
Upload branding assets to customize your visuals
Collaborate with your teammates
Save images in various formats, such as PNG, JPG, and PDF
Share photos immediately on social media
Differences Between AI and DIY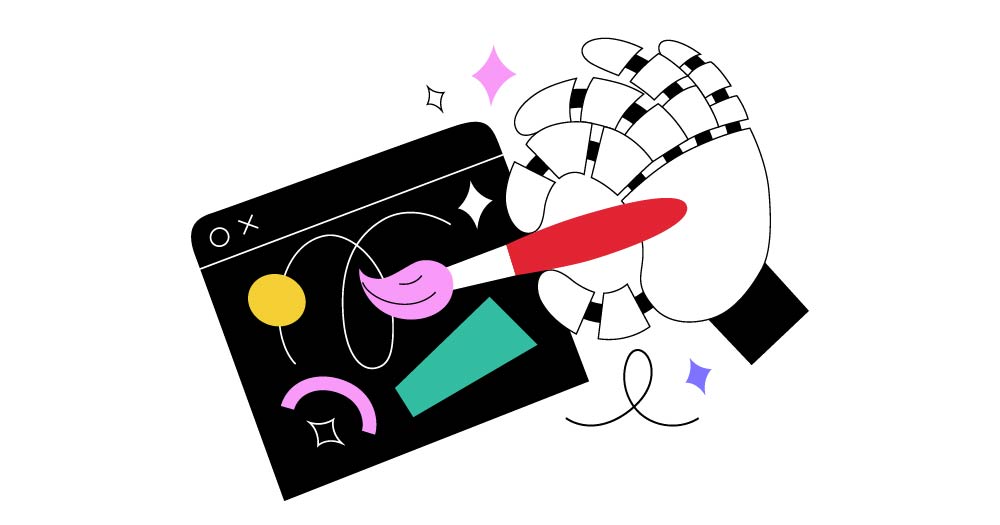 AI design software apps allow you to generate images or art to enhance your images
Some DIY graphic design apps can help you design on-the-go
AI design software can add a relevant image to your submitted prompt
Examples of AI Graphic Design Software
Adobe Sensei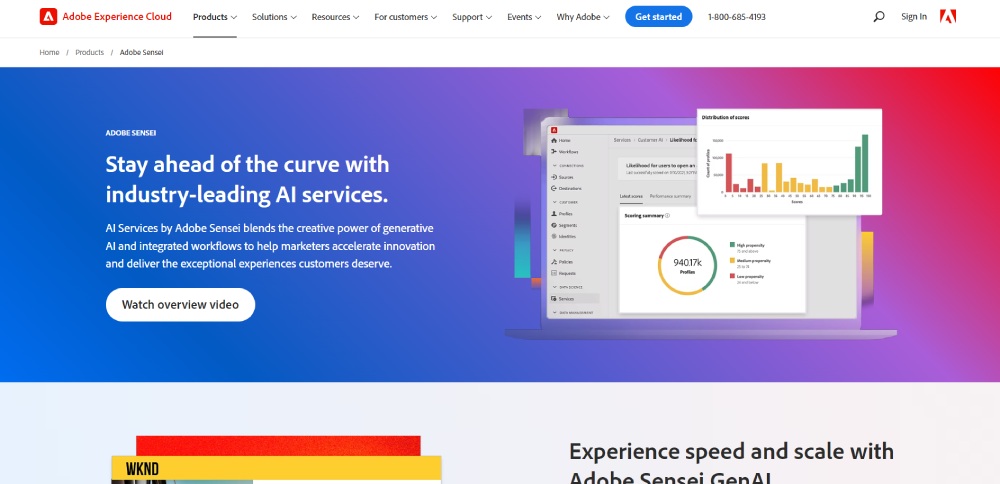 Sensei is Adobe's answer to AI trends. It's an all-around software for businesses. You get access to updated analytics, document and PDF creation, ad budget scenarios, and content creation tools. In terms of design, Adobe Sensei has powerful tools to make a designer's workflow faster.
Pricing: Request a demo
Designs.AI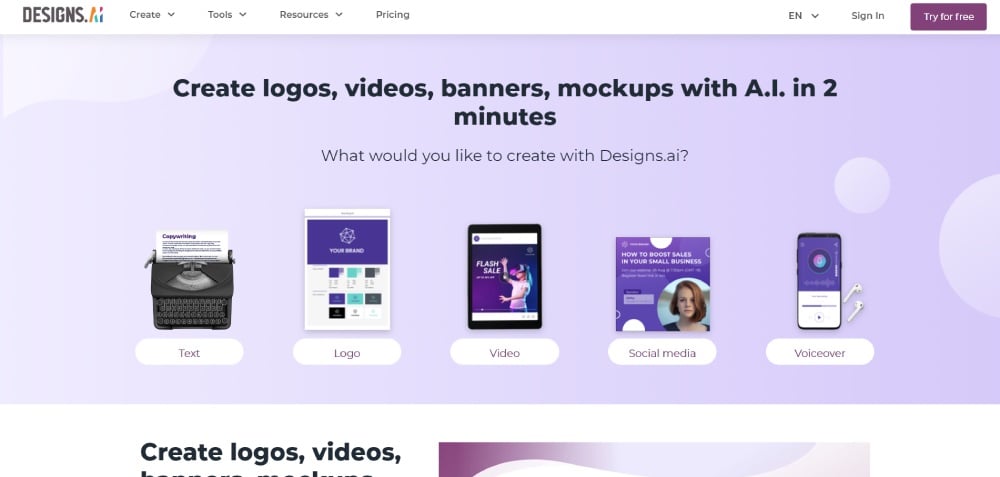 One of the leading AI graphic design apps is Designs.AI. It can create logos, social media posts, and mockups. It resizes elements and replaces content. Plus, it ensures that the best content will be added to your designs.
Pricing:
Basic – $29/mo
Pro – $69/mo
Enterprise – Customized
Simplified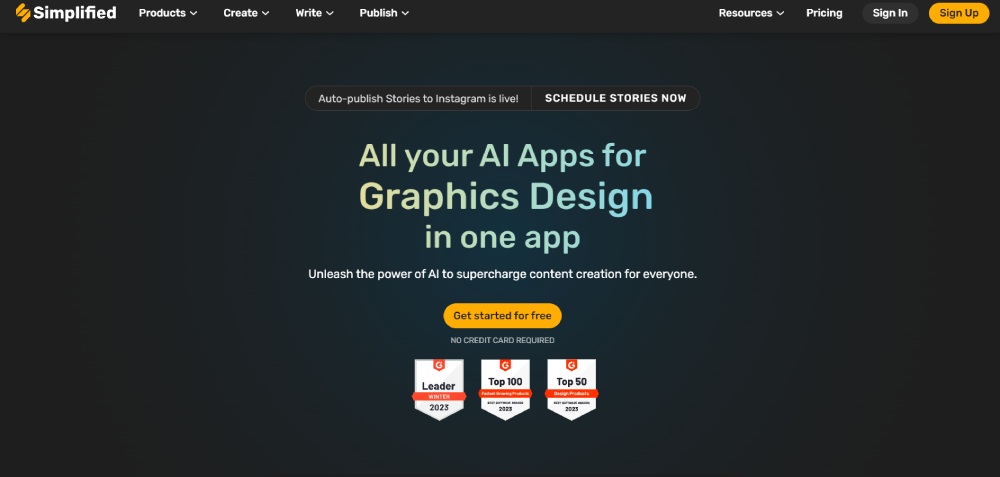 Another preferred AI graphic design solution is Simplified. If you need marketing designs, AI can generate brochures, flyers, and posters. Plus, you can submit prompts for your branding designs.
Pricing:
Free
Small team – $30/mo
Business – $50/mo
Growth – $125/mo
BrandMark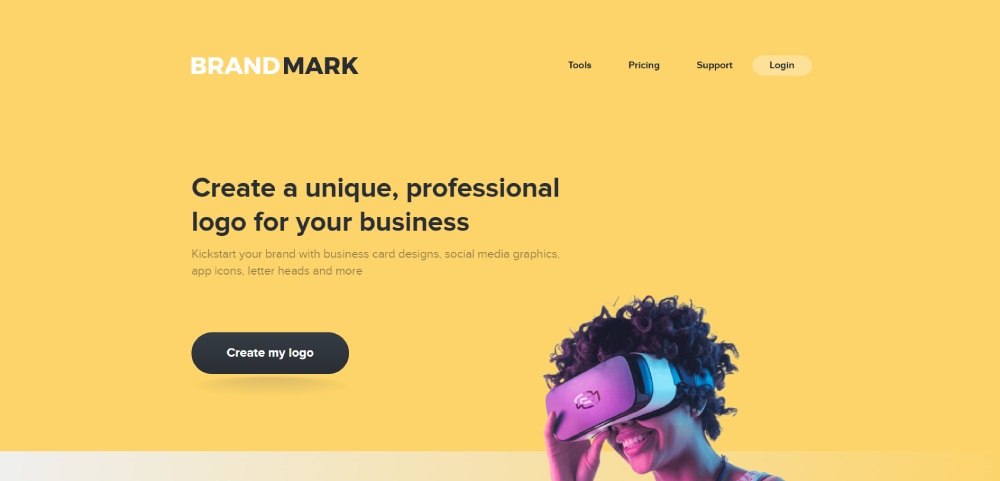 If you want AI to handle logo designs, BrandMark is one of your best options. But if you need a brand kit with your AI-generated logo, you can purchase a BrandMark plan, and designers can help you with your branding.
Pricing:
Basic – $25
Designer – $65
Enterprise – $175
Why is Penji the Best Option?
AI graphic design software is impressive. With one prompt, AI can create a design in thin air. From there, you can edit what it generates. But not all AI outputs can capture your envisioned design. You leave that to the experts. And by experts, we mean our fantastic Penji designers.
Your journey with Penji starts by submitting a design brief. From there, our AI pairs you with the best designer for the project. Once done, the designer will create a draft, and you can review it. Penji will ensure you get a design you'll 100% love. And to know more about what else Penji can do for you, book a demo here!