According to FinancesOnline statistics, 49% of small and medium business owners consider graphic design a business essential. And rightly so, as every aspect of business will always have an element of graphic design in it. Because of this, visual designing has become a skill that many marketers or business owners strive to have.
With so many options out there, finding a tool to help you with design can be overwhelming. Not to mention quite expensive. To help you get highly creative yet affordable designs, go for free graphic design software. We compiled a list to help you find what suits your business the best.
What is Free Graphic Design Software?
A graphic design software is a program or a collection of programs that allows you to create designs and manipulate photographs. A few good examples of these are Adobe Photoshop and CorelDRAW. These software come at a price that can be steep, especially for startups or small businesses.
This is why many entrepreneurs, marketers, and even graphic designers go for free graphic design software. They do the job as well, if not better, which is excellent for businesses with limited budgets. If you're a beginner, free graphic design software will let you get a good grasp of how it works before deciding on purchasing one.
10 Free Graphic Design Software
And as promised, here are our ten best graphic design software that you can get for free:
1. Canva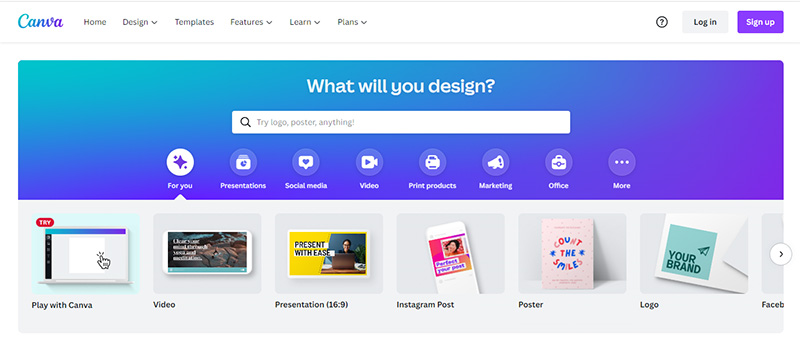 For a free graphic design app, Canva is amazingly good. Its over 10 million users is proof that it is a software that can do most of the designs you need. It is more than just an image editor, with it, you can design anything from logos, banners, and presentations to infographics and so much more.
Non-designers created it, so you can be sure that using it is quick and easy. It has thousands of templates that will help you make the best designs. Its drag-and-drop functionality means there is a minimal learning curve. It can help you do the following:
Font pairing
Color combination
Photo collages
Image resizing
Adding texts, filters, frames, and many others
However, it has features you can only use if you're willing to pay, such as access to royalty-free stock images and up to 100GB of cloud storage. But overall, its free version would work well for your basic designing needs.
Pros
Over 400,000 templates
More than 3,000 fonts
Up to 100 million photos, videos, audios, and graphics
Cons
You have to subscribe to get premium features
2. GIMP

An acronym for GNU Image Manipulation Program, GIMP is an open-source graphic design software similar to Adobe Photoshop. If you're already familiar with Photoshop, using GIMP will be a breeze. It has a vast set of tools that you can use to edit photos or create various designs, all from scratch.
This free graphic design software lets you create logos, mockups, paintings, and so much more. The developers take in requests from their users and consider them to enhance the functions and features of the software. It is flexible that you can use it with popular file formats without any problems at all. The interface may be complicated at first look, but after a little bit of practice, you can create professional-looking designs on it.
Pros
Has a rich editing feature set
Full customization interface
Totally free, no paid versions
Cons
Has lower features than paid software
3. Gravit Designer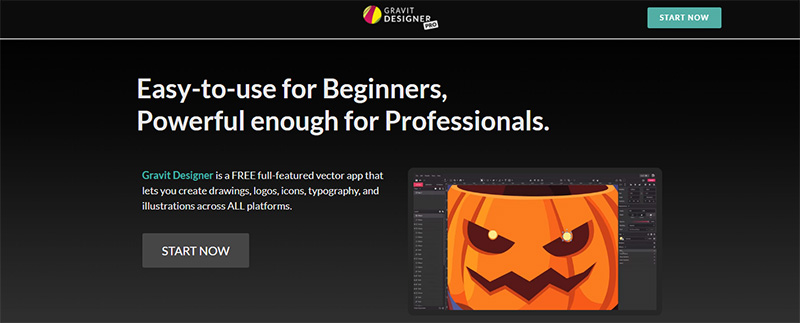 One of the best free vector editors, Gravit Designer, was created by the people behind CorelDRAW. It comes with a collection of powerful tools that can help you create beautiful designs and enhance photos. It has an intuitive and easily navigable interface, making it the best free graphic design software for beginners. Its best features include the following:
Live effects and adjustments
Object transformations and distribution
Auto-saving capability
Easy design project management
Friendly keyboard shortcuts
This cloud-based design software will let you design wireframes, UI design, animation, and presentation, among many others. It has collaboration tools, supports multiple file formats, third-party integrations, and many other features. However, just like Canva, you can only use Gravit Designer's premium tools and features if you opt for the paid version.
Pros
Offers advanced vector editing
Cloud integration
Entirely customizable interface
Cons
Creating complex designs can slow it down
4. Creative Cloud Express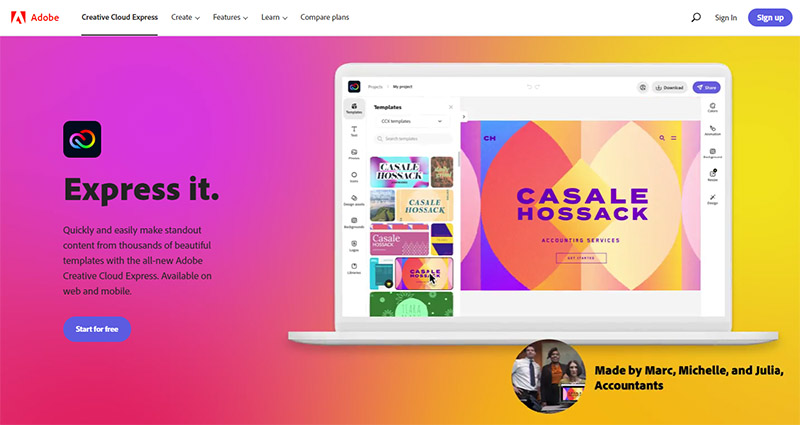 Previously known as Adobe Spark, Creative Cloud Express is Adobe's free alternative to Illustrator. You'll get access to thousands of templates, Adobe stock photos, fonts, and many other Adobe design assets. With this free graphic design software, you can create marketing materials, visual content, and edit pictures even without the talent and skill of a pro designer.
Its drag-and-drop functionality lets you unleash your creativity with just a few clicks. It gives you the ability to resize, trim, or crop videos and images with ease. Plus, it is a cloud-based creative platform and is free to download and use forever.
Pros
Comes with pre-sized social media templates
Integrates with various Adobe suite of services and platforms
Has presets that can create branding assets in minutes
Cons
Expensive hardware requirements
5. Krita

Created by artists to support other artists by providing free ways to make art without breaking the bank. They consider users' requests and recommendations to help enhance the software. In turn, it has become a design software that's easy to use with tools that are rich in features. It comes with a myriad of illustrations and examples that can be useful for illustrators, comic book artists, and many others.
Developed primarily as an illustration software, Krita also has photo editing capabilities. It has a modern yet straightforward interface that's ideal for beginners. Furthermore, it is optimized to work with less powerful PCs. If painting and drawing are what you do the most, then Krita is an excellent option.
Pros
Comes with a wide array of brushes and brush stabilizers
Easy to use layout
Allows you access to educational and instructional materials
Cons
You'll need lots of memory on your device
6. Blender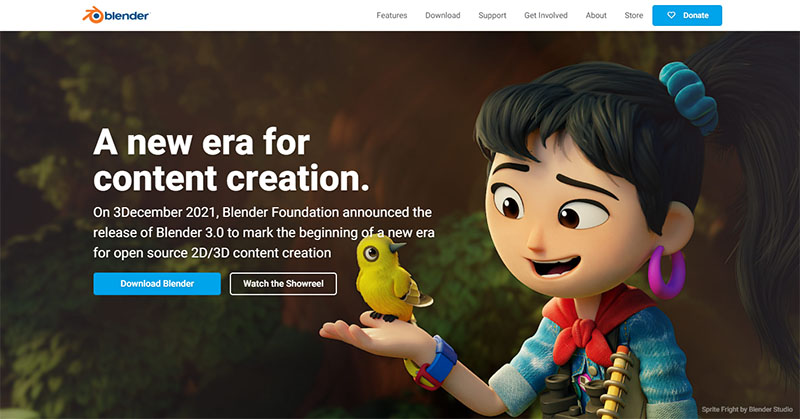 Another great open-source graphic design software, Blender, is a 3D creation suite for your animated design needs. From animation, rigging to rendering, this free graphic design software is what you'll need. You can also use it to help you create print materials, web design, and even outdoor advertising.
Blender comes with an impressive stack of tools that will allow you to create anything 3D-related. It is constantly improving as it has a community of users who actively help enhance the program's features. One caveat, though, is that it has a long learning curve and may not be suitable for beginners.
Pros
Has powerful tools for creating 3D and 2D animations
Smooth video editing and composition capabilities
Integrated 3D game engine with a logic brick system
Cons
Complicated and long learning curve
7. Inkscape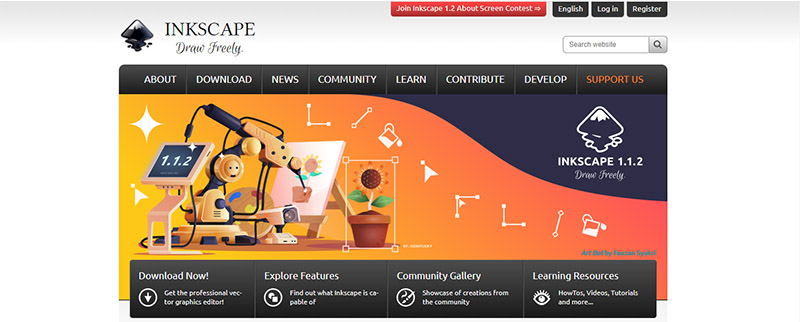 Touted as the free analog of Adobe Illustrator, Inkscape is one of the best free vector software with good SVG integration. It comes with advanced tools ideal for alpha blending, cloning objects, and complex path manipulations, among others.
This free graphic design software is widely known for its exceptional vector art options and broad format compatibilities. It has an interface that is more straightforward than that of Illustrator. But don't be deceived, this software will let you produce sophisticated and professional-looking artworks and designs.
Pros
Has all the essential tools for creating vector graphics
Has cross-platform support
Active community of contributors
Cons
Can be slow when working on complex projects
8. SketchUp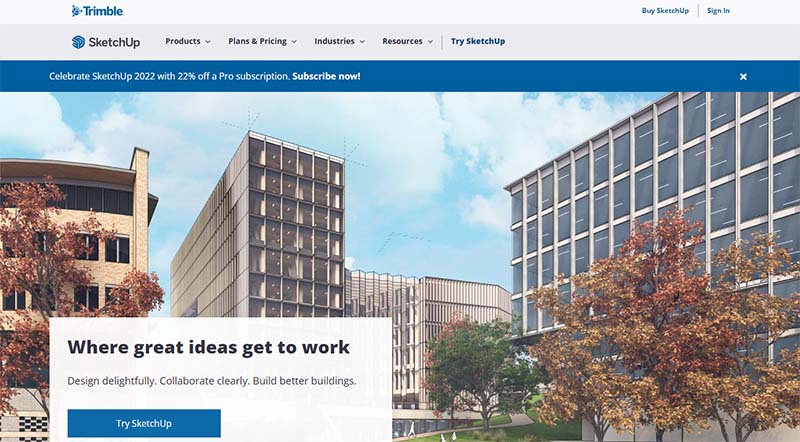 If you have little to no knowledge of 3D graphic design, SketchUp is the best software for you. It is open-source and has free and paid plans if ever you want to level up. This free design software is suitable for producing 2D or 3D designs for a variety of applications such as:
Product and packaging design
Architectural and interior design
Video game development
These are just but a few uses for SketchUp, and there are plenty more as architects, graphic designers, and even filmmakers can attest to. With this free graphic design software, you can have access to SketchUp 3D Warehouse's comprehensive library of models. You can find inspiration here, and once you do, you can download them for free.
Pros
Comes with powerful tools to create animations, videos, and graphic designs
Has customizable palettes on an easily navigable user interface
Very user-friendly
Cons
You will need to go pro for advanced features
9. Vectr

A free and simple vector graphic design solution, Vectr is popular with bloggers, social media content managers, and many others. Non-designers who need visual content constantly swear by this free design software as it's uncomplicated. Its intuitive interface is so easy to navigate that even newbies can create pro-level designs.
Vectr has all the basic tools and features of high-end applications such as pen, shape tool, strokes, gradients, and many more. If you need a design ASAP but don't have the talents and skills to do so, this is the software for you.
Pros
Comes with intuitive tools that are geared towards non-designers
Allows for team collaboration and sharing
AI-powered that saves you time and effort
Cons
Has limited features that can restrict professionals designers
10. Desygner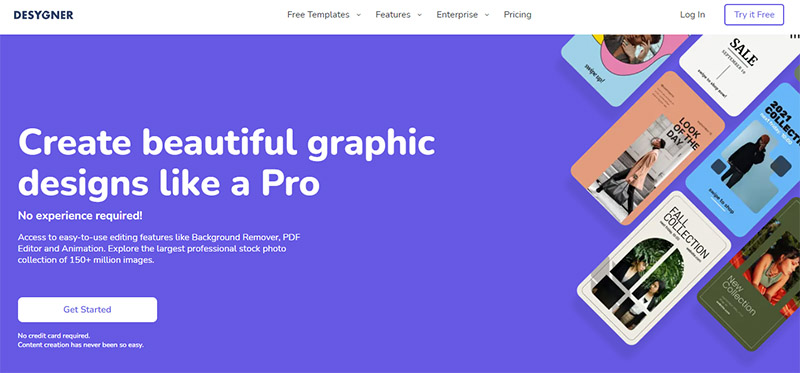 Claiming to have over 21 million users around the globe, Desygner is an online image editor explicitly made for non-designers. It's now the favorite software of marketers, social media managers, bloggers, and writers. This is the software they use to create landing pages, social media content, web design, banners, email newsletters, Google ads, and many more.
Desygner has templates that you can use directly or get inspiration from. There is practically no learning curve to use this software. But you can still get tips and tricks from its active community scattered around the globe. An online software, Desygner lets you share your designs through email, websites, or private links.
Pros
Has a wide range of ready to use templates
Comes with collaboration capabilities
Has a drag-and-drop function to make designing simple and easy
Cons
You can only get some features if you're on the paid version
How Penji Can Help
Before you can find the most suitable graphic design software for your brand, you have to consider many other factors aside from being free to use. As you can see from above, most of these have different applications, and not one offers everything you'll need. In addition, most of these will give you their full features only if you upgrade to a premium plan.
This is the reason Penji is a popular choice among business owners, agencies, and marketers. For a fixed rate, you can get as many graphic design assets as you can in a month. Although not free as some of the software listed above, it is quite a steal, especially if you need designs regularly.
You can watch our demo video here to learn more, or better yet, get our designers working by signing up through this link.