Adding a mobile app to your company's marketing strategies is a sound business decision. Statista tells us that in 2019, there were 204 billion mobile app downloads and $462 billion in revenues from these apps. It can be both exciting and challenging to design an app yourself, not to mention cost-effective. However, is it really worth DIYing your brand's mobile app?
Join us as we take a close look at what you need to do and how you can design your app. If you decide that a DIY mobile app design can be complicated, Penji is here for you. Our unlimited graphic design services include mobile app design. You can check it out here.
Why You Need a Professional App Designer
DIY mobile app makers abound, but are these ways to go to get an excellent mobile app design? If you want to design an app for your personal use, these app makers will do. But for a business that needs a professional image and are in it for the long term, these won't make the cut.
Designing a mobile app is more than just adding colors or fonts that you think would look good. It takes the experience and expertise of those knowledgeable in graphic design. A freelance graphic designer is an alternative, but it also has its downsides.
At first glance, these options are cheap, but there is a more affordable option. Penji's flat, monthly rate allows you to submit as many mobile app design requests as you can. In addition, you get to send requests for logos, web design, and social media graphics, among many others.
Related Post: Finding the Best App Designers and Learning Their Design Process
What You Need to Do to Design an App
Designing an app is no small feat, but it's totally understandable to want to do it yourself. The challenge of building something from scratch is indeed tempting. Here are the things you need to do to design an app for your business:
Concept
Your app starts with a concept. Your business nature is where you'll get your ideas from. It doesn't have to blow minds or disrupt the industry. Providing a good user experience for your customers is first and foremost. Here are the things you need to do and have to design an app:
Sketch Your Ideas
The first thing you need to do is to do sketches of your app idea or concept. It doesn't have to be Da Vinci-esque, as long as the essentials are neatly laid out. Write notes on how you want it to behave, what colors to use, and possibly the dimensions.
You don't even need special tools, just a pencil and paper will do the trick. Make a list of all the features you want to include and some that you can add if still possible. You'll know which ones are must-haves when you look at your business goals and objectives.
Research your Market
To know if your app is viable in the market, do some market research. Even if you hire someone else to design an app for you, research is still vital. Understanding your prospects' pain points and preferences will significantly help in the overall design.
Also, you can check out similar apps and see how they work. Know what features are essential and what users dislike about the app. Read the reviews, and from there, see if you can do more than what your competitors are doing.
Design
The number of active apps in the market is more than 2.5 million as of the first quarter of 2020, according to Statista. How can you compete with that humongous number? The answer—excellent design. Here's what you can do:
Create Mockups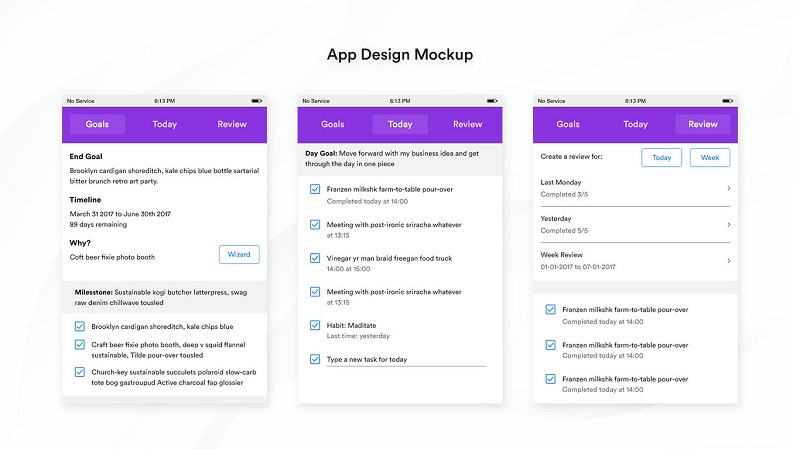 An excellent way to check if your mobile app design will work and look right is to create a mockup. This is the next step after you've done your sketches to see if everything is going as planned. This will also show you a rough representation of what the app's final look will be.
If you don't know how, you can use web applications such as Justinmind or Balsamiq. Doing a mockup also helps you identify problems and fix them even before starting the actual app creation. This saves you time, effort, and money.
Add the Design
Once you've seen your app going where it's supposed to go, you can add in the details. Create the graphic design assets your app needs to give it a professional and finished look. Incorporate your brand, add your colors, and add the final touches.
If you're clueless about graphic design, you can either hire a freelance graphic designer or use a free template. As stated earlier, both these options have their ups and downs, which you can read here. On the other hand, templates are quick and cheap and inexpensive, but will not look professional.
Getting the services of an on-demand graphic design service such as Penji is your best bet. Our unlimited graphic design also comes with unlimited revisions. This means you can send requests for revisions as many as you need without paying extra for it. This assures you that you'll get the best mobile app design.
Coding
It's now time to build your app. This is the part where the technicality begins. Coding can be done using different platforms such as Xcode or Swift. There are many tutorials and how-to guides that you can check out to learn how to code.
However, this can be a tedious process that would take up a considerable chunk of your time. You can always find an app developer that will help you with your app's coding. Platforms such as Upwork or Clutch have databases of app developers that you can contact to do the coding for you.
App Design at Penji
Living in a digitally smart world, having an app for your business is no longer an option. To design an app that will work for you, you need to dedicate ample time and energy. It isn't an easy task that you can do in one sitting. You won't even be guaranteed that what you will come up with will work as you intended it.
That's why working with Penji is a good business move. We can create as many mobile app designs for you, all for an affordable price. You can also submit requests for many types of graphic design that your business will need. Whether it's for advertising, marketing, or branding needs, Penji will design them for you. Watch our demo video here to learn more.
How to Request an App Design
Here at Penji, we understand that time is gold, so we made requesting designs straightforward. There are three simple steps when requesting an app design from Penji. They are:
Create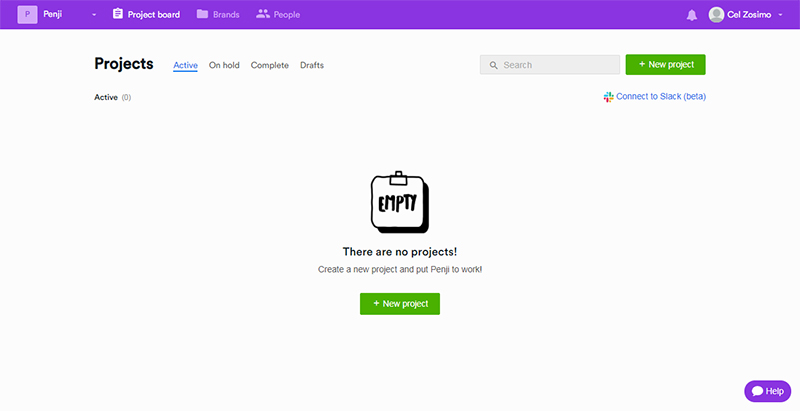 Signing up with Penji gets you access to our dashboard. When requesting your first app design, it will look as shown in the image below.
Click on the +New project button to start your first app design.
Type in your project's title and select the design category from the drop-down menu. You can also type in app design, and the most appropriate option will automatically appear. If your next project isn't on the drop-down list, you can click Create a custom project.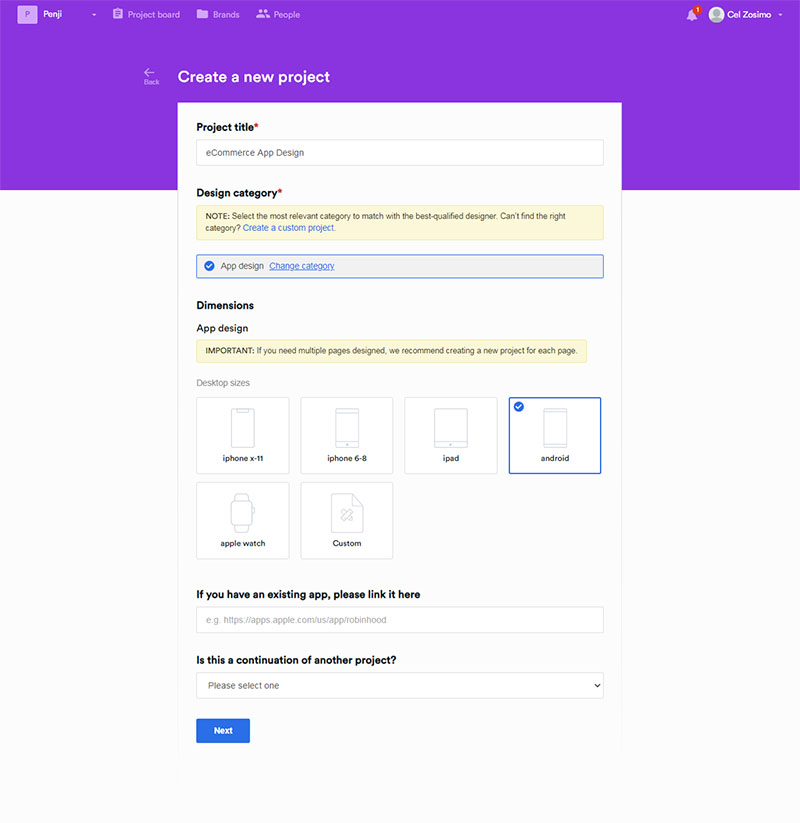 Choose the Dimensions of your project from the list below. Then click on Next.
Fill in the Description box with details of your app design. Refer to the yellow table on the left side of the page to help you with what to include in your descriptions. You can then add attachments such as files or links that your designer can use as references.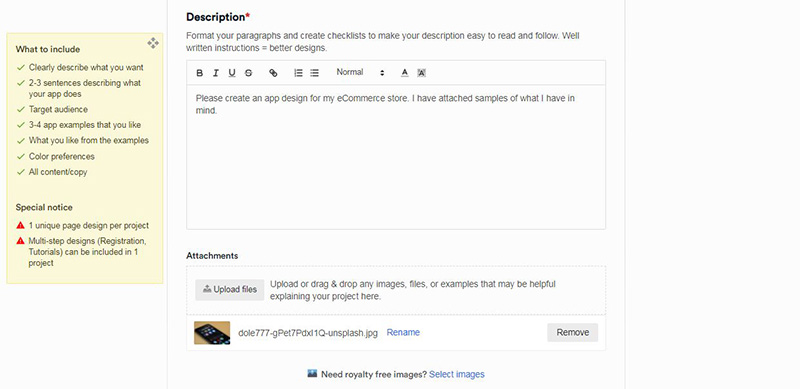 We have a collection of royalty-free images that you can use if you need them. Just click on Select images. Click on Next.
Choose the Level of customization. Our Team and Agency plans include custom illustrations that you can use for your designs. Select this if you want to have customized illustrations for your app.
The File deliverables is where you will select which file types you want your design to be made. For the Associated brand section, create a folder that will contain all your branding assets such as logo, colors, or guidelines. Upload them in the folder, so you only need to click on it the next time you want your brand identity included in your designs.
Click Create project.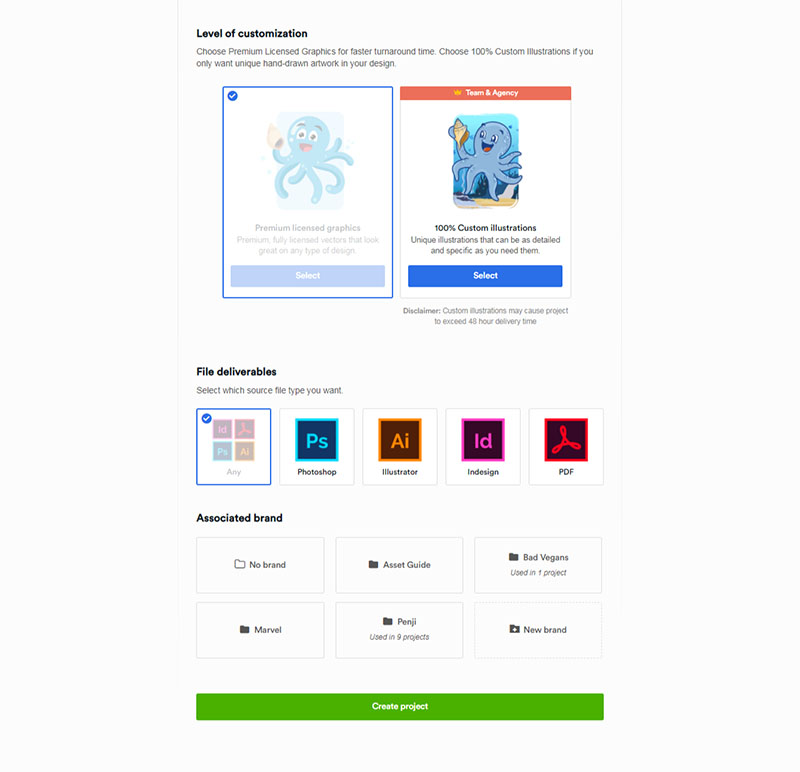 Your app design request is now on its way. The system automatically assigns it to the best app designer for the job. You will receive an initial draft after 24 to 48 hours. You'll also receive email notifications about the progress of your project. Alternatively, you can also check the dashboard regularly to see updates or if you need to add comments to your designer.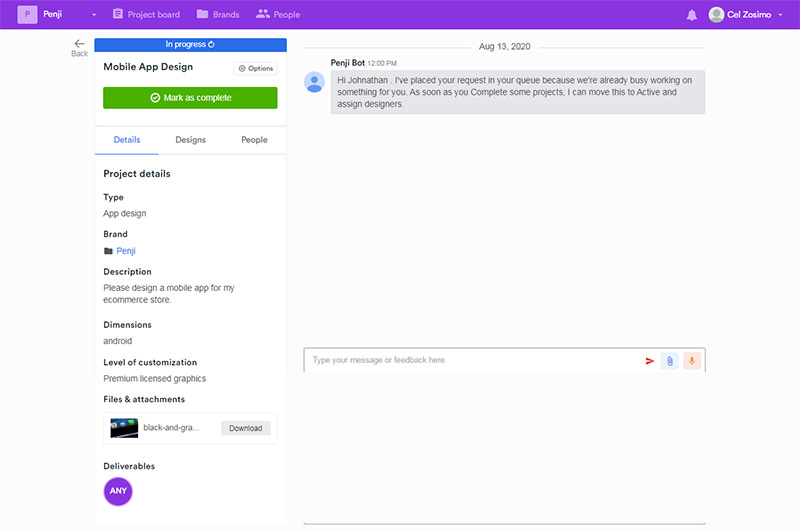 Review and Revise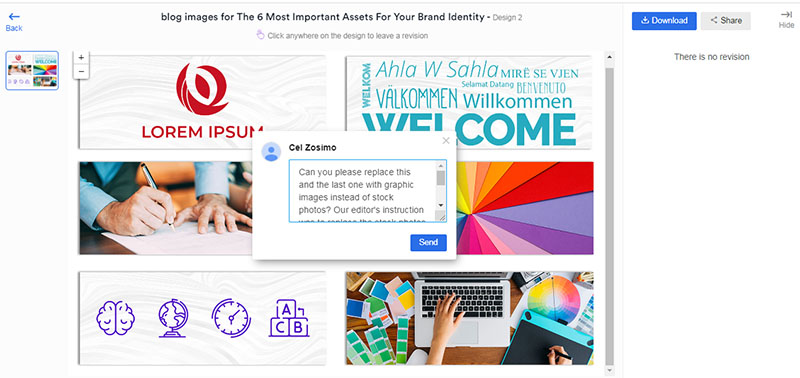 Once you receive the first draft of your app design, review it. If you need to have any revisions done, click on the design. Direct your pointer to the area where you want the changes made. A dialogue box will appear. Type in your comments and click on Send.
Your designer will work on the revisions within 12 to 24 hours. If you don't need any revisions done, you can leave feedback. This will help us improve our services and make the system work better for you.
Download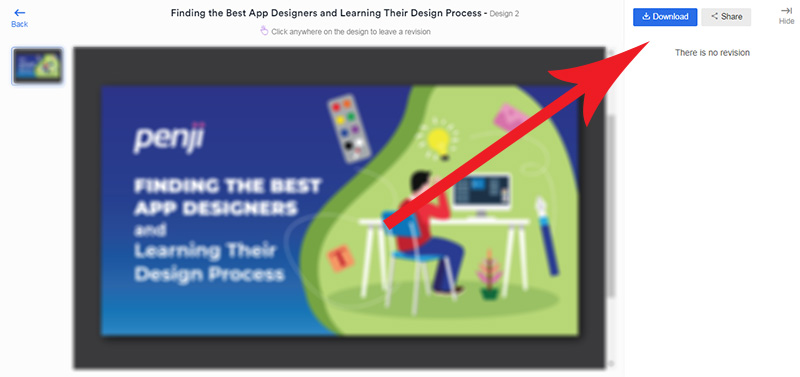 When the revisions are complete, you can now download your app design. Just click on the Download button, and that's it! You can now submit a request for your next project. Your designs are yours to keep and use however you want to. You get full ownership of them and are stored in our system. You can come back to them any time you wish to.
Final Thoughts
The steps listed here when you want to design an app are just the general rules. No two persons or companies do the work the same way. But if you want to take the easier way out, Penji can design that app for you.
With Penji, you get more than just app designs, but a myriad of other graphic designs as well. Our unlimited graphic design and revisions ensure you that you only get the best designs. Sign up here to submit your first app design request!