As more consumers shift their habits to mobile usage, businesses are also trying to keep up with this demand. And this is the reason why companies extend their online channels outside their company websites. These days, an app is vital to tap into your audience who are always on-the-go. And more often than not, recruiters hire an app designer in the freelance market as their first option. But this isn't enough, and we'll tell you why.
There is a surge of freelancers due to the hard-hit labor force from the ongoing pandemic. According to CNBC, the freelance market increased by 25 percent from April to June of 2020. GlobeNewswire estimates that the freelance market will continue to progress over the years until 2023. And with this industry opening its doors to more freelancers, it can be tough to find quality freelance app designers.
Looking for the right one with excellent skills is like searching for a needle in a haystack. Moreover, the whole hiring process can be time-consuming, as well. And this is why recruiters should seek the services of Penji.
Hire an app designer who walks the talk. Merely relying on a printed resume and a bunch of work samples won't cut it. Hire app designers who have proper training and years of experience. And this is how Penji takes the burden off your shoulders. Their stringent hiring process means they only hire the top two percent of app designers in the industry. This process alone weeds out the newbie freelancers dipping their toes in this niche.
In this article, we'll tell you why subscribing to Penji's app design service is a better option than a freelance app designer.
What App Design Entails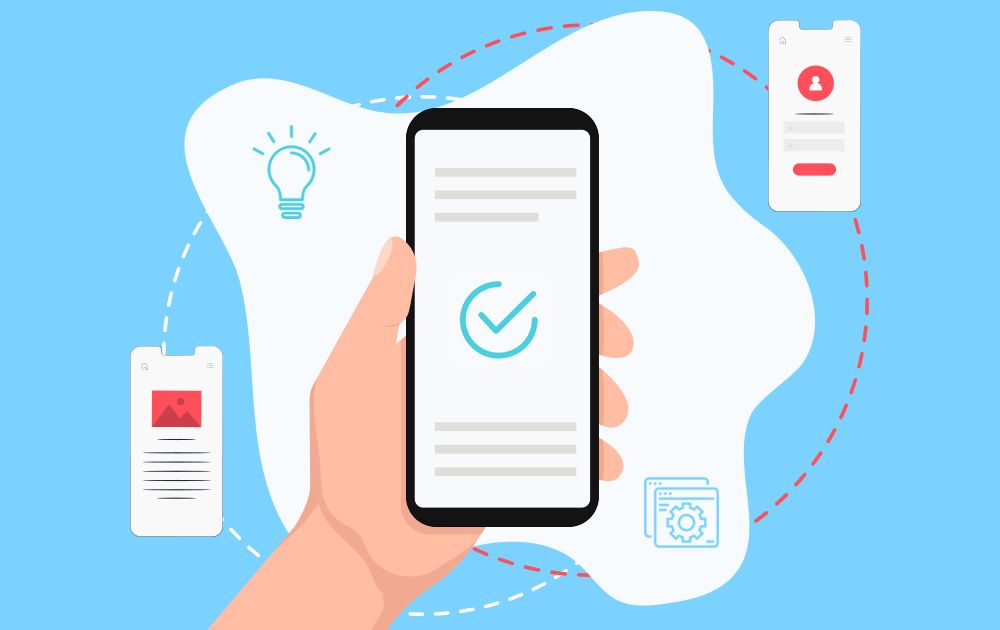 Designing an app is relatively different from other graphic design tasks. Simply put, a lot goes into app design that only the experts know. When you hire an app designer who doesn't follow these steps, objectives from the app are futile. It is, therefore, crucial that the designer adheres to what excellent app design entails. Here's a five-step guide:
1. App scope
The initial phase of app design is determining its scope. Know what the app's primary purpose is. Moreover, an app designer also identifies the scope of the app. Will it be a small or large project? What are the leading technologies that should be integrated? What should be the features the app offers?
To determine the scope of the app, app designers and entrepreneurs must discuss these factors:
Goals and objectives
Tasks, features, etc
Resources
Budget
Timeline
2. Market and user research
A skilled app designer knows how to conduct thorough and proper market and user research. Not researching before designing an app is similar to going to the battlefield unarmed. You won't know what kind of enemies you're dealing with and weapons you need to use to beat them.
Market and user research entails scrutinizing the existing apps in a particular industry. Plus, what features and technologies users enjoy from those apps. This way, the designer can create better and more functional apps that stand out from the competition.
3. UX wireframing
Wireframing pertains to breaking down the apps into different parts, such as the various windows, buttons, and processes. Designers may need to write each window or section of the app down on paper.
It has to cover every transition and interface. For instance, when a user clicks the registration button, the designer draws how the registration window will look like on the actual app.
PRO TIP: Simplicity is critical when designing wireframes. The less complicated it is, the better.
4. UI design
UX and UI shouldn't be used interchangeably. These are two various app design elements that translate into a functional, navigable, and user-friendly app design.
Once the designer is finished with wireframing the app's navigation, it's time for the interface. This is where it gets crucial, as this will represent your app's visuals. When you hire an app designer, knowing the right design elements will make or break your app.
In this step, take note of these:
Color palettes
Fonts
Font sizes
Concepts
Shapes
Buttons
Icons
Images
Illustrations
Animations
Forms
Last but not least is your branding. The designer should select elements that correspond with the current market while conveying your branding. The app should be an extension of your brand. Therefore, the right brand logos, colors, fonts, icons, images, etc. should be used to instill brand recognition.
5. App development and testing
To craft the most interactive and user-friendly app, designers must continuously test after app development. Testing and tweaking should be deployed over and over again until the app is free from errors.
Moreover, necessary tweaking also means you're launching a seamless app that will give users a good first impression. At the end of the final testing phase, the app is now ready to launch. Registration with the particular app stores might be necessary to showcase the app to audiences.
Hire an App Designer: Penji vs. Freelance App Designers
Hire an app designer that's truly worth their salt. If you think hiring a freelance app designer might seem like the fastest and cheapest option, you haven't heard what Penji offers yet.
With Penji's on-demand design service, subscribers can get unlimited app and graphic designs for a fixed monthly price. To put both types of app design services side by side, here is a run-through of the advantages and disadvantages:
Quality
In terms of quality, Penji's app designers go through a strict hiring process. They undergo a series of tests that gauge if their skills pass the company's standards or not. That being said, clients can rest assured that all designers assigned to their projects are vouched for their specialties.
On the other hand, freelance app designers can quickly join online marketplaces without administrators assessing their skills. Although their portfolio can speak for themselves, some freelancers might cherry-pick the best work samples they had.
Pricing
Penji's unique business model means clients will only pay a fixed monthly rate of either $499 or $899 a month. Both these plans come with unlimited graphics, website and app designs, illustrations, and infographics.
Hiring a freelance app designer, however, means you'll pay them per-project or per-hour. The per-project payment would depend on the complexity and scope of the app design. Meanwhile, UI and UX app designers in the U.S. are typically paid $50 to $150 per hour. If you do the math, that would mean you'll pay $1,500 for a six-hour workday weekly. If the chosen freelancer takes more time to design the app, that would mean $3,000 for two weeks and $6,000 for a month!
Overall, subscribing to Penji's service means you're saving a lot of money without compromising quality. Check out more of Penji's portfolio.
Specialties
Once you submit your first app design request at Penji, you will be assigned the best designer. This means Penji selects the most suitable designer with a specialty apt for your niche and project. And versatility is crucial, especially when brands have a variety of design requests for their corporate identity or marketing.
On the flip side, when you hire an app designer from freelance marketplaces, the designer may only have one specialty. Although, if you get lucky, you may find an extremely skilled designer. That is — if you get lucky.
Turnaround
Penji promises a turnaround time of 24 to 48 hours, depending on the complexity of the app design. Compared to other design services, nothing can come close to a fast turnaround than this.
Meanwhile, freelance app designers may take more than that. Most freelancers work in their own time and pace. This allows them to work when they're most creative. While this may be good for an excellent design outcome, it may not be advantageous to fast-paced businesses.
Simply put, if you want quality and fast app designs, Penji is your best bet that doesn't break the bank.
Communication
Subscribing to Penji saves you the hassle of communicating with the designer via a myriad of apps and platforms. Penji employs a bespoke platform that can do everything — from requesting designs, asking revisions, downloading to messaging, and giving feedback.
One disadvantage of hiring freelance app designers is that they tend to disappear without prior notice. Freelancers tend to stick to high-paying clients. So if they find a client who pays higher rates than you, some might not even finish your project. Moreover, communication is also a bit sketchy with freelancers as their time might be divided with a handful of clients.
Overall, Penji's customized platform paves the way for smooth and clear communication.
Requesting an App Design on Penji
Speaking of Penji's platform, we'll show you why our clients are satisfied with the design process from start to finish. Penji's app design process takes three steps. Here's how:
Create a project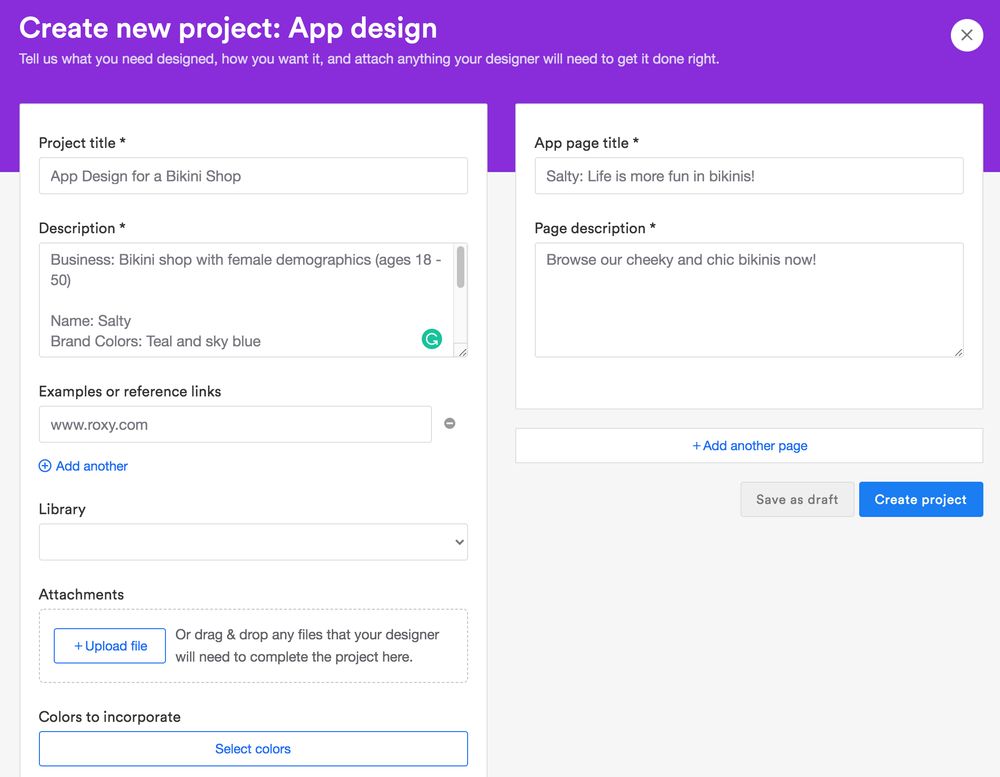 On the dashboard, choose the "Create new project" button. From the list of design types, select "App design."
You will be asked to fill out a form with all the necessary design details. Here is an example of a bikini store app request form.
Make sure to fill in all details to make for a clear design brief. You may also upload images and links for inspiration. Wait until you're assigned the best designer for the job.
Review and revise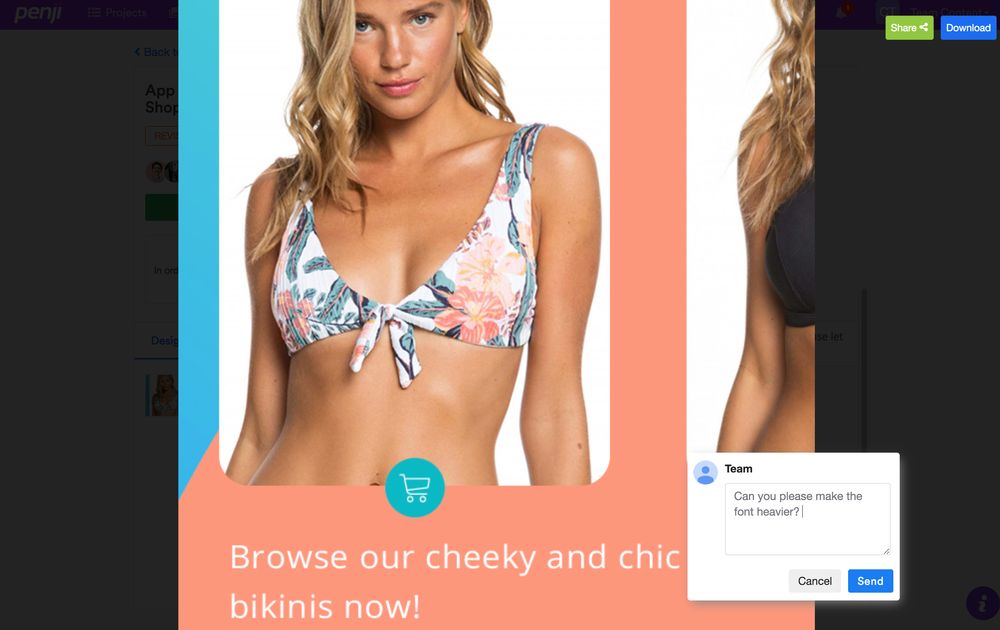 Wait for 24 to 48 hours for the first draft. If you want some design tweaks, no worries. Penji offers unlimited revisions with your plan.
Simply click on the design and type in the changes you want. This is a unique feature that you won't find elsewhere. Additionally, you may also use the platform as your primary messaging app.
Clients can consider Penji's platform as an all-in-one tool that ensures seamless communication and design process.
Download source file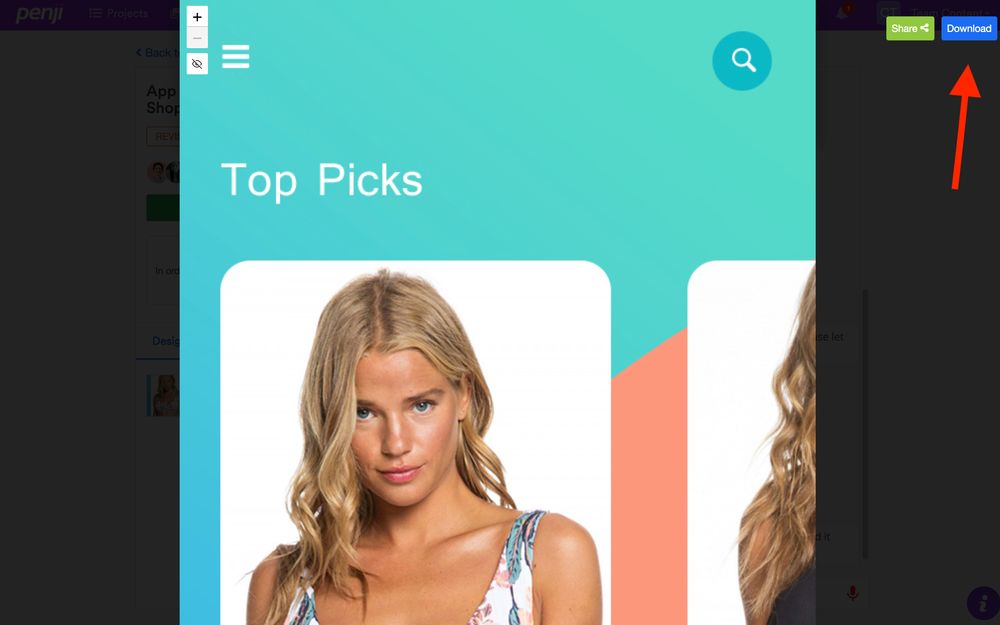 The final step after all revisions are done is to download the source file. Once again, you don't have to toggle between email apps for this. Simply click on the "View Design" button, and when you're happy with the design, click on "Download."
It will then be automatically saved to your computer. Plus, all designs can be categorized into various folders according to type to monitor your inventory quickly.
Sign Up to Penji
Hire an app designer who doesn't take too much of your time and gives you value for your money. Penji is the best option for app design as it offers quality, efficiency, and affordability.
Plus, Penji can let you try a 15-day money-back guarantee, so you don't have to commit right then and there. Sign up here and experience hassle-free app design.