The use of illustrations has boomed over the past few years. As an emerging trend, businesses are following the likes of MailChimp, Slack, and Uber who have custom illustrations as part of branding. In turn, accessibility to illustrations online has become much easier, allowing many businesses to use them for branding and marketing purposes. But custom illustrations could yield more impact than stock ones. So, you need a reliable designer or design service like Penji to produce those for you.
In this article, learn why custom illustrations are integral for both branding and marketing.
Building Your Identity
If you have custom illustrations, you will have distinct graphics unique only to your brand. That's why you need not only to stand out but connect with your audience.
Plus, since illustrations are part of your branding, it would be a waste if you use it in only one channel or purpose. After all, you want to connect with your audience through illustrations and brand story. Venngage found that bespoke illustrations performed better than other types of visuals. By integrating your illustrations everywhere, not only will you establish your identity, but you can also get recognized everywhere. It then becomes a win for your brand.
Telling Your Brand Story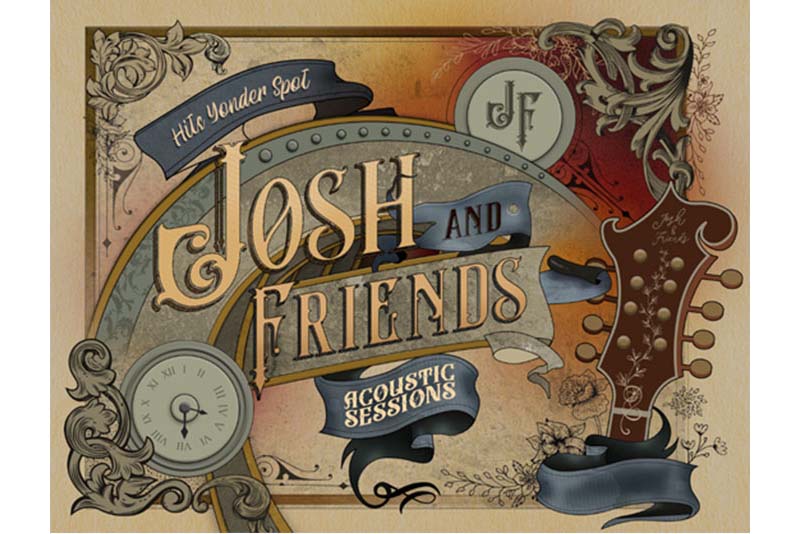 As of June 2019, there are 4.4 billion internet users, according to Internet World Stats. A study by the World Economic Forum said that the amount of data in the world is estimated to be at 44 zettabytes when 2020 started. That's how infinitesimal your business will be if you make little effort in differentiating yourself from the crowd.
With that much content bombarding us every day, businesses are thinking of ways to fight for customer attention. And as Forbes declares brand storytelling as necessary, it asserts that companies should be unforgettable in a sea of sameness.
Aside from that, you can simplify processes that others might not understand through text when you're telling a story through illustrations. You can visualize certain concepts and make them more enticing for the audience, which could hook them to take action.
Stories Through Custom Illustration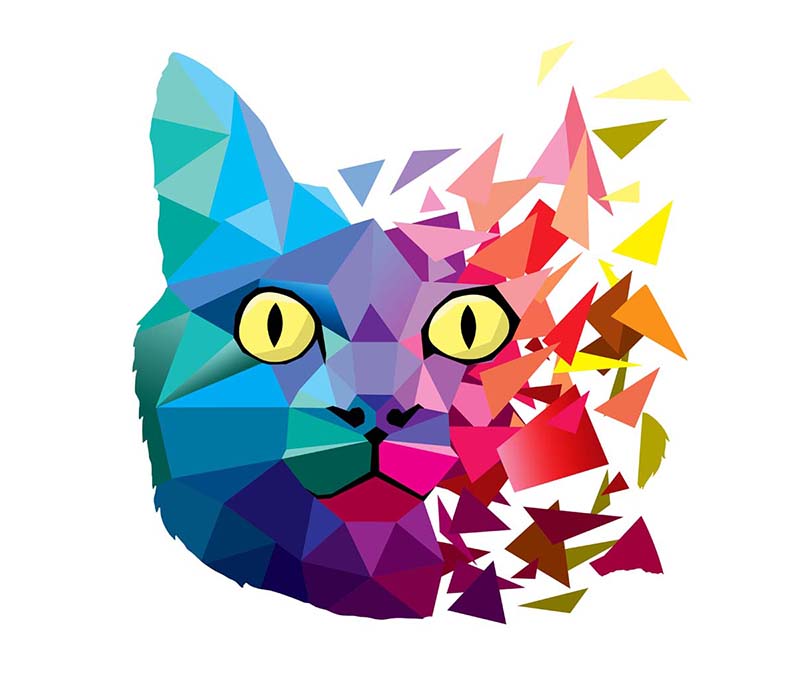 Telling your brand story can become more effective through the use of custom illustrations. We all grew up reading children's books that are filled with beautiful illustrations. There's a reason for that. We humans, are visual creatures and can process images 60,000 times better than text.
This is more than enough proof that telling your brand story correlates well with custom illustrations. People will respond better to your marketing and web visuals if you include illustrations created specifically for your brand. A part of you may be saying that's what stock graphics are for. It's not, here are the reasons why:
Difference Between Custom Illustrations and Stock Graphics
Stock graphics are there for a reason and purpose. It can help you have images that are quick, easy, and inexpensive. While you can get some of them free of charge, you will mostly need to get a license to use them.
They are easily accessible to anyone on the internet, which means any business owner can use them as well. If standing out from the crowd is your objective, stock graphics won't help you do that. Sharing the same stock graphics with your competition is an undesirable concept.
On the other hand, custom illustrations can give you the upper hand. Custom illustrations are a more interpretative form of imagery. They are specially created for your brand with your specifications. This is what makes them unique when images are made distinctively for you and no one else.
Here are a few examples of Penji's custom illustrations showing how exclusive custom illustrations are: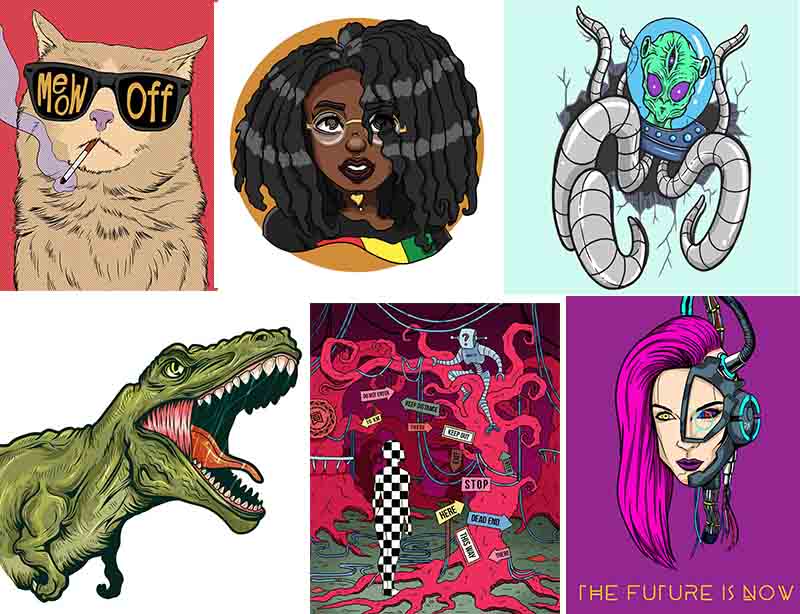 Amazing Web Visuals with Custom Illustrations
A Nielsen Group study shows that majority of people decide if they want to stay on your website within the first 10-20 seconds of viewing. So once they land on your site, give them something beautiful and exciting to look at. Not stock images that they have already seen somewhere else.
Let's look at a few brands that use custom illustrations on their website and see how varied their uses are:
Atomic DNA Manifesto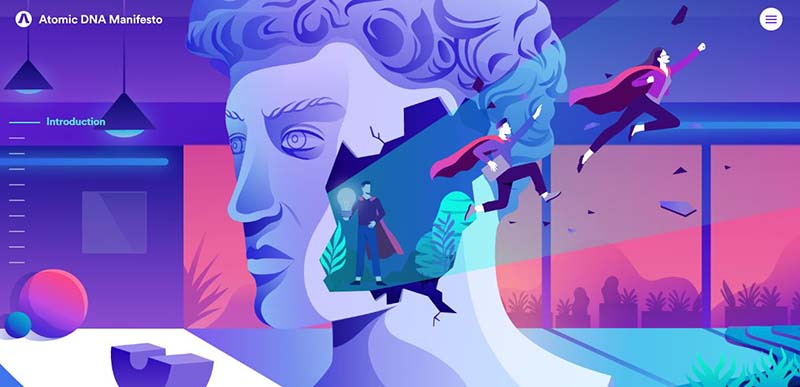 Combining mystery and innovation in this semi-monochromatic custom illustration, Atomic DND Manifesto's website is stunning. It is a mix of flat images and flawless gradients that looks great with its animation. The site is filled with these custom illustrations, scrolling and navigating around is engaging and enjoyable.
A Map of Myth, Legend & Folklore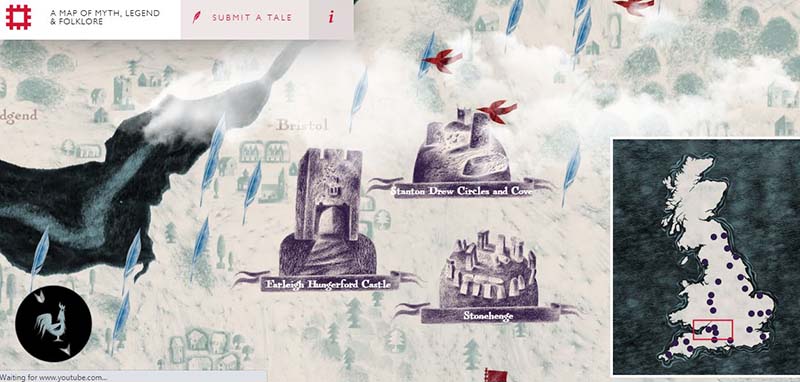 The English heritage website, A Map of Myth, Legend & Folklore, uses custom illustrations in lieu of Google maps. The website shows historic sites within England and along with animated clouds, seas, and birds. The illustrations add to the enigma surrounding the history of the country as well as making its study more engrossing.
Inside Intercom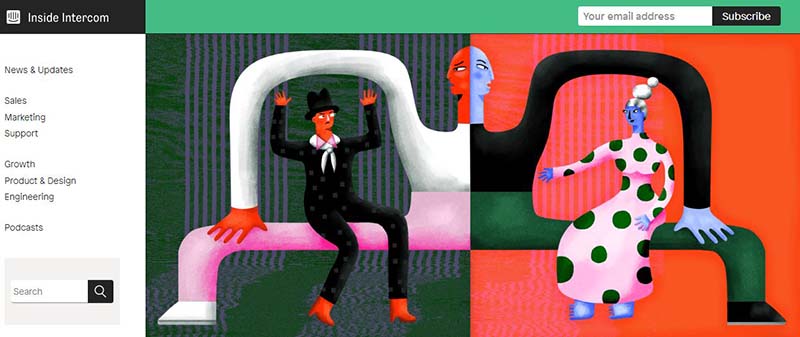 Throughout the website and even their blogs, Inside Intercom uses semi-abstract figurative illustrations. They are strikingly appealing with its vibrant and contrasting colors. These images are good at creating recall for the brand, help express the company's opinions, and make the website more stimulating.
Casper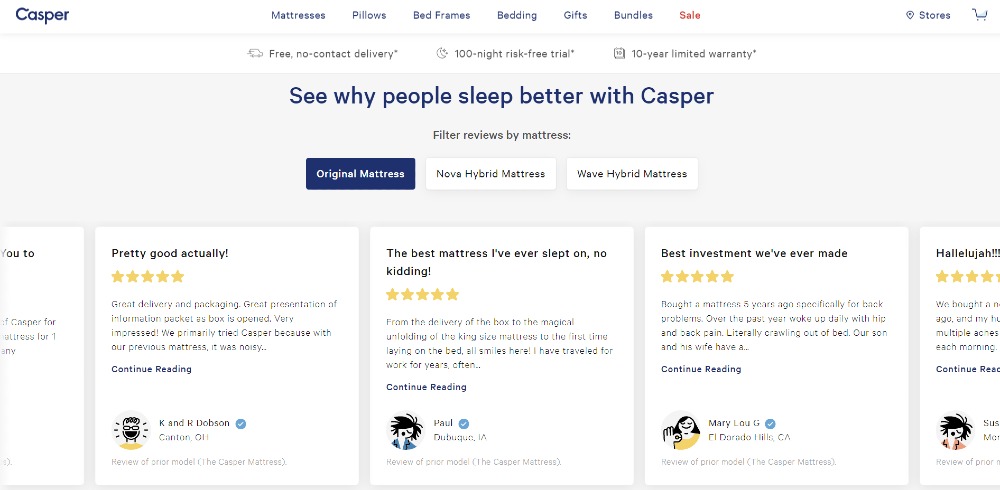 Typically, illustrations are on landing pages, web pages, or blog cover images. But Casper uses illustrations on another part of their website, their reviews. It's rare to see them, but Casper makes it work. Most websites would use only the reviewer's name and what they have to say about the products. It gives the reviewers a sense of personality and sees how Casper has affected their lives.
Oscar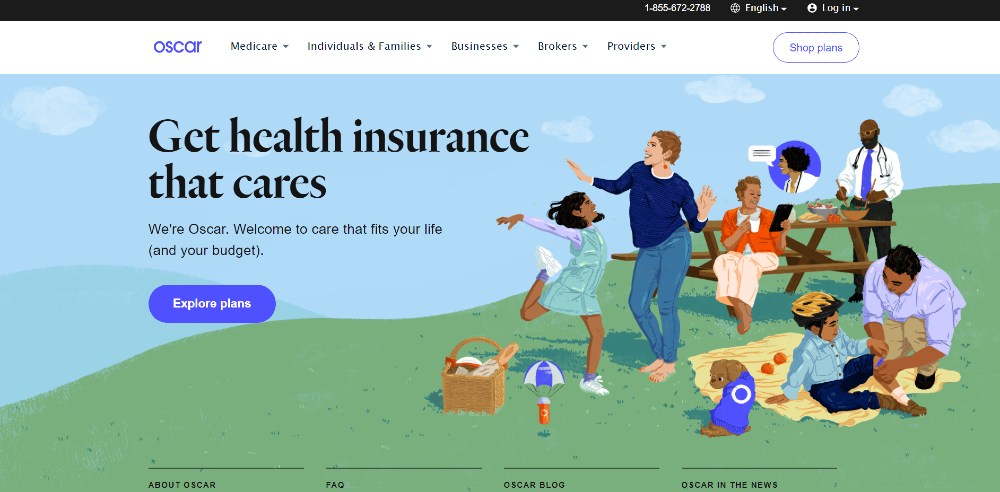 If you want to attract your target audience to use your product or service, custom illustrations like this one from Oscar could do just the trick. And by using somewhat realistic illustrations, you can connect with your target market. Plus, they also posted relevant illustrations to show how their products work. This will help the target audience know what to expect by subscribing to their plans or using their app.
MailChimp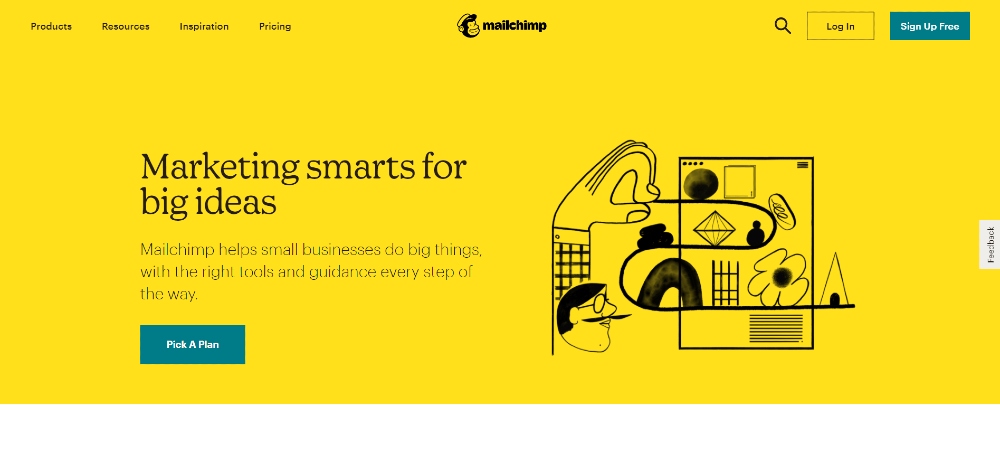 Sometimes, custom illustrations don't have to explain processes or represent the audience or company. If you want to stand out from competitors, you might have to think outside of the box like MailChimp. Apart from posting illustrations that may divert from the content or text, they have a distinctive style that will get them recognized anywhere.
Effective Marketing with Custom Illustrations
We've seen from the examples above how custom illustrations can do wonders for your web visuals. Let's now take a look at how it can do the same for your marketing strategies.
Ford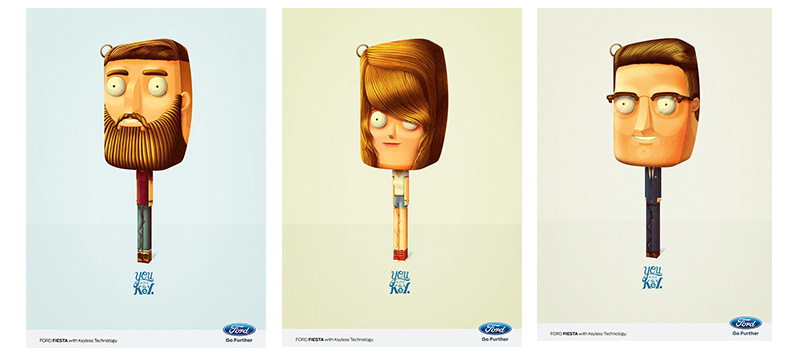 Custom illustrations were commissioned for Ford Greece's Ford Fiesta with Keyless technology. The illustrations are of people shaped like keys. It shows how you are the key as long as you have the actual keys anywhere on your body. The images are eye-catching, and you instantly have an idea of what the brand wants to convey.
KitchenAid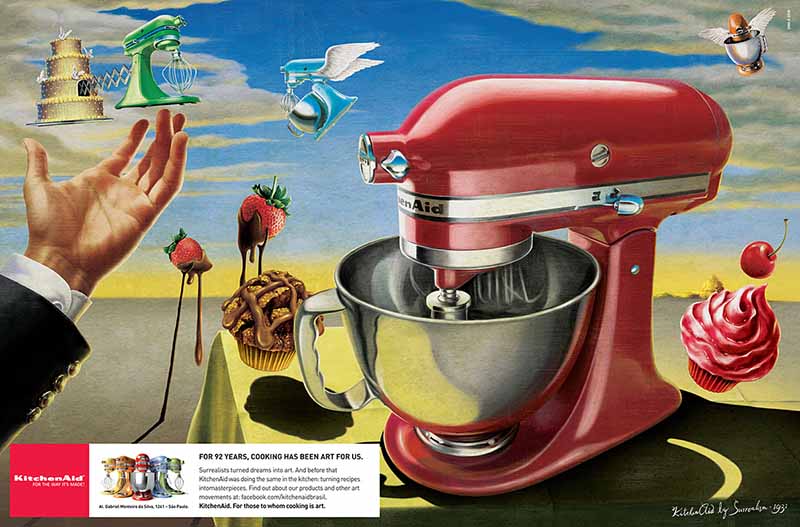 To show how long they've been in the business, KitchenAid commissioned different artists to create custom illustrations for their ad campaign. The idea is to create an artwork inspired by artists whose works represent their periods. The example above was inspired by the works of iconic painter Salvador Dali.
Ministério Público do Trabalho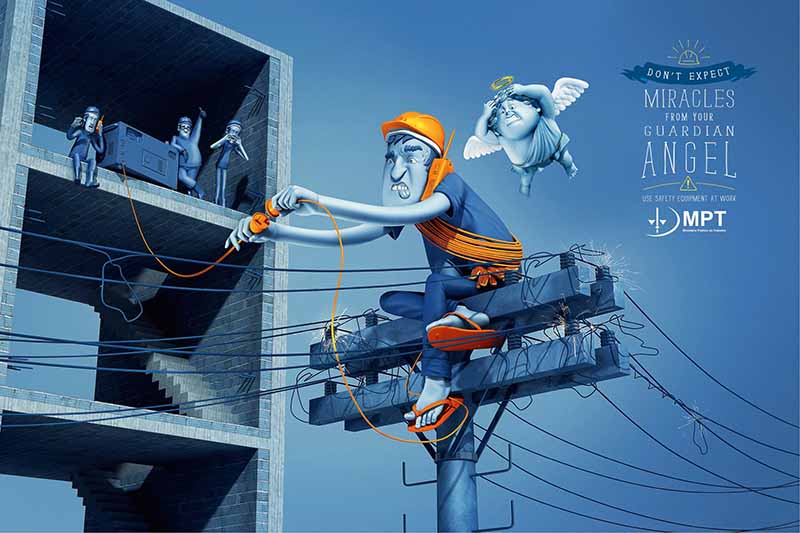 Brazil's Ministério Público do Trabalho (Public Ministry of Labor) uses custom illustrations to show what stock graphics can't. The campaign wants to relay the importance of having a "guardian angel" at work—using safety equipment. The custom illustrations perfectly convey the website's message more than any other media can.
Bear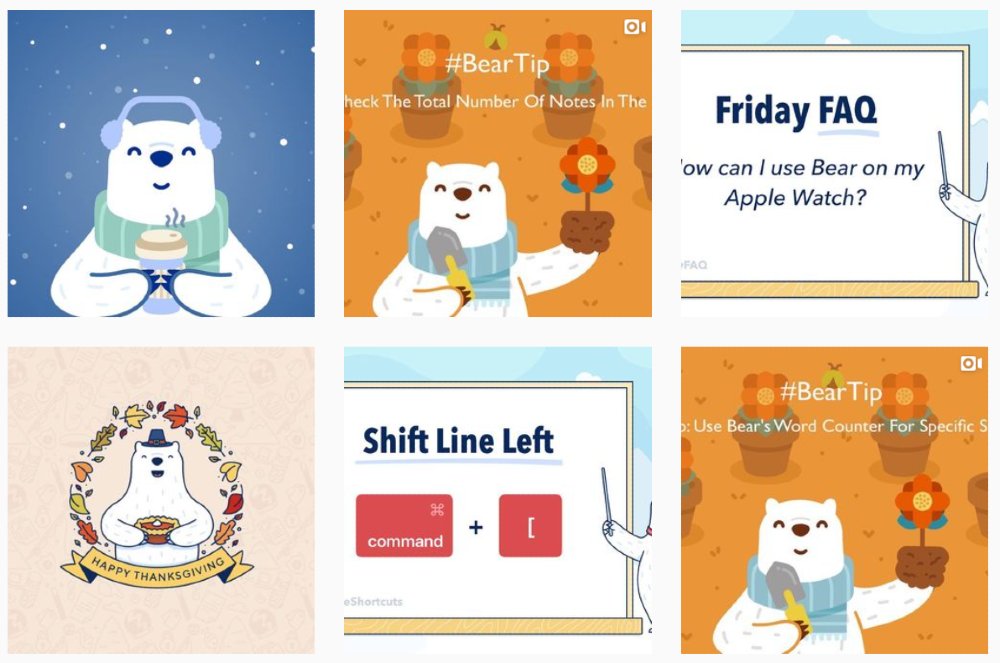 Many companies use illustrations for branding purposes. This one from Bear uses their white bear mascot in most of their social media posts and blog image covers. They demonstrate the white bear teaching users some shortcuts and techniques as they use the app. Sometimes, the white bear is even celebrating a specific holiday.
Moonworkers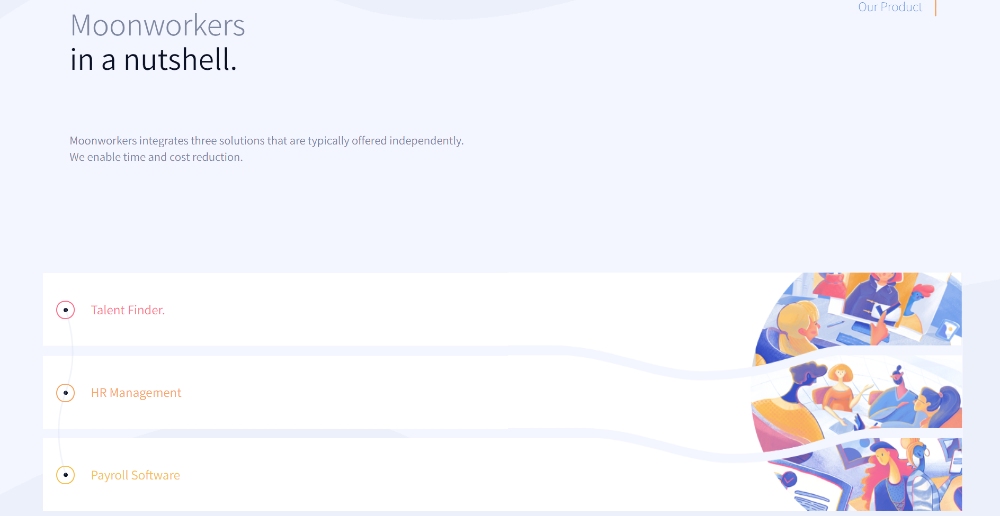 Tubik Studio produced custom illustrations for Moonworkers, an app for those who work in the movie industry. According to Tubik Studio, Moonworkers wanted illustrations to demonstrate how the products work. And they even wanted references from old movies too. This will help make them stand out from other HR and talent software. Plus, it might even establish a connection to their target audience.
Penji's Custom Illustrations
The examples above show the many different ways custom illustrations can level up your web visuals and marketing strategies. They can speak to your customers in so many ways that stock graphics or photography can't. They can provide interest that grabs attention to help you stand loud and proud among your competitors.
But the question is, are custom illustrations affordable and accessible? With Penji, they are. With our flat monthly rates, you can submit all the custom illustration requests as you want.
Our Team and Agency plans both allow you to have custom illustrations and other graphic design assets for a monthly subscription price of $499 and $899 per month. Other graphic design services will ask you to subscribe to a custom illustration plan, which means you have to pay more.
Penji has made requesting designs and custom illustrations easy with these simple steps:
Step 1 Create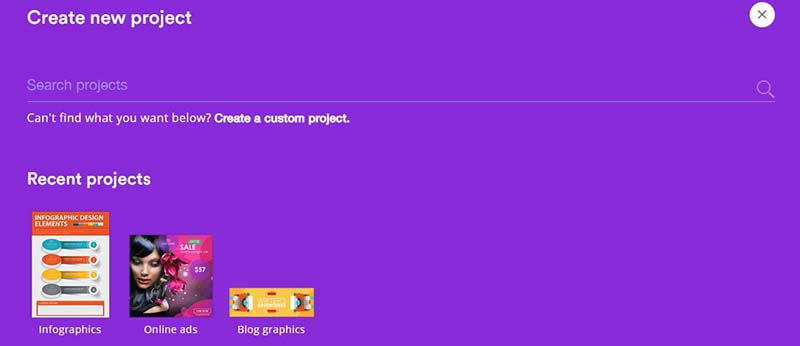 On the Penji dashboard, click on "Create a new project" to start the design process. You'll be taken to a form that you need to fill out to tell your designer what you want. You'll be asked to choose what type of project you need, or you can choose from the options listed on the dashboard.
Next, you'll then be asked to input details such as the file type you need for the design, the size, colors, and others. You can upload any attachments or links to websites to use as references.
Step 2 Connect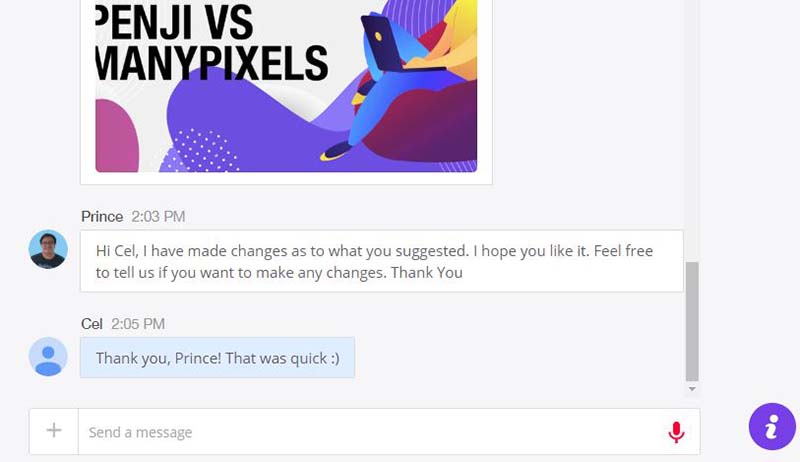 After clicking on the "Create project" button, your request will be assigned to the best graphic designer for the job. Our designers are vetted to be on the top 2% in the industry, so you know you're in good hands. This is another advantage of working with Penji, you won't have to deal with searching for the ideal designer or going through the recruitment process.
The dashboard is also where you can communicate with your assigned graphic designer. They may contact you for any questions they may have or if you want to add more instructions to your project.
Additionally, you'll receive notifications on your email about the progress of the project. This is to make sure that you won't miss it when a project is finished.
Step 3 Revise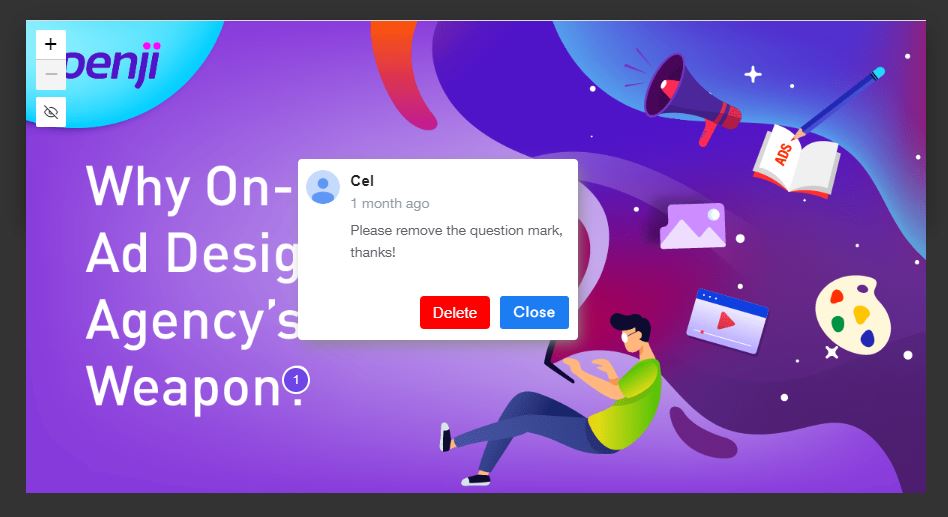 Once the project is ready, typically in a 24 to 48 hour turnaround time, you can request for revisions, if any. Not only do we offer unlimited graphic design, but the revisions are also unlimited. This means you can ask for as many revisions as you want. Our designers won't stop until you get the design you'll be satisfied with.
You can mark the revisions exactly where you want it to on the design. It's like pointing the revision directly to your designer. After the changes are made, and you're happy with the design, you can mark it as complete. You can also leave feedback for your designer and let them know how your experience went.
Step 4 Download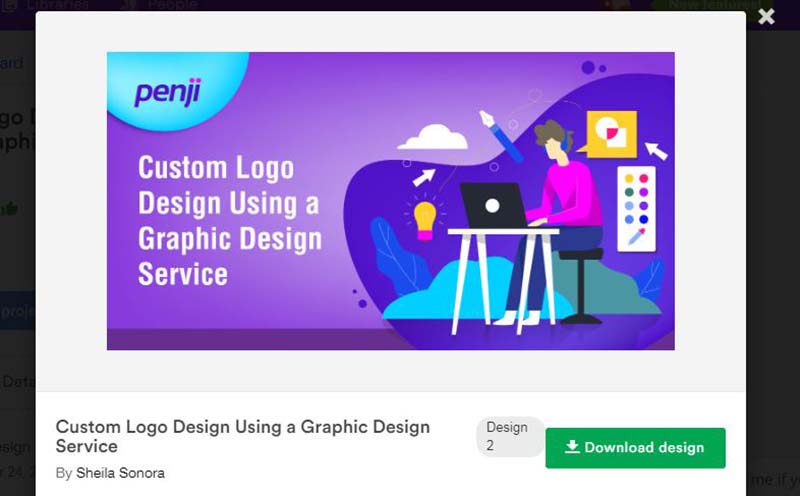 You can now download your design and use them whenever, wherever. You retain the full ownership of the design so you can use it any way you like. Plus, you don't have to ask for a license or permission the way you would with stock graphics.
After downloading your project, you can now submit a request for your next design.
Final Thoughts
There's no doubt that custom illustrations do so much to make your website and marketing materials as amazing as it can be. And with Penji, you can have all the custom illustrations you want and need without spending too much. With this idea, you won't have to resort to using stock photos or illustrations that can look the same as everyone else's. Schedule a demo today.
That's why you should consider subscribing to Penji. You will receive designs unique to your brand. Not only can you request custom illustrations, but you can also submit design project requests for website and app designs, infographics, marketing, and branding visuals, and so much more! That's all covered in Penji's Team plan for only $499/mo. Sign up today, and try the platform risk-free for 15 days!