Managing an agency is a challenging task. Scaling it is another topic altogether. Why are these two the most demanding for agency owners? It's because of the growing number of rivals and competitions that they have to contend with.
To achieve long-term success, agencies need to do more than just provide excellent services. They have to focus on increasing their profitability and scalability. For you to do this without sacrificing your sanity, you need all the help you can get. Penji is an on-demand graphic design company that can make your agency life easier. We'll show you how later in this article.
What is an Agency Management Software?
Agency management software can be the link that's missing in your marketing team. Also known as AMS, agency management software is a type of SaaS or Software as a Service technology. It is specifically created to help agencies organize their businesses and run their operations more effectively.
It provides an all-in-one solution to help agencies manage every aspect of their business. From tracking your agency's progress to generating reports, an agency management software offers seamless scalability. But with the many project management software available in the market, how do you choose?
A Grand View Research report shows that in 2019, the global digital marketing software market size was valued at $43.8 billion. It is expected to register a growth rate of up to 17.4% from 2020 to 2027. With this data, we're sure to see more and more companies designing agency management software that will make choosing more challenging.
What to Look For in an Agency Management Software
When choosing the right agency management software for your agency, here are the key features you should be looking out for:
Industry-Specific
It would be best if you went for an agency management software designed with your industry in mind. This will ensure that all its features will be beneficial to your business.
Workflow Automation
Tasks such as email management or those that you do daily can be fully automated. Choose an agency management software that has these features to take them off your shoulders.
Cloud-Based Access
Get your business book data anywhere with a software that allows you cloud-based access. This will also help the team get information anytime, anywhere.
Related Post: Top 10 Free Cloud Based Database Software
Dashboard Analytics
A software that gives you real-time analytics help you see problems before they even happen. This will also let you see your business progress and scalability.
Custom Reporting
This feature allows you to see where your business is going and its overall trend. Having this data can help you make more informed decisions.
The Top Agency Management Software
Agency management software comes in all shapes and sizes. To know which one will suit yours, here are the top agency management software types:
Business Process Management
Productive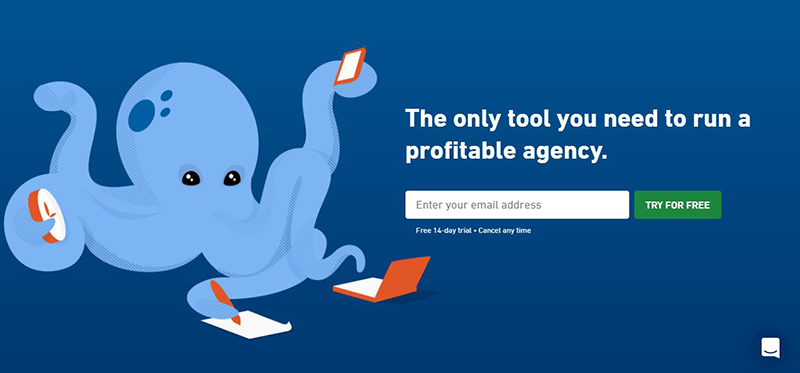 To handle all your business processes efficiently, there is Productive. It has features that can help you with spreadsheets, sales pipelines, resource planning, and communication, among others. It also has invoicing and billing management features as well as a built-in time-tracker.
They have three plans—Standard, Premium, and Enterprise. Pricing starts at $15, but a yearly payment will get you as much as 17% in discount, which is $12.50.
Hygger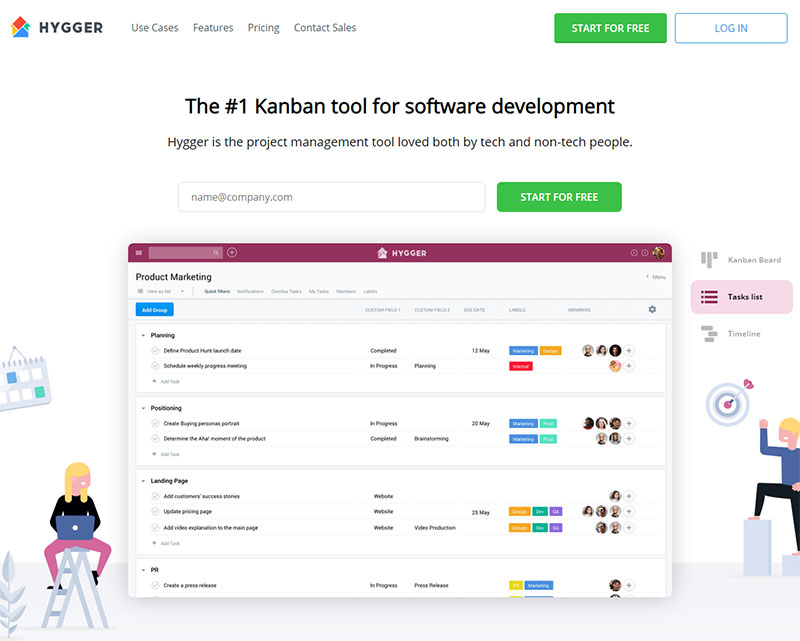 If you manage a team from across the globe, Hygger is for you. It allows agencies to set goals and priorities, create plans, divide projects into individual tasks, and many others. The software also has features that will enable progress measurement and monitoring. It lets you develop roadmaps to help each member see the steps and procedures to take to achieve the agency goals.
Hygger has a free version, but if you want to upgrade, they have the Standard and Enterprise plans, which cost $7 and $14 per month. You save up to 20% when you pay the fee yearly.
Creative Management
Penji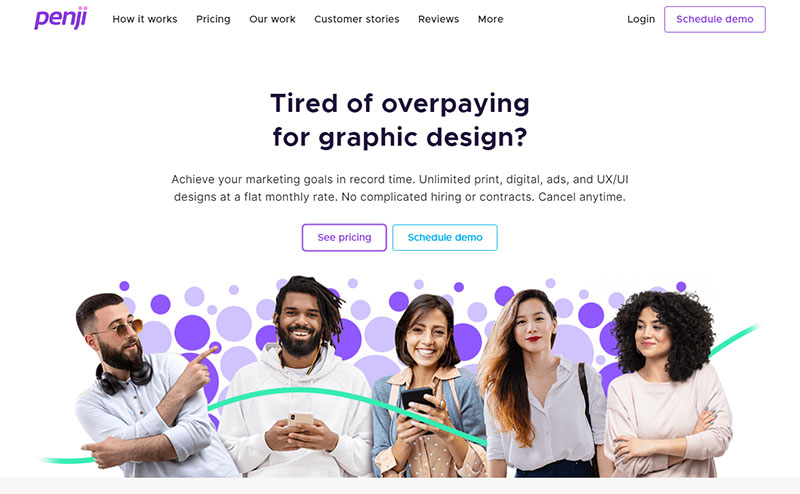 As mentioned above, Penji is the agency management software for agencies, marketing teams, and individuals. It offers unlimited graphic design for a flat, monthly rate. You can send as many design requests as you can and get endless requests for revisions. We won't stop until we provide you with designs that you'll be happy with.
Agencies love working with us as we take the small tasks from their plates and let them focus on strategizing. Marketers, bloggers, and startups take advantage of our services as they don't have to use stock graphics. We create graphic design that's unique and helps them with differentiation.
Penji has three plans available, depending on the company's design needs. The Pro, Team, and Agency plans cost $399, $499, and $899 per month. We have discounts for quarterly and yearly payments, which can get you up to 15% off the regular price.
Our plans are backed by a 15-day, 100% money-back guarantee. We also don't require you to get in any contract. This means you can cancel your subscription any time you no longer need our services. Sign up today to get amazing graphic designs from Penji.
Related Post: Everything You Need to Know Before Outsourcing Graphic Design
Team Communication and Collaboration
Slack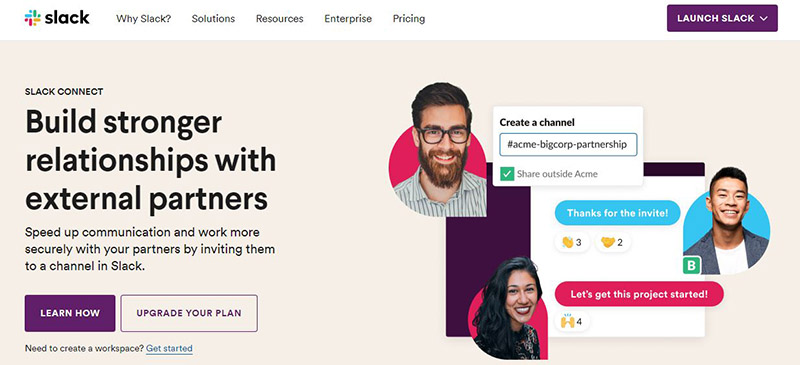 For your team's communication and collaboration needs, Slack is the software to beat. This is one of the most popular agency tools that even us at Penji use. It has features that agencies will love as it efficiently organizes conversations with both team members and clients. File sharing, integration, and audio and video calls are made simple with this powerful agency management software.
Slack has three plans which are Standard, Plus, and Enterprise Grid. Price starts at $6.67 per month. While other companies charge you based on the number of users, Slack only bills you for what you use.
Scoro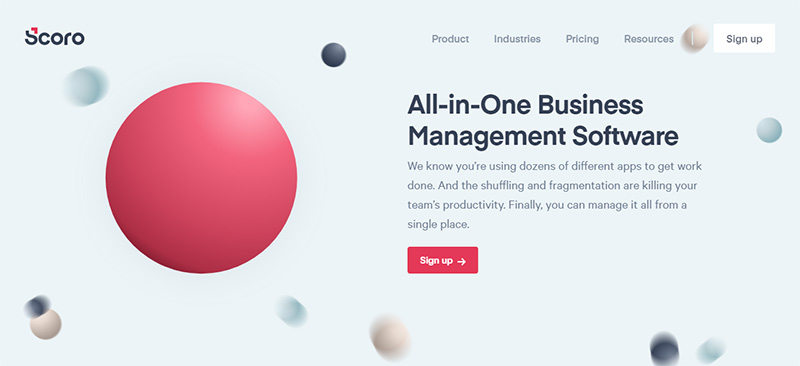 A collaboration software, Scoro, also has superb process management features. It helps agencies manage their teams, projects, clients, sales, and reports. It is a cloud-based software that is ideal for marketing, advertising, and consultancy services. Moreover, it has a central control hub wherein you track and schedule workflows, create invoices, follow your agency's performance, and so much more.
Scoro has four plans you can choose from. These are Essential, Work Hub, Sales Hub, and Ultimate. Their price starts at $28 per month, but they give a discount for annual payments.
Workflow Management
Monday

An industry leader in project management, Monday is suitable for those who have off-site teams doing remote work. The software has tools such as KanBan boards, workflow automation, and Gantt charts, to name a few. It is affordable, user-friendly, and integrates seamlessly with third-party apps. It has a dashboard that's highly customizable to make workflows easily manageable.
Monday has a free trial, but you can also choose to get one of their four plans—Basic, Standard, Pro, and Enterprise. Price starts at $8 per month but will be discounted when paid per year.
Mavenlink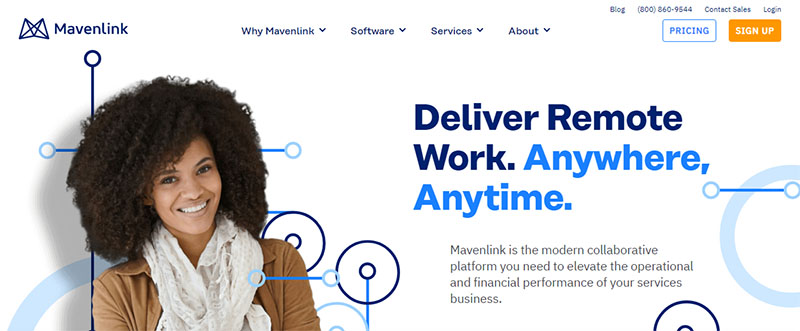 If integrations are your top priority, Mavenlink is a solid choice. It has tools for project management, resource planning, team collaboration, and project accounting. It allows for integrations with Quickbooks, Netsuite, Salesforce, Xero, Jira, G Suite, Expensify, Microsoft, Slack, Hubspot, Concur, and many others.
Mavenlink has four pricing tiers. These are Teams, Professional, Premier, and Enterprise, with prices starting at $19. They don't disclose their top tier pricing, so you need to contact their sales team to know more.
Time Tracking
Hubstaff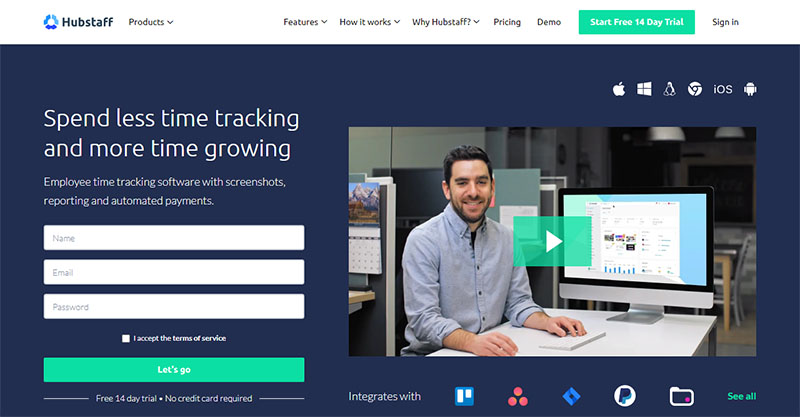 When it comes to tracking the time spent on each project, Hubstaff is the agency management software to get. It also helps with monitoring your company's productivity, payroll tracking, invoicing, and geofencing. It lets you track time with screenshots, reports, schedules, and attendance.
Hubstaff has a free plan and three paid plans. These are Basic, Premium, and Enterprise, which cost $7, $10, and $20 per month. They offer a two months free trial.
10,000ft by Smartsheet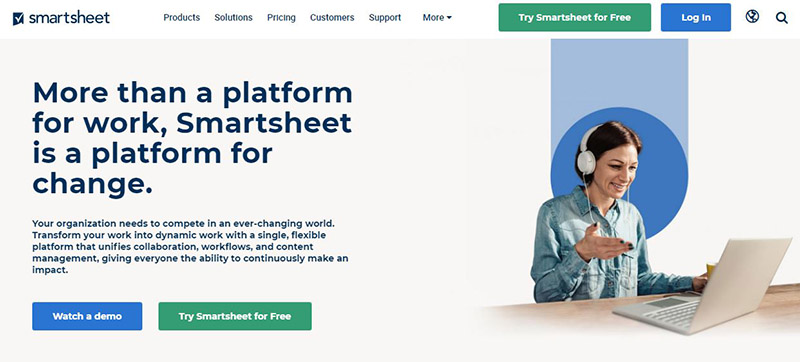 A project and resource management software, 10,000ft is the best choice for mobile time tracking. Not only does this software help agencies with time tracking, but it also has capabilities in forecasting hiring needs and resolving staff conflicts. It helps with project planning, budget forecasting, and expense tracking, all done in real-time.
You can try Smartsheet for free, but they have The Standard and Enterprise plans if you want better features. The plans have two pricing tiers each, with the Standard having the Individual and Business tiers at $14 and $25 fees per month. The Enterprise tiers have the Enterprise and Premier tiers, which you have to contact them to know the prices.
Progress Tracking
Agency Analytics

Designed especially for agencies, Agency Analytics has excellent tools for tracking the progress of your company. It helps you monitor SEO, social media, email, reviews, and PPC. Used by agencies worldwide, Agency Analytics helps with the monitoring of your clients' marketing campaigns. The software can also generate reports, so you no longer need to create spreadsheets.
Agency Analytics is available in three pricing tiers. They are the Freelancer, Agency, and Enterprise plans, which cost $49, $149, and $399 per month. You can save up to 20% when you pay annually.
ProWorkflow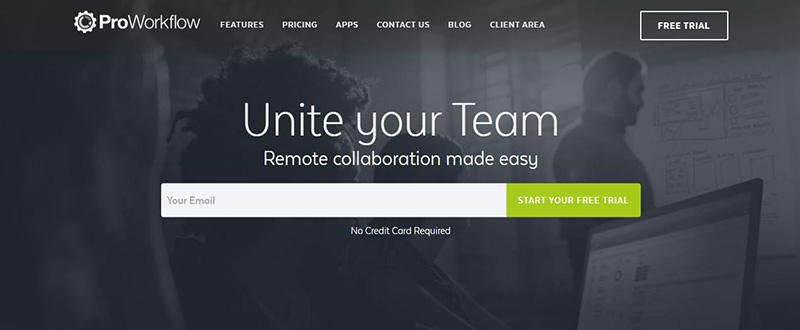 Created as a project management software, ProWorkflow also has features that help agencies with their analytics and reporting needs. With this software, you can quickly generate reports on resources, time, and statistics for your active, completed, and upcoming projects. It gives you detailed information on your agency's workload and performance, as well as time, tasks, and financial data.
You can choose from their three plans: Professional, Advanced, and Enterprise. The first two plans cost $20 and $30 per month, while you need to contact them for the Enterprise plan.
Agency Scaling
Wrike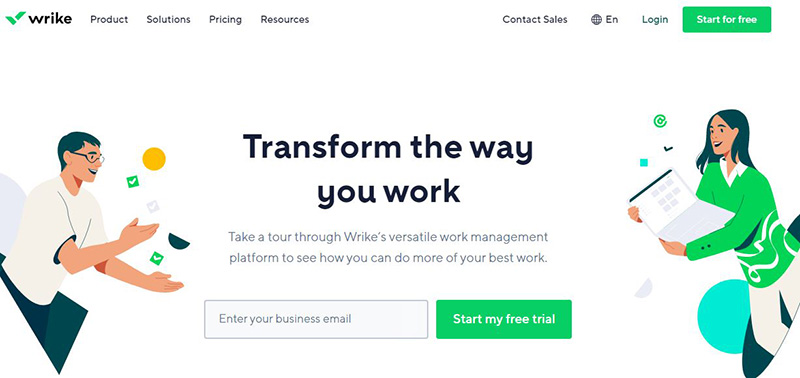 An award-winning project management software, Wrike is the best software to use if scaling your organization is your primary goal. It allows you access to advanced performance insights across a variety of marketing platforms. Wrike lets you assess resource management and allocation, track time, and visualize your campaign deliverables. It has over 400 built-in integrations, which include Google, Dropbox, Microsoft, and Adobe, among many others.
Wrike has Free, Professional, Business, and Enterprise plans. Price starts at $9.80, with all plans having free trials.
GrowthBar
If you're looking for an agency management software for SEO and market research capabilities, GrowthBar is it. A simple Chrome extension, this software allows you access to crucial data about any website. This helps in determining the proper growth channels and the relevant keywords for them. It is an excellent resource for keyword suggestions, Google ads, backlinks, and even your competitors' social media ads.
You can add GrowthBar as a Chrome extension and use it for free for five days. After this, you'll have to shell out $29 per month to enjoy the insightful data this software has to offer.
Related Post: Improve Your Graphic Design and Marketing In 10 Easy Steps
Factors to Consider When Choosing the Best Agency Management Software
Almost all of the agency management software listed above offer free trials. Take advantage of this to give you a good idea of which one to get. But as a guide, here are some factors you need to consider when choosing the best for your agency:
User Interface
Time is of the essence when managing an agency. You'd want a management software that won't waste your time figuring out how to navigate through it. The user-interface must be user-friendly for you and all your team members.
Features and Functionality
Depending on your company's specific needs, you have to check whether a software's features will give you advantages. All the bells and whistles won't cut it if your agency has no use for them.
Usability
Is the software easy to learn? Is the learning curve short? Check if the company offers tutorials or training to ensure that you'll get your money's worth. Also, check if they provide support should a time come that you meet a snag.
Final Thoughts
Agency owners have their hands full with strategizing, leads generation, and time tracking. The list doesn't end there. If you want to do all these and still aim to grow your business, an agency management software is the key. This list will help you trim down from the myriad of choices that you'll see before you.
With our extensive experience working with agencies, Penji understands that you need more to scale your team. That's why our on-demand service is ideal for agencies and marketers. Watch our demo video to learn how we can help you.