There are approximately 30.7 million small businesses in the US as of 2019, according to the U.S. Small Business Administration. And as per the data gathered by the U.S. Bureau of Labor Statistics, around 20% of these small businesses fail within the first year. Now that's a scary prospect for people who are about to start with theirs.
This is why an effective marketing strategy is imperative for small businesses. Consumers are made aware of your brand, which leads to growth and success. And the heart of these marketing strategies is the marketing materials. What are they?
Let's dive into what marketing materials for small businesses are and how Penji, an on-demand graphic design service, can help.
What are Marketing Materials?
Entrepreneur.com defines marketing materials as "the printed pieces, such as brochures, letterheads, and business cards, you'll use to market your business." These are the items that businesses use to convey their message to prospects and customers. Well-crafted marketing materials are your business' way to make it known to consumers who you are and what you can do for them.
Marketing materials aren't limited to the ones mentioned above. These can also include billboards, banners, catalogs, signs, posters, t-shirts, and many others. Even product inserts, presentation folders, annual reports, and technical bulletins can be considered marketing materials.
Why You Don't Need EVERY Marketing Material
For small business owners, the sheer number of marketing materials can be overwhelming. How can a small business get all those with only limited resources and minimal budget? A billboard for a small business with only a hundred employees, really?
Fortunately, you don't have to have all these marketing materials. When you look closely at your company objectives and target audience, you'll quickly grasp what you need and what you don't. These factors can be a useful guide as to what to use. If your buyer persona is someone who works from home, that vehicle wrap may not be exactly what you need, and so on.
Create smart, effective campaigns efficiently

Meet your conversion goals using visuals that stand out

I need this!
Printed Marketing Materials Still Matter
In this age of advanced technology, everything and everyone is going digital. Some entrepreneurs may think that printed marketing materials are a thing of the past. But they couldn't be more wrong. AllBusiness.com tells us that 56% of consumers trust print marketing more than any other method of advertising.
This is more than enough reason to include printed materials in your marketing endeavors. Plus all these other, yet essential, reasons:
Gets You Closer to Your Customers
With social media, you can target your exact audience using analytics tools that printed marketing materials lack. But what happens when they turn off their devices? You'll be out of sight and, as they say, out of sight, out of mind. Not to mention all the other distractions that there is when you're online.
When you have a printed catalog, your prospect can have a quick look at your offerings. Even when offline, they have something tangible from you that stays with them. Your information is close by and can be referred to any time they wish.
They Get Passed Around
Think of printed materials as good referral paraphernalia. When you hand a flyer to a prospect, the chances are high that they'll pass it around. This is especially true if they like what's in it, and they want others to benefit from it.
Your business card is another great example of this. While all your data can be found on your website or social media platforms, a business card can give your info as quickly. It "lives" in your prospect's pockets and can be handy when they suddenly have a need for your services or products.
Adds a Human Touch
Since most companies today have gone online, the human touch has become a rarity in doing business. The interactions between companies and consumers have been relegated to emails and chats. This is why connecting with your customers at a more personal level is so important.
And with that, printed marketing materials can help your small business. That business postcard you sent can express your human side more than your Instagram posts can. People will notice your brand more, especially when you add great design to them.
The Marketing Materials that Your Small Business Needs
If you're still confused about what marketing materials to get for your small business, we made a most important list. Penji has years of experience in helping small businesses and startups with their marketing design needs. These are the most commonly requested:
A Logo

Your brand's most essential identifying asset is your logo. Before you continue to design everything you need for your business, you should have your logo created first. This is one of the most substantial investments you can get for your business next to your brand name. Don't settle for something that comes from a template or online logo maker.
This is the one piece of design you'll use on all of your branding, advertising, and marketing strategies. Make sure that it represents your brand well and projects your vision and mission clearly. You don't have to spend big on it, Penji can help you get affordable and high-quality logos. We'll show you how in the latter part of this article.
Your Business Card

Getting your business a wider reach means handing out your business cards. You can hand them out yourself or leave them at your stores, events, or trade shows. This is one of the easiest ways to get your information to people within your community who are most likely to purchase.
Even if your business is purely online, a business card is still one of the essentials. Interacting with other people and businesses is still much a part of doing business. Make sure that you have a couple or a stack of these that you can hand out quickly.
Brochures

A business card can tell people how to contact you, but a brochure can show them all you have to offer. It has a format that allows you to include every little detail about your business. With a carefully-planned design, you can entice prospects to try your products or services.
Think of your brochure as a printed form of your website. This is where they'll find your story, contact information, and many other features that a business card or flyer won't carry. People can browse through your products at a more leisurely pace and at a time they're most comfortable with.
Flyers

One of the most basic marketing materials for small businesses, flyers are great in helping you spread the word around. It's also one of the most ideal for companies that are just starting because they're easy to give away. You can give them to passersby to your store or hand them out to events or send via the snail mail.
There will always be a time in your business that you'll have a need for flyers. When you want to introduce a new product or service, this is a handy way to do it. They are cost-effective, and if you include eye-catching graphics, they're sure to get everyone's attention.
The team at classic gaming site, Solitaired, attracted their first five hundred users through distributing flyers. They designed flyers about their solitaire games and competitions using Penji, and then passed them out at barber shops, community centers, and other local gatherings. Their initial marketing effort flyering created the basis for their growth.
Postcards

Promote your small business with postcards. Use them as invitations to events and sales or use them as coupons to get discounts. You can also send them as mail or hand them out personally. 57% of people say that marketing through the use of postcards makes them feel valued, according to a survey done by the UK Royal Mail. Therefore, postcards are a must for every small business.
Postcards also allow you to personalize your messages and send them to a specific audience. You can choose when to send them as well as how the recipients can respond. This is an excellent way to make a human connection that the more prominent companies may be missing out on.
Registration Forms
Registration forms are useful when you're offering a particular service to your audience. On top of offering links for your online forms, you can distribute hard copies of the forms to walk-in prospects.
Additionally, registration forms are also beneficial if you're organizing an event to promote your brand. This type of marketing material is excellent because it's made for interested individuals. You'll know if people are interested when they accept the form or not.
Promotional Items
Small promotional items are effective and cost-efficient marketing materials that offer value. Choose promotional items that put your brand in the best light. For instance, if you give away a useful item that displays your logo, any customer would want to keep it. This can offer your brand marketing mileage.
One crucial factor in promotional items, though, is design. With so many brands relying on promotional items for marketing, some items don't stand out. One way to make customers keep your branded item is to make the design compelling. And this is why you need the expertise of Penji's graphic designers.
Subscribing to Penji means you'll only pay a fixed monthly rate in exchange for all the designs you need for different promotional items. Most brands need these marketing materials during trade shows, conferences, or business meetings.
That being said, the need for constant design for these promotional items is high. This makes Penji's business structure and offers suitable for creating giveaway items.
Catalogs
Don't mistake catalogs for brochures. While the two have similarities, there is one stark difference between catalogs and brochures. Brochures are printed materials that mostly highlight the company's history, background, story, and a few selected products and services.
On the other hand, catalogs are printed marketing materials that also contain a list of information about all the products and services from a company. A catalog contains detailed product or service descriptions that aim to convert readers.
Letterhead
For your corporate marketing materials, you may need a letterhead to connect with your audience. Letterheads can be excellent on branded envelopes or stationery.
Envelopes and stationeries can be used for direct mail marketing. Sending Thank-You notes, or event invites are perfect examples of when to use letterheads on printed materials.
Loyalty Cards
If you want to build a list of regular customers, giving away loyalty cards is another type of marketing tactic. Plus, loyalty cards are inexpensive and assure you that customers will look forward to coming back to your business — provided that you have an irresistible offer.
Outdoor Signs
One of the most vital marketing materials is your outdoor sign. Putting an outdoor sign outside your establishment will hook more prospects. Take note, however, that your signage is the first thing customers will see before they enter your space.
That being said, make sure the design is captivating and inviting. Entrust the design to professional graphic designers who know design principles, trends, and psychology for more impact.
Using Penji for All Your Marketing Materials
The small business marketing materials listed above are only the fundamentals. You can also choose to design t-shirts, mugs, keychains, or pens that are highly appreciated promotional materials. It all depends on what will work best for your business.
When you decide what marketing materials to use, the next thing you should think of is how to get them. Most small business owners have this concept of graphic design being expensive and difficult to obtain. But there is a way for businesses to have quality designs without cutting off a huge chunk from their limited budget.
The answer is Penji. We are a graphic design service that offers unlimited designs and revisions. You can have all the marketing materials you need for a flat monthly rate of as low as $399 per month. This is especially suitable for small businesses who want to project an image of professionalism.
Our team of graphic designers are adept at all types of designs—from logos to designing that brochure, we can do them for you. No need to pay a freelancer for every design you need. You only have to pay our monthly subscription rate to send requests for flyers, postcards, catalogs, or t-shirt designs.
Our plans are flexible, and the good part is, you won't have to be bound by contracts. You can cancel anytime you need to. Our 15 day, 100% money-back guarantee assures you that we deliver our promises.
To know more about our services, watch our demo video today.
How to Request Marketing Materials for Small Business on Penji
Our design process is made simple, quick, and easy. No fuss, just great graphic design when you need them. Here are the steps you need to take when requesting marketing materials for small business:
Create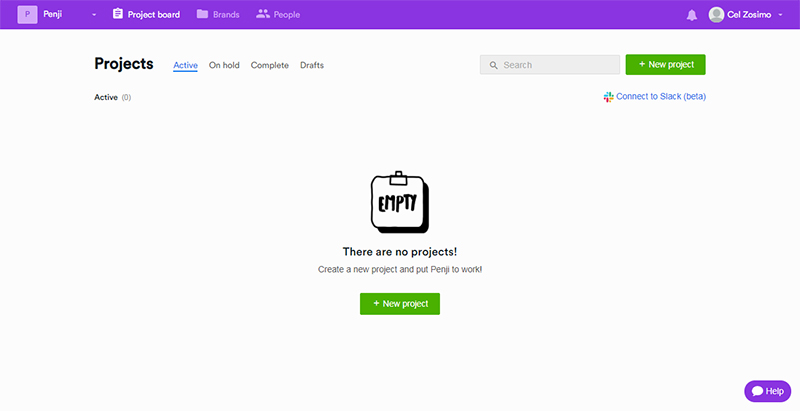 To send your first design request, go to the Penji dashboard. Click on the +New project button on the upper left corner or the same button in the middle, under the clipboard icon.
Give your project a suitable title, then select the design category. You can type in the design type or choose from the categories listed on the drop-down page. For categories such as brochures, you need to select the dimensions. Click Next.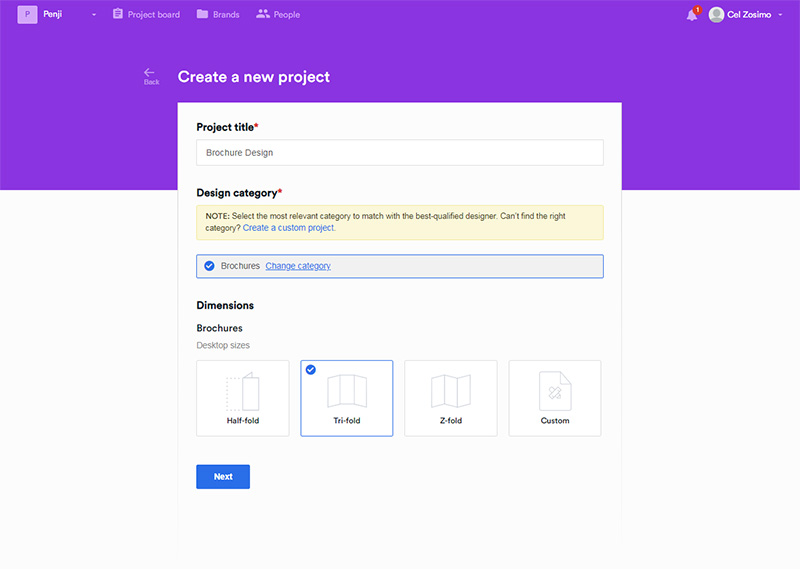 Fill in the description box with the details of your project. Refer to the yellow box on the left for tips on what to include in your descriptions. You can also attach images, documents, or links to help your designer understand your project better.
If you need to use royalty-free images, just click on Select images and choose from our collection of stock photos. Click Next.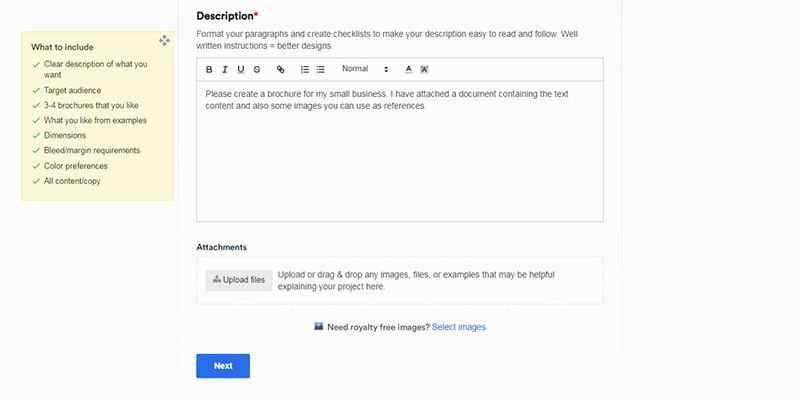 Choose the Level of customization. When you're on our Team or Agency plans, you can request for custom illustrations. Next, you need to choose the File deliverables for your project. Then move on to the Associated brand section.
This is where you can create a folder that contains your brand assets such as logo, fonts, or colors. For your next projects, you only need to click on this folder to have your designer use your brand assets.
Click Create project.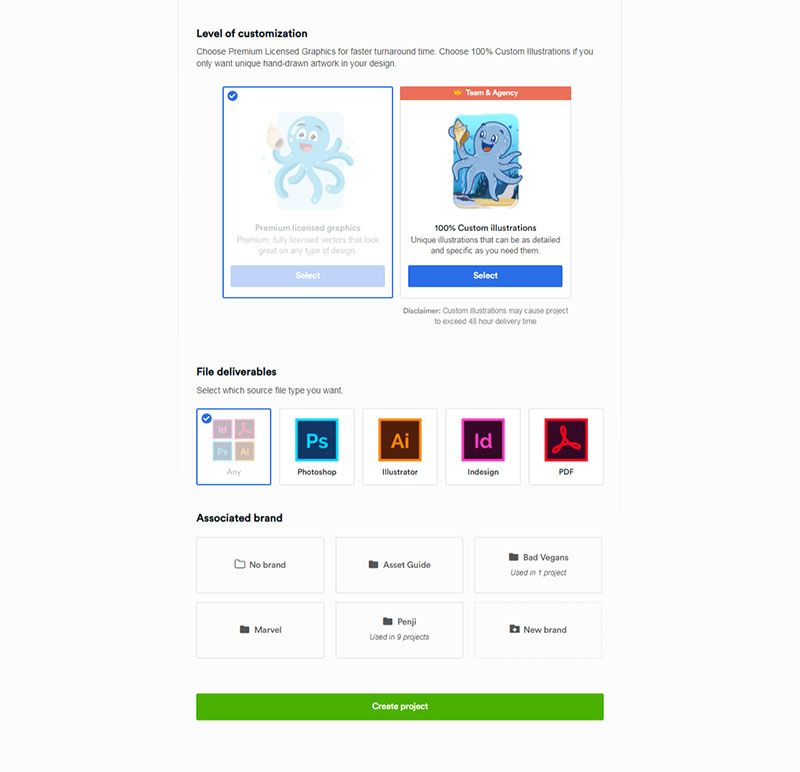 Your project is now in the queue and automatically assigned to the best designer for the job. Wait for 24 to 48 hours to receive your first draft. You'll receive email notifications about the project's progress, but you can always check the dashboard for updates.
Review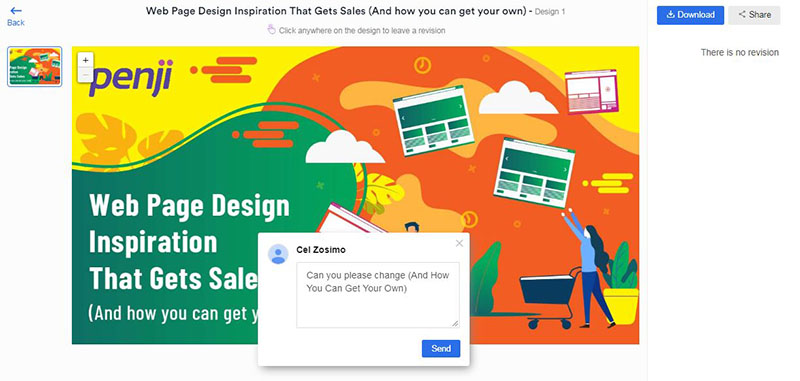 When you get the initial draft, review it, and leave revisions if you need to. Just click on the design, direct your pointer to the part you want to change, type in your comments, and click Send. Our designers will work on your revisions within 12 to 24 hours.
Download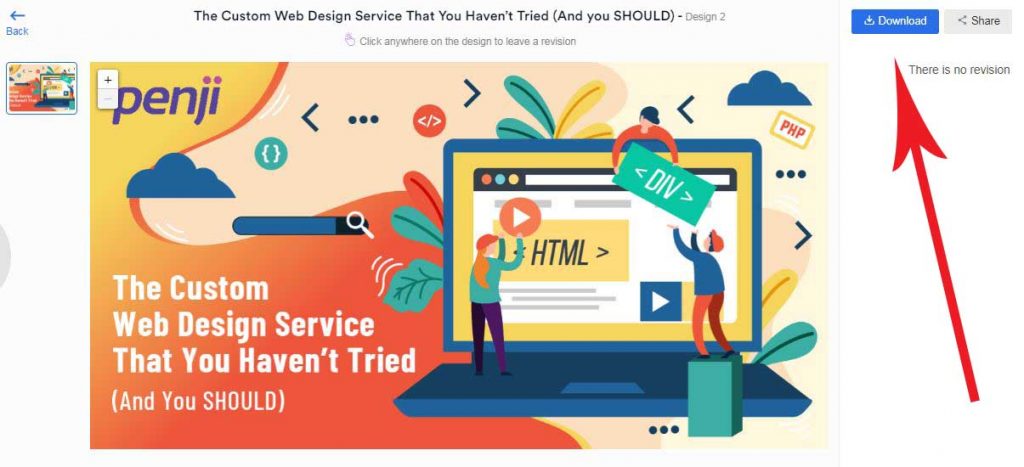 Once happy with the design, you can now download it straight from the dashboard. You get full ownership of the design so you can use it wherever and however you want to. You can now move on to your next project.
Final Thoughts
Getting marketing materials for small businesses isn't as arduous as some might think. It's not even as high-priced as some may believe. With Penji, you can have them all at an affordable price, without sacrificing quality. Sign up today to get the process started.