Primarily, an infographic is data visualization used for visual communication. Infographics are a way to organize data and display it in a way that is easy. Essentially, they are visually pleasing presentations. They are a great way to grow your business and build brand awareness. Also, they can highlight what is important to your company.
Furthermore, a creative infographic can take many forms. It can be a custom poster used in house, a custom designed website feature, or perhaps an image carousel on Instagram. Therefore, the point of a creative infographic is to engage, summarize, and inform your audience.
Additionally, when developing a custom infographic, think about what matters to your business. Focus on core beliefs and important goals. Represent your business and team in the most foundational way, while making it easier to connect with you.
We will look at the website Venngage. Venngage's platform is full of infographic examples.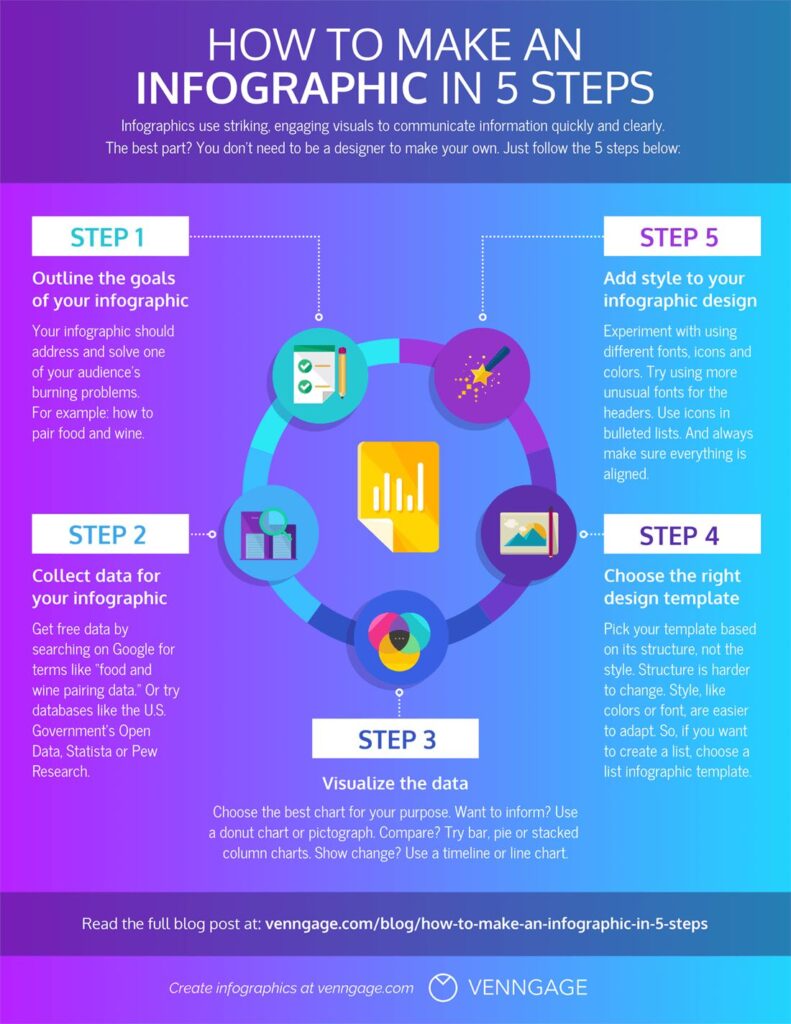 What are the Types of Infographics?
What's more, there is a multitude of Infographic styles and formats to choose from. Hence, choosing the best layout that best fits is crucial. This way you can be sure to outline the important information, while creating something visually pleasing.
Infographic Formats:
How-To Infographic
Data Visualization
Additionally, this concept is called data visualization, or data viz. It should be noted many activists and businesses use a step by step approach. With this process, the viewer is able to learn about the problem/concept's presence. This leads to the understanding the consequence it has. Consequently, creating a solution becomes more personal to the viewer.
Also, If you are highlighting a process or comparison, for instance, an infographic is helpful. Similar to understand the consequence, you can break down different parts of the proceeding. Your facts are organized and concise.
By the same token, the visual side and concept understanding must be equal. This allows for the audience's acceptance of the call to action to be stronger. They have interest in your brand because they like the products and services.
Meaning, the visuals and beliefs must match the viewer's. They are more likely to return. Infographics are able to reach your audience on a deeper level. What is more, they will keep returning.
How Can Infographics Help My Team?
Nevertheless, not all infographics are meant for your customer audience. For instance, such examples are the Process Infographic, How-To Infographic, or the Timeline Infographic. These types of visual representations can be used for your team.
Moreover, you can design your infographic to educate or inform your team about projects, policies or procedures. Besides, a customized infographic can make it easy for others to understand company goals and values. Visual communication can be a helpful tool in the workplace.
Infographics help with:
Deadlines
Planning
Office Etiquette
Case Studies
Customer Onboarding
And so much more!
Who Can Help With Infographics?
Along with this, a great platform for creating your own custom infographics is Canva. Canva offers inviting design templates. There are DIY templates available for free. Completing the visual presentation is up to you.
However, if you are already busy with your business, why spend time making the content? Besides, with Penji you can have a qualified graphic designer create a personalized graphic. Our custom infographics will perfectly represent your brand.
Check out Penji's infographic!

Undoubtedly, creating with Penji will allow you to create custom infographics. Our graphics will match both your company's brand voice and company goals. Penji's designers are sure to design your message in the way you want it to be.
To recap, you can speak to one of our graphic designers through our project portal. Our unlimited graphic design service will allow you to content market and unify your team. You can highlight any concept important to your brand, as well as elevate your working environment.
Why wait? Start making your content and your company stronger today.