In today's ever-evolving landscape, many tools are available to help us generate increasingly impressive visuals, including infographics. These tools also enable businesses to improve content marketing by creating and sharing captivating images. With the advent of artificial intelligence, creating interactive infographics has become a lot easier. Whether you are a marketer, educator, or someone looking to convey information effectively, an AI infographic maker allows you to create stunning infographics quickly.
1. Canva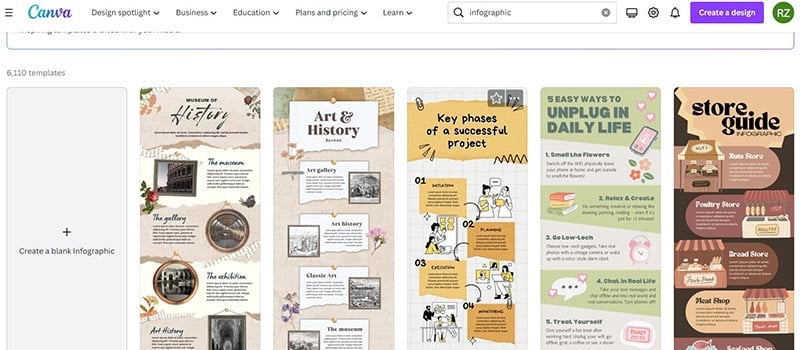 Canva is a popular graphic design website and app enabling users to create visually appealing content easily. It offers impressive design tools and features, making it suitable for professionals and beginners. With Canva, users can design various visual materials such as social media graphics, presentations, posters, and infographics.
Best feature: One of the standout features of Canva is its extensive library of customizable templates.
2. Piktochart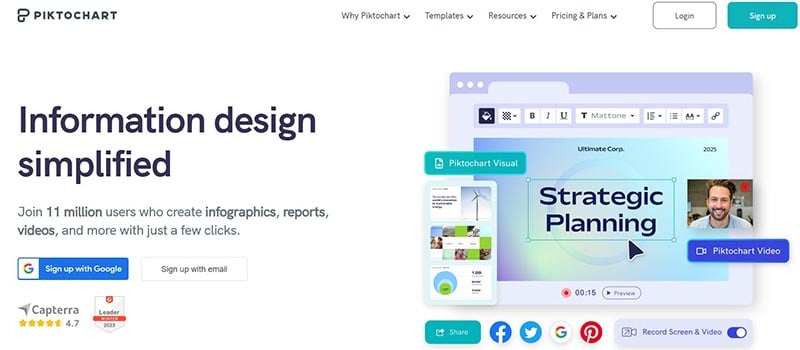 Piktochart is another excellent AI infographic maker. You can pick from a few different formats, including a standard infographic size, presentation size, poster, and report. You can create your infographic from scratch or select one of their templates. Once you have chosen a template, you can drag and drop to include any graphic elements and text to your canvas. Likewise, you can also upload your images.
Best feature: User-friendly interface combined with a vast library of customizable templates.
3. Venngage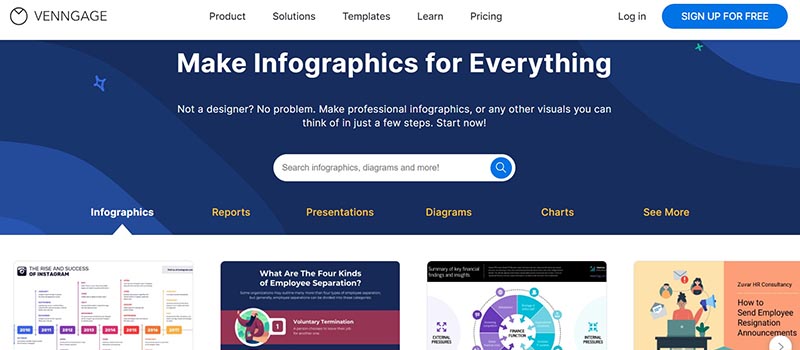 Like Canva, Venngage offers a few different options depending on the design you want to create. You will find templates for reports, posters, promotional materials, and infographics.
Once you have selected your template, you can drag and drop to add any graphic elements and text to your canvas. You can also upload your own images.
Best feature: Venngage provides a great gallery of design inspiration.
4. Visme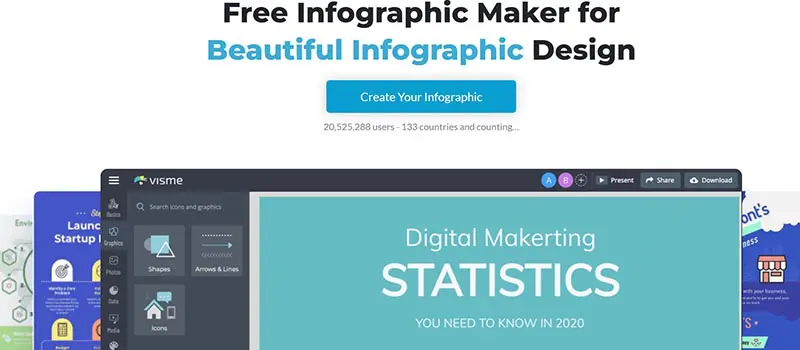 Visme is a multi-faceted AI-powered design tool developed for marketers. The platform allows you to create presentations, animations, mock-ups, banners, and infographics. From simple visuals to fully interactive content, Visme has almost everything an infographic creation tool offers!
Best feature: Versatility and ease of use in creating visual content.
5. Infogram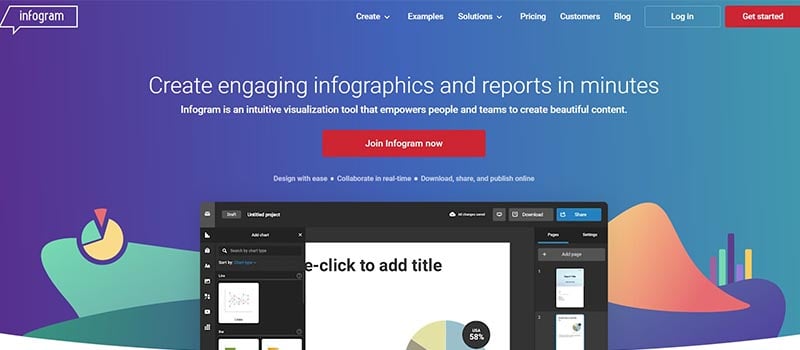 Infogram caters to individuals passionate about numbers and data, offering them a comprehensive design tool. With impressive data visualization capabilities, this tool empowers users to transform intricate data sets into easily understandable infographics. And if you're a free user, you'll have even fewer choices.
Best feature: Infogram allows users to transform complex data sets into visually appealing and easy-to-understand infographics.
6. Adobe Creative Cloud Express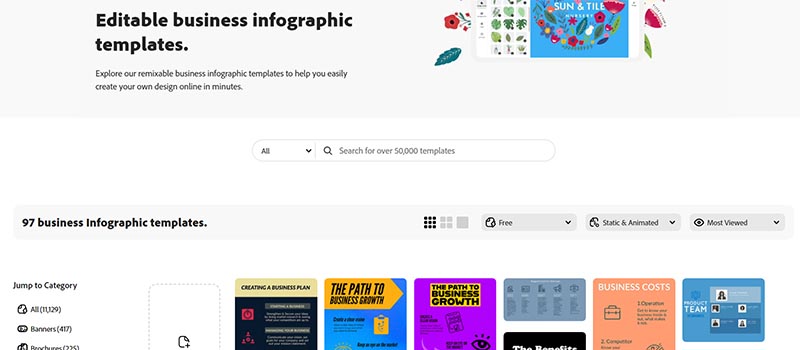 Adobe Creative Cloud Express (formerly Adobe Spark) is an efficient infographic creation tool. It has over 10,000 templates and thousands of free license-free assets to enhance your design. While the free templates can give outstanding results, you might need to pay for the Premium plan to access many of the features.
Best feature: Builds visual resumes in 10 minutes or less.
7. Snappa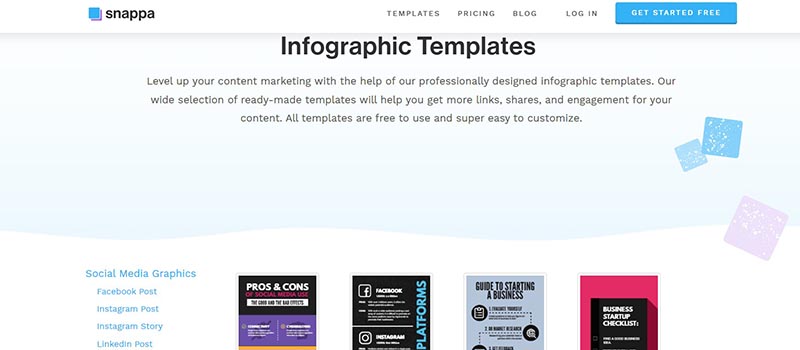 Snappa is a popular online graphic design tool that helps create stunning visuals for blogs, social media, presentations, infographics, etc. Every user gets almost all the features of paid plans with the free plan.
You don't have to start from scratch or stare at a blank screen again. Thanks to Snappa's pre-made templates. Choose from thousands of pre-made professional-grade templates that earn more attention, clicks, and customers.
Best feature: Snappa integrates with popular stock photo repositories, giving users access to royalty-free images.
8. Animaker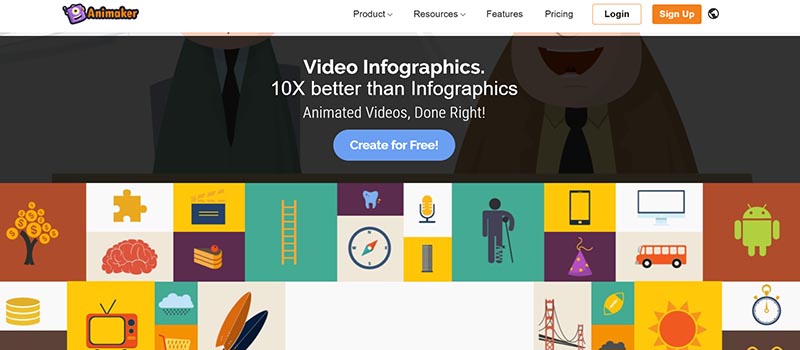 Animaker is primarily recognized as a tool for developing animated videos, but it also allows users to create animated infographics. By utilizing its extensive collection of animated characters, scenes, icons, and images, individuals can select the desired elements to construct an engaging animated infographic gradually and effortlessly.
Animaker has an extensive library of animated templates to use as the reference for your infographic. Creating the infographic is straightforward but time-consuming, particularly for a fully animated video infographic.
However, there's a slight learning curve that non-animated infographic tools don't typically have. Also, note that you need Flash Player enabled for this AI infographic maker.
Best feature: Animaker is its extensive library of pre-built assets, including characters, backgrounds, props, icons, and music tracks
9. Biteable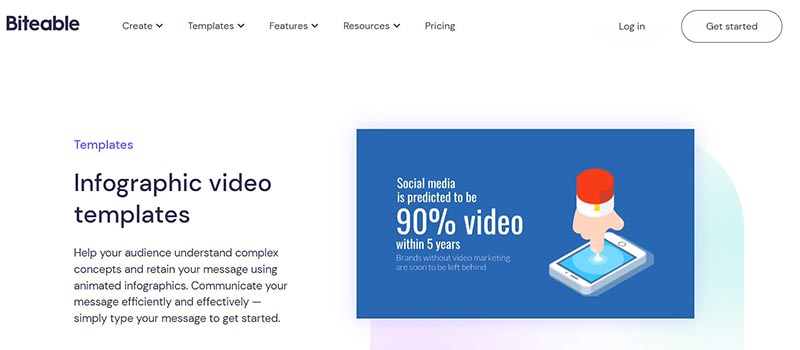 Biteable is a powerful tool for creating HD-quality videos for free. And since we're all about infographics here today, you can build convincing-looking video infographics with this tool.
It has several infographic video templates you can choose from and edit until you're satisfied with the output. With thousands of stock footage, icons, fonts, and more, designing your video infographic on Biteable is quick and straightforward, even for beginners.
Free users can publish their infographic videos directly to YouTube and Facebook. At the same time, the paid plan allows you to download them. Then you can store them in your Biteable account.
Best feature: Users can choose from a library of royalty-free music tracks or upload audio files to accompany their videos.
10. BeFunky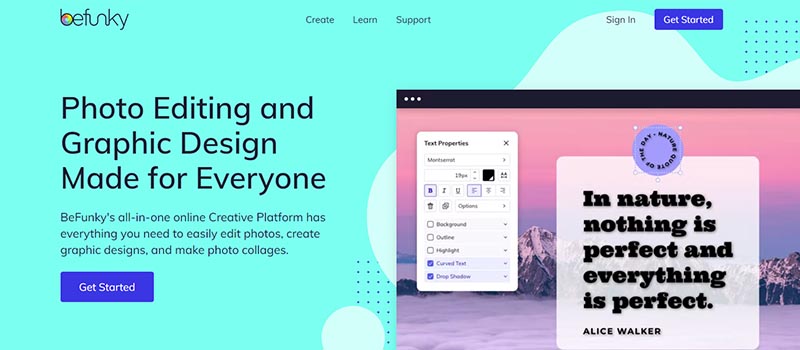 BeFunky is a tool that allows non-designers to create professional-level designs. The AI infographic maker also lets you edit photos like a pro. With its drag-and-drop feature, your infographic will be completed in minutes.
The tool is integrated with free image libraries such as Pixabay and Unsplash. The tool is integrated with free image libraries such as Pixabay and Unsplash. This functionality saves the hassle of leaving the website to search for the perfect images for your infographic. Thankfully, the photo editing options in BeFunky are far more advanced than in a typical infographic designer.
BeFunky also has an extensive tutorial section. It explains the step-by-step tutorial to give professional effects to each image.
Best feature: Fantastic photo editing features with a free image library and expert-level vector graphics.
Create Interactive Infographics with Penji
Infographics grab attention, simplify concepts, and enhance understanding. While you can easily create infographics with an AI infographic maker, nothing beats unique and professionally-design infographics. That's where Penji comes into play.
Penji offers a game-changing solution for creating interactive infographics that capture attention, engage viewers, and compellingly deliver information. Our collection of 120+ services is backed by the world's most talented on-demand design team. Get a demo today and learn more about how to subscribe to our services.