Sometimes, the default Google Slides templates just won't do. How do you find great presentation designs? It depends on how high-quality you need them to be. Basically, you have three options:
Use a free template
Use a paid template
Work with a professional designer
Whether you're looking for free, paid, or professionally-designed presentations, here's the scoop on where to get them.
Where do I get presentation designs?
Presentations are one of the most high-pressure elements of business. They require you to perform in front of a crowd that may include your bosses, your coworkers, or your potential clients.
Either way, you need to make a good impression, and performance is only half the battle. A poorly-constructed slideshow can make you seem rushed or even unprofessional.
For a quick meeting, you may be fine to use one of the free templates available for PowerPoint or Google Slides. But if you're preparing The Big Presentation, or if you regularly give presentations, you need to level up.
Custom Presentation Designs On-Budget
Try Penji's unlimited graphic design subscription risk-free for 30 days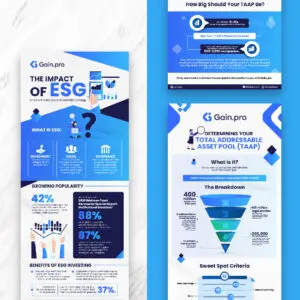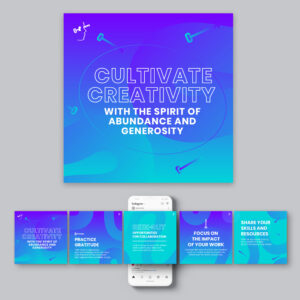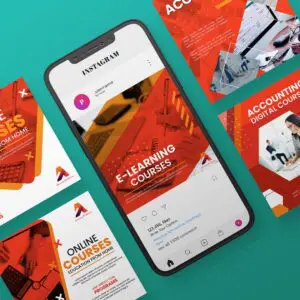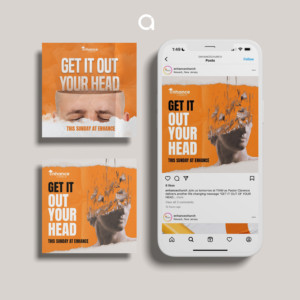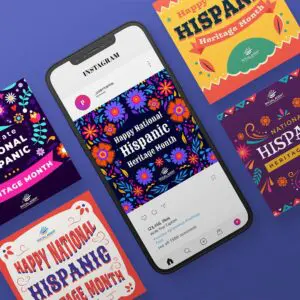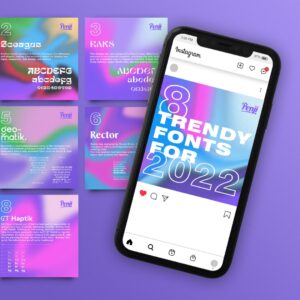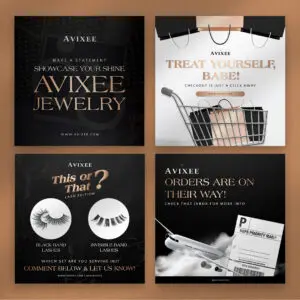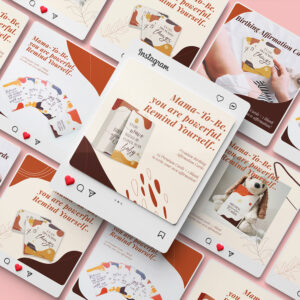 Even a design-savvy presenter may not have time to create unique designs for their slides. That's the reason there are so many sites out there that offer free and paid templates. It's also why many design services promote their ability to design stylish presentations.
For your convenience, we've compiled a complete list of all the best sources for free and paid presentation designs. We'll also go into how to work with a design pro, and why you should consider an unlimited graphic design service for your PowerPoint needs.
Top 5 sources for FREE presentation designs
1) Canva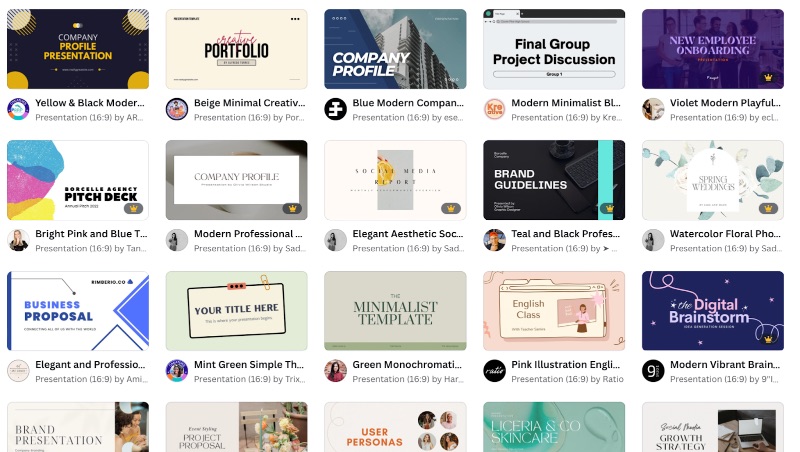 One of Canva's huge advantages is that you can pick a template and customize it all in one place. They have over 5,000 free presentation designs to choose from. Some templates cater to specific needs ranging from pitch decks to back-to-school orientation, but others are highly versatile.
Once you've picked your template, you can choose to either edit in Canva or download it as-is and bring it into your design tool of choice. Canva also offers 3,000+ paid templates, and many of their free presentation designs have additional paid elements.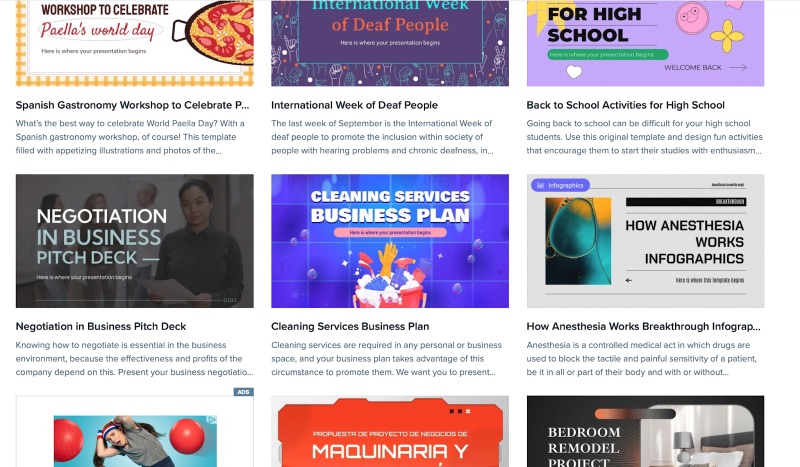 With over 6,000 templates available, it's safe to say that SlidesGo has the PowerPoint designs you're looking for. What's more, they're known for offering hyper-specific templates such as "South Korean Culture and Tradition Thesis" and "Colon Cancer Disease Infographics."
Their search feature lets you find the perfect template for your needs. Once you've selected your free presentation design (they also offer 2,500+ paid designs), you can save it directly to PowerPoint or Google Slides.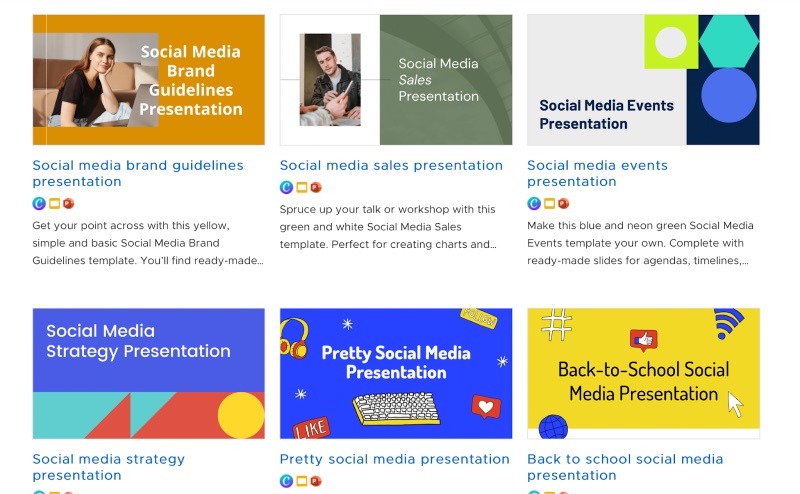 SlidesCarnival offers an assortment of 200+ presentation designs available for PowerPoint, Google Slides, and/or Canva. This is a great choice for finding stylish, versatile free templates. While some are geared to specific topics like social media branding, most of SlidesCarnival's designs can be used for just about anything.
When you see a design that suits you, you'll have the option to download it for Canva, PowerPoint, or Google Slides. Selecting Canva or Google Slides will open the template directly in the web app. If you click PowerPoint, your template will download as a .pptx file.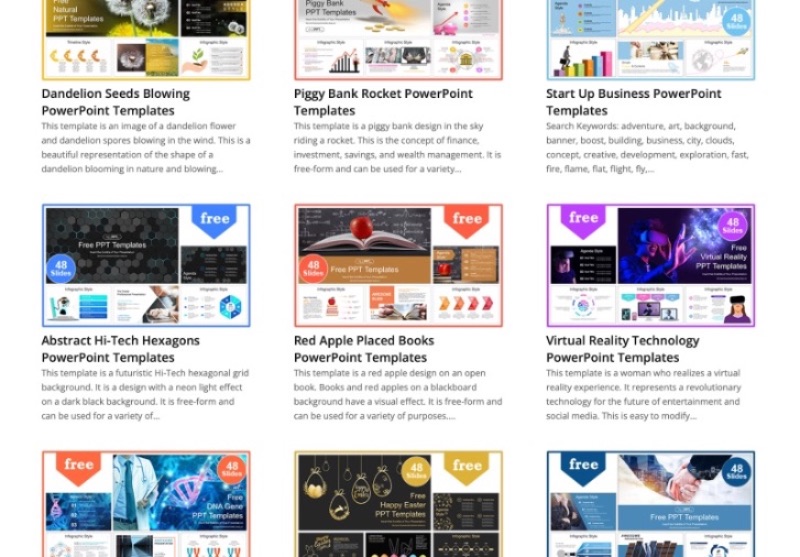 Where the previous entries on this list offer great ready-made templates, AllPPT is great for stock assets. Each of their 800+ free presentation designs includes dozens of slides and bonus stock icons to use. This is a great middle ground for people who need a template but still want to exercise some creative control over their presentation.
Each template you select is downloaded as a .pptx file. From there, you can pick and choose slides and edit them to your heart's content.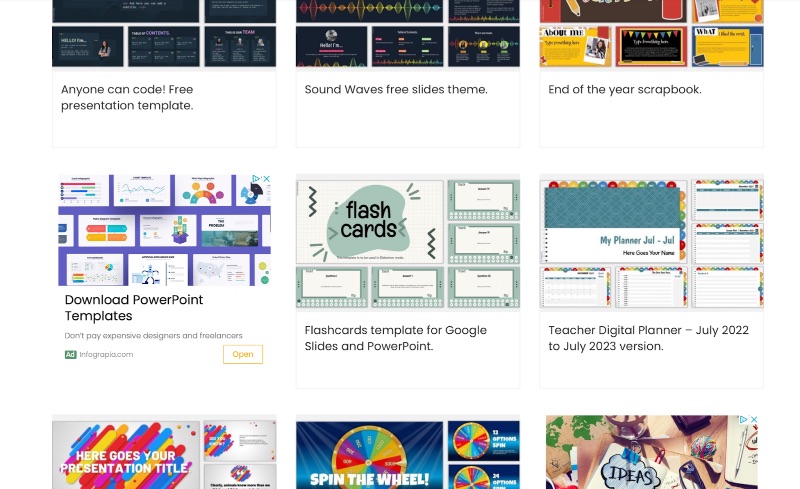 SlidesMania's 300+ free designs are mostly geared towards more lighthearted presentations. These include flashcards, interactive games, and even Valentine's Day proposals. If you're looking for cute presentation designs to engage your office or classroom, they may have what you're looking for.
Most templates have 15-20 slides including credits and additional icons. When you find one you like, you can either download it as a .pptx or open a copy in Google Slides.
Top 4 sources for PAID presentation designs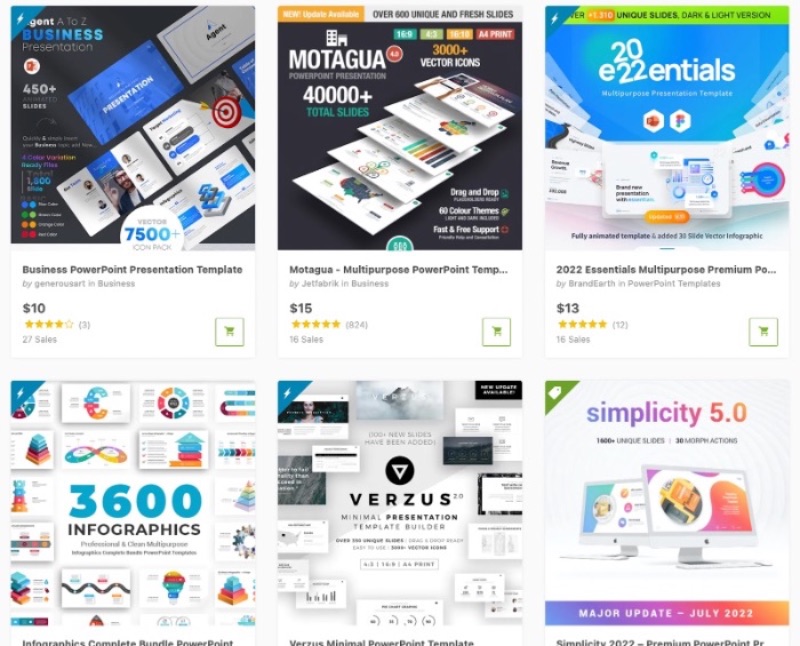 If you're wondering whether or not it's worth it to purchase graphics for your PowerPoint presentation, Envato makes a compelling case. They have nearly 30,000 professional templates to choose from, many of which feature thousands of different slide designs.
Each template is available at $7-19 for a regular license, or $50-150 for an extended license. The difference comes down to whether or not you can charge the end user to access it. In other words, most presentations are fine, but if people are directly paying to see your presentation(s), you'll need an extended license.
You can also consider an unlimited Envato Elements subscription for $16.50/mo. With this, you can make non-commercial use of any Envato elements, including other royalty-free graphics, video, and audio.
2) Creative Market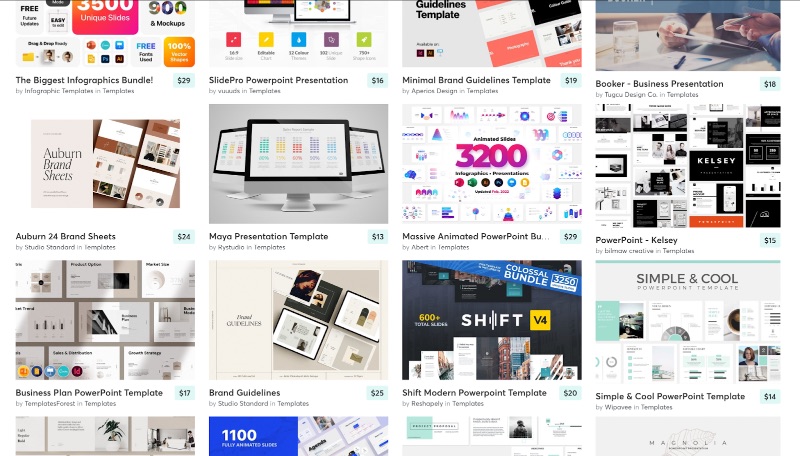 Like Envato, Creative Market's offerings go beyond just presentations. You can make it your one-stop shop for fonts, stock photos, social media graphics, and much more. Beyond that, they offer over 50,000 presentation templates, some of which include thousands of stylish slides.
Most Creative Market presentation designs fall in the $15-30 range for a personal license. Commercial licenses are typically $5-10 more and extended commercial licenses can be anywhere from $50 to $500. Creative Market also has a download credit system, letting you pay monthly for limited free downloads.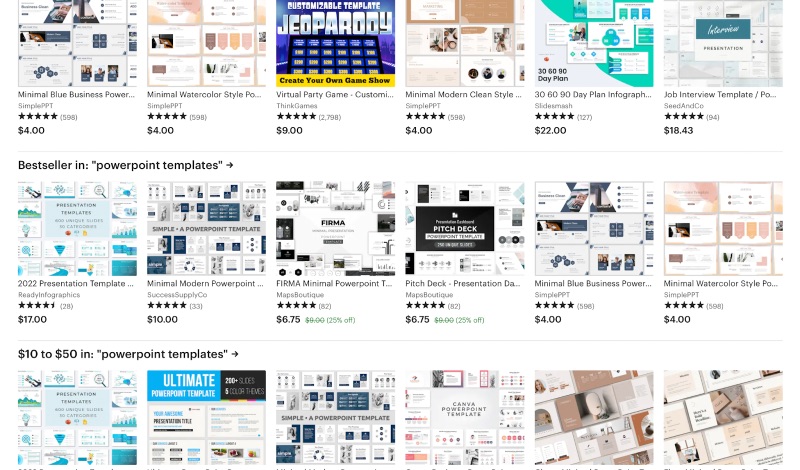 Etsy is mostly known for handmade crafts by indie sellers. But graphic design is a craft, too, so it's no surprise that they also offer hundreds of sleek presentation designs. Since Etsy's products are all user-created, there's no standardized price. However, you can find thousands of quality slideshow designs available for $5-15.
You may not find as much quality control on Etsy as in the previous entries. For instance, most templates come with no stipulations about private vs. commercial use. Still, if you want an inexpensive, high-quality template, Etsy may be what you're looking for.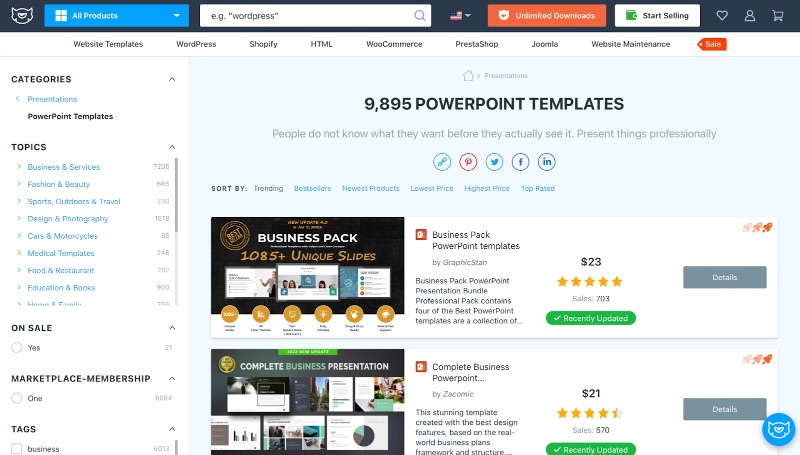 TemplateMonster's library includes thousands of website templates, plug-ins, graphics, and even stock audio. They also have a collection of over 20,000 presentation designs including nearly 10,000 PowerPoint templates.
Most of the bestselling designs on TemplateMonster are around $20, though some are as low as $5 or as high as $50. A commercial license typically costs $50-75. Some may be downloaded for free with a MonsterONE subscription. This service offers unlimited downloads for $89/year.
How to get custom presentation designs from a pro designer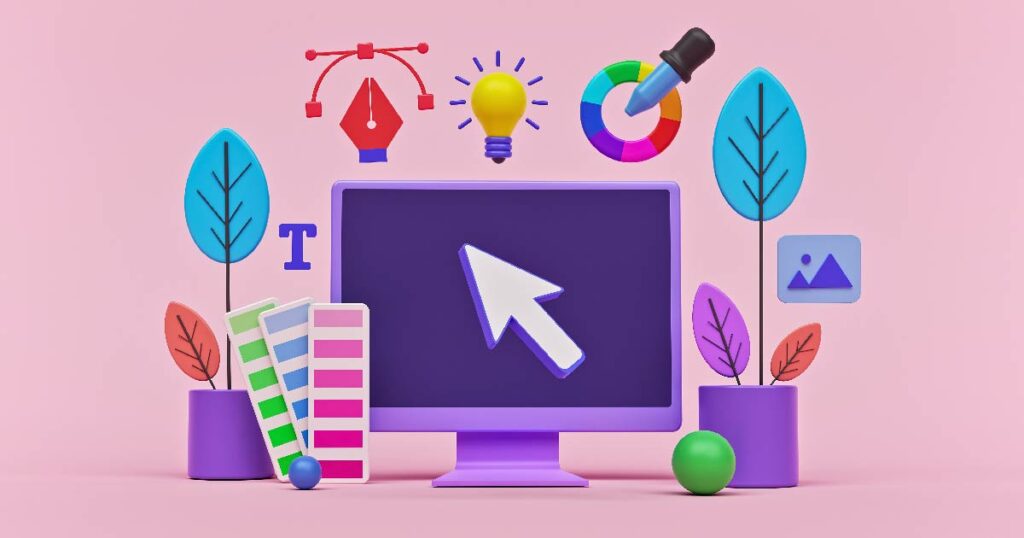 Let's say your team has regular meetings. Maybe your company has frequent product launches. Or perhaps you need a presentation for a highly-publicized event, such as a keynote.
In any of these situations, working from a template just isn't an option. You need presentations that are custom-built for your brand, that set it apart from all the competition. And in some cases, you need a lot of them.
If you don't have an in-house design team, you're left with three options to choose from.
Work with a freelance designer
Hire a design firm
Use an unlimited graphic design service
Each of these options has merits depending on what you need. Here's a breakdown of the three methods for getting professional presentation designs.
Working with a freelance designer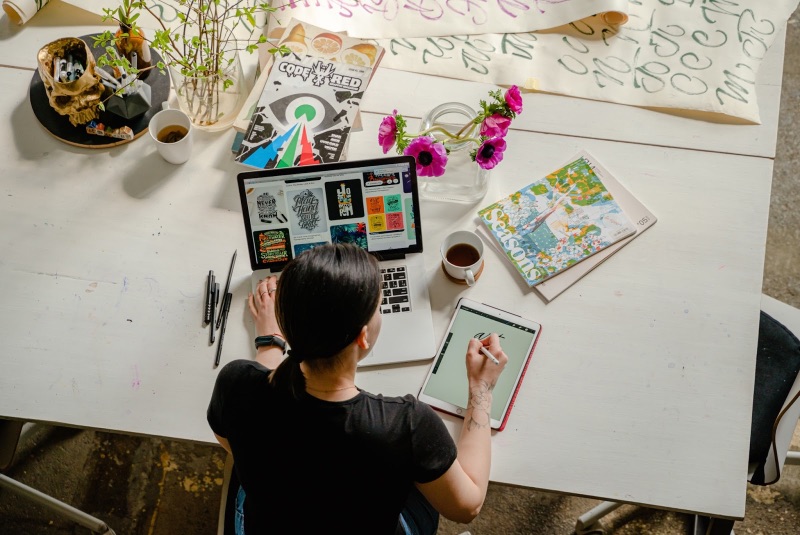 Hiring a freelance designer is ideal for customers who need a singular custom design, or a low volume of presentation designs in a consistent style. Freelancers come at every price range and skill level, so it can be difficult to vet the right designer for your project.
How do you hire a freelance graphic designer? The most reliable way to ensure quality designs is by asking your colleagues for referrals. If that's not an option, you can consider posting on a freelance platform like Fiverr, Upwork, or Toptal.
Working with freelancers can be the most affordable way to get a custom presentation design. However, it can often be hard to tell if a designer is right for you until after you've already hired them. Finding freelance designers can involve trial and error that you may not have the time or budget for.
Working with a design firm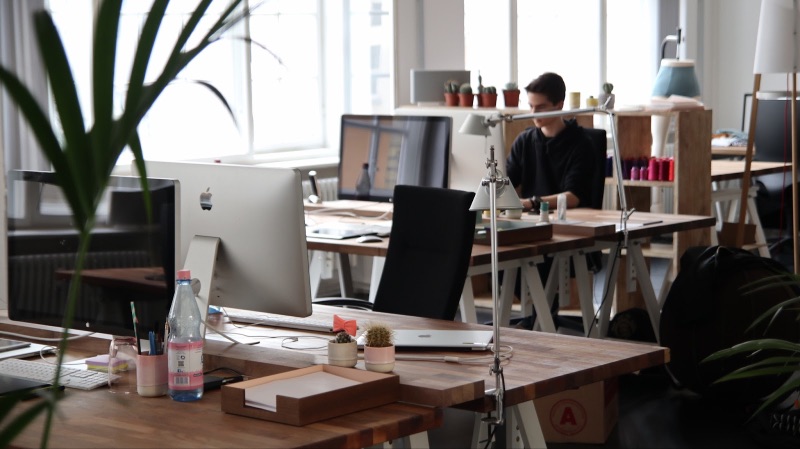 If you're willing to pay top dollar for the highest-quality presentation designs, a design firm is right up your alley. Top graphic design firms often have decades of experience in the design world and have worked with some of the most famous brands on the planet.
What's the catch? For one thing, budget. If you're a small business, an individual, or you're otherwise working with limited resources, the cost of contracting a firm may be prohibitive.
Also, unless you represent a Fortune 500 company, most design agencies won't be interested in designing a single project. These companies traffic in full campaigns and even total brand overhauls. This isn't the best choice for one-off presentation designs.
With all this in mind, design agency work is best for established companies looking to roll out full campaigns. If you need presentations for pitches, product launches, or to reintroduce your brand, a design firm may come in handy. If this sounds like you, check out the 45 graphic design firms you need to know in 2022.
Signing up for an unlimited graphic design service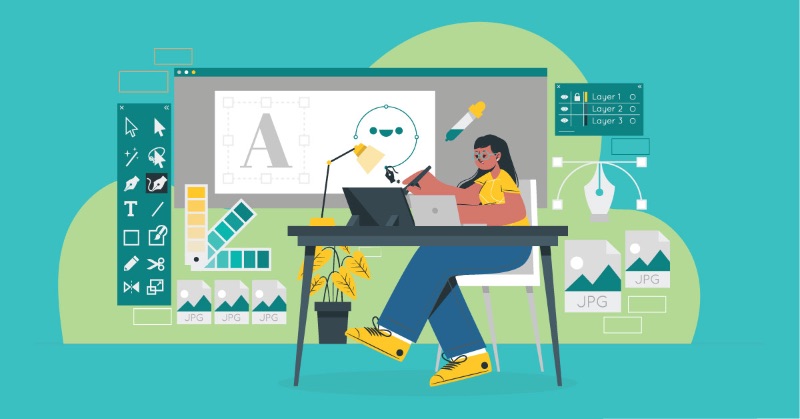 If you want the convenience of a freelancer combined with the creative output of an agency, you should seriously consider an unlimited graphic design service like Penji.
These services operate on a subscription basis. You pay monthly for an unlimited quantity of designs. These designs are created by an expert team and catered specifically to your brand's needs.
This is an ideal option for companies at any scale who need a large quantity of designs. Some of the designs you can expect from Penji include:
Presentations
Logos
Merchandise
Web/mobile design
Advertisements
Infographics
Posters
Social media graphics
And much more!
If you just need a one-off presentation, an unlimited service is unnecessary. But if you don't want to be back at square one the next time you need a graphic design project, see if Penji is right for you.