Crafts are one of the top-selling categories on Etsy. Thousands of DIY-ers have bought crafting tools, handicrafts, and papercrafts on the site. One popular sub-category of Crafts is Cricut design. Most sellers will list unique and cute designs that buyers will adore. And you can be part of the seller community, even if you don't have experience selling on Etsy or have no design experience. So, if you need a quick guide on selling Etsy Cricut designs, you've come to the right place!
We also provide a list of examples you can sell on the platform.
How Do You Sell Your Etsy Cricut Designs?
This process starts with signing up to Etsy and setting up your shop. Once you register on Etsy, the eCommerce platform will ask you onboarding questions. Etsy can help you start your online shop with branding, pricing, and taking photos.
Once you're past the onboarding, prepare the following details:
Shop preferences (language, country, and currency)
Shop name
Listing details, like images, titles, categories, and description
Payment options
Billing
Shop security
How Do You Create Designs for Cricut?
Cricut has software: Cricut Design Space, allowing creators to produce designs. With this software, you can create a design from scratch. On the other hand, you can use their assets and modify them for your preferred designs. You can also calibrate the printing area for your designs so that when it's printed, it comes out the way they should.
But if you're interested in selling Cricut designs but have no eye for designs, you can find a graphic designer to create those for you. When finding a graphic designer, make sure that you specify the following details:
Design details
Printing and material details
Sizes
12 Examples of Etsy Cricut Designs (Updated 2023)
1. Space, Galaxy, or Heavenly Bodies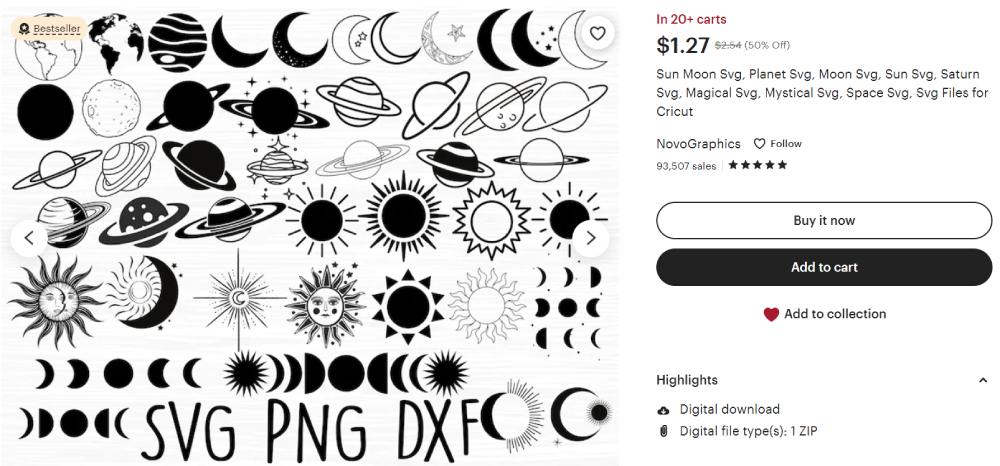 One underutilized design you can sell on Etsy is space or galaxy-related visuals. The sun, moon, planets, and stars make great stickers or mug designs. Here's an example from NovoGraphics. They include silhouettes of Saturn, the moon, the Earth, and the Sun.
2. Retro or Vintage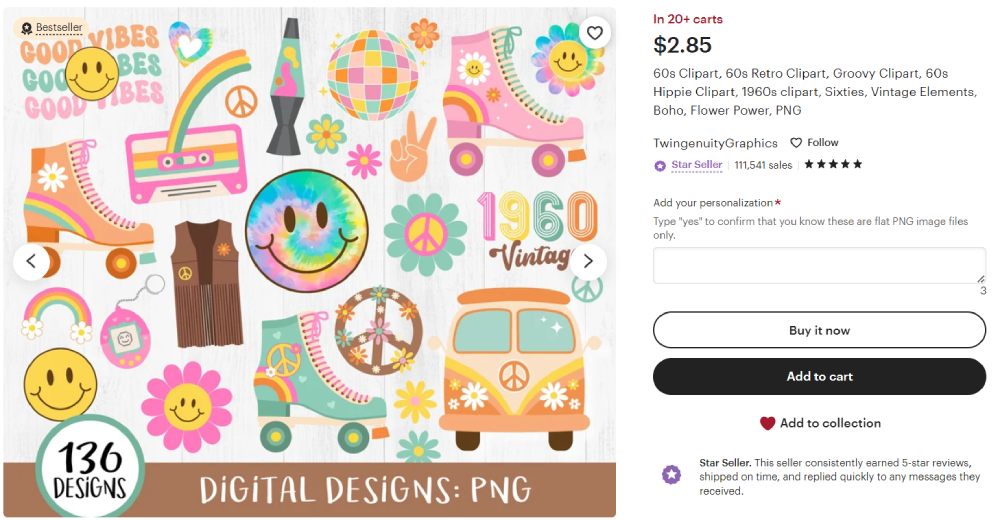 Retro and vintage designs will always stay trendy on Etsy. Typography is the best way to present a vintage or retro style. For example, you can create designs like this one from Twingenuity Graphics. Designs like these are ideal for throwback events. Plus, it would be great on merchandise like shirts, tumblers, and phone cases.
3. Mystic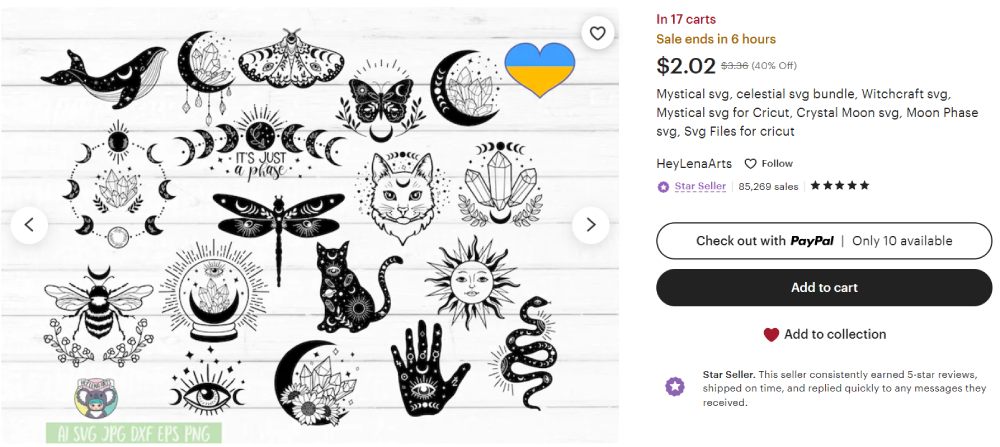 Mystic elements have also popped up on Etsy shops. Symbolic animal figures, like birds, butterflies, and cats, are common on the platform. You can add crystals, candles, and moon phases to your bundle. Here's an example from HeyLenaArts to inspire your mystic designs.
4. Flowers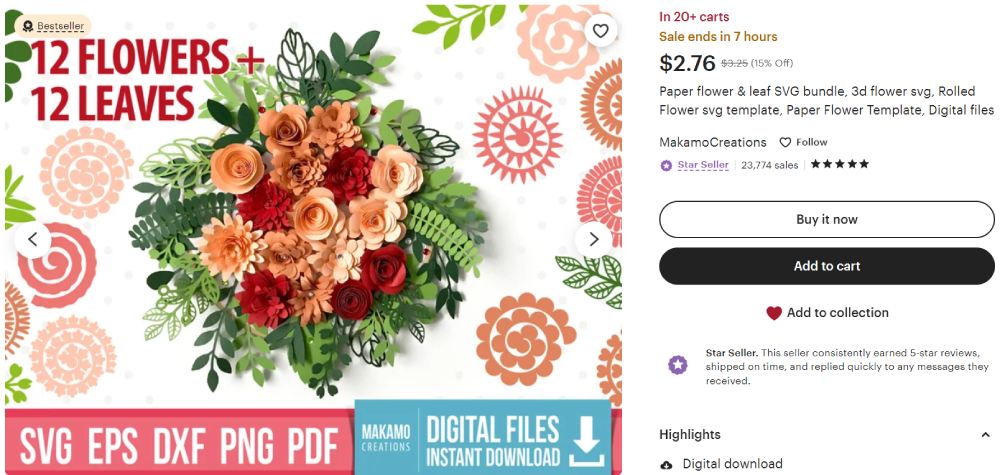 Flowers are design best-sellers on Etsy. The most common designs on Etsy are illustrations. However, rolled flower templates have become the new favorite on the platform. MakamoCreations has a gorgeous selection of flowers. Buyers can place these floral creations as home decor or for events.
5. Boho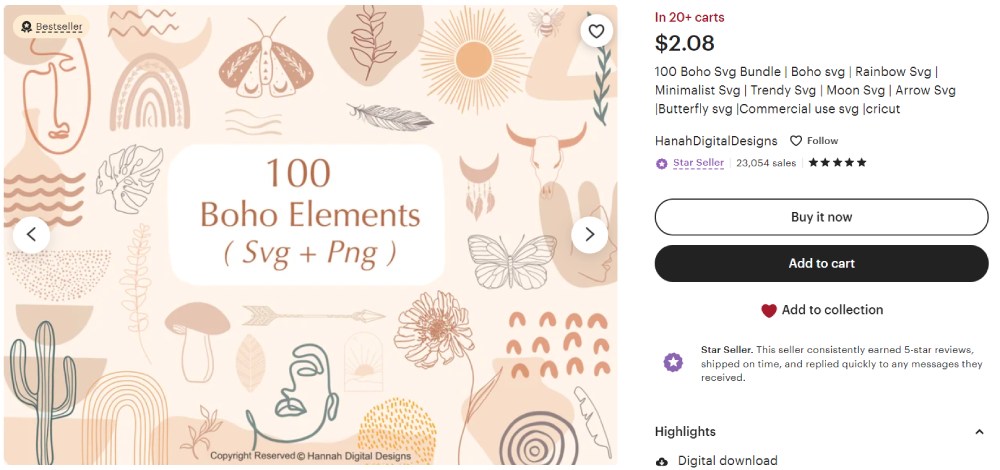 Bohemian visuals are one of the most popular Etsy Cricut designs. Some women love this aesthetic because of its influence on fashion and interior design. Here's a design idea from HanahDigitalDesigns. You can incorporate minimalist illustrations and nature-inspired visuals in one bundle.
6. Calligraphy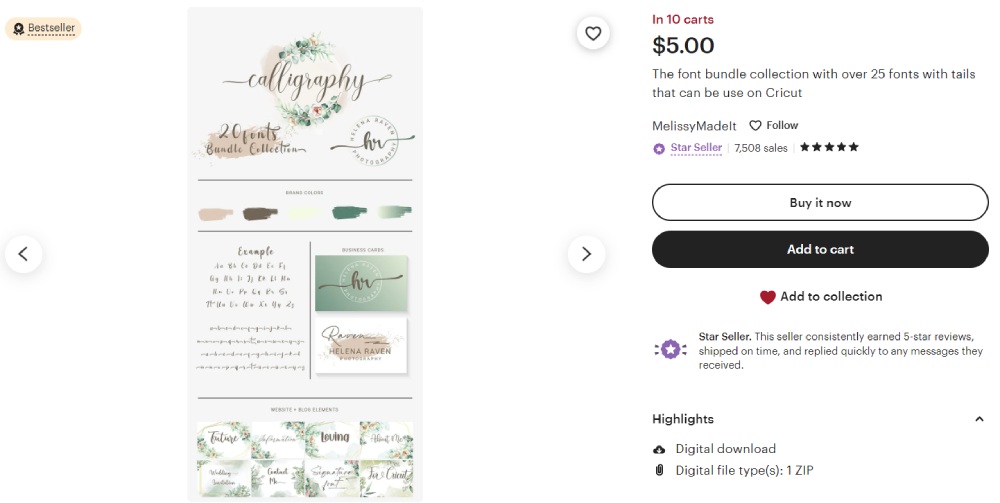 Calligraphy is a popular design among Etsy buyers. For example, you can offer a custom calligraphy font for your buyers for merchandise and events. Check out this one from MelissyMadeIt. Her calligraphy font is customizable on any material, and you can edit this font on your Cricut or Canva.
7. Animals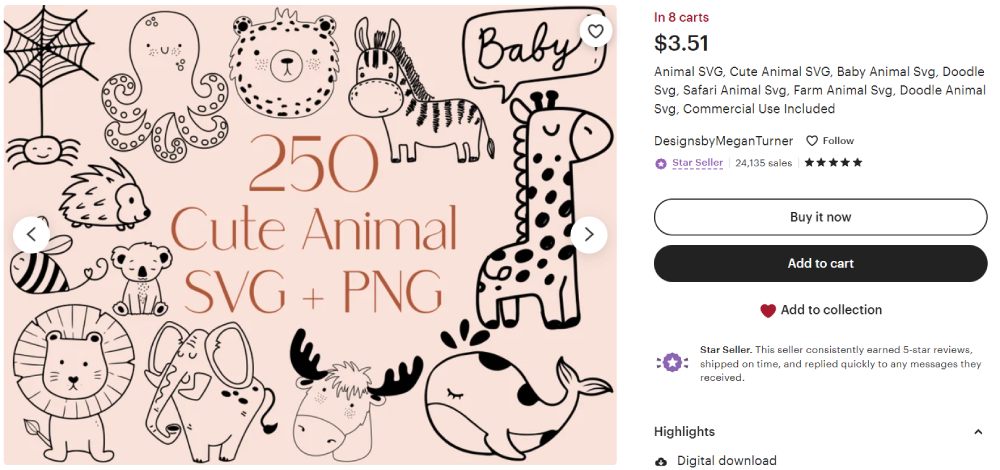 Animals are also an adored design mainstay on Etsy. These would be great as a bundle, especially if you want to introduce various animals. You can use minimalist illustration styles or cartoon versions to provide buyers with different options. Here's a cute animal bundle from DesignsbyMeganTurner that your buyers will surely love to use as stickers or be printed on a shirt.
8. Wreaths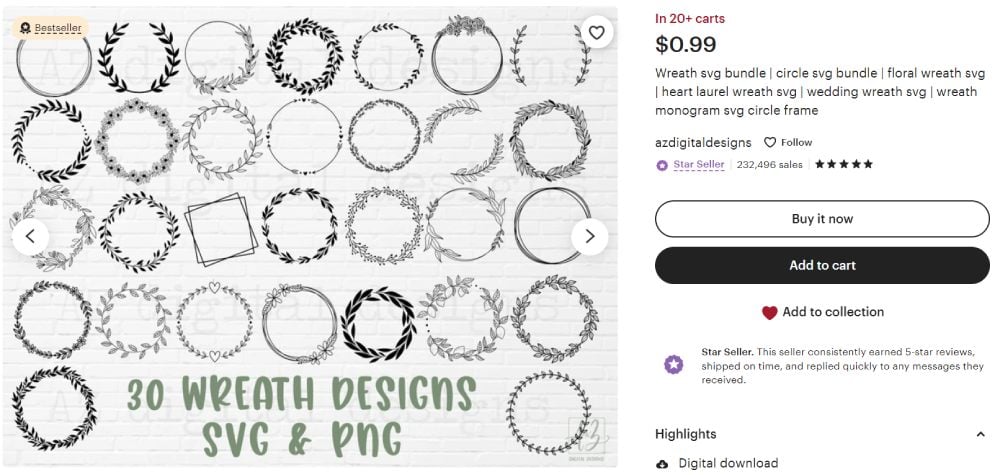 Thanks to Cricut, you can print wreaths instead of assembling them. However, the wreaths created by sellers like azdigitaldesigns are the best to add on invitations or monograms. Plus, they're also great to stick on scrapbooks and other DIY projects.
9. Funny, Lewd, and Sarcasm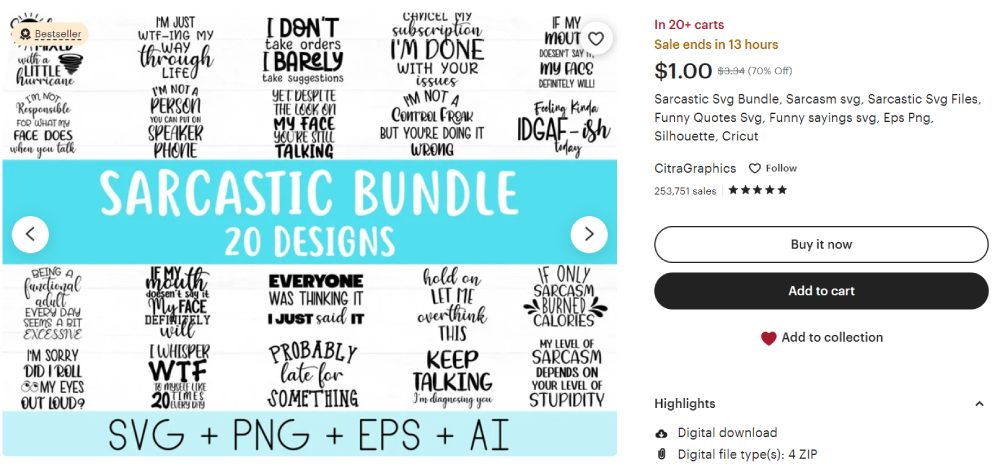 With Etsy Cricut designs, your designs don't have to be serious or have a current theme. Funny, lewd, and sarcastic designs are also trendy on the platform. You can design text-only bundles for this purpose. Alternatively, you can have an obscene gesture that your buyers can print on a shirt or mug for laughs. If you want to try this design, here's an example from CitraGraphics. Their design can be printed on a mug, tumbler, shirt, and hat.
10. Family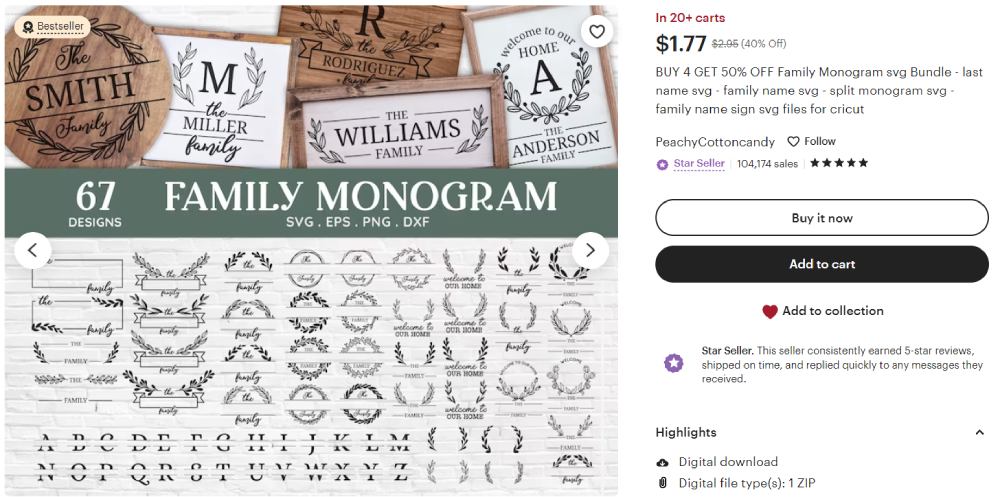 Moms and parents are also a great target audience on Etsy. That said, you can create family-oriented designs, like script typography. An alternative to typography is a monogram, which you can print on a wooden board or specialty paper to hang in their home. Check out this example from PeachyCottoncandy to inspire your family monogram designs.
11. Franchises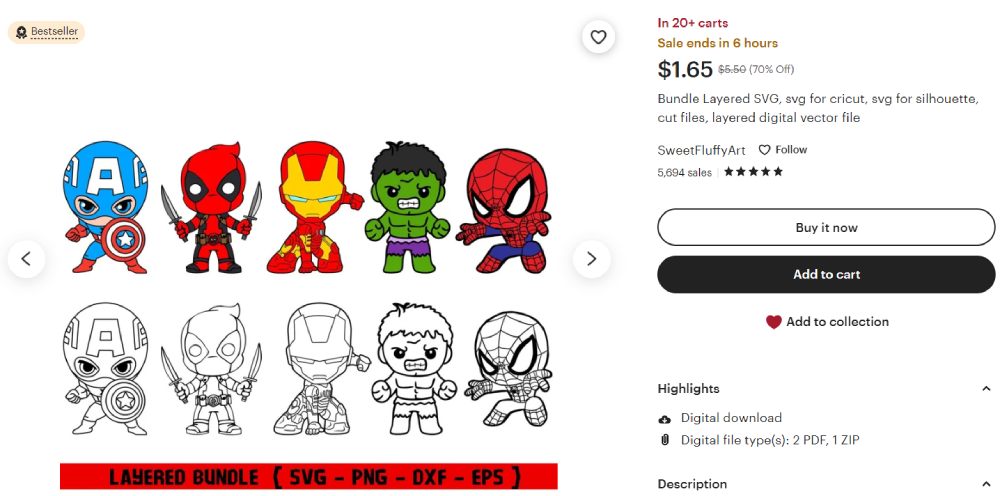 Aside from the options above, you can post TV and movie franchise designs on Etsy. However, you need to be careful of copyright since you don't want to get into trouble. As an alternative, you can illustrate your own version of the character. For example, you can turn them into chibi, like this one from SweetFluffyArt.
12. Brush Strokes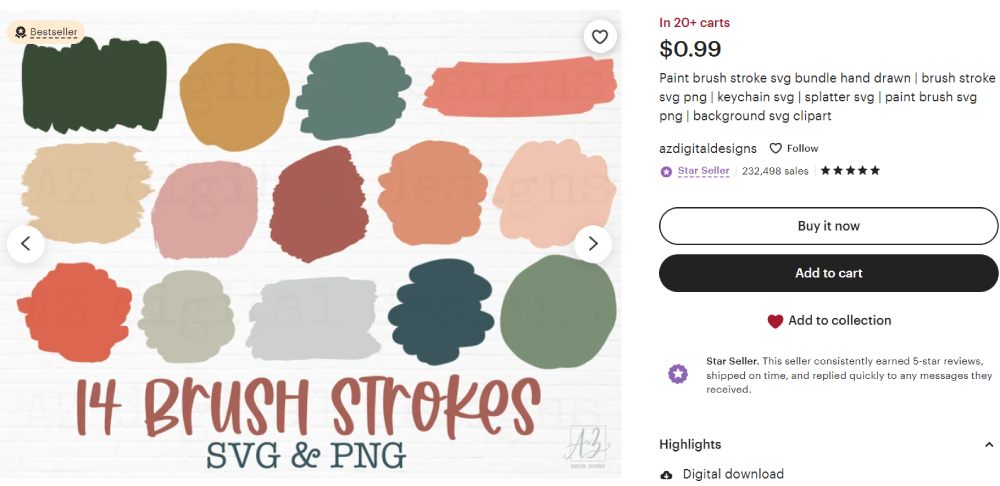 Brush strokes are an unusual design choice, yet thousands have downloaded them for their DIY and craft work. Brush strokes are an ideal addition as a background for quotes and other text. Plus, you can use these strokes to emphasize a word. Check out this simple pastel bundle from DIYCraftTutorials.
How Can Penji Help with Your Etsy Cricut Designs?
If you want to branch out to sell other items on Etsy, like Cricut designs but have no time to design those, why not try a graphic design service like Penji? With Penji, you can save time bundling your designs in one request. Plus, you can submit requests anytime you need Cricut designs to post on your Etsy shop.
If you're ready to take your designs up a notch or need extra hands to work on your envisioned designs, click here and choose a plan that fits your budget!