Brilliant businesses are built on great pitch decks.
They can showcase your product, introduce your team, give insight into your marketing strategies, and share your business model. So take a cue from these awesome pitch decks in an ocean full of bad ones:
Intercom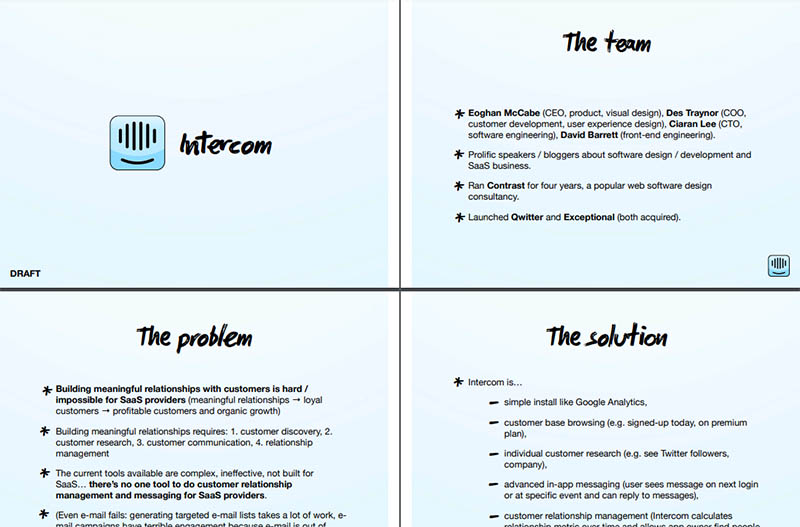 This software company specializes in a business messaging platform that allows them accessible communication with prospects and clients through an app.
What they did: Using a simple, no-fuss design, Intercom got straight to the point. They introduced their team, listed the problems they solve and the solutions they offer in a simple structure: Heading + a bulleted list of information.
The results: As of today, Crunchbase reports that the company received $291.8M in venture funding. In addition, Growjo lists Intercom as having an estimated annual revenue of $138.2M.
Mixpanel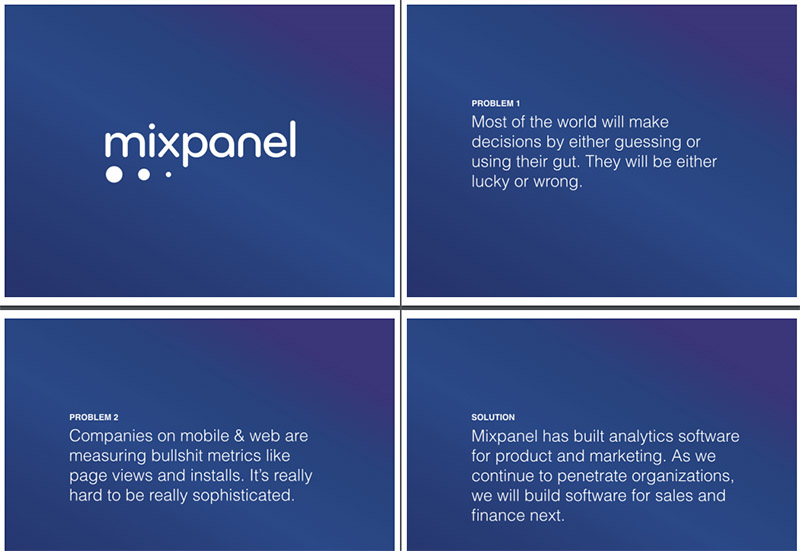 A business analytics service company, Mixpanel is proud of their first-ever pitch deck as it helped them raise $65M in funding.
What they did: In the pitch deck, Mixpanel introduced a couple of problems and their solutions. Plus, they kept the design consistent throughout, using a blue background and white text. According to the co-founder of Mixpanel, they produced a simple pitch deck that will prepare them to answer most of the questions that any investor could throw at them.
The results: Records from Crunchbase tells us that Mixpanel has a total amount of $77M in funding. Again, we consulted Growjo and found out that its estimated annual revenue is currently $53.4M.
YouTube

Everybody who's on the internet knows what YouTube is. So there is no need for an intro, other than it had one of the best pitch decks we found.
What they did: Minimalism isn't only a concept in website design. It's also applicable to pitch decks. And an excellent example of minimalism, YouTube's pitch deck to Sequoia Capital uses black texts on white backgrounds. This is quite notable as YouTube is a platform that offers audio-visual content to capture the audience. And yet, their deck used the usual problem-solution slides in a very straightforward manner.
The results: Google acquired YouTube in 2006 for a whopping $1.6 billion price tag. The pitch deck helped them raise $11.5M from investors Artis Ventures and Sequoia Capital before exiting.
Slidebean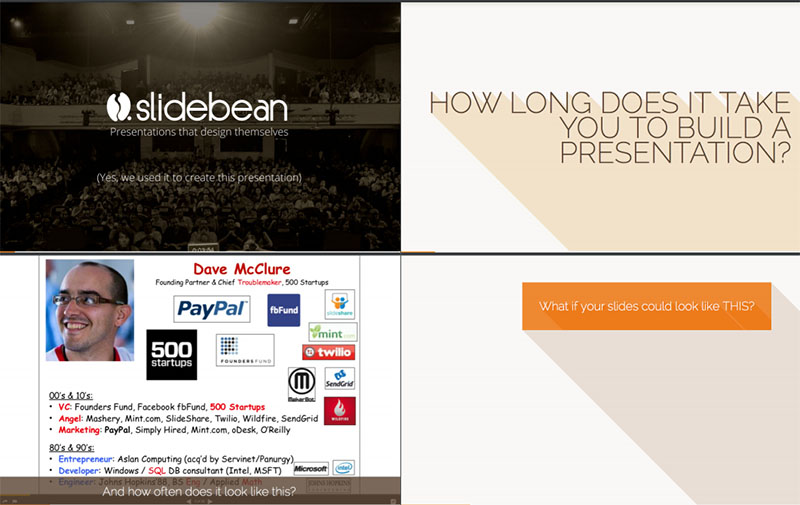 A tool for creating presentation slides, you'd expect nothing but the best pitch decks from Slidebean.
What they did: They understood the pressure of creating the best pitch decks, and so they delivered. The slides included images, graphics, colors, and fonts that are beautifully designed. It used very few texts and a handful of pictures but still commanded attention.
The results: Thanks to the $962.5K in funding from 10 investors, Slidebean is now enjoying an estimated annual revenue which is currently $4.4M.
Concord Business Plans

As the name suggests, Concord Business Plans prepared over a thousand plans for private and public companies.
What they did: Even if the sample pitch deck they uploaded had slides from different clients, you'll see how they personalized by brand colors and images. They made sure that all slides had a clean layout, lots of white space, and crisp images and graphics.
The results: There is no data available regarding Concord Business Plans' revenue or funding. However, they take pride in having helped their clients raise more than $2.5Billion. This is more than enough proof of their success.
Castle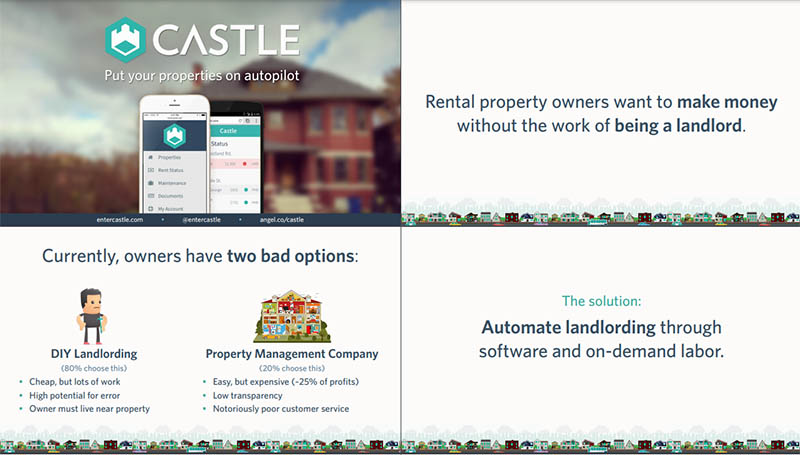 Real estate management specialist Castle is making a buzz in its niche. This despite only a few people knowing about them. Nevertheless, they still managed to find their way into this list of the best pitch decks.
What they did: Using a modern and engaging approach, the slides are filled with captivating icons, bright colors, and easily digestible data. In only 13 slides, they addressed the current problem and presented their solution and the potential to grow in the market.
The results: This pitch deck helped Castle raise over $12.5M in funding and estimated annual revenue of $4.4M.
Ooomf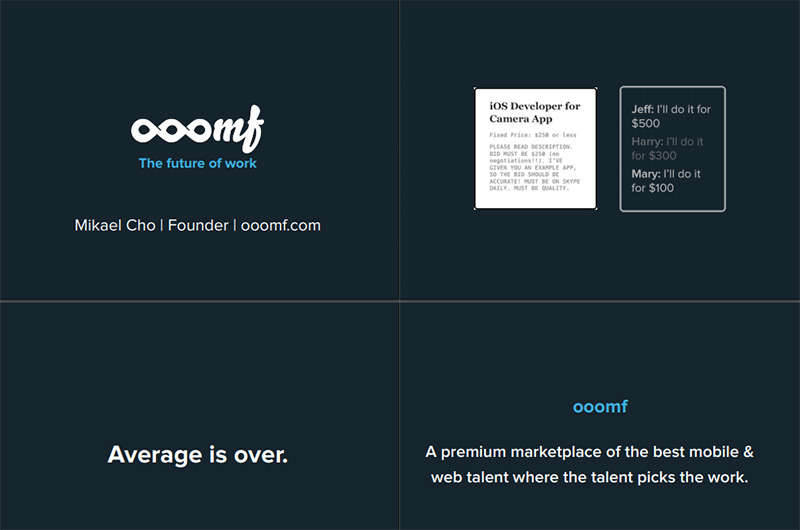 This cloud-software platform pairs software developers with companies. Ooomf is a marketplace comparable to the business models of Upwork or Elance.
What they did: The pitch deck showed a scenario where you'd get the best price for outsourced work. Each slide has a well-thought-out design and layout that makes the information easy to read and understand. There's also an excellent contrast by using a black-white-blue color combination.
The results: The pitch deck helped Ooomf raise $2.1M in investments from one investor.
Manpacks

A delivery service specializing in men's essentials such as underwear, grooming aids, and the like, Manpacks has a pitch deck that is one of the most entertaining we've come across.
What they did: Manpacks used humor in their presentation slides and stayed in character throughout. Even if it's visual-heavy, anyone will understand the problem and their proposed solution. Plus, it's fun and engaging, even if it's short, with only 12 slides. It goes to show you don't need to take on a serious approach to capture the attention of investors.
The results: They sure stood out with their pitch deck, having secured $500K in funding from eleven investors.
LinkedIn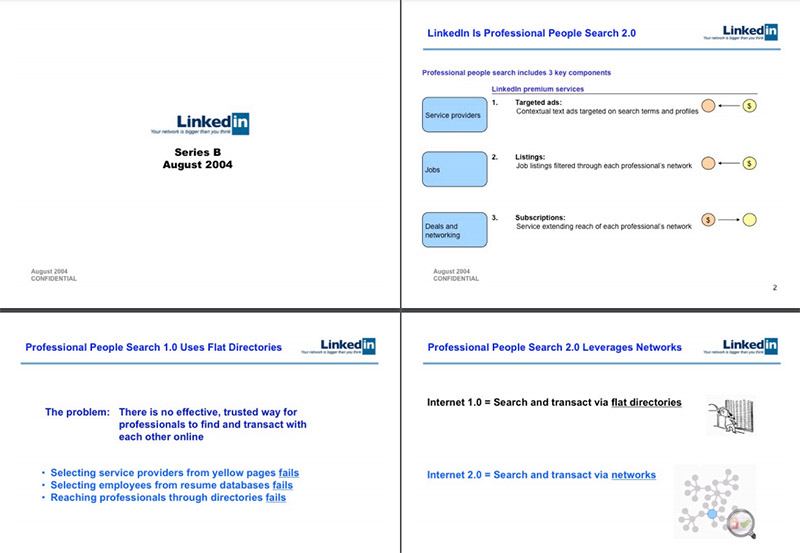 Much like YouTube, LinkedIn needs no introduction. Microsoft acquired this online platform for professionals in June of 2016.
What they did: The pitch deck was published in 2004 when Friendster and MySpace still dominated the web. Still, it successfully showed why LinkedIn deserves everyone's time and attention. Marketing and branding should go hand in hand. And Linkedin stayed on-brand by displaying its logo and using a similar structure all throughout.
The results: The abovementioned acquisition of LinkedIn $26B is an excellent gauge of how successful the company has become since the pitch deck came out.
Appnexus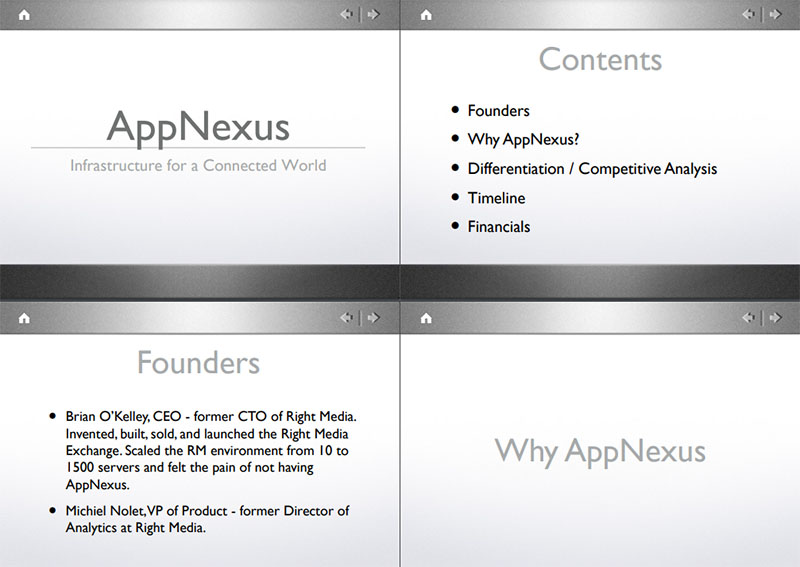 Now known as Xandr, this tech company enables and optimizes programmatic online advertising. Appnexus' pitch deck talks about its unique value proposition, among others.
What they did: The pitch deck described the benefits of working with Appnexus, its company growth, and its marketing strategies. All these are common pitch deck elements, but their design is worth noting. It is consistent, clean, and easily digestible. Plus, the Contents section shows what attendees can expect from the entire presentation.
The results: Their pitch deck helped them raise $321.5M in funding and estimated annual revenue of $79.2M.
Mint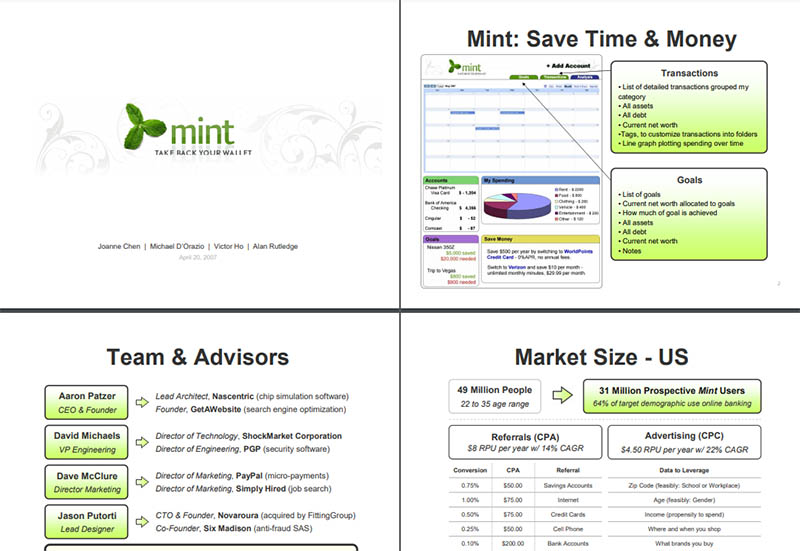 A staple of the best pitch deck lists, Mint is a personal financial app to help track spending and savings.
What they did: Mint made it clear through the pitch deck that they understood their investors well. It focused on describing their options for exit strategies which is a primary concern of any investor. Although it might be too text-heavy for some viewers, the use of green is a great way to highlight critical information on some slides.
The results: This pre-launch pitch deck was explicitly made to be used in a competition rather than to lure investors. However, it didn't stop Mint from getting $14M in investments.
Adpushup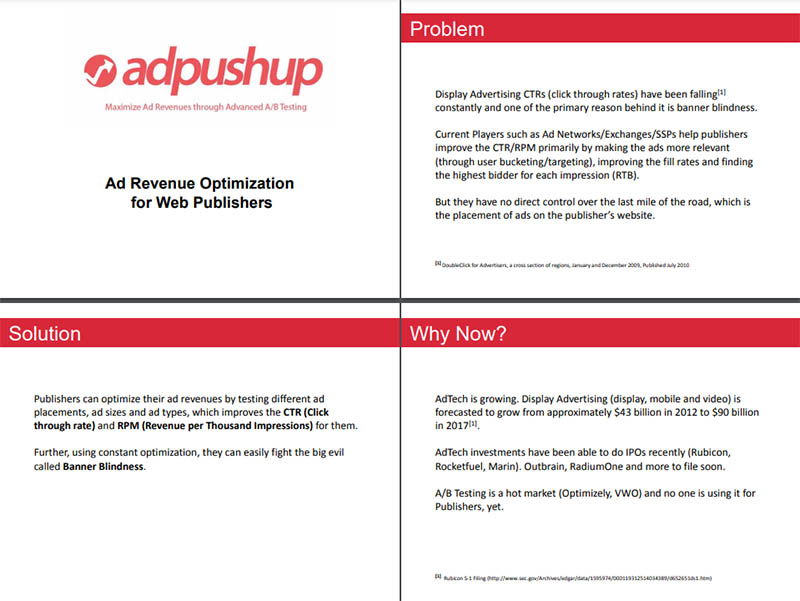 An online platform to increase revenue through testing, Adpushup has a pitch deck with minimal designs.
What they did: Their traction slide effectively placed emphasis on the demand in the market. As they weren't able to show revenues yet, this greatly helps in gaining investors' trust. Moreover, the layout consistency is commendable as it uses a red color, with the headings on the same area.
The results: This pitch deck helped Adpushup receive up to $632K in funding and an estimated annual revenue of $9.3M.
MapMe

It may not be as big as YouTube or LinkedIn, but MapMe deserves its place in this best pitch deck list, nonetheless. It is an app that allows users to create interactive maps with no coding needed.
What they did: With their slides carrying their social proof, it shows that this is an effective strategy to gain trust. In addition, the images and graphics came in a layout that isn't cluttered or overwhelming.
The results: Thanks to their pitch deck, MapMe raised funding totaling $1M from six investors. Their estimated revenue is currently at $1.2M per year.
GoCanvas

Mobile software company GoCanvas aims to help businesses transition their processes into mobile apps. They do this in hopes of getting the world rid of paperwork altogether.
What they did: Using simple imagery and stunning visuals, GoCanvas cleverly showed how processes get digitized. They showed statistics on how they provided solutions to businesses and why people should use them. Plus, in 10 slides, they managed to capture the essence of their business and got straight to the point, securing their much-needed funding.
The results: GoCanvas was able to raise $21.1M in funding from nine investors. Reports also show that their estimated annual revenue amounts to $30M.
Tinder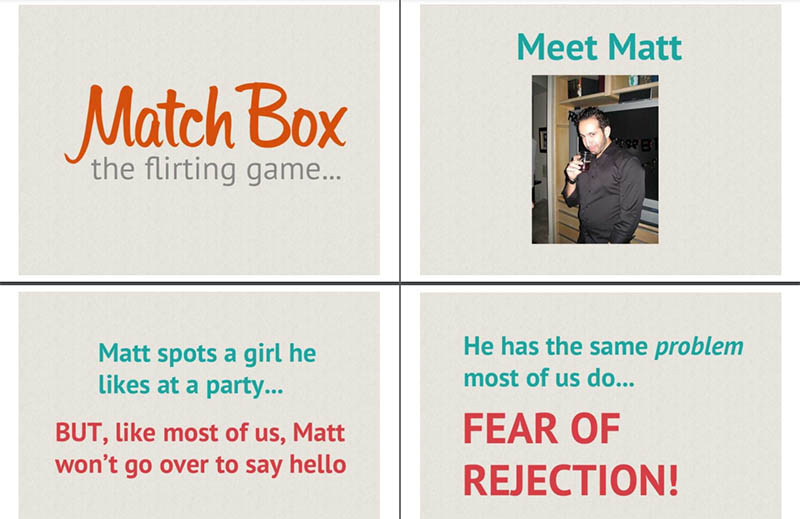 Previously known as Match Box, Tinder is the world-renowned dating app. What made this app stand out from the many already available then was its gamification of the matching process.
What they did: The pitch deck opened with a scenario that everyone can relate to, whether real or online dating. It also gave what the app has to offer and assured the investors how the company would generate revenue. Overall, Tinder shows how storytelling can be the hook that gets investors to fund your business idea.
The results: Since then, Tinder has had three acquisitions under its belt, $50M in total funding, and estimated revenue of $79.8M per year.
Final Thoughts
Pitch decks are vital to any business fundraising efforts. However, not all are created equal. Some get the moolah, while others are given the cold shoulder. Take a note from these 15 best pitch decks listed above to get a heads up on your efforts.
To help create incredible and eye-catching graphics, work with Penji. We are an unlimited graphic design service that gets you all the designs you need on a fixed monthly rate. Watch our demo video today, or sign up here to get started.