Strengthening a brand's online presence means using every available tool there is. Coming up with new ways to get customers' attention has always been the goal. In 2019, a trend started in design that featured custom illustrations. And everywhere you look, you'll find them.
It was voted the design trend of the year by Behance. Since then, no one ever looked back and illustrations dominated the scene. If you're looking to create stunning web and advertising designs, it's time for custom portrait illustrations. Penji has got your back covered. Check out our custom portrait illustrations below:
And if you are interested in having yours made by our professional designers, Sign Up for one of our design plans.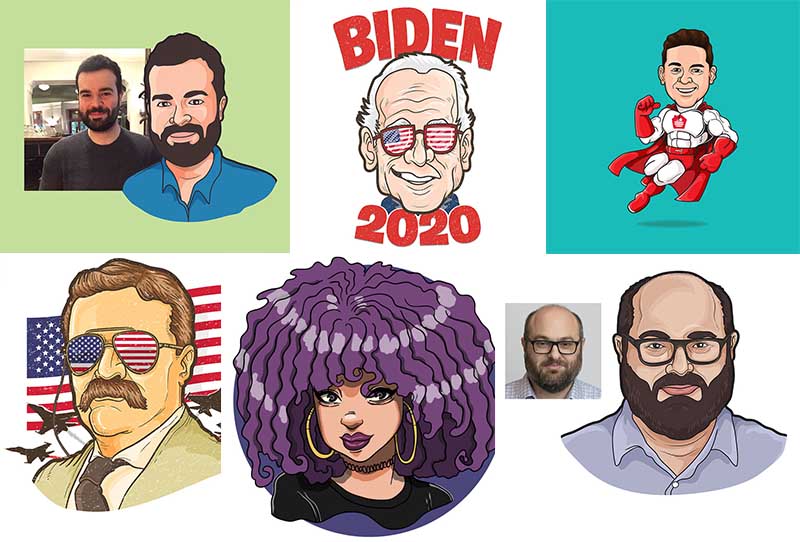 History of Custom Portrait Illustration
As we all know, custom portraits aren't a new thing. It has been in existence ever since painting started some 5,000 years ago. According to experts, the art originated in Egypt and blossomed into other forms of arts. Sculptures and photographs were used as well in an attempt to capture a person's mood or expression.
And with the rise of digital or new media arts, it's not surprising that custom portrait illustration has been dominating the platform.
What are Custom Portrait Illustrations?
No image is more unique than a custom portrait illustration. It seems easy to know what this phrase means but for purposes of clarity, we'll define it for you. Custom portrait illustrations are renditions of a person's image done by hand by a professional designer.
It can be a drawing, a painting, a mixture of both, or a printed work of art. It could be a portrait of a celebrity, world figure, endorser, or your company CEO, the list is endless. One thing is for sure, it is more interesting than a photograph and can be more impactful.
Related Post: Use Custom Illustrations to Transform Your Marketing and Web Visuals
When To Use Custom Portrait Illustrations?
While photography can convey your message easily, there are instances that they aren't enough. Here are some of the best reasons to use custom portrait illustrations:
You want to describe an abstract concept
In situations where an illustrative treatment will be better than a mere picture, custom portrait illustrations are the solution. Abstract ideas are hard to depict when using just pictures. An example would be when featuring your business founder and their specific business strategy.
Expressing the personality and the strategy is an abstract concept that pictures alone wouldn't give justice to. Combining the face of your founder with innovation is possible with custom portrait illustrations.
You have a subject that's too grandiose to take photos of
Using photographs just won't cut it when your imagination soars sky-high with ideas. Illustrations, on the other hand, have no limits. You have the freedom to depict anything and anyone you like, no holds barred.
If you want your endorser to ride a unicorn while consuming your product, go ahead. Custom portrait illustrations allow you to do that. No budget, physical limitations, or logistics can prevent you from doing what you have in mind.
You have a specific style you want to match
Custom illustrations can create a particular style that your brand needs. Sure, the best art directors and photographers may be able to give you brand coherence. But nothing can compare to the distinctiveness that custom illustrations can give you (not to mention the cost).
Effective branding requires a unified look that's recognizable whatever campaign or platform you use. A custom portrait illustration will give you the exact feel, mood, and atmosphere that staged photos can't.
You have a story to tell
Marketers worth their salt would understand the importance of storytelling in doing business. If you have a story to tell, custom portrait illustrations can help you greatly. You want compelling images to increase your brand's emotional impact.
Illustrated scenes and characters can take your prospects on a journey better than just photographs. Custom portraits can tell your story in appealing and bespoke ways.
You want to visualize data
When you have data to show, an infographic is an excellent way to visualize them. According to HubSpot, infographics are one of the most used types of content for marketing. You may already have noticed how rampant its use is by so many businesses.
How will your infographic stand out? By using custom portrait illustrations. Show a world figure's achievements in the form of an infographic.
It leaves an impression of your company's light culture
Another reason why most brands and businesses use custom portraits is to lighten an otherwise rigid industry. People naturally gravitate towards companies that they could relate to. Gone are the days that you have to put your brand up the pedestal and make it seem unreachable to gain more customers. To date, people patronize 'relatable' and 'fun' brands, and you can highlight these by using unique and almost child-like portraits.
Related Post: Use Custom Illustrations to Transform Your Marketing and Web Visuals
Custom Portrait Illustrations for Web and Advertising
The World Wide Web is a fiercely competitive world. Because of this, businesses competing for consumers' attention go to great lengths to get ahead. Custom portrait illustrations is the key. Here are some of the top ways you can use them for web and advertising:
Character Logo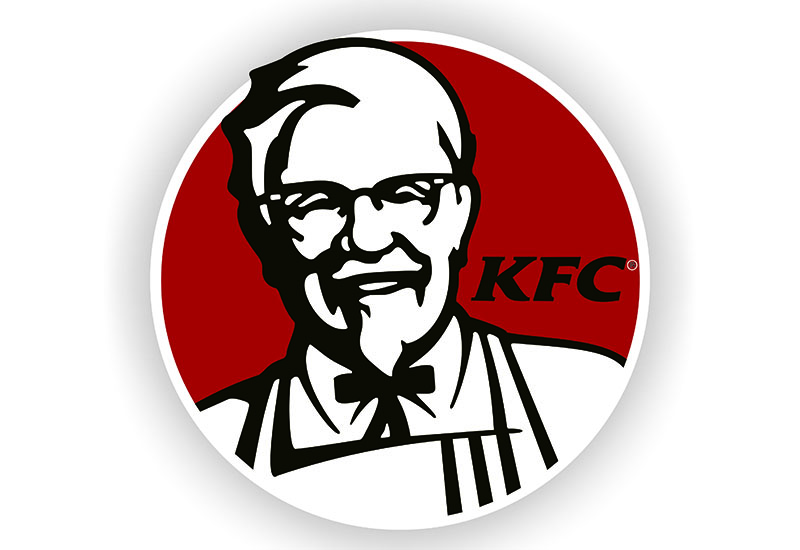 Using people on logos is a great way to connect and influence their target market. Wendy's, Quaker Oats, and KFC are well-loved brands that use character logos. Putting your brand hero's face on your logo is perfect for personalization. You're assured of a logo that's uniquely yours.
You can use this approach to give your brand a more homey feel, and it is ideal if you wish to target the entire family.
This type of logo gets your brand message across, is easily understood and remembered. It also leaves little room for misinterpretation.
Introduce Your Team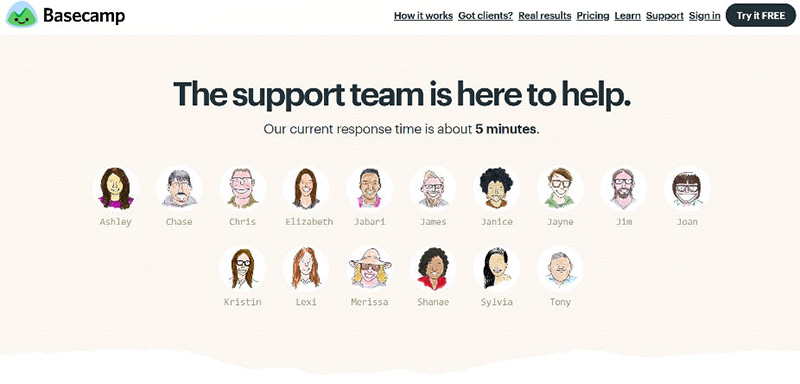 On their website, Basecamp included cute and squiggly custom portrait illustrations of their support staff. They take pride in human interactions and not automation. The illustrations give emphasis to what they're promising. It has a lighthearted, fun, and lively look that takes away any hesitation of contacting them.
Email Marketing
Email marketing is not dead, even if others say it is. The medium is still powerful to send your message to an already targeted market. However, you should still remember that most email newsletters are ignored or left. In some cases, it will be deleted right away.
One simple solution your team could do is to add custom portrait illustration in your email newsletter. Take a look at what Bulb did.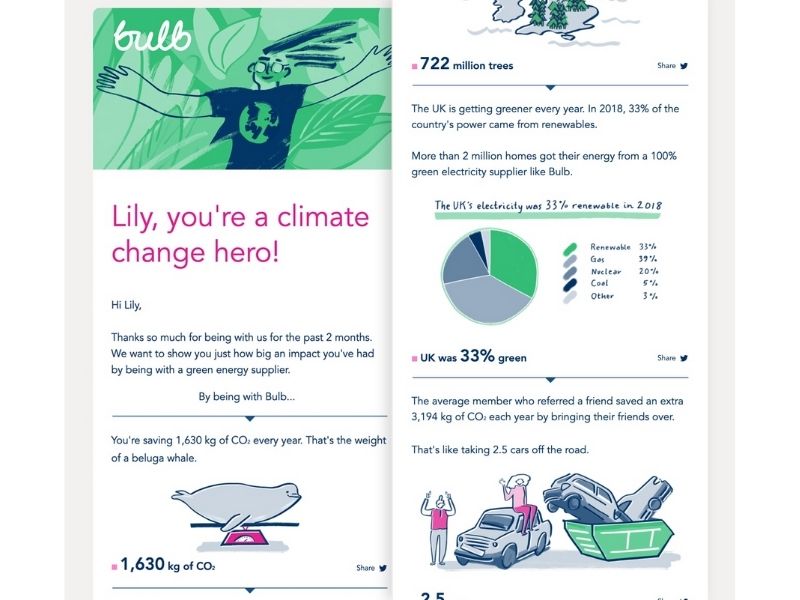 While the context itself isn't the most entertaining, you can't help but read the entire thing simply because the illustrations are captivating enough. If we are to add something here, we would even place custom portrait illustrations of the team or whoever wrote the email.
Personal/Organizational Campaigns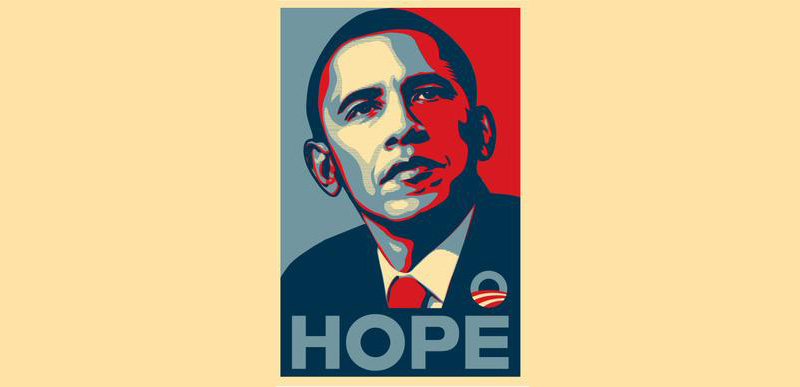 When election time comes, we always see posters using illustrated portraits of candidates. This is because it's more interesting, captivating, and adds more drama. It brings more life to your "product" and makes them more human. In addition, the illustration speaks volumes. It conveys a message without writing a word.
Cartoon Ads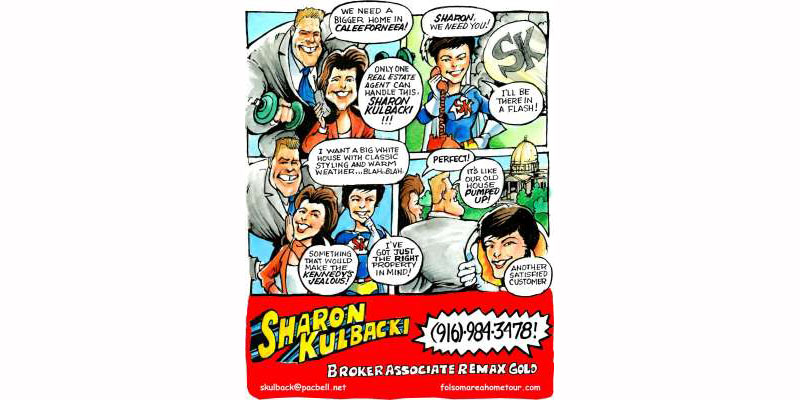 As mentioned earlier, custom portrait illustrations work so well with storytelling. This ad from Sharon Kulbacki is a great example. The ad is in a comic book style and uses bright colors, witty lines, and humor—ingredients of an ad that gets noticed. For startups and small businesses, this is a very cost-effective way of getting your story across without breaking the bank.
Marketing Your Blog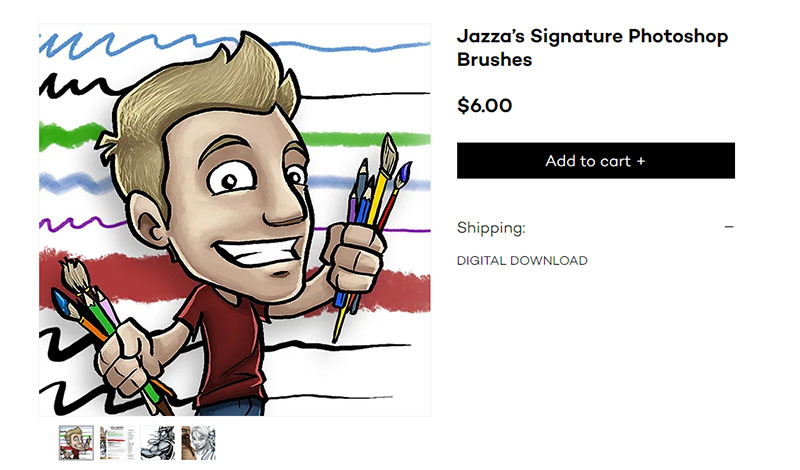 Australian blogger, artist, and YouTuber Jazza uses portrait illustrations throughout his platforms. Everyone knows him by his cartoony portrait, maybe more than his real face. That's how effective portraiture is when used to unify your blogs and websites for marketing.
Featured Images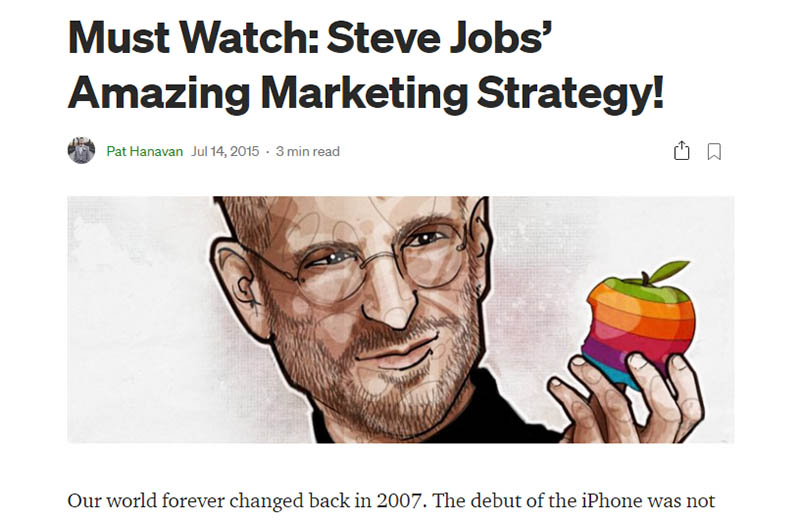 A perfect example of using custom portrait illustrations to visualize abstract concepts is this featured image from Pat Hanavan's blog. In this Medium.com article, the author writes about Steve Jobs and the incredible marketing strategy he had for Apple.
Featured images (also called Post Thumbnails) are used in blog articles as visual support. It represents the mood of the content and has to be interesting to get attention.
About Us Pages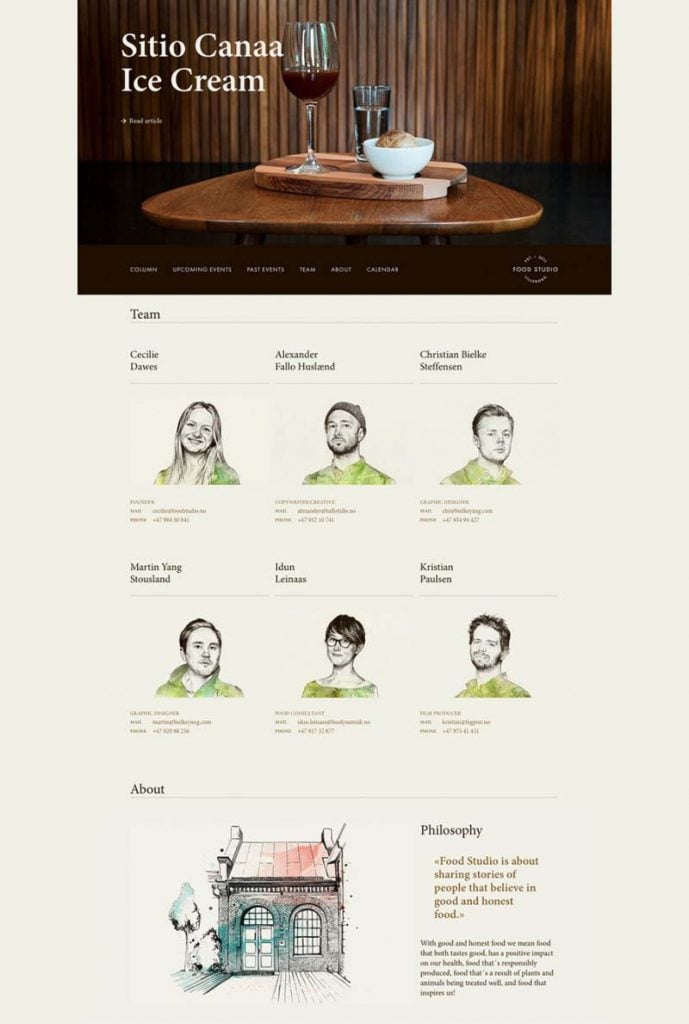 One of the most crucial parts of your website is the About Us page. This is where prospects will get to know you so you need to make it impressive. This About Us page example from Food Studio fits the bill perfectly. The overall design is visually pleasing and the illustrations capture their brand personality so well.
Hero Images
Also known as hero header, a hero image is a design term to describe the large banner image at the top of a website. Its primary purpose is to provide an overview of your website and entice visitors to look around. This Zaha Hadid custom portrait illustration was featured in the web gallery of iHCRA, an online architectural magazine. It is simple yet powerful, suitable for the image of a true winner.
Avatars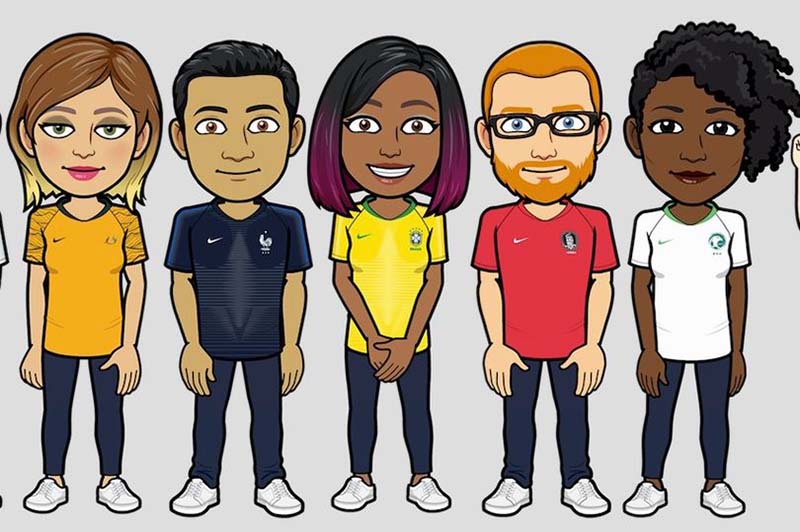 In 2018, weeks before the World Cup, Bitmoji collaborated with Adidas and Nike to create cartoon avatars for their fans to use in their kits. These avatars gave them the power to express their feelings towards the World Cup and their favorite teams. A portrait illustration artist can help you get designs like these:
Product Endorsements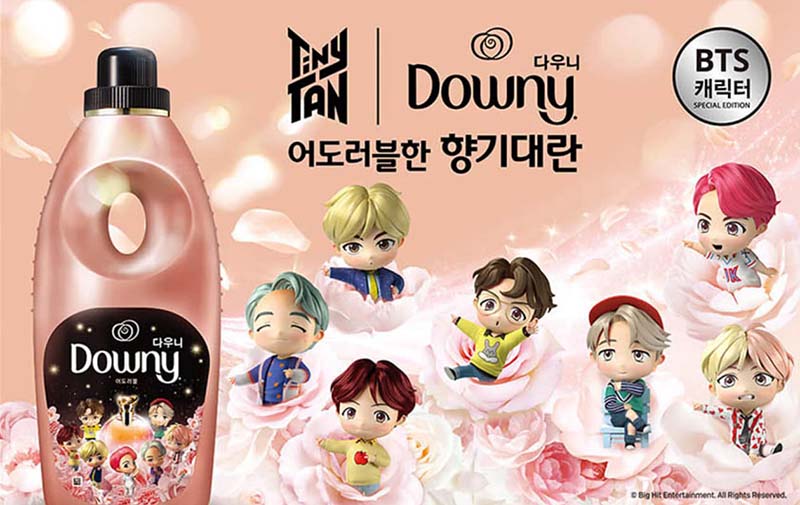 When you get influencers or celebrities to endorse your products, add more drama by using portrait illustrations. This ad from Downy used Tiny Tan, the chibi versions of phenomenal K-pop group, BTS. We all know how popular these guys are and you don't need any more gimmicks to sell them. A true-blue fan will have all the photos they want of this group. But these cute and adorable characters are a great addition to any fan's collectibles.
Tips for Custom Portrait Illustrations
We understand that it can sometimes be too exciting to have custom portrait illustrations. However, since you will use it for your brand or business, you need to set ground rules for your designer. Here are a couple of tips that could help you.
Use Your Existing Branding Guidelines
Your portrait should still be in line with your company's core values, and you must go back to your branding guidelines. The use of the right color and shape must be according to your brand to enforce continuity. Plus, it helps your market recognize you faster, most especially if it will be your first time to use custom portrait illustrations.
Make It Fun Yet Professional
What we love about custom portrait illustrations is that it is naturally fun and playful. But if you are to use it for branding, it still needs to be professional. Do not use illustrations that might offend other people as it can cause a huge backlash against your brand. Sure, you can infuse humor to your portrait, but again, send boundaries.
Will Custom Portrait Illustrations Work With Older Markets?
The answer is a resounding yes! Whether you are dealing with children or the elderly, using custom portrait illustrations will have the same appeal. Of course, you might need to tweak it a bit to become age-appropriate. Think about the colors, gestures, and facial expression, to name a few. But when done correctly, it should work.
Penji's Custom Portrait Illustrations
The list above is only a fraction of the ways you can use custom portrait illustrations for web and advertising. You can use them on the following:
Package designs
Landing pages
Social media graphics
Mural art
Books and magazine covers
Sadly, custom portrait illustrations can be expensive, especially for small businesses and startups.
With Penji's flat monthly rates, you can now have as many custom portrait illustrations as you want. Our unlimited graphic design service lets you send as many design requests as you can. You won't have to pay per illustration as what you'll be getting when you get the services of a freelance illustrator.
Also, while other graphic design services offer a separate plan for illustrations, Penji doesn't. What we have are our Team and Agency plans that already include custom portrait illustrations. You can have logos, web and app designs, and other graphics along with your illustration requests. Watch our demo video here to learn more about it.
Related Post: Digital Illustrations: What to Expect From Penji Illustrators
Final Thoughts
Standing out from the clutter is what every entrepreneur and marketer has to deal with every single day. It's not easy and seems to get more difficult as time goes by. Custom portrait illustrations are some of the most overlooked tools to get audience attention. Yet, it's what your brand needs to leave a good impression and to entice more audience.
With Penji, you no longer have to worry about finding the right illustrator and designer. We have them all on our team. Check out our portfolio here to see how amazing our designers are. Sign up today to get them started on your portrait illustrations.