Since a website bridges the gap between brands and audiences, it must be built around user experience. Navigability, mobile-friendliness, readability, and overall aesthetics are a few of the elements that go into excellent company websites. As for overall aesthetics, illustrations can give your website an added edge. But how will you source attention-grabbing illustrations for websites?
In this article, we'll tell you the top free and paid resources for website illustrations. And if you're torn between using free or paid options, these differences will help you make an informed decision.
Before we jump into our list, you should consider getting Penji's services as well. With unlimited graphic designs for a fixed monthly fee, you are getting your money's worth. Signing up is easy!
Related Post: Here's Where Your Designers Get Their Free Stock Photos
Free vs. Paid Illustrations for Websites: Which One Should Brands Choose?
Since graphics elevate your company website, entrepreneurs and marketers should allocate a budget for it. Unfortunately, some brands don't prioritize custom illustrations for websites and opt for free resources. While this may save them money upfront, it will impact their company's bottom line over time. Before you make a decision, here are the differences between free vs. paid illustrations.
Pros and Cons of Free Illustrations
Free illustrations might sound heavenly for startups and small businesses working with a shoestring budget. And this is one of the pros why brands choose free illustrations. Simply because it costs nothing, and brands can save the funding for other critical projects.
Another advantage of using stock illustrations is they're quick and convenient. You only have to choose the website, sign up, and download the illustrations. No sweat!
But what they don't realize is that free illustrations don't make your website stand out. Here are some discouraging cons:
Not unique
The first and apparent reason why smarter brands veer away from free illustrations is uniqueness — or the lack thereof. Most illustrations from free sites have been used over and over again by millions of businesses worldwide. And where does that leave your brand? You're simply a speck amidst a sea of other mundane websites.
Limited choices
Free illustrations might sound too good to be true. But there's always a limit when it comes to free stuff. Although you can choose from stock illustrations, there are not that many to choose from in the first place.
Licensing restrictions
Some websites where you can grab free illustrations still have licensing restrictions in place. This means you won't be able to use the illustrations for commercial purposes. And if you do, it might be the death of your brand via copyright infringement.
Limited sizes
Some of the stock illustrations come in limited sizes. Most of the illustrations come in raster formats such as PNG or JPG. Vector formats are better, especially if you want to use the illustrations in other channels like billboards or business cards.
Predictable
You see this a lot from stock imagery: People shaking hands, happy employees collaborating, someone typing on a laptop, or a mockup of charts and graphs. These are cliche imagery. On the other hand, stock illustrations also have their level of predictability. However, you want distinct illustrations that surprise your audience.
Outdated Illustrations
When you use free sources for your illustrations, they mostly offer outdated designs. However, as we all know, design trends change quickly. And if you use elements that are out-of-season, do not expect to gain traction as well.
Related Post: Use Custom Illustrations to Transform Your Marketing and Web Visuals
Pros and Cons of Paid Illustrations
The prices for paid illustrations can vary, depending on which website or service you go for. If you're taking this route, you're elevating your website to new heights. Unlike stock illustrations, the paid ones are undeniably more captivating.
Before enumerating the benefits of custom illustrations for websites, let's start with the cons. For most brands, the cost is what turns them off when buying illustrations. Custom graphics come with a price tag, and that's understandable. But you have to consider that it isn't just a mere expense but rather an investment that your company can take advantage of over time. The cost for custom illustrations also depends on what options you choose.
For instance, on-demand services are the most cost-efficient options that offer unlimited illustrations at fixed rates. If you still have hesitations on whether you want paid illustrations for websites or not, here are some benefits to persuade you.
Quality
Since creatives carefully make paid illustrations, the quality is arguably commendable. If you hire professional illustrators, expect they'll be using the best tools for the most excellent outcome.
Available in vector format
You can save paid illustrations in different sizes if you plan to use them on print or other online channels. Vector illustrations are the best format when it comes to scalability. Even if you resize the images, the quality will remain the same.
Upfront licensing
One advantage of using paid illustrations for websites is the freedom to use them commercially. Once you pay, you get upfront licensing. This means you don't have to worry about copyright issues down the road.
Branding consistency
One way to instill brand recognition and top-of-mind awareness among your target audience is by applying branding consistency. When you work with illustrators, share your brand style guide to ensure that the illustrations convey your brand personality.
More choices
Compared to stock illustrations, you get more freedom with paid ones. When buying illustrations from marketplaces, you can choose from a variety of designs. When working with illustrators, you can have illustrations that are custom-made for your brand only.
Convertible designs
Illustrations don't only serve an aesthetic purpose. They act as the passage that brings your leads further down the sales funnel. For instance, hero illustrations on landing pages can compel leads to take action. Icon illustrations on websites also make the user experience a tad more enjoyable. Overall, getting custom illustrations means they're more unique and professional, increasing your conversions.
Fast turnaround
Although free illustrations mean you can download them the moment you see them, that doesn't mean you can't get custom illustrations quickly. For instance, on-demand design services like Penji have a fast turnaround time of 24 hours for custom designs. It all depends on which option you pick.
Saves you money in the long run
Yes, you might not realize the savings upfront when you hire professionals to do your illustrations. But you must give it time.
For example, if you are to use lousy illustrations, you will eventually have to revise all your marketing collaterals, which could eat up time. For business, time equates to money. On the other hand, if you have already invested in quality illustrations, it could last years, and you can already skip the additional expenses for related projects in the future.
Top Free Illustrations for Websites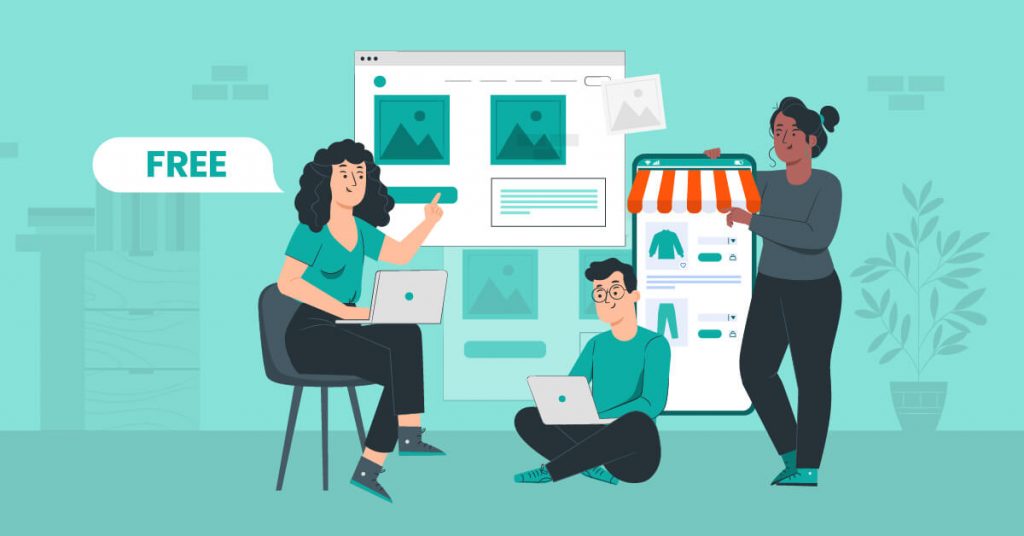 Here are some of the top free options for website illustrations.
1. unDraw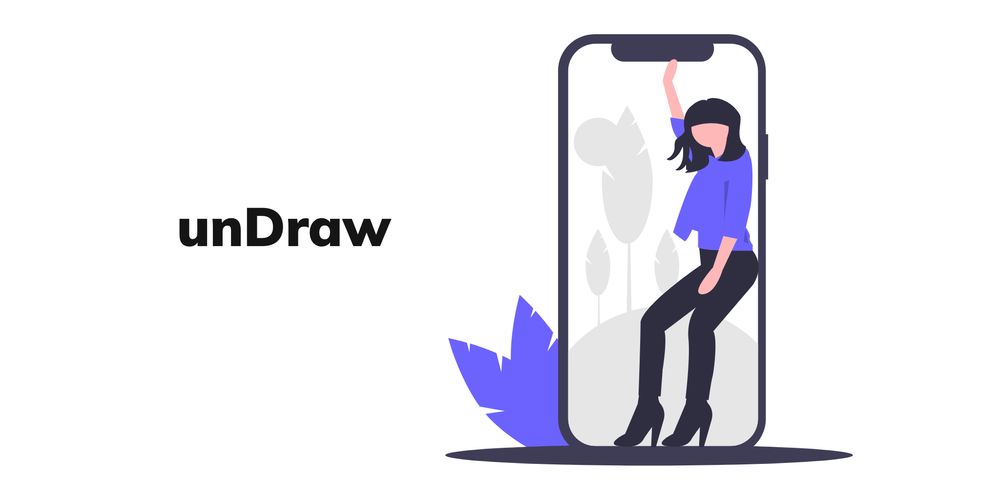 A group of designers founded unDraw in 2017 to offer an open-source channel for illustrations. The upper hand of using unDraw is having access to illustrations that are embed-ready. You can combine several SVG images fast as well. These illustrations cost nothing too. As long as you don't create integrations or re-distribute illustrations, you're good to go.
2. Stories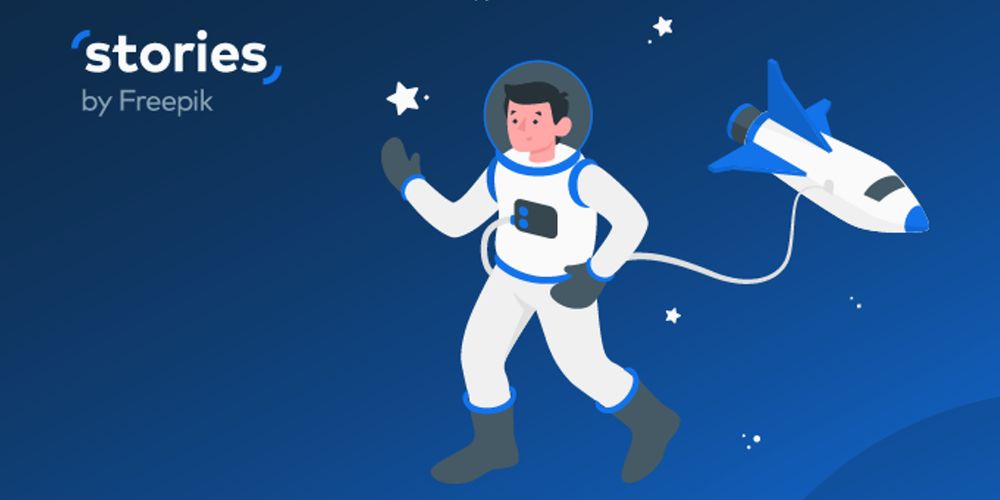 Freepik created Stories to offer users conceptualized illustrations that they can customize and animate. These visuals can be both in PNG and SVG formats and can be directly animated in the browser. The first step is to choose the concept that fits your project.
These are some of the concepts:
Rafiki – clean flat illustrations
Amico – isometric illustrations
Bro – casual illustration style
Cuate – cheerful illustrations with a twist
Pana – fresh illustrations with hand-drawn details
These are only a few of the categories, and there's more to choose from. Then you can edit colors, layers, backgrounds, and more.
3. Ouch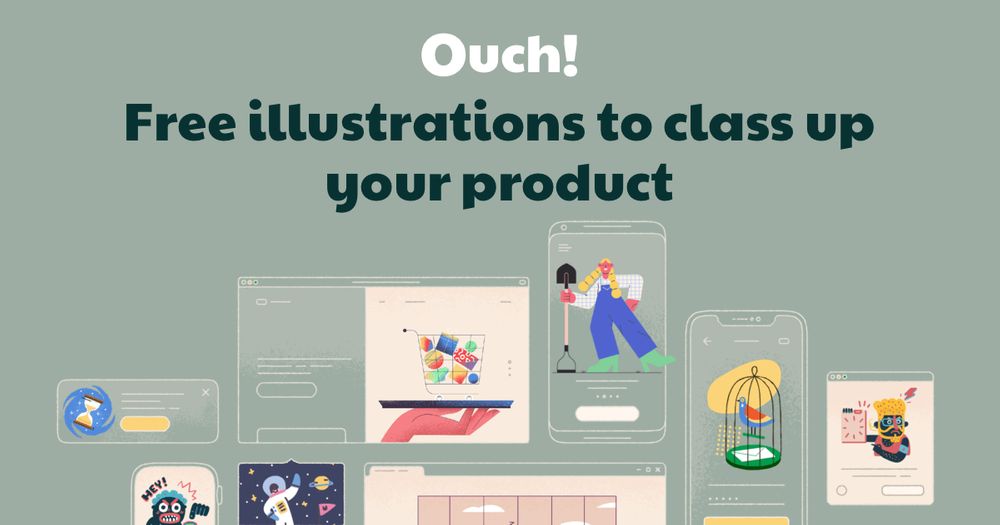 Icons8 owns Ouch, and the company aims to offer illustrations in various styles. From geometric, isometric to flat, and caricature illustrations, Ouch has it all (well, sort of). Although they offer free illustrations for commercial purposes, they require that you display an Icons8 link on your site.
Moreover, the free illustrations are in low-quality and PNG format. You have the option to upgrade, which ranges from $13 to $29 per month.
4. DrawKit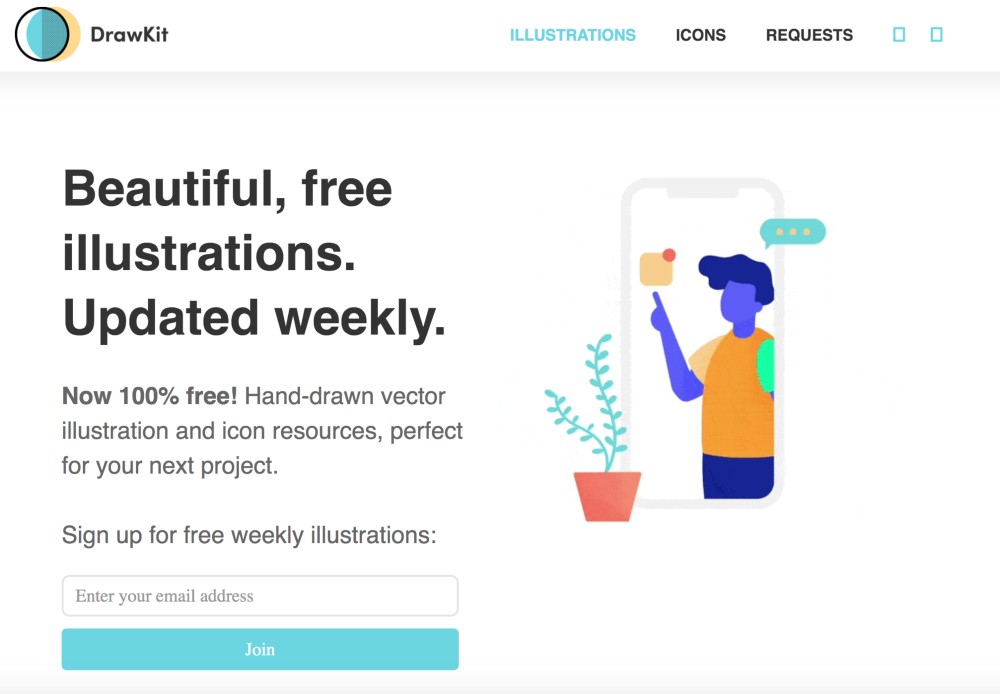 If you're looking for new and fresh illustrations for websites that cost next to nothing, check out DrawKit. Their platform is updated weekly with new illustrations that are mostly hand-drawn vector designs. And it's 100 percent free! You can choose from many different categories, such as the Love & Family pack, Economy & Finance Pack, to name a few.
Also, if what you want isn't on the list of categories, then don't fret. You can either request new illustration styles or vote for the requested illustration updates.
5. Glaze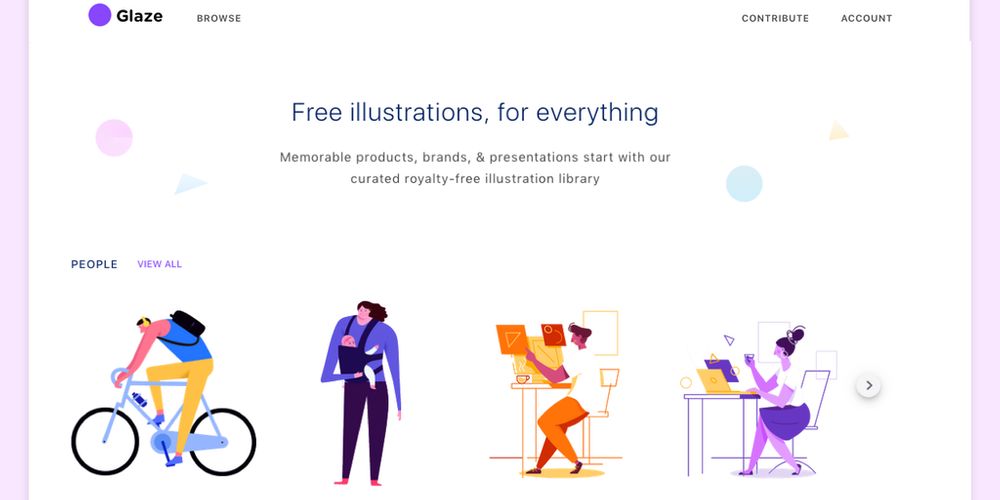 Glaze understands the user's dilemma of having access to free yet outdated illustrations. So they created this platform in 2018 and assure users that all their illustrations are carefully "curated by expert moderators." All illustrations are free to use. However, you'll have to give attribution to the artists. Also, Glaze ensures to give credit where credit is due. So for every illustration you purchase, 70 percent goes to the artist.
6. Illustrations.co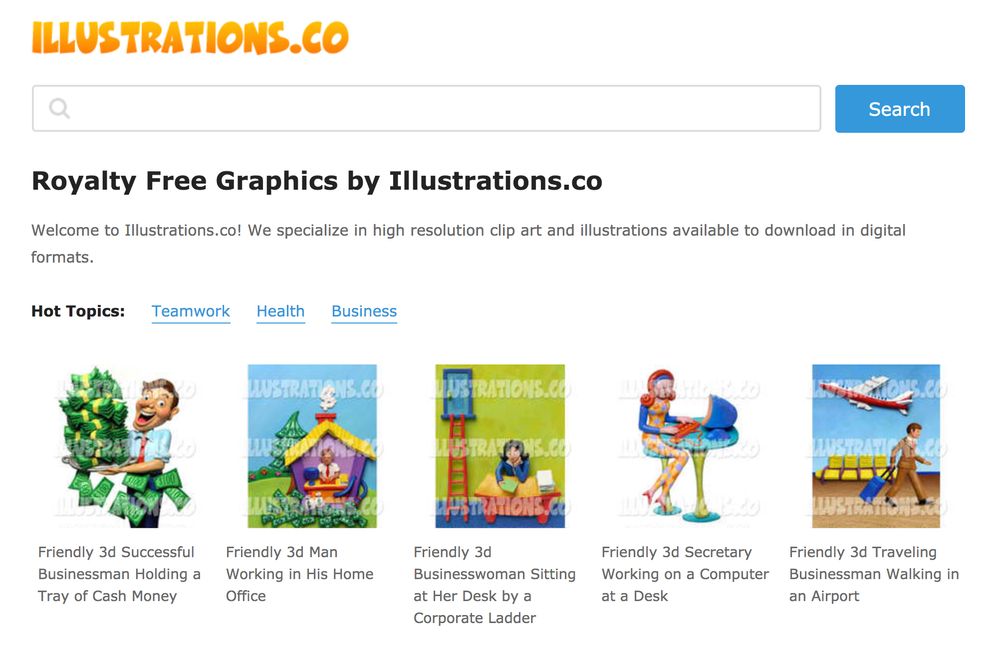 Vijay Verma is the brainchild behind Illustrations.co. It's an open-source library where you can gain access to hundreds of amazing illustrations. Also, you can use the illustrations for personal or commercial purposes without giving attribution.
All you have to do is select from the list of categories, then choose to Download Pack or Download All. Although the illustrations are free, Vijay says you can buy him coffee to fuel his creative passion. One cup costs $3, three cups cost $9, and five cups cost $15.
Top Paid Illustrations for Websites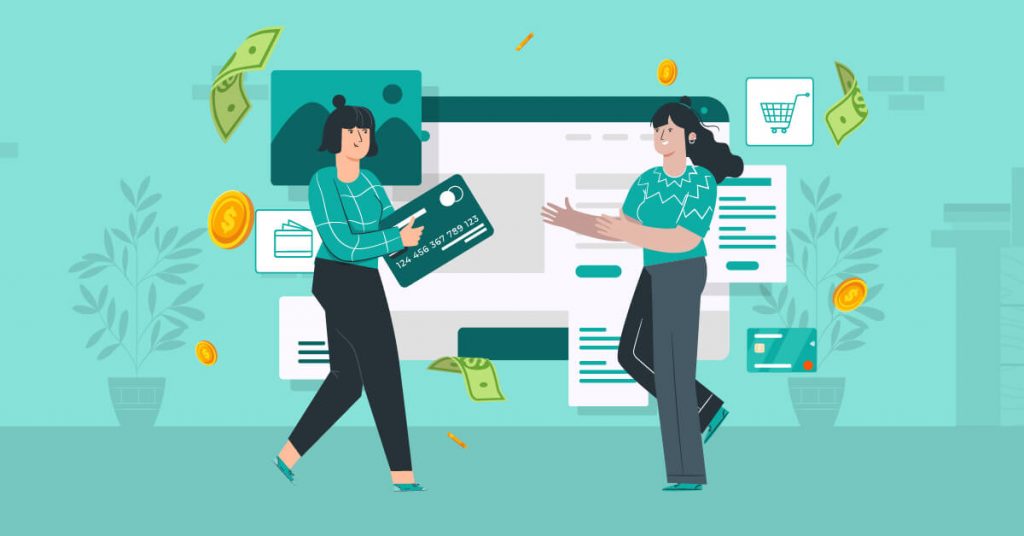 If you're looking into paid illustrations, the cost depends on which service you choose. Here are the most commonly used design services by brands.
1. Design agencies
Hiring design agencies means you'll have an entire team working with you. Expect to receive different creative perspectives and high-quality work. As for the cost, it will depend on these factors:
Scope of your project (How much strategizing, collaborating, brainstorming, and designing are needed)
Type of project (Branding, research, marketing, advertising, etc.)
The number of deliverables
Complexity of deliverables
To give you an idea, Upwork design agencies charge around $25 to $250 per hour. However, this can go up to $450 per hour. Agencies also offer per-project rates, which will depend on the factors mentioned above.
We recommend hiring an agency if you run a large business operation. Likewise, this is ideal if you have bulk illustration requirements. Typically, this is the priciest option, but you do get what you pay for.
2. Freelancers
Hiring freelancers is a more cost-efficient solution. Unfortunately, finding one isn't as easy as you think. You can either sift through freelancer marketplaces or post on social media channels. As of August 26, 2020, the average rate of hiring an illustrator is $200 per project. Hourly rates can go as low as $25 and as high as $100 or more.
When hiring illustrators, make sure that you go through their portfolios carefully. Then conduct an interview or paid test project. Assess their communication style. The drawback when hiring freelancers is that they can go MIA on you and flop the entire project.
The solution is to regularly monitor their progress. Before starting the project, know which communication channels they use so you can contact them directly. Plus, a common mistake of most clients is that they do not provide contracts. Make it an SOP to draft one even if you are to work with a freelancer. This could protect both parties in case of disputes.
3. In-house illustrators
Hiring in-house illustrators means you'll have to pay them hourly rates while giving them benefits as full-time employees. If you prefer face-to-face work and collaboration, hiring in-house illustrators is your best bet. Also, working with in-house illustrators means they're more connected to the team. This gives them a feeling of belongingness. However, this may come with some disadvantages.
For one, the demand might be too overwhelming for the employees. And since design evolves yearly, the illustrators' skills can become stagnant and limited. You may not have diverse designs since the skillset is limited.
In addition, you still need to pay them regardless if there are projects or none. If you are still starting up, this might not be the best option.
4. Marketplaces
You can also opt for marketplaces when looking for paid illustrations for websites. The paid images are undeniably more compelling than the free ones. Here are some marketplaces you can check out that offer quality illustrations:
iStock
Shutterstock
Getty Images
Adobe Stick
Dribbble
Image Zoo
5. On-demand service
On-demand design services are becoming more popular due to their versatile offers. Penji is an on-demand design service that provides unlimited illustrations at flat monthly rates. You no longer have to worry about hourly or per-project rates. On top of that, here are the benefits of subscribing to Penji:
Unlimited designs and revisions
Vetted designers and illustrators
Three pricing tiers priced at $399, $499, and $899
Fast turnaround of 24 to 48 hours
Quality work
Access to custom design and messaging platform
Lets you add up to 10 team members in every project
Cancel anytime with no fees
15-day money-back guarantee
It isn't surprising that on-demand design services are taking the world by storm. It's the best option whether you are a startup or an already established business. You always get quality illustrations for a fixed fee every month, and this allows you to work within your company's budget.
Also, in case you need to pause your subscription, doing so is a breeze, and you can do it anytime. They don't lock you in a contract which is a plus too.
Click here to check out Penji's illustration work samples.
Reasons for Using Illustrations on Your Website
Some of you might still doubt the power of illustrations on websites. Let's change your perspective by giving you reasons why your website needs a revamp right now.
Photos May Not Describe Complex Ideas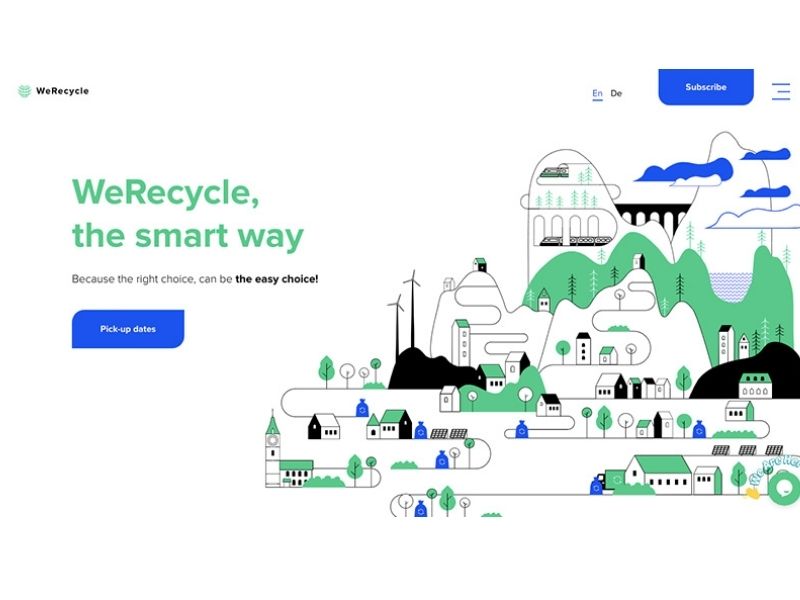 Take a look at what WeRecycle did. We are all too familiar with the concept of recycling, and we might think we know what the company does. However, they are more than just your typical recycling company, and this is clearly illustrated on their website.
To Conform With Design Trends that Work
As we've already shared, design trends can change in a snap. With illustrations, your designer can easily cope with the trends and use the same when revamping your website. It makes your brand updated, and people will be interested in checking it out.
Wrap Up
Without a doubt, you shouldn't put illustrations for company websites on the back burner. With the competition getting fierce in every industry, visuals are a way to reel users. Make sure illustrations for websites are unique, professional, high-quality, and copyrighted. If you're looking for free illustrations, try one of the sites mentioned. If you want your website to stand out, go for the paid ones. Try Penji's affordable and quality service for 15 days, risk-free. Sign up here.