Today's circumstances and advancements in technology have made consumers flock online. The year 2019 saw a 2.7% increase in mobile phone users around the world, according to We Are Social. Now, roughly 5.11 billion people are using mobile phones, and Statista expects it to grow further in the coming years. It also says the number of online shoppers in the US is seen to reach 230.5 million in 2021.
Nowadays, almost all of us get our entertainment, shopping, and everything else via our mobile devices. The very reason online ads for small businesses is a necessity. It's no longer a luxury that big businesses enjoy, small and medium-sized companies are now compelled to get them.
This is also why small businesses that aim to succeed and grow need to work with Penji. An on-demand graphic design service, Penji allows you to get graphic design for online ads at an affordable price. Here are some examples of online ads to inspire you.
Why Small Businesses Need Online Ads
Are online ads a requirement for business growth? Online ads have leveled the playing field for small businesses. This allows them to be side by side with the prominent names and possibly "steal" some of their customers. With thoughtfully-designed graphics, this is a significant probability. If this isn't reason enough for your business to design online ads, these will:
Cost-Effective
If you're on a tight budget but still want to advertise, going digital is the only way. Not only is it more effective and far-reaching, but it's also relatively inexpensive compared to traditional advertising.
Excellent Targeting Capabilities
With features such as geo-targeting, which allows you to target a specific audience based on their location, it's crazy not to. When you pay for a magazine space or TV spot, you'll only get limited exposure and not much control. Online ads allow for more flexibility and more influence.
Offers the Perfect Timing
You can tweak your online ads to be seen by the right people at ideal times. This gets you better exposure and more value for your money. Gone are the days when most people go straight to a brick-and-mortar store for something they need. Now, most of the purchases start with a trip to the search engines. Your ads can be timed when the right people, the ones most likely to buy, are online.
Provides Quick Communication with Customers
Back in the olden days, people will see your ad on TV, and that's it. Online ads let prospects and customers communicate with you, tell their opinions, or leave feedback. This type of engagement, which wasn't possible before, can significantly help you improve your products or services. This can also help you identify which campaigns work and which need to be ditched.
It Helps You Get Ahead of the Competition
Out of the billions using social media, there is a 100% possibility that your competition is online. You can learn a lot from their online ads and see how they compare to you. Look at what their strategies are and avoid mistakes that they seem to be doing.
The Most Effective Types of Online Ads for Small Businesses
Consumer behavior is constantly changing. Nowadays, most people rely on the Internet using their mobile phones to get all that they need. Online ads are the best ways to spread awareness for your brand as people are already going digital. But since small businesses have limited budgets, you have to think hard about what and where to advertise.
Here are the most effective types of online ads for small business:
Google Ads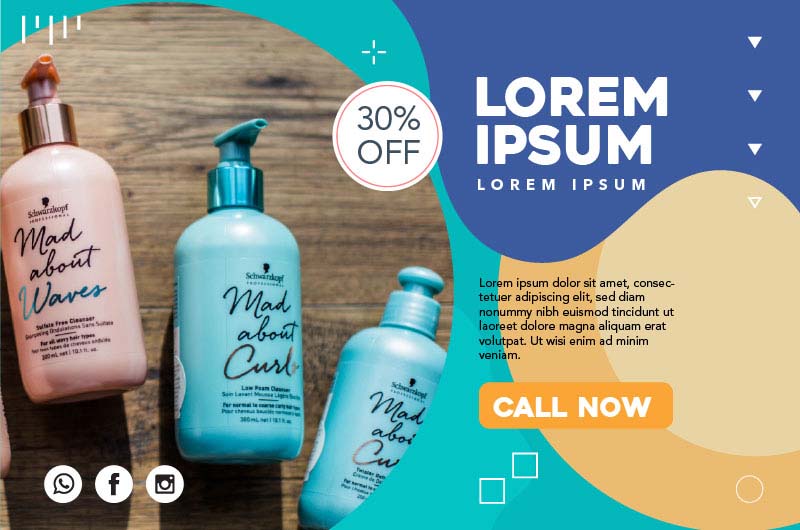 Search Engine Journal tells us that 93% of online experiences start with search engines. A WebFX study found out that online ads on Google increase brand awareness by 80%. Put these two together, and you have one of the best platforms to place online ads for small businesses—Google Ads.
Google Ads allows you to track your business's progress using its efficient analytics tools. It also allows you to target your audience based on their location, device types, or even the time of day. It also has a remarketing feature that places you in front of people who have shown interest in your brand.
Facebook Ads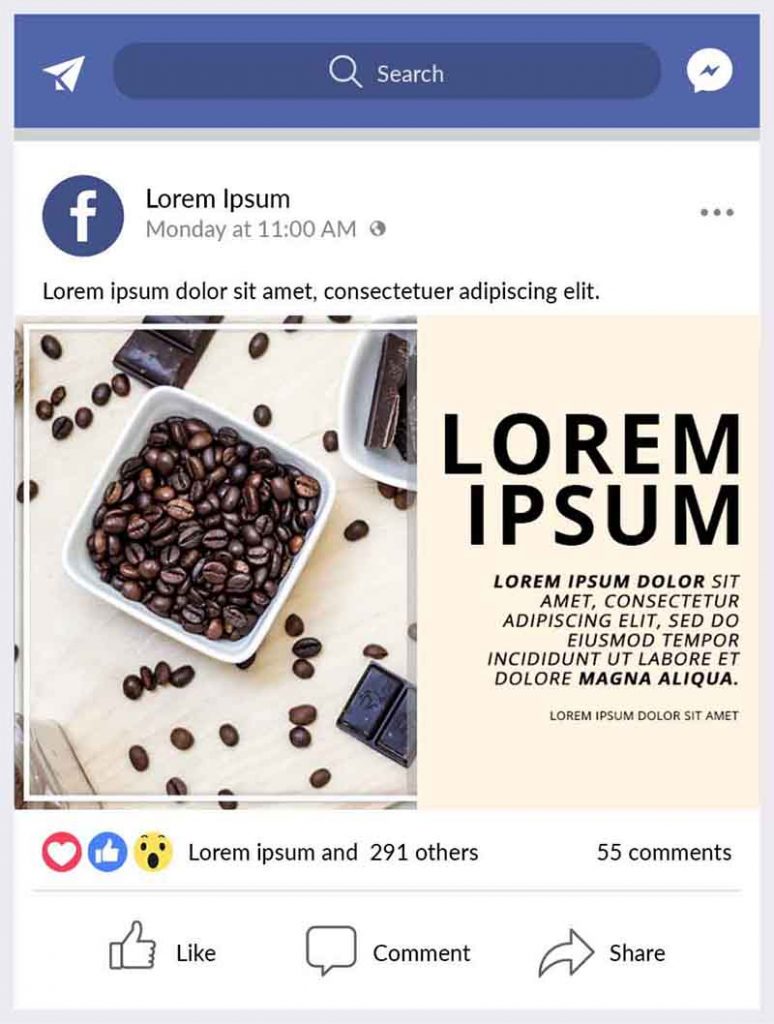 As of the second quarter of 2020, Facebook has recorded a whopping 2.7 billion monthly active users globally, according to Statista. If you want to widen your small business's reach, this is the platform to do it. Whatever your buyer persona is, you're sure to reach them easily on Facebook.
Placing your ads on Facebook requires that you use a bit of planning. People are on the platform mostly to socialize, their primary intent isn't to buy something. But if you offer something of value to them, such as free trials or eye-catching graphics, you can turn their attention your way.
Twitter Advertising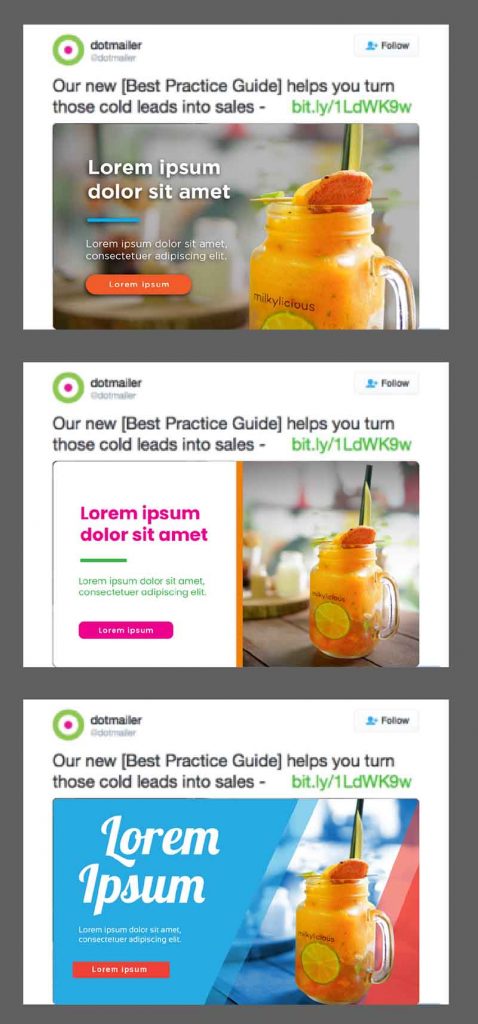 In a letter to its shareholder, Twitter revealed that it has 145 million monetizable users. What this means is that they have that amount of daily active users who see ads. And their user base is growing to dizzying heights. So, it's no surprise that it's one of the most effective online ads for small businesses.
Twitter allows you to create either one or all of the following: Promoted Tweets, Promoted Accounts, and Promoted Trends. All these can help you to market your small business in a very cost-effective way.
Instagram Advertising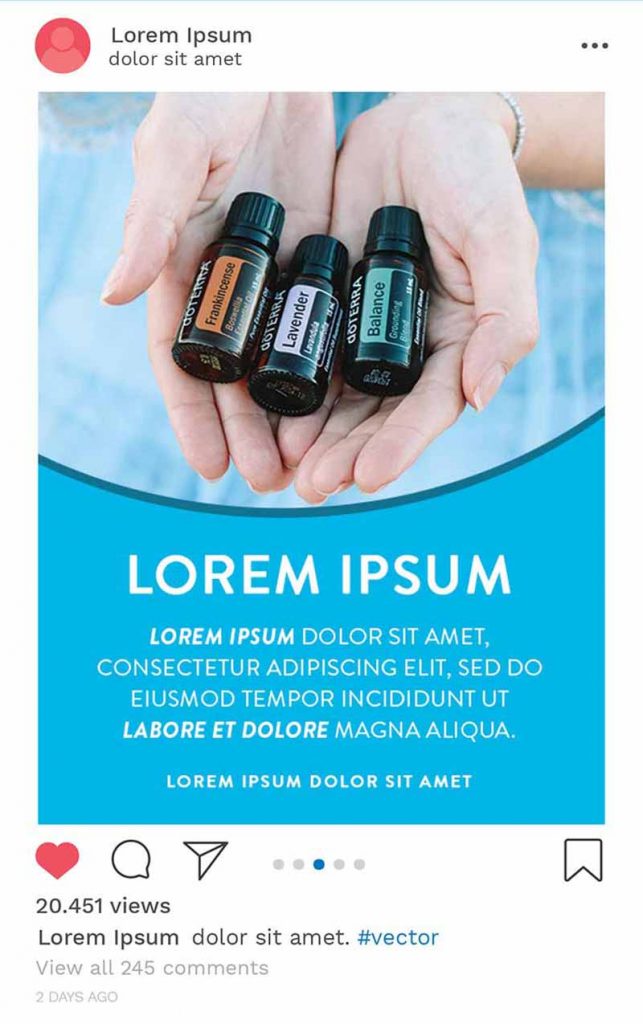 Who wouldn't want to be seen on a social media platform that boasts of over a billion active users? This, according to Statista, includes the 500 million that use the platform every single day. A 2018 Recode survey has shown that its users spend an average of about 53 minutes on it per day, a little less than Facebook's 58.
Instagram's Stories Ads appear in between users' Stories. This can seem as if your ad is another video or image and not something that tries hard to make a sale. There are various options you can use and flexible ways to make the most of your advertising budget.
LinkedIn Advertising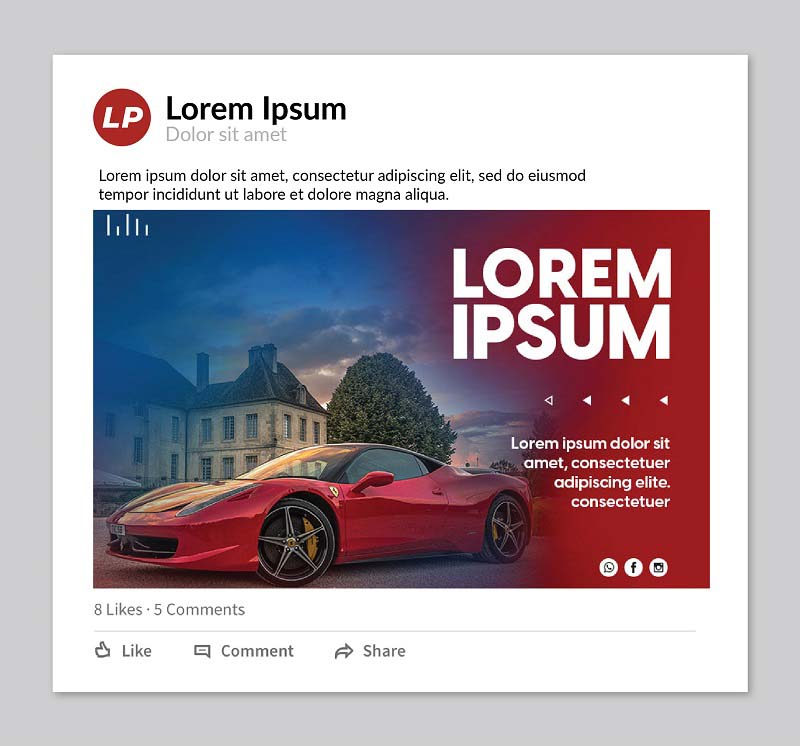 Another effective online ad to create is the LinkedIn ad. This is helpful for small businesses, most especially to those who cater to organizations instead of individuals. Their network is far-reaching—530 million strong—of different professional backgrounds. You can even get connections with other similar businesses that you can collaborate with.
Having a comprehensive profile on LinkedIn helps build trust, loyalty, and establish yourself as an authority. All these traits, although not directly linked to making a sale, can lead to more prospects. Better awareness of your small business will eventually lead to more revenues.
Other Sites to Place Online Ads for Small Businesses
If you still have the resources and energy to create more online ads, here are additional sites you can use. Take note that these can depend on factors such as your location or your target audience. Learn to experiment until you determine which online ads work for you and where to place them.
Online Directory Listings
Google states that 97% of people search for local businesses on the Internet. This is why it pays to be on business directory listings that can extend your reach. These listings offer targeting options as well as excellent opportunities for SEO. Yelp, Bing, and Yahoo are some of the best directories there is, according to the Search Engine Journal.
Deals Websites
Great deals and big discounts are great ways to increase traffic to your physical or eCommerce stores. Slickdeals, Groupon, or Living Social, are a few examples if you want to try this strategy.
Local Media Websites
Local news websites, city guides, or TV and radio station websites are also excellent places to place online ads. They are ideal for targeting potential customers that are within your reach.
Why Use Penji for Online Ads for Small Businesses
Penji is an unlimited graphic design service that creates online ads for small businesses. We are founded on the idea that graphic design should be accessible and affordable. This is why small businesses have no more reasons not to have online ads designed for them.
For as little as $399 per month, you can send requests to create a variety of online ads. From Google to Instagram ads, our professional graphic designers are trained to design a wide range of ads. Take a second look at the examples above and see how they can create the same for you.
Click here to watch our demo video.
How to Request Online Ads for Small Businesses in Penji
We've taken the hassles of getting high-quality designs by making the process simple and straightforward. Here are the steps when creating a design request:
Create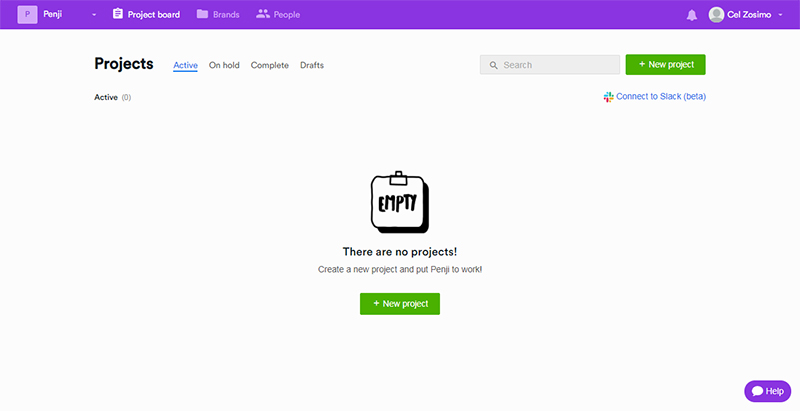 When you sign up for any of Penji's plans, you'll get access to our dashboard. This is also where you'll communicate with our designers. Click +New project to start.
Type in your project's title and choose the design category from the drop-down menu. You can also type the design category in the space provided, and suggestions will appear. For your subsequent requests, if what you want isn't on the list, you can click on Create a custom project.
Choose the dimensions of your online ad by clicking on any of the boxes. Click Custom if what you need isn't on the list. Then click Next.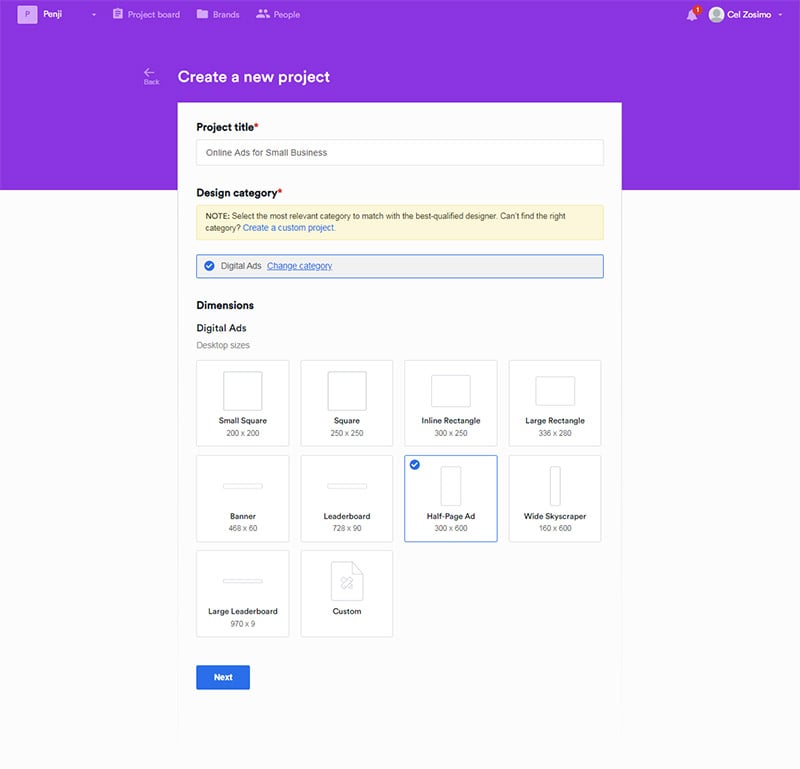 Write a brief yet thorough description of your online ad. You can refer to the yellow box on the left on what to include in your descriptions. You can also add attachments such as photos or documents to help your designer understand what you're looking for.
Or, you may also use images that are free to use from our royalty-free stock photo collection. Just click on Select images. Click Next.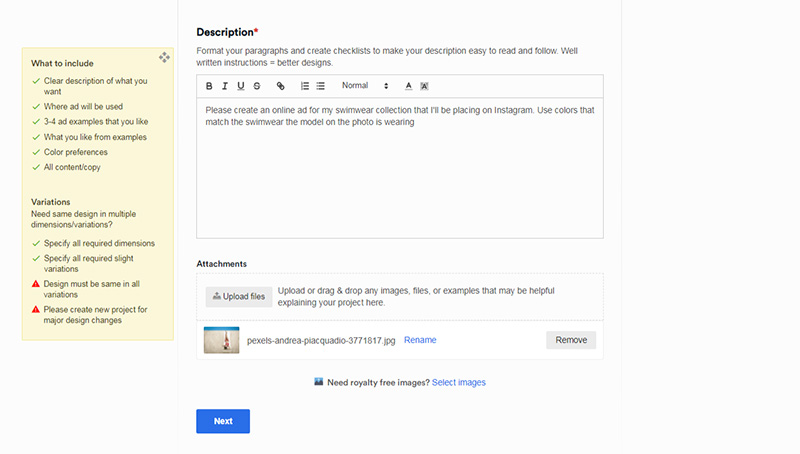 Next is choosing the level of customization. Our team and Agency plans include custom illustrations in them. Select this if you want to add custom-made illustrations for your online ads.
Then select which file type you want your project to be delivered in. For the Associated brand, you can create a folder that will contain all your branding assets such as logo and colors. For your next projects that need your branding, you only need to click on this folder. The designers will then add the assets to your projects.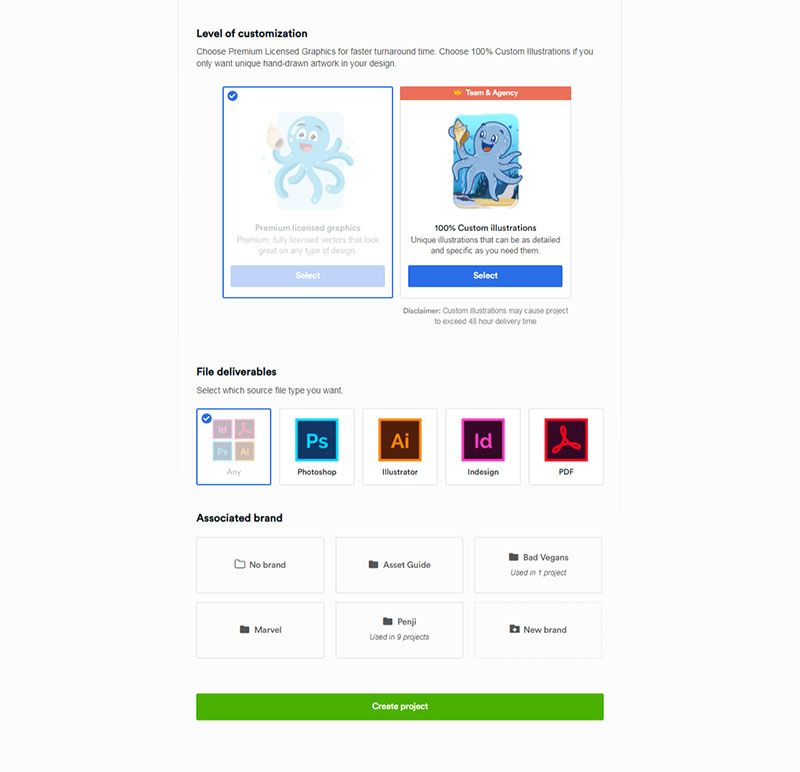 Click Create project. Your online ad will be automatically assigned to the best designer for the job. Wait 24 to 48 hours to get your first draft.
Review, Revise, and Leave Feedback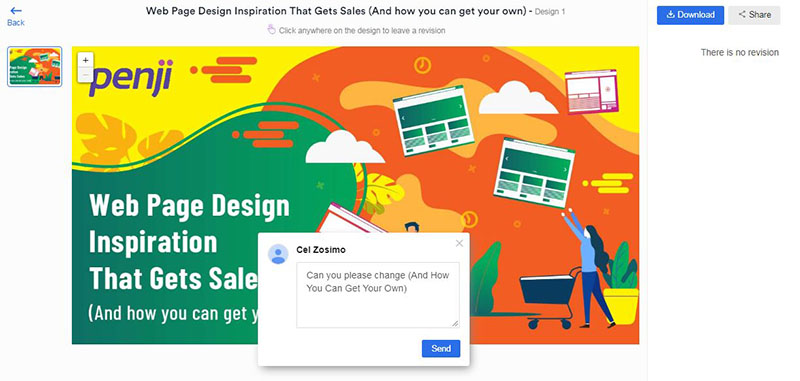 When you receive the initial draft, review it, and see if there is anything you want to revise. If there is, just click on the design, point to what you want changed, type in your comment, then Send. Your designer will work on the revisions within 12 to 24 hours.
Additionally, you can leave feedback for your designer or the system as a whole. Positive feedback will keep our designers up on their feet, while negative ones can help them improve.
Download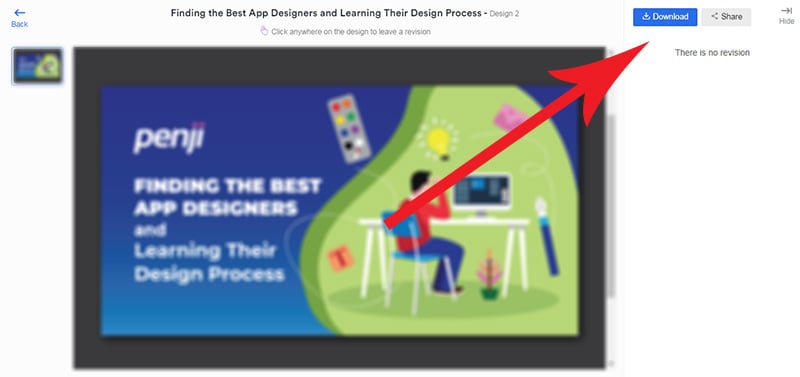 Once satisfied with the design, you can now download it. Your designs will be stored in our system and go back to them whenever you want to. You also get full ownership of your designs, so you won't have to worry about copyrights or infringements.
Final Thoughts
One of the biggest challenges for small businesses is how to spread awareness without going over the budget. Much as they want to get themselves out there with ads after ads, resources are limited. Say goodbye to worrying about how to get affordable online ads for small businesses, Penji can help you.
Join the thousands of startups, agencies, and businesses that rely on us to get great graphic design. Our 15-day, risk-free, 100% money-back guarantee assures you that we won't stop until you get the best designs: no contracts, no hidden charges, just quality designs.
Sign up today to learn more.