We all know that great graphic design can bring many significant benefits to businesses. The internet has afforded us the global reach to open the doors for working with people from anywhere in the world. This paved the way for businesses to hire graphic design freelancers instead of using traditional methods of getting good designs.
One of the most well-known places to hire freelancers is Freelancer.com. As with any other on-demand staffing service, it has its ups and downs. If you've tried it and still want to explore other options, choose the best freelancer alternative from this list.
The Pros and Cons of Hiring Graphic Design Freelancers
Before we look at the best Freelancer alternative, it's essential to know why hiring freelancers is a good business decision. While it may work for some, there isn't always a guarantee that it will work for you. Here are the pros and cons of hiring freelancers to help you weigh in and see what will work best for your business.
The Pros
Hiring a freelance graphic design is affordable. You'll only pay for the deliverable that you need. And since there is an abundance of freelancers, they can lower their price just to get you to do business with them.
Their flexibility with time and services lets you get the design you want when you need it. They will work within the time frame you specify as opposed to agencies that have fixed schedules. Additionally, when you hire a single freelancer, you'll get consistent work every time.
The Cons
One of the most annoying traits most businesses find with freelancers is their lack of reliability. They may not always be around when you need them and may even disappear without notice. This is something that you won't find in portfolios or resumes, so it's hard to avoid this from happening to you.
It's also hard to pin them down and have them exclusively working for you. You have to understand that there are times that they'll leave you when they find a higher paying client. This will result in disruption of work. Plus, most of the time, you'll get design that's lacking with consistency as you change designers.
Freelancer.com offers an easy way to find inexpensive graphic design services. If this is your primary source of designers and you're struggling with it, it's time to look somewhere else. Here are the top freelancer alternatives and their pros and cons:
Online Freelancing Sites: Pros and Cons
Freelancer.com has had a reputation of offering no protection from scammers, among many others. This compilation of the best freelancer alternatives will help you move away from it and move on towards a better one.
1. Upwork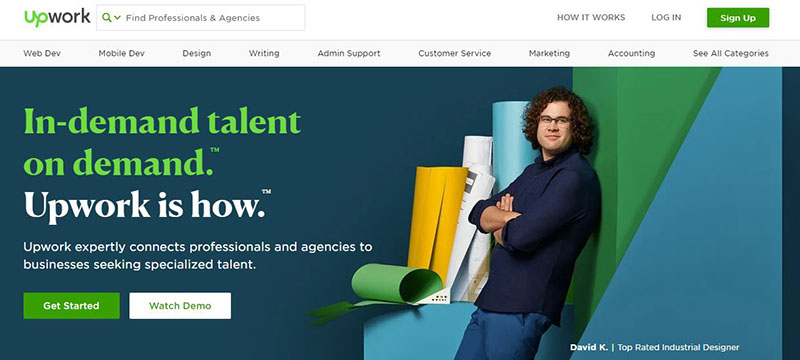 The Pros
When oDesk and Elance decided to join forces, this resulted in Upwork. While Freelancer.com's vetting measures (or lack of it) leaves much to be desired, Upwork's is one of the best around. They claim to approve only about 2% of the freelancers who create accounts there. It has mobile support, stable features, secured payment method, and many more.
The Cons
One of the things most people complain about Upwork are the high fees. The Business Plan will cost you $849 per month and a 3% payment processing and administration fee on all payments to freelancers and agencies.
2. Lemon.io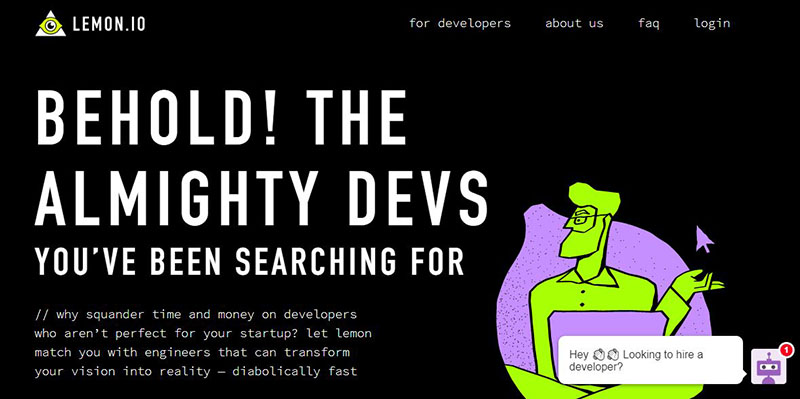 The Pros
Previously known as Coding Ninjas, Lemon.io's strongest suit is their ability to match candidates to their clients to a tee. They have a high percentage (97%) of clients acquired during the first year that have stayed with them for more than three years already. Also, out of the average 100 applicants they vet, only a mere four manage to pass.
The Cons
Their Startup Plan of about $35 to $55 an hour is reasonable enough. What most users complain about is the price when you exceed your allotted time of more than 60 hours per month. Aside from this, the only thing we found to dislike is the simplicity of the UI that isn't as intuitive as some hoped it would be.
3. Penji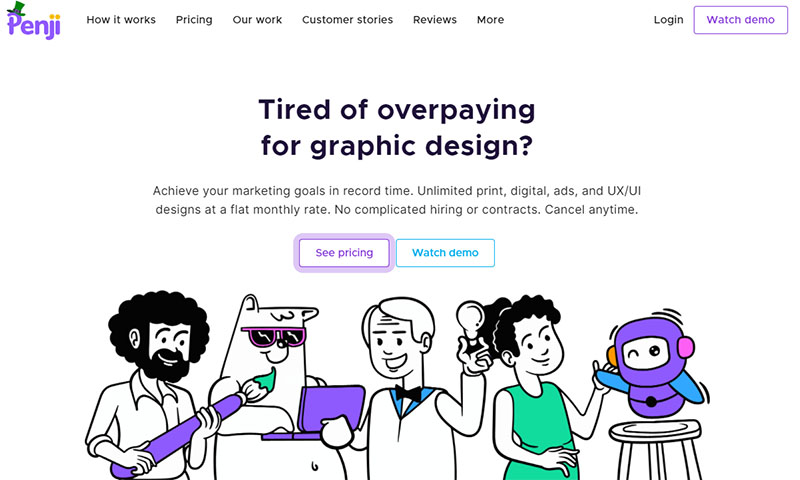 The Pros
An unlimited graphic design service, Penji has a team of professional graphic designers. Whatever design assets or genre you need, we have someone who can do it for you. This type of service eliminates so many issues with crowdsourcing platforms such as those in this list. Continue reading to see the details of why Penji is the better Freelancer alternative.
The Cons
Basically none. But if you only need a graphic designer for a single project, Penji may not be for you. However, some freelancers can charge you up to $500 for a logo. When you sign up for a Penji plan, for a much lower price than that, you'll get unlimited logos and more.
4. Toptal

The Pros
What makes Toptal unique is its feature that offers a trial period for the contractor they assign to your project. A $500 deposit will be asked but is totally refundable if you're not satisfied. Their vetting process is so tough, you're sure to get only the top 3% competent freelancers to work for you.
The Cons
A bit on the pricey side, hiring from Toptal can cost you up to $3,200 per week for a full-time contractor. Also, you have no say about who will work for you. The platform does the assigning, which can be a deal-breaker if you like to have control over it.
5. PeoplePerHour.com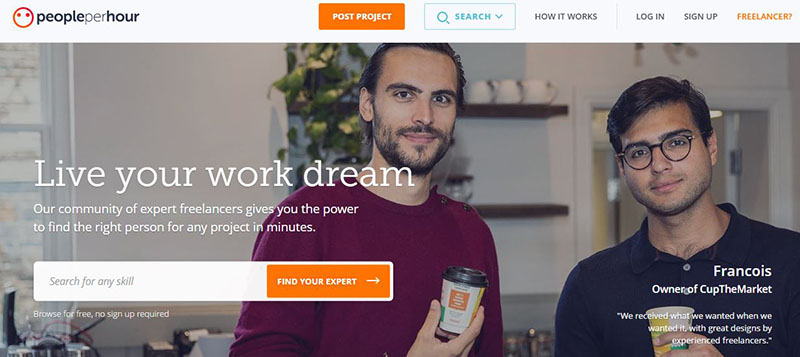 The Pros
PeoplePerHour.com made searching for the ideal candidate simple and easy with their user-friendly user interface and no-cost job posting feature. Their extensive pool of talents can assure you of the perfect fit thanks to its filtering system that allows you to set parameters to get you the most suitable workers.
The Cons
The biggest downside to this platform is their customer support, which many find unsatisfactory. They are slow in contacting you about your questions or cases that take too long to get a response to.
6. Fiverr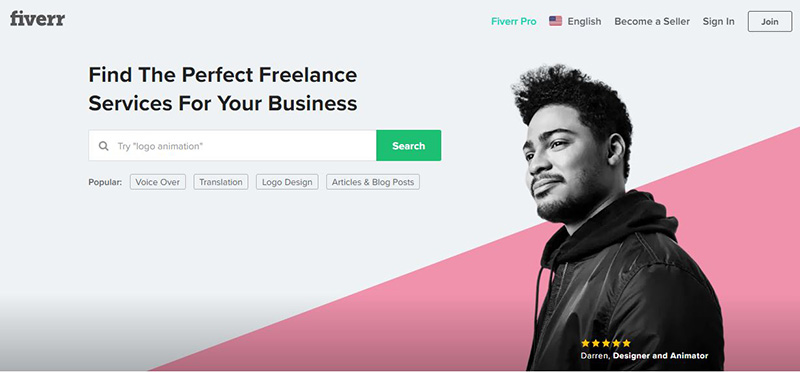 The Pros
As the name suggests, Fiverr allows you to get someone to work on your project for just $5. Although this depends on the project, it's still one of the cheapest platforms to get freelancers. They have a good reviewing system which motivates the freelancers to churn out quality jobs at a fast pace.
The Cons
Just like Freelancers.com, Fiverr has no vetting procedure that we know of. Thus, there is a high chance of getting substandard work. Another thing both clients and workers find objectionable is the inability to contact others outside of the platform. If you find someone that you want to hire and have deleted their account, you no longer have any access to them.
7. Guru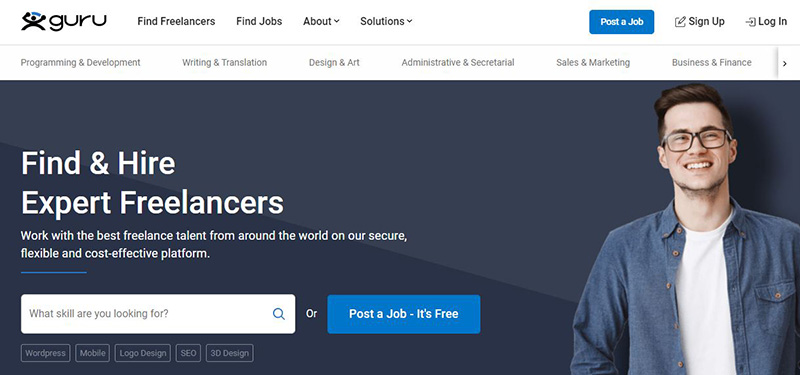 The Pros
To protect both the worker and the employer, Guru uses the SafePay system. The platform asks you to deposit money which will be sent to the contractor only when the job has been finished. It's also a bidding platform that assures you of finding the most reasonably priced contracts.
The Cons
Guru has a review system that sometimes doesn't go in favor of the employer. If you leave negative feedback for work done poorly, the contractor can pay a fee to have it removed from their profile. This can result in seeing unskilled workers claiming to be professionals on the platform.
8. Behance
The Pros
The advantage of using Behance is that there are more than 12million freelancers to choose from. You can also take advantage of their excellent customer support for questions not answered on their website. Plus, their interface is easy to use, you can start looking at the portfolio and reach out to the freelancers right away.
The Cons
The downside is that Behance isn't cheap. You might find quality work, but don't expect that it is easy on the pocket. Also, as an employer, you will only rely on their portfolio. But we all know that when working with a freelancer, their working attitude should matter as well.
9. AngelList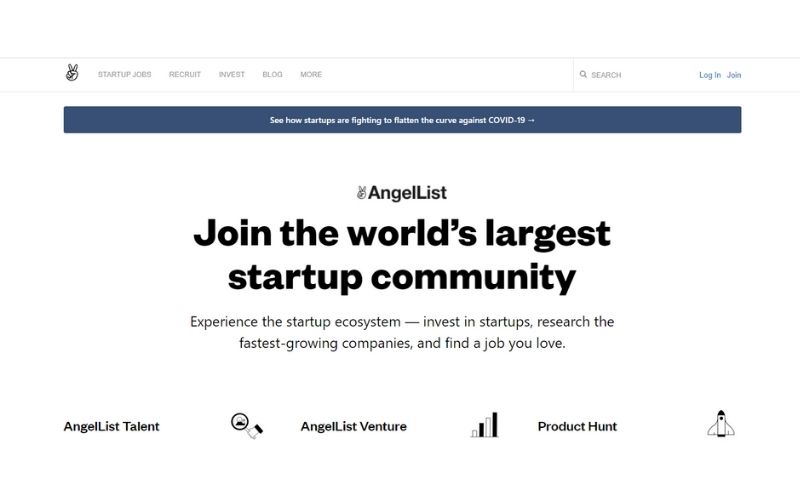 The Pros
AngelList isn't just for graphic designers, but you can find other talents as well. Thus, it has become a hub for both employers and job seekers. This is ideal for start-up companies wanting to find the perfect candidate to do the job for them. There's a free plan if you want to test the waters first, and a trial period if you wish to enjoy the higher-tiered plans.
The Cons
The subscription cost is quite high, and that could be a huge turn-off if you are just starting your company. Many users also complain about the lack of personal touch on their website. While it's straightforward, it needs to have a character to be more appealing.
10. DesignCrowd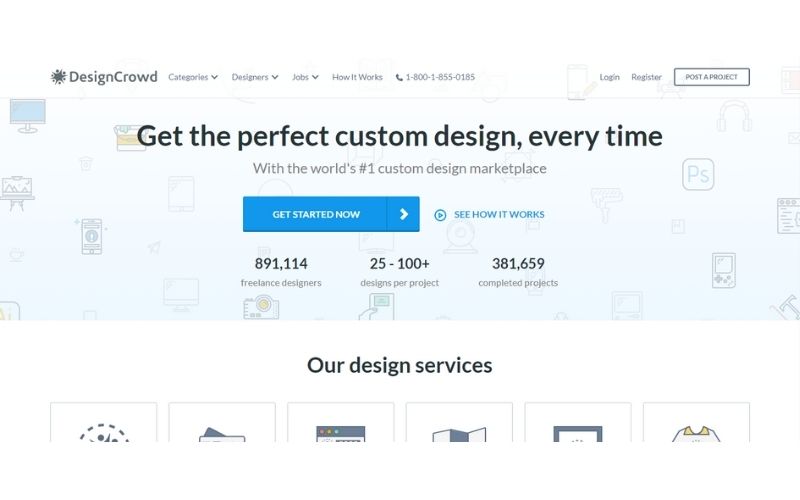 The Pros
There are many advantages to using DesignCrowd. For one, you can get projects for an affordable cost. The designers compete for your project, and that means you can get the best one. You can also request several projects from DesignCrowd. Whether you want logos, merchandise, or banners, you can get it all from here.
The Cons
What we've noticed is that the platform isn't intuitive. If you are not used to requesting designs, it can get confusing at first. And since they have a handful of business models, you need time to assess which one works for you best.
11. 99Designs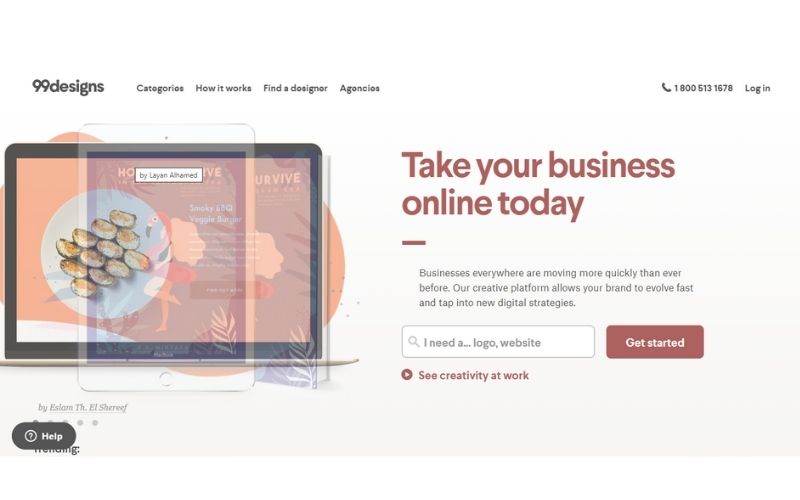 The Pros
One of the advantages of 99Designs is that you can get projects for a fraction of the cost. Plus, they require the designers to send a draft within 24 – 48 hours. You can also start a contest and pick the best designer for your project. The best thing about this platform is that they will hold the money in escrow. They will only release it once you are satisfied with the design.
The Cons
The contest format might be an advantage for clients, but it could be a bit disadvantageous for the designers. There's no guarantee that they will be picked, and that's already a wasted effort.
12. Dribble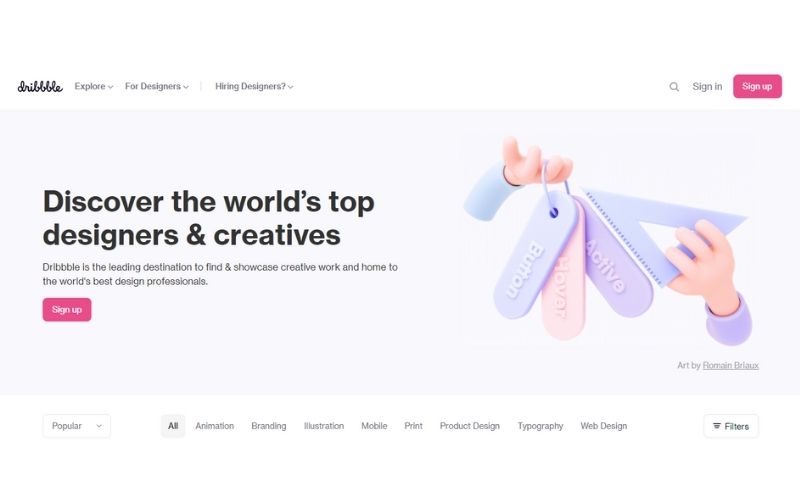 The Pros
Dribble is a big community where you get to see amazing artwork from different designers. The platform is also easy to understand. In just one glance, you'd be able to see the portfolio and the designer details. If you think their style matches your brand, then you just simply reach out to them.
The Cons
If it is your first time to use Dribble for hiring designers, it could be overwhelming, and you might not know where to start. And since you need to do the hiring process, it could take up so much time. This isn't ideal if you have urgent graphic design needs.
13. Gun.io
The Pros
Using an algorithm-based staffing methodology, Gun.io helps you find the best graphic designer to match your needs. They have an extensive candidate screening, thus their claim that their designers are hand-picked. Their money-back guarantee, flexible pricing, and sprint-based service payments make them stand out.
The Cons
While the platform aims to provide high-quality talents, it comes with a price. It may be a bit more expensive than most crowdsourcing websites on this list. In addition, there are reviews of subpar customer service.
14. Hubstaff Talent
The Pros
Claiming to be 100% free, Hubstaff Talent lets you browse freelancers by location, skill, or cost. They don't use the bidding system and instead allow talents to contact you directly. Vetting and recruiting happen outside of the platform. This system gets rid of the middlemen ensuring that you get cost-effective work.
The Cons
Since there aren't any fees, you're practically on your own. Whether it's a job posting or a candidate profile, the platform doesn't do any vetting or any protection measures for both workers and employers. This can be a cause for concern especially for those with trust issues or who have been abandoned at one point by a freelancer.
15. Perfectlancer
The Pros
One of the newer platforms around, Perfectlancer offers its services with no transaction fees or any hidden charges. They have a cashback system that lets clients earn 2% credit back on the amount they spend on the site. This makes it ideal for startups and small businesses who don't have a large budget for headhunting.
The Cons
The only negative thing you can find about Perfectlancer is their customer support that may be lacking at times. Other than that, this relatively new player has no con to speak of as of this writing.
16. Broxer
The Pros
Another online marketplace that offers affordable transaction fees, Broxer is unique. While other platforms will charge you to be visible on their site, you will only pay Broxer after a successful transaction. Their 2% commission fees and other low transactional charges make it very cost-effective.
The Cons
With only around 71,000 freelancers on its database, the options may not be as many as the other platforms. And this number isn't solely filled by graphic designers alone. They have digital marketers, writers, and other freelancers on the site.
Hiring an In-House Designer: Pros and Cons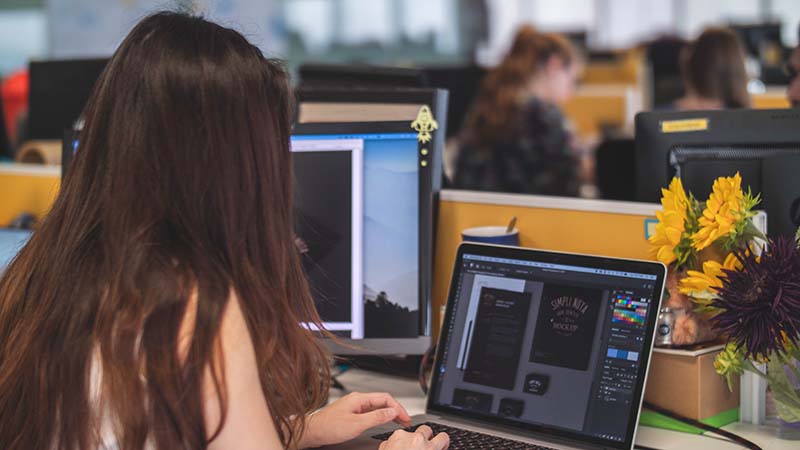 If getting a freelancer from these websites proves to be too complicated for you, then here's an excellent Freelancer alternative. That is to hire an in-house graphic designer. But as with all other methods of getting good graphic design, there are also pros and cons to this.
The Pros
An in-house designer can create cohesive materials for all your marketing, branding, and advertising efforts. Being with your company affords them the familiarity with your brand that freelancers won't have. This will allow them to create design assets that have a certain look and feel that's specific to your brand.
They are fully aware of their accountability when they're considered part of the team. This can give them a greater sense of belonging that can motivate them to do more for the company. In addition, you'll have their commitment that ensures you they won't leave without a trace.
The Cons
Glassdoor states that in 2019, the average salary of a full-time graphic designer is $45,677 a year. This may be the main reason getting freelancers is a better option for some. Having an in-house designer means you have to pay them even if your workload is low.
An in-house designer can also become stagnant and won't be able to give fresh perspectives to your brand. This is a possibility which can also happen to a long-term freelancer, but more so for the in-house designer.
On-Demand Graphic Design Service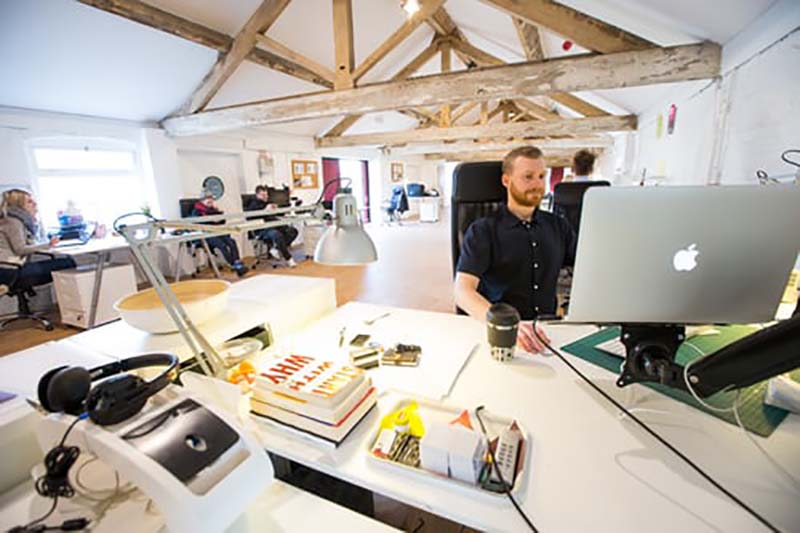 Graphic design for your business should be a smart combination of affordability and high-quality work. Freelancers can cost less than an in-house designer but may produce work that's not up to par with your standards. An on-demand graphic design service such as Penji offers both quality and affordability. Here's why it's a Freelancer alternative you should look into:
Low Cost
Penji offers unlimited graphic design services in three affordable plans. This means you can send as many design requests as you want within a month. You won't have to pay per project or pay an in-house designer even when there is little to no work that needs to be done.
Unlimited Revisions
Graphic design needs constant revisions to get exactly what you need. Penji offers unlimited revisions to ensure that you get the perfect logo or the banner ad that you need. All included in the fixed monthly subscription rate.
No Contracts
With a Penji account, you won't be tied down to a contract. In the event that you want to opt out, you can easily cancel your subscription, no questions asked.
Fast Turnaround Time
We mean it when we say on-demand. You'll get your design request between 24 to 48 hours, depending on the project's complexity.
No More Hiring Process
We've done the vetting of our graphic designers so you won't have to. The hiring process is a long and tedious task. Our team of professional designers has undergone vetting and training to assure you that what you'll get is nothing but high-quality design fast.
Conclusion
Hopefully, this article can help you find the best Freelancer alternative and the graphic designer of your dreams. But if you want a way to get graphic design that's straightforward as well as inexpensive, then Penji is your best bet.
Watch our demo video to learn more about us. Better yet, sign up today to get the design process started.