Diversify the fonts for Instagram to make your posts fresh and unique by using these top 20 IG font generators.
1. Lingojam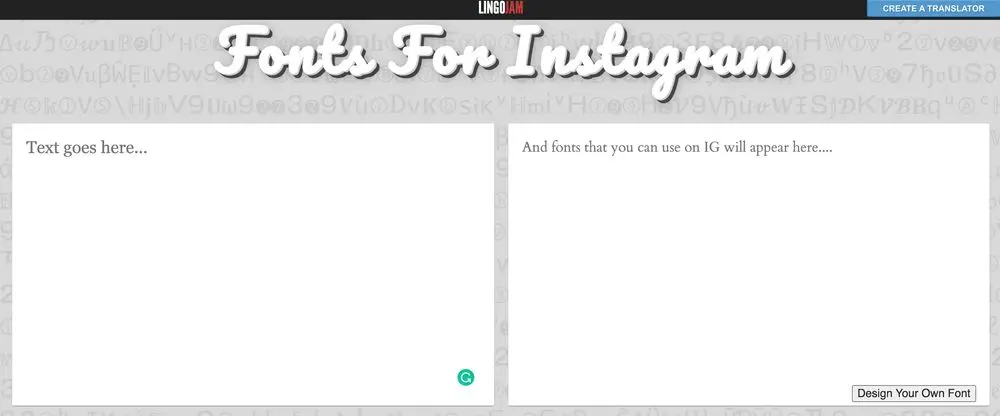 Lingojam is a pretty straightforward Instagram font generator that utilizes Unicode symbols. Once you land on the website, it gives you two boxes placed side by side. Type your text on the right box, and the output will appear on the left box.
2. Meta Tags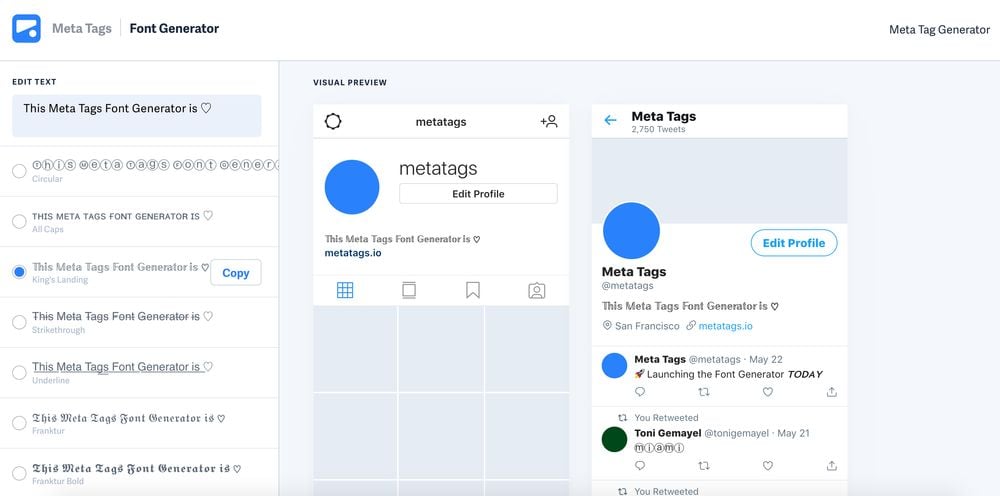 Using the Meta Tags generator gives you many options for your output font text. The homepage may seem confusing, but all you have to do is enter the text on the field found on the left side. Then it will automatically provide various fonts for Instagram, which you can copy and paste.
3. InstaFonts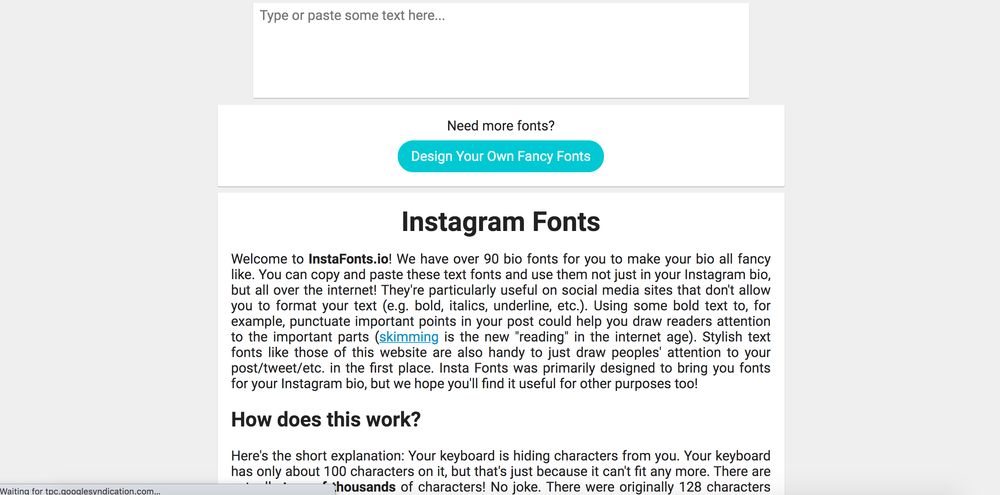 Like all the other font generators on this list, InstaFonts is another generator that has a user-friendly interface. They have over 90 bio fonts to spruce up your Instagram page and stand out among the rest. The text field is located at the top of the page, and you'll get the results underneath it.
4. Fancy Fonts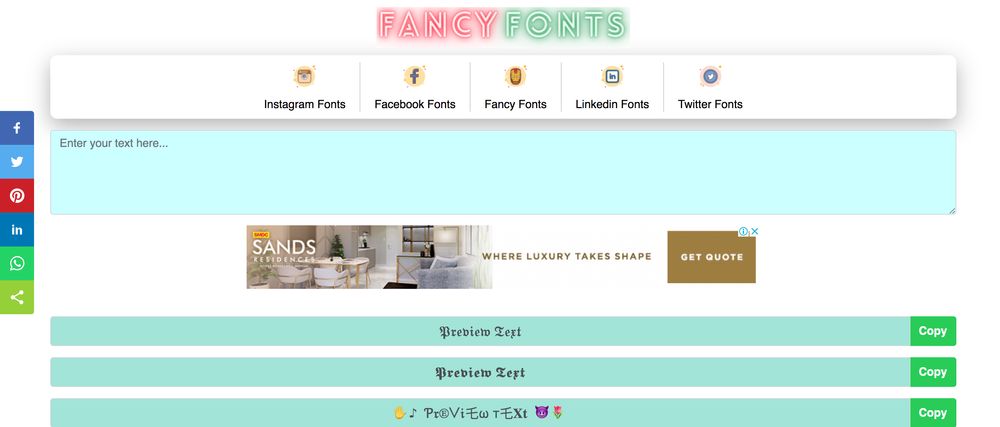 The pastel colors and the neon lights logo give this Instagram font generator a unique appearance. The use of icons for the menu on top is also a nice touch to the user interface. You can click the various options on the header, type your text, and scroll down through the beautiful seafoam green fields.
5. FontGet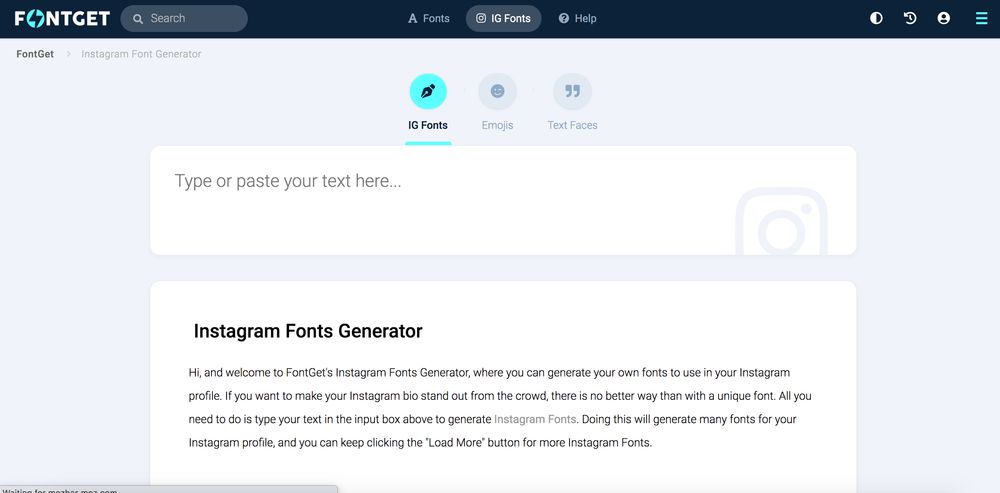 Fonts for Instagram should have personal touch and show your personality. And the FontGet generator has an option where you can select choices on different categories. It also has a clean interface with a dark blue contrasting header.
6. Ingramer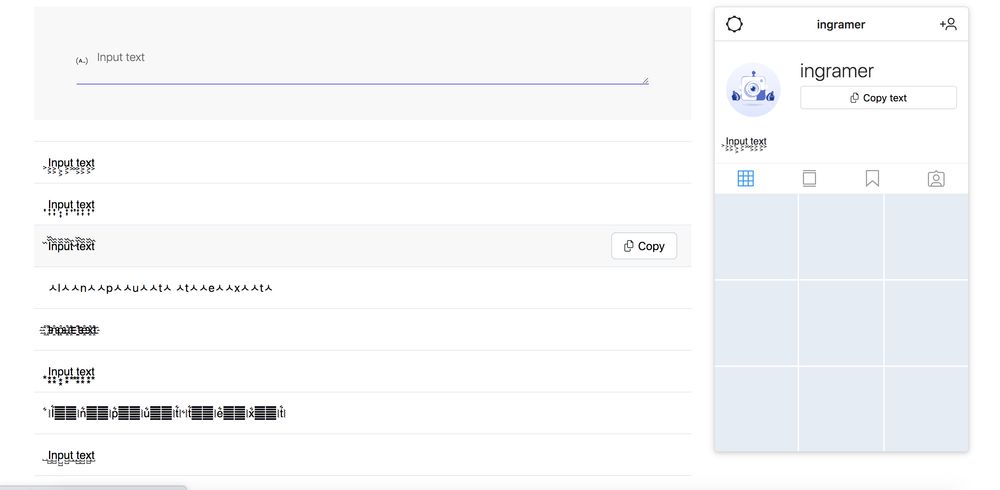 If you're looking for an all-in-one tool for your Instagram marketing, then Ingramer is the best option. Not only can you copy and paste fonts for Instagram, but the platform also offers other services. For example, they offer a growth feature, hashtag generator, a messaging channel, profile analyzer, post scheduler, and more.
7. Ig Fonts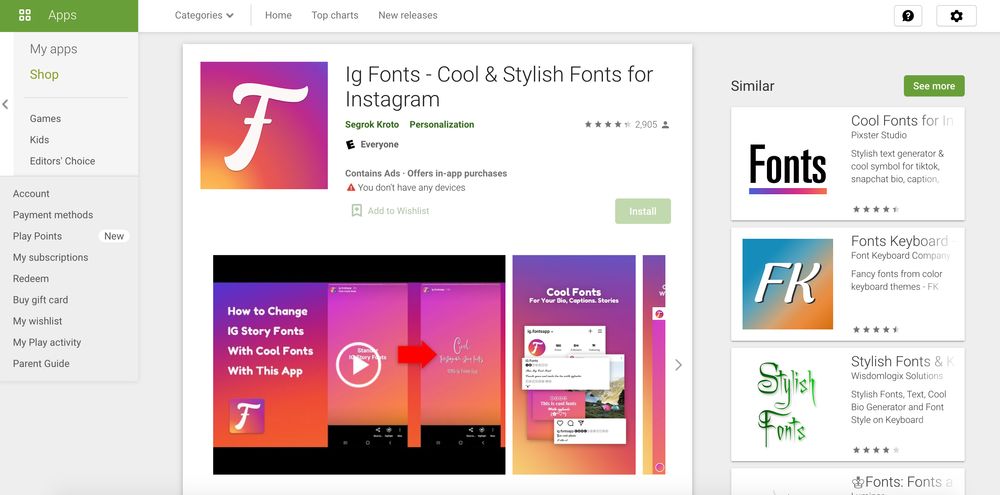 If you're constantly on your phone posting Instagram photos, you need Ig Fonts as your IG font generator mobile app. You can download this from Google Play and use it anytime you're out and about. With over 150 fonts, symbols, numbers available, you'll surely make your profile unique.
8. Seekmetrics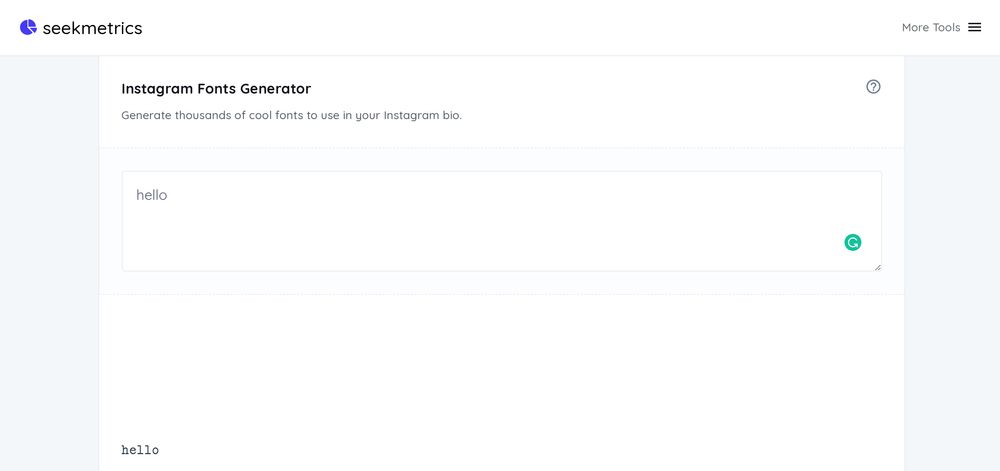 We specifically love the simple and clean interface of Seekmetrics Instagram font generator. A box is on top, and the results are shown underneath. Plus, they offer other services categorized into three: Social media tools, productivity tools, and web tools.
9. IGFonts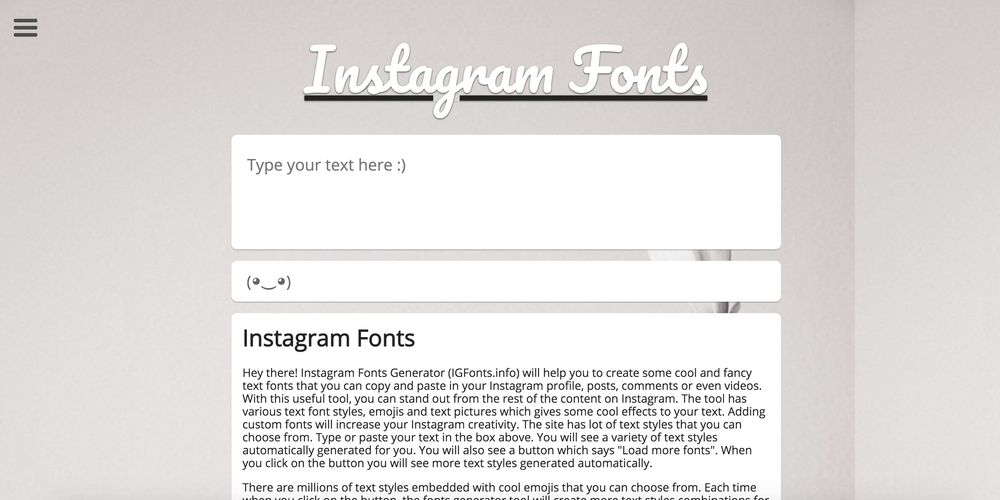 IGFonts lets you copy and paste on Instagram as well as other social media networks such as Twitter, Facebook, Pinterest, Snapchat, Discord, QQ, Tumblr, and more. They also have a great feature where you can select if you want small or bold text or an Instagram random caption generator.
10. Bigbangram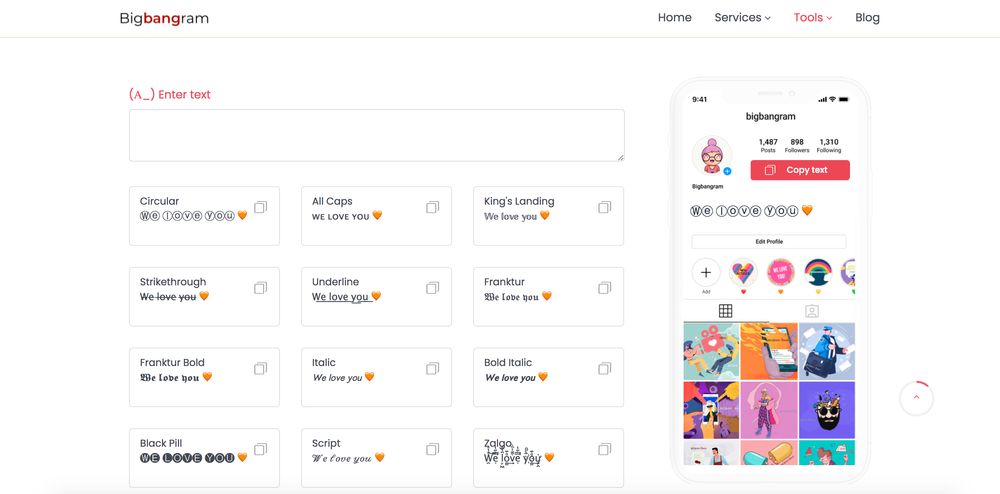 Cool, fancy and unique fonts can make your Instagram profile more appealing. And Bigbangram offers more than 150 of the coolest fonts you'll see on IG. The platform lets you select from bold, small and tiny, plus all the other categories such as Glitch, Fancy, Zalgo, Weird, Cursed, and more.
11. Insta Font Generator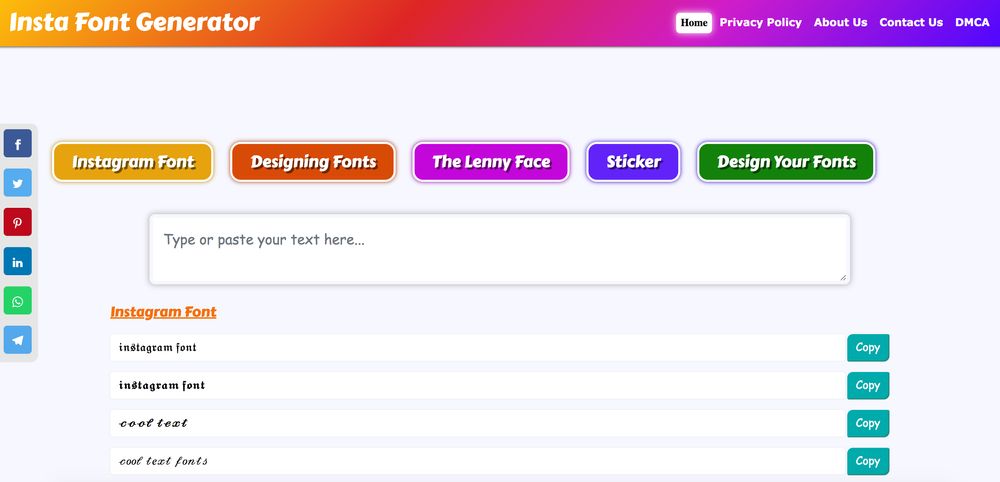 If you genuinely want a quirk Instagram profile, then Insta Font Generator is your best bet. The colors of their homepage aren't only eye-catching, but the contrasting colors make the homepage visually appealing too. The tool also offers several options, such as designing your font, the Lenny Face, and stickers you can copy and paste.
12. FSymbols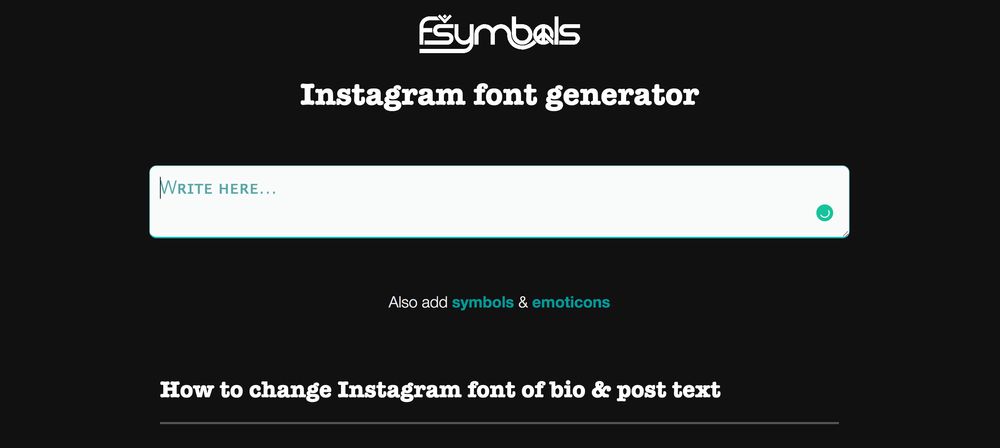 We like the overall black sophistication on FSymbols' web page. Aside from the dark theme, the platform is also straightforward. You get a text field on top, various results underneath, and two call-to-action buttons in contrasting colors on the side of each font.
13. FontsForInstagram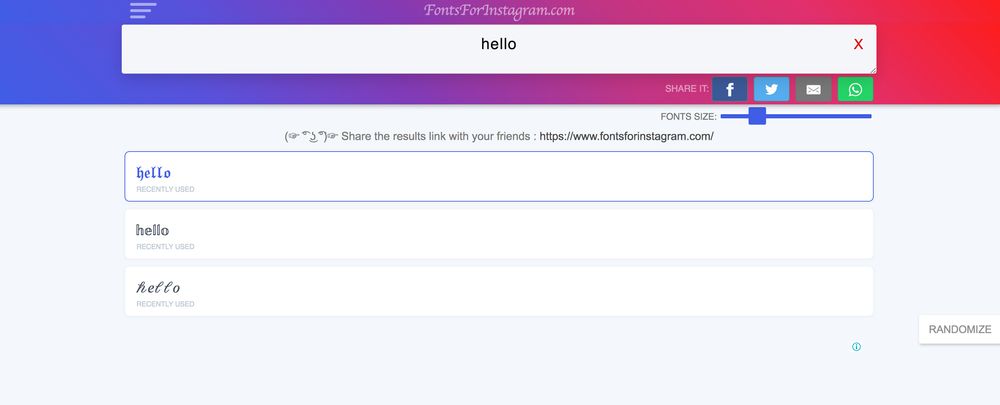 Although you can see many grammatical errors on the platform's description below, it still does a bang-up job. FontsForInstagram boasts around 108 beautiful fonts you can use to amp up your Instagram profile. Some are Wide Text, Tiny Text, Flip Up Text, Squares Text, Mirror Text, Creepy Text, Bend Text, and more.
14. FancyText Pro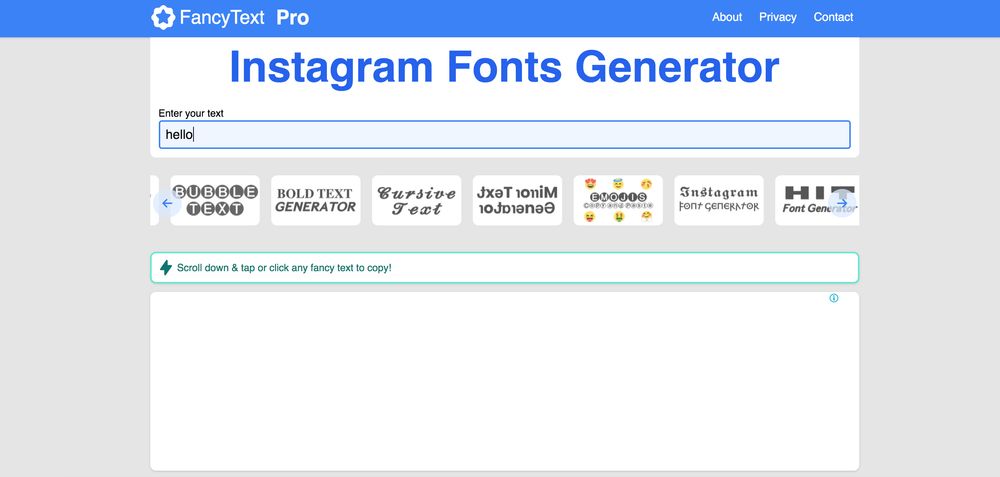 The FancyText Pro Instagram font generator works just like any other IG font generator on this list. The platform's upper hand is that the results are categorized into various types. You can choose between cool, fancy, elegant, catchy, stylish, awesome, attractive, or simple fonts for Instagram.
15. CoolSymbol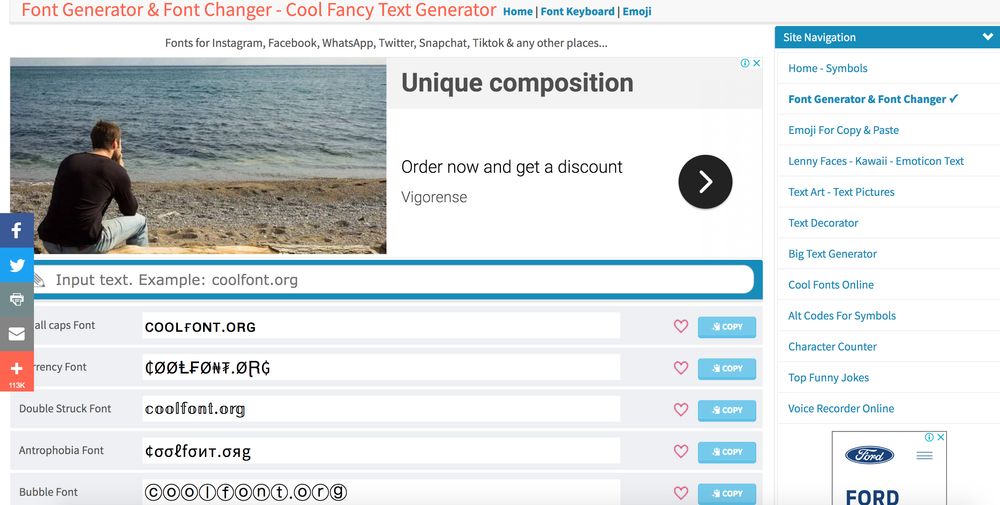 CoolSymbol's website interface is a bit confusing. However, the different features they offer make up for its web design. On the right navigation panel, you can choose other services such as Emoji, Lenny Faces, Text Art, Text Decorator, Big Text Generator, Character Counter, Top Funny Jokes, and more.
16. Fonts.social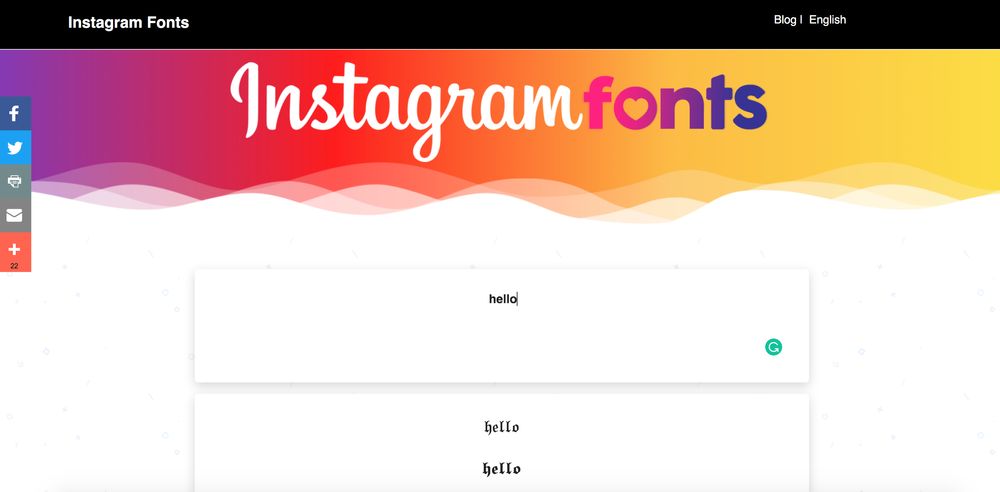 The stunning Instagram hues of orange, red, and yellow are evident on this IG font generator's website. Once you input your text, Fonts.social gives you a bunch of results with a beautiful call-to-action button in the same IG color hues that says, "load more fonts." It also displays a lot of various emojis they offer on the platform, which you can use for your profile as well.
17. Fontalic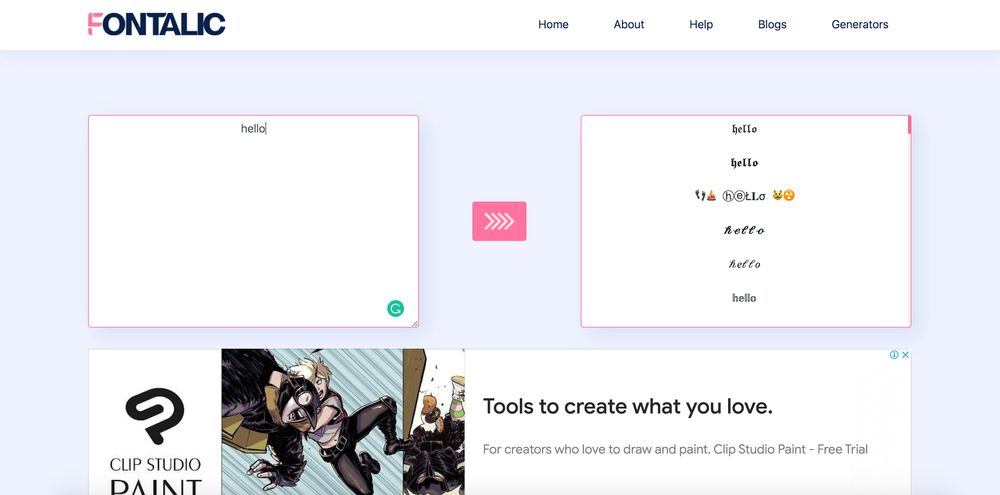 This is another beautifully designed website that encourages users to generate their fonts for Instagram quickly. Fontalic uses soft colors for its interface. Two boxes are displayed side by side, where you can input your text on the left, and the output automatically generates on the right.
18. Font Space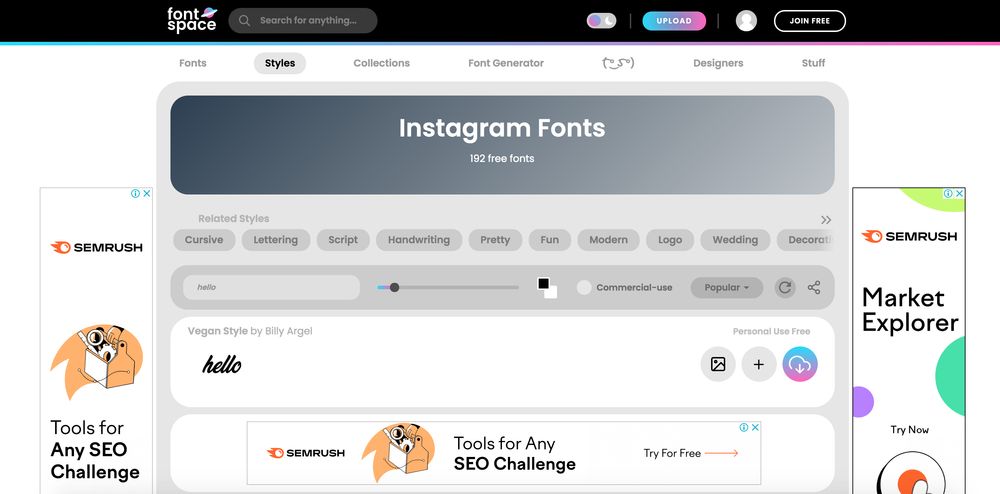 Another free Instagram font generator, Font Space offers a unique experience to users who want to spruce up their IG profiles. You can choose between different categories: lettering, cursive, handwriting, script, fun, pretty, modern, and more. Then after typing your text, you'll see the results, which you can resize, add to the collection, save to the computer, or download.
19. FontVilla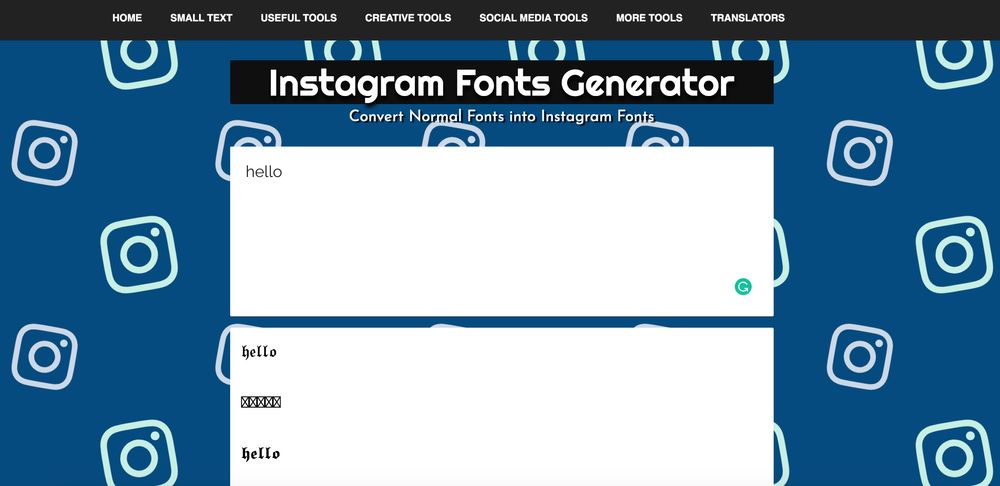 Enjoy using FontVilla for your Instagram fonts and make your posts stand out. Once you land on their website, you'll see attractive Instagram icons in a blue background. Type in your text, and voila, you're good to go.
20. Fonts IG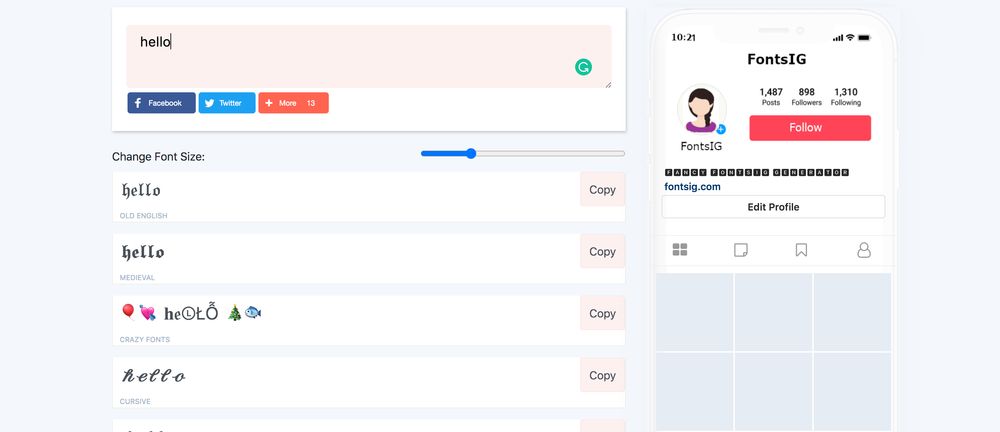 Fonts IG boasts of fancy and stylish fonts for Instagram that will make it worth your while. It works like any other IG font generator on this list. Some of the fancy fonts you can get on this platform are Zalogo fonts, Old English Text, Luni Bubbles, Cursive Text, Inverted Squares, and more.
Related Post: Sticker Fonts: Lettering, Typography, and Text Design that Stick
Using unique and cool fonts for Instagram will undeniably make your page more appealing than others. If you're using your Instagram profile for your business, this can give you an upper hand over your competitors. Although font generators give you hundreds of different styles, custom fonts and typography speak more of your brand. For custom Instagram fonts, Penji's professional designers assure you they're better than randomly generated fonts.
But that's not all. Penji not only offers beautiful custom fonts, but they can design all your Instagram posts as well. So sign up for Penji now if you're down for a trial period or a 15-percent discount.