Facebook Audience Network announced that beginning April 11, 2020, the platform would no longer accept requests for web and in-stream placements for ads. This may puzzle most business owners and marketers that aren't even aware of what Facebook Audience Network is.
When you place ads on Facebook, you'll be given the choice of where to place them. These are Facebook, Messenger, Instagram, and Audience Network. The first three are easily recognizable, but what about the last option? We'll take an in-depth look at what Facebook Network Audience is, how it works, and if it's worth using for your marketing strategies.
What is Facebook Audience Network?
In 2014, Facebook released Audience Network, and today, many entrepreneurs are still in the dark about it. We've come to know advertising on Facebook as ads on our Newsfeed, the column on the right, and other places within the platform. However, Facebook hasn't become a game-changer in social media advertising for nothing, thus the creation of Facebook Audience Network or FAN.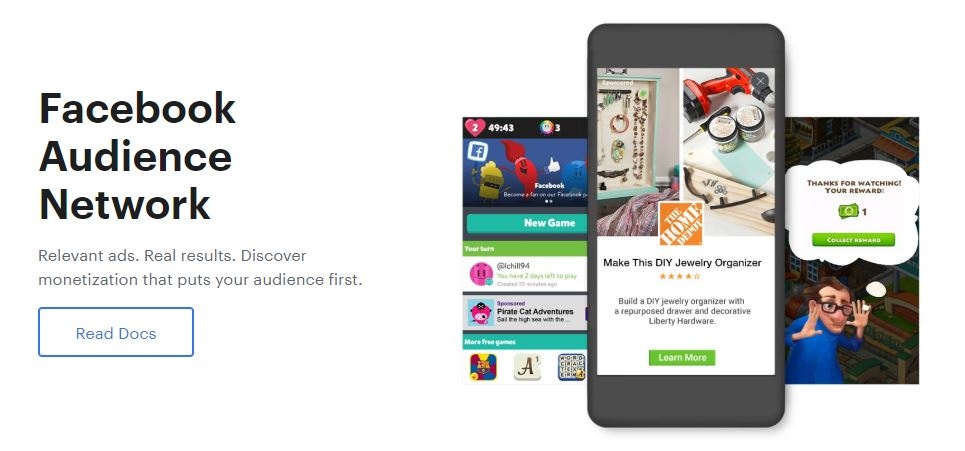 In a nutshell, Facebook Audience Network is an assortment of mobile apps and websites where you can display your ads. Marketers can show their ads to people who are using mobile apps and sites aside from Facebook. It also provides an opportunity for you to get a considerable chunk of its revenues when prospects engage with the ads within your app.
The platform says it perfectly—The power of Facebook ads, off Facebook. We all know how smart Facebook advertising is, and with Audience Network, it gets even better:
1. You'll enjoy a more extensive reach
2. Improves user experience by offering native ads that don't seem like ads
3. It allows your ads to follow your audience across a variety of devices and platforms
4. It lowers your CPR (cost per result)
All these and many more benefits make Facebook Audience Network a great place to promote your brand, advertise your products and services, and drive customers to your store.
Facebook Audience Network Formats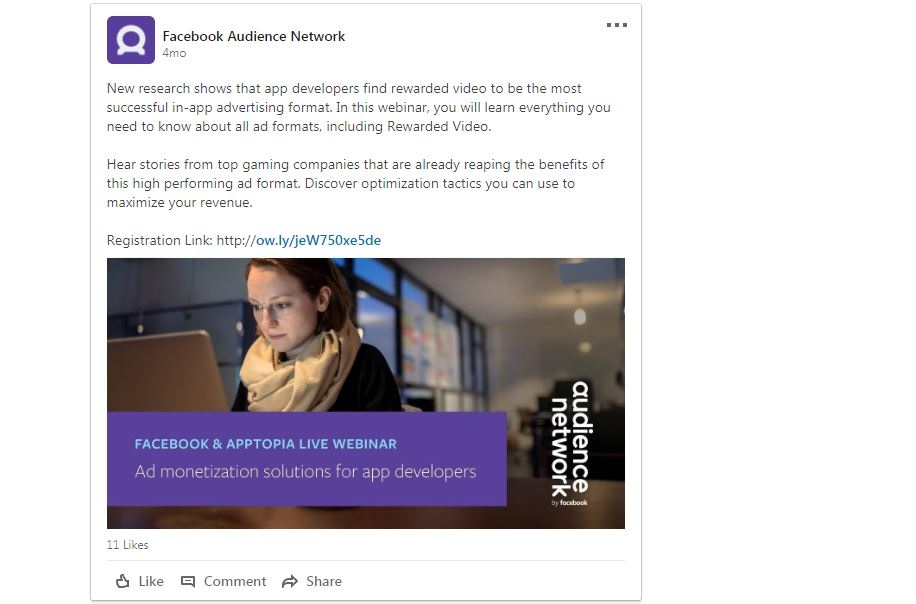 Before placing your ads on Facebook Audience Network, you need to understand the different formats it offers. To determine the most suitable for your brand, you need to consider your objectives as well. But overall, these formats all allow you access to Facebook's robust targeting capabilities. These formats are as follows:
Native
This is the format that gives you the flexibility to design the perfect ad by letting you decide its look and feel, its size, and its location. And because you're the one handling the controls, you'll get ads that fit seamlessly in your application. These ads appear on the Newsfeed and elsewhere within the app the same way as other content.
Interstitial
An Interstitial ad is a full-screen ad that's shown during a natural app transition. You can see it after viewing a story in the news app or after leveling up in a game. It aims to show the viewer an ad without any disruption that could dampen their user experience.
Banner
This type of ad is shown while you are using an app, usually appearing at the bottom of the content. Banner ads are the most common and can be placed throughout your app. It gives you the option of choosing a refresh rate so viewers can see your ads as frequently as needed.
In-Stream Video
This is the ad format that allows you to place video ads on your app or website player. In-stream videos, as with all forms of video content, are engaging and entertaining. But without the right content, this can be somewhat disastrous as people quickly recognize the need and the ability to disregard your ads.
Rewarded Video
For those who love playing games, this is the ad format that will always be welcome. Rewarded videos are ads that the user will watch in exchange for a reward in the game. This can be anything from in-app items or virtual currency. It allows you to link your ads to relevant content or events to boost CTRs and completion rates.
Playables
Created with the gamer in mind, Playables aim to boost player engagement as well as increase sales. Playable ads provide an interactive experience where gamers can try out a game before downloading and installing it.
For Gaming Apps
Facebook Audience Networks offers revenue opportunities for game publishers and app developers. Claiming to have paid $1.5 billion in 2018, Facebook gives businesses the chance to earn while providing their users with great gaming experiences. You can take advantage of the platform's high-value formats and publisher tools that are both innovative and first-rate—ideal for growing your business and keeping your customers happy and satisfied.
For Your Monetization Strategy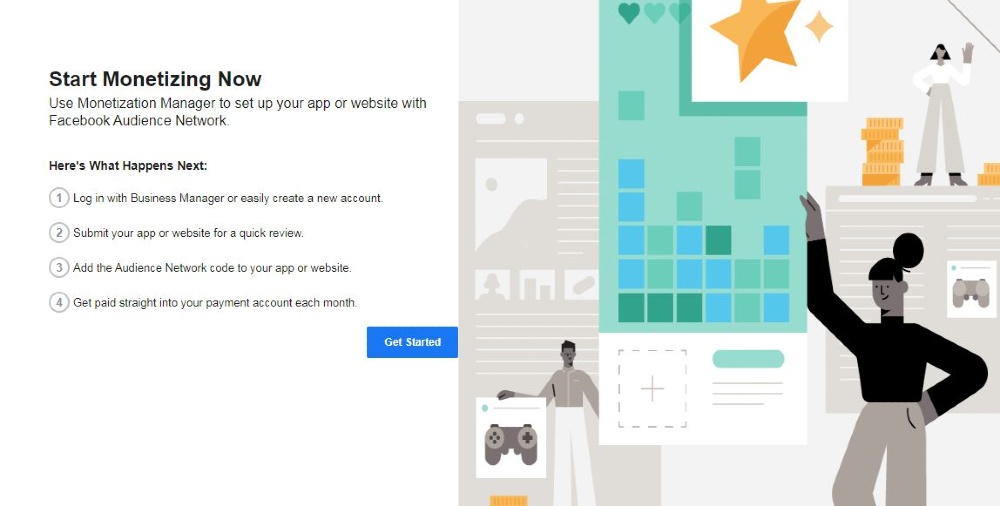 The gaming industry is one of the biggest, with revenues amounting to $120 billion in 2018. And gamers are now saying that they earn more on Facebook than any other platform. With Facebook Audience Network's game-friendly ad formats, generating new player leads, and increasing sales are a breeze. You'll have access to advertisers the world over so you can display targeted ads that give you an edge over the competition.
Rewarded videos, interstitial, and playable ads will help you retain players and gain new ones. The ads are served to gamers with matching interests, are non-intrusive, and tested for quality. And when the developers make money, the chances are high that they'll be creating more new games in the future.
While it seems like a win-win-win situation for Facebook, the game developer, and the gamer, and it is, careful consideration is a requirement. You must plan the quality of the ads, plus the frequency of placements thoroughly, over-saturation may put off gamers and abandon the game completely.
Bidding Solutions

Facebook Audience Network provides bidding solutions to game publishers and developers. This is to help them earn more from advertising. Before this was introduced, studies show that for every dollar spent, a mere 30 to 40 cents go to the publisher. With the platform, they can auction between ad networks to determine who can show their ads to a person using the app.
The bidding process creates competitive prices for your brand, saves you time by getting rid of the complexity of waterfalls, and a more effective way of monetization. From partner-integration to in-house integration for publishers, Facebook provides bidding solutions that help businesses achieve success.
Facebook Audience Network Objectives
Your ad objective is what will dictate the options and creatives Facebook Audience Network will provide you. To date, it offers the following ad objectives:
Brand awareness (video only)
Reach (video only)
Traffic
Engagement (video only)
App installs
Video views (video only)
Conversions
Catalog sales
How your ad behaves after a user clicks on it is based on the objective you have chosen. The following are the possible scenarios:
A new browser window will open
The user will be asked to install an app
An existing app will be launched on the device
Should You Use Facebook Audience Network?
From 2009 to 2019, Facebook's worldwide revenue from ads generated close to $69.66 billion. If you still doubt the power of the platform to sell your brand, here are reasons you should change your mind:
Wide Reach
Since Facebook allows you to serve your ad outside of the platform, the most significant advantage to using Audience Network is its wide reach and extended exposure. This extensive reach will help you get to people who aren't on Facebook. It means you're not limiting yourself only to Facebook, Messenger, and Instagram platforms. If you're a business owner or marketer who's looking to expand your advertising campaigns to reach more people who you wouldn't usually get through via Facebook, this is for you.
Fraud-Free
Facebook claims that Audience Network is virtually free from fraud. You'll avoid dealing with bot traffic while getting valuable data from real people with its Advertiser Outcome Score feature. You can then evaluate your ads based on the outcome of your campaign to help you deliver the best ads to the right people.
Cost-Effective
Ad placements on both Instagram and Facebook can cost a substantial amount of money. With Facebook Audience Network, you're assured of a lower average CPC (Cost Per Click) on your ad campaigns. This will allow you to bid on more placements.
How to Join
All these can be confusing, especially to someone new to advertising on Facebook. But the beauty of Facebook Audience Network is, it's simple and easy to get into.
Although Facebook will walk you through the whole process, here are the steps to follow:
1. Configure
Configure your app by creating a new App ID or by choosing an app that you have already connected to Facebook. To create a new App ID, name the ID and put it in the URL. You'll then add your app and your app's iTunes or Google ID.
2. Create Ad Space and Placements
There are only four ad spaces available per platform. Each of them should represent an ad experience within the app. Take note that these can only be edited and not deleted. Once you create your spaces, you can then add the placements within them.
3. Testing
The next step is to integrate your app with Audience Network's SDK (Software Development Kit). Test if the integration went through.
4. Submission
Once you're done with the integration and testing, you can now submit your app for review.
5. Go Live
You can now go live and provide information on where Facebook will send you your payment when it comes.
The Future of Facebook Audience Network
The concept that is Facebook Audience Network sounds very promising for those still unaware of it. For those in the know, it has definitely improved the lives of millions of marketers, business owners, and app developers. But with the news of it getting rid of its mobile web arm, what does the future hold?
Every month, over a billion people see an ad via Facebook Audience Network. Advertising on it proves to be more advantageous as it reaches 16% more people on average. This is way better than advertising on Facebook and Instagram only. These vast numbers alone prove that the platform is growing.
Why the Change?
The reasons for this development are still unknown, but many think that it has something to do with Chrome's decision to stop their support for third-party cookies in 2022. It seems to all boil down to privacy and safety issues. Browsers such as Safari and Firefox have taken a massive stance against the collection of browsing data or cross-site tracking. As for Google and Chrome, their developers are cutting off web cookies to cut down on tracking, hopefully, without cutting down on revenues for the websites.
Facebook's decision will mean that tracking will be blocked, which would result in Audience Network on mobile web becoming obsolete. This will be a big blow for those who depend on Facebook's powerful targeting and measuring capabilities. The primary reasons advertisers, marketers, developers, and business owners flock to it.
What's Next for Facebook Audience Network?
Facebook now advises users to end or update campaigns before the deadline. From April 1 until the 11th, they'll be reducing traffic, so you will no longer be able to add Audience Network in-stream video placements to new campaigns. They claim that CPM (Cost Per Mile) will be temporarily affected because of this change.
With Facebook's claim of web and in-stream placements being only a negligible part of what Audience Network is all about, it would be safe to assume that its impact will only be minimal.