With over 2.80 billion monthly active users, it's no surprise why Facebook is one of the biggest advertising platforms to date. Consequently, more and more marketers see the vast potential of scaling a brand through a well-designed Facebook advertising strategy. However, for those newbie advertisers who haven't tinkered with Facebook marketing, where should one start?
Moving forward, this tutorial for beginners will tell you quick and straightforward steps into creating a robust Facebook marketing strategy.
Related Post: Boost Post vs. Facebook Ad
1. Determine your target audience
This may sound like a cliche. However, determining your target customers during the initial stage will save you wasted marketing campaigns. Either way, regardless of how well-executed your campaign is, it'll be futile if you don't know who you're advertising to.
That said, after developing your strategy, determine your target audience. This will help you truly understand your customers. Here are 10 questions to ask to know your target market:
What action do you want from your ideal customers? (Purchase your product, donate to your organization, spread your advocacy, etc.)
What demographic, or specific group, is likely to do these actions? (Age group, gender, location, marital status, employment status, income level, education level, etc.)
How do your potential customers think? (Interests, hobbies, values, personalities, attitudes, behaviors, etc.)
What are your audience's pain points? (Frustrations, needs, problems that are relevant to your products and services, etc.)
How does your product or service resolve their pain points? (Make their lives better, satisfy their needs, offer convenience in their day-to-day routine, etc.)
What encourages them to purchase? (Excitement, trend, demos, trade shows, interests, hype, etc.)
Do they support other similar products or services? (Check if they've shown interest in your competitors)
What channels are they frequently in? Or what media do they use for gaining information? Also, what Facebook pages are they affiliated with? (Magazines, social media networks, forums, TV, radio, etc.)
How can you connect with your target audience? (Survey, social networks, phone calls, snail mail, trade shows, events, etc.)
Are you confident with the target audience you selected? (If not, then go back to the first question)
Create a Buyer Persona
After you know who your audience is, create a buyer persona template. This way, you'll know who will likely buy your product or subscribe to your service. The only way you can create buyer personas is to go through the questions above.
Pro Tip: Never create a buyer persona that's based on assumptions. Always back it up with proper research to make for a successful campaign and high web traffic.
2. Target your audience
Advertising on Facebook has an advantage. It offers an effective targeting option for various audiences. Your Facebook advertising strategy will undeniably reach your goals if you know how to target your audience.
Ads on Facebook use a pay-per-click model. Advertisers only pay every time a user clicks on their Facebook ad. As advertisers, you want to garner quality clicks instead of cheap clicks. This is why targeting your audience is vital, and you can do this in three ways via the Facebook Audience Manager tool:
Saved Audiences
Custom Audiences
Lookalike Audiences
Each of these Facebook audience targeting types offers additional targeting options for an excellent Facebook advertising campaign. Here's a rundown of how each type works:
Saved Audiences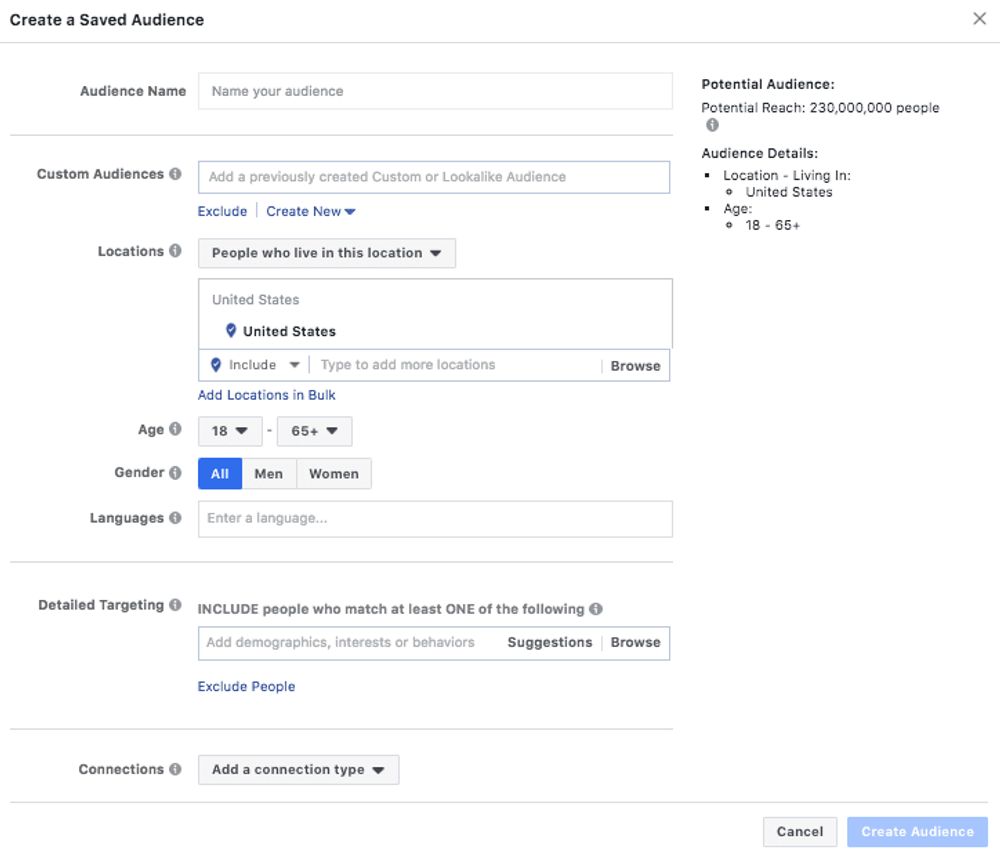 Saved audiences are the people you defined in your Facebook Audience Manager tool. These audiences are segregated according to their gender, age, devices used, location, interests, income level, and more. It also shows you the potential number of people that matches your set-up.
Custom Audiences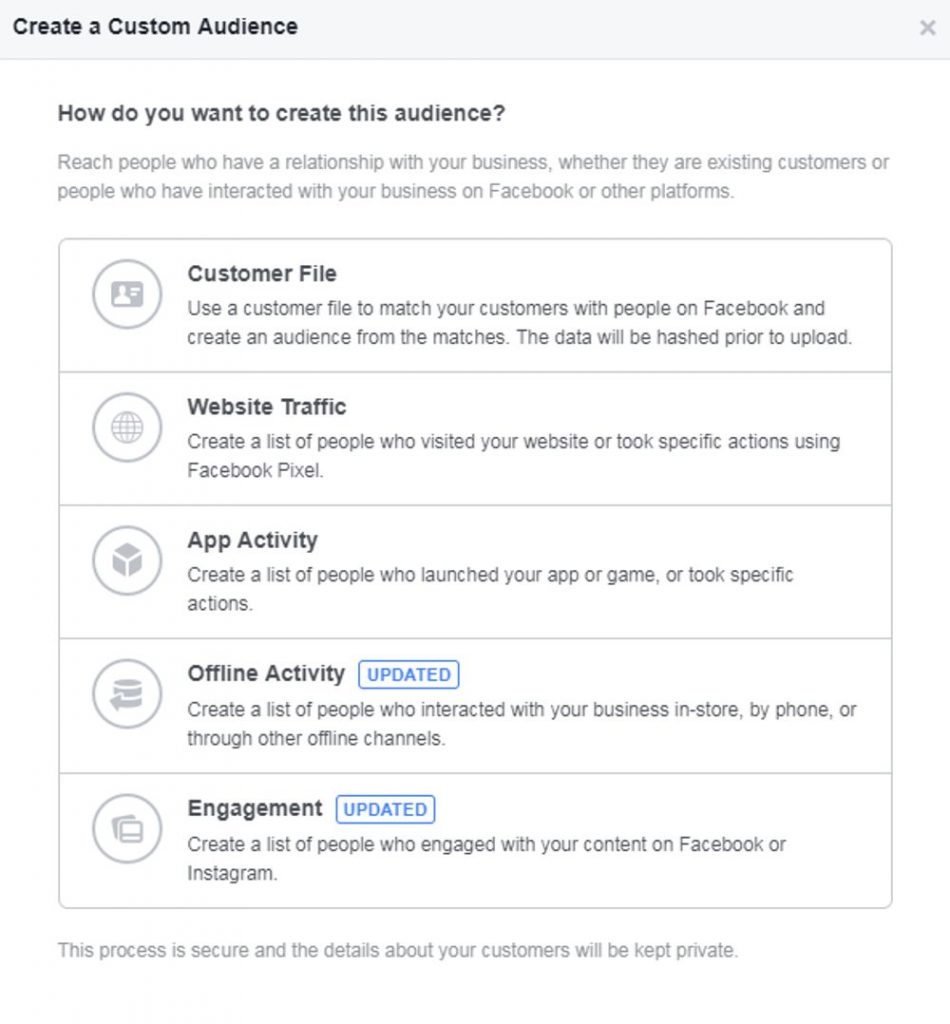 Custom audiences are perfect for retargeting Facebook advertising strategies. On top of targeting random visitors, options for targeting users who engaged with your app or content are also available.
You can create custom audiences based on four targeting options:
Customer files (Based on existing customer files such as phone numbers, Apple IDs, or email addresses)
Website traffic (Target users who visited your site, specific web pages, those who haven't visited your website for a while, and other custom combinations)
App activity (Target users who took particular actions in your app)
Engagement (Target users who visited your Facebook pages, engaged with posts or ads, clicked on calls to action, sent a private message to your Facebook page, saved your posts or page)
Lookalike Audiences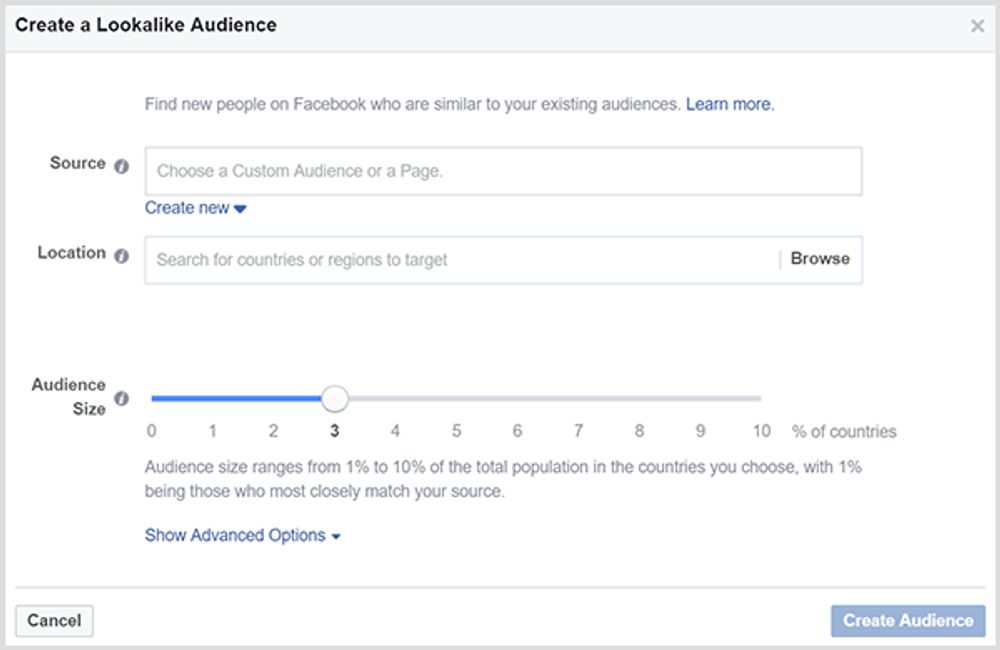 The final Facebook audience type is the Lookalike Audiences feature. Lookalike Audiences lets you target a similar audience to your current Custom Audiences set-up. So before you target Lookalike audiences, create your Custom audience first.
Then you can click the "Lookalike Audience" from the menu and pick a target country and the percentage of the targeted country's users on Facebook.
Overall, all these Facebook Audience types should be part and parcel of your Facebook advertising strategy. Create your Saved Audiences first, then choose your Custom Audience and Lookalike Audience. Finally, add psychographics- or demographics-based targeting features on the Audience Manager tool. This is important for keep track of your business' traffic data.
Pro Tip: If you want to narrow down your target audience, you can exclude users who match some of your demographic and psychographic settings. You may even exclude some Custom audiences from your more general audience targeting setting.
3. Choose the right objective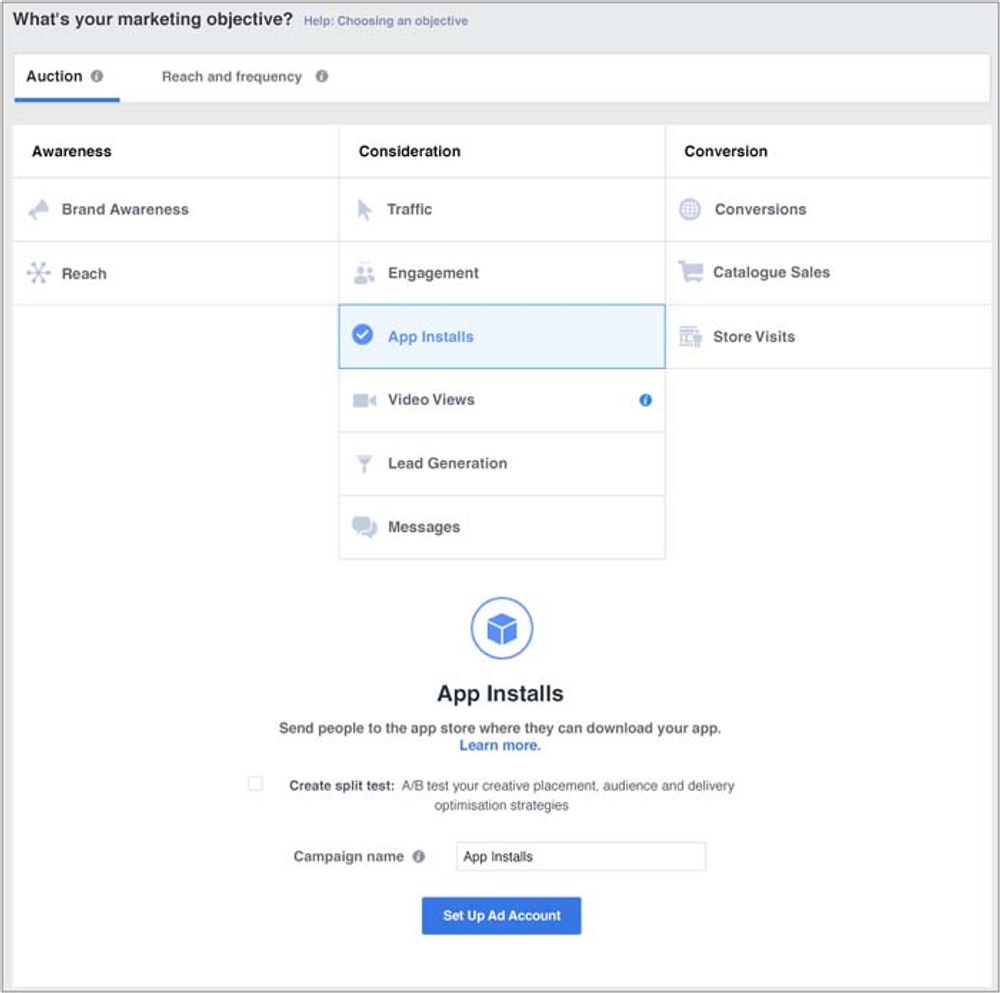 Every Facebook advertising campaign aims to reach a particular goal. Once you get to your Facebook Ads Manager dashboard, choosing an objective is one of the first steps you must go through. We'll divide all objectives into three categories: Awareness, Consideration, and Conversion.
Awareness Objectives:
Brand Awareness — You can increase brand awareness by displaying your ads to users who will likely pay attention to the ads
Reach — Reach those users who are within your followership or near your company branches
Consideration Objectives:
App Installs — Encourage more app installations by linking to your app via the App Store or Google Play store
Traffic — Increase your website traffic, app visitors, and Messenger conversations
Lead Generation — Make interested people sign up for your email newsletter, demos, or freebies
Messages — Inform your target audience to engage more in Messenger
Engagement — Encourage users to engage with your posts or ads by liking, following, sharing, or commenting
Video Views — Show your video ads to people who are likely interested and who might take action after watching the entire video
Conversion Objectives:
Conversions — Increase purchases or subscriptions or app downloads
Store Visits — Drive your online buyers to visit your physical storefronts
Catalog Sales — Promote your company's product inventory by simply uploading your catalog
4. Set a budget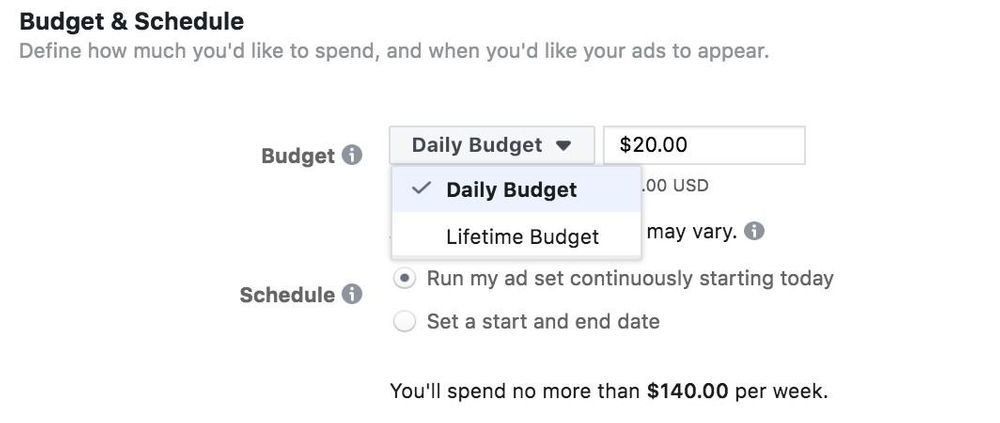 Facebook advertising entails choosing your creative, targeting your audience, and, last but not least, setting a budget. And this means how much you're willing to pay for your Facebook ad.
The upper hand of Facebook's budget setting is that you'll never spend more than your maximum budget. Facebook also optimizes your budget and automatically delegates it to well-performing Facebook ads.
You can set your budget in two ways:
Total budget (This pertains to the maximum amount for the entire duration of the ad.
Daily budget (This pertains to the average daily amount you'll spend for your ad until it stops running. The budget will be divided over the entire duration of the running ad)
5. Set the ad duration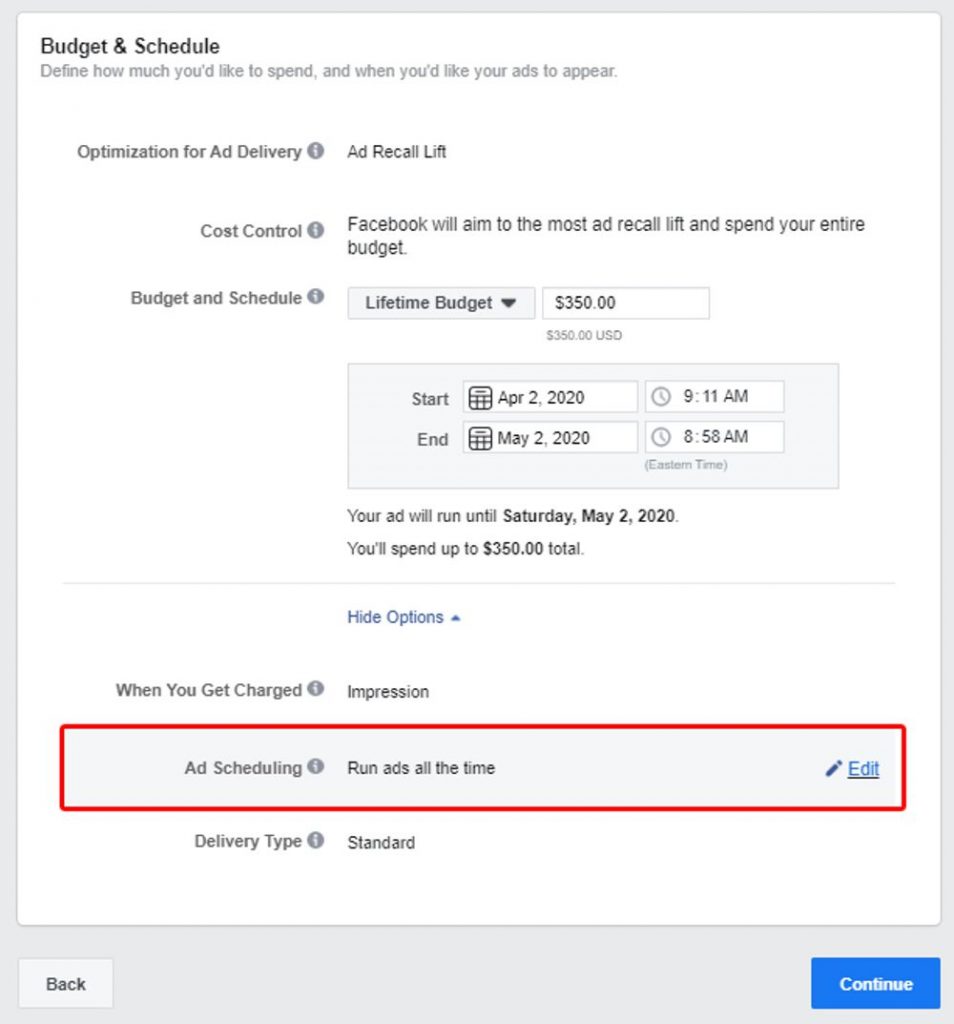 The Facebook Ads Manager tool automatically calculates an estimate of how much you'll spend. You can set the ad duration in two ways:
Run your ad continuously starting today
Set a start and end date
Remember, though, that your ads might not perform their maximum capacity if you set a low budget due to limited funds. That said, try to monitor your ads and see which ones are gaining conversions. Then you can adjust your budget accordingly to reach your Facebook advertising strategy's full potential.
Related Post: Which Facebook Ad Formats to Use (With Examples)
6. Choose Ad Placements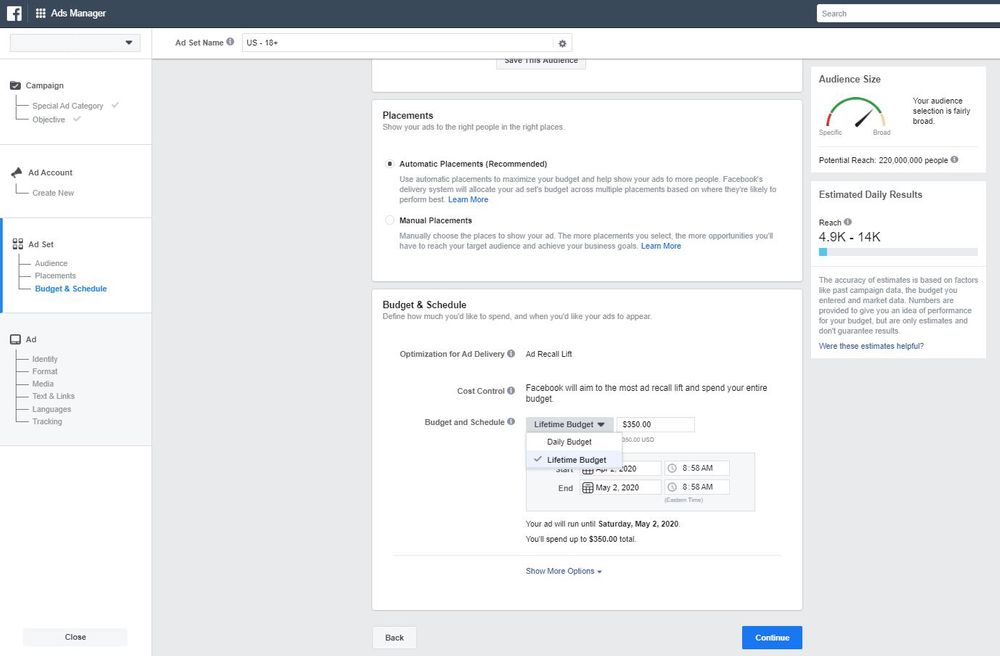 Now comes one of the most crucial steps — choosing your ad placements. This entails choosing where you want your ads displayed, such as apps, devices, or ad formats. Here's a step-by-step guide on how to choose Ad Placements:
Log in to your Ads Manager dashboard.
Choose objective and hit Continue.
Scroll down to the Placements section. You may also opt for the Automatic Placements, which Facebook recommends.
Otherwise, select Manual Placements to exclude particular placements instead. You can uncheck the placement boxes if you wish to remove some of them. Then limit your placements to Desktop or Mobile from the Devices dropdown menu.
Turn off the Placements feature by deselecting each box by Facebook, Instagram, Audience Network, or Messenger.
Then you can choose which ad format you want for your Facebook ads. There are 11 various types:
Video Ads
Photo Ads
Slideshow Ads
Carousel Ads
Instant Experience Ads
Dynamic Product Ads
Lead Form Ads
Collection Ads
Event Ads
Messenger Ads
Stories Ads
7. Use geo-targeting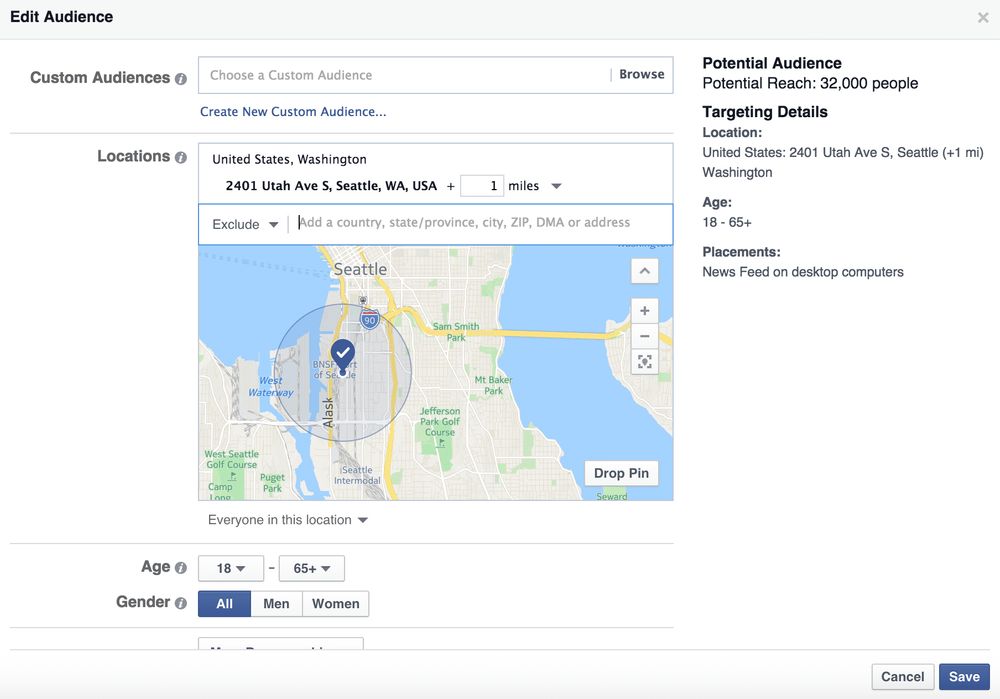 Geo-targeting is an excellent way to target people based on their location. This is great for local conversions or if you want to drive more store visits. This type of Facebook advertising strategy is effective if you're targeting local audiences. Your message can be in front of every prospect who might be interested in visiting your store.
Target users based on their locations. You can select these settings:
State
Province
City
Congressional District
Zip
Postcodes
By region
By free trade area
App store availability
If you're aiming for more visits to your physical store, enter your store's address, so every time users are within the set vicinity, they'll see your ads.
8. Make killer ad creatives
Regardless of how well-thought-out your Facebook advertising strategy and settings are, your campaign won't work if your ads aren't compelling enough to grab attention. Say you're targeting the right audience, but your ads lack the visuals to lure prospects, then don't blame it on Facebook Ads features. Blame it on advertising creativity.
Remember these three tips when creating your Facebook ads:
Keep it relevant. No prospect will ever look at your ad if they don't find it interesting.
Keep it entertaining. Entertainment value is of the essence when creating Facebook ads. Integrate humor or imagery that grabs attention. Avoid overly sales-pitchy ads.
Include videos. If possible, try to capture your audience's attention through captivating videos. Video ads are suitable for hectic social media networks where all brands are vying for attention.
Invest in graphic design. Visuals will make or break your Facebook ads. That said, rely only on professional graphic designers or illustrators to create your ads.
Related Post: Create Facebook Ad Designs Like a Pro
9. Include a powerful call to action
A call to action is that last nudge that drives prospects to act. Make every Facebook ad campaign count by including powerful calls to action.
Your call to action should:
Tell people what to do next
Should motivate and remind them to take action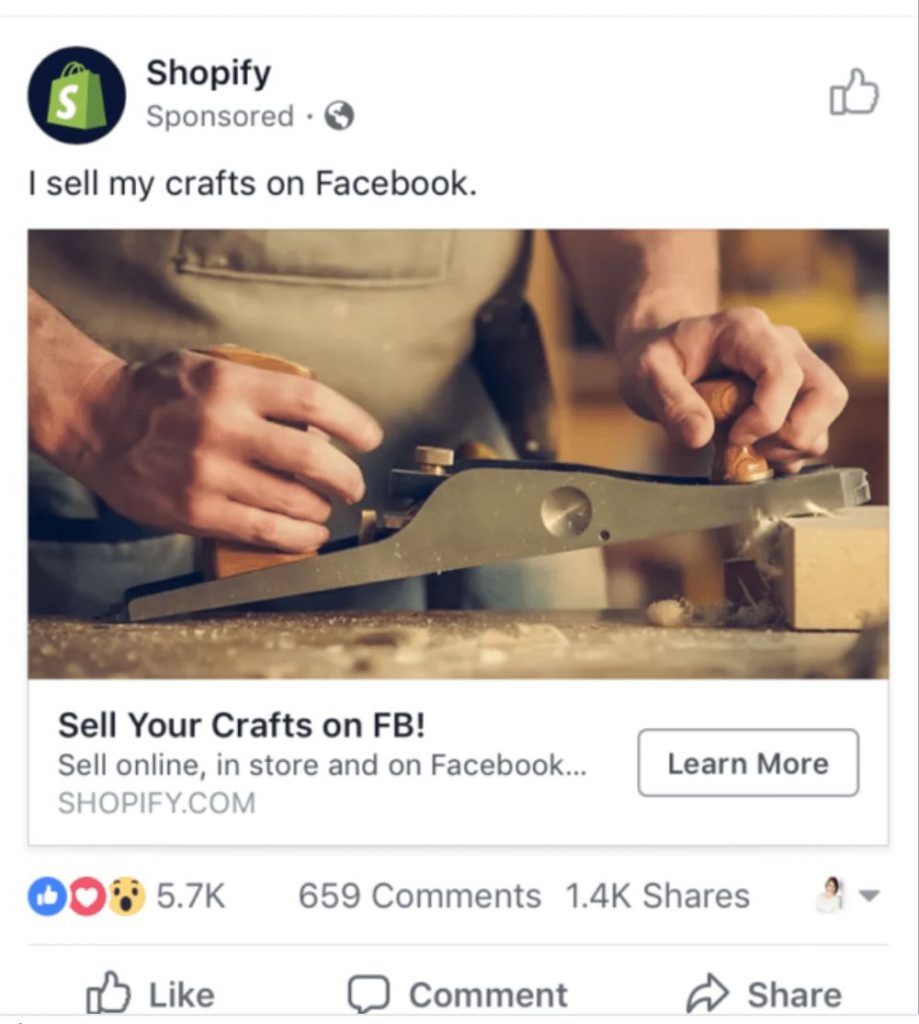 Here's an example of a concise call to action from Shopify. It's straightforward, which says, "Sell your crafts on FB," and it's complemented by a call-to-action button that says "Learn More."
10. Monitor your campaigns
Use Facebook analytics to track and monitor your campaign. It's recommended to stop campaigns that aren't gaining you conversions. And spend more budget on campaigns that are driving more traffic and sales for your brand. Do this by keeping an eye on your Facebook ads.
Your Facebook advertising strategy shouldn't be stagnant. If you're a newbie on Facebook advertising, you need to see how your campaigns run first. If you don't, you could be losing thousands worth of marketing budget.
Use Conversion Tracking to know which ads are gaining positive results. To set up Conversion Tracking, use Customize Columns and follow these steps:
Go to Ads Manager
Select either Campaigns, Ads, or Ad Sets
Select the Columns menu
From the dropdown menu, pick Customize Columns. Check the boxes with corresponding actions that you prefer.
Click Apply.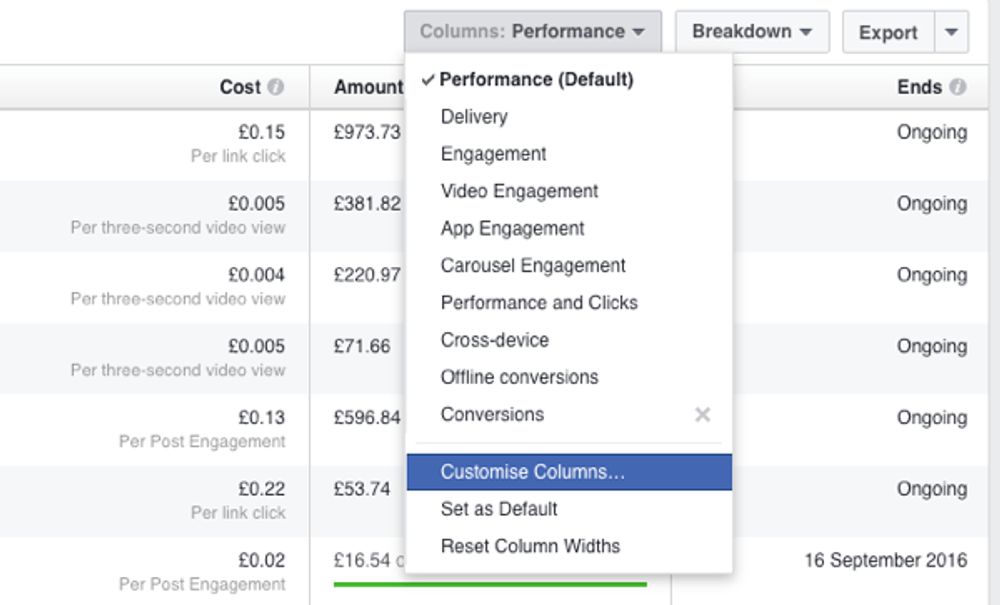 If you customize columns, you can track the precise number of conversions for some event actions that you're monitoring.
Wrapping It Up
Don't be disheartened if you're creating your first Facebook advertising strategy alone. With these simple tips in mind, you can be well on your way to successful Facebook marketing campaigns. Remember, compelling visuals, coupled with smart Facebook targeting features, will make your ads go viral.
If you need help with visuals for your Facebook ads, try out Penji for 15 days. This on-demand service is your convenient, fast, and affordable design partner. Sign up here for 15 percent off your first month!